Local Comics News - Free Avalanche Tickets Drawing Tomorrow
Howdy!
I want to begin today by letting you know that last Saturday's benefit poker tournament at our Jason St. store for Children's Hospital was a great success, raising over $2,200! for the kids being helped in the H.I.V. ward. Our sincere thanks go out to everyone from Mile High Comics, and the Royal Poker Club, who helped to put on this event. I also want to thank all 61 of our players from Saturday. Thank you very much for all your kindness. You are awesome!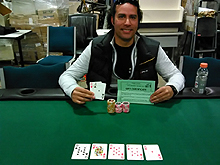 Winner of the Poker Tournament (John)

So you know, we are not yet completely done with our Children's Hospital fundraiser, as we still have five pairs of Avalanche Hockey tickets to give away tomorrow (Wednesday) at 5 PM. These seats are in a luxury suite, and are for the Avalanche game which will be held Saturday February 4, at 1 PM. If you would like to enter the drawing for a pair of these awesome hockey tickets, you can do so at any one of our three Mile High Comics retail stores. Tickets for our drawing are $5 each, or 5/$20, with all proceeds going to the ICRME and the kids at Children's Hospital. You need not be present to win!
In other news, we have been adding thousands more comics into the huge new $1 selections that we are building within all three of our stores. This is becoming a very big deal, as we have seen unprecedented traffic in this area over the past four weeks, so we are all working diligently to expand these selections for you as quickly as possible. I snapped four quick photos this morning of a few dozen issues that I selected for Jason Street's $1 bins just last evening. The Bronze Age comics are lower grade, but remain as remarkable bargains at just $1 each...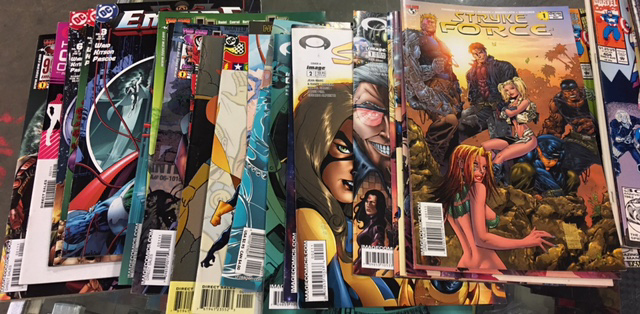 Array #1 of some $1 comics in the Jason Street bins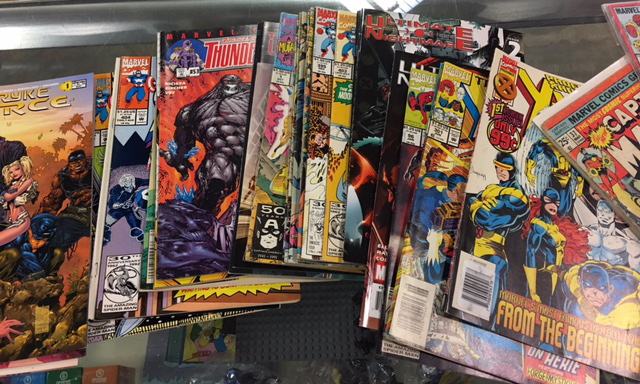 Array #2 of some $1 comics in the Jason Street bins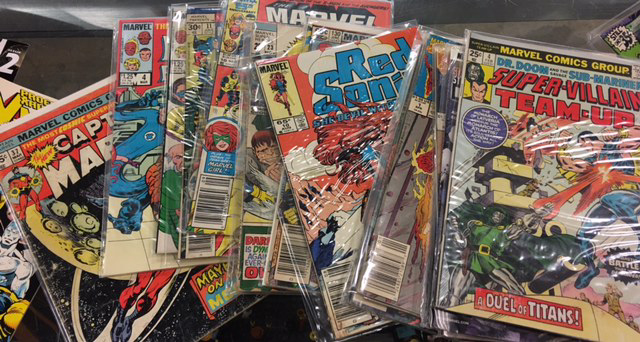 Array #3 of some $1 comics in the Jason Street bins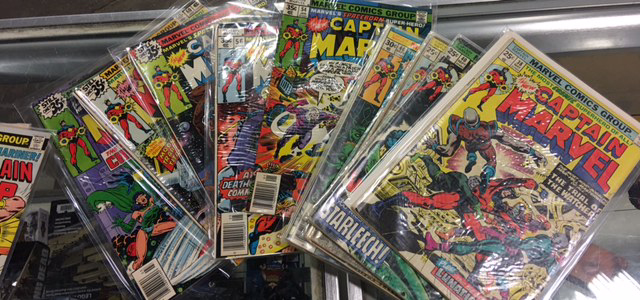 Array #4 of some $1 comics in the Jason Street bins

Another bit of news that I think will please you is at we have reached a deal with VENOM artist Sam De Larosa to appear at Jason St. during this year's Free Comic Book Day celebration on May 6th. Sam will be signing autographs (for a $5 fee...) and also offering original art for sale. Sam will be waiving a portion of his fee however, for contributors to our charity of the day, "Feeding Denver's Hungry." More details will be released as we get closer to the date.
I am going to close today's newsletter with another charity appeal, this time involving the specific needs of women who find themselves homeless. As you are probably already aware, Imperial Court of the Rocky Mountain Empire Empress 43, Norrie Reynolds, has been working tirelessly to help to feed the poor, disabled and elderly people served by Urban Peak and the St. Francis center. Norrie, brainstorming with Feeding Denver's Hungry leader, Kristina Fellows, came up with the idea that we should create a special day where we focus on the specific needs of the dozens of women who avail themselves of our services each week. They worked with the other female volunteers of "Feeding Denver's Hungry," and came up with the following list of critically needed items: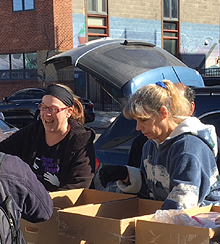 Kristina Fellows and Empress Norrie Reynolds passing out food to the homeless by the St. Francis Center

CALLING ALL GIRLS!
It's our time to shine and step up to the plate. Lately we've seen far too many women on the streets in desperate need of hygiene and girly thing's soooooo, the women of "Feeding Denver's Hungry" and of ICRME thought it was time to get our girly on. We are doing a girly donations drive, and here's what we need...
Purses Handbags Backpacks Makeup bags Personal Hygiene Products Hairbrushes Combs Detangler spray Hair Ties Deodorant Wet wipes Chapstick Lip gloss Hand sanitizer Toothpaste Toothbrushes Body Spray Small mirrors Nail files Nail clippers Grooming tools Q-tips Small soaps Small shampoos Small cream rinse Small body lotion
Also, new or gently used clothing such as:
Bras Socks Shoes Hats Gloves Coats Sweaters Jeans Leggings
If you have any items to donate please drop them off at any Mile High Comics location, and we will get those items picked up, and distributed to women and girls in need. Thank you in advance to all you beautiful ladies out there changing the life of one Soul one day at a time.
I will close by personally thanking everyone who has helped in our efforts here at Mile High Comics to make life just a little less terrible for those who find themselves homeless in Denver. If you could but hear the sincere thanks and gratitude of those we serve, your heart would be filled with joy. Working together we are not saving the entire world, but we sure are making life a little better for a lucky few.
Happy collecting!
Chuck Rozanski,
President - Mile High Comics, Inc.
January 31, 2017

Mile High Comics - Jason Street Mega-Store


Mile High Comics Retail Store Locations