250,000 Graphic Novels and Trade Paperbacks On Sale - Harvey Milk Graphic Novel Proposed
Howdy!
I received an awesome phone call yesterday from Nicole the Great, Queen Mother of the Americas. If you read my daily reports from this year's San Diego Comic-Con, you might already be aware that Nicole is the leader of the 30,000+ member International Court System, the umbrella organization to which the Imperial Court of the Rocky Mountain Empire belongs. That matters very much to me, as the ICRME has been the inspiration for most of my charitable efforts of the past five years, including all of my work with "Feeding Denver's Hungry."
Our Queen Mother was calling to talk to me about a graphic novel that I am working on about the life of early GLBTQ politician, Harvey Milk, with my good friend and noted Denver artist, Thomas Halloran Buchanan. Harvey was a member of the San Francisco Board of supervisors, but was assassinated in 1978, within just a few months of taking office. Nicole suggested my creating a graphic novel about Harvey's life at SDCC, and I promised her that I would try to find some way to get it drawn and published. As it turns out, Tom Buchanan is quite enthusiastic about Harvey's life story, so he drew the wonderful sketch below to present to Nicole as a sample.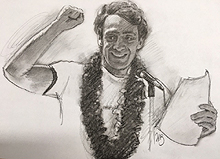 Harvey Milk Sketch by Thomas Halloran Buchanan

To make a long story short, I will be on a plane to San Diego on February 3rd to give a presentation to the International Court Council, and our Queen Mother, about this proposed graphic novel. If they approve of my plans, we then have to enter into negotiations with Stuart Milk, Harvey's nephew and leader of the Harvey Milk Foundation, for permission to proceed. All earnings from this book (after paying printing costs and Thomas for his artwork) would then be donated to charity through Reign 44 of the ICRME.
My question to you is as to whether such a book would interest you? Last year's graphic novel about the life of Civil Rights activist, John Lewis, has been a New York times best-seller, but would the life story of a GLBTQ martyr have anywhere near the same popularity? The movie was a huge hit for Sean Penn, so I have some optimism that there might also be an audience for this story in graphic novel form. Please send your thoughts to chuckrozanski@gmail.com. As I stated earlier, this book is nowhere near the commitment stage, but it would be very helpful to have some feedback to present to our ICS Board, so please send me a quick note if you want to encourage this project to move forward. I am thinking that we can tell Harvey's story in a nice 48-page trade paperback format for about $24.95. Thank you!
In other news, life continues to be quite busy here at Mile High Comics. Will, Pam, and Josh are continuing to add comics into our online inventory at a pace exceeding 10,000 comics per week! Many of these issues that they are adding replenish our existing supplies, but quite a few of them help to fill in holes. At the end of this newsletter you will see some nice photo arrays of recent additions.
My only other news for today is a quick mention that our NEWHOPE! codeword sale continues to provide you with a 30% off discount on all ten million of our back issue comics and magazines, including most of today's listings in New-In-Stock and Premium New-In-Stock. Only new issues, a few variants, and our CGC's are excluded from the codeword. Our 250,000 trade paperbacks, graphic novels, and comics hardcover collections are also on sale for you right now, with those discounted prices posted for you right on our website.
Happy collecting!
Chuck Rozanski,
President - Mile High Comics, Inc.
January 25, 2017

Several arrays