WALKING DEAD Comics plus Key Silver Age 30% Off
Howdy!
While I was out helping to deliver meals to the homeless on the streets of Denver Thursday, our head new comics buyer, Will Moulton, was negotiating the purchase of an amazingly diverse collection of comics. Included in this awesome deal were a slew of key Silver Age issues, a wonderful grouping of CGC-graded issues, and the largest run of WALKING DEAD comics that we have been offered in quite some time.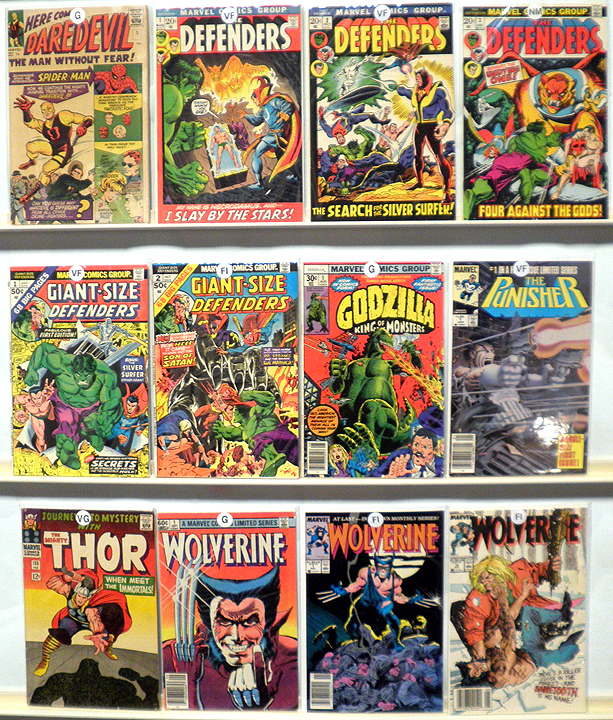 Some of the Bronze & Silver Age Comics from the Collection

Rather than spend time waxing poetic about this great collection, I thought that I would devote all of today's newsletter to listing some of its content and showing you scans. Except for the CGC's, all of these issues are available to you at 30% off via our NEWHOPE! codeword sale. Please do note, however, that we only received one copy on each of these issues. Orders will be filled in the order of those received first...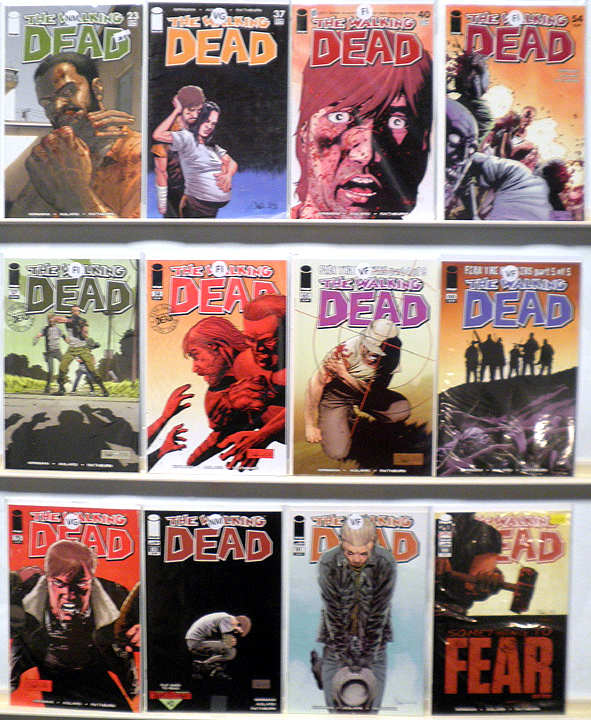 Some of the Walking Dead Comics from the Collection

Two other quick notes for today. First, we will be hosting a charity poker tournament next Saturday 1/28 at Jason St. to help kids who are in Denver Children's hospital. Entry fee is $25, but this is immediately rebated to you as a gift certificate if you register at any of our stores before Saturday. Second, I am driving to Albuquerque, NM today (Friday) to appear at a United Court of the Sandias charity event Friday night at Sidewinders bar on Central Ave. I will then be driving back to Denver tomorrow (Saturday) for a charity show at X Bar on Colfax for "Feeding Denver's Hungry." Join me, if you can!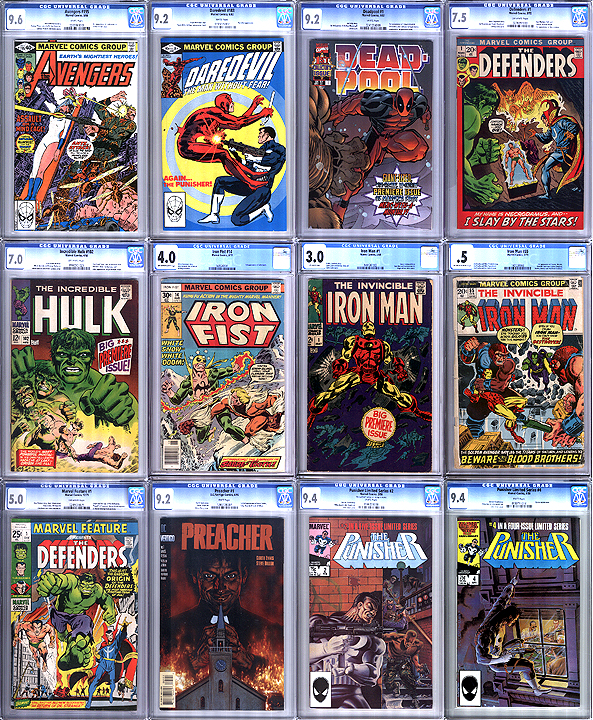 Some of the CGC Comics from the Collection

Happy collecting!
Chuck Rozanski,
President - Mile High Comics, Inc.
January 21, 2017

P.S. Here is the Premium New-In-Stock list for Saturday:
MARVEL
AGE OF APOCALYPSE: THE CHOSEN (1995) #1 Near Mint/Mint


AGE OF APOCALYPSE: THE CHOSEN (1995) #1

AGE OF APOCALYPSE: THE CHOSEN (1995) #1 Fine
AGE OF APOCALYPSE: THE CHOSEN (1995) #1 Very Fine

ALPHA FLIGHT (1983) #128 Near Mint/Mint

AMAZING SPIDER-MAN: RENEW YOUR VOWS (MV SECRET WARS) (2015) #5 QUESADBB&W Very Fine

AVENGERS (1963) (#1-402) (MARVEL) #125 Very Fine
AVENGERS (1963) (#1-402) (MARVEL) #195 CGC 9.6 Near Mint/Mint
AVENGERS (1963) (#1-402) (MARVEL) #200 NEWSSTAND Very Good
AVENGERS (1963) (#1-402) (MARVEL) #213 NEWSSTAND Fine

AVENGERS (2013) (#1-44) (MARVEL) #1 DEADPOOL Near Mint/Mint

BLACK PANTHER (1976) (#1-15) (MARVEL) #2 Near Mint/Mint

BLACK PANTHER BY JACK KIRBY TPB (2005) #1 Fine
BLACK PANTHER BY JACK KIRBY TPB (2005) #2 Fine

CIVIL WAR: X-MEN UNIVERSE TPB (2007) #1 Very Fine

DAREDEVIL (1964) (#1-380) (MAN WITHOUT FEAR) (MARVEL) #1 BRITISH Good
DAREDEVIL (1964) (#1-380) (MAN WITHOUT FEAR) (MARVEL) #183 CGC 9.2 Near Mint/Mint

DAREDEVIL BY BENDIS & MALEEV ULTIMATE COLLECTION TPB (2010) #1 3RD PRINT Very Fine

DAREDEVIL/DEADPOOL '97 #1 Very Fine

DARK TOWER: GUNSLINGER BORN (2006) #5 LAND Near Mint/Mint
DARK TOWER: GUNSLINGER BORN (2006) #5 LAND Very Fine
DARK TOWER: GUNSLINGER BORN (2006) #5 LAND Fine

DEADPOOL (1997) (#0-69) (MARVEL) #1 CGC 9.2 Near Mint/Mint
DEADPOOL (1997) (#0-69) (MARVEL) #2 Near Mint/Mint

DEADPOOL (1997) (#0-69) (MARVEL) #3 Near Mint/Mint
DEADPOOL (1997) (#0-69) (MARVEL) #4 Very Fine
DEADPOOL (1997) (#0-69) (MARVEL) #5 Near Mint/Mint
DEADPOOL (1997) (#0-69) (MARVEL) #6 Near Mint/Mint
DEADPOOL (1997) (#0-69) (MARVEL) #7 Near Mint/Mint
DEADPOOL (1997) (#0-69) (MARVEL) #8 Near Mint/Mint
DEADPOOL (1997) (#0-69) (MARVEL) #9 Near Mint/Mint
DEADPOOL (1997) (#0-69) (MARVEL) #11 Near Mint/Mint
DEADPOOL (1997) (#0-69) (MARVEL) #12 Very Fine
DEADPOOL (1997) (#0-69) (MARVEL) #13 Near Mint/Mint
DEADPOOL (1997) (#0-69) (MARVEL) #14 Near Mint/Mint
DEADPOOL (1997) (#0-69) (MARVEL) #15 Near Mint/Mint
DEADPOOL (1997) (#0-69) (MARVEL) #16 Near Mint/Mint
DEADPOOL (1997) (#0-69) (MARVEL) #17 Near Mint/Mint
DEADPOOL (1997) (#0-69) (MARVEL) #18 Near Mint/Mint
DEADPOOL (1997) (#0-69) (MARVEL) #19 Near Mint/Mint
DEADPOOL (1997) (#0-69) (MARVEL) #20 Near Mint/Mint

DEADPOOL MINUS (1997) #1 Near Mint/Mint

DEADPOOL'S ART OF WAR (2014) #1 Near Mint/Mint

DEADPOOL/DEATH 1998 MARVEL ANNUAL (1998) #1 Very Fine

DEATH OF WOLVERINE (2014) #2 Near Mint/Mint
DEATH OF WOLVERINE (2014) #4 Near Mint/Mint

DEFENDERS (1972) #1 CGC 7.5 Very Fine
DEFENDERS (1972) #1 Very Fine
DEFENDERS (1972) #2 Very Fine
DEFENDERS (1972) #3 Near Mint/Mint
DEFENDERS (1972) #4 Fine
DEFENDERS (1972) #5 Very Fine
DEFENDERS (1972) #6 Fine
DEFENDERS (1972) #7 Very Fine
DEFENDERS (1972) #8 Near Mint/Mint
DEFENDERS (1972) #9 Near Mint/Mint

DEFENDERS (1972) #10 Very Fine
DEFENDERS (1972) #12 Very Fine
DEFENDERS (1972) #13 Near Mint/Mint
DEFENDERS (1972) #14 Near Mint/Mint
DEFENDERS (1972) #16 Fine
DEFENDERS (1972) #26 Fine
DEFENDERS (1972) #27 Very Fine
DEFENDERS (1972) #28 Very Fine
DEFENDERS (1972) #29 Very Fine

DEFENDERS GIANT-SIZE (1974) #1 Very Fine
DEFENDERS GIANT-SIZE (1974) #2 Fine

DOCTOR STRANGE: STRANGE ORIGIN TPB (2016) #1 Fine

DOCTOR WHO (1984) #13 Near Mint/Mint
DOCTOR WHO (1984) #14 Near Mint/Mint

EXTRAORDINARY X-MEN (2015) #18 VEREGGE Near Mint/Mint

FANTASTIC FOUR: IN SEARCH OF GALACT HC (MV CLASSIC #39) (2009) #1 BLACK FOIL Near Mint/Mint

GI JOE #1 NEWSSTAND Very Good
GI JOE #2 NEWSSTAND Very Good
GI JOE #86 NEWSSTAND Fine

GUARDIANS OF THE GALAXY (2013) (#0.1-27) (MARVEL) #1 DEADPOLB&W Very Fine

HULK (1962) (#1-6, #102-635) (INCREDIBLE) (MARVEL) #102 CGC 7.0 Very Fine
HULK (1962) (#1-6, #102-635) (INCREDIBLE) (MARVEL) #349 Very Good
HULK (1962) (#1-6, #102-635) (INCREDIBLE) (MARVEL) #350 Very Good

IRON FIST (1975) #14 CGC 4.0 Very Good

IRON MAN (1968) (#1-332) (INVINCIBLE IRON MAN)(MARVEL) #1 CGC 3.0 Very Good
IRON MAN (1968) (#1-332) (INVINCIBLE IRON MAN)(MARVEL) #55 CGC .5 Fair

LIFE AND DEATH OF CAPTAIN MARVEL TPB (2002) #1 Fine

MARVEL FEATURE (1971) #1 CGC 5.0 Fine


MARVEL SUPER SPECIAL (1977) #21 NEWSSTAND

MARVEL SUPER SPECIAL (1977) #21 NEWSSTAND Fine

MIGHTY AVENGERS (2013) #1 PARTY B&W Near Mint/Mint

NEW MUTANTS (1983) #93 Near Mint/Mint
NEW MUTANTS (1983) #94 Very Fine
NEW MUTANTS (1983) #100 Near Mint/Mint

NOVA (2016) (#1-UP) (SAM ALEXANDER) (MARVEL NOW) (2016) #2 CHIANG Very Good

NOVA VOL. 1: ANNIHILATION CONQUEST TPB (2007) #1 Near Mint/Mint

NOVA VOL. 2: KNOWHERE TPB (2007) #1 Near Mint/Mint

NOVA VOL. 4: NOVA CORPS TPB (2009) #1 Fine

NOVA VOL. 5: WAR OF KINGS TPB (2009) #1 Very Fine

NOVA VOL. 6: REALM OF KINGS TPB (2010) #1 Very Fine

ORIGIN 2 (WOLVERINE) (2013) #1 HASTINGS Near Mint/Mint

PETER PARKER (SPECTACULAR SPIDER-MAN) (1976) #64 Fine

PUNISHER (1985) (#1-5) (MARVEL) #1 NEWSSTAND Very Fine
PUNISHER (1985) (#1-5) (MARVEL) #2 CGC 9.4 Near Mint/Mint
PUNISHER (1985) (#1-5) (MARVEL) #2 NEWSSTAND Very Fine
PUNISHER (1985) (#1-5) (MARVEL) #3 NEWSSTAND Very Fine
PUNISHER (1985) (#1-5) (MARVEL) #4 CGC 9.4 Near Mint/Mint
PUNISHER (1985) (#1-5) (MARVEL) #4 NEWSSTAND Very Fine
PUNISHER (1985) (#1-5) (MARVEL) #5 NEWSSTAND Fine

PUNISHER (1987) (#1-104) (MARVEL) #1 Very Fine
PUNISHER (1987) (#1-104) (MARVEL) #4 Near Mint/Mint
PUNISHER (1987) (#1-104) (MARVEL) #11 Near Mint/Mint
PUNISHER (1987) (#1-104) (MARVEL) #12 Near Mint/Mint
PUNISHER (1987) (#1-104) (MARVEL) #16 Near Mint/Mint

PUNISHER (2011) (#1-16) (MARVEL) #10 VARIANT Near Mint/Mint


PUNISHER WAR JOURNAL (1988) #2

PUNISHER WAR JOURNAL (1988) #2 Near Mint/Mint
PUNISHER WAR JOURNAL (1988) #6 Near Mint/Mint

PUNISHER: WAR ZONE (2012) #1 CGC 9.6 Near Mint/Mint

REALM OF KINGS TPB (2010) #1 Very Fine

RETURN OF THE LIVING DEADPOOL (2015) #1 Near Mint/Mint
RETURN OF THE LIVING DEADPOOL (2015) #2 Near Mint/Mint
RETURN OF THE LIVING DEADPOOL (2015) #3 Near Mint/Mint

SAVAGE SWORD OF CONAN (MAGAZINE) (1974) #73 NEWSSTAND Fine
SAVAGE SWORD OF CONAN (MAGAZINE) (1974) #81 NEWSSTAND Fine
SAVAGE SWORD OF CONAN (MAGAZINE) (1974) #82 NEWSSTAND Fine

SCOOBY-DOO #3 Very Fine
SCOOBY-DOO #4 Very Fine
SCOOBY-DOO #5 Very Fine
SCOOBY-DOO #6 Very Fine
SCOOBY-DOO #7 Very Fine
SCOOBY-DOO #9 Very Fine

SILVER SURFER: IN THY NAME TPB (2008) #1 Fine

SPIDER-MAN (1963) (AMAZING SPIDER-MAN) (#1-441) #129 CGC 3.0 Very Good
SPIDER-MAN (1963) (AMAZING SPIDER-MAN) (#1-441) #181 CGC 9.0 Very Fine
SPIDER-MAN (1963) (AMAZING SPIDER-MAN) (#1-441) #239 CGC 9.4 Near Mint/Mint
SPIDER-MAN (1963) (AMAZING SPIDER-MAN) (#1-441) #300 NEWSCGC7.5 Very Fine
SPIDER-MAN (1963) (AMAZING SPIDER-MAN) (#1-441) #393 CGC 9.6 Near Mint/Mint

SPIDER-MAN (1990) (#1-74, PETER PARKER SPIDEY #75-98) #1 NBAGSPI Near Mint/Mint
SPIDER-MAN (1990) (#1-74, PETER PARKER SPIDEY #75-98) #1 SILVER Near Mint/Mint
SPIDER-MAN (1990) (#1-74, PETER PARKER SPIDEY #75-98) #4 Near Mint/Mint

SPIDER-MAN ANNUAL (1964) #22 NEWSSTAND Fine


STAR WARS (1977) #1 WHITMANREP

STAR WARS (1977) #1 WHITMANREP Very Good

STAR WARS (1977) #2 WHITMANREP Fine
STAR WARS (1977) #3 WHITMANREP Fine
STAR WARS (1977) #4 WHITMANREP Fine
STAR WARS (1977) #6 CGC 8.0 Very Fine

STAR WARS (2015) #1 MILE HIGH Near Mint/Mint
STAR WARS (2015) #2 Near Mint/Mint
STAR WARS (2015) #2 2ND PRINT Near Mint/Mint
STAR WARS (2015) #2 3RD PRINT Near Mint/Mint
STAR WARS (2015) #2 ARAGONES Near Mint/Mint
STAR WARS (2015) #2 MILE HIGH Near Mint/Mint
STAR WARS (2015) #3 Near Mint/Mint
STAR WARS (2015) #3 MILE HIGH Near Mint/Mint
STAR WARS (2015) #4 MILE HIGH Near Mint/Mint
STAR WARS (2015) #6 Near Mint/Mint

SUPERIOR SPIDER-MAN (2013) #1 Near Mint/Mint

SUPERIOR SPIDER-MAN (2013) #1 BLANK CVR Near Mint/Mint
SUPERIOR SPIDER-MAN (2013) #31 MAGUIRE Near Mint/Mint

THANOS (2016) (#1-UP) (MARVEL NOW) #3 BRODERICK Near Mint/Mint

THANOS IMPERATIVE TPB (2011) #1 Fine

THING: SERPENT CROWN AFFAIR HC (MV CLASSIC #92) (2012) #1 BLACK FOIL Near Mint/Mint

THOR (1962) #125 Very Good

WAR OF KINGS TPB (2010) #1 Fine

WAR OF KINGS: ROAD TO WAR OF KINGS TPB (2009) #1 Fine

WEB OF SPIDER-MAN (1985) #1 NEWSCGC9.2 Near Mint/Mint
WEB OF SPIDER-MAN (1985) #2 CGC 9.0 Very Fine
WEB OF SPIDER-MAN (1985) #5 CGC 8.0 Very Fine

WHAT IF... (1989) #50 NEWSSTAND Very Fine
WHAT IF... (1989) #58 Near Mint/Mint

WOLVERINE (1982) #1 NEWSSTAND Good
WOLVERINE (1982) #2 NEWSSTAND Good
WOLVERINE (1982) #2 Very Good
WOLVERINE (1982) #3 NEWSSTAND Good
WOLVERINE (1982) #4 NEWSSTAND Good

WOLVERINE (1988) #1 CGC 9.4 Near Mint/Mint
WOLVERINE (1988) #1 NEWSSTAND Fine
WOLVERINE (1988) #2 Very Fine
WOLVERINE (1988) #3 NEWSSTAND Near Mint/Mint
WOLVERINE (1988) #8 Fine
WOLVERINE (1988) #10 CGC 7.5 Very Fine
WOLVERINE (1988) #10 NEWSSTAND Fine
WOLVERINE (1988) #11 NEWSSTAND Near Mint/Mint
WOLVERINE (1988) #14 NEWSSTAND Near Mint/Mint
WOLVERINE (1988) #15 NEWSSTAND Very Fine
WOLVERINE (1988) #16 NEWSSTAND Near Mint/Mint
WOLVERINE (1988) #17 Near Mint/Mint
WOLVERINE (1988) #18 NEWSSTAND Near Mint/Mint
WOLVERINE (1988) #20 NEWSSTAND Near Mint/Mint
WOLVERINE (1988) #25 NEWSSTAND Very Fine
WOLVERINE (1988) #26 NEWSSTAND Very Fine
WOLVERINE (1988) #27 NEWSSTAND Near Mint/Mint
WOLVERINE (1988) #28 NEWSSTAND Near Mint/Mint
WOLVERINE (1988) #29 NEWSSTAND Very Fine
WOLVERINE (1988) #30 NEWSSTAND Very Fine
WOLVERINE (1988) #33 NEWSSTAND Near Mint/Mint
WOLVERINE (1988) #41 NEWSSTAND Very Fine
WOLVERINE (1988) #43 NEWSSTAND Near Mint/Mint

X-FACTOR (1986) #15 NEWSSTAND Near Mint/Mint

X-FORCE (1991) #23 Near Mint/Mint

X-MEN (1963) (#1-113, UNCANNY X-MEN #114-544) (MARVEL) #142 NEWSCGC9.2 Near Mint/Mint
X-MEN (1963) (#1-113, UNCANNY X-MEN #114-544) (MARVEL) #157 Near Mint/Mint
X-MEN (1963) (#1-113, UNCANNY X-MEN #114-544) (MARVEL) #157 NEWSSTAND Fine
X-MEN (1963) (#1-113, UNCANNY X-MEN #114-544) (MARVEL) #184 Near Mint/Mint
X-MEN (1963) (#1-113, UNCANNY X-MEN #114-544) (MARVEL) #188 NEWSSTAND Very Fine

X-MEN (1963) (#1-113, UNCANNY X-MEN #114-544) (MARVEL) #193 NEWSSTAND Very Fine
X-MEN (1963) (#1-113, UNCANNY X-MEN #114-544) (MARVEL) #213 NEWSSTAND Very Good
X-MEN (1963) (#1-113, UNCANNY X-MEN #114-544) (MARVEL) #219 NEWSSTAND Fine
X-MEN (1963) (#1-113, UNCANNY X-MEN #114-544) (MARVEL) #222 NEWSSTAND Very Good
X-MEN (1963) (#1-113, UNCANNY X-MEN #114-544) (MARVEL) #226 NEWSSTAND Near Mint/Mint
X-MEN (1963) (#1-113, UNCANNY X-MEN #114-544) (MARVEL) #235 NEWSSTAND Very Fine
X-MEN (1963) (#1-113, UNCANNY X-MEN #114-544) (MARVEL) #242 Near Mint/Mint
X-MEN (1963) (#1-113, UNCANNY X-MEN #114-544) (MARVEL) #256 Near Mint/Mint
X-MEN (1963) (#1-113, UNCANNY X-MEN #114-544) (MARVEL) #269 NEWSSTAND Very Fine
X-MEN (1963) (#1-113, UNCANNY X-MEN #114-544) (MARVEL) #270 NEWSSTAND Very Fine

DC
ACTION COMICS (1938) (#0-904) (DC) #672 Very Fine

ACTION COMICS (2011) (#0-52) (DC NEW52) #32 BOMBSHELL Near Mint/Mint

ADVENTURE COMICS (1938) #361 Very Good

ADVENTURES OF SUPERMAN (1987) #424 W/INSERT Near Mint/Mint

ADVENTURES OF SUPERMAN (2013) #14 Near Mint/Mint

AQUAMAN (2011) (#0-52) (DC NEW52) #32 BOMBSHELL Near Mint/Mint

BATGIRL (2011) (#0-52) (DC NEW52) #32 BOMBSHELL Near Mint/Mint

BATMAN (1940) (#0-713) (DC) #404 Near Mint/Mint
BATMAN (1940) (#0-713) (DC) #456 NEWSSTAND Fine
BATMAN (1940) (#0-713) (DC) #497 NEWS Very Fine

BATMAN (2011) (#0-52) (DC NEW52) #32 BOMBSHELL Near Mint/Mint
BATMAN (2011) (#0-52) (DC NEW52) #39 NEWS 4.99 Near Mint/Mint

BATMAN & ROBIN (2011) #32 BOMBSHELL Near Mint/Mint

BATMAN/PHANTOM STRANGER (PRESTIGE) (1997) #1 Fine
BATMAN/PHANTOM STRANGER (PRESTIGE) (1997) #1 Very Fine


BATMAN/POISON IVY (PRESTIGE) (1997) #1

BATMAN/POISON IVY (PRESTIGE) (1997) #1 Fine

BATMAN/SUPERMAN (2013) #12 BOMBSHELL Near Mint/Mint

BATMAN/TEENAGE MUTANT NINJA TURTLES (2015) #1 Near Mint/Mint
BATMAN/TEENAGE MUTANT NINJA TURTLES (2015) #2 Near Mint/Mint

BATMAN: THE ULTIMATE EVIL (ANDREW VACHSS) (PRESTIGE) (1995) #1 Very Fine

BATWOMAN (2011) #32 BOMBSHELL Near Mint/Mint

CATWOMAN (2011) #32 BOMBSHELL Near Mint/Mint

CATWOMAN: CATWOMAN DIES TPB (2008) #1 Fine

CATWOMAN: CRIME PAYS TPB (2008) #1 Very Fine

CATWOMAN: IT'S ONLY A MOVIE TPB (2007) #1 Very Fine

CATWOMAN: LONG ROAD HOME TPB (2009) #1 Very Fine

CATWOMAN: REPLACEMENTS TPB (2006) #1 Very Fine

CATWOMAN: WHEN IN ROME COLLECTION (2005) #1 SC Near Mint/Mint

DARK KNIGHT III: THE MASTER RACE (2015) #2 Near Mint/Mint

DC SUPER HERO GIRLS FREE COMIC BOOK DAY (2016) #1 MILE HIGH Near Mint/Mint

DETECTIVE COMICS (2011) (#0-52) (DC NEW52) #32 BOMBSHELL Near Mint/Mint

DR. FATE: COUNTDOWN TO MYSTERY TPB (2008) #1 Fine

EARTH 2 (2012) #24 BOMBSHELL Near Mint/Mint

FLASH (2011) (#0-52) (DC NEW52) #32 BOMBSHELL Near Mint/Mint

GREEN LANTERN (2011) (#0-52) (DC NEW52) #32 BOMBSHELL Near Mint/Mint

GREEN LANTERN CORPS (2011) (#0-40) (DC NEW52) #32 BOMBSHELL Near Mint/Mint


HARLEY QUINN (2013) #5 VARIANT

HARLEY QUINN (2013) (#0-30) (DC NEW52) #5 VARIANT Near Mint/Mint
HARLEY QUINN (2013) (#0-30) (DC NEW52) #7 BOMBSHELL Near Mint/Mint

HARLEY QUINN (2016) (#1-UP) (DC REBIRTH) #1 NEWS 3.99 Near Mint/Mint

JSA SECRET FILES (1999) #1 Near Mint/Mint

JUSTICE LEAGUE (DC NEW52) (2011) #32 BOMBSHELL Near Mint/Mint

JUSTICE LEAGUE DARK (2011) #32 BOMBSHELL Near Mint/Mint

JUSTICE LEAGUE UNITED (2014) #2 BOMBSHELL Near Mint/Mint

LEGENDS (1986) #3 NEWSSTAND Fine

MAD MAX: FURY ROAD - FURIOSA (2015) #1 Near Mint/Mint

MAD MAX: FURY ROAD - MAD MAX (2015) #1 Near Mint/Mint

MAD MAX: FURY ROAD - NUX & IMMORTAL JOE (2015) #1 Near Mint/Mint

PREACHER (1995) #1 CGC 9.2 (DC: Vertigo Press) Near Mint/Mint

RED HOOD & THE OUTLAWS (2011) (#0-40) (DC NEW52) #32 BOMBSHELL Near Mint/Mint

SUPERMAN (1986) (#0-226, #650-714) (DC) #75 BAGGED Near Mint/Mint

SUPERMAN (2011) (#0-52) (DC NEW52) #32 BOMBSHELL Near Mint/Mint

SUPERMAN/WONDER WOMAN (2013) #9 BOMBSHELL Near Mint/Mint

WONDER WOMAN (2011) (#0-52) (DC NEW52) #32 BOMBSHELL Near Mint/Mint

WORLDS FINEST (1941) #198 Good

DARK HORSE COMICS
SERGIO ARAGONES' ACTIONS SPEAK (2001) #2 Fine


SERGIO ARAGONES' ACTIONS SPEAK (2001) #5

SERGIO ARAGONES' ACTIONS SPEAK (2001) #5 Fine
SERGIO ARAGONES' ACTIONS SPEAK (2001) #6 Fine

STAR WARS: CRIMSON EMPIRE III - EMPIRE LOST (2011) #3 Near Mint/Mint

STAR WARS: DARK TIMES (2006) #1 Near Mint/Mint
STAR WARS: DARK TIMES (2006) #3 NEWSSTAND Near Mint/Mint

STAR WARS: DARTH MAUL - DEATH SENTENCE (2012) #1 Near Mint/Mint

STAR WARS: INVASION (2009) #0 Near Mint/Mint
STAR WARS: INVASION (2009) #1 Near Mint/Mint
STAR WARS: INVASION (2009) #2 Near Mint/Mint
STAR WARS: INVASION (2009) #3 Near Mint/Mint
STAR WARS: INVASION (2009) #4 Near Mint/Mint
STAR WARS: INVASION (2009) #5 Near Mint/Mint

STAR WARS: INVASION - RESCUES (2010) #1 Near Mint/Mint
STAR WARS: INVASION - RESCUES (2010) #2 Near Mint/Mint

STAR WARS: INVASION - REVELATIONS (2011) #2 Near Mint/Mint
STAR WARS: INVASION - REVELATIONS (2011) #3 Near Mint/Mint
STAR WARS: INVASION - REVELATIONS (2011) #4 Near Mint/Mint
STAR WARS: INVASION - REVELATIONS (2011) #5 Near Mint/Mint

STAR WARS: KNIGHTS OF THE OLD REPUBLIC - WAR (2011) #1 WILKINS Near Mint/Mint

STAR WARS: KNIGHTS OF THE OLD REPUBLIC - WAR (2011) #2 Near Mint/Mint
STAR WARS: KNIGHTS OF THE OLD REPUBLIC - WAR (2011) #3 Near Mint/Mint

IMAGE COMICS
ANGELA/GLORY: RAGE OF ANGELS (IMAGE) (1996) #1 VARIANT Very Fine

ARIA/ANGELA: HEAVENLY CREATURES (IMAGE AVALON STUDIOS) (1999) #1 TOWER VAR Very Fine
ARIA/ANGELA: HEAVENLY CREATURES (IMAGE AVALON STUDIOS) (1999) #1 TOWER VAR Fine

CAPES (2003) #1 Near Mint/Mint

CUTTER (2014) #1 B SIGNED Near Mint/Mint

EXPOSURE #1 DFE VAR. Near Mint/Mint

FATALE (2012) #1 B Near Mint/Mint

INVINCIBLE (2003) #110 Near Mint/Mint

OUTCAST (ROBERT KIRKMAN & PAUL AZACETA) (2014) #1 Near Mint/Mint

REVIVAL (2012) #1 A Near Mint/Mint

SPAWN/BATMAN #1 Near Mint/Mint

TOMB RAIDER: GREATEST TREASURE OF ALL ONE-SHOT (2005) #1 EXCLUSIVE (Image Top Cow) Near Mint/Mint

WALKING DEAD (2003) #8 CGC 9.8 Near Mint/Mint
WALKING DEAD (2003) #11 CGC 9.0 Very Fine
WALKING DEAD (2003) #14 CGC 8.5 Very Fine
WALKING DEAD (2003) #18 CGC 8.0 Very Fine
WALKING DEAD (2003) #19 Near Mint/Mint
WALKING DEAD (2003) #23 Near Mint/Mint
WALKING DEAD (2003) #24 CGC 8.5 Very Fine
WALKING DEAD (2003) #37 Very Good
WALKING DEAD (2003) #40 Fine
WALKING DEAD (2003) #41 CGC 9.2 Near Mint/Mint
WALKING DEAD (2003) #44 CGC 9.2 Near Mint/Mint
WALKING DEAD (2003) #45 CGC 8.5 Very Fine
WALKING DEAD (2003) #49 CGC 9.6 Near Mint/Mint
WALKING DEAD (2003) #52 CGC 9.4 Near Mint/Mint
WALKING DEAD (2003) #54 Fine
WALKING DEAD (2003) #54 CGC 9.2 Near Mint/Mint
WALKING DEAD (2003) #55 CGC 9.2 Near Mint/Mint
WALKING DEAD (2003) #57 Fine
WALKING DEAD (2003) #57 CGC 9.4 Near Mint/Mint

WALKING DEAD (2003) #58 Fine
WALKING DEAD (2003) #59 CGC 9.4 Near Mint/Mint
WALKING DEAD (2003) #60 CGC 9.2 Near Mint/Mint
WALKING DEAD (2003) #61 CGC 9.0 Very Fine
WALKING DEAD (2003) #62 CGC 9.0 Very Fine
WALKING DEAD (2003) #63 CGC 8.5 Very Fine
WALKING DEAD (2003) #64 CGC 9.0 Very Fine
WALKING DEAD (2003) #65 CGC 9.4 Near Mint/Mint
WALKING DEAD (2003) #65 Very Fine
WALKING DEAD (2003) #66 Very Fine
WALKING DEAD (2003) #75 Very Good
WALKING DEAD (2003) #85 Near Mint/Mint
WALKING DEAD (2003) #91 Very Fine
WALKING DEAD (2003) #99 Near Mint/Mint
WALKING DEAD (2003) #100 A Near Mint/Mint
WALKING DEAD (2003) #101 Near Mint/Mint
WALKING DEAD (2003) #105 Near Mint/Mint
WALKING DEAD (2003) #106 A Near Mint/Mint
WALKING DEAD (2003) #106 B Near Mint/Mint
WALKING DEAD (2003) #115 M Near Mint/Mint
WALKING DEAD (2003) #116 Near Mint/Mint
WALKING DEAD (2003) #117 Near Mint/Mint
WALKING DEAD (2003) #118 Near Mint/Mint
WALKING DEAD (2003) #119 Near Mint/Mint
WALKING DEAD (2003) #120 Near Mint/Mint
WALKING DEAD (2003) #121 Near Mint/Mint
WALKING DEAD (2003) #122 Near Mint/Mint
WALKING DEAD (2003) #123 Near Mint/Mint
WALKING DEAD (2003) #124 Near Mint/Mint
WALKING DEAD (2003) #125 Near Mint/Mint
WALKING DEAD (2003) #126 Near Mint/Mint
WALKING DEAD (2003) #127 Near Mint/Mint
WALKING DEAD (2003) #132 LOOTCRATE Near Mint/Mint

WALKING DEAD WEEKLY (2011) #1 CON CGC9.4 Near Mint/Mint

WALKING DEAD WEEKLY (2011) #7 Near Mint/Mint
WALKING DEAD WEEKLY (2011) #8 Near Mint/Mint
WALKING DEAD WEEKLY (2011) #10 Very Fine
WALKING DEAD WEEKLY (2011) #27 Very Fine
WALKING DEAD WEEKLY (2011) #29 Very Fine
WALKING DEAD WEEKLY (2011) #32 Very Fine
WALKING DEAD WEEKLY (2011) #36 Near Mint/Mint
WALKING DEAD WEEKLY (2011) #37 Near Mint/Mint

WAYWARD (2014) #1 CRUZ Near Mint/Mint

INDEPENDENTS
1984 MAGAZINE (SPANISH) (TOUTAIN EDITOR) (1984) #4 (Warren Publishing Company) Very Fine
1984 MAGAZINE (SPANISH) (TOUTAIN EDITOR) (1984) #7 (Warren Publishing Company) Very Good
1984 MAGAZINE (SPANISH) (TOUTAIN EDITOR) (1984) #8 (Warren Publishing Company) Very Good
1984 MAGAZINE (SPANISH) (TOUTAIN EDITOR) (1984) #9 (Warren Publishing Company) Very Good
1984 MAGAZINE (SPANISH) (TOUTAIN EDITOR) (1984) #15 (Warren Publishing Company) Good
1984 MAGAZINE (SPANISH) (TOUTAIN EDITOR) (1984) #16 (Warren Publishing Company) Very Fine
1984 MAGAZINE (SPANISH) (TOUTAIN EDITOR) (1984) #19 (Warren Publishing Company) Fine
1984 MAGAZINE (SPANISH) (TOUTAIN EDITOR) (1984) #21 (Warren Publishing Company) Very Good
1984 MAGAZINE (SPANISH) (TOUTAIN EDITOR) (1984) #28 (Warren Publishing Company) Very Good
1984 MAGAZINE (SPANISH) (TOUTAIN EDITOR) (1984) #48 (Warren Publishing Company) Good
1984 MAGAZINE (SPANISH) (TOUTAIN EDITOR) (1984) #48 (Warren Publishing Company) Very Good
1984 MAGAZINE (SPANISH) (TOUTAIN EDITOR) (1984) #52 (Warren Publishing Company) Very Good

AFTERLIFE WITH ARCHIE (2013) #1 SEELEY (Archie Comics) Near Mint/Mint
AFTERLIFE WITH ARCHIE (2013) #2 FRANCAVILL (Archie Comics) Near Mint/Mint
AFTERLIFE WITH ARCHIE (2013) #3 FRANCAVILL (Archie Comics) Near Mint/Mint
AFTERLIFE WITH ARCHIE (2013) #4 SEELEY (Archie Comics) Near Mint/Mint
AFTERLIFE WITH ARCHIE (2013) #7 PEPOY (Archie Comics) Near Mint/Mint
AFTERLIFE WITH ARCHIE (2013) #8 VARIANT (Archie Comics) Near Mint/Mint

ANNIHILATOR (LEGENDARY COMICS) (2014) #2 (Legendary Comics) Near Mint/Mint

ANYTHING GOES VOL. 6: USAGI YOJIMBO (STAN SAKAI) (1987) #1 (Fantagraphics) Very Fine

ARCHER & ARMSTRONG (VALIANT ACCLAIM) (1992) #0 (Acclaim/Valiant) Fine

BASEBALL SUPERSTARS (PERSONALITY) #20 (Revolutionary Comics) Fine
BASEBALL SUPERSTARS (PERSONALITY) #20 (Revolutionary Comics) Very Fine

BETTY BOOP (2016) #4 C BONE B&W (DYNAMITE Entertainment) Near Mint/Mint

CINEFANTASTIQUE (VOL.12) #1 (Cinefantastique) Very Good

CINEFANTASTIQUE (VOL.19) (1989) #5 (Cinefantastique) Very Good

CINEFANTASTIQUE (VOL.20) (1989) #1 /2 (Cinefantastique) Very Good

CREEPY (MAGAZINE) (DUTCH) (SEMIC) (1981) #3 (Warren Publishing Company) Fine
CREEPY (MAGAZINE) (DUTCH) (SEMIC) (1981) #4 (Warren Publishing Company) Very Good

CREEPY (MAGAZINE) (FRENCH) (1970) #9 (Warren Publishing Company) Fine
CREEPY (MAGAZINE) (FRENCH) (1970) #29 (Warren Publishing Company) Very Good

CREEPY (MAGAZINE) (SPANISH) (TOUTAIN EDITOR) (1978) #3 (Warren Publishing Company) Good
CREEPY (MAGAZINE) (SPANISH) (TOUTAIN EDITOR) (1978) #6 (Warren Publishing Company) Very Good
CREEPY (MAGAZINE) (SPANISH) (TOUTAIN EDITOR) (1978) #8 (Warren Publishing Company) Good
CREEPY (MAGAZINE) (SPANISH) (TOUTAIN EDITOR) (1978) #8 (Warren Publishing Company) Very Good
CREEPY (MAGAZINE) (SPANISH) (TOUTAIN EDITOR) (1978) #9 (Warren Publishing Company) Fine
CREEPY (MAGAZINE) (SPANISH) (TOUTAIN EDITOR) (1978) #16 (Warren Publishing Company) Very Good
CREEPY (MAGAZINE) (SPANISH) (TOUTAIN EDITOR) (1978) #19 (Warren Publishing Company) Very Good
CREEPY (MAGAZINE) (SPANISH) (TOUTAIN EDITOR) (1978) #24 (Warren Publishing Company) Good
CREEPY (MAGAZINE) (SPANISH) (TOUTAIN EDITOR) (1978) #28 (Warren Publishing Company) Good

CREEPY (MAGAZINE) (SPANISH) (TOUTAIN EDITOR) (1989) #16 (Warren Publishing Company) Very Good
CREEPY (MAGAZINE) (SPANISH) (TOUTAIN EDITOR) (1989) #37 (Warren Publishing Company) Very Good
CREEPY (MAGAZINE) (SPANISH) (TOUTAIN EDITOR) (1989) #38 (Warren Publishing Company) Very Good
CREEPY (MAGAZINE) (SPANISH) (TOUTAIN EDITOR) (1989) #44 (Warren Publishing Company) Fine
CREEPY (MAGAZINE) (SPANISH) (TOUTAIN EDITOR) (1989) #48 (Warren Publishing Company) Fine
CREEPY (MAGAZINE) (SPANISH) (TOUTAIN EDITOR) (1989) #55 (Warren Publishing Company) Very Good
CREEPY (MAGAZINE) (SPANISH) (TOUTAIN EDITOR) (1989) #57 (Warren Publishing Company) Fine
CREEPY (MAGAZINE) (SPANISH) (TOUTAIN EDITOR) (1989) #61 (Warren Publishing Company) Fine
CREEPY (MAGAZINE) (SPANISH) (TOUTAIN EDITOR) (1989) #62 (Warren Publishing Company) Very Good
CREEPY (MAGAZINE) (SPANISH) (TOUTAIN EDITOR) (1989) #66 (Warren Publishing Company) Very Good
CREEPY (MAGAZINE) (SPANISH) (TOUTAIN EDITOR) (1989) #69 (Warren Publishing Company) Very Fine


CREEPY (MAGAZINE) (SPANISH) (TOUTAIN EDITOR) (1989) #73

CREEPY (MAGAZINE) (SPANISH) (TOUTAIN EDITOR) (1989) #73 (Warren Publishing Company) Very Good
CREEPY (MAGAZINE) (SPANISH) (TOUTAIN EDITOR) (1989) #74 (Warren Publishing Company) Very Good
CREEPY (MAGAZINE) (SPANISH) (TOUTAIN EDITOR) (1989) #75 (Warren Publishing Company) Fine
CREEPY (MAGAZINE) (SPANISH) (TOUTAIN EDITOR) (1989) #75 (Warren Publishing Company) Very Good
CREEPY (MAGAZINE) (SPANISH) (TOUTAIN EDITOR) (1989) #78 (Warren Publishing Company) Fine

CREEPY ALMANAQUE MAGAZINE (ALMANAC) (1982) #1 (Warren Publishing Company) Very Good

CREEPY PRESENTA SU ALMANAQUE (SPANISH) (1980) #1 (Warren Publishing Company) Fine

DEEP STATE (2014) #1 (Boom Studios Publishing) Near Mint/Mint

DIVINITY (2015) #1 DJURDJEVIC (Valiant Comics) Near Mint/Mint
DIVINITY (2015) #2 DJURDJEVIC (Valiant Comics) Near Mint/Mint

DREADSTAR (FIRST) (1986) #52 (First Comics) Very Fine
DREADSTAR (FIRST) (1986) #53 (First Comics) Fine
DREADSTAR (FIRST) (1986) #58 (First Comics) Very Fine
DREADSTAR (FIRST) (1986) #62 (First Comics) Fine
DREADSTAR (FIRST) (1986) #63 (First Comics) Fine

GRATEFUL DEAD (MAGAZINE) (1991) #2 (Kitchen Sink Publishing) Near Mint/Mint

GRIMM (VOL. 2) (2016) #5 D SANAOVIR (DYNAMITE Entertainment) Near Mint/Mint

KISS (2016) #3 E SHOURVIR (DYNAMITE Entertainment) Fine

KISS: DEMON (2017) #1 F MANDRB&W (DYNAMITE Entertainment) Near Mint/Mint
KISS: DEMON (2017) #1 G STRAHVIR (DYNAMITE Entertainment) Near Mint/Mint

LIFE WITH ARCHIE: MARRIED LIFE (2010) #36 PEREZ (Archie Comics) Near Mint/Mint

MINIONS (2015) #1 (Titan Distributing) Near Mint/Mint

NIGHT MARY (2005) #2 (IDW Publishing) Near Mint/Mint

RUFUS MAGAZINE (SPANISH) (REPRINTS CREEPY & EERIE) (1973) #28 (Warren Publishing Company) Very Good
RUFUS MAGAZINE (SPANISH) (REPRINTS CREEPY & EERIE) (1973) #30 (Warren Publishing Company) Good


RUFUS MAGAZINE (SPANISH) (REPRINTS CREEPY & EERIE) (1973) #41

RUFUS MAGAZINE (SPANISH) (REPRINTS CREEPY & EERIE) (1973) #41 (Warren Publishing Company) Very Good
RUFUS MAGAZINE (SPANISH) (REPRINTS CREEPY & EERIE) (1973) #44 (Warren Publishing Company) Very Good

SIRENS (GEORGE PEREZ) (2014) #6 D PENCILS (Boom Studios Publishing) Very Fine
SIRENS (GEORGE PEREZ) (2014) #6 D PENCILS (Boom Studios Publishing) Fine

SPIRE (2015) #1 A (Boom Studios Publishing) Near Mint/Mint

STAR WARS INSIDER MAGAZINE (#23-UP) (TITAN) (1994) #91 (Titan Distributing) Fine
STAR WARS INSIDER MAGAZINE (#23-UP) (TITAN) (1994) #91 (Titan Distributing) Near Mint/Mint
STAR WARS INSIDER MAGAZINE (#23-UP) (TITAN) (1994) #91 COVER #2 (Titan Distributing) Near Mint/Mint
STAR WARS INSIDER MAGAZINE (#23-UP) (TITAN) (1994) #91 COVER #2 (Titan Distributing) Fine

STAR WARS: EMPIRE STRIKES BACK OFFICIAL COLLECTORS ED (1980) #1 (PARADISE PRESS) Very Good

VAMPIRELLA TOUT EN COULEURS (FRENCH) (1980) #1 (Warren Publishing Company) Very Fine

VAMPIRELLA UMA VAMPIRA QUE VEIO DES (PORTUGUESE) #1 (Warren Publishing Company) Very Good

VAMPUS MAGAZINE (SPANISH) (CREEPY REPRINTS) (1976) #63 (Warren Publishing Company) Very Good
VAMPUS MAGAZINE (SPANISH) (CREEPY REPRINTS) (1976) #72 (Warren Publishing Company) Very Good
VAMPUS MAGAZINE (SPANISH) (CREEPY REPRINTS) (1976) #75 (Warren Publishing Company) Good

WAR STORIES (2014) #2 BATTLE (Avatar Comics) Near Mint/Mint

WINTERWORLD (2014) #1 SUBSCRIPT (IDW Publishing) Near Mint/Mint

WOLVERINE/SHI: DARK NIGHT OF JUSTICE PREVIEW FLIPBOOK (2000) #1 (Crusade) Near Mint/Mint

WONDER WOMAN '77/BIONIC WOMAN (2016) #2 D LOPREB&W (DYNAMITE Entertainment) Near Mint/Mint

ZOMBIE TRAMP (2014) #1 MILE HIGH (Danger Zone) Near Mint/Mint
ZOMBIE TRAMP (2014) #1 TMCHU (Danger Zone) Near Mint/Mint
ZOMBIE TRAMP (2014) #2 RISQUE (Danger Zone) Very Fine


ZOMBIE TRAMP (2014) #5 VARIANT

ZOMBIE TRAMP (2014) #5 VARIANT (Danger Zone) Near Mint/Mint
ZOMBIE TRAMP (2014) #11 MILE HIGH (Danger Zone) Near Mint/Mint
ZOMBIE TRAMP (2014) #13 SDCC SGN (Danger Zone) Near Mint/Mint

ZOMBIE TRAMP (VOL. 2) (2013) #2 RISQUE (Action Lab Entertainment) Near Mint/Mint