Local News - 10,000+ Comics only $1 Each
Howdy!
Two quick news items today. First, our next Jason St. charity Texas Hold'em poker tournament is coming up on January 28th, which is a week from Saturday. Cost to enter the tournament is a $25 donation, but this will be reimbursed to you immediately (if you register in advance) via a $25 gift certificate. The game begins at 11 AM, but we ask you to arrive a little early for your table assignment. This game is open to everyone, and generally has about 40 participants. Grand prize will be a $500 Mile High Comics gift certificate, with second place $200, and 3rd -5th $100 each. Register at any Mile High Comics location.
Saturday's tournament will feature a new community group as a beneficiary, as we are raising money this month to help the kids being treated at Denver Children's hospital who have the misfortune of being born H.I.V. positive. Many of these children need constant blood work done, and we are sponsoring the cost of supplying small toys that they keep on the blood draw cart for the technicians to give out to the little ones after each time that they have to be poked. All proceeds from our tournament on the 28th will be donated to this very worthy cause, as will any donations from the refreshment table. Please join us!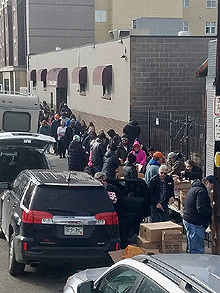 Small percentage of the Homeless at St. Francis Center

My second announcement is a quick request for clothing donations for this Thursday's event by Feeding Denver's Hungry. We give out food several times a month, but only once a month do we pass out donated jackets, sweaters, jeans, etc. We do already have one pickup load of donated warm clothes on hand, but the need on the streets is just appalling, especially after the Denver police department seized the possessions of so many homeless people last month. We had over 500 hungry people show up at last week's food giveaway, many of whom asked when we were next going to be passing out coats and sweaters. It is supposed to be quite cold at the end of this week, so please look in your closets and see if you might have something that you could spare for these desperate people. Our donation box at Jason St. is waiting... Thank you.
My final announcement for today is a quick mention that we have dramatically increased this week the number of $1 comics that we offer at all of our stores. We started a brand-new $1 comics selection at Jason St. at the end of last month, and it has proven so popular that we are struggling to keep it filled. Pam, Lisa, and Will put a lot of extra effort into this project this week, however, so Jason's new $1 system has grown well past 10,000 issues. Lakewood and Colorado Blvd. are also starting new $1 systems of their own, so stop on by and see if we have issues you might like. It's hard to go wrong for only $1...
Happy collecting!
Chuck Rozanski,
President - Mile High Comics, Inc.
January 17, 2017

Mile High Comics - Jason Street Mega-Store


Mile High Comics Retail Store Locations