Comic Book Collecting Boom Continues
Howdy!
Facebook reminded me this morning of a significant sale of 3 great "key issue" comics that I made to one of the Denver Broncos players, four years ago. At the time, that $22,000 purchase was a somewhat atypical transaction for us, as buyers for key issues of rare comics were somewhat reserved in their enthusiasms, and it actually took some measure of effort on my part (and at least a little discounting) to close such a larger transaction.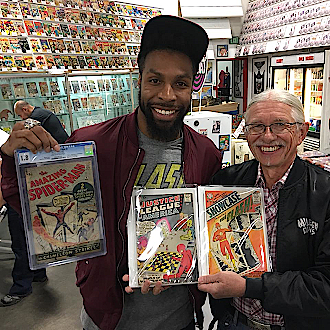 Jason picking up some of Chuck's key issues (4 years ago)

Fast-forward four years, and I have to shake my head that I let those great comics go for so little. With newly-minted cryptocurrency millionaires currently buying up every key back issue in sight, the latest auction tallies on almost all key issue comic books are now oftentimes many multiples of previous records. Simply put, any key issue over 7.0 is now the subject of intense competition, and that scramble to score the last remaining high grade copies has powerfully influenced the asking prices for even the most abject lower grade coverless/incomplete copies. Never, ever, have I seen such demand for key issue old comic books.

DETECTIVE COMICS (1937) (#0-881) (DC) #359

While that explosive trend in key issues may seem unimportant to you if you are collecting less stellar editions, the truth of the matter is that we are currently also experiencing an unprecedented degree of demand here at Mile High Comics for older comics of all kinds. Early Marvel issues (in any grade!) are still our best-sellers, but as prices of all of those Marvel titles have risen steadily, we have seen a migration by more than a few of our most active buyers into other publishers. Silver and Bronze DC comics are (obviously) also selling really well for us, but it might surprise you at how much demand that we are now seeing for early Harvey, Archie, Dell, Gold Key, Whitman, Charlton, Tower, and ACG comics. Truly, this is a comics boom that is remarkably broad-based, and stunningly powerful.

UNKNOWN WORLDS (AMERICAN COMIC GROUP) (1960) #1

I could write for hours about the origins and/or rationales that are driving this current boom in demand for old comic books, but quite honestly, I feel a compelling desire this morning to get myself to our Jason St. Mega-Store, and to keep sorting the comics from collections that I purchased at the end of last year. In reviewing our orders that were received last night, I was shocked to witness sales of over $2,000 of the comics that I just turned over to Will Moulton to grade/enter on Monday afternoon. Those comics were uploaded to our website at 11 AM yesterday, and remained available for less than 24 hours. Wow!
I will close with a couple of quick news updates. First, my granddaughter, Felicity, is recovering from her COVID infection, and seems to be fine. Sadly, "Feeding Denver's Hungry" founder, Jim Scharper (and his husband, David), tested positive yesterday afternoon. They are both triple-vaccinated, so I am hoping that their illnesses are relatively mild. Sadly, I was in close proximity with Jim on Sunday morning, so I will be testing myself today before I go to work. Sigh… I am feeling fine and do think that I will test negative, but you just never know. Even with the best of precautions, it seems impossible to escape this demon illness. (Update: Chuck did test negative)
Finally, with COVID forcing so many of us to self-isolate, I am going to keep our current 60% off THANKYOU! codeword sale in effect for you for at least another week. This great sale applies to all ten million (!) of our back issue comics and magazines, excepting only new issues, a few variants, and our professionally-graded items. Suffice it to say, I believe that this is a great time for all of us to be staying at home (as much as we can) and spending our free time safely working on our comic book collections.
Presuming that I test negative this morning, I will still be sorting my comics in our Jason St. Mega-Store, but only because I repurposed our events space into an area that limits my interactions with other members of our staff, and our clients. Please do exercise similar caution, and do your best to try to remain safe.
Happy collecting!
Chuck Rozanski/Bettie Pages,
President - Mile High Comics, Inc.
January 12, 2022

P.S. Below are more of my new arrivals, plus some key issues from a great single-owner collection that Will Moulton purchased yesterday afternoon. Enjoy!
MARVEL

ALPHA FLIGHT (1983) (#1-130) #21

ALPHA FLIGHT (1983) (#1-130) #21 Fine

AVENGERS (1963) (#1-402) (MARVEL) #288 NEWSSTAND Fine
AVENGERS (1963) (#1-402) (MARVEL) #288 NEWSSTAND Very Good

BLACK CAT ANNUAL (2021) #1 LIM Fine

BLOODSTONE (2001) #3 Fine

CAPTAIN AMERICA (1968) (#100-454) (MARVEL) #347 Fine
CAPTAIN AMERICA (1968) (#100-454) (MARVEL) #366 Fine

DEFENDERS (1972) (#1-152) (MARVEL) #3 Very Good
DEFENDERS (1972) (#1-152) (MARVEL) #4 Good
DEFENDERS (1972) (#1-152) (MARVEL) #5 Good
DEFENDERS (1972) (#1-152) (MARVEL) #7 Very Good
DEFENDERS (1972) (#1-152) (MARVEL) #9 Good
DEFENDERS (1972) (#1-152) (MARVEL) #12 Good
DEFENDERS (1972) (#1-152) (MARVEL) #13 Very Good
DEFENDERS (1972) (#1-152) (MARVEL) #14 Very Good
DEFENDERS (1972) (#1-152) (MARVEL) #16 Good

DOCTOR STRANGE (1974) (#1-81) (MARVEL) (DR. STRANGE) #21 Fine
DOCTOR STRANGE (1974) (#1-81) (MARVEL) (DR. STRANGE) #21 Very Good
DOCTOR STRANGE (1974) (#1-81) (MARVEL) (DR. STRANGE) #80 NEWSSTAND Fine
DOCTOR STRANGE (1974) (#1-81) (MARVEL) (DR. STRANGE) #80 NEWSSTAND Very Good

EXCALIBUR (1988) (#1-125) (MARVEL) #22 Fine

GHOST RIDER (1990) (#1-94) (MARVEL) #1 Very Fine


HULK (1999) (#1-112) (MARVEL) #108

HULK (1999) (#1-112) (MARVEL) #108 Fine

IMMORTAL HULK (2018) #18 KIM Very Fine

INDIANA JONES (1983) (#1-34) (MARVEL) (FURTHER ADV..) #1 NEWSSTAND Fine
INDIANA JONES (1983) (#1-34) (MARVEL) (FURTHER ADV..) #1 NEWSSTAND Very Good

IRON FIST (1975) (#1-15) (MARVEL) #1 Good
IRON FIST (1975) (#1-15) (MARVEL) #15 Good

IRON MAN (1968) (#1-332) (INVINCIBLE IRON MAN)(MARVEL) #313 Fine

IRON MAN: HOUSE OF M (2005) #3 Fine

LOGAN'S RUN (1977) (#1-7) (MARVEL) #5 Fine

MARVEL TEAM-UP (1972) (#1-150) (MARVEL) #130 Near Mint/Mint
MARVEL TEAM-UP (1972) (#1-150) (MARVEL) #131 Very Fine
MARVEL TEAM-UP (1972) (#1-150) (MARVEL) #132 Fine
MARVEL TEAM-UP (1972) (#1-150) (MARVEL) #133 Fine
MARVEL TEAM-UP (1972) (#1-150) (MARVEL) #134 Near Mint/Mint
MARVEL TEAM-UP (1972) (#1-150) (MARVEL) #135 Very Good
MARVEL TEAM-UP (1972) (#1-150) (MARVEL) #136 Fine
MARVEL TEAM-UP (1972) (#1-150) (MARVEL) #137 Near Mint/Mint
MARVEL TEAM-UP (1972) (#1-150) (MARVEL) #138 Near Mint/Mint
MARVEL TEAM-UP (1972) (#1-150) (MARVEL) #139 Fine
MARVEL TEAM-UP (1972) (#1-150) (MARVEL) #140 Very Fine
MARVEL TEAM-UP (1972) (#1-150) (MARVEL) #141 Fine
MARVEL TEAM-UP (1972) (#1-150) (MARVEL) #141 NEWSSTAND Very Good


MARVEL TEAM-UP (1972) (#1-150) (MARVEL) #142

MARVEL TEAM-UP (1972) (#1-150) (MARVEL) #142 Very Good
MARVEL TEAM-UP (1972) (#1-150) (MARVEL) #145 NEWSSTAND Good
MARVEL TEAM-UP (1972) (#1-150) (MARVEL) #146 NEWSSTAND Good
MARVEL TEAM-UP (1972) (#1-150) (MARVEL) #147 NEWSSTAND Very Good
MARVEL TEAM-UP (1972) (#1-150) (MARVEL) #150 Fine

MARVEL TEAM-UP ANNUAL (1976) #1 Very Good
MARVEL TEAM-UP ANNUAL (1976) #2 NEWSSTAND Fine
MARVEL TEAM-UP ANNUAL (1976) #3 Fine
MARVEL TEAM-UP ANNUAL (1976) #4 NEWSSTAND Fine
MARVEL TEAM-UP ANNUAL (1976) #5 Very Fine
MARVEL TEAM-UP ANNUAL (1976) #6 Fine
MARVEL TEAM-UP ANNUAL (1976) #6 NEWSSTAND Fine
MARVEL TEAM-UP ANNUAL (1976) #6 Very Fine
MARVEL TEAM-UP ANNUAL (1976) #7 NEWSSTAND Very Fine
MARVEL TEAM-UP ANNUAL (1976) #7 NEWSSTAND Fine

NAM (1986) #64 Very Fine
NAM (1986) #65 Very Fine
NAM (1986) #66 Near Mint/Mint
NAM (1986) #67 Near Mint/Mint
NAM (1986) #68 Very Fine
NAM (1986) #69 Near Mint/Mint
NAM (1986) #70 Near Mint/Mint
NAM (1986) #71 Near Mint/Mint
NAM (1986) #72 Near Mint/Mint
NAM (1986) #73 Near Mint/Mint
NAM (1986) #74 Near Mint/Mint

PHOENIX, THE UNTOLD STORY (1983) #1 Very Fine


SENSATIONAL SPIDER-MAN (#23-UP) (2006) #33 .1

SENSATIONAL SPIDER-MAN (#23-UP) (2006) #33 .1 Fine
SENSATIONAL SPIDER-MAN (#23-UP) (2006) #33 .2 Fine

SHANNA THE SHE-DEVIL (1972) (#1-5) (MARVEL) #5 Very Good

SHE-HULK (1980) (#1-25) (SAVAGE SHE-HULK) (MARVEL) #8 Very Fine

SHE-HULK (1989) (#1-60) (SENSATIONAL SHE-HULK)(MARVEL) #1 NEWSSTAND Very Fine
SHE-HULK (1989) (#1-60) (SENSATIONAL SHE-HULK)(MARVEL) #1 NEWSSTAND Fine
SHE-HULK (1989) (#1-60) (SENSATIONAL SHE-HULK)(MARVEL) #6 Very Fine
SHE-HULK (1989) (#1-60) (SENSATIONAL SHE-HULK)(MARVEL) #7 Near Mint/Mint
SHE-HULK (1989) (#1-60) (SENSATIONAL SHE-HULK)(MARVEL) #8 Near Mint/Mint
SHE-HULK (1989) (#1-60) (SENSATIONAL SHE-HULK)(MARVEL) #9 Very Fine
SHE-HULK (1989) (#1-60) (SENSATIONAL SHE-HULK)(MARVEL) #10 Very Fine
SHE-HULK (1989) (#1-60) (SENSATIONAL SHE-HULK)(MARVEL) #11 Near Mint/Mint
SHE-HULK (1989) (#1-60) (SENSATIONAL SHE-HULK)(MARVEL) #12 Fine
SHE-HULK (1989) (#1-60) (SENSATIONAL SHE-HULK)(MARVEL) #13 Near Mint/Mint
SHE-HULK (1989) (#1-60) (SENSATIONAL SHE-HULK)(MARVEL) #14 Near Mint/Mint
SHE-HULK (1989) (#1-60) (SENSATIONAL SHE-HULK)(MARVEL) #15 NEWSSTAND Near Mint/Mint
SHE-HULK (1989) (#1-60) (SENSATIONAL SHE-HULK)(MARVEL) #21 Fine
SHE-HULK (1989) (#1-60) (SENSATIONAL SHE-HULK)(MARVEL) #22 Very Fine
SHE-HULK (1989) (#1-60) (SENSATIONAL SHE-HULK)(MARVEL) #35 Near Mint/Mint
SHE-HULK (1989) (#1-60) (SENSATIONAL SHE-HULK)(MARVEL) #36 Near Mint/Mint
SHE-HULK (1989) (#1-60) (SENSATIONAL SHE-HULK)(MARVEL) #37 Near Mint/Mint
SHE-HULK (1989) (#1-60) (SENSATIONAL SHE-HULK)(MARVEL) #38 Near Mint/Mint
SHE-HULK (1989) (#1-60) (SENSATIONAL SHE-HULK)(MARVEL) #39 Near Mint/Mint
SHE-HULK (1989) (#1-60) (SENSATIONAL SHE-HULK)(MARVEL) #40 Near Mint/Mint
SHE-HULK (1989) (#1-60) (SENSATIONAL SHE-HULK)(MARVEL) #41 Near Mint/Mint
SHE-HULK (1989) (#1-60) (SENSATIONAL SHE-HULK)(MARVEL) #42 Very Fine
SHE-HULK (1989) (#1-60) (SENSATIONAL SHE-HULK)(MARVEL) #43 Near Mint/Mint
SHE-HULK (1989) (#1-60) (SENSATIONAL SHE-HULK)(MARVEL) #44 Near Mint/Mint


SHE-HULK (1989) (#1-60) (SENSATIONAL SHE-HULK)(MARVEL) #45

SHE-HULK (1989) (#1-60) (SENSATIONAL SHE-HULK)(MARVEL) #45 Very Fine

SHEENA QUEEN OF THE JUNGLE (1984) (#1-2) (MARVEL) #1 Very Good
SHEENA QUEEN OF THE JUNGLE (1984) (#1-2) (MARVEL) #1 Very Fine

SHIELD (1968) (#1-18) (MARVEL) #3 Good

SPIDER-MAN (1963) (AMAZING SPIDER-MAN) (#1-441) #9 Good
SPIDER-MAN (1963) (AMAZING SPIDER-MAN) (#1-441) #10 Good
SPIDER-MAN (1963) (AMAZING SPIDER-MAN) (#1-441) #11 Fair
SPIDER-MAN (1963) (AMAZING SPIDER-MAN) (#1-441) #34 Fine
SPIDER-MAN (1963) (AMAZING SPIDER-MAN) (#1-441) #43 Good
SPIDER-MAN (1963) (AMAZING SPIDER-MAN) (#1-441) #45 Good
SPIDER-MAN (1963) (AMAZING SPIDER-MAN) (#1-441) #46 Fine
SPIDER-MAN (1963) (AMAZING SPIDER-MAN) (#1-441) #48 Very Good
SPIDER-MAN (1963) (AMAZING SPIDER-MAN) (#1-441) #49 Very Good
SPIDER-MAN (1963) (AMAZING SPIDER-MAN) (#1-441) #51 Very Good
SPIDER-MAN (1963) (AMAZING SPIDER-MAN) (#1-441) #52 Very Good
SPIDER-MAN (1963) (AMAZING SPIDER-MAN) (#1-441) #53 Good
SPIDER-MAN (1963) (AMAZING SPIDER-MAN) (#1-441) #54 Good
SPIDER-MAN (1963) (AMAZING SPIDER-MAN) (#1-441) #54 Very Good
SPIDER-MAN (1963) (AMAZING SPIDER-MAN) (#1-441) #55 Fair
SPIDER-MAN (1963) (AMAZING SPIDER-MAN) (#1-441) #55 Very Good
SPIDER-MAN (1963) (AMAZING SPIDER-MAN) (#1-441) #56 Fine
SPIDER-MAN (1963) (AMAZING SPIDER-MAN) (#1-441) #57 Very Good
SPIDER-MAN (1963) (AMAZING SPIDER-MAN) (#1-441) #58 Very Good
SPIDER-MAN (1963) (AMAZING SPIDER-MAN) (#1-441) #59 Good
SPIDER-MAN (1963) (AMAZING SPIDER-MAN) (#1-441) #60 Good
SPIDER-MAN (1963) (AMAZING SPIDER-MAN) (#1-441) #61 Good
SPIDER-MAN (1963) (AMAZING SPIDER-MAN) (#1-441) #62 Good
SPIDER-MAN (1963) (AMAZING SPIDER-MAN) (#1-441) #63 Good


SPIDER-MAN (1963) (AMAZING SPIDER-MAN) (#1-441) #64

SPIDER-MAN (1963) (AMAZING SPIDER-MAN) (#1-441) #64 Good
SPIDER-MAN (1963) (AMAZING SPIDER-MAN) (#1-441) #65 Very Good
SPIDER-MAN (1963) (AMAZING SPIDER-MAN) (#1-441) #66 Good
SPIDER-MAN (1963) (AMAZING SPIDER-MAN) (#1-441) #67 Very Good
SPIDER-MAN (1963) (AMAZING SPIDER-MAN) (#1-441) #68 Very Good
SPIDER-MAN (1963) (AMAZING SPIDER-MAN) (#1-441) #69 Very Good
SPIDER-MAN (1963) (AMAZING SPIDER-MAN) (#1-441) #70 Very Good
SPIDER-MAN (1963) (AMAZING SPIDER-MAN) (#1-441) #71 Very Good
SPIDER-MAN (1963) (AMAZING SPIDER-MAN) (#1-441) #72 Very Good
SPIDER-MAN (1963) (AMAZING SPIDER-MAN) (#1-441) #73 Fair
SPIDER-MAN (1963) (AMAZING SPIDER-MAN) (#1-441) #89 Good
SPIDER-MAN (1963) (AMAZING SPIDER-MAN) (#1-441) #92 Fair
SPIDER-MAN (1963) (AMAZING SPIDER-MAN) (#1-441) #99 Very Good
SPIDER-MAN (1963) (AMAZING SPIDER-MAN) (#1-441) #103 Fine
SPIDER-MAN (1963) (AMAZING SPIDER-MAN) (#1-441) #122 TOY BIZ Very Fine
SPIDER-MAN (1963) (AMAZING SPIDER-MAN) (#1-441) #123 Very Good
SPIDER-MAN (1963) (AMAZING SPIDER-MAN) (#1-441) #142 Very Fine
SPIDER-MAN (1963) (AMAZING SPIDER-MAN) (#1-441) #144 Very Fine
SPIDER-MAN (1963) (AMAZING SPIDER-MAN) (#1-441) #146 Fine
SPIDER-MAN (1963) (AMAZING SPIDER-MAN) (#1-441) #379 NEWSSTAND Good
SPIDER-MAN (1963) (AMAZING SPIDER-MAN) (#1-441) #420 NEWSSTAND Fine

SPIDER-MAN: UNDER SIEGE (PRO ACTION) (1994) #3 Fine

SPIDER-WOMAN (1978) (#1-50) (JESSICA DREW) (MARVEL) #1 Fine
SPIDER-WOMAN (1978) (#1-50) (JESSICA DREW) (MARVEL) #20 NEWSSTAND Good

TALES OF SUSPENSE (1959) (#1-99) (ATLAS/MARVEL) #71 Good
TALES OF SUSPENSE (1959) (#1-99) (ATLAS/MARVEL) #78 Good

TARZAN (1977) (#1-29) (MARVEL) #1 Very Good

THOR (1962) (#83-125 JOURNEY INTO MYSTERY, 126-502) #220 Fine
THOR (1962) (#83-125 JOURNEY INTO MYSTERY, 126-502) #224 Fine
THOR (1962) (#83-125 JOURNEY INTO MYSTERY, 126-502) #225 Very Fine
THOR (1962) (#83-125 JOURNEY INTO MYSTERY, 126-502) #226 Fine
THOR (1962) (#83-125 JOURNEY INTO MYSTERY, 126-502) #227 Fine
THOR (1962) (#83-125 JOURNEY INTO MYSTERY, 126-502) #228 Fine
THOR (1962) (#83-125 JOURNEY INTO MYSTERY, 126-502) #229 Fine
THOR (1962) (#83-125 JOURNEY INTO MYSTERY, 126-502) #230 Very Good
THOR (1962) (#83-125 JOURNEY INTO MYSTERY, 126-502) #231 Very Good
THOR (1962) (#83-125 JOURNEY INTO MYSTERY, 126-502) #232 Fine
THOR (1962) (#83-125 JOURNEY INTO MYSTERY, 126-502) #233 Fine
THOR (1962) (#83-125 JOURNEY INTO MYSTERY, 126-502) #234 Fine
THOR (1962) (#83-125 JOURNEY INTO MYSTERY, 126-502) #235 Fine
THOR (1962) (#83-125 JOURNEY INTO MYSTERY, 126-502) #236 Fine
THOR (1962) (#83-125 JOURNEY INTO MYSTERY, 126-502) #237 Fine
THOR (1962) (#83-125 JOURNEY INTO MYSTERY, 126-502) #238 Fine
THOR (1962) (#83-125 JOURNEY INTO MYSTERY, 126-502) #239 Fine
THOR (1962) (#83-125 JOURNEY INTO MYSTERY, 126-502) #240 Fine
THOR (1962) (#83-125 JOURNEY INTO MYSTERY, 126-502) #241 Fine
THOR (1962) (#83-125 JOURNEY INTO MYSTERY, 126-502) #242 Very Fine
THOR (1962) (#83-125 JOURNEY INTO MYSTERY, 126-502) #243 Fine
THOR (1962) (#83-125 JOURNEY INTO MYSTERY, 126-502) #246 Very Good
THOR (1962) (#83-125 JOURNEY INTO MYSTERY, 126-502) #247 Very Good
THOR (1962) (#83-125 JOURNEY INTO MYSTERY, 126-502) #248 Very Good
THOR (1962) (#83-125 JOURNEY INTO MYSTERY, 126-502) #249 Very Good
THOR (1962) (#83-125 JOURNEY INTO MYSTERY, 126-502) #250 Very Good
THOR (1962) (#83-125 JOURNEY INTO MYSTERY, 126-502) #251 Very Good
THOR (1962) (#83-125 JOURNEY INTO MYSTERY, 126-502) #252 Very Good
THOR (1962) (#83-125 JOURNEY INTO MYSTERY, 126-502) #253 Fine


THOR (1962) (#83-125 JOURNEY INTO MYSTERY, 126-502) #254

THOR (1962) (#83-125 JOURNEY INTO MYSTERY, 126-502) #254 Very Good
THOR (1962) (#83-125 JOURNEY INTO MYSTERY, 126-502) #255 Fine
THOR (1962) (#83-125 JOURNEY INTO MYSTERY, 126-502) #256 Fine
THOR (1962) (#83-125 JOURNEY INTO MYSTERY, 126-502) #257 Very Good
THOR (1962) (#83-125 JOURNEY INTO MYSTERY, 126-502) #258 Very Good
THOR (1962) (#83-125 JOURNEY INTO MYSTERY, 126-502) #259 Very Good
THOR (1962) (#83-125 JOURNEY INTO MYSTERY, 126-502) #260 Very Good
THOR (1962) (#83-125 JOURNEY INTO MYSTERY, 126-502) #261 Fine
THOR (1962) (#83-125 JOURNEY INTO MYSTERY, 126-502) #262 Very Good
THOR (1962) (#83-125 JOURNEY INTO MYSTERY, 126-502) #263 Fine
THOR (1962) (#83-125 JOURNEY INTO MYSTERY, 126-502) #264 Fine
THOR (1962) (#83-125 JOURNEY INTO MYSTERY, 126-502) #265 Very Good
THOR (1962) (#83-125 JOURNEY INTO MYSTERY, 126-502) #266 Very Good
THOR (1962) (#83-125 JOURNEY INTO MYSTERY, 126-502) #267 Fine
THOR (1962) (#83-125 JOURNEY INTO MYSTERY, 126-502) #269 Good
THOR (1962) (#83-125 JOURNEY INTO MYSTERY, 126-502) #269 Fine
THOR (1962) (#83-125 JOURNEY INTO MYSTERY, 126-502) #270 Very Good
THOR (1962) (#83-125 JOURNEY INTO MYSTERY, 126-502) #278 WHITMAN Very Good
THOR (1962) (#83-125 JOURNEY INTO MYSTERY, 126-502) #303 NEWSSTAND Good
THOR (1962) (#83-125 JOURNEY INTO MYSTERY, 126-502) #329 Fine
THOR (1962) (#83-125 JOURNEY INTO MYSTERY, 126-502) #330 Fine
THOR (1962) (#83-125 JOURNEY INTO MYSTERY, 126-502) #333 NEWSSTAND Good
THOR (1962) (#83-125 JOURNEY INTO MYSTERY, 126-502) #335 NEWSSTAND Very Good
THOR (1962) (#83-125 JOURNEY INTO MYSTERY, 126-502) #345 Fine
THOR (1962) (#83-125 JOURNEY INTO MYSTERY, 126-502) #345 NEWSSTAND Good
THOR (1962) (#83-125 JOURNEY INTO MYSTERY, 126-502) #347 NEWSSTAND Very Good
THOR (1962) (#83-125 JOURNEY INTO MYSTERY, 126-502) #352 NEWSSTAND Very Good
THOR (1962) (#83-125 JOURNEY INTO MYSTERY, 126-502) #354 NEWSSTAND Fine
THOR (1962) (#83-125 JOURNEY INTO MYSTERY, 126-502) #355 NEWSSTAND Fine
THOR (1962) (#83-125 JOURNEY INTO MYSTERY, 126-502) #356 NEWSSTAND Fine
THOR (1962) (#83-125 JOURNEY INTO MYSTERY, 126-502) #357 NEWSSTAND Fine


THOR (1962) (#83-125 JOURNEY INTO MYSTERY, 126-502) #364

THOR (1962) (#83-125 JOURNEY INTO MYSTERY, 126-502) #364 Fine
THOR (1962) (#83-125 JOURNEY INTO MYSTERY, 126-502) #364 Very Good
THOR (1962) (#83-125 JOURNEY INTO MYSTERY, 126-502) #365 Fine
THOR (1962) (#83-125 JOURNEY INTO MYSTERY, 126-502) #365 NEWSSTAND Very Good
THOR (1962) (#83-125 JOURNEY INTO MYSTERY, 126-502) #371 Very Good
THOR (1962) (#83-125 JOURNEY INTO MYSTERY, 126-502) #372 Very Good
THOR (1962) (#83-125 JOURNEY INTO MYSTERY, 126-502) #373 NEWSSTAND Very Good
THOR (1962) (#83-125 JOURNEY INTO MYSTERY, 126-502) #373 Very Good
THOR (1962) (#83-125 JOURNEY INTO MYSTERY, 126-502) #374 NEWSSTAND Good
THOR (1962) (#83-125 JOURNEY INTO MYSTERY, 126-502) #383 Fine
THOR (1962) (#83-125 JOURNEY INTO MYSTERY, 126-502) #412 Near Mint/Mint

THOR ANNUAL (1965) #5 Very Good
THOR ANNUAL (1965) #6 Very Good
THOR ANNUAL (1965) #12 NEWSSTAND Fine
THOR ANNUAL (1965) #13 Fine

TRUE BELIEVERS: AVENGERS - STORMBREAKER (2019) #1 Very Fine

TRUE BELIEVERS: AVENGERS - THANOS & GAMORA (2019) #1 Very Fine

X-MEN (1963) (#1-113, UNCANNY X-MEN #114-544) (MARVEL) #70 Very Good
X-MEN (1963) (#1-113, UNCANNY X-MEN #114-544) (MARVEL) #71 Good
X-MEN (1963) (#1-113, UNCANNY X-MEN #114-544) (MARVEL) #76 Very Good
X-MEN (1963) (#1-113, UNCANNY X-MEN #114-544) (MARVEL) #98 Fair
X-MEN (1963) (#1-113, UNCANNY X-MEN #114-544) (MARVEL) #144 NEWSSTAND Good
X-MEN (1963) (#1-113, UNCANNY X-MEN #114-544) (MARVEL) #144 Very Good
X-MEN (1963) (#1-113, UNCANNY X-MEN #114-544) (MARVEL) #144 Very Fine
X-MEN (1963) (#1-113, UNCANNY X-MEN #114-544) (MARVEL) #146 NEWSSTAND Good
X-MEN (1963) (#1-113, UNCANNY X-MEN #114-544) (MARVEL) #146 Very Good
X-MEN (1963) (#1-113, UNCANNY X-MEN #114-544) (MARVEL) #147 NEWSSTAND Good


X-MEN (1963) (#1-113, UNCANNY X-MEN #114-544) (MARVEL) #148 NEWSSTAND

X-MEN (1963) (#1-113, UNCANNY X-MEN #114-544) (MARVEL) #148 NEWSSTAND Very Good
X-MEN (1963) (#1-113, UNCANNY X-MEN #114-544) (MARVEL) #149 NEWSSTAND Good
X-MEN (1963) (#1-113, UNCANNY X-MEN #114-544) (MARVEL) #150 NEWSSTAND Good
X-MEN (1963) (#1-113, UNCANNY X-MEN #114-544) (MARVEL) #154 NEWSSTAND Good
X-MEN (1963) (#1-113, UNCANNY X-MEN #114-544) (MARVEL) #156 NEWSSTAND Good
X-MEN (1963) (#1-113, UNCANNY X-MEN #114-544) (MARVEL) #157 NEWSSTAND Very Good
X-MEN (1963) (#1-113, UNCANNY X-MEN #114-544) (MARVEL) #158 NEWSSTAND Good
X-MEN (1963) (#1-113, UNCANNY X-MEN #114-544) (MARVEL) #159 Good
X-MEN (1963) (#1-113, UNCANNY X-MEN #114-544) (MARVEL) #159 NEWSSTAND Fine
X-MEN (1963) (#1-113, UNCANNY X-MEN #114-544) (MARVEL) #160 NEWSSTAND Good
X-MEN (1963) (#1-113, UNCANNY X-MEN #114-544) (MARVEL) #161 NEWSSTAND Good
X-MEN (1963) (#1-113, UNCANNY X-MEN #114-544) (MARVEL) #162 NEWSSTAND Very Good
X-MEN (1963) (#1-113, UNCANNY X-MEN #114-544) (MARVEL) #163 NEWSSTAND Good
X-MEN (1963) (#1-113, UNCANNY X-MEN #114-544) (MARVEL) #164 NEWSSTAND Very Good
X-MEN (1963) (#1-113, UNCANNY X-MEN #114-544) (MARVEL) #165 NEWSSTAND Fine
X-MEN (1963) (#1-113, UNCANNY X-MEN #114-544) (MARVEL) #166 Near Mint/Mint
X-MEN (1963) (#1-113, UNCANNY X-MEN #114-544) (MARVEL) #166 NEWSSTAND Near Mint/Mint
X-MEN (1963) (#1-113, UNCANNY X-MEN #114-544) (MARVEL) #166 NEWSSTAND Very Fine
X-MEN (1963) (#1-113, UNCANNY X-MEN #114-544) (MARVEL) #166 NEWSSTAND Fine
X-MEN (1963) (#1-113, UNCANNY X-MEN #114-544) (MARVEL) #166 NEWSSTAND Very Good
X-MEN (1963) (#1-113, UNCANNY X-MEN #114-544) (MARVEL) #166 NEWSSTAND Good
X-MEN (1963) (#1-113, UNCANNY X-MEN #114-544) (MARVEL) #167 NEWSSTAND Fine
X-MEN (1963) (#1-113, UNCANNY X-MEN #114-544) (MARVEL) #167 Very Fine
X-MEN (1963) (#1-113, UNCANNY X-MEN #114-544) (MARVEL) #168 NEWSSTAND Very Fine
X-MEN (1963) (#1-113, UNCANNY X-MEN #114-544) (MARVEL) #169 NEWSSTAND Very Fine
X-MEN (1963) (#1-113, UNCANNY X-MEN #114-544) (MARVEL) #169 NEWSSTAND Fine
X-MEN (1963) (#1-113, UNCANNY X-MEN #114-544) (MARVEL) #170 NEWSSTAND Fine
X-MEN (1963) (#1-113, UNCANNY X-MEN #114-544) (MARVEL) #170 NEWSSTAND Very Good
X-MEN (1963) (#1-113, UNCANNY X-MEN #114-544) (MARVEL) #256 Fine
X-MEN (1963) (#1-113, UNCANNY X-MEN #114-544) (MARVEL) #257 Very Good


X-MEN (1991) (#1-275) (MARVEL) #4

X-MEN (1991) (#1-275) (MARVEL) #4 Very Fine
X-MEN (1991) (#1-275) (MARVEL) #50 DELUXE Fine

DC
ADVENTURE COMICS (1938) (#32-503) (DC) #398 Good

BATMAN (1940) (#0-713) (DC) #156 Good
BATMAN (1940) (#0-713) (DC) #157 Very Good
BATMAN (1940) (#0-713) (DC) #180 Good
BATMAN (1940) (#0-713) (DC) #182 Fair
BATMAN (1940) (#0-713) (DC) #183 Good
BATMAN (1940) (#0-713) (DC) #184 Good
BATMAN (1940) (#0-713) (DC) #185 Good
BATMAN (1940) (#0-713) (DC) #186 Very Good
BATMAN (1940) (#0-713) (DC) #187 Good
BATMAN (1940) (#0-713) (DC) #190 Fair
BATMAN (1940) (#0-713) (DC) #191 Good
BATMAN (1940) (#0-713) (DC) #192 Good
BATMAN (1940) (#0-713) (DC) #193 Good
BATMAN (1940) (#0-713) (DC) #195 Good
BATMAN (1940) (#0-713) (DC) #196 Good
BATMAN (1940) (#0-713) (DC) #197 Good
BATMAN (1940) (#0-713) (DC) #205 Very Good
BATMAN (1940) (#0-713) (DC) #208 Fair
BATMAN (1940) (#0-713) (DC) #209 Very Good
BATMAN (1940) (#0-713) (DC) #210 Good
BATMAN (1940) (#0-713) (DC) #215 Very Good
BATMAN (1940) (#0-713) (DC) #216 Good
BATMAN (1940) (#0-713) (DC) #234 Fine


BATMAN (1940) (#0-713) (DC) #248

BATMAN (1940) (#0-713) (DC) #248 Good

BATMAN (2016) (#1-UP) (DC REBIRTH) #102 JIMENEZ Very Fine

BATMAN & ROBIN (2011) (#0-40) (NEW 52) #34 Fine

BATMAN & THE SIGNAL (2017) #1 Fine

BATMAN SECRET FILES (2018) #3 Fine

BATMAN/SUPERMAN (2013) (#1-32) (DC) #13 BATMAN Very Good

BATMAN: BEYOND (2016)(#1-50)(BATMAN BEYOND)(DC REBIRTH) #43 VARIANT Fine

BATMAN: THE ADVENTURE CONTINUES (2020) #1 Good

CATWOMAN (2018) (#1-UP) (DC UNIVERSE) #22 Very Fine

DC SUPER-STARS (1976) #17 FACSIMILE Fine

DC UNIVERSE REBIRTH (DC REBIRTH) (2016) #1 Very Good

DETECTIVE COMICS (1937) (#0-881) (DC) #353 Good
DETECTIVE COMICS (1937) (#0-881) (DC) #354 Good
DETECTIVE COMICS (1937) (#0-881) (DC) #355 Good
DETECTIVE COMICS (1937) (#0-881) (DC) #356 Good
DETECTIVE COMICS (1937) (#0-881) (DC) #357 Very Good
DETECTIVE COMICS (1937) (#0-881) (DC) #358 Good
DETECTIVE COMICS (1937) (#0-881) (DC) #359 Good
DETECTIVE COMICS (1937) (#0-881) (DC) #361 Good
DETECTIVE COMICS (1937) (#0-881) (DC) #362 Good


DETECTIVE COMICS (1937) (#0-881) (DC) #381

DETECTIVE COMICS (1937) (#0-881) (DC) #381 Very Good
DETECTIVE COMICS (1937) (#0-881) (DC) #385 Good
DETECTIVE COMICS (1937) (#0-881) (DC) #386 Good
DETECTIVE COMICS (1937) (#0-881) (DC) #387 Good
DETECTIVE COMICS (1937) (#0-881) (DC) #388 Good
DETECTIVE COMICS (1937) (#0-881) (DC) #391 Very Good
DETECTIVE COMICS (1937) (#0-881) (DC) #392 Good
DETECTIVE COMICS (1937) (#0-881) (DC) #400 Very Good
DETECTIVE COMICS (1937) (#0-881) (DC) #402 Very Good
DETECTIVE COMICS (1937) (#0-881) (DC) #404 Very Good
DETECTIVE COMICS (1937) (#0-881) (DC) #405 Very Good
DETECTIVE COMICS (1937) (#0-881) (DC) #407 Very Good
DETECTIVE COMICS (1937) (#0-881) (DC) #425 Good
DETECTIVE COMICS (1937) (#0-881) (DC) #429 Fair
DETECTIVE COMICS (1937) (#0-881) (DC) #433 Very Good
DETECTIVE COMICS (1937) (#0-881) (DC) #437 Fine
DETECTIVE COMICS (1937) (#0-881) (DC) #443 Fine

DETECTIVE COMICS (2016) (#934-UP) (DC REBIRTH) #1005 VARIANT Fine
DETECTIVE COMICS (2016) (#934-UP) (DC REBIRTH) #1024 Very Fine
DETECTIVE COMICS (2016) (#934-UP) (DC REBIRTH) #1025 Fine
DETECTIVE COMICS (2016) (#934-UP) (DC REBIRTH) #1025 VARIANT Fine
DETECTIVE COMICS (2016) (#934-UP) (DC REBIRTH) #1026 Fine

EVENT LEVIATHAN (2019) #1 Fine
EVENT LEVIATHAN (2019) #2 Very Fine

FLASH (1959) (#105-350) (DC) #161 Very Good
FLASH (1959) (#105-350) (DC) #217 Very Good

FLASH (2016) (#1-88, #750-UP) (DC REBIRTH) #750 Near Mint/Mint


FLASH (2016) (#1-88, #750-UP) (DC REBIRTH) #754

FLASH (2016) (#1-88, #750-UP) (DC REBIRTH) #754 Fine
FLASH (2016) (#1-88, #750-UP) (DC REBIRTH) #755 Fine

GHOSTS (1971) #77 Very Good
GHOSTS (1971) #95 NEWSSTAND Fine
GHOSTS (1971) #96 NEWSSTAND Fine
GHOSTS (1971) #97 NEWSSTAND Very Fine
GHOSTS (1971) #98 NEWSSTAND Very Fine
GHOSTS (1971) #99 NEWSSTAND Fine
GHOSTS (1971) #100 NEWSSTAND Fine
GHOSTS (1971) #101 NEWSSTAND Very Fine
GHOSTS (1971) #102 NEWSSTAND Fine
GHOSTS (1971) #103 NEWSSTAND Fine
GHOSTS (1971) #104 NEWSSTAND Fine
GHOSTS (1971) #105 NEWSSTAND Fine
GHOSTS (1971) #106 NEWSSTAND Fine
GHOSTS (1971) #107 NEWSSTAND Fine
GHOSTS (1971) #108 NEWSSTAND Fine
GHOSTS (1971) #109 NEWSSTAND Fine
GHOSTS (1971) #110 NEWSSTAND Fine
GHOSTS (1971) #111 NEWSSTAND Fine
GHOSTS (1971) #112 NEWSSTAND Fine

GREEN LANTERN (1960) (#1-224) (DC) #38 Good
GREEN LANTERN (1960) (#1-224) (DC) #80 Very Good
GREEN LANTERN (1960) (#1-224) (DC) #81 Very Good

GREEN LANTERN 80TH ANNIVERSARY 100-PAGE SUPER SPECIAL (2020) #1 Very Good

GREEN LANTERN ANNUAL (2019) #1 Fine


GREEN LANTERN CORPS (2011) (#0-40) (DC NEW52) #34 SELFIE

GREEN LANTERN CORPS (2011) (#0-40) (DC NEW52) #34 SELFIE Very Fine

HARLEY QUINN (2016) (#1-75) (DC REBIRTH) #72 VARIANT Very Fine

HAWKMAN (2018) (#1-UP) (DC UNIVERSE) #23 VARIANT Fine
HAWKMAN (2018) (#1-UP) (DC UNIVERSE) #24 VARIANT Fine
HAWKMAN (2018) (#1-UP) (DC UNIVERSE) #27 Fine

HE-MAN & THE MASTERS OF THE MULTIVERSE (2019) #6 Fine

HOUSE OF SECRETS (1956) #94 Good

JUSTICE LEAGUE OF AMERICA (1960) (#1-261) (DC) #148 Good
JUSTICE LEAGUE OF AMERICA (1960) (#1-261) (DC) #196 NEWSSTAND Very Good

LEGENDS (1986) #1 Very Fine
LEGENDS (1986) #2 NEWSSTAND Very Fine
LEGENDS (1986) #3 NEWSSTAND Good

LOIS LANE (1958) (#1-137) (SUPERMAN'S GIRL FRIEND) (DC) #99 Fair

MAN-BAT (1975) (#1-2) #1 Very Good

MISTER MIRACLE (1971) (#1-25) (DC) #2 Very Good

OUR FIGHTING FORCES (1954) #60 Very Good

RAINBOW BRITE AND THE STAR STEALER (1985) #1 Good


SHADE (1977) (#1-8) (DC) (THE CHANGING MAN) #1

SHADE (1977) (#1-8) (DC) (THE CHANGING MAN) #1 Very Fine
SHADE (1977) (#1-8) (DC) (THE CHANGING MAN) #2 Very Good
SHADE (1977) (#1-8) (DC) (THE CHANGING MAN) #3 Very Good

STARFIRE (1976) #1 Fine

STEEL (1978) (#1-5) (DC) (THE INDESTRUCTIBLE MAN) #1 Very Fine

SUPERBOY (1949) (#1-258) (DC) #199 Very Good

SUPERMAN (1939) (#1-423) (DC) #189 Good

TALES OF THE NEW TEEN TITANS (1982) #1 Fine
TALES OF THE NEW TEEN TITANS (1982) #2 Very Fine
TALES OF THE NEW TEEN TITANS (1982) #3 Very Fine
TALES OF THE NEW TEEN TITANS (1982) #4 Very Good

WATCHMEN (1986) #1 Very Fine

WONDER WOMAN (1942) (#1-329) (DC) #188 Very Good

WORLDS FINEST (1941) (#2-323) (DC) (WORLD'S FINEST) #179 Very Good
WORLDS FINEST (1941) (#2-323) (DC) (WORLD'S FINEST) #210 Very Good

INDEPENDENTS
TELL TALE HEART AND OTHER STORIES (1995) #1 (Mojo Press) Fine


WALT DISNEY'S COMICS AND STORIES (1940) (#1-263) (Dell Publishing) #186

WALT DISNEY'S COMICS AND STORIES (1940) (#1-263) (Dell Publishing) #186 (Dell Publishing) Very Good