Comics Fandom Is Growing!
Howdy!
If you have been reading and collecting comic books for an extended period of time, you are to be congratulated for your prescience. As I am now reading repeatedly in my online comic book retailer forums, comic book collecting has received a totally unexpected boost from our pandemic restrictions, with thousands of previously hibernating fans returning to add copiously to their collections, and an entirely new generation of comics readers joining them in seeking out cool comics.

STAR WARS: KNIGHTS OF THE OLD REPUBLIC 25 CENT FLIPBOOK (2006) #1

The combined momentum of demand fueled by these two rapidly burgeoning groups of excited collectors is creating shortages of selected back issues, nationwide. Of particular note are the huge surges in demand (and price escalations) in all past Marvel and Dark Horse STAR WARS titles. Some are now selling for 50X their prices of a year ago! Just when I think that the rapidly escalating prices for those STAR WARS titles have finally plateaued, we receive yet more orders requesting multiple copies of the same issue. That is always a dead giveaway that we are (again) behind the most recent pricing curve. This is all simply amazing...

KANAN: LAST PADAWAN (STAR WARS) (2015) #1 2ND PRINT

Amplifying the impact of these demand increases, are supply decreases. As I have mentioned several times over the past few months, it has become increasingly clear to all of us here at Mile High Comics that the tidal wave of overabundance of back issues (which once inundated every convention with huge arrays of $1 back issues) is long gone. That is not to say that there are not still hundreds of millions of back issue comics contained within private collections and dealer inventories, but rather that the numbers being released into the marketplace are now far less than in years past.
With scarcity and significantly higher demand now the norm, the dynamics of the back issue market have undergone a truly radical reordering. For many brick-and-mortar comics retailers, this new demand has proven to be a lifesaving shift for their enterprises, as they have (finally) been able to monetize many thousands of back issues that had previously languished in their storage rooms. In some regards, this one-time liquidation has (temporarily) helped to moderate the most severe impacts of our current supply/demand dynamics.
All of the previous having been said, it would not surprise me in the slightest if we see a significant tightening of supply over the next six months. I have heard anecdotally that many retailer's back rooms are now nearly devoid of the most popular back issues, while other retailers have adjusted to our new world order by reinstalling significant arrays of backlist comics into their physical stores. Either way, the number of comics being liquidated at any given moment is now diminishing, quite rapidly.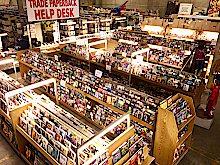 Mega Store book area & the book racks in Jason

On a side note, we are also experiencing a completely unexpected surge in demand for backlist graphic novels, comics trade paperback collections, and comics hardbacks. Ironically, many of the books that we are currently selling quite briskly are ones that (literally) no one seemed to want just two years ago. I am truly passionate about owning books, however, so I gladly provided refuge to over 100,000 (more) book titles during those years of low demand. Today, my seemingly irrational love of books is totally paying off, as they are once again flying off our shelves. Yes!
I will close today with a quick reminder that our 40% off JANUARY! codeword sale is still in effect for you on all ten million+ of our back issue comics and magazines. Only new issues, a few variants, and our professionally-graded comics are exempt from these across-the-board 40% savings.
Before I leave the topic of today's codeword, I want to beg you to not take our current 40% off codeword savings for granted. As I am sure that you are already aware, I have been offering codeword discounts on a continual basis in my newsletters for a couple of decades now. It has really surprised us, however, just how many back issue comics orders that we have been receiving of late that do not utilize any codeword. The number of totally new customers we are welcoming these days is really quite remarkable.
In addition, just one year ago, all of our graphic novels and other comics-related books were continually discounted on our website at 30%-40% off, and had been at similar steep discounts for at least ten years. Since I finally found the courage to back away from those ruinously generous discounts about a year ago, our unit sales of books have actually doubled, and our book revenues have tripled. In great measure this reflects a marketplace that is currently gaining strength with astonishing speed. Need I say more?
Happy collecting!
Chuck Rozanski/Bettie Pages,
President - Mile High Comics, Inc.
January 12, 2021
Below is a great listing of new arrivals. Many came from a single-owner collection that we were blessed to be able to purchase last Thursday. Enjoy!
MARVEL

AMAZING SPIDER-MAN (1999) (#1-58, #500-700.5) (MARVEL) #500

AMAZING SPIDER-MAN (1999) (#1-58, #500-700.5) (MARVEL) #500 Very Good
AMAZING SPIDER-MAN (1999) (#1-58, #500-700.5) (MARVEL) #529 Near Mint/Mint
AMAZING SPIDER-MAN (1999) (#1-58, #500-700.5) (MARVEL) #530 Near Mint/Mint
AMAZING SPIDER-MAN (1999) (#1-58, #500-700.5) (MARVEL) #530 Very Fine
AMAZING SPIDER-MAN (1999) (#1-58, #500-700.5) (MARVEL) #531 Near Mint/Mint
AMAZING SPIDER-MAN (1999) (#1-58, #500-700.5) (MARVEL) #533 Very Fine
AMAZING SPIDER-MAN (1999) (#1-58, #500-700.5) (MARVEL) #535 Very Fine
AMAZING SPIDER-MAN (1999) (#1-58, #500-700.5) (MARVEL) #536 Near Mint/Mint
AMAZING SPIDER-MAN (1999) (#1-58, #500-700.5) (MARVEL) #639 Very Fine
AMAZING SPIDER-MAN (1999) (#1-58, #500-700.5) (MARVEL) #641 Near Mint/Mint
AMAZING SPIDER-MAN (1999) (#1-58, #500-700.5) (MARVEL) #642 Near Mint/Mint
AMAZING SPIDER-MAN (1999) (#1-58, #500-700.5) (MARVEL) #648 BLANK CVR Near Mint/Mint
AMAZING SPIDER-MAN (1999) (#1-58, #500-700.5) (MARVEL) #651 Near Mint/Mint
AMAZING SPIDER-MAN (1999) (#1-58, #500-700.5) (MARVEL) #654 .1 Near Mint/Mint
AMAZING SPIDER-MAN (1999) (#1-58, #500-700.5) (MARVEL) #671 Near Mint/Mint
AMAZING SPIDER-MAN (1999) (#1-58, #500-700.5) (MARVEL) #673 Near Mint/Mint
AMAZING SPIDER-MAN (1999) (#1-58, #500-700.5) (MARVEL) #677 Near Mint/Mint

ASTONISHING X-MEN (2004) (#1-68) (MARVEL)(JOSS WHENDON) #3 Fine

CARNAGE (2010) (#1-5) (MARVEL) #1 Very Fine

GI JOE #1 NEWSSTAND Very Fine

HULK (1962) (#1-6, #102-474, #600-635)(INCREDIBLE)(MV) #340 NEWSSTAND Very Good

NEW MUTANTS (1983) (#1-100) (MARVEL) #87 Near Mint/Mint


NEW MUTANTS (1983) (#1-100) (MARVEL) #98

NEW MUTANTS (1983) (#1-100) (MARVEL) #98 Near Mint/Mint

SPIDER-MAN (1963) (AMAZING SPIDER-MAN) (#1-441) #298 Fine
SPIDER-MAN (1963) (AMAZING SPIDER-MAN) (#1-441) #299 NEWSSTAND Very Good
SPIDER-MAN (1963) (AMAZING SPIDER-MAN) (#1-441) #300 NEWSSTAND Very Good
SPIDER-MAN (1963) (AMAZING SPIDER-MAN) (#1-441) #301 Very Good
SPIDER-MAN (1963) (AMAZING SPIDER-MAN) (#1-441) #302 NEWSSTAND Fine
SPIDER-MAN (1963) (AMAZING SPIDER-MAN) (#1-441) #303 NEWSSTAND Fine
SPIDER-MAN (1963) (AMAZING SPIDER-MAN) (#1-441) #304 NEWSSTAND Very Good
SPIDER-MAN (1963) (AMAZING SPIDER-MAN) (#1-441) #305 NEWSSTAND Very Good
SPIDER-MAN (1963) (AMAZING SPIDER-MAN) (#1-441) #306 NEWSSTAND Fine
SPIDER-MAN (1963) (AMAZING SPIDER-MAN) (#1-441) #307 NEWSSTAND Good
SPIDER-MAN (1963) (AMAZING SPIDER-MAN) (#1-441) #308 NEWSSTAND Very Good
SPIDER-MAN (1963) (AMAZING SPIDER-MAN) (#1-441) #309 NEWSSTAND Very Fine
SPIDER-MAN (1963) (AMAZING SPIDER-MAN) (#1-441) #310 NEWSSTAND Very Good
SPIDER-MAN (1963) (AMAZING SPIDER-MAN) (#1-441) #311 NEWSSTAND Very Fine
SPIDER-MAN (1963) (AMAZING SPIDER-MAN) (#1-441) #312 NEWSSTAND Near Mint/Mint
SPIDER-MAN (1963) (AMAZING SPIDER-MAN) (#1-441) #313 NEWSSTAND Near Mint/Mint
SPIDER-MAN (1963) (AMAZING SPIDER-MAN) (#1-441) #314 NEWSSTAND Very Fine
SPIDER-MAN (1963) (AMAZING SPIDER-MAN) (#1-441) #315 NEWSSTAND Near Mint/Mint
SPIDER-MAN (1963) (AMAZING SPIDER-MAN) (#1-441) #316 NEWSSTAND Very Fine
SPIDER-MAN (1963) (AMAZING SPIDER-MAN) (#1-441) #317 NEWSSTAND Near Mint/Mint

THOR (2007) (#1-12, 600-621) (MARVEL) #1 Near Mint/Mint

ULTIMATE COMICS: X (2010) #1 3RD PRINT Near Mint/Mint


ULTIMATE ELEKTRA: DEVIL'S DUE TPB (2005) #1

ULTIMATE ELEKTRA: DEVIL'S DUE TPB (2005) #1 Near Mint/Mint

WHAT IF DOCTOR DOOM HAD BECOME THE THING (2004) #1 Near Mint/Mint

WHAT IF JESSICA JONES JOINED THE AVENGERS (2004) #1 Near Mint/Mint

WHAT IF MAGNETO FORMED THE X-MEN WITH PROFESSOR X (2004) #1 Near Mint/Mint

WOLVERINE (1988) (#1/2-189) (MARVEL) #1 Fine
WOLVERINE (1988) (#1/2-189) (MARVEL) #1 NEWSSTAND Fine
WOLVERINE (1988) (#1/2-189) (MARVEL) #2 Near Mint/Mint
WOLVERINE (1988) (#1/2-189) (MARVEL) #3 Near Mint/Mint
WOLVERINE (1988) (#1/2-189) (MARVEL) #4 Near Mint/Mint
WOLVERINE (1988) (#1/2-189) (MARVEL) #5 Very Fine
WOLVERINE (1988) (#1/2-189) (MARVEL) #6 Near Mint/Mint
WOLVERINE (1988) (#1/2-189) (MARVEL) #7 Near Mint/Mint
WOLVERINE (1988) (#1/2-189) (MARVEL) #8 Fine
WOLVERINE (1988) (#1/2-189) (MARVEL) #9 Fine
WOLVERINE (1988) (#1/2-189) (MARVEL) #10 NEWSSTAND Near Mint/Mint
WOLVERINE (1988) (#1/2-189) (MARVEL) #10 NEWSSTAND Very Fine
WOLVERINE (1988) (#1/2-189) (MARVEL) #11 Very Fine
WOLVERINE (1988) (#1/2-189) (MARVEL) #12 NEWSSTAND Near Mint/Mint
WOLVERINE (1988) (#1/2-189) (MARVEL) #13 Fine
WOLVERINE (1988) (#1/2-189) (MARVEL) #14 Near Mint/Mint
WOLVERINE (1988) (#1/2-189) (MARVEL) #16 Near Mint/Mint


WOLVERINE (1988) (#1/2-189) (MARVEL) #17 NEWSSTAND

WOLVERINE (1988) (#1/2-189) (MARVEL) #17 NEWSSTAND Near Mint/Mint
WOLVERINE (1988) (#1/2-189) (MARVEL) #19 Near Mint/Mint
WOLVERINE (1988) (#1/2-189) (MARVEL) #21 Near Mint/Mint
WOLVERINE (1988) (#1/2-189) (MARVEL) #100 DELUXE Near Mint/Mint

X-FORCE (1991) (#1-129) (MARVEL) #11 Fine

X-MEN (1963) (#1-113, UNCANNY X-MEN #114-544) (MARVEL) #266 Near Mint/Mint
X-MEN (1963) (#1-113, UNCANNY X-MEN #114-544) (MARVEL) #450 Near Mint/Mint
X-MEN (1963) (#1-113, UNCANNY X-MEN #114-544) (MARVEL) #451 Near Mint/Mint
X-MEN (1963) (#1-113, UNCANNY X-MEN #114-544) (MARVEL) #532 Near Mint/Mint

X-MEN (1991) (#1-275) (MARVEL) #4 Very Fine

X-MEN AND THE TEEN TITANS (1982) #1 NEWSSTAND Very Good

DC
AMAZONS ATTACK (DC) (WONDER WOMAN) (2007) #6 Near Mint/Mint

BATGIRL (2009) (#1-24) (DC) #1 Fine
BATGIRL (2009) (#1-24) (DC) #2 Near Mint/Mint
BATGIRL (2009) (#1-24) (DC) #3 Near Mint/Mint
BATGIRL (2009) (#1-24) (DC) #4 Near Mint/Mint
BATGIRL (2009) (#1-24) (DC) #5 Near Mint/Mint
BATGIRL (2009) (#1-24) (DC) #6 Near Mint/Mint


BATGIRL (2009) (#1-24) (DC) #7

BATGIRL (2009) (#1-24) (DC) #7 Near Mint/Mint
BATGIRL (2009) (#1-24) (DC) #8 Near Mint/Mint
BATGIRL (2009) (#1-24) (DC) #9 Very Fine
BATGIRL (2009) (#1-24) (DC) #10 Near Mint/Mint
BATGIRL (2009) (#1-24) (DC) #11 Near Mint/Mint
BATGIRL (2009) (#1-24) (DC) #12 Near Mint/Mint
BATGIRL (2009) (#1-24) (DC) #13 Near Mint/Mint
BATGIRL (2009) (#1-24) (DC) #14 Near Mint/Mint
BATGIRL (2009) (#1-24) (DC) #15 Near Mint/Mint
BATGIRL (2009) (#1-24) (DC) #16 Near Mint/Mint
BATGIRL (2009) (#1-24) (DC) #18 Near Mint/Mint
BATGIRL (2009) (#1-24) (DC) #19 Near Mint/Mint
BATGIRL (2009) (#1-24) (DC) #20 Near Mint/Mint
BATGIRL (2009) (#1-24) (DC) #22 Near Mint/Mint
BATGIRL (2009) (#1-24) (DC) #23 Near Mint/Mint
BATGIRL (2009) (#1-24) (DC) #24 Near Mint/Mint

BATGIRL SPECIAL (1988) #1 Near Mint/Mint

BATMAN (1940) (#0-713) (DC) #380 Near Mint/Mint
BATMAN (1940) (#0-713) (DC) #381 Near Mint/Mint
BATMAN (1940) (#0-713) (DC) #423 NEWSSTAND Fine
BATMAN (1940) (#0-713) (DC) #428 NEWSSTAND Fine
BATMAN (1940) (#0-713) (DC) #429 NEWSSTAND Fine
BATMAN (1940) (#0-713) (DC) #488 Fine
BATMAN (1940) (#0-713) (DC) #655 Near Mint/Mint
BATMAN (1940) (#0-713) (DC) #656 Near Mint/Mint


BATMAN (1940) (#0-713) (DC) #658

BATMAN (1940) (#0-713) (DC) #658 Near Mint/Mint
BATMAN (1940) (#0-713) (DC) #663 Near Mint/Mint

CINDER AND ASHE (1988) #1 Fine
CINDER AND ASHE (1988) #2 Near Mint/Mint
CINDER AND ASHE (1988) #3 Near Mint/Mint
CINDER AND ASHE (1988) #4 Near Mint/Mint

CONVERGENCE: WONDER WOMAN (2015) #1 KIDD Near Mint/Mint
CONVERGENCE: WONDER WOMAN (2015) #2 Near Mint/Mint
CONVERGENCE: WONDER WOMAN (2015) #2 KIDD Near Mint/Mint

DC COMICS PRESENTS: THE FLASH (2011) #1 Fine

DEATHSTROKE: THE TERMINATOR (1991) #1 Fine

EIGHTY-PAGE GIANT (1964) #9 Very Good

FLASH (1959) (#105-350) (DC) #204 Good
FLASH (1959) (#105-350) (DC) #207 Good

FLASH (1987) (#0-247) (DC) #0 Near Mint/Mint
FLASH (1987) (#0-247) (DC) #1 NEWSSTAND Very Fine
FLASH (1987) (#0-247) (DC) #6 Near Mint/Mint
FLASH (1987) (#0-247) (DC) #9 Near Mint/Mint


FLASH (1987) (#0-247) (DC) #10

FLASH (1987) (#0-247) (DC) #10 Near Mint/Mint
FLASH (1987) (#0-247) (DC) #11 NEWSSTAND Very Fine
FLASH (1987) (#0-247) (DC) #14 Near Mint/Mint
FLASH (1987) (#0-247) (DC) #15 Near Mint/Mint
FLASH (1987) (#0-247) (DC) #16 Near Mint/Mint
FLASH (1987) (#0-247) (DC) #17 Near Mint/Mint
FLASH (1987) (#0-247) (DC) #19 Fine
FLASH (1987) (#0-247) (DC) #22 Near Mint/Mint
FLASH (1987) (#0-247) (DC) #24 Near Mint/Mint
FLASH (1987) (#0-247) (DC) #25 Near Mint/Mint
FLASH (1987) (#0-247) (DC) #26 Near Mint/Mint
FLASH (1987) (#0-247) (DC) #27 Near Mint/Mint
FLASH (1987) (#0-247) (DC) #28 Near Mint/Mint
FLASH (1987) (#0-247) (DC) #29 Near Mint/Mint
FLASH (1987) (#0-247) (DC) #30 Near Mint/Mint
FLASH (1987) (#0-247) (DC) #31 Near Mint/Mint
FLASH (1987) (#0-247) (DC) #32 Near Mint/Mint
FLASH (1987) (#0-247) (DC) #33 Near Mint/Mint
FLASH (1987) (#0-247) (DC) #34 Near Mint/Mint
FLASH (1987) (#0-247) (DC) #35 Near Mint/Mint
FLASH (1987) (#0-247) (DC) #36 Near Mint/Mint
FLASH (1987) (#0-247) (DC) #37 Near Mint/Mint
FLASH (1987) (#0-247) (DC) #38 Near Mint/Mint
FLASH (1987) (#0-247) (DC) #39 Near Mint/Mint
FLASH (1987) (#0-247) (DC) #40 Near Mint/Mint
FLASH (1987) (#0-247) (DC) #41 Near Mint/Mint


FLASH (1987) (#0-247) (DC) #42

FLASH (1987) (#0-247) (DC) #42 Near Mint/Mint
FLASH (1987) (#0-247) (DC) #43 Near Mint/Mint
FLASH (1987) (#0-247) (DC) #44 Near Mint/Mint
FLASH (1987) (#0-247) (DC) #45 Near Mint/Mint
FLASH (1987) (#0-247) (DC) #46 Near Mint/Mint
FLASH (1987) (#0-247) (DC) #47 Near Mint/Mint
FLASH (1987) (#0-247) (DC) #48 Near Mint/Mint
FLASH (1987) (#0-247) (DC) #49 Near Mint/Mint
FLASH (1987) (#0-247) (DC) #72 Near Mint/Mint
FLASH (1987) (#0-247) (DC) #75 Near Mint/Mint
FLASH (1987) (#0-247) (DC) #80 FOIL Near Mint/Mint
FLASH (1987) (#0-247) (DC) #91 Very Fine
FLASH (1987) (#0-247) (DC) #92 Very Fine
FLASH (1987) (#0-247) (DC) #93 Near Mint/Mint
FLASH (1987) (#0-247) (DC) #98 Near Mint/Mint
FLASH (1987) (#0-247) (DC) #99 Near Mint/Mint
FLASH (1987) (#0-247) (DC) #100 Near Mint/Mint
FLASH (1987) (#0-247) (DC) #100 DELUXE Near Mint/Mint
FLASH (1987) (#0-247) (DC) #107 Near Mint/Mint
FLASH (1987) (#0-247) (DC) #123 Near Mint/Mint
FLASH (1987) (#0-247) (DC) #219 Near Mint/Mint

FLASH ANNUAL (1987) #1 Very Fine
FLASH ANNUAL (1987) #2 Near Mint/Mint
FLASH ANNUAL (1987) #3 Near Mint/Mint
FLASH ANNUAL (1987) #10 Near Mint/Mint
FLASH ANNUAL (1987) #11 Near Mint/Mint

FLASH SPECIAL (1990) #1 Near Mint/Mint

FLASH: IRON HEIGHTS (2001) #1 Near Mint/Mint

FLASHPOINT (2011) (#1-5) (DC) #1 Fine
FLASHPOINT (2011) (#1-5) (DC) #2 Fine
FLASHPOINT (2011) (#1-5) (DC) #3 Fine
FLASHPOINT (2011) (#1-5) (DC) #5 Fine

FLASHPOINT: WONDER WOMAN & THE FURIES (2011) #1 Near Mint/Mint
FLASHPOINT: WONDER WOMAN & THE FURIES (2011) #2 Near Mint/Mint
FLASHPOINT: WONDER WOMAN & THE FURIES (2011) #3 Near Mint/Mint

HELLBLAZER (1988) (#1-300) (DC VERTIGO) #201 (DC: Vertigo Press) Near Mint/Mint
HELLBLAZER (1988) (#1-300) (DC VERTIGO) #202 (DC: Vertigo Press) Near Mint/Mint
HELLBLAZER (1988) (#1-300) (DC VERTIGO) #203 (DC: Vertigo Press) Near Mint/Mint
HELLBLAZER (1988) (#1-300) (DC VERTIGO) #204 (DC: Vertigo Press) Near Mint/Mint
HELLBLAZER (1988) (#1-300) (DC VERTIGO) #205 (DC: Vertigo Press) Near Mint/Mint
HELLBLAZER (1988) (#1-300) (DC VERTIGO) #206 (DC: Vertigo Press) Near Mint/Mint
HELLBLAZER (1988) (#1-300) (DC VERTIGO) #207 (DC: Vertigo Press) Near Mint/Mint
HELLBLAZER (1988) (#1-300) (DC VERTIGO) #208 (DC: Vertigo Press) Near Mint/Mint
HELLBLAZER (1988) (#1-300) (DC VERTIGO) #209 (DC: Vertigo Press) Near Mint/Mint
HELLBLAZER (1988) (#1-300) (DC VERTIGO) #210 (DC: Vertigo Press) Near Mint/Mint
HELLBLAZER (1988) (#1-300) (DC VERTIGO) #211 (DC: Vertigo Press) Near Mint/Mint
HELLBLAZER (1988) (#1-300) (DC VERTIGO) #212 (DC: Vertigo Press) Near Mint/Mint
HELLBLAZER (1988) (#1-300) (DC VERTIGO) #213 (DC: Vertigo Press) Near Mint/Mint


HELLBLAZER (1988) (#1-300) (DC VERTIGO) #214

HELLBLAZER (1988) (#1-300) (DC VERTIGO) #214 (DC: Vertigo Press) Near Mint/Mint
HELLBLAZER (1988) (#1-300) (DC VERTIGO) #215 (DC: Vertigo Press) Near Mint/Mint
HELLBLAZER (1988) (#1-300) (DC VERTIGO) #216 (DC: Vertigo Press) Near Mint/Mint
HELLBLAZER (1988) (#1-300) (DC VERTIGO) #217 (DC: Vertigo Press) Near Mint/Mint
HELLBLAZER (1988) (#1-300) (DC VERTIGO) #218 (DC: Vertigo Press) Near Mint/Mint
HELLBLAZER (1988) (#1-300) (DC VERTIGO) #219 (DC: Vertigo Press) Near Mint/Mint
HELLBLAZER (1988) (#1-300) (DC VERTIGO) #220 (DC: Vertigo Press) Near Mint/Mint
HELLBLAZER (1988) (#1-300) (DC VERTIGO) #221 (DC: Vertigo Press) Near Mint/Mint
HELLBLAZER (1988) (#1-300) (DC VERTIGO) #222 (DC: Vertigo Press) Near Mint/Mint
HELLBLAZER (1988) (#1-300) (DC VERTIGO) #223 (DC: Vertigo Press) Near Mint/Mint
HELLBLAZER (1988) (#1-300) (DC VERTIGO) #224 (DC: Vertigo Press) Near Mint/Mint
HELLBLAZER (1988) (#1-300) (DC VERTIGO) #225 (DC: Vertigo Press) Near Mint/Mint
HELLBLAZER (1988) (#1-300) (DC VERTIGO) #226 (DC: Vertigo Press) Near Mint/Mint
HELLBLAZER (1988) (#1-300) (DC VERTIGO) #227 (DC: Vertigo Press) Near Mint/Mint
HELLBLAZER (1988) (#1-300) (DC VERTIGO) #228 (DC: Vertigo Press) Near Mint/Mint
HELLBLAZER (1988) (#1-300) (DC VERTIGO) #229 (DC: Vertigo Press) Near Mint/Mint
HELLBLAZER (1988) (#1-300) (DC VERTIGO) #230 (DC: Vertigo Press) Near Mint/Mint
HELLBLAZER (1988) (#1-300) (DC VERTIGO) #231 (DC: Vertigo Press) Near Mint/Mint
HELLBLAZER (1988) (#1-300) (DC VERTIGO) #232 (DC: Vertigo Press) Near Mint/Mint
HELLBLAZER (1988) (#1-300) (DC VERTIGO) #233 (DC: Vertigo Press) Near Mint/Mint
HELLBLAZER (1988) (#1-300) (DC VERTIGO) #234 (DC: Vertigo Press) Near Mint/Mint
HELLBLAZER (1988) (#1-300) (DC VERTIGO) #235 (DC: Vertigo Press) Near Mint/Mint
HELLBLAZER (1988) (#1-300) (DC VERTIGO) #236 (DC: Vertigo Press) Near Mint/Mint
HELLBLAZER (1988) (#1-300) (DC VERTIGO) #237 (DC: Vertigo Press) Near Mint/Mint
HELLBLAZER (1988) (#1-300) (DC VERTIGO) #238 (DC: Vertigo Press) Near Mint/Mint
HELLBLAZER (1988) (#1-300) (DC VERTIGO) #239 (DC: Vertigo Press) Near Mint/Mint
HELLBLAZER (1988) (#1-300) (DC VERTIGO) #240 (DC: Vertigo Press) Near Mint/Mint
HELLBLAZER (1988) (#1-300) (DC VERTIGO) #241 (DC: Vertigo Press) Near Mint/Mint


HELLBLAZER (1988) (#1-300) (DC VERTIGO) #242

HELLBLAZER (1988) (#1-300) (DC VERTIGO) #242 (DC: Vertigo Press) Near Mint/Mint
HELLBLAZER (1988) (#1-300) (DC VERTIGO) #243 (DC: Vertigo Press) Near Mint/Mint
HELLBLAZER (1988) (#1-300) (DC VERTIGO) #244 (DC: Vertigo Press) Near Mint/Mint
HELLBLAZER (1988) (#1-300) (DC VERTIGO) #245 (DC: Vertigo Press) Near Mint/Mint
HELLBLAZER (1988) (#1-300) (DC VERTIGO) #246 (DC: Vertigo Press) Near Mint/Mint
HELLBLAZER (1988) (#1-300) (DC VERTIGO) #247 (DC: Vertigo Press) Near Mint/Mint
HELLBLAZER (1988) (#1-300) (DC VERTIGO) #248 (DC: Vertigo Press) Near Mint/Mint
HELLBLAZER (1988) (#1-300) (DC VERTIGO) #249 (DC: Vertigo Press) Near Mint/Mint
HELLBLAZER (1988) (#1-300) (DC VERTIGO) #250 (DC: Vertigo Press) Near Mint/Mint
HELLBLAZER (1988) (#1-300) (DC VERTIGO) #251 (DC: Vertigo Press) Near Mint/Mint
HELLBLAZER (1988) (#1-300) (DC VERTIGO) #252 (DC: Vertigo Press) Near Mint/Mint
HELLBLAZER (1988) (#1-300) (DC VERTIGO) #253 (DC: Vertigo Press) Near Mint/Mint
HELLBLAZER (1988) (#1-300) (DC VERTIGO) #254 (DC: Vertigo Press) Near Mint/Mint
HELLBLAZER (1988) (#1-300) (DC VERTIGO) #255 (DC: Vertigo Press) Near Mint/Mint
HELLBLAZER (1988) (#1-300) (DC VERTIGO) #256 (DC: Vertigo Press) Near Mint/Mint
HELLBLAZER (1988) (#1-300) (DC VERTIGO) #257 (DC: Vertigo Press) Near Mint/Mint
HELLBLAZER (1988) (#1-300) (DC VERTIGO) #258 (DC: Vertigo Press) Near Mint/Mint
HELLBLAZER (1988) (#1-300) (DC VERTIGO) #259 (DC: Vertigo Press) Near Mint/Mint
HELLBLAZER (1988) (#1-300) (DC VERTIGO) #260 (DC: Vertigo Press) Near Mint/Mint
HELLBLAZER (1988) (#1-300) (DC VERTIGO) #261 (DC: Vertigo Press) Near Mint/Mint
HELLBLAZER (1988) (#1-300) (DC VERTIGO) #262 (DC: Vertigo Press) Near Mint/Mint
HELLBLAZER (1988) (#1-300) (DC VERTIGO) #263 (DC: Vertigo Press) Near Mint/Mint
HELLBLAZER (1988) (#1-300) (DC VERTIGO) #264 (DC: Vertigo Press) Near Mint/Mint
HELLBLAZER (1988) (#1-300) (DC VERTIGO) #265 (DC: Vertigo Press) Near Mint/Mint
HELLBLAZER (1988) (#1-300) (DC VERTIGO) #266 (DC: Vertigo Press) Near Mint/Mint
HELLBLAZER (1988) (#1-300) (DC VERTIGO) #267 (DC: Vertigo Press) Near Mint/Mint
HELLBLAZER (1988) (#1-300) (DC VERTIGO) #268 (DC: Vertigo Press) Near Mint/Mint
HELLBLAZER (1988) (#1-300) (DC VERTIGO) #269 (DC: Vertigo Press) Near Mint/Mint


HELLBLAZER (1988) (#1-300) (DC VERTIGO) #270

HELLBLAZER (1988) (#1-300) (DC VERTIGO) #270 (DC: Vertigo Press) Near Mint/Mint
HELLBLAZER (1988) (#1-300) (DC VERTIGO) #271 (DC: Vertigo Press) Near Mint/Mint
HELLBLAZER (1988) (#1-300) (DC VERTIGO) #272 (DC: Vertigo Press) Near Mint/Mint
HELLBLAZER (1988) (#1-300) (DC VERTIGO) #273 (DC: Vertigo Press) Near Mint/Mint
HELLBLAZER (1988) (#1-300) (DC VERTIGO) #274 (DC: Vertigo Press) Near Mint/Mint
HELLBLAZER (1988) (#1-300) (DC VERTIGO) #275 (DC: Vertigo Press) Near Mint/Mint
HELLBLAZER (1988) (#1-300) (DC VERTIGO) #276 (DC: Vertigo Press) Near Mint/Mint
HELLBLAZER (1988) (#1-300) (DC VERTIGO) #277 (DC: Vertigo Press) Near Mint/Mint
HELLBLAZER (1988) (#1-300) (DC VERTIGO) #278 (DC: Vertigo Press) Near Mint/Mint
HELLBLAZER (1988) (#1-300) (DC VERTIGO) #279 (DC: Vertigo Press) Near Mint/Mint
HELLBLAZER (1988) (#1-300) (DC VERTIGO) #280 (DC: Vertigo Press) Near Mint/Mint
HELLBLAZER (1988) (#1-300) (DC VERTIGO) #281 (DC: Vertigo Press) Near Mint/Mint
HELLBLAZER (1988) (#1-300) (DC VERTIGO) #282 (DC: Vertigo Press) Near Mint/Mint
HELLBLAZER (1988) (#1-300) (DC VERTIGO) #283 (DC: Vertigo Press) Near Mint/Mint
HELLBLAZER (1988) (#1-300) (DC VERTIGO) #284 (DC: Vertigo Press) Near Mint/Mint
HELLBLAZER (1988) (#1-300) (DC VERTIGO) #285 (DC: Vertigo Press) Near Mint/Mint
HELLBLAZER (1988) (#1-300) (DC VERTIGO) #286 (DC: Vertigo Press) Near Mint/Mint
HELLBLAZER (1988) (#1-300) (DC VERTIGO) #287 (DC: Vertigo Press) Near Mint/Mint
HELLBLAZER (1988) (#1-300) (DC VERTIGO) #288 (DC: Vertigo Press) Near Mint/Mint
HELLBLAZER (1988) (#1-300) (DC VERTIGO) #289 (DC: Vertigo Press) Near Mint/Mint
HELLBLAZER (1988) (#1-300) (DC VERTIGO) #290 (DC: Vertigo Press) Near Mint/Mint
HELLBLAZER (1988) (#1-300) (DC VERTIGO) #291 (DC: Vertigo Press) Near Mint/Mint
HELLBLAZER (1988) (#1-300) (DC VERTIGO) #292 (DC: Vertigo Press) Near Mint/Mint
HELLBLAZER (1988) (#1-300) (DC VERTIGO) #293 (DC: Vertigo Press) Near Mint/Mint
HELLBLAZER (1988) (#1-300) (DC VERTIGO) #294 (DC: Vertigo Press) Near Mint/Mint
HELLBLAZER (1988) (#1-300) (DC VERTIGO) #295 (DC: Vertigo Press) Near Mint/Mint


HELLBLAZER (1988) (#1-300) (DC VERTIGO) #296

HELLBLAZER (1988) (#1-300) (DC VERTIGO) #296 (DC: Vertigo Press) Near Mint/Mint
HELLBLAZER (1988) (#1-300) (DC VERTIGO) #297 (DC: Vertigo Press) Near Mint/Mint
HELLBLAZER (1988) (#1-300) (DC VERTIGO) #298 (DC: Vertigo Press) Near Mint/Mint
HELLBLAZER (1988) (#1-300) (DC VERTIGO) #299 (DC: Vertigo Press) Near Mint/Mint
HELLBLAZER (1988) (#1-300) (DC VERTIGO) #300 (DC: Vertigo Press) Near Mint/Mint

HELLBLAZER ANNUAL (2011) #1 Near Mint/Mint

HELLBLAZER: CITY OF DEMONS (2010) #1 (DC: Vertigo Press) Near Mint/Mint
HELLBLAZER: CITY OF DEMONS (2010) #2 (DC: Vertigo Press) Near Mint/Mint
HELLBLAZER: CITY OF DEMONS (2010) #3 (DC: Vertigo Press) Near Mint/Mint
HELLBLAZER: CITY OF DEMONS (2010) #4 (DC: Vertigo Press) Near Mint/Mint
HELLBLAZER: CITY OF DEMONS (2010) #5 (DC: Vertigo Press) Near Mint/Mint

IDENTITY CRISIS (2004) #1 2ND PRINT Near Mint/Mint
IDENTITY CRISIS (2004) #2 2ND PRINT Near Mint/Mint

INFERIOR FIVE (1967) (#1-12) (DC) #2 Very Good

NEW YEAR'S EVIL: ROGUES (1998) #1 Near Mint/Mint

NEVERWHERE (NEIL GAIMAN) (2005) #7 (DC: Vertigo Press) Near Mint/Mint
NEVERWHERE (NEIL GAIMAN) (2005) #8 (DC: Vertigo Press) Near Mint/Mint
NEVERWHERE (NEIL GAIMAN) (2005) #9 (DC: Vertigo Press) Near Mint/Mint

POWER GIRL (1988) (#1-4) #1 Fine

POWER GIRL (1988) (#1-4) #1 Near Mint/Mint
POWER GIRL (1988) (#1-4) #2 Near Mint/Mint
POWER GIRL (1988) (#1-4) #3 Near Mint/Mint
POWER GIRL (1988) (#1-4) #3 Fine
POWER GIRL (1988) (#1-4) #4 Near Mint/Mint

SECRET ORIGINS ANNUAL (1986) #2 Very Fine

SUPERGIRL (2005) (#0-67) (DC) #0 Near Mint/Mint
SUPERGIRL (2005) (#0-67) (DC) #1 Near Mint/Mint
SUPERGIRL (2005) (#0-67) (DC) #20 Near Mint/Mint

TANGENT COMICS: FLASH (1998) #1 Near Mint/Mint

TANGENT COMICS: JOKER (1998) #1 Near Mint/Mint

TANGENT COMICS: JOKER'S WILD (1998) #1 Near Mint/Mint

TANGENT COMICS: POWERGIRL (1998) #1 Near Mint/Mint

TANGENT COMICS: TRIALS OF THE FLASH (1998) #1 Near Mint/Mint

WONDER WOMAN (2016) (#1-83, #750-UP) (DC REBIRTH) #1 Near Mint/Mint
WONDER WOMAN (2016) (#1-83, #750-UP) (DC REBIRTH) #1 VARIANT Near Mint/Mint
WONDER WOMAN (2016) (#1-83, #750-UP) (DC REBIRTH) #2 Near Mint/Mint
WONDER WOMAN (2016) (#1-83, #750-UP) (DC REBIRTH) #2 VARIANT Near Mint/Mint


WONDER WOMAN (2016) (#1-83, #750-UP) (DC REBIRTH) #3

WONDER WOMAN (2016) (#1-83, #750-UP) (DC REBIRTH) #3 Near Mint/Mint
WONDER WOMAN (2016) (#1-83, #750-UP) (DC REBIRTH) #3 VARIANT Near Mint/Mint
WONDER WOMAN (2016) (#1-83, #750-UP) (DC REBIRTH) #13 VARIANT Near Mint/Mint
WONDER WOMAN (2016) (#1-83, #750-UP) (DC REBIRTH) #25 Near Mint/Mint

WONDER WOMAN 1,000,000 (1998) #1 Near Mint/Mint

WONDER WOMAN ANNUAL (1988) #1 Near Mint/Mint
WONDER WOMAN ANNUAL (1988) #2 Near Mint/Mint
WONDER WOMAN ANNUAL (1988) #3 Very Fine
WONDER WOMAN ANNUAL (1988) #4 Near Mint/Mint
WONDER WOMAN ANNUAL (1988) #6 Near Mint/Mint
WONDER WOMAN ANNUAL (1988) #7 Near Mint/Mint
WONDER WOMAN ANNUAL (1988) #8 Near Mint/Mint

WONDER WOMAN ANNUAL (2017) #1 Near Mint/Mint

WONDER WOMAN GALLERY (1996) #1 Near Mint/Mint

WONDER WOMAN PLUS (1997) #1 Near Mint/Mint

WONDER WOMAN REBIRTH (2016) #1 Near Mint/Mint

WONDER WOMAN SPECIAL (1992) #1 Near Mint/Mint

WONDER WOMAN: FUTURE'S END (2014) #1 Near Mint/Mint
WONDER WOMAN: FUTURE'S END (2014) #1 LENTICULAR Near Mint/Mint


WONDER WOMAN: ONCE & FUTURE STORY (1998) #1

WONDER WOMAN: ONCE & FUTURE STORY (1998) #1 Near Mint/Mint

WONDER WOMAN: OUR WORLDS AT WAR (2001) #1 Very Fine

DARK HORSE COMICS
GODZILLA VS. HERO ZERO (1995) #1 Near Mint/Mint

STAR WARS: LEGACY (2006) #0 Near Mint/Mint
STAR WARS: LEGACY (2006) #1 Near Mint/Mint

STAR WARS: PURGE - SECONDS TO DIE ONE-SHOT (2009) #1 Fine

STAR WARS: PURGE - THE HIDDEN BLADE (2010) #1 Very Fine

STAR WARS: PURGE ONE-SHOT - LAST STAND OF THE JEDI (2005) #1 Near Mint/Mint

IMAGE COMICS
SPAWN (1992) #2 NEWSSTAND Near Mint/Mint

INDEPENDENTS
MOVING FORTRESS GN (1988) #1 (Four Winds Publishing) Near Mint/Mint


PHANTOM (2003) (#1-26) (MOONSTONE) #18 LIMITED ED

PHANTOM (2003) (#1-26) (MOONSTONE) #18 LIMITED ED (Moonstone) Near Mint/Mint
PHANTOM (2003) (#1-26) (MOONSTONE) #25 (Moonstone) Near Mint/Mint
PHANTOM (2003) (#1-26) (MOONSTONE) #26 (Moonstone) Near Mint/Mint

PHANTOM ANNUAL (2006) #1 (Moonstone) Near Mint/Mint

PHANTOM: GHOST KILLER GN (VOL. 1) (2002) #1 (Moonstone) Near Mint/Mint

PHANTOM: SINGH WEB GN (VOL. 2) (2002) #1 (Moonstone) Near Mint/Mint

PHANTOM: TREASURES OF BANGALLA (2002) #1 (Moonstone) Near Mint/Mint

QUEEN SONJA (2009) #1 HERBERT (DYNAMITE Entertainment) Near Mint/Mint
QUEEN SONJA (2009) #1 RUBI (DYNAMITE Entertainment) Near Mint/Mint
QUEEN SONJA (2009) #2 HERBERT (DYNAMITE Entertainment) Near Mint/Mint
QUEEN SONJA (2009) #2 RUBI (DYNAMITE Entertainment) Near Mint/Mint
QUEEN SONJA (2009) #3 HERBERT (DYNAMITE Entertainment) Near Mint/Mint
QUEEN SONJA (2009) #3 PARRILLO (DYNAMITE Entertainment) Near Mint/Mint
QUEEN SONJA (2009) #4 HERBERT (DYNAMITE Entertainment) Near Mint/Mint
QUEEN SONJA (2009) #4 PARRILLO (DYNAMITE Entertainment) Near Mint/Mint
QUEEN SONJA (2009) #5 HERBERT (DYNAMITE Entertainment) Near Mint/Mint
QUEEN SONJA (2009) #6 HERBERT (DYNAMITE Entertainment) Near Mint/Mint
QUEEN SONJA (2009) #7 HERBERT (DYNAMITE Entertainment) Near Mint/Mint
QUEEN SONJA (2009) #7 PARRILLO (DYNAMITE Entertainment) Near Mint/Mint

QUEEN SONJA (2009) #8 HERBERT (DYNAMITE Entertainment) Near Mint/Mint
QUEEN SONJA (2009) #9 HERBERT (DYNAMITE Entertainment) Near Mint/Mint
QUEEN SONJA (2009) #9 PARRILLO (DYNAMITE Entertainment) Near Mint/Mint
QUEEN SONJA (2009) #10 HERBERT (DYNAMITE Entertainment) Near Mint/Mint