60% Off All Comics Sale Ends Saturday
Howdy!
I spent my entire New Year's Day (and the weekend prior) hauling out the last of our merchandise and fixtures from our store on Colorado Blvd. After almost 29 years of operation, that friendly little store is now closed, forever. With its passing, we only have one neighborhood Mile High Comics store left, which is our beautiful Lakewood, Colorado store at 1st/Wadsworth. That store has 18 months left on its lease, which gives us about a year to decide its fate. I am hoping that an alternative location can be found, as the $10,000+ a month in rent that we are presently being charged is far beyond the capacity of the store to bear. The search for a building that we can purchase near our present location begins, now.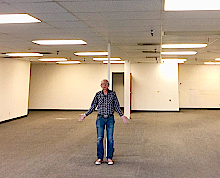 Chuck standing in the middle of our empty Colorado Blvd store

On a closely related topic, I do want to urge everyone who reads my newsletter to please resolve to support their local comics retailer during 2019. The economics of selling new issues has become total madness as the cover prices of periodical comics now reach up into the $5/copy range. With comics retailers buying non-returnable (an arrangement that I helped to pioneer in the late-1970's), all the risk is upon them as regards unsold product. That worked well when cover prices were under $1, but today's high cover prices are causing crippling losses to comics retailers whenever a title sells fewer copies than expected.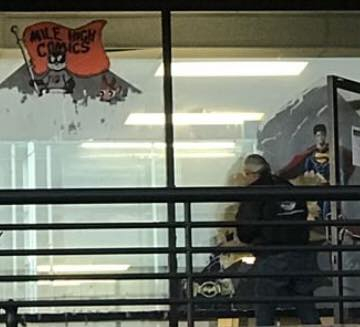 Chuck cleaning the windows of the Colorado Blvd store

To illustrate what I mean, take note of the number of new comics that your local retailer has sitting on his shelves that are over 2 weeks old. Based upon the traditional measure in the magazine business that 90% of the sales on any given issue occur during the first 15 days after release, those unsold copies are essentially a lost cause. A few may yet sell, and there is always some long term residual demand as back issues, but for the most part those unsold issues have just declined in value by at least 90%.
Sadly, even the best and brightest retailers misjudge on occasion, and the consequences of unsold new comics stock can now be devastating. With a wholesale cost of upwards of $2 each, any significant number of unsold new comics can easily wipe out an entire week's earnings for a comics specialty store in a heartbeat. Simply put, the risks of selling new comics in a comics specialty store now far outweigh the rewards.
In case you are wondering, we do still intend to continue to offer pre-order new issues through our awesome N.I.C.E. subscription service, both online, and also in our Jason St. and Lakewood retail locations. Through our preorders (which are guaranteed with a credit card...) we will easily sell over $1,000,000 in new comics this year, so we are far from leaving the new comics business. If you are a fan who wants to just browse the racks in our stores each week, however, you are most likely going to be sorely disappointed if you do not come in to one of our locations on Wednesday morning. We will definitely still be ordering copies of many new releases for speculative sale on the racks in our retail stores, but in such small quantities that we will be almost certainly sell out by the first weekend. If you want to be guaranteed to receive new issues, you will need to order them in advance through your store N.I.C.E. account.
As regards a solution to this dilemma, it is long past time for the new comics publishers (and Diamond Distributing) to take ownership of some of the risk entailed in offering high cover price new issues. The comics retailing professionals who have survived this long are an unbelievably smart group of people who have been able to adjust quickly to changing trends, and have managed to cut their losses before they are completely wiped out. Even the best and the brightest fish die, however, when the pond completely dries up. For those who profit the most from the sale of new issues to continue to pass on all of the risk for their successes to a small group of undercapitalized and oftentimes desperate entrepreneurs is unconscionable. Our Glendale store's closing is but one more tombstone being erected in a huge cemetery filled with dead local comic book stores. The publishers had better wake up.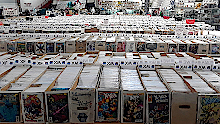 Ocean of Comics at our Jason Street Mega Store

On a cheerier note, this past month was the highest-grossing month that we have experienced as a company in many years. Our sales gain was led by our immense Jason St. Mega-Store, which saw record-setting customer counts every single day in December. We had also had an excellent December in our Jason St. location in 2017, but December of 2018 achieved a staggering growth rate of 37.7% above 2017! Not surprisingly, not one bit of that increase was because of new comics. We did however, sell the heck out of back issues, toys, statues, posters, and other pop culture genre items, most of which we purchased on the secondary market from private individuals. Life is very, very good.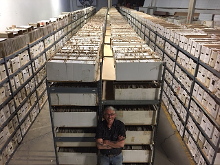 Chuck at the start of our Back Issue Files

I will close today's newsletter with a sincere "Thank you!" to everyone who ordered from us online during November and December. Your kindness and support of our 60% off NANETTE codeword sale on all ten million+ of our back issues that we offer on our website helped my wife to catch up considerably on paying our bills. With Glendale now closed, her monthly unfunded obligations will also drop considerably, so we should be fine going into early 2019. In the meantime, if you would like to place one last 60% off order before the NANETTE sale ends on Saturday, please feel free to do so. The codeword applies to all ten million+ of our back issue comics and magazines, excepting only new issues, a few variants, and our professionally-graded comics.
Happy collecting!
Chuck Rozanski,
President - Mile High Comics, Inc.
January 2, 2019