Local News - New Year's Weekend Comics and Graphic Novels sale
Howdy!
Just a quick note to let you know that our end-of-the year HOLIDAY! codeword sale will be ending next week. Before it ends, you can still shop for back issue comics, trade paperbacks, and graphic novels at any of our 3 stores at half price! This huge annual end-of-the-year sale applies to all ten million of our in-stock comics and paperback books, excepting only new issues, $1 comics, a few variants, and our blue sticker issues in Jason St.
Please do note, however, that you MUST mention the HOLIDAY! codeword sale to our sales clerk when you check out in order to receive this awesome 50% discount. That's because our desire is to provide this awesome sale primarily to those of our patrons who are kind enough to take the time to read this newsletter. We thank you for your kindness and year round support of Mile High Comics, and hope that you are able to obtain some great comics and books this weekend at half price!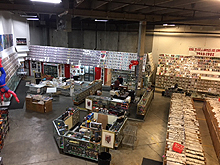 Entrance of the Jason Street Store.

I will close by quickly mentioning that we just purchased several large toy and statue collections at Jason St., as well as receiving an awesome shipment of the highly popular Lego style toy figures. Bring the kids to one of our awesome comic book stores this weekend for a really fun bit of family time. We never see kids (of all ages...) leaving our stores without a smile.
Happy New Year!
Chuck Rozanski,
President - Mile High Comics, Inc.
December 30, 2017
P.S. All of our stores are open regular hours for you on this Saturday and Sunday, and Noon - 5 on New Year's Day.