Half Price Comics and Books Sale - Ten Million Items Discounted
Howdy!
As we head into the final three shopping days before Christmas I am pleased to report that our Jason St. Mega-Store is continuing to attract an enormous outpouring of support from comics fans both from the Denver area, and beyond. Through the first twenty days of December our gross sales were up a staggering 97% over December of last year, which is most certainly a record. Even better, our two smaller stores in Lakewood and Glendale, CO are also receiving better-than-expected patronage, so it is starting to look like our 2017 holiday season is going to be one for the record books.
While our in-store sales are setting records, our online sales have been less robust, but still quite respectable. The collection that Pam just purchased has spurred some additional sales, but our strongest catalyst remains the 50% off HOLIDAY! codeword sale that I implemented for you last week on all of our back issue comics and magazines, and our huge system wide books sale. Books have been selling so well for us this month that I think that December's book sales have already exceeded those of September, October, and November combined! Offering all of our trade paperbacks and graphic novels at half price may not actually generate any earnings for us, but it most certainly did inspire a huge spike in our sales volume. That additional revenue very much helps improve our end-of-the-year balance sheet, so I am very grateful to everyone who has supported us. Thank you!
I will close today's newsletter with a few photos from our Mile High Comics Christmas party that we held last evening at the Rock Bottom Brewery, in Westminster. We had about 30 staff members, family, and friends show up for our remarkably pleasant evening of celebration. We all were able to relax and enjoy each other's company, and bask in the glow of a very positive year. Thank you to everyone who supported us during 2017. Without your kindness, none of this joy could have happened...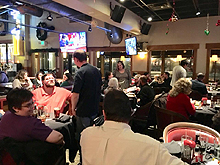 Mile High Comics Christmas party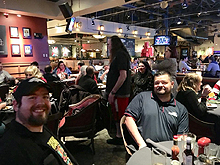 Mile High Comics Christmas party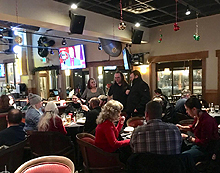 Mile High Comics Christmas party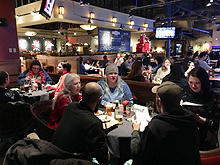 Mile High Comics Christmas party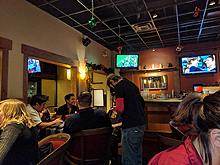 Mile High Comics Christmas party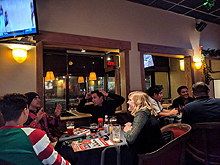 Mile High Comics Christmas party

Merry Christmas!
Chuck Rozanski,
President - Mile High Comics, Inc.
December 22, 2017

P.S. Below are a few more of the great comics that just arrived in Pam's new collection. Almost all are available to you at half of list price when you utilize the 50% off HOLIDAY! codeword. Only new issues, a few variants, and our professionally-graded comics are excluded. Thank you for your support...
MARVEL

AGE OF ULTRON (AVENGERS) (2013) #7

AGE OF ULTRON (AVENGERS) (2013) #7 Near Mint/Mint
AGE OF ULTRON (AVENGERS) (2013) #8 Near Mint/Mint

ALL-NEW HAWKEYE (2016) (2016) #1 GRELL Near Mint/Mint

ALL-NEW HAWKEYE (MAY) (2015) #1 Near Mint/Mint

ALL-NEW X-MEN (2012) #3 Very Fine
ALL-NEW X-MEN (2012) #5 Near Mint/Mint
ALL-NEW X-MEN (2012) #6 Near Mint/Mint
ALL-NEW X-MEN (2012) #7 Near Mint/Mint
ALL-NEW X-MEN (2012) #17 Near Mint/Mint

AMAZING SPIDER-MAN (1999) (#1-700.5) (MARVEL) #698 Near Mint/Mint
AMAZING SPIDER-MAN (1999) (#1-700.5) (MARVEL) #699 Near Mint/Mint
AMAZING SPIDER-MAN (1999) (#1-700.5) (MARVEL) #699 .1 Near Mint/Mint
AMAZING SPIDER-MAN (1999) (#1-700.5) (MARVEL) #699 Very Fine
AMAZING SPIDER-MAN (1999) (#1-700.5) (MARVEL) #700 Near Mint/Mint

AMAZING SPIDER-MAN (2014) (#1-20.1) (MARVEL) #1 MARTIN Near Mint/Mint
AMAZING SPIDER-MAN (2014) (#1-20.1) (MARVEL) #4 Fine


AMAZING SPIDER-MAN (2015) (#1-32) (MARVEL) #1

AMAZING SPIDER-MAN (2015) (#1-32) (MARVEL) #1 Near Mint/Mint
AMAZING SPIDER-MAN (2015) (#1-32) (MARVEL) #15 Near Mint/Mint
AMAZING SPIDER-MAN (2015) (#1-32) (MARVEL) #20 Near Mint/Mint

AMAZING X-MEN (2014) #2 Near Mint/Mint
AMAZING X-MEN (2014) #3 Very Fine
AMAZING X-MEN (2014) #4 Near Mint/Mint

ASTONISHING X-MEN (2017) (#1-UP) (MARVEL) #2 STEGMAN Near Mint/Mint
ASTONISHING X-MEN (2017) (#1-UP) (MARVEL) #3 GREENE Near Mint/Mint
ASTONISHING X-MEN (2017) (#1-UP) (MARVEL) #3 KEOWN Near Mint/Mint

AVENGING SPIDER-MAN (2011) #15 .1 Near Mint/Mint

BLACK WIDOW (2014) (#1-20) (MARVEL) #1 Near Mint/Mint

CAPTAIN AMERICA: STEVE ROGERS (2016) #1 STERANKO Near Mint/Mint

DARTH VADER (STAR WARS) (2015) #1 Near Mint/Mint

EMPIRE OF THE DEAD: ACT ONE (GEORGE A. ROMERO) (2013) #1 Very Fine


HULK (1962) (#1-6, #102-635) (INCREDIBLE) (MARVEL) #270 NEWSSTAND

HULK (1962) (#1-6, #102-635) (INCREDIBLE) (MARVEL) #270 NEWSSTAND Very Fine

INHUMAN (2014) (#1-14) (MARVEL) (INHUMANS) #1 Near Mint/Mint

LOKI: AGENT OF ASGARD (2014) #1 Fine

MARVEL FANFARE (1982) #1 Near Mint/Mint
MARVEL FANFARE (1982) #2 Very Fine

MARVEL SPOTLIGHT (1979) #7 NEWSSTAND Fine
MARVEL SPOTLIGHT (1979) #8 Near Mint/Mint

MARVEL TALES (1964) #138 NEWSSTAND Near Mint/Mint

MARVEL TEAM-UP (1972) #53 Fine
MARVEL TEAM-UP (1972) #86 Near Mint/Mint
MARVEL TEAM-UP (1972) #100 Near Mint/Mint
MARVEL TEAM-UP (1972) #113 NEWSSTAND Near Mint/Mint
MARVEL TEAM-UP (1972) #117 NEWSSTAND Very Fine
MARVEL TEAM-UP (1972) #131 NEWSSTAND Near Mint/Mint
MARVEL TEAM-UP (1972) #141 NEWSSTAND Near Mint/Mint


MARVEL TWO-IN-ONE (1974) (#1-100) (MARVEL) #1

MARVEL TWO-IN-ONE (1974) (#1-100) (MARVEL) #1 Fine
MARVEL TWO-IN-ONE (1974) (#1-100) (MARVEL) #51 Near Mint/Mint
MARVEL TWO-IN-ONE (1974) (#1-100) (MARVEL) #87 NEWSSTAND Very Fine
MARVEL TWO-IN-ONE (1974) (#1-100) (MARVEL) #100 NEWSSTAND Near Mint/Mint

MARVEL TWO-IN-ONE ANNUAL (1976) #2 Very Fine

MICRONAUTS (1979) #1 Very Fine
MICRONAUTS (1979) #31 Near Mint/Mint

MOON KNIGHT (1980) (#1-38) (MARVEL) #1 Fine
MOON KNIGHT (1980) (#1-38) (MARVEL) #1 NEWSSTAND Good
MOON KNIGHT (1980) (#1-38) (MARVEL) #35 NEWSSTAND Fine

MOON KNIGHT (2014) (#1-17) (MARVEL) #1 Near Mint/Mint

MS. MARVEL (1977) (#1-23) (MARVEL) (CAROL DANVERS) #1 Very Fine

NEW MUTANTS (1983) (#1-100) (MARVEL) #1 NEWSSTAND Near Mint/Mint

NOVA (1976) (#1-25) (RICHARD RIDER) (MARVEL) #1 Very Fine
NOVA (1976) (#1-25) (RICHARD RIDER) (MARVEL) #12 Fine
NOVA (1976) (#1-25) (RICHARD RIDER) (MARVEL) #17 Near Mint/Mint
NOVA (1976) (#1-25) (RICHARD RIDER) (MARVEL) #25 NEWSSTAND Fine


PETER PARKER (1976) (#1-263) (SPECTACULAR SPIDER-MAN) #1

PETER PARKER (1976) (#1-263) (SPECTACULAR SPIDER-MAN) #1 Good
PETER PARKER (1976) (#1-263) (SPECTACULAR SPIDER-MAN) #27 Very Fine
PETER PARKER (1976) (#1-263) (SPECTACULAR SPIDER-MAN) #28 Good
PETER PARKER (1976) (#1-263) (SPECTACULAR SPIDER-MAN) #69 NEWSSTAND Near Mint/Mint
PETER PARKER (1976) (#1-263) (SPECTACULAR SPIDER-MAN) #69 NEWSSTAND Very Fine
PETER PARKER (1976) (#1-263) (SPECTACULAR SPIDER-MAN) #79 NEWSSTAND Near Mint/Mint
PETER PARKER (1976) (#1-263) (SPECTACULAR SPIDER-MAN) #81 NEWSSTAND Very Fine
PETER PARKER (1976) (#1-263) (SPECTACULAR SPIDER-MAN) #82 NEWSSTAND Very Fine

POWER MAN/IRON FIST (LUKE CAGE, POWER MAN #1-49) (1972) #48 Good
POWER MAN/IRON FIST (LUKE CAGE, POWER MAN #1-49) (1972) #66 NEWSSTAND Very Good
POWER MAN/IRON FIST (LUKE CAGE, POWER MAN #1-49) (1972) #100 NEWSSTAND Near Mint/Mint

RAIDERS OF THE LOST ARK (1981) #3 NEWSSTAND Near Mint/Mint

RED SONJA (1983) (#1-2) (MARVEL) #1 NEWSSTAND Near Mint/Mint
RED SONJA (1983) (#1-2) (MARVEL) #2 NEWSSTAND Near Mint/Mint

SHE-HULK (2014) (#1-12) (MARVEL) #1 Near Mint/Mint

SILVER SURFER (2014) (#1-15) (MARVEL) #1 Near Mint/Mint

SPIDER-MAN (1963) (AMAZING SPIDER-MAN) (#1-441) #218 Fine
SPIDER-MAN (1963) (AMAZING SPIDER-MAN) (#1-441) #239 NEWSSTAND Near Mint/Mint
SPIDER-MAN (1963) (AMAZING SPIDER-MAN) (#1-441) #241 NEWSSTAND Fine
SPIDER-MAN (1963) (AMAZING SPIDER-MAN) (#1-441) #289 Very Fine
SPIDER-MAN (1963) (AMAZING SPIDER-MAN) (#1-441) #296 Near Mint/Mint


SPIDER-MAN (MILES MORALES) (#1-21) (MARVEL) (2016) #1

SPIDER-MAN (MILES MORALES) (#1-21) (MARVEL) (2016) #1 Near Mint/Mint

SPIDER-MAN ANNUAL (1964) #15 NEWSSTAND Very Fine
SPIDER-MAN ANNUAL (1964) #16 NEWSSTAND Very Fine

UNWORTHY THOR (MARVEL NOW) (2016) #2 Near Mint/Mint

VENOM (2017) (#1-6, #150-UP) (MARVEL) #1 Near Mint/Mint

WOLVERINE & THE X-MEN (2011) #37 Near Mint/Mint

WOLVERINE MAX (2012) #1 VARIANT Very Fine

X-MEN (1963) (#1-113, UNCANNY X-MEN #114-544) (MARVEL) #166 NEWSSTAND Near Mint/Mint
X-MEN (1963) (#1-113, UNCANNY X-MEN #114-544) (MARVEL) #167 NEWSSTAND Near Mint/Mint
X-MEN (1963) (#1-113, UNCANNY X-MEN #114-544) (MARVEL) #168 NEWSSTAND Near Mint/Mint
X-MEN (1963) (#1-113, UNCANNY X-MEN #114-544) (MARVEL) #169 NEWSSTAND Near Mint/Mint
X-MEN (1963) (#1-113, UNCANNY X-MEN #114-544) (MARVEL) #170 NEWSSTAND Very Fine
X-MEN (1963) (#1-113, UNCANNY X-MEN #114-544) (MARVEL) #171 NEWSSTAND Near Mint/Mint
X-MEN (1963) (#1-113, UNCANNY X-MEN #114-544) (MARVEL) #172 NEWSSTAND Near Mint/Mint
X-MEN (1963) (#1-113, UNCANNY X-MEN #114-544) (MARVEL) #173 NEWSSTAND Fine
X-MEN (1963) (#1-113, UNCANNY X-MEN #114-544) (MARVEL) #174 NEWSSTAND Very Fine
X-MEN (1963) (#1-113, UNCANNY X-MEN #114-544) (MARVEL) #175 Very Fine
X-MEN (1963) (#1-113, UNCANNY X-MEN #114-544) (MARVEL) #176 Near Mint/Mint
X-MEN (1963) (#1-113, UNCANNY X-MEN #114-544) (MARVEL) #177 NEWSSTAND Very Fine
X-MEN (1963) (#1-113, UNCANNY X-MEN #114-544) (MARVEL) #178 Near Mint/Mint
X-MEN (1963) (#1-113, UNCANNY X-MEN #114-544) (MARVEL) #179 Very Fine
X-MEN (1963) (#1-113, UNCANNY X-MEN #114-544) (MARVEL) #180 Very Fine


X-MEN (1963) (#1-113, UNCANNY X-MEN #114-544) (MARVEL) #181

X-MEN (1963) (#1-113, UNCANNY X-MEN #114-544) (MARVEL) #181 Very Fine
X-MEN (1963) (#1-113, UNCANNY X-MEN #114-544) (MARVEL) #182 Near Mint/Mint
X-MEN (1963) (#1-113, UNCANNY X-MEN #114-544) (MARVEL) #183 Very Fine
X-MEN (1963) (#1-113, UNCANNY X-MEN #114-544) (MARVEL) #184 Near Mint/Mint
X-MEN (1963) (#1-113, UNCANNY X-MEN #114-544) (MARVEL) #185 Near Mint/Mint
X-MEN (1963) (#1-113, UNCANNY X-MEN #114-544) (MARVEL) #186 Near Mint/Mint
X-MEN (1963) (#1-113, UNCANNY X-MEN #114-544) (MARVEL) #189 Near Mint/Mint
X-MEN (1963) (#1-113, UNCANNY X-MEN #114-544) (MARVEL) #191 NEWSSTAND Very Fine
X-MEN (1963) (#1-113, UNCANNY X-MEN #114-544) (MARVEL) #192 NEWSSTAND Near Mint/Mint
X-MEN (1963) (#1-113, UNCANNY X-MEN #114-544) (MARVEL) #193 NEWSSTAND Very Good
X-MEN (1963) (#1-113, UNCANNY X-MEN #114-544) (MARVEL) #194 Near Mint/Mint
X-MEN (1963) (#1-113, UNCANNY X-MEN #114-544) (MARVEL) #195 Very Fine
X-MEN (1963) (#1-113, UNCANNY X-MEN #114-544) (MARVEL) #196 Near Mint/Mint
X-MEN (1963) (#1-113, UNCANNY X-MEN #114-544) (MARVEL) #197 Near Mint/Mint
X-MEN (1963) (#1-113, UNCANNY X-MEN #114-544) (MARVEL) #199 Very Fine
X-MEN (1963) (#1-113, UNCANNY X-MEN #114-544) (MARVEL) #201 Very Fine
X-MEN (1963) (#1-113, UNCANNY X-MEN #114-544) (MARVEL) #202 Near Mint/Mint
X-MEN (1963) (#1-113, UNCANNY X-MEN #114-544) (MARVEL) #203 Near Mint/Mint
X-MEN (1963) (#1-113, UNCANNY X-MEN #114-544) (MARVEL) #204 Near Mint/Mint
X-MEN (1963) (#1-113, UNCANNY X-MEN #114-544) (MARVEL) #205 Fine
X-MEN (1963) (#1-113, UNCANNY X-MEN #114-544) (MARVEL) #207 Near Mint/Mint
X-MEN (1963) (#1-113, UNCANNY X-MEN #114-544) (MARVEL) #209 NEWSSTAND Fine
X-MEN (1963) (#1-113, UNCANNY X-MEN #114-544) (MARVEL) #210 NEWSSTAND Fine


X-MEN (1963) (#1-113, UNCANNY X-MEN #114-544) (MARVEL) #222

X-MEN (1963) (#1-113, UNCANNY X-MEN #114-544) (MARVEL) #222 Very Fine
X-MEN (1963) (#1-113, UNCANNY X-MEN #114-544) (MARVEL) #223 Near Mint/Mint
X-MEN (1963) (#1-113, UNCANNY X-MEN #114-544) (MARVEL) #244 Near Mint/Mint
X-MEN (1963) (#1-113, UNCANNY X-MEN #114-544) (MARVEL) #248 Near Mint/Mint

X-MEN AND THE TEEN TITANS (1982) #1 NEWSSTAND Very Fine

X-MEN ANNUAL (1970) #3 NEWSSTAND Very Good
X-MEN ANNUAL (1970) #5 NEWSSTAND Very Fine
X-MEN ANNUAL (1970) #7 NEWSSTAND Very Fine
X-MEN ANNUAL (1970) #12 NEWSSTAND Near Mint/Mint
X-MEN ANNUAL (1970) #14 Near Mint/Mint

X-MEN SPECIAL EDITION (1983) #1 NEWSSTAND Near Mint/Mint

DC
ACTION COMICS (2011) (#0-52) (DC NEW52) #1 Near Mint/Mint

ANIMAL MAN (DC) (NEW 52) (2011) #1 Very Fine

AQUAMAN (1962) (#1-63) (DC) #4 Good

AQUAMAN (2011) (#0-52) (DC NEW52) #0 Near Mint/Mint
AQUAMAN (2011) (#0-52) (DC NEW52) #1 Near Mint/Mint
AQUAMAN (2011) (#0-52) (DC NEW52) #2 Near Mint/Mint


AQUAMAN (2011) (#0-52) (DC NEW52) #4

AQUAMAN (2011) (#0-52) (DC NEW52) #4 Near Mint/Mint
AQUAMAN (2011) (#0-52) (DC NEW52) #5 Fine
AQUAMAN (2011) (#0-52) (DC NEW52) #6 Very Fine
AQUAMAN (2011) (#0-52) (DC NEW52) #7 Near Mint/Mint
AQUAMAN (2011) (#0-52) (DC NEW52) #8 Near Mint/Mint
AQUAMAN (2011) (#0-52) (DC NEW52) #10 Near Mint/Mint
AQUAMAN (2011) (#0-52) (DC NEW52) #11 Near Mint/Mint
AQUAMAN (2011) (#0-52) (DC NEW52) #13 Near Mint/Mint
AQUAMAN (2011) (#0-52) (DC NEW52) #16 Near Mint/Mint
AQUAMAN (2011) (#0-52) (DC NEW52) #18 Near Mint/Mint
AQUAMAN (2011) (#0-52) (DC NEW52) #20 Near Mint/Mint

AQUAMAN ANNUAL (2013) (#1-2) (DC NEW52) #1 Near Mint/Mint

ARROW (DC) (GREEN ARROW) (2013) #1 Near Mint/Mint

ATOM (DC) (JUSTICE LEAGUE) (1962) #9 Very Good
ATOM (DC) (JUSTICE LEAGUE) (1962) #24 Fine
ATOM (DC) (JUSTICE LEAGUE) (1962) #25 Very Good

BATGIRL (2011) (#0-52) (DC NEW52) #0 Near Mint/Mint
BATGIRL (2011) (#0-52) (DC NEW52) #1 Very Fine
BATGIRL (2011) (#0-52) (DC NEW52) #4 Near Mint/Mint
BATGIRL (2011) (#0-52) (DC NEW52) #8 Near Mint/Mint
BATGIRL (2011) (#0-52) (DC NEW52) #9 Near Mint/Mint
BATGIRL (2011) (#0-52) (DC NEW52) #13 Near Mint/Mint

BATGIRL ANNUAL (2012) #1 Very Fine


BATMAN (2016) (#1-UP) (DC REBIRTH) #1

BATMAN (2016) (#1-UP) (DC REBIRTH) #1 Near Mint/Mint
BATMAN (2016) (#1-UP) (DC REBIRTH) #1 VARIANT Near Mint/Mint
BATMAN (2016) (#1-UP) (DC REBIRTH) #2 Near Mint/Mint
BATMAN (2016) (#1-UP) (DC REBIRTH) #24 Near Mint/Mint

BATMAN '66 (2013) #2 Near Mint/Mint

BATMAN: BEYOND UNIVERSE (2013) #1 Near Mint/Mint

BATMAN: BLACK & WHITE (2013) #1 Near Mint/Mint

BATMAN: JOKER'S DAUGHTER (2014) #1 Near Mint/Mint

FUTURE QUEST (2016) #1 JONNYQUEST Near Mint/Mint

MISTER MIRACLE (1971) (#1-25) (DC) #2 Fine

PHANTOM STRANGER (1969) #1 Good

SANDMAN: OVERTURE (2013) #1 A Near Mint/Mint

TALES OF THE NEW TEEN TITANS (1982) #1 NEWSSTAND Near Mint/Mint
TALES OF THE NEW TEEN TITANS (1982) #2 NEWSSTAND Very Fine
TALES OF THE NEW TEEN TITANS (1982) #3 NEWSSTAND Near Mint/Mint
TALES OF THE NEW TEEN TITANS (1982) #4 NEWSSTAND Fine


TEEN TITANS (1980) (#1-91) (DC) #1 NEWSSTAND

TEEN TITANS (1980) (#1-91) (DC) #1 NEWSSTAND Fine
TEEN TITANS (1980) (#1-91) (DC) #2 NEWSSTAND Very Good
TEEN TITANS (1980) (#1-91) (DC) #5 NEWSSTAND Fine
TEEN TITANS (1980) (#1-91) (DC) #10 NEWSSTAND Very Fine
TEEN TITANS (1980) (#1-91) (DC) #15 NEWSSTAND Near Mint/Mint
TEEN TITANS (1980) (#1-91) (DC) #16 NEWSSTAND Near Mint/Mint
TEEN TITANS (1980) (#1-91) (DC) #21 NEWSSTAND Very Fine
TEEN TITANS (1980) (#1-91) (DC) #25 NEWSSTAND Near Mint/Mint
TEEN TITANS (1980) (#1-91) (DC) #29 NEWSSTAND Near Mint/Mint
TEEN TITANS (1980) (#1-91) (DC) #33 NEWSSTAND Near Mint/Mint
TEEN TITANS (1980) (#1-91) (DC) #34 NEWSSTAND Near Mint/Mint
TEEN TITANS (1980) (#1-91) (DC) #42 Near Mint/Mint
TEEN TITANS (1980) (#1-91) (DC) #43 Near Mint/Mint
TEEN TITANS (1980) (#1-91) (DC) #44 NEWSSTAND Fine
TEEN TITANS (1980) (#1-91) (DC) #63 Near Mint/Mint
TEEN TITANS (1980) (#1-91) (DC) #68 NEWSSTAND Near Mint/Mint
TEEN TITANS (1980) (#1-91) (DC) #69 NEWSSTAND Near Mint/Mint
TEEN TITANS (1980) (#1-91) (DC) #78 Near Mint/Mint
TEEN TITANS (1980) (#1-91) (DC) #84 Near Mint/Mint
TEEN TITANS (1980) (#1-91) (DC) #86 NEWSSTAND Fine
TEEN TITANS (1980) (#1-91) (DC) #88 Near Mint/Mint
TEEN TITANS (1980) (#1-91) (DC) #90 Near Mint/Mint
TEEN TITANS (1980) (#1-91) (DC) #91 Fine

TEEN TITANS (2016) (#1-UP) (DC REBIRTH) #12 Near Mint/Mint

TEEN TITANS ANNUAL (1982) #1 NEWSSTAND Near Mint/Mint
TEEN TITANS ANNUAL (1982) #2 NEWSSTAND Very Fine
TEEN TITANS ANNUAL (1982) #3 Very Good


TEEN TITANS, BAXTER (NEW TEEN TITANS) (1984) #60

TEEN TITANS, BAXTER (NEW TEEN TITANS) (1984) #60 Near Mint/Mint

WARLORD (1976) #2 Very Fine
WARLORD (1976) #3 Near Mint/Mint
WARLORD (1976) #5 Near Mint/Mint
WARLORD (1976) #6 Near Mint/Mint
WARLORD (1976) #7 Near Mint/Mint
WARLORD (1976) #8 Near Mint/Mint
WARLORD (1976) #9 Near Mint/Mint
WARLORD (1976) #13 Near Mint/Mint
WARLORD (1976) #14 Near Mint/Mint
WARLORD (1976) #17 Near Mint/Mint
WARLORD (1976) #19 Near Mint/Mint
WARLORD (1976) #20 Near Mint/Mint
WARLORD (1976) #45 NEWSSTAND Near Mint/Mint
WARLORD (1976) #47 NEWSSTAND Near Mint/Mint
WARLORD (1976) #66 NEWSSTAND Near Mint/Mint
WARLORD (1976) #68 NEWSSTAND Near Mint/Mint
WARLORD (1976) #70 NEWSSTAND Near Mint/Mint
WARLORD (1976) #71 NEWSSTAND Near Mint/Mint
WARLORD (1976) #76 NEWSSTAND Near Mint/Mint
WARLORD (1976) #77 NEWSSTAND Near Mint/Mint
WARLORD (1976) #80 NEWSSTAND Very Fine
WARLORD (1976) #91 Near Mint/Mint
WARLORD (1976) #97 Near Mint/Mint
WARLORD (1976) #100 Near Mint/Mint
WARLORD (1976) #107 Near Mint/Mint
WARLORD (1976) #108 Near Mint/Mint

DARK HORSE COMICS
300 (1998) #1 Near Mint/Mint
300 (1998) #4 Near Mint/Mint
300 (1998) #5 Near Mint/Mint

IMAGE COMICS
ACTIVITY (IMAGE) (2011) #5 Near Mint/Mint

ALEX + ADA (IMAGE) (2013) #1 Near Mint/Mint
ALEX + ADA (IMAGE) (2013) #2 Near Mint/Mint

RAT QUEENS (2013) #1 Near Mint/Mint
RAT QUEENS (2013) #1 2ND PRINT Near Mint/Mint
RAT QUEENS (2013) #1 STAPLES Near Mint/Mint
RAT QUEENS (2013) #2 2ND PRINT Near Mint/Mint
RAT QUEENS (2013) #2 A Near Mint/Mint
RAT QUEENS (2013) #2 B Near Mint/Mint
RAT QUEENS (2013) #3 A Near Mint/Mint
RAT QUEENS (2013) #3 B Near Mint/Mint
RAT QUEENS (2013) #4 A Near Mint/Mint
RAT QUEENS (2013) #4 B Near Mint/Mint
RAT QUEENS (2013) #5 A Near Mint/Mint
RAT QUEENS (2013) #5 B Near Mint/Mint

REBORN (2016) #1 A CAPULLO Near Mint/Mint

SAGA (2012) #13 Very Fine
SAGA (2012) #14 Near Mint/Mint
SAGA (2012) #15 Near Mint/Mint
SAGA (2012) #16 Near Mint/Mint
SAGA (2012) #17 Near Mint/Mint
SAGA (2012) #18 Near Mint/Mint
SAGA (2012) #20 Very Fine
SAGA (2012) #21 Near Mint/Mint
SAGA (2012) #26 Near Mint/Mint
SAGA (2012) #32 Near Mint/Mint
SAGA (2012) #33 Near Mint/Mint
SAGA (2012) #34 Near Mint/Mint

SEX (2013) #1 Near Mint/Mint
SEX (2013) #2 Near Mint/Mint
SEX (2013) #3 Near Mint/Mint
SEX (2013) #4 Near Mint/Mint
SEX (2013) #5 Near Mint/Mint
SEX (2013) #6 Near Mint/Mint
SEX (2013) #7 Very Fine
SEX (2013) #8 Near Mint/Mint

SEX CRIMINALS (2013) #1 Near Mint/Mint
SEX CRIMINALS (2013) #1 2ND PRINT Near Mint/Mint
SEX CRIMINALS (2013) #1 3RD PRINT Near Mint/Mint
SEX CRIMINALS (2013) #1 4TH PRINT Near Mint/Mint
SEX CRIMINALS (2013) #1 5TH PRINT Near Mint/Mint
SEX CRIMINALS (2013) #1 6TH PRINT Near Mint/Mint
SEX CRIMINALS (2013) #2 Near Mint/Mint
SEX CRIMINALS (2013) #2 2ND PRINT Near Mint/Mint
SEX CRIMINALS (2013) #2 3RD PRINT Near Mint/Mint
SEX CRIMINALS (2013) #2 4TH PRINT Near Mint/Mint
SEX CRIMINALS (2013) #3 2ND PRINT Fine
SEX CRIMINALS (2013) #3 3RD PRINT Near Mint/Mint
SEX CRIMINALS (2013) #3 Very Fine
SEX CRIMINALS (2013) #4 Near Mint/Mint
SEX CRIMINALS (2013) #5 Near Mint/Mint
SEX CRIMINALS (2013) #6 Near Mint/Mint

SHUTTER (2014) #1 D RIOS Near Mint/Mint

SIN BOLDLY (2013) #1 Near Mint/Mint

SOUTHERN BASTARDS (2014) #1 Near Mint/Mint

SPAWN (1992) #2 W/O NICK Near Mint/Mint
SPAWN (1992) #9 Near Mint/Mint

SPREAD (2014) #1 Very Fine
SPREAD (2014) #2 2ND PRINT Fine

VELVET (IMAGE) (2013) #1 Near Mint/Mint

INDEPENDENTS
ARCADIA (2015) #1 (Boom Studios Publishing) Near Mint/Mint

DAISY AND DONALD (1980) (#42-59) (WHITMAN) #56 (Whitman Publishing) Very Fine

DIE KITTY DIE (2016) #1 E PARENT (Chapter House Publishing Inc) Near Mint/Mint

MIRACLEMAN (1985) #9 (Eclipse Enterprises) Near Mint/Mint

PLANET OF VAMPIRES (1975) #3 (Atlas/Seaboard) Very Fine

ROBOTECH: THE MACROSS SAGA (1985) #2 (Comico) Near Mint/Mint