Local News - 10,000 Last Minute Gift Ideas at Mile High Comics!
Howdy!
As I was driving in from our farm in Boulder this morning, our beautiful Colorado sun broke through the clouds. That made me very happy, I do very much like having a little bit of snow around Christmas, but the merchant in me begs that our weather not be so inclement as to impede our patrons ability to visit our stores. With today's roads now drying out quickly, our weather heading into the Christmas weekend is absolutely perfect!
As regards our holiday season here at Mile High Comics, we are experiencing record-breaking sales at all of our stores, but most especially Jason St. My wife, Nanette, our daughters Rowan, Aleta, Tanith, and Elsbeth, and I sincerely thank everyone who has helped to support us during this essential shopping season. Your kindness in helping to keep our family business viable is sincerely appreciated.
On a related topic, while I do work in Jason St. every day, it still just amazes me at how our overall selection of awesome collectibles continues to grow (quite literally...) by the day. In many regards that is because we simply never turn away a collection of scarce comics, books, toys, statues, or magazines if it is priced affordably. That has meant that our overall selection has actually grown even during this month of record-setting sales. I think that is very cool...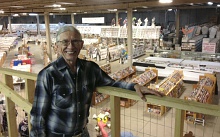 Chuck overlooking the Mega Store

Even better is the fact that everyone working in Jason St. these days agrees with my basic premise that our goal each day is not really to make money per se, but rather to improve our selections of collectibles. In many regards, that collector-driven perspective is precisely why we have been able to build Jason St. into such an amazing cool collectibles center. We may not have much money, but we do own an absolutely gigantic building filled to the brim with magnificent treasures!
All of the above having been said, what I would request of you at this point is that you show us your support of our efforts by visiting one of our stores during this last weekend before Christmas. I have a refinance of our Jason St. mortgage in the works right now that would really help us to grow the company even further next year (including purchasing five more of our huge comics cover banners for Jason St...), but the bank wants us to beef up our balance sheet liquidity a little by December 31st. That should be easily doable, as these next ten days are among our best revenue days of the year, at least when the weather is decent. If you could support us a little bit this weekend by visiting us for some last-minute holiday shopping, we would all appreciate it very much. Thank you!
Happy collecting!
Chuck Rozanski,
President - Mile High Comics, Inc.
December 21, 2017

P.S. Below are photos of just a few of the collectibles areas in Jason St. I think that you will agree that it is simply amazing how much great material that we still have in stock...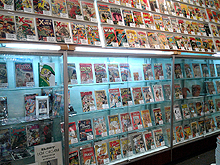 Golden & Silver Age Back Issues