HOLIDAY Comics Sale - Free Harley Quinn Comics
Howdy!
Since we are now well into the holiday season, I want to start off today's newsletter with a very cool giveaway offer for you. Releasing on Wednesday will be DC's much-anticipated new HARLEY QUINN #1. Our head buyer, Will Moulton, was aware that this highly desirable #1 issue would be releasing just before Christmas, so he ordered extra copies for us to offer you. You can obtain your free copy of HARLEY QUINN #1 by simply placing any minimum $30 order with us over the next couple of days, and then requesting (in the notes section of our online order form) that we include you free HARLEY QUINN #1 in with you order at no charge to you. Enjoy!
In other news, over 800 Golden Age (1935-1955), Silver Age (1956-1975) and Bronze Age (1976-1982) comics that I purchased last week on the East Coast are now listed for you in our Premium New-In-Stock link. Another 1,000 highly desirable 1983-present issues were also added for you into our much larger New-In-Stock link. Without a doubt, if you have not perused our New-In-Stock listings for a little while, you really should try to take a moment today. We have some great older comics waiting for you!
On a related note, I want to be sure that you know that all of the comics listed from my buying trip are also eligible for our annual 60% off all back issues HOLIDAY codeword discount. Please do bear in mind, however, that in most instances that I was only able to obtain a single copy of each issue that we have listed in New-In-Stock. If you see an issue that would fill a critical gap in your collection, please be sure and order it right away, as we do not want you to miss out. Here are instant links to our new arrivals:
Dark Horse Comics New-In-Stock
Independent Comics New-In-Stock
Trade Paperbacks and Hardbacks New-In-Stock
Speaking of trade paperbacks and hardbacks, we did just add some excellent last-minute book shipments into our inventory for you, with some especially scarce and out-of-print titles included. Almost all of these books are listed also listed on our website for you at discounts ranging from 30%-40% off. With over 250,000 books in stock on our shelves right now, our selection of comics-related book titles is (by far...) the largest in the world. We plan to continue expanding our book selection even further during 2014, so that any time that you are seeking any book title, that we will have a better likelihood of having it in stock for you.
Happy Collecting!
Chuck Rozanski,
President - Mile High Comics, Inc.
December 16, 2013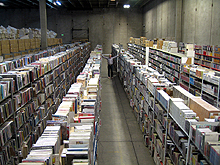 Chuck among our TPB's and HC's Shelves