Special $5 Marvel Trade Paperbacks plus 50% Off All Comics
Howdy!
I am hustling like crazy today to get ready for our annual Jason St. "stocking stuffer" auction. This special event features hundreds of fun gift items that we essentially nearly give away by auctioning them off without any reserves or minimums. We do this in order to allow kids of all ages to purchase inexpensive last-minute holiday gifts. If you live anywhere near Denver, I believe that you would be well served by stopping by Jason St. tomorrow (Saturday). The auction runs from 11:30 AM - 2 PM.
At the same time as Pam, Lisa, and I will be conducting the "stocking stuffer" auction at one end of Jason St, Lynne, Will, and Steven Ault will be organizing our December Texas Hold'em Poker Tournament in the main events area. Some of our top players are out of town this month, so we expect that the overall odds of winning may be much better for those who do show up. Entry fee is only $25, which qualifies you to win up to $1,000 in Mile High Comics gift certificates! The game begins at 11 AM, so I encourage players to show up at 10:30 for registration and table assignments. All proceeds will be donated to the Queen Mother's awards and scholarship fund.
As regards our online sales, response to our annual 50% off all Trade Paperbacks and Graphic Novels promotion has really picked up steam over the past couple of days. Our 40% off comics hardback collections are also selling well, as are our back issues that are discounted via the 50% off HOLIDAY! codeword. All of us here at Mile High Comics sincerely thank everyone who has supported us by placing an order through our website this week. It is quite comforting to see that slashing many of our book prices to lower than Amazon can still elicit a positive reaction...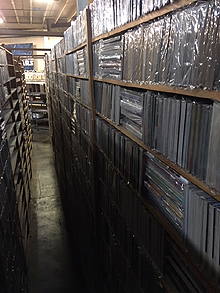 Photo of huge 10-pack racks Chuck is filling

On a related note, I have been working at Jason St. late into most evenings this week shelving 10-packs of comics. These packs consist of 300,000+ NM/M back issues that have accumulated around the building from my numerous warehouse and distributor deals of the past six years. While putting so many great comics away has been an arduous task, it has also warmed my heart to see tangible evidence of the great progress that we have been making in building up our website selections. There are a few surprises, too, such as when I came across 100 copies each of the two variant editions of the second printing of ULTIMATE FALLOUT #4, which features the debut of Miles Morales as the new Spider-Man! So you know, this one issue is currently our single most-requested back issue, in large measure because Miles is featured in the new Spider-Man animated show.

ULTIMATE FALLOUT (2011) #4 2ND PICHEL

All of the above having been said, I am going to have a weekend "flash" sale where I offer you either of the two second printing variants of ULTIMATE FALLOUT #4 for only $5 each. This temporary sale is through Monday morning at 10 AM only, and there is a limit of one copy of each per client. Please do order right away to guarantee being able to obtain both Mile Morales variants.

ULTIMATE FALLOUT (2011) #4 2ND BAGLEY

My final item for today is an offer of an entirely different grouping of Marvel Comics trade paperbacks at the astonishingly low price of only $5 each. These brand new books have cover prices ranging from $14.95-$29.95 each! Marvel just delivered these titles to us yesterday, which was quite a surprise. We had expected them next week. This matters because since we were unsure if they would arrive in time for Christmas, our initial order on these titles was quite a bit smaller than it should have been. In all probability, we will sell out on most titles very quickly. At only $5 each, these brand new Marvel books are an amazing deal...

THING CLASSIC TPB (2011) #1 only $5.00


THOR: BLOOD & THUNDER TPB (2011) #1 only $5.00


THOR: LOST GODS TPB (2011) #1 only $5.00


THOR: OFFICIAL INDEX TO THE MARVEL UNIVERSE TPB (2011) #1 only $5.00


THOR: WORLD EATERS TPB (2011) #1 only $5.00


THUNDERBOLTS: GREAT ESCAPE TPB (2012) #1 only $5.00


TRON: ORIGINAL MOVIE ADAPTATION TPB (2011) #1 only $5.00


ULTIMATE COMICS: CAPTAIN AMERICA TPB (2011) #1 only $5.00


ULTIMATE COMICS: THOR TPB (2011) #1 only $5.00


ULTIMATE SPIDER-MAN TPB #11 only $5.00

Happy collecting!
Chuck Rozanski,
President - Mile High Comics, Inc.
December 15, 2017