Local News - Last Mile High Comics Poker Tournament and Auction of the Year Next Saturday
Howdy!
Several news items today from Mile High Comics. Of greatest importance is our upcoming Holiday Gifts Auction, which we will be hosting at Jason St. on Saturday, December 16th, starting at 11:30 AM. We intentionally include a large number of brand new action figures, statues, mugs, etc. in this wonderful no-minimum-bid auction as it is designed for everyone to be able to pick up some last-minute stocking stuffers at unbelievably low prices. We sold about 800 items in last Year's auction for only about $3 each, so it is definitely a once-a-year opportunity to score great collectibles for next to nothing! Please save the date, as we will have a slew of photos of auction items for you early next week...
Our other exciting event on the 16th will be our December Texas Hold'em Poker Tournament. The tournament will begin at Jason St. at 11 AM on the 16th, and should be over by 3 PM. Cost to play is only $25, but even this nominal fee is reimbursed to you in the form of a $25 Mile High Comics gift certificate if you register in advance at any one of our three Denver-area retail stores. In effect you get to play for free! Winner earns a $500 Mile High Comics shopping spree! Second gets $200, 3rd-5th $100 each.
So you know, this month's tournament is a special benefit for Nicole Murray-Ramirez, Queen Mother I of the Americas. Nicole is the head of the entire 30,000-strong Imperial Court System, and in that esteemed role periodically visits all 72 of our Imperial Courts in the United States, Canada, and Mexico. During her visits she very generously passes out awards to worthy members of each local Court, and also passes out small scholarship awards. That having been said, I decided that I would dedicate this month's tournament earnings to help to bolster the Queen Mother's awards fund. I hope that you join us, and help our Queen Mother continue her awesome good works. Thank you!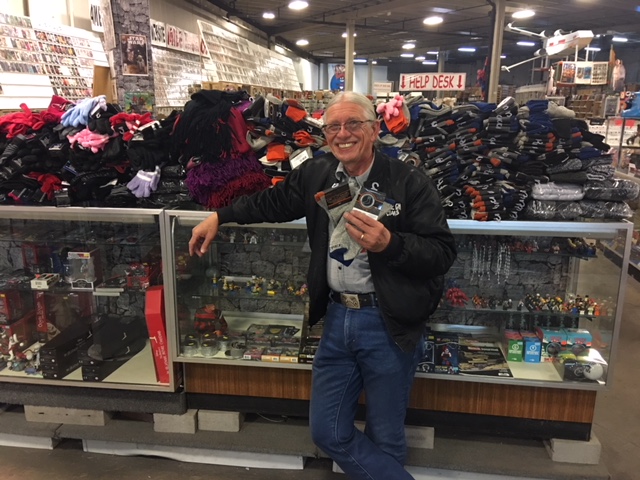 A few donations of warm clothing for the poor!

My final news item for today is a request for a few more donations of warm weather clothing. As I mentioned a few weeks ago, "Feeding Denver's Hungry" passes out warm weather clothing every winter to the 1,000+ elderly, disabled, and indigent people that we serve. While we have already received a substantial quantity of jackets, sweaters, hoodies, hats, gloves, and scarves, we are nowhere near being able to help all of our 1,000 people in need. If you at all can, please bring in any good condition used warm clothing that you might have to our Jason St. Location, and put them in the box at the front of the store.
We would also very much appreciate your stopping by your local Dollar Tree store, and purchasing a few new hats, scarves, gloves, and (most especially...) thermal socks. Bring your receipt for those items in to any of our retail stores, and we will immediately give you a Mile High Comics gift certificates that will reimburse you for 100% of your cost for these items. We desperately need donations of at least 1,000 pairs of socks by Christmas, so we are hoping that the generous members our Mile High Comics community can help us in meeting this very worthy goal.
Happy collecting!
Chuck Rozanski,
President - Mile High Comics, Inc.
December 7, 2017