Local News - Comics and Toy Auction This Saturday, Pro Wrestling and Free Books, Too!
Howdy!
I want to begin today by thanking everyone who stopped by one of our stores over this past weekend to do a little holiday shopping. Thanks to your kindness and support our 3 retail stores managed to have a reasonably good weekend, with Jason St. being exceptionally busy. Thank you!
If you missed last weekend's Black Friday sales event, I am going to extend to you another opportunity. For the rest of this week, and through next weekend, we will continue to offer our Black Friday discounts in all of our retail stores. Here are the exceptionally generous saving that we are offering:
*All Back Issues - 50% Off!
*All Toys & Action Figures - 40% Off!
*All Trade Paperbacks - 40% Off!
*All Hardbacks - 30% Off!
*All Statues - 30% Off!
*All Apparel 30% Off!

In addition to these savings we are also offering a huge array of 100+ Marvel Comics trade paperbacks at only $5 each. We sold well over 1,000 of these books over the weekend, but we purchased 3,600 copies in total, so we are not yet out of any individual titles. Marvel Comics also rewarded us for our huge order by providing us with 400 free copies each of SIEGE: MIGHTY AVENGERS and WOLVERINE: BEST THERE IS - CONTAGION TPB (2012). We are giving one of these free books to anyone who makes a minimum $25 purchase in our stores this week, or both for free as a reward for a minimum $50 purchase. Please enjoy these awesome free books with our sincere thanks for your kindness and support of our company.

WOLVERINE: BEST THERE IS - CONTAGION TPB (2012)

Moving on to news from this weekend, we have a huge auction planned at Jason St. for Saturday beginning at 11:30 AM, with a special emphasis on Silver and Bronze Age comics. All items shown in the photos at the end of this newsletter will be auctioned off with no minimum bids. We are also seeking donations for a charity element to Saturday's auction, where we will be auctioning donated items to purchase hygiene products (soap, shampoo, disposable razors, deodorant, etc.) for the poor and elderly served by Denver's "Feeding Denver's Hungry" and Albuquerque's "A Light In the Night."
So you know, I have located a supplier here in Denver that sells case lots of the little soaps and shampoos that they put in hotel rooms at about 9 cents each. I would very much like to make a large purchase of these items to split between our two very worthy beneficiaries. If you have any unwanted comics, books, toys, or collectibles that you no longer want taking up room in your house, please donate them to Saturday's auction, and I will auction them for you. I have personally passed out hygiene products with both "Feeding Denver's Hungry" and "A Light In the Night,", and I have to tell you that the poor people that we serve are delighted when we can help them with these products. Thank you.
I will close by mentioning quickly that New Era Wrestling will be staging an awesome professional wrestling event in our Jason St. Mega-Store on this Saturday evening, beginning at 6:30 pm. Their full-size wrestling ring will be set up in our store on Wednesday evening. This month's wrestling event is a benefit for The Marine Toys for Tots Foundation. Admission is only $10. We had about cheering 100 fans at last month's exhibition, and the kids in the audience (both young and old...) absolutely loved the craziness of watching gigantic guys performing amazing athletic feats, while also camping things up by throwing chairs and hitting each other on the head with huge aluminum trash cans. If you want something fun to do with your kids, bring them to Jason St. on Saturday!
Happy collecting!
Chuck Rozanski,
President - Mile High Comics, Inc.
November 16, 2017

P.S. Here are a few of the Comics that will be in Saturday's auction with no minimum bids. More Picture will be uploaded on Wednesday to the Facebook auction event.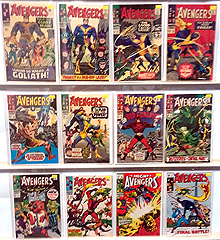 Some Comics for Saturday's Auction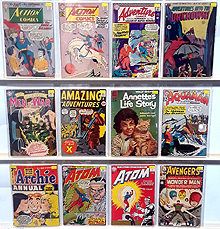 Some Comics for Saturday's Auction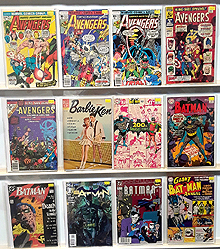 Some Comics for Saturday's Auction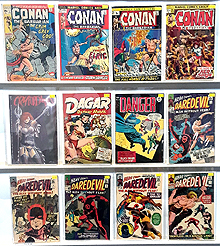 Some Comics for Saturday's Auction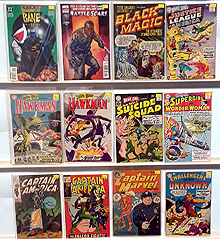 Some Comics for Saturday's Auction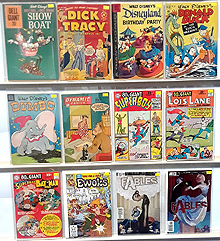 Some Comics for Saturday's Auction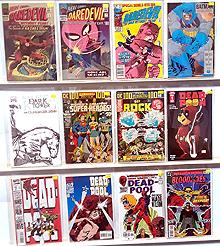 Some Comics for Saturday's Auction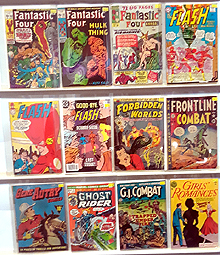 Some Comics for Saturday's Auction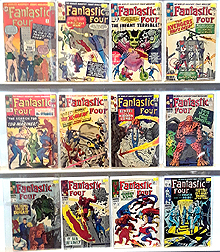 Some Comics for Saturday's Auction