Brand New Marvel Comics Trade Paperbacks only $5 Each
Howdy!
I hope that you had a wonderful Thanksgiving holiday, and that you were blessed by the love and affection of family and friends. I started out yesterday by taking a gentle stroll alongside the back pasture of our family farm with my beloved wife, Nanette. If you were reading my newsletter this time last year, you may recall that at that time Nanette was preparing for her upcoming hip-replacement surgery. This medical procedure was long overdue, but had to be put off by a year because she contracted a near-fatal case of the antibiotic-resistant bacterium, C-diff. Once the doctors finally declared her C-diff finally under control, she was finally cleared for her hip surgery.
Fast-forward to yesterday, and Nanette gingerly walked with me a quarter of mile out, and a quarter of a mile back, from the beautiful wildlife-filled canyon that bisects our farm. This is the first time that she has walked that far with me in about four years. That passage of time made our journey yesterday overwhelmingly special. I love Nanette very much, and it truly brings much joy to my heart that she has finally recovered so well.
After our wonderful family dinner at home, I joined the volunteers from "Feeding Denver's Hungry" at one of our local nightclubs that was serving a special meal for those alone on Thanksgiving. I then spent the rest of my evening putting away some of my Pueblo pottery and entertaining our Jason St. kitty, Cambridge. Just in case you didn't know, Cambridge is actually the true owner of Mile High Comics, and only lets me front for her out of the goodness of her heart. Typical cat.
As regards business, we were blessed to receive a nice batch of online orders yesterday, which really made us all feel a lot better. While Black Friday is a really big deal for the giant retailers of America, it truly hurts smaller retailers (like us...) as the vast majority of consumer purchases end up being placed with the Amazons and Wal-Marts of our world.
That having been said, I do understand the financial realities that many people face, and am sympathetic to the pressing need to make family budgets stretch. That is why I chopped all of our back issue comics prices in half for you (Priced in Green, Yellow, and Red) as a part of our own annual BLACKFRIDAY! codeword sale, and also had Will Moulton slash all of our trade paperback and graphic novel prices for you by 40%, and all of our comics hardcover collections by 30%, right on our website. With over ten million items now on sale at 30%-50% off, I know that we have created some great bargains on our website for everyone this year.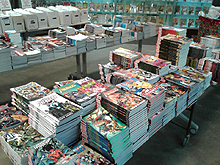 Stack of some of the $5 Trades

Speaking of bargains, Will Moulton jumped all over an incredible deal that Marvel Comics offered us two weeks ago, on 100 brand new trade paperbacks that they decided to liquidate from their warehouse. They sold us these books so in expensively that we can offer them to you today for only $5 each! (Plus shipping) Cover prices on these brand new books are $9.95 - $39.95 each, so picking them up for only $5 is a great way to fill part of your holiday gift list at a huge discount. My personal thanks go out to Will for scoring this great deal for us all!
I will close today's newsletter by asking that you please at least think about placing an order or visiting you local comic store in the next couple of days. Tomorrow is small business Saturday, Monday is Cyber Monday, and Tuesday is Local Tuesday. Each of these special days is obviously a somewhat contrived event, but they were put into place by well-intentioned people trying to help smaller business get through the Black Friday period. Any support you could provide us over the next few days would be very much appreciated by your local comic store. Thanks to our extremely positive buying efforts of this past fall our online inventory has never been better, so we totally should have some items in stock right now that you would love to own. Please take a moment, and at least look. Thank you!
Happy collecting!
Chuck Rozanski,
President - Mile High Comics, Inc.
November 24, 2017


15 LOVE TPB (2011) #1



AGENTS OF ATLAS VS. TPB (MARVEL) (2010) #1



AGENTS OF ATLAS: TURF WARS TPB (MARVEL) (2010) #1



AMAZING SPIDER-MAN YOUNG READERS TPB (2012) #3



ASTONISHING SPIDER-MAN & WOLVERINE TPB (2012) #1



ASTONISHING X-MEN VOL. 2: DANGEROUS TPB (2005) #1



ASTONISHING X-MEN VOL. 7: MONSTROUS TPB (2012) #1



ASTONISHING X-MEN VOL.11: WEAPONIZED TPB (2013) #1



ASTONISHING X-MEN: XENOGENESIS TPB (WARREN ELLIS) (2011) #1



ATLAS: RETURN OF THE THREE DIMENSIONAL MAN TPB (MARVEL) (2010) #1



AVENGERS A.I. VOL. 1: HUMAN AFTER ALL TPB (2013) #1



AVENGERS ACADEMY VOL. 1: PERMANENT RECORD TPB (2011) #1



AVENGERS ACADEMY VOL. 2: REAL WORLD TPB (2012) #1



AVENGERS ACADEMY: ARCADE - DEATH GAME TPB (2011) #1



AVENGERS ARENA VOL. 3: BOSS LEVEL TPB (2013) #1



AVENGERS ASSEMBLE TPB (2010) #4



AVENGERS ASSEMBLE TPB (2010) #5



AVENGERS BY BRIAN MICHAEL BENDIS TPB (2011) #3



AVENGERS BY BRIAN MICHAEL BENDIS TPB (2011) #4



AVENGERS BY BRIAN MICHAEL BENDIS TPB (2011) #5



AVENGERS COMPLETE COLLECTION BY GEOFF JOHNS TPB (2013) #2



AVENGERS FOREVER TPB (2ND EDITION) (2011) #1



AVENGERS PRIME TPB (2011) #1



AVENGERS SOLO: AVENGERS CLASSIC TPB (2012) #1



AVENGERS VOL. 2: LAST WHITE EVENT TPB (2014) #1



AVENGERS VS. PET AVENGERS TPB (2011) #1



AVENGERS VS. X-MEN: AVENGERS ACADEMY TPB (2013) #1



AVENGERS VS. X-MEN: CONSEQUENCES TPB (2013) #1



AVENGERS VS. X-MEN: IT'S COMING TPB (2012) #1



AVENGERS VS. X-MEN: VERSUS TPB (2013) #1



AVENGERS VS. X-MEN: X-MEN LEGACY TPB (2013) #1



AVENGERS WEST COAST: ALONG CAME A SPIDER-WOMAN TPB (2012) #1



AVENGERS/X-MEN: UTOPIA TPB (2010) #1 (3RD PRINT)



AVENGERS: ABSOLUTE VISION TPB (2013) #1



AVENGERS: BIG THREE TPB (2012) #1



AVENGERS: EARTH'S MIGHTIEST HEROES ULTIMATE TPB (2012) #1



AVENGERS: FALCON TPB (2014) #1



AVENGERS: I AM AN AVENGER TPB (2010) #2



AVENGERS: INITIATIVE TPB (2008) #2



AVENGERS: LEGION OF THE UNLIVING TPB (2012) #1



AVENGERS: WE ARE THE AVENGERS TPB (2011) #1



AVENGERS: WEST COAST AVENGERS - FAMILY TIES TPB (2012) #1



AVENGERS: WEST COAST AVENGERS ASSEMBLE TPB (2012) #1



AVENGERS: X-SANCTION TPB (2012) #1



CABLE & X-FORCE VOL. 2: DEAD OR ALIVE TPB (2013) #1



CABLE & X-FORCE VOL. 4: VENDETTAS TPB (2014) #1



CABLE VOL. 3: STRANDED TPB (2010) #1



CABLE VOL. 4: HOMECOMING TPB (2010) #1



CAPTAIN AMERICA & THE KORVAC SAGA TPB (2011) #1



CAPTAIN AMERICA BY DAN JURGENS TPB (2011) #1



CAPTAIN AMERICA BY DAN JURGENS TPB (2011) #2



CAPTAIN AMERICA BY ED BRUBAKER TPB (2012) #2



CAPTAIN AMERICA BY ED BRUBAKER TPB (2012) #4



CAPTAIN AMERICA EPIC COLLECTION: DAWN'S EARLY LIGHT TPB (2014) #1



CAPTAIN AMERICA VOL. 1: CASTAWAY IN DIMENSION Z TPB (2014) #1



CAPTAIN AMERICA: ALLIES & ENEMIES TPB (2011) #1



CAPTAIN AMERICA: AMERICA FIRST TPB (2010) #1



CAPTAIN AMERICA: DEATH OF CAPTAIN AMERICA TPB (2008) #2 (4TH PRINT)



CAPTAIN AMERICA: FIGHTING AVENGER TPB (2011) #1



CAPTAIN AMERICA: HAIL HYDRA TPB (2011) #1



CAPTAIN AMERICA: LIVING LEGEND TPB (2014) #1



CAPTAIN AMERICA: NO ESCAPE TPB (2011) #1



CAPTAIN AMERICA: OFFICIAL INDEX TO MARVEL UNIVERSE TPB (2011) #1



CAPTAIN AMERICA: TRIAL OF CAPTAIN AMERICA TPB (2011) #1



CAPTAIN AMERICA: TWO AMERICAS TPB (2010) #1



CAPTAIN MARVEL: DEATH OF CAPTAIN MARVEL TPB (2013) #1



CASTLE: RICHARD CASTLE'S STORM SEASON TPB (2014) #1



CIVIL WAR: FRONT LINE TPB (2007) #2



DAKEN & X-23: COLLISION TPB (2012) #1



DAKEN: DARK WOLVERINE - BIG BREAK TPB (2012) #1



DAKEN: DARK WOLVERINE - EMPIRE TPB (2011) #1



DAKEN: DARK WOLVERINE - PRIDE COMES BEFORE THE FALL TPB (2012) #1



DAREDEVIL BY MARK WAID TPB (2012) #2



DAREDEVIL BY MARK WAID TPB (2012) #5



DAREDEVIL: LADY BULLSEYE TPB (2009) #1 (2ND PRINT)



DARK REIGN: SINISTER SPIDER-MAN TPB (2009) #1



DARKHAWK CLASSIC TPB (2012) #1



DEADPOOL VOL.10: EVIL DEADPOOL TPB (2012) #1 (3RD PRINT)



DEATH OF DRACULA TPB (2011) #1



DEFENDERS BY MATT FRACTION TPB (2012) #2



EXCALIBUR VISIONARIES: ALAN DAVIS TPB (2009) #2



EXILES ULTIMATE COLLECTION TPB (2009) #5



EXILES ULTIMATE COLLECTION TPB (2009) #6



FANTASTIC FOUR BY JONATHAN HICKMAN TPB (2010) #4



FANTASTIC FOUR BY JONATHAN HICKMAN TPB (2010) #5



FANTASTIC FOUR BY JONATHAN HICKMAN TPB (2010) #6



FANTASTIC FOUR BY WAID & WIERINGO ULTIMATE COLL. TPB (2011) #1



FANTASTIC FOUR BY WAID & WIERINGO ULTIMATE COLL. TPB (2011) #4



FANTASTIC FOUR EPIC COLLECTION: ALL IN THE FAMILY TPB (2013) #1



FANTASTIC FOUR VOL. 1: NEW DEPARTURE, NEW ARRIVALS TPB (2013) #1



FANTASTIC FOUR VOL. 2: ROAD TRIP TPB (2013) #1



FANTASTIC FOUR VOL. 3: DOOMED TPB (2014) #1



FANTASTIC FOUR/INHUMANS: ATLANTIS RISING TPB (2014) #1



FANTASTIC FOUR: EXTENDED FAMILY TPB (2011) #1



FANTASTIC FOUR: ISLAND OF DEATH TPB (2013) #1



FANTASTIC FOUR: REUNITED THEY STAND TPB (2013) #1



RUNAWAYS DIGEST VOL. 5: ESCAPE TO NEW YORK TPB (2011) #1



SIEGE: MIGHTY AVENGERS TPB (2011) #1



ULTIMATE COMICS: AVENGERS - CRIME & PUNISHMENT TPB (2011) #1



ULTIMATE COMICS: NEW ULTIMATES - THOR REBORN TPB (2011) #1