Local News - 3,000 New Marvel Comics Trade Paperbacks $5 Each
Howdy!
I have two major topics to cover today. First, our annual Black Friday discounts are now in effect for you at all three of our retail stores. Here are the discounts we will be offering all through this week, and through the weekend:
*All Back Issues - 50% Off!
*All Toys & Action Figures - 40% Off!
*All Trade Paperbacks - 40% Off!
*All Hardbacks - 30% Off!
*All Statues - 30% Off!
*All Apparel - 30% Off!

Our online restrictions on this sale are that $1 comics, our MHC variants, blue sticker back issues, and our professionally graded comics are not included in the sale. Other than those few exceptions, all ten million of our back issues are on sale for you this week at half price (including all of our Silver Age issues), and at Jason St. we have 250,000+ books with prices slashed for you by 30%-40% off. This is an awesome Black Friday sale!
Aside from mentioning our own wonderful sale, I did also want to let you know that Marvel Comics decided to give all of their fans an early Christmas present. Just today we received an immense number of brand new trade paperback books from them that we can offer to you at the ridiculously low price of only $5 each! These beautiful collections have cover prices ranging from $9.95 - $39.95 each, and would thus make fantastic holiday gifts. All three of our stores have a nice selection of these $5 books in stock and available to you right now. I hope that providing you with the opportunity to pick up these fantastic Black Friday bargains helps you to stretch your budget during this holiday season.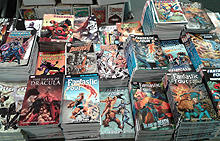 Some more of the $5 Marvel Trades

I will close by sincerely thanking you for your ongoing support of Mile High Comics. In this world where we see gigantic mega-corporations dominating almost all local and online retail sales, it is hard for us as a small family-owned enterprise to survive. That having been said, the fact that you are still willing to stop by one of our stores and pick up a couple of gifts from us makes all the difference in the world. Thank you ever so much for helping us to continue to thrive and grow.
Happy collecting!
Chuck Rozanski,
President - Mile High Comics, Inc.
November 16, 2017

P.S. Below is the amazing list of $5 books that we have waiting for you today at all of our stores:
15 LOVE GN TP $14.99 ALL NEW X-MEN INDESTRUCTIBLE HULK SSM ARMS OCTOPUS TP $14.99


ASTONISHING SPIDER-MAN AND WOLVERINE TP $19.99

ASTONISHING X-MEN TP VOL 02 DANGEROUS $14.99
ASTONISHING X-MEN TP VOL 07 MONSTROUS $16.99
ASTONISHING X-MEN TP VOL 11 WEAPONIZED $16.99
ASTONISHING X-MEN TP XENOGENESIS $19.99
ATLAS TP MARVEL BOY $19.99
AVENGERS ACADEMY TP ARCADE DEATH GAME $14.99
AVENGERS ACADEMY TP VOL 01 PERMANENT RECORD $19.99
AVENGERS AI TP VOL 01 HUMAN AFTER ALL $16.99
AVENGERS ARENA TP VOL 03 BOSS LEVEL $15.99
AVENGERS ASSEMBLE TP VOL 04 $34.99
AVENGERS BIG THREE TP $29.99
AVENGERS BY BRIAN MICHAEL BENDIS TP VOL 02 $19.99
AVENGERS BY BRIAN MICHAEL BENDIS TP VOL 03 $24.99
AVENGERS BY BRIAN MICHAEL BENDIS TP VOL 04 AVX $19.99
AVENGERS BY BRIAN MICHAEL BENDIS TP VOL 05 $24.99
AVENGERS COMPLETE COLL BY GEOFF JOHNS TP VOL 02 $29.99
AVENGERS EARTHS MIGHTIEST HEROES ULT COLL TP $34.99
AVENGERS FALCON TP $24.99
AVENGERS FOREVER TP $29.99
AVENGERS I AM AN AVENGER II TP VOL 02 $24.99
AVENGERS INITIATIVE TP DREAMS AND NIGHTMARES $14.99
AVENGERS INITIATIVE TP VOL 02 KILLED IN ACTION $19.99
AVENGERS LEGION OF UNLIVING TP $29.99
AVENGERS PRIME TP $16.99
AVENGERS ROAD TO MARVEL AVENGERS TP $24.99
AVENGERS SOLO AVENGERS CLASSIC TP VOL 01 $24.99
AVENGERS TP BOOK 02 ABSOLUTE VISION $39.99
AVENGERS TP VOL 02 LAST WHITE EVENT $19.99
AVENGERS VS PET AVENGERS GN TP $14.99
AVENGERS VS X-MEN TP AVENGERS ACADEMY AVX $24.99
AVENGERS VS X-MEN TP CONSEQUENCES AVX $17.99
AVENGERS VS X-MEN TP ITS COMING AVX $19.99


AVENGERS VS X-MEN TP VS AVX $24.99

AVENGERS VS X-MEN TP X-MEN LEGACY AVX $29.99
AVENGERS WE ARE THE AVENGERS TP $16.99
AVENGERS WEST COAST AVENGERS ASSEMBLE TP $24.99
AVENGERS WEST COAST AVENGERS TP FAMILY TIES $29.99
AVENGERS WEST COAST TP ALONG CAME A SPIDER-WOMAN $39.99
AVENGERS X-MEN UTOPIA TP $34.99
AVENGERS X-SANCTION TP $19.99
CABLE AND X-FORCE TP VOL 02 DEAD OR ALIVE $12.99
CABLE AND X-FORCE TP VOL 04 VENDETTAS $19.99
CABLE TP VOL 03 STRANDED $14.99
CABLE TP VOL 04 HOMECOMING $15.99
CAPTAIN AMERICA 1940S NEWSPAPER STRIP TP $14.99
CAPTAIN AMERICA ALLIES AND ENEMIES TP $16.99
CAPTAIN AMERICA AND KORVAC SAGA GN TP $14.99
CAPTAIN AMERICA BY DAN JURGENS TP VOL 01 $29.99
CAPTAIN AMERICA BY DAN JURGENS TP VOL 02 $29.99
CAPTAIN AMERICA BY ED BRUBAKER TP VOL 02 $16.99
CAPTAIN AMERICA BY ED BRUBAKER TP VOL 04 $19.99
CAPTAIN AMERICA EPIC COLLECTION TP DAWNS EARLY LIGHT TP $34.99
CAPTAIN AMERICA FIGHTING AVENGER GN TP $14.99
CAPTAIN AMERICA FOREVER ALLIES TP $19.99
CAPTAIN AMERICA HAIL HYDRA TP $14.99
CAPTAIN AMERICA NO ESCAPE TP $15.99
CAPTAIN AMERICA OFF INDEX TO MARVEL UNIVERSE GN TP $24.99
CAPTAIN AMERICA PRISONER OF WAR TP $19.99
CAPTAIN AMERICA TP AMERICA FIRST $16.99
CAPTAIN AMERICA TP LIVING LEGEND $15.99
CAPTAIN AMERICA TP VOL 01 CASTAWAY DIMENSION Z BOOK 1 $19.99
CAPTAIN AMERICA TP VOL 02 DEATH OF CAPTAIN AMERICA $14.99
CAPTAIN AMERICA TRIAL OF CAPTAIN AMERICA TP $19.99
CAPTAIN AMERICA TWO AMERICAS TP $14.99
CAPTAIN MARVEL TP DEATH OF CAPTAIN MARVEL NEW PTG $19.99


CASTLE TP RICHARD CASTLES STORM SEASON $14.99

CHAOS WAR X-MEN TP $15.99
CIVIL WAR FRONT LINE TP BOOK 02 $14.99
DAKEN DARK WOLVERINE BIG BREAK TP $16.99
DAKEN DARK WOLVERINE EMPIRE TP $19.99
DAKEN DARK WOLVERINE TP PRIDE COMES BEFORE FALL $19.99
DAKEN X-23 COLLISION TP $19.99
DAREDEVIL BY MARK WAID TP VOL 02 $15.99
DAREDEVIL BY MARK WAID TP VOL 05 $16.99
DAREDEVIL TP LADY BULLSEYE $16.99
DARK REIGN FANTASTIC FOUR TP $16.99
DARK REIGN SINISTER SPIDER-MAN TP $16.99
DARKHAWK CLASSIC TP VOL 01 $24.99
DEADPOOL TP VOL 10 EVIL DEADPOOL $16.99
DEATH OF DRACULA TP $19.99
DEFENDERS BY MATT FRACTION TP VOL 02 $19.99
DOMINIC FORTUNE IT CAN HAPPEN HERE AND NOW TP (MR) $19.99
EXCALIBUR VISIONARIES ALAN DAVIS TP VOL 02 $24.99
EXILES ULTIMATE COLLECTION TP BOOK 06 $34.99
FANTASTIC FOUR BY JONATHAN HICKMAN TP VOL 04 $19.99
FANTASTIC FOUR BY JONATHAN HICKMAN TP VOL 05 $24.99
FANTASTIC FOUR BY JONATHAN HICKMAN TP VOL 06 $24.99
FANTASTIC FOUR BY WAID & WIERINGO ULT COLL TP BOOK 01 $24.99
FANTASTIC FOUR BY WAID & WIERINGO ULT COLL TP BOOK 04 $24.99
FANTASTIC FOUR EPIC COLLECTION TP ALL IN FAMILY $34.99
FANTASTIC FOUR EXTENDED FAMILY TP $24.99


FANTASTIC FOUR INHUMANS TP ATLANTIS RISING $39.99

FANTASTIC FOUR ISLAND OF DEATH TP $16.99
FANTASTIC FOUR REUNITED THEY STAND TP $24.99
FANTASTIC FOUR TP VOL 01 NEW DEPARTURE NEW ARRIVALS NOW $15.99
FANTASTIC FOUR TP VOL 02 ROAD TRIP NOW $15.99
FANTASTIC FOUR TP VOL 03 DOOMED $24.99
RUNAWAYS TP VOL 05 ESCAPE TO NEW YORK DIGEST $9.99
SIEGE MIGHTY AVENGERS TP $15.99
ULTIMATE COMICS AVENGERS TP CRIME AND PUNISHMENT $19.99
ULTIMATE COMICS NEW ULTIMATES THOR REBORN TP $19.99
X-MEN AGE OF APOCALYPSE PRELUDE TP $29.99