DEADPOOL Hardbacks on Sale, New STAR WARS Cover
Howdy!
I came across some fun photos this morning that were taken at our house in West Boulder, way back in 1988. Nanette and I had just finished putting together the steel frame of our new greenhouse, and we're working in the rain to install the plastic covering. It was a far more innocent time, before cell phones, computers, the Internet, and Facebook. Imagine how different your life would be today if you had none of those things. As for us, we had much more time to spend with each other, and our four rambunctious daughters. Our farm motto was "A Family Growing Together!"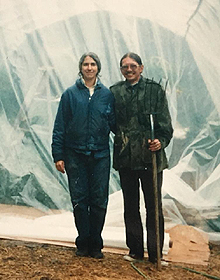 Chuck with Nanette Furman at Jay Hill Farm.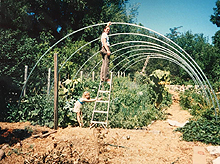 Chuck and Rowan at Jay Hill Farm.

As regards the comics world in 1988, Jim Shooter had just left Marvel, and Marvel had been sold by New World Pictures to one of Ronald O. Perelman's holding companies. One of the first things that they did upon gaining possession was to start raising cover prices. Then they doubled the number of titles. These changes caused Marvel's earnings to blow up short term, but we all knew that it was not a sustainable strategy. DC responded a couple of years with their incredibly ill-advised "Death of Superman" debacle, which also greatly increased the size of the comics market, but only temporarily. When Superman then returned five months later, the industry collapse began in earnest. Seven thousand (out of ten thousand) comics retailers folded over the next three years. It was quite an adventurous time...
All of the above having been said, time heals many wounds. Many of the comics titles that were released during that 1985-1995 time period were originally dismissed as over abundant "glut" issues. After a quarter of a century has passed, however, those same titles are suddenly once again in vogue. I am not certain if this is due to a generational shift, or if the hazards of simple existence have acted to reduce the number of surviving copies. Whatever the case may be, we are seeing a huge upsurge in demand for 1985-1995 comics right now, from pretty much every publisher. I find this all to be quite interesting, so I thought I would share.
Moving on to current news, THOR: RAGNAROK is setting all sorts of records for a new Marvel film. The latest box office total that I have seen is $211 million Domestically and $438 million International. That is simply amazing! Just when the film critics dismiss the comics genre as passÈ', another record is set. Ha! Just wait until JUSTICE LEAGUE, STAR WARS, and DEADPOOL hit. Our comics genre is stronger than ever!
Speaking of DEADPOOL, were able to pick up 10 copies of the immense DEADPOOL CLASSIC OMNIBUS last week. This awesome book contains all of the early DEADPOOL stories, and is now out-of-print from Marvel. The cover price on these cool books is $125, but I am offering these as a one-day special today for only $75. USA customers will only need to pay $6 for shipping, but International customers will need to pay exact shipping, as they are heavy!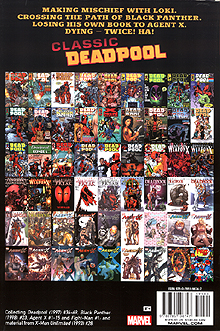 Contents of DEADPOOL CLASSIC OMNIBUS

In other bargain news, Will Moulton came up with a few extra copies on several San Diego Comic-Con exclusives. All of these have tiny print runs, and were sold only to retailers exhibiting at the show. Our remaining supplies are limited, so these will go off of sale on Wednesday.

BLACK SCIENCE (2013) #7 SDCC Cover
Sale Price $9.95 each


CIVIL WAR (2015) #1 SDCC Cover
Sale Price $4.95 each


DEADPOOL KILLS DEADPOOL (2013) #1 SDCC Cover
Sale Price $9.95 each


MY LITTLE PONY: FRIENDSHIP IS MAGIC (2012) #9 SDCC Cover
Sale Price $9.95 each


SECRET EMPIRE (2017) #5 SDCC Cover
Sale Price $4.95 each


SPIDER-MAN 2099 (2014) #1 SDCC Cover
Sale Price $9.95 each


STAR WARS: LANDO (2015) #1 SDCC Cover
Sale Price $4.95 each


TEENAGE MUTANT NINJA TURTLES: NEW ANIMATED ADVENTURES (2013)) #1 SDCC Cover
Sale Price $4.95 each


TRANSFORMERS VS. G.I. JOE (2014) #1 SDCC A Cover
Sale Price $4.95 each


X-MEN '92 (2015) #1 SDCC A Cover
Sale Price $4.95 each

I will close with a quick reminder that all ten million of our back issues comics and magazines are on sale right now at 40% off via our ongoing SILVERSURFER! codeword. Only new issues, a few variants, and our professionally-graded comics are excluded. The sale does include most issues that we just listed for you in New-In-Stock and Premium New-In-Stock, including those higher grade Silver Age issues from that massive collection that we purchased last Monday.
Happy collecting!
Chuck Rozanski,
President - Mile High Comics, Inc.
November 13, 2017


Mile High Comics STAR WARS (2015) #40

P.S. We just received the advance cover art to our exclusive Mile High Comics STAR WARS (2015) #40. I love the colors and composition! You can advance order this issue for only $19.95, with a limit of three copies, please. Limited to only 3,000 copies worldwide.