Local News - 40% Off SILVERSURFER! Comics Sale
Howdy!
I want to start today by thanking everyone who has been dropping off thermal socks, scarves, hats, and gloves from Dollar Tree. Thanks to your generosity, we already have several hundred items available for the 1,000 people that we serve through "Feeding Denver's Hungry." For those of you who have not yet donated warm clothing, please try to do so this weekend. Bear in mind that this donation will cost you nothing, as we will reimburse you for 100% of your cost via a Mile High Comics gift certificate for any purchase that you make at Dollar Tree. All that we ask is that you bring us in the receipt.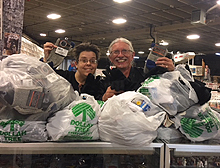 Socks, Hats, Gloves, and Scarves!

So you know, we will be continuing to reimburse for Dollar Tree purchases all weekend, and at least through the end of next week. You can get reimbursed at any one of our three Mile High Comics locations, and also at the King Soopers grocery store at 890 S Monaco Pkwy, Denver, Colorado 80224. On Saturday November 11th, from 11 To 4 Holli Slosser and Karen Goodgie are volunteers for "Feeding Denver's Hungry," and they will be running the King Soopers drop off center. Karen will have Mile High Comics gift certificates to exchange for anyone who brings Dollar Tree hats, gloves, scarves, and thermal socks. Karen and Holli would also love it if you could stop by King Soopers on Saturday November 11th and donate some used winter clothing, canned goods, or cash. All will go directly to the poor, as none of us working for "Feeding Denver's Hungry" are paid, and we pass through 100% of any donations that we receive to the poor. Thank you!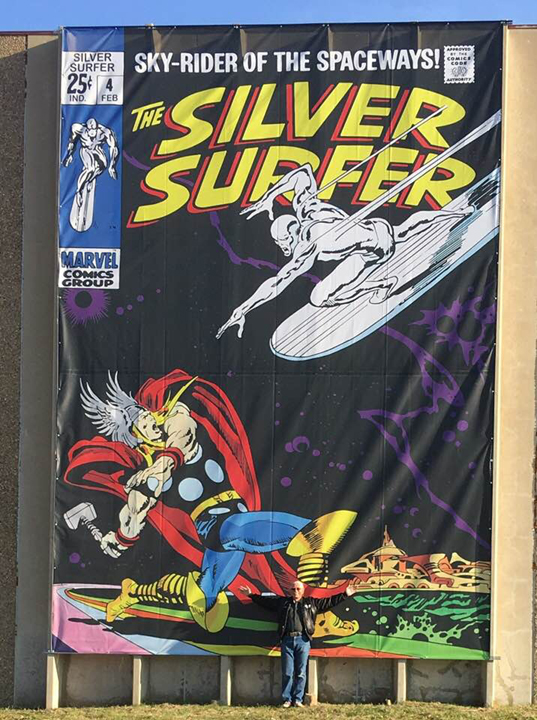 Chuck with the Silver Surfer Banner

In other news, our awesome SILVER SURFER #4 cover banner arrived yesterday. I just love it when an idea turns into such an amazing piece of art! If you look closely at the picture below, you can see that I am dwarfed by the immensity of this our banner. It is really quite huge...
While it is delightful that our second immense banner is now hung on the side of Jason St., I am going to need your help if you would like to see this art program continue. Simply put, these banners are quite costly, and I have to show my wife, Nanette, that they are bringing in business before she will let me buy any more. The best way for you to help me would be to stop by Jason St., and make a purchase. If that doesn't work for you, how about attending our huge auction and poker game event a week from Saturday, November 18th? We will be raising money through the poker game for the Jose Sarria Scholarship Fund, but all proceeds from that day's auction will go directly to our sign company to help pay for banner #3. We will have many hundreds of awesome collectibles in the auction, so you will have plenty of options from which to choose. Here is the comic book cover banner that we are planning on putting up next:
On a side note, as many of you are already aware, our original plan was for our third image to be HULK #181. Unfortunately, the fact that we have to work around our very large gas meter forced us to delay the HULK until banner #4. FYI, SHIELD #1, by Jim Steranko, is planned as banner #5.
I will close today's newsletter with a quick mention that we have a 40% off SILVERSURFER! codeword sale in effect right now on all of our back issue comics. Only new issues, a few variants, $1 comics, and our professionally graded comics are excluded from our storewide 40% off back issues sale. This sale DOES include the fantastic comics from the 5,000+ comics collection from St. Louis currently being offered at Jason St. Enjoy!
Happy collecting!
Chuck Rozanski,
President - Mile High Comics, Inc.
November 9, 2017