Local News - Free Comics and Trade Paperbacks In Exchange For Socks and Gloves!
Howdy!
I just finished spending nearly $300.00! during a morning visit to the Dollar Tree store on Church Ranch Road. My goal was to fill my car to the ceiling with hats, gloves, scarves, and thermal socks that I will be giving away to Denver's poorest citizens to help them to fend off the cold. Blessedly, all of the Dollar Tree stores just received their huge shipments of winter clothing (much of it still in unopened case lots...), so my efforts were totally successful.
So you know, our volunteer work is critically important this year, as Denver's already distressingly large homeless population has expanded considerably since this same time last year. When I went out with the awesome volunteers of "Feeding Denver's Hungry" last November, we were helping 200-300 poor people each week. At last week's "Feeding Denver's Hungry" food giveaway we provided groceries to over 1,000 hungry people. Sadly, many of our newest poor and homeless are elderly women, young children and babies, and disabled folks who have lost their apartments or rooms in boarding houses to Denver's rapidly escalating rents. The desperation that we see on the streets of Denver these days is just overwhelming.


These are the thermal socks we are looking for

In case you are wondering, I am telling you about my efforts to help Denver's poor because I would like you to join me. Simply put, I would like you to immediately go to your local Dollar Tree store and buy some of the same items that I picked up today, and bring those items (and your receipt!) in to your favorite Mile High Comics retail store. Upon your presenting us with the items and your receipt, we will then totally reimburse you for your cost via a Mile High Comics gift certificate equal to your receipt amount. In effect, you will be helping our unfortunate fellow citizens who are desperately in need of warm winter clothing without it costing you a cent. I, on the other hand, will be sacrificing the comics and books that your receive in return for your gift certificate, but that is a price that I am more than willing to pay in order to give back to our community. Thank you.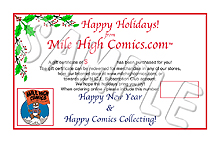 Mile High Comics gift certificate

On a related note, we are also seeking warm winter clothing (especially sweaters, hoodies, jackets and coats), blankets, shoes, and boots. We will gladly accept used items as long as they are not too torn, and have first been laundered. We have a clothing drop off box for "Feeding Denver's Hungry" at our Jason St. Store, but we will also accept clothing donations at Colorado Blvd. and Lakewood. With 1,000+ people needing help, getting enough donations is a huge challenge. Imagine needing to buy 1,000+ hats, thermal socks, gloves, and scarves. It is quite a daunting task...
I will close today's newsletter with a quick mention that we purchased a particularly nice collection of older comics at Jason St. yesterday. It contained over 150 higher grade Silver Age Marvels, most of which are listed for you in today's Premium New-In-Stock link on our website. In addition, there were at least 5,000 extremely high grade recent comics in this collection, including hundreds of titles such as AMAZING SPIDER-MAN, X-MEN, STAR WARS, BATMAN, DAREDEVIL, etc. Because it just arrived, we do not have a list of all the issues that were in this awesome collection, but we do have all of the comics available to you on the front tables at Jason St. Even better, if you mention our HALLOWEEN! codeword, you can then purchase any of these issues that you might need at half! of our normal website prices through close of business on Wednesday. We hope that you will stop by and take a look at these 5,000+ awesome comics.
Happy collecting!
Chuck Rozanski,
President - Mile High Comics, Inc.
November 7, 2017