Free Comics When You Donate to Our Winter Socks and Gloves Campaign
Howdy!
I just returned from a wonderful visit to the Rainbow Alley Youth Center. I went there to deliver the amazing $2,682.00 that was raised through our recently-concluded chance drawing for a full-size HARLEY QUINN statue. This money will be used by the counselors to buy the 250+ kids served by Rainbow Alley small Christmas gifts, which will then be passed out by Santa at their annual Christmas potluck dinner. As I have done for the past five years, I will be at the potluck helping to serve the food. My sincere thanks go out to everyone who contributed to our Rainbow Alley event. You are wonderful!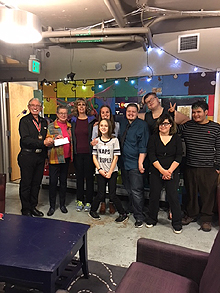 Chuck handing over the check to the Rainbow Alley Kids.

Moving on to a different topic, aside from helping out with Rainbow Alley, I also expend considerable amounts of my personal time helping Denver's 10,000+ homeless men, women, and children through the wonderful "Feeding Denver's Hungry" organization. With our first snowfall having now occurred, and Denver already experiencing below freezing temperatures on many nights, the people we serve were begging us during last week's food delivery to please provide them with hats, scarves, gloves, and (most important) warm socks.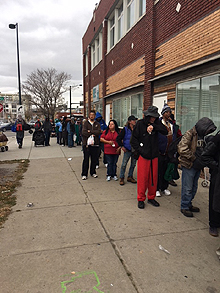 Waiting for free food on a cold day with no jacket, gloves, or hats

To help these unfortunate people I am going to offer (as I did last year...) to give away vast amounts of my comics and books. Simply put, if you commit to a $25 donation to "Feeding Denver's Hungry," we will use your donation to buy warm winter clothing, and I will then personally deliver that clothing directly to people in need on Denver's streets commencing on November 30th. In the meantime, we will issue you a $25 credit memo, and either include it with your order, or mail it to you separately, at no charge. Please put in the "notes" section if you would like it mailed, otherwise we will just sent you an email with your Credit Memo. (When placing the order it will add a shipping charge but we will take all extra charges off before we charge you for the order.)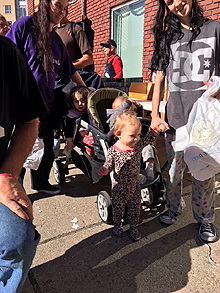 Homeless girls with little kids

In effect, you are being reimbursed 100% for your donation, while still being able to help some people who otherwise might have to suffer through the coldest months of the year without warm socks, gloves, hats, or scarves. If this program works as well as last year I'll be giving away several thousand comics and books, but given that Providence has blessed me with amazing good fortune, I do not mind at all sacrificing a little in order to those who have been less fortunate. Please include a gift certificate request with your next order. I have 800 elderly, disabled, and poor people who are in desperate need.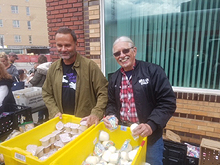 Cheese and yogurt from the Food Bank of the Rockies!

In addition to the $25.00 credit memo, everyone who donates will be entered into a chance drawing for a $1,000 Mile High Comics Shopping Spree. You will be entered once for every $25.00 donation. ($25.00 = 1 chance to win, $100 = 4 chances to win) Thank you and Good Luck!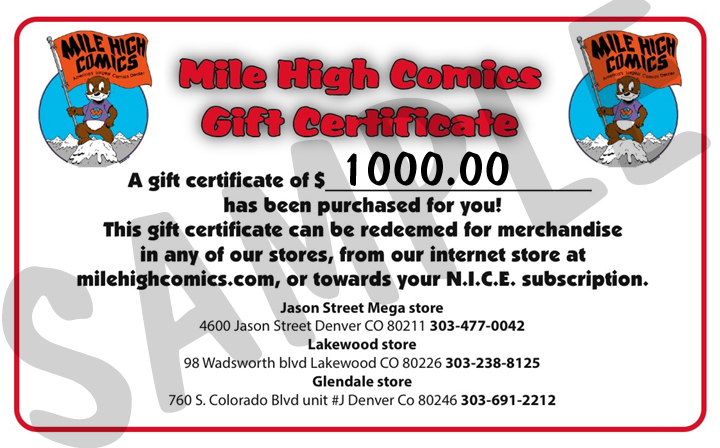 $1,000 Mile High Comics Shopping Spree!

I will close by quickly mentioning that our annual 50% off HALLOWEEN! codeword sale will be ending next Monday, November 6th. This awesome half price sale applies to all ten million of our back issue comics and magazines, excepting only new issues, a few variants, and our professionally graded comics. Being able to shop even our New-In-Stock and Premium New-In-Stock links at half price is a great deal. Please enjoy the benefits of the HALLOWEEN! codeword with our sincere thanks for your support of Mile High Comics.
Happy collecting!
Chuck Rozanski,
President - Mile High Comics, Inc.
November 1, 2017

P.S. I was interviewed by Denver's largest TV news channel, 9News, on Friday. We talked about my being quite poor when I was young, and how that poverty prompted my helping of the homeless today. Here is a link to that interview.