Half Price Comics plus Chuck's Life Story
Howdy!
Most of today's newsletter is a bit different, as it is much more personal than any that I have written in a couple of years. If you are one of the folks who have no interest in such things, I can quickly let you know that our annual 50% off HALLOWEEN! codeword sale is still in effect, and that it is kicking some serious butt. We have been getting flooded with orders for all manner of back issue comics and magazines, and currently have a shipping backlog of about three working days. If you do want to place a half price HALLOWEEN order with us this week, please do allow a few extra days for delivery. Thank you!
Moving on to my personal stuff, one question that I am frequently asked is why I spend so much of my time these days working on charitable efforts. There are many answers to this question, but the primary causation is that I actually grew up quite poor. This began when my mother and I were abandoned by my birth father, when I was only four month old. My mother was a beautiful German girl who fell in love with an American Army Sergeant who conveniently forgot to mention his wife back in the USA. When he returned to America (and her...) with his unit, my mother was left penniless, and I ended up in the custody of my equally impoverished German grandparents.
In order to regain custody of me, my mother agreed two years later to marry yet another American Army Sergeant, who was 24 years her senior. Sadly, he wanted only his beautiful new German wife, and not the brat that she had living with her parents out in Goldbach. As a result, he started beating me, and savaging me with verbal abuse, from the day that he gained custody. This did not stop until I finally left for college at age 17.
While her marriage did get my mom a ticket to America for us, our life in Michigan was far from posh. After a couple of overpriced rentals, we finally moved into a tiny 10' X 50' house trailer that my stepdad bought at discount after the original owners lost it to repossession. While some of our better-off neighbors treated us as "trailer trash," I learned many things in the trailer park that have stuck with me to this day, such as working hard to earn money (snow shoveling, lawn mowing, paper route, etc.). I also learned that being poor is not a sin, but looking down upon people who are less fortunate is the ultimate in hubris. Truth be told, many in this world are but one major personal calamity from destitution.
Once I made my way into the world at age 17, there was no going back. My mother had lived through the horrific bombing of her German village in 1944/1945, and after being somewhat emotionally erratic for years, devolved into PTSD-derived psychosis while I was still in high school. As she became increasingly out of touch with reality, I had no choice but to move out, and was forced to accept an ROTC scholarship to the University of Colorado in order to survive. In the end, however, that scholarship did not provide me with enough funding to buy food, so I was forced to take the huge risk of dropping my scholarship, and instead sleeping in my mom's 1963 Chevy Impala for four months while I traveled the breadth of America to 11 comics conventions. It was the $800 that I earned on that epic journey that was my entire working capital for opening the first Mile High comics retail store. Since then, we have shipped $200,000,000 in comics to fans all around the world. The moral of the story being never, ever, give up.
Returning to my charitable efforts, I try to help the homeless here in Denver because I was once on the edge of becoming homeless myself. I was young at the time and saw it somewhat as an adventure, but the reality is that I did at times have no choice but to sleep under highway bridges, in homeless shelters, on beaches, in public parks, and spent those four months sleeping in my mom's old car. It is really not fun, especially when you run out of food. I once lived for two days on a single candy bar, which is not something I would wish on anyone. In a nutshell, that is why I work so hard to help even the most destitute and downtrodden here in Denver.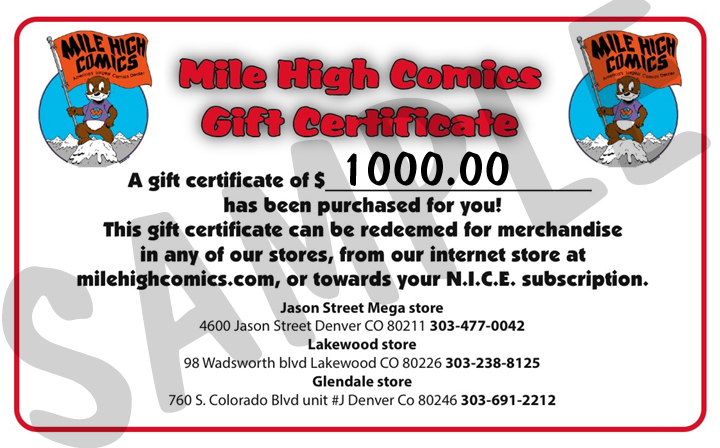 $1000.00 Mile High Comics shopping spree!

All of the above having been said, we will be holding a chance drawing on this Saturday afternoon at 1 PM in the Jason St. Mega-Store for a choice of either a $1,000.00 Mile High Comics shipping spree, or a life-size HARLEY QUINN figure that was originally priced at $1,995.00. I am offering tickets for this chance drawing to folks living away from Colorado for 5/$20, with all the money going to buy small Christmas presents for the 250+ kids served by Rainbow Alley, a local LGBT youth safe house. Many of these kids were abandoned by their parents after coming out as gay, and are now living on the streets, or couch-surfing with friends. Most will have no holiday cheer at all, except for the potluck dinner that we put on for them, and the small presents that we hand out afterwards. If you could help us to provide for these abandoned children, I would appreciate it very much.
I will close by quickly mentioning that we have been continuing to purchase comics and toy collections at an incredible pace here at the Jason St. Mega-Store. Many of those newly-arrived comics are now listed for you in New-In-Stock and Premium New-In-Stock, with more being posted every day at about noon. All are available to you at half price except for new issues, a few variants, and our professionally graded issues. Please do enjoy these great discounts with our sincere thanks and gratitude for your continuing support of our efforts here at Mile High Comics. Without your support, we could not be working at the job that we love...
Happy collecting!
Chuck Rozanski,
President - Mile High Comics, Inc.
October 25, 2017

P.S. We do still have a few HALLOWEENFEST variants available. You can request any one of the issues listed below be included with your order entirely for free for each $10 you spend with us through Friday. Let us know in the "Notes" portion of our online order form as to which issues you would like.