Half Price Comics Sale - Marvel, DC, Image, Dark Horse, more
Howdy!
Not much news today, as I am recovering from arriving home from the Rose Court Coronation in Portland last night at 3 AM. I did go into the Mile High Comics offices for a while, but pretty much left everyone alone, as they were working hard on shipping the huge number of online HALLOWEEN! codeword sale orders that we received over the weekend. Suffice it to say, when you temporarily drop the price of over ten million back issue comics and magazines in half, it is not surprising that a number of astute collector's take that opportunity to fill in their collection at bargain prices...
The one important task that I did complete today was to pick up the immense fabric reproduction of the cover to SUPERMAN #1 that we ordered to hang on the outside of our Jason St. Mega-Store. Our sign technician will be at Jason St. in the morning to hang this huge 28' high banner. With luck, I will have photos to show you in Wednesday's newsletter. Below is a photoshopped image of how the sign is supposed to look: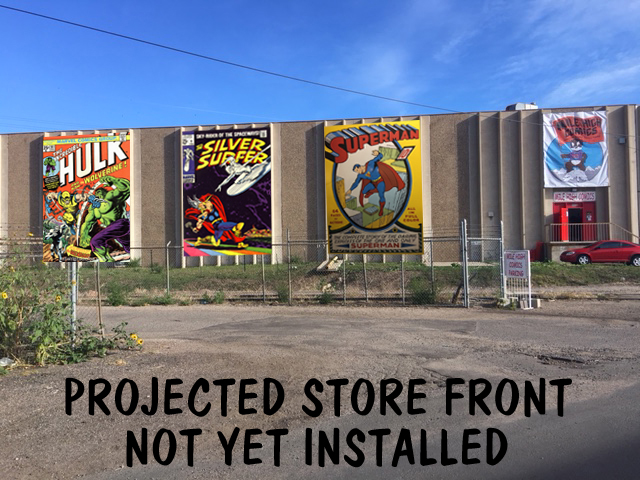 Projected Store Front NOT YET INSTALLED

Moving on to other news, it is now just four days until we have our special chance drawing to benefit the kids being served by Denver's wonderful Rainbow Alley Youth Center. If you missed my earlier announcements, we are offering chances to win either a $1,000 Mile High Comics shopping spree, or a life-size HARLEY Quinn statue (valued at $1,995). A $20 donation will earn you 5 entries into our drawing, with 100% of the proceeds then being donated to the Rainbow Alley Christmas Fund. The counselors will draw upon this fund to help to purchase small Christmas gifts for the 250+ children who come to the annual holiday potluck dinner. The drawing will be held next Saturday, October 28th. You need not be present to win.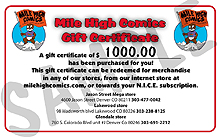 $1000.00 Mile High Comics shopping spree!

In other news, the annual 50% off HALLOWEEN! codeword sale that I mentioned earlier is continuing to encourage a substantial number of orders. The codeword discount does not apply to new issues, a few variants, and our professionally graded comics, but it does apply to almost all of the ten million+ back issue comics that we offer through our website. This once-a-year half price HALLOWEEN! offer does include almost all of the wonderful back issues that we just listed for you in our New-In-Stock and Premium New-In-Stock links.
On a side note, we will be hosting a no-minimum- bid comics and toy auction at our Jason St. Mega-Store this Saturday from noon - 2 PM. The proceeds of the auction will go to help to pay for the SILVER SURFER #4 cover reproduction that is the second in our planned series of 15 giant banners that will adorn Jason St. We will also be hosting a huge Texas Hold'em Poker Tournament that day at Jason St., starting at 11 AM. The poker tournament benefits the White Rose Scholarship Foundation, which helps worthy local scholars with tuition. If you live near Denver, please join us this Saturday, if you can.
I will close today's very brief newsletter with a quick reminder that we do still offer free shipping on all Domestic comics orders over $50, and most International comics orders over $125. To qualify for free shipping these minimums must be met on a net basis, after the HALLOWEEN! discount has been applied.
Happy collecting!
Chuck Rozanski,
President - Mile High Comics, Inc.
October 23, 2017

P.S. I almost forgot to mention that we picked up some extra copies of this year's HALLOWEENFEST variants for those of you who shop with us online. You can request any one of the variants pictured below for free for every $10 in our order through next Friday. Just let us know in the "notes" area of our online order form as to which issues you would like to receive. Orders please note that all orders containing free HALLOWEENFEST comics cannot ship until November 1st.