50% Off HALLOWEEN Comics Sale
Howdy!
I am feeling quite happy today, as our huge new Mile High Comics sign was finally installed above the front entrance of our Jason St. Mega-Store. This wonderful banner utilizes a new fabric that allows air to pass through harmlessly. That is a very important consideration here in Denver, as we get damaging winds several times each winter, oftentimes in excess of 60 mph. Several of our past signs were almost immediately shredded, so we are delighted that this new technology has arisen.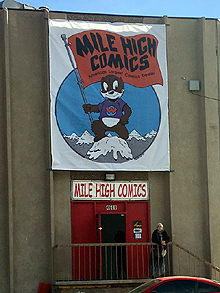 New Mile High Comics Sign at the Jason Street Mega Store

In addition to our awesome new store sign, we now have on order the very first of our projected comic book cover banners. At 28' high and 20' wide, our projected 7 huge covers will be the world's largest comic book cover reproductions. I designed them to fit exactly between each six-rib section of concrete on the outside of our huge building, totally transforming the visual persona of our structure from industrial gothic, to art museum chic! I am beyond excited at the prospect that we will have the first of these signs up by Halloween...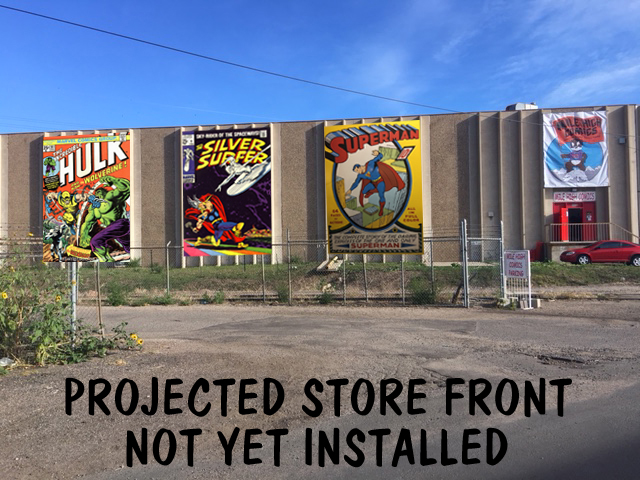 Projected Store Front NOT YET INSTALLED

In case you are wondering, I am planning to cover all of the costs of our new signs by hosting several no-minimum-bid store auctions. The first will be on October 28th, starting at noon, at our Jason St. Mega-Store. We will be selling all sorts of comics, toys, statues, posters, and other collectibles with the specific goal in mind of helping to pay for this wonderful new art installation. If you live in the Denver area, please do stop by that day and bid on a few items. We would very much appreciate your support!
So you know, October 28th is the same day as the annual comic book industry HALLOWEENFEST, so we will be giving out free mini-comics that day to everyone who visits the store. I still have to work out all of the specific details, but Jason St. will definitely be crazy busy that day, as aside from the free comics and auction, we will also be hosting a huge Texas Hold'em Poker Tournament, and also have special prizes for nice costumes. Whew!
Speaking of HALLOWEEN, if you do not live near Denver, and would like to help us, you can contribute to our effort by placing an order through our website. With that thought in mind, I am commencing our annual 50% off HALLOWEEN! codeword sale today on all ten million of our back issue comics and magazines. Only new issues, a few variants, and our professionally graded comics are exempt from this huge half price sale. Free shipping is still available on all Domestic comics orders over $50, and all International orders over $125.
Happy collecting!
Chuck Rozanski,
President - Mile High Comics, Inc.
October 16, 2017

P.S. Below are even more cool comics, books, and magazines at just arrived:
MARVEL
A-FORCE (2015) #1 HASTINGS Very Fine


ASTONISHING TALES (MARVEL) (1970) #29

ASTONISHING TALES (MARVEL) (1970) #29 Good

AVENGERS (1963) (#1-402) (MARVEL) #96 Fair
AVENGERS (1963) (#1-402) (MARVEL) #100 Good

CAPTAIN AMERICA (1996) (#1-13) (MARVEL) #1 GOLD SIGN Near Mint/Mint

CAPTAIN AMERICA (2011) (#1-19) (MARVEL) #1 DIAMOND Very Fine

DEADPOOL (1993) (#1-4) (CIRCLE CHASE) (MARVEL) #3 Very Fine

ELEKTRA: ASSASSIN (1986) #8 Near Mint/Mint
ELEKTRA: ASSASSIN (1986) #8 Very Fine

EXTRAORDINARY X-MEN (2015) #1 HASTINGS Near Mint/Mint

GAMORA (MARVEL NOW) (2016) #2 MATTINA Near Mint/Mint

GHOST RIDER 2099 (1994) #19 Near Mint/Mint
GHOST RIDER 2099 (1994) #24 Near Mint/Mint

GI JOE #44 NEWS JEWEL Fine
GI JOE #52 NEWS JEWEL Very Good


HULK (1962) (#1-6, #102-635) (INCREDIBLE) (MARVEL) #117

HULK (1962) (#1-6, #102-635) (INCREDIBLE) (MARVEL) #117 Good
HULK (1962) (#1-6, #102-635) (INCREDIBLE) (MARVEL) #340 NEWSMCFARL Good

HULK: FUTURE IMPERFECT SIGNED SET (DAVID,PEREZ,& SMITH) (1993) #1 Near Mint/Mint

HULKED OUT HEROES (2010) #1 Near Mint/Mint

INFERNO (2015) (#1-5) (MARVEL) (SECRET WARS) #1 HASTINGS Near Mint/Mint

IRON MAN (1968) (#1-332) (INVINCIBLE IRON MAN)(MARVEL) #131 NEWSSTAND Very Good
IRON MAN (1968) (#1-332) (INVINCIBLE IRON MAN)(MARVEL) #132 NEWSSTAND Good
IRON MAN (1968) (#1-332) (INVINCIBLE IRON MAN)(MARVEL) #133 NEWS JEWEL Good
IRON MAN (1968) (#1-332) (INVINCIBLE IRON MAN)(MARVEL) #148 NEWS JEWEL Good

KID COLT (1962) (#103-229) (MARVEL) #128 Very Good

MARVEL PREMIERE (1972) #16 Fine

MARVEL TEAM-UP (1972) #1 Good
MARVEL TEAM-UP (1972) #2 Fine
MARVEL TEAM-UP (1972) #3 Fine
MARVEL TEAM-UP (1972) #3 Good
MARVEL TEAM-UP (1972) #4 Very Good
MARVEL TEAM-UP (1972) #5 Fine
MARVEL TEAM-UP (1972) #15 Very Good

MICRONAUTS (1979) #8 NEWSSTAND Good

MILLIE THE MODEL (1945) #164 Good

ORIGIN 2 (WOLVERINE) (2013) #1 HASTINGS Very Fine

PUNISHER (2016) (#1-UP) (MARVEL) #1 HASTINGS Near Mint/Mint

RAWHIDE KID (1955) #89 Very Good

RED SONJA (1977) (#1-15) (MARVEL) #1 Very Good

SECRET WARS (1984) #8 BEATTY SGN Very Fine

SHIELD (1968) #4 STERANKSGN Good

SPECIAL MARVEL EDITION #2 Very Good

SPIDER-MAN (1963) (AMAZING SPIDER-MAN) (#1-441) #52 Fair
SPIDER-MAN (1963) (AMAZING SPIDER-MAN) (#1-441) #61 Fair
SPIDER-MAN (1963) (AMAZING SPIDER-MAN) (#1-441) #63 Fair
SPIDER-MAN (1963) (AMAZING SPIDER-MAN) (#1-441) #103 Very Good
SPIDER-MAN (1963) (AMAZING SPIDER-MAN) (#1-441) #104 Good
SPIDER-MAN (1963) (AMAZING SPIDER-MAN) (#1-441) #110 Good
SPIDER-MAN (1963) (AMAZING SPIDER-MAN) (#1-441) #111 Very Good
SPIDER-MAN (1963) (AMAZING SPIDER-MAN) (#1-441) #114 Good


SPIDER-MAN (1963) (AMAZING SPIDER-MAN) (#1-441) #120

SPIDER-MAN (1963) (AMAZING SPIDER-MAN) (#1-441) #120 Very Good
SPIDER-MAN (1963) (AMAZING SPIDER-MAN) (#1-441) #126 Good
SPIDER-MAN (1963) (AMAZING SPIDER-MAN) (#1-441) #126 NEWS JEWEL Good
SPIDER-MAN (1963) (AMAZING SPIDER-MAN) (#1-441) #139 Very Good
SPIDER-MAN (1963) (AMAZING SPIDER-MAN) (#1-441) #175 Very Good
SPIDER-MAN (1963) (AMAZING SPIDER-MAN) (#1-441) #177 Very Good
SPIDER-MAN (1963) (AMAZING SPIDER-MAN) (#1-441) #205 NEWSSTAND Fine
SPIDER-MAN (1963) (AMAZING SPIDER-MAN) (#1-441) #208 NEWSSTAND Fine
SPIDER-MAN (1963) (AMAZING SPIDER-MAN) (#1-441) #307 NEWSSTAND Good

STAR BRAND (1986) #1 NEWSSTAND Very Good

STAR WARS (1977) #19 Fine

STRANGE TALES (1951) #161 STERANKSGN Very Fine
STRANGE TALES (1951) #165 STERANKSGN Fine

SUB-MARINER (1968) #5 Fine
SUB-MARINER (1968) #11 Very Fine
SUB-MARINER (1968) #14 Fine
SUB-MARINER (1968) #15 Fine
SUB-MARINER (1968) #46 Very Fine

WEAVE WORLD (CLIVE BARKER) (1991) #2 Near Mint/Mint
WEAVE WORLD (CLIVE BARKER) (1991) #3 NEWSSTAND Near Mint/Mint


WOLVERINE (1988) (#1/2-189) (MARVEL) #75

WOLVERINE (1988) (#1/2-189) (MARVEL) #75 Near Mint/Mint
WOLVERINE (1988) (#1/2-189) (MARVEL) #75 DFE S&N Near Mint/Mint
WOLVERINE (1988) (#1/2-189) (MARVEL) #75 NEWSSTAND Fine
WOLVERINE (1988) (#1/2-189) (MARVEL) #100 DELUXE Near Mint/Mint
WOLVERINE (1988) (#1/2-189) (MARVEL) #125 DFE ALT CV Near Mint/Mint

X-CALIBRE (1995) #1 Near Mint/Mint
X-CALIBRE (1995) #2 Near Mint/Mint

X-MAN (1995) #1 Near Mint/Mint
X-MAN (1995) #2 Near Mint/Mint
X-MAN (1995) #3 Near Mint/Mint

X-MEN (1963) (#1-113, UNCANNY X-MEN #114-544) (MARVEL) #35 Good
X-MEN (1963) (#1-113, UNCANNY X-MEN #114-544) (MARVEL) #122 NEWSSTAND Very Good
X-MEN (1963) (#1-113, UNCANNY X-MEN #114-544) (MARVEL) #125 NEWSSTAND Very Good
X-MEN (1963) (#1-113, UNCANNY X-MEN #114-544) (MARVEL) #137 Very Good
X-MEN (1963) (#1-113, UNCANNY X-MEN #114-544) (MARVEL) #267 NEWSSTAND Fine
X-MEN (1963) (#1-113, UNCANNY X-MEN #114-544) (MARVEL) #354 VARIANT Near Mint/Mint

X-MEN (1991) (#1-275) (MARVEL) #11 2ND PRT Very Fine
X-MEN (1991) (#1-275) (MARVEL) #25 Very Fine
X-MEN (1991) (#1-275) (MARVEL) #50 VARIANT Near Mint/Mint


X-MEN (2010) (#1-41) (MARVEL) #30 VARIANT

X-MEN (2010) (#1-41) (MARVEL) #30 VARIANT Near Mint/Mint

X-MEN '92 (2015) #1 HASTINGS Near Mint/Mint

X-MEN ALPHA (1995) #1 NEWSTAND Fine

X-MEN OMEGA (1995) #1 Near Mint/Mint
X-MEN OMEGA (1995) #1 Fine

DC
ACTION COMICS (1938) (#0-904) (DC) #1 87 REPRINT Fine
ACTION COMICS (1938) (#0-904) (DC) #684 3RD DCUNIV Near Mint/Mint

ADVENTURE COMICS (1938) #404 Very Good

BABYLON 5 (DC) (1995) #11 Fine

BABYLON 5: IN VALENS NAME (DC) (1998) #2 Near Mint/Mint

BATMAN (1940) (#0-713) (DC) #207 Good
BATMAN (1940) (#0-713) (DC) #210 Good

BATMAN (2011) (#0-52) (DC NEW52) #21 SKETCH CV Near Mint/Mint


DETECTIVE COMICS (1937) (#1-881) (DC) #320

DETECTIVE COMICS (1937) (#1-881) (DC) #320 Good
DETECTIVE COMICS (2011) (#0-52) (DC NEW52) #23 .1 DELUXE Near Mint/Mint

GREEN ARROW (2016) (#1-UP) (DC REBIRTH) #5 NEWS 3.99 Near Mint/Mint

GREEN LANTERN (1960) (#1-224) (DC) #80 Very Good
GREEN LANTERN (1960) (#1-224) (DC) #85 Very Good
GREEN LANTERN (1960) (#1-224) (DC) #122 Fine
GREEN LANTERN (1960) (#1-224) (DC) #167 Very Fine

HARLEY QUINN (2013) (#0-30) (DC NEW52) #1 3RD SIGNED Near Mint/Mint
HARLEY QUINN (2013) (#0-30) (DC NEW52) #1 4TH SIGNED Near Mint/Mint
HARLEY QUINN (2013) (#0-30) (DC NEW52) #2 2ND SIGNED Near Mint/Mint
HARLEY QUINN (2013) (#0-30) (DC NEW52) #2 HARDIN SGN Near Mint/Mint
HARLEY QUINN (2013) (#0-30) (DC NEW52) #7 HARDIN SGN Very Fine
HARLEY QUINN (2013) (#0-30) (DC NEW52) #11 SIGNED Near Mint/Mint
HARLEY QUINN (2013) (#0-30) (DC NEW52) #13 HARDIN SGN Near Mint/Mint
HARLEY QUINN (2013) (#0-30) (DC NEW52) #15 HARDIN SGN Near Mint/Mint

HARLEY QUINN INVADES COMIC-CON INTERNATIONAL SAN DIEGO (2014) #1 BLANK SGN Near Mint/Mint

HARLEY QUINN SPECIAL (GERMAN) (LOOTCHEST VARIANT) (2016) #1 Near Mint/Mint

HARLEY QUINN: FUTURE'S END (2014) #1 HARDIN SGN Near Mint/Mint

HOUSE OF SECRETS (1956) #151 DC SURVEY Fine

JONAH HEX (1977) #11 Very Good
JONAH HEX (1977) #14 Very Good

JUSTICE LEAGUE OF AMERICA (1960) (#1-261) (DC) #168 Very Good

LEAVE IT TO BINKY (1948) #62 Very Good

MAN OF STEEL (1986) #1 NEWSSTAND Very Fine

MISTER MIRACLE (1971) (#1-25) (DC) #12 Very Good

OUR ARMY AT WAR (1952) #148 Fair
OUR ARMY AT WAR (1952) #165 Fair
OUR ARMY AT WAR (1952) #177 Good

PREACHER (1995) #1 GERMAN (DC: Vertigo Press) Very Fine

SHAZAM! (1973) #22 Fine

SUICIDE SQUAD (2011) (#0-30) (DC NEW52) #2 Near Mint/Mint
SUICIDE SQUAD (2011) (#0-30) (DC NEW52) #2 Very Fine
SUICIDE SQUAD (2011) (#0-30) (DC NEW52) #6 Fine
SUICIDE SQUAD (2011) (#0-30) (DC NEW52) #6 Very Good
SUICIDE SQUAD (2011) (#0-30) (DC NEW52) #8 Near Mint/Mint

SUICIDE SQUAD (2016) (#1-UP) (DC REBIRTH) #1 CONVENTION Near Mint/Mint

SUPERMAN (1986) (#0-226, #650-714) (DC) #74 4TH DCUNIV Near Mint/Mint

WONDER WOMAN ANNUAL (1988) #1 Near Mint/Mint
WONDER WOMAN ANNUAL (1988) #1 Fine
WONDER WOMAN ANNUAL (1988) #1 Very Good

DARK HORSE COMICS
MIKE MIGNOLA: A COMICS SAMPLER ASHCAN (2017) #1 Near Mint/Mint
MIKE MIGNOLA: A COMICS SAMPLER ASHCAN (2017) #1 Very Fine

STAR WARS (1998) #55 HASBRO Good

IMAGE COMICS
BLACK SCIENCE (2013) #7 HASTINGS Near Mint/Mint

IMAGE ZERO #0 LEE SIGNED Very Fine

LAZARUS (2013) #20 CGC 9.6 Near Mint/Mint

MOONSTRUCK (2017) #1 D GOLD Near Mint/Mint

SPAWN (1992) #4 2X SIGNED Very Fine
SPAWN (1992) #225 OBAMA Very Fine

WITCHBLADE #64 CONVENTION (Image Top Cow) Near Mint/Mint

INDEPENDENTS
ABSOLUTION (AVATAR) (2009) #0 AUXILIARY (Avatar Comics) Near Mint/Mint
ABSOLUTION (AVATAR) (2009) #1 AUXILIARY (Avatar Comics) Near Mint/Mint
ABSOLUTION (AVATAR) (2009) #1 POSTEREDSN (Avatar Comics) Near Mint/Mint
ABSOLUTION (AVATAR) (2009) #4 CRIMEFILES (Avatar Comics) Near Mint/Mint

ANCIENT DREAMS (2016) #2 SIGNED (Rothic) Near Mint/Mint

ARMY OF DARKNESS (#5-UP) (DYNAMITE) (2006) #5 MOVIE CVR (DYNAMITE Entertainment) Near Mint/Mint

ARMY OF DARKNESS VS. RE-ANIMATOR (DYNAMITE) (2005) #2 BRADSHAW (DYNAMITE Entertainment) Near Mint/Mint
ARMY OF DARKNESS VS. RE-ANIMATOR (DYNAMITE) (2005) #3 BRADSHAW (DYNAMITE Entertainment) Near Mint/Mint

ARMY OF DARKNESS: LONG ROAD HOME (DYNAMITE) (2008) #13 SEJIC (DYNAMITE Entertainment) Fine
ARMY OF DARKNESS: LONG ROAD HOME (DYNAMITE) (2008) #14 NEVES (DYNAMITE Entertainment) Near Mint/Mint
ARMY OF DARKNESS: LONG ROAD HOME (DYNAMITE) (2008) #14 SEJIC (DYNAMITE Entertainment) Fine

AVENUE X (VOL. 2) (PURPLE SPIRAL) #1 S&N (Purple Spiral Productions) Near Mint/Mint

BARTMAN (BONGO) (SIMPSONS) (1993) #3 W/O CARD (Bongo Comics) Fine

BIG TROUBLE IN LITTLE CHINA (2014) #1 TFAW (Boom Studios Publishing) Near Mint/Mint

BLOODSHOT SALVATION (2017) #1 CVCPODCAST (Valiant Comics) Near Mint/Mint


BLOODSHOT SALVATION (2017) #1 G METAL

BLOODSHOT SALVATION (2017) #1 G METAL (Valiant Comics) Near Mint/Mint
BLOODSHOT SALVATION (2017) #1 MILE HIGH (Valiant Comics) Near Mint/Mint

BONE #1 6TH PRINT (Cartoon Books) Near Mint/Mint
BONE #2 7TH PRINT (Cartoon Books) Near Mint/Mint
BONE #3 7TH PRINT (Cartoon Books) Near Mint/Mint
BONE #14 (Cartoon Books) Near Mint/Mint

DOLLFACE (2017) #1 F BLANK (Action Lab Entertainment) Near Mint/Mint

EXTINCTION PARADE (MAX BROOKS) (2013) #1 HASTINGS (Avatar Comics) Near Mint/Mint
EXTINCTION PARADE (MAX BROOKS) (2013) #1 LEATHER ED (Avatar Comics) Near Mint/Mint
EXTINCTION PARADE (MAX BROOKS) (2013) #1 PLATLEATHE (Avatar Comics) Near Mint/Mint

FAITH (JULY) (2016) #8 E COOVER (Valiant Comics) Near Mint/Mint
FAITH (JULY) (2016) #9 E FRANCO (Valiant Comics) Very Fine

GRIMM FAIRY TALES (2005) #77 D (Zenescope Entertainment Inc) Fine
GRIMM FAIRY TALES (2005) #77 F (Zenescope Entertainment Inc) Very Fine

GRIMM FAIRY TALES: BAD GIRLS (2012) #1 C (Zenescope Entertainment Inc) Near Mint/Mint
GRIMM FAIRY TALES: BAD GIRLS (2012) #1 C (Zenescope Entertainment Inc) Very Fine

GRIMM FAIRY TALES: JUNGLE BOOK - FALL OF THE WILD (2014) #4 D EMERALD (Zenescope Entertainment Inc) Near Mint/Mint

GRIMM FAIRY TALES: NO TOMORROW (2013) #3 D (Zenescope Entertainment Inc) Near Mint/Mint

HUMANS (2014) (#0) (KEENAN MARSHALL KELLER & TOM NEELY) #0 (Keenan Marshal Keller & Tom Neely) Near Mint/Mint

ILLEGITIMATES (2013) #1 HASTINGS (IDW Publishing) Near Mint/Mint

PARTRIDGE FAMILY (1971) #2 (Charlton) Very Good

RAI (1992) #0 2X SIGNED (Acclaim/Valiant) Near Mint/Mint
RAI (1992) #9 GOLD2XSIGN (Acclaim/Valiant) Near Mint/Mint

REM 8 (2016) #0 2X SIGNED (Rothic) Near Mint/Mint
REM 8 (2016) #1 2X SIGNED (Rothic) Near Mint/Mint
REM 8 (2016) #3 (Rothic) Near Mint/Mint
REM 8 (2016) #3 SIGNED (Rothic) Near Mint/Mint
REM 8 (2016) #4 B 2XSIGNED (Rothic) Near Mint/Mint

RICHIE RICH JACKPOTS (1972) #41 (Harvey Comics) Near Mint/Mint

RICHIE RICH ZILLIONZ (1976) #2 (Harvey Comics) Fine

ROBOTECH (2017) (#1-UP) (TITAN COMICS) #1 F BLUELINE (Titan Distributing) Near Mint/Mint
ROBOTECH (2017) (#1-UP) (TITAN COMICS) #1 G COSPLAY (Titan Distributing) Near Mint/Mint
ROBOTECH (2017) (#1-UP) (TITAN COMICS) #1 H KERSCHL (Titan Distributing) Near Mint/Mint

SONIC THE HEDGEHOG-THE SERIES (1993) #1 NEWSSTAND (Archie Comics) Good
SONIC THE HEDGEHOG-THE SERIES (1993) #4 NEWSSTAND (Archie Comics) Good

SPONGEBOB COMICS (2011) #9 (United Plankton Pictures) Near Mint/Mint
SPONGEBOB COMICS (2011) #10 (United Plankton Pictures) Near Mint/Mint
SPONGEBOB COMICS (2011) #11 (United Plankton Pictures) Near Mint/Mint


TALES FROM WONDERLAND: CHESHIRE CAT ONE-SHOT (2009) #1 HEAVYMETAL

TALES FROM WONDERLAND: CHESHIRE CAT ONE-SHOT (2009) #1 HEAVYMETAL (Zenescope Entertainment Inc) Very Fine

UBER (2013) #0 ENHANBLITZ (Avatar Comics) Near Mint/Mint
UBER (2013) #1 1ST COLOSS (Avatar Comics) Near Mint/Mint
UBER (2013) #1 ARTNOUVEAU (Avatar Comics) Near Mint/Mint
UBER (2013) #1 IT ENDS (Avatar Comics) Near Mint/Mint
UBER (2013) #2 SHE WOLF (Avatar Comics) Near Mint/Mint