Local News - Wrestling Tomorrow plus 10,000 Comics, Toys, Statues, Arrive
Howdy!
The news from Mile High Comics continues to be just wonderful! For starters, we have been continuing to purchase vast numbers of collections of comics, toys, statues, and books with mad abandon. Both Will and Pam purchase at least a couple of collections per day, and sometimes even more. As a direct result, our store shelves in Jason St. are absolutely packed right now with cool new material, and every unused bit of floor space contains huge pallets of more comics that are waiting to be sorted. I hope that you can visit us soon, and see for yourself...
In other news, we are continuing to try to help those in need in our community. Aside from all of the time and money that I continue to contribute to "Feeding Denver's Hungry," we are also making an effort to raise donations for the Chelsea Hutchinson Foundation, which seeks to help kids who suffer from seizures and/epilepsy. Our big event for them is tomorrow (Saturday) evening, when we host a special New Era Wrestling Tournament in our Jason St. Mega-Store. New Era has moved their full size wrestling ring into Jason St., and all of their wrestlers will be donating their time. If you are looking for a fun event to share with your kids, stop by Jason St. Tomorrow evening at 5:30. We are all going to have a blast, and raise money for some kids in need at the same time. I hope that I see you there!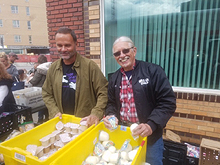 Helping hand out food Thursday.

Happy collecting!
Chuck Rozanski,
President - Mile High Comics, Inc.
September 29, 2017

P.S. Pam offered to show me her favorite wrestling move, and like a fool, I agreed. That sneaky snake damn near killed me!
Newly arrived comics at Jason St.:
MARVEL
CAPTAIN BRITAIN (1976) #3 Very Fine
CAPTAIN BRITAIN (1976) #25 Very Good
CAPTAIN BRITAIN (1976) #26 Good

EPIC ILLUSTRATED (1980) #3 Near Mint/Mint
EPIC ILLUSTRATED (1980) #4 Very Fine

HULK! MAGAZINE(RAMPAGING HULK #1-9) (1977) #8 Fine

MAGNETO (2014) (#1-21) (MARVEL) #1 HASTINGS Very Fine

MARVEL LEGACY (2017) #1 PREMIERE Near Mint/Mint
MARVEL LEGACY (2017) #1 REEDER Near Mint/Mint
MARVEL LEGACY (2017) #1 ROSS Near Mint/Mint

MARVEL TALES (1964) #14 Very Good
MARVEL TALES (1964) #30 Very Good

NIGHTBREED (CLIVE BARKER'S) (1990) #2 Near Mint/Mint
NIGHTBREED (CLIVE BARKER'S) (1990) #3 Near Mint/Mint
NIGHTBREED (CLIVE BARKER'S) (1990) #4 Near Mint/Mint
NIGHTBREED (CLIVE BARKER'S) (1990) #6 Near Mint/Mint
NIGHTBREED (CLIVE BARKER'S) (1990) #7 Fine


NIGHTBREED (CLIVE BARKER'S) (1990) #8

NIGHTBREED (CLIVE BARKER'S) (1990) #8 Near Mint/Mint
NIGHTBREED (CLIVE BARKER'S) (1990) #9 Near Mint/Mint
NIGHTBREED (CLIVE BARKER'S) (1990) #20 Fine

SHIELD (1968) #6 Fine

SPIDER-MAN (1963) (AMAZING SPIDER-MAN) (#1-441) #185 Very Fine
SPIDER-MAN (1963) (AMAZING SPIDER-MAN) (#1-441) #305 NEWSSTAND Very Good
SPIDER-MAN (1963) (AMAZING SPIDER-MAN) (#1-441) #306 Near Mint/Mint
SPIDER-MAN (1963) (AMAZING SPIDER-MAN) (#1-441) #307 NEWSSTAND Very Fine
SPIDER-MAN (1963) (AMAZING SPIDER-MAN) (#1-441) #308 Fine
SPIDER-MAN (1963) (AMAZING SPIDER-MAN) (#1-441) #309 Fine
SPIDER-MAN (1963) (AMAZING SPIDER-MAN) (#1-441) #310 Near Mint/Mint
SPIDER-MAN (1963) (AMAZING SPIDER-MAN) (#1-441) #312 Very Fine
SPIDER-MAN (1963) (AMAZING SPIDER-MAN) (#1-441) #314 Very Fine
SPIDER-MAN (1963) (AMAZING SPIDER-MAN) (#1-441) #318 Very Fine
SPIDER-MAN (1963) (AMAZING SPIDER-MAN) (#1-441) #319 Very Fine

SPIDER-MAN (1990) (#1-74, PETER PARKER SPIDEY #75-98) #1 GOLD Fine
SPIDER-MAN (1990) (#1-74, PETER PARKER SPIDEY #75-98) #5 Near Mint/Mint

SPIDER-MAN GIANT-SIZE (1974) #6 Very Good

STAR WARS (2015) #2 ARAGONES Near Mint/Mint


SUPER SPIDER-MAN AND CAPTAIN BRITAIN (#231-310) (UK MAG) #245

SUPER SPIDER-MAN AND CAPTAIN BRITAIN (#231-310) (UK MAG) #245 Good

SUPERIOR FOES OF SPIDER-MAN (2013) #1 MRRCSKETCH Near Mint/Mint

THANOS RISING (2013) #1 HASTINGS Near Mint/Mint

THOR (1962) #134 Good

ULTIMATE FANTASTIC FOUR (2003) #30 SKETCH CV Near Mint/Mint

VAMPIRE TALES #1 Fine
VAMPIRE TALES #2 Very Good
VAMPIRE TALES #3 Fine
VAMPIRE TALES #4 Very Good
VAMPIRE TALES #5 Very Good
VAMPIRE TALES #6 Good
VAMPIRE TALES #10 Good
VAMPIRE TALES #11 Very Good

VENOM SUPER SIZE SPECIAL (1995) #1 Very Fine

VENOM: FINALE (1997) #2 NEWSSTAND Fine

WEREWOLF BY NIGHT (1972) #3 Very Good
WEREWOLF BY NIGHT (1972) #4 Very Good

WEREWOLF BY NIGHT (1972) #5 Very Good
WEREWOLF BY NIGHT (1972) #8 Fine
WEREWOLF BY NIGHT (1972) #10 Very Good
WEREWOLF BY NIGHT (1972) #11 Very Good
WEREWOLF BY NIGHT (1972) #12 Very Good
WEREWOLF BY NIGHT (1972) #13 Very Good
WEREWOLF BY NIGHT (1972) #15 Very Good
WEREWOLF BY NIGHT (1972) #43 Very Fine

WEREWOLF BY NIGHT GIANT-SIZE (1974) #2 Very Good
WEREWOLF BY NIGHT GIANT-SIZE (1974) #3 Very Good
WEREWOLF BY NIGHT GIANT-SIZE (1974) #5 Fine
WEREWOLF BY NIGHT GIANT-SIZE (1974) #5 Very Good

WESTERN GUNFIGHTERS (1970) #7 Fine
WESTERN GUNFIGHTERS (1970) #8 Fine

WOLVERINE (1988) (#1/2-189) (MARVEL) #1 Near Mint/Mint
WOLVERINE (1988) (#1/2-189) (MARVEL) #134 Very Fine

WOLVERINE: ORIGINS (2006) #5 SKETCH INC Very Fine

X-FACTOR (1986) #5 Fine
X-FACTOR (1986) #6 NEWSSTAND Very Good
X-FACTOR (1986) #12 Near Mint/Mint
X-FACTOR (1986) #15 Near Mint/Mint

X-FORCE (1991) #1 DEADPOOL Near Mint/Mint

X-FORCE (1991) #15 Near Mint/Mint
X-FORCE (1991) #15 NEWSSTAND Very Fine

X-MEN (1963) (#1-113, UNCANNY X-MEN #114-544) (MARVEL) #23 Good
X-MEN (1963) (#1-113, UNCANNY X-MEN #114-544) (MARVEL) #60 REPRINT Near Mint/Mint
X-MEN (1963) (#1-113, UNCANNY X-MEN #114-544) (MARVEL) #61 REPRINT Near Mint/Mint
X-MEN (1963) (#1-113, UNCANNY X-MEN #114-544) (MARVEL) #83 Good
X-MEN (1963) (#1-113, UNCANNY X-MEN #114-544) (MARVEL) #179 NEWSSTAND Fine
X-MEN (1963) (#1-113, UNCANNY X-MEN #114-544) (MARVEL) #205 Fine
X-MEN (1963) (#1-113, UNCANNY X-MEN #114-544) (MARVEL) #260 NEWSSTAND Fine
X-MEN (1991) (#1-275) (MARVEL) #25 GOLD Near Mint/Mint

X-MEN ANNUAL (1970) #5 NEWSSTAND Fine

DC
BATMAN: VENGEANCE OF BANE SPECIAL (1993) #1 Fine
BATMAN: VENGEANCE OF BANE SPECIAL (1993) #1 Near Mint/Mint

BATMAN: VENGEANCE OF BANE SPECIAL (1993) #1 2ND PRINT Very Fine
BATMAN: VENGEANCE OF BANE SPECIAL (1993) #1 Very Fine

HEX (1985) #1 NEWSSTAND Very Good
HEX (1985) #8 NEWSSTAND Very Fine

HEX (1985) #11 NEWSSTAND Very Fine
HEX (1985) #13 NEWSSTAND Fine

JONAH HEX (2005) #50 Near Mint/Mint

MAD (MAGAZINE) #108 Very Good
MAD (MAGAZINE) #111 Good
MAD (MAGAZINE) #122 Very Good
MAD (MAGAZINE) #136 Very Good
MAD (MAGAZINE) #139 Very Good
MAD (MAGAZINE) #142 Very Good
MAD (MAGAZINE) #144 Very Good
MAD (MAGAZINE) #146 Fine
MAD (MAGAZINE) #147 Very Fine
MAD (MAGAZINE) #148 Fine
MAD (MAGAZINE) #159 Very Good
MAD (MAGAZINE) #161 Very Good
MAD (MAGAZINE) #166 Very Good
MAD (MAGAZINE) #170 Very Good
MAD (MAGAZINE) #172 Fine
MAD (MAGAZINE) #179 Fine
MAD (MAGAZINE) #180 Very Good

PREACHER (1995) #1 (DC: Vertigo Press) Near Mint/Mint
PREACHER (1995) #2 (DC: Vertigo Press) Near Mint/Mint
PREACHER (1995) #3 (DC: Vertigo Press) Very Fine

PREACHER (1995) #4 (DC: Vertigo Press) Near Mint/Mint
PREACHER (1995) #5 (DC: Vertigo Press) Fine
PREACHER (1995) #6 (DC: Vertigo Press) Near Mint/Mint
PREACHER (1995) #7 (DC: Vertigo Press) Fine
PREACHER (1995) #8 (DC: Vertigo Press) Near Mint/Mint
PREACHER (1995) #8 (DC: Vertigo Press) Fine
PREACHER (1995) #9 (DC: Vertigo Press) Good
PREACHER (1995) #9 (DC: Vertigo Press) Near Mint/Mint
PREACHER (1995) #10 (DC: Vertigo Press) Near Mint/Mint
PREACHER (1995) #10 (DC: Vertigo Press) Very Fine
PREACHER (1995) #11 (DC: Vertigo Press) Near Mint/Mint
PREACHER (1995) #12 (DC: Vertigo Press) Very Fine

SUPERGIRL (2011) (#0-40) (DC NEW52) #40 MOVIESTYLE Near Mint/Mint

SUPERMAN ADVENTURES SPECIAL PREVIEW (1996) #1 Near Mint/Mint

TEEN TITANS (2014) (#1-24) (DC NEW52) #8 MOVIESTYLE Near Mint/Mint

USPS COMMEMORATIVE ACTION COMICS #1 WITH STAMP #1 Near Mint/Mint

WAKE (2013) #1 Near Mint/Mint

WONDER WOMAN (2011) (#0-52) (DC NEW52) #40 MOVIESTYLE Near Mint/Mint

DARK HORSE COMICS
STAR WARS BOBA FETT: ENEMY OF THE EMPIRE #4 Near Mint/Mint


STAR WARS: CRIMSON EMPIRE II #2

STAR WARS: CRIMSON EMPIRE II #2 Near Mint/Mint
STAR WARS: CRIMSON EMPIRE II #6 Near Mint/Mint

STAR WARS: THE JABBA TAPE #1 Very Fine

STAR WARS: VADER'S QUEST #3 Near Mint/Mint

IMAGE COMICS
SPAWN (1992) #79 NEWSSTAND Very Fine
SPAWN (1992) #80 NEWSSTAND Near Mint/Mint
SPAWN (1992) #208 Near Mint/Mint

TEENAGE MUTANT NINJA TURTLES (IMAGE) (1996) #20 Near Mint/Mint

WITCHBLADE #28 NEWSSTAND (Image Top Cow) Near Mint/Mint
WITCHBLADE #29 NEWSSTAND (Image Top Cow) Very Fine

INDEPENDENTS
303 (AVATAR) (2004) #2 WRAPAROUND (Avatar Comics) Near Mint/Mint

ANA (AVATAR) (ADULT) (2000) #1 (Avatar Comics) Very Fine

AVATARS (AVATAR COMICS) (1998) #1 (Avatar Comics) Very Fine
AVATARS (AVATAR COMICS) (1998) #2 (Avatar Comics) Very Fine

BAD MOON RISING SPECIAL (AVATAR) (2006) #1 BODY COUNT (Avatar Comics) Near Mint/Mint


BAD WORLD (AVATAR) (WARREN ELLIS) (2001) #1

BAD WORLD (AVATAR) (WARREN ELLIS) (2001) #1 (Avatar Comics) Very Fine
BAD WORLD (AVATAR) (WARREN ELLIS) (2001) #3 (Avatar Comics) Very Fine
BAD WORLD (AVATAR) (WARREN ELLIS) (2001) #3 WRAPAROUND (Avatar Comics) Near Mint/Mint

BATTLEBOOKS: VAMPIRELLA #1 (BATTLEBOOKS INC.) Near Mint/Mint

BLACK GAS (2005) #1 PLATINUM (Avatar Comics) Near Mint/Mint
BLACK GAS (2005) #3 TERROR (Avatar Comics) Near Mint/Mint

BLACK GAS 2 (2006) #2 WRAPAROUND (Avatar Comics) Near Mint/Mint
BLACK GAS 2 (2006) #3 WRAPAROUND (Avatar Comics) Near Mint/Mint

BLOODSHOT SALVATION (2017) #1 CVCPODCAST (Valiant Comics) Near Mint/Mint
BLOODSHOT SALVATION (2017) #1 MILE HIGH (Valiant Comics) Near Mint/Mint

BLOODSHOT SALVATION MILE HIGH & VALIANT PODCAST SET (2017) #1 (Valiant Comics) Near Mint/Mint

CINEFEX (Magnum Comics) #133 (Cinefex) Very Fine

CREEPY (MAGAZINE) (1964) #2 (Warren Publishing Company) Fine
CREEPY (MAGAZINE) (1964) #4 (Warren Publishing Company) Fine
CREEPY (MAGAZINE) (1964) #20 (Warren Publishing Company) Fine
CREEPY (MAGAZINE) (1964) #51 (Warren Publishing Company) Very Good
CREEPY (MAGAZINE) (1964) #75 (Warren Publishing Company) Fine
CREEPY (MAGAZINE) (1964) #87 (Warren Publishing Company) Very Good
CREEPY (MAGAZINE) (1964) #100 (Warren Publishing Company) Fine


CREEPY YEARBOOK (Magnum Comics) #1969

CREEPY YEARBOOK (Magnum Comics) #1969 (Warren Publishing Company) Fine

DARK BLUE COLLECTED EDITION (2001) #1 (Avatar Comics) Very Good

DEMONSLAYER: LORDS OF NIGHT (2003) #1 PLATINUM (Avatar Comics) Near Mint/Mint

DONNA MIA (1995) #1 SPECIAL ED (Dark Fantasy Productions) Near Mint/Mint

EERIE MAGAZINE (1965) #6 (Warren Publishing Company) Good
EERIE MAGAZINE (1965) #9 (Warren Publishing Company) Good
EERIE MAGAZINE (1965) #38 (Warren Publishing Company) Good
EERIE MAGAZINE (1965) #77 (Warren Publishing Company) Good
EERIE MAGAZINE (1965) #77 (Warren Publishing Company) Very Good
EERIE MAGAZINE (1965) #81 (Warren Publishing Company) Good
EERIE MAGAZINE (1965) #86 (Warren Publishing Company) Fine

EERIE YEARBOOK (Magnum Comics) #1972 (Warren Publishing Company) Near Mint/Mint

ESCAPE FROM WONDERLAND SCRIPT BOOK (2009) #1 B (Zenescope Entertainment Inc) Near Mint/Mint

FAMOUS MONSTERS (Magnum Comics) #54 (Warren Publishing Company) Very Good
FAMOUS MONSTERS (Magnum Comics) #159 (Warren Publishing Company) Very Good
FAMOUS MONSTERS (Magnum Comics) #167 (Warren Publishing Company) Fine

FAMOUS MONSTERS OF FILMLAND (#250-UP) (2010) #267 CTHULHU (IDW Publishing) Near Mint/Mint


FAMOUS MONSTERS OF FILMLAND (#250-UP) (2010) #268

FAMOUS MONSTERS OF FILMLAND (#250-UP) (2010) #268 (IDW Publishing) Near Mint/Mint
FAMOUS MONSTERS OF FILMLAND (#250-UP) (2010) #276 (IDW Publishing) Near Mint/Mint

FLY (2011) #1 E (Zenescope Entertainment Inc) Near Mint/Mint
FLY (2011) #4 D (Zenescope Entertainment Inc) Near Mint/Mint
FLY (2011) #5 D (Zenescope Entertainment Inc) Near Mint/Mint

FLY (VOL. 2) (2012) #4 C (Zenescope Entertainment Inc) Near Mint/Mint

FRIDAY THE 13TH: BLOODBATH (2005) #1 RED FOIL (Avatar Comics) Near Mint/Mint
FRIDAY THE 13TH: BLOODBATH (2005) #2 PLATINUM (Avatar Comics) Near Mint/Mint

GRIMM FAIRY TALES (2005) #27 WW PHILLY (Zenescope Entertainment Inc) Near Mint/Mint
GRIMM FAIRY TALES (2005) #66 C (Zenescope Entertainment Inc) Near Mint/Mint
GRIMM FAIRY TALES (2005) #67 C (Zenescope Entertainment Inc) Near Mint/Mint
GRIMM FAIRY TALES (2005) #75 E (Zenescope Entertainment Inc) Near Mint/Mint
GRIMM FAIRY TALES (2005) #76 C (Zenescope Entertainment Inc) Near Mint/Mint
GRIMM FAIRY TALES (2005) #81 C (Zenescope Entertainment Inc) Very Fine
GRIMM FAIRY TALES (2005) #82 C (Zenescope Entertainment Inc) Near Mint/Mint

GRIMM FAIRY TALES PRESENTS ALICE IN WONDERLAND (2012) #3 C (Zenescope Entertainment Inc) Near Mint/Mint
GRIMM FAIRY TALES PRESENTS ALICE IN WONDERLAND (2012) #5 C (Zenescope Entertainment Inc) Near Mint/Mint

GRIMM FAIRY TALES SWIMSUIT SPECIAL (2010) #2012 C (Zenescope Entertainment Inc) Near Mint/Mint

GRIMM FAIRY TALES VALENTINE'S DAY SPECIAL (2013) #1 B (Zenescope Entertainment Inc) Near Mint/Mint

GRIMM FAIRY TALES: BAD GIRLS (2012) #1 C (Zenescope Entertainment Inc) Fine


GRIMM FAIRY TALES: DREAM EATER SAGA CROSSOVER PROLOGUE (2011) #0 C

GRIMM FAIRY TALES: DREAM EATER SAGA CROSSOVER PROLOGUE (2011) #0 C (Zenescope Entertainment Inc) Near Mint/Mint

GRIMM FAIRY TALES: JUNGLE BOOK (2012) #2 C (Zenescope Entertainment Inc) Near Mint/Mint

GRIMM FAIRY TALES: MYTHS & LEGENDS (2011) #8 C (Zenescope Entertainment Inc) Near Mint/Mint
GRIMM FAIRY TALES: MYTHS & LEGENDS (2011) #10 C (Zenescope Entertainment Inc) Near Mint/Mint
GRIMM FAIRY TALES: MYTHS & LEGENDS (2011) #12 C (Zenescope Entertainment Inc) Near Mint/Mint
GRIMM FAIRY TALES: MYTHS & LEGENDS (2011) #13 C (Zenescope Entertainment Inc) Near Mint/Mint
GRIMM FAIRY TALES: MYTHS & LEGENDS (2011) #14 C (Zenescope Entertainment Inc) Near Mint/Mint

GRIMM FAIRY TALES: OZ (2013) #1 K (Zenescope Entertainment Inc) Near Mint/Mint

GRIMM FAIRY TALES: WONDERLAND (2012) #6 C (Zenescope Entertainment Inc) Near Mint/Mint

GRIMM FAIRY TALES: WONDERLAND ANNUAL (2010) #2011 C (Zenescope Entertainment Inc) Very Fine
GRIMM FAIRY TALES: WONDERLAND ANNUAL (2010) #2012 D MILEHIGH (Zenescope Entertainment Inc) Near Mint/Mint

IGNITION CITY (2009) #5 POSTEREDSN (Avatar Comics) Near Mint/Mint

LUXURA HEROES CONVENTION BOOK (1995) #1 (Brainstorm Comics) Near Mint/Mint

LYNCH MOB (1994) #1 5X SIGNED (Chaos Comics) Near Mint/Mint

MADHOUSE ANNUAL (1970) #9 (Archie Comics) Very Good

MADHOUSE ANNUAL (1970) #11 (Archie Comics) Very Good
MADHOUSE ANNUAL (1970) #12 (Archie Comics) Very Good

MADHOUSE GLADS (1970) #77 (Archie Comics) Fine

MADHOUSE MA-AD (1969) #67 (Archie Comics) Very Good
MADHOUSE MA-AD (1969) #68 (Archie Comics) Very Good
MADHOUSE MA-AD (1969) #69 (Archie Comics) Very Good

MAGE (1984) #2 (Comico) Fine
MAGE (1984) #4 (Comico) Fine
MAGE (1984) #8 (Comico) Fine
MAGE (1984) #8 (Comico) Very Fine

MAGNUS ROBOT FIGHTER (1991) #2 W/ CARD (Acclaim/Valiant) Very Fine
MAGNUS ROBOT FIGHTER (1991) #2 W/ CARD (Acclaim/Valiant) Fine
MAGNUS ROBOT FIGHTER (1991) #3 JIM SGN (Acclaim/Valiant) Very Fine
MAGNUS ROBOT FIGHTER (1991) #3 W/O JIMSGN (Acclaim/Valiant) Very Fine
MAGNUS ROBOT FIGHTER (1991) #7 W/ CARD (Acclaim/Valiant) Very Fine
MAGNUS ROBOT FIGHTER (1991) #7 W/ CARD (Acclaim/Valiant) Fine
MAGNUS ROBOT FIGHTER (1991) #8 SIGNED (Acclaim/Valiant) Near Mint/Mint
MAGNUS ROBOT FIGHTER (1991) #8 SIGNED (Acclaim/Valiant) Very Fine
MAGNUS ROBOT FIGHTER (1991) #8 JIM SGN (Acclaim/Valiant) Very Fine
MAGNUS ROBOT FIGHTER (1991) #8 SIGNED (Acclaim/Valiant) Fine

MANGAZINE (1985) #1 (Antarctic Press) Fine
MANGAZINE (1985) #1 (Antarctic Press) Near Mint/Mint
MANGAZINE (1985) #1 (Antarctic Press) Very Fine

MANY GHOSTS OF DR. GRAVES (1967) #29 (Charlton) Fine


MANY GHOSTS OF DR. GRAVES (1967) #42

MANY GHOSTS OF DR. GRAVES (1967) #42 (Charlton) Fine
MANY GHOSTS OF DR. GRAVES (1967) #51 (Charlton) Fine
MANY GHOSTS OF DR. GRAVES (1967) #63 (Charlton) Fine
MANY GHOSTS OF DR. GRAVES (1967) #65 (Charlton) Fine
MANY GHOSTS OF DR. GRAVES (1967) #67 (Charlton) Very Fine
MANY GHOSTS OF DR. GRAVES (1967) #68 (Charlton) Very Fine
MANY GHOSTS OF DR. GRAVES (1967) #69 (Charlton) Very Fine

MARA (1991) #1 (Aircel Publications) Fine
MARA (1991) #2 (Aircel Publications) Very Fine
MARA (1991) #4 (Aircel Publications) Very Fine

MARA OF THE CELTS SPECIAL (1993) #1 (Rip Off Press) Near Mint/Mint

MARCH OF COMICS (1946) #438 (Whitman Publishing) Near Mint/Mint
MARCH OF COMICS (1946) #451 (Whitman Publishing) Near Mint/Mint
MARCH OF COMICS (1946) #467 (Whitman Publishing) Fine
MARCH OF COMICS (1946) #467 (Whitman Publishing) Very Fine

MARINE WAR HEROES (1964) #8 (Charlton) Fine
MARINE WAR HEROES (1964) #11 (Charlton) Fine
MARINE WAR HEROES (1964) #11 (Charlton) Very Good
MARINE WAR HEROES (1964) #11 (Charlton) Very Fine
MARINE WAR HEROES (1964) #17 (Charlton) Fine
MARINE WAR HEROES (1964) #17 (Charlton) Very Good

MARK OF AEACUS GN (2007) #1 (Trade Items) Very Fine

MARS ATTACKS (1994) #1 (Topps Publishing) Near Mint/Mint
MARS ATTACKS (1994) #1 WIZARD ACE (Topps Publishing) Near Mint/Mint
MARS ATTACKS (1994) #1 (Topps Publishing) Very Fine
MARS ATTACKS (1994) #1 WIZARD ACE (Topps Publishing) Very Fine
MARS ATTACKS (1994) #2 (Topps Publishing) Near Mint/Mint

MARS ATTACKS (1995) #1 1/2 (Topps Publishing) Near Mint/Mint

MASTER DARQUE (1998) #1 RETAILER (Acclaim/Valiant) Near Mint/Mint

MAYHEM (1977) #2 (Kelva Communications) Fine

MEDIEVAL LADY DEATH (2005) #3 PREMIUM (Avatar Comics) Near Mint/Mint
MEDIEVAL LADY DEATH (2005) #5 PLATINUM (Avatar Comics) Near Mint/Mint

MEDIEVAL LADY DEATH/BELLADONNA (2005) #1 GOLD FOIL (Avatar Comics) Near Mint/Mint

MEDIEVAL LADY DEATH: WAR OF THE WINDS (2006) #3 PLATINUM (Avatar Comics) Near Mint/Mint

MEGA MAN (2011) #1 VARIANT (Archie Comics) Near Mint/Mint

MEGALITH (1989) #1 NEWSSTAND (Continuity Publishing) Very Fine
MEGALITH (1989) #3 NEWSSTAND (Continuity Publishing) Very Fine

MELTY FEELING (1996) #1 (Antarctic Press) Near Mint/Mint

METALLICA: WOMEN OF IRON (1991) #1 (Forbidden Fruit (ADULTS ONLY)) Fine


METRO COMIC-CON 1970 PROGRAM #1

METRO COMIC-CON 1970 PROGRAM #1 (Miscellaneous (Unlisted) Publishers) Fine
METRO COMIC-CON 1970 PROGRAM #1 (Miscellaneous (Unlisted) Publishers) Near Mint/Mint
METRO COMIC-CON 1970 PROGRAM #1 (Miscellaneous (Unlisted) Publishers) Very Good
METRO COMIC-CON 1970 PROGRAM #1 (Miscellaneous (Unlisted) Publishers) Very Fine

MICKEY MANTLE (1991) #1 UNBAGGED (Magnum Comics) Near Mint/Mint
MICKEY MANTLE (1991) #1 UNBAGGED (Magnum Comics) Very Fine
MICKEY MANTLE (1991) #1 UNBAGGED (Magnum Comics) Fine
MICKEY MANTLE (1991) #1 UNBAGGED (Magnum Comics) Very Good

MICKEY MOUSE (1962) (#85-204) (GOLD KEY) #132 (Gold Key) Very Good
MICKEY MOUSE (1962) (#85-204) (GOLD KEY) #133 (Gold Key) Very Good
MICKEY MOUSE (1962) (#85-204) (GOLD KEY) #134 (Gold Key) Fine
MICKEY MOUSE (1962) (#85-204) (GOLD KEY) #134 (Gold Key) Very Good
MICKEY MOUSE (1962) (#85-204) (GOLD KEY) #135 (Gold Key) Very Good
MICKEY MOUSE (1962) (#85-204) (GOLD KEY) #137 (Gold Key) Very Good
MICKEY MOUSE (1962) (#85-204) (GOLD KEY) #140 (Gold Key) Fine
MICKEY MOUSE (1962) (#85-204) (GOLD KEY) #140 (Gold Key) Near Mint/Mint
MICKEY MOUSE (1962) (#85-204) (GOLD KEY) #140 (Gold Key) Very Good
MICKEY MOUSE (1962) (#85-204) (GOLD KEY) #140 (Gold Key) Very Fine
MICKEY MOUSE (1962) (#85-204) (GOLD KEY) #143 (Gold Key) Fine
MICKEY MOUSE (1962) (#85-204) (GOLD KEY) #144 (Gold Key) Very Fine
MICKEY MOUSE (1962) (#85-204) (GOLD KEY) #145 (Gold Key) Fine
MICKEY MOUSE (1962) (#85-204) (GOLD KEY) #145 (Gold Key) Very Good


MICKEY MOUSE (1962) (#85-204) (GOLD KEY) #146

MICKEY MOUSE (1962) (#85-204) (GOLD KEY) #146 (Gold Key) Fine
MICKEY MOUSE (1962) (#85-204) (GOLD KEY) #146 (Gold Key) Very Fine
MICKEY MOUSE (1962) (#85-204) (GOLD KEY) #147 (Gold Key) Very Fine
MICKEY MOUSE (1962) (#85-204) (GOLD KEY) #151 WHITMAN (Gold Key) Very Fine
MICKEY MOUSE (1962) (#85-204) (GOLD KEY) #151 WHITMAN (Gold Key) Fine
MICKEY MOUSE (1962) (#85-204) (GOLD KEY) #153 WHITMAN (Gold Key) Fine
MICKEY MOUSE (1962) (#85-204) (GOLD KEY) #154 WHITMAN (Gold Key) Very Fine
MICKEY MOUSE (1962) (#85-204) (GOLD KEY) #154 (Gold Key) Very Fine
MICKEY MOUSE (1962) (#85-204) (GOLD KEY) #156 (Gold Key) Very Fine
MICKEY MOUSE (1962) (#85-204) (GOLD KEY) #162 (Gold Key) Fine
MICKEY MOUSE (1962) (#85-204) (GOLD KEY) #163 (Gold Key) Fine
MICKEY MOUSE (1962) (#85-204) (GOLD KEY) #166 (Gold Key) Fine
MICKEY MOUSE (1962) (#85-204) (GOLD KEY) #167 (Gold Key) Fine
MICKEY MOUSE (1962) (#85-204) (GOLD KEY) #167 (Gold Key) Very Fine
MICKEY MOUSE (1962) (#85-204) (GOLD KEY) #168 (Gold Key) Very Fine
MICKEY MOUSE (1962) (#85-204) (GOLD KEY) #170 (Gold Key) Fine
MICKEY MOUSE (1962) (#85-204) (GOLD KEY) #170 WHITMAN (Gold Key) Fine
MICKEY MOUSE (1962) (#85-204) (GOLD KEY) #171 WHITMAN (Gold Key) Very Fine
MICKEY MOUSE (1962) (#85-204) (GOLD KEY) #173 (Gold Key) Fine
MICKEY MOUSE (1962) (#85-204) (GOLD KEY) #173 (Gold Key) Very Fine
MICKEY MOUSE (1962) (#85-204) (GOLD KEY) #174 (Gold Key) Very Fine
MICKEY MOUSE (1962) (#85-204) (GOLD KEY) #175 (Gold Key) Fine
MICKEY MOUSE (1962) (#85-204) (GOLD KEY) #175 (Gold Key) Very Fine
MICKEY MOUSE (1962) (#85-204) (GOLD KEY) #178 (Gold Key) Near Mint/Mint
MICKEY MOUSE (1962) (#85-204) (GOLD KEY) #178 (Gold Key) Very Fine
MICKEY MOUSE (1962) (#85-204) (GOLD KEY) #181 WHITMAN (Gold Key) Very Fine
MICKEY MOUSE (1962) (#85-204) (GOLD KEY) #183 (Gold Key) Near Mint/Mint


MICKEY MOUSE (1962) (#85-204) (GOLD KEY) #185

MICKEY MOUSE (1962) (#85-204) (GOLD KEY) #185 (Gold Key) Very Fine
MICKEY MOUSE (1962) (#85-204) (GOLD KEY) #186 WHITMAN (Gold Key) Fine
MICKEY MOUSE (1962) (#85-204) (GOLD KEY) #187 (Gold Key) Very Fine
MICKEY MOUSE (1962) (#85-204) (GOLD KEY) #187 WHITMAN (Gold Key) Very Fine
MICKEY MOUSE (1962) (#85-204) (GOLD KEY) #188 WHITMAN (Gold Key) Very Fine
MICKEY MOUSE (1962) (#85-204) (GOLD KEY) #188 WHITMAN (Gold Key) Fine
MICKEY MOUSE (1962) (#85-204) (GOLD KEY) #189 WHITMAN (Gold Key) Fine
MICKEY MOUSE (1962) (#85-204) (GOLD KEY) #189 (Gold Key) Very Fine
MICKEY MOUSE (1962) (#85-204) (GOLD KEY) #190 WHITMAN (Gold Key) Fine
MICKEY MOUSE (1962) (#85-204) (GOLD KEY) #190 (Gold Key) Very Fine
MICKEY MOUSE (1962) (#85-204) (GOLD KEY) #191 (Gold Key) Very Fine
MICKEY MOUSE (1962) (#85-204) (GOLD KEY) #191 WHITMAN (Gold Key) Fine
MICKEY MOUSE (1962) (#85-204) (GOLD KEY) #192 (Gold Key) Near Mint/Mint
MICKEY MOUSE (1962) (#85-204) (GOLD KEY) #193 (Gold Key) Very Fine
MICKEY MOUSE (1962) (#85-204) (GOLD KEY) #194 (Gold Key) Very Fine
MICKEY MOUSE (1962) (#85-204) (GOLD KEY) #195 WHITMAN (Gold Key) Fine
MICKEY MOUSE (1962) (#85-204) (GOLD KEY) #196 WHITMAN (Gold Key) Fine
MICKEY MOUSE (1962) (#85-204) (GOLD KEY) #197 (Gold Key) Near Mint/Mint
MICKEY MOUSE (1962) (#85-204) (GOLD KEY) #197 WHITMAN (Gold Key) Fine
MICKEY MOUSE (1962) (#85-204) (GOLD KEY) #198 WHITMAN (Gold Key) Fine
MICKEY MOUSE (1962) (#85-204) (GOLD KEY) #198 (Gold Key) Very Fine
MICKEY MOUSE (1962) (#85-204) (GOLD KEY) #199 WHITMAN (Gold Key) Fine
MICKEY MOUSE (1962) (#85-204) (GOLD KEY) #200 WHITMAN (Gold Key) Fine
MICKEY MOUSE (1962) (#85-204) (GOLD KEY) #201 WHITMAN (Gold Key) Fine

MICKEY MOUSE (1980) (#204-218) (WHITMAN) #212 (Whitman Publishing) Fine

MICKEY MOUSE (1986) (#219-256) (GLADSTONE) #220 (Gladstone) Near Mint/Mint
MICKEY MOUSE (1986) (#219-256) (GLADSTONE) #220 NEWSSTAND (Gladstone) Very Fine
MICKEY MOUSE (1986) (#219-256) (GLADSTONE) #220 (Gladstone) Very Fine
MICKEY MOUSE COMICS DIGEST (1986) #1 (Gladstone) Near Mint/Mint

MIGHTY ATOM (1959) #1976 (Whitman Publishing) Very Fine

MIGHTY SAMSON (1964) #22 (Gold Key) Fine
MIGHTY SAMSON (1964) #23 (Gold Key) Fine
MIGHTY SAMSON (1964) #26 (Gold Key) Fine
MIGHTY SAMSON (1964) #27 (Gold Key) Fine
MIGHTY SAMSON (1964) #28 (Gold Key) Fine
MIGHTY SAMSON (1964) #28 (Gold Key) Very Fine

MILLIE THE LOVEABLE MONSTER (1962) #4 (Dell Publishing) Fine

MINOTAUR COLLECTION #1 (Labyrinth Comics) Very Fine

MIRACLEMAN (1985) #2 (Eclipse Enterprises) Very Fine

MOBY DUCK (1967) #3 (Gold Key) Fine
MOBY DUCK (1967) #4 (Gold Key) Fine
MOBY DUCK (1967) #13 WHITMAN (Gold Key) Very Fine
MOBY DUCK (1967) #13 WHITMAN (Gold Key) Fine
MOBY DUCK (1967) #15 WHITMAN (Gold Key) Very Fine
MOBY DUCK (1967) #18 (Gold Key) Very Fine
MOBY DUCK (1967) #24 (Gold Key) Very Fine

MOD WHEELS (GOLD KEY) #10 (Gold Key) Very Good
MOD WHEELS (GOLD KEY) #10 (Gold Key) Very Fine
MOD WHEELS (GOLD KEY) #11 (Gold Key) Very Fine

MOD WHEELS (GOLD KEY) #11 (Gold Key) Very Good
MOD WHEELS (GOLD KEY) #12 (Gold Key) Fine
MOD WHEELS (GOLD KEY) #14 (Gold Key) Fine
MOD WHEELS (GOLD KEY) #16 (Gold Key) Very Good
MOD WHEELS (GOLD KEY) #17 (Gold Key) Fine
MOD WHEELS (GOLD KEY) #17 (Gold Key) Very Good
MOD WHEELS (GOLD KEY) #17 (Gold Key) Very Fine

MUSINGS #1 (Calliope Comics) Near Mint/Mint

PANTHA LIMITED ASHCAN (1999) #1 (Harris Comics) Near Mint/Mint

RAMPAGE MAGAZINE STARRING THE DEFENDERS (1977) #2 W/O INSERT (Marvel United Kingdom Publishings) Fine

RAZOR: DARKEST NIGHT #3 ELITE ED. (London Night Studios) Near Mint/Mint

SIMPSONS COMICS (BONGO) (1993) #42 (Bongo Comics) Near Mint/Mint

STAR TREK: KHAN (2013) #1 INCENTIVE (IDW Publishing) Near Mint/Mint
STAR TREK: KHAN (2013) #2 INCENTIVE (IDW Publishing) Near Mint/Mint

TALES FROM WONDERLAND: CHESHIRE CAT ONE-SHOT (2009) #1 HEAVYMETAL (Zenescope Entertainment Inc) Very Fine

TEENAGE MUTANT NINJA TURTLES (2011) #30 INCENTIVE (IDW Publishing) Near Mint/Mint

VAMPEROTICA #49 NUDE (Brainstorm Comics) Near Mint/Mint

VAMPIRELLA (MAGAZINE) (1969) #1 (Warren Publishing Company) Very Good
VAMPIRELLA (MAGAZINE) (1969) #2 (Warren Publishing Company) Good
VAMPIRELLA (MAGAZINE) (1969) #3 (Warren Publishing Company) Good
VAMPIRELLA (MAGAZINE) (1969) #4 (Warren Publishing Company) Good
VAMPIRELLA (MAGAZINE) (1969) #7 (Warren Publishing Company) Very Good
VAMPIRELLA (MAGAZINE) (1969) #13 (Warren Publishing Company) Fine
VAMPIRELLA (MAGAZINE) (1969) #48 (Warren Publishing Company) Fine

ZOMBIE TRAMP (2014) #9 RISQUE (Danger Zone) Near Mint/Mint
ZOMBIE TRAMP (2014) #10 RISQUE (Danger Zone) Near Mint/Mint


ZOMBIE TRAMP VS. VAMPBLADE (2015) #1 RISQUE

ZOMBIE TRAMP VS. VAMPBLADE (2015) #1 RISQUE (Danger Zone) Near Mint/Mint
ZOMBIE TRAMP VS. VAMPBLADE (2015) #1 VAMP RISQ (Danger Zone) Near Mint/Mint