2,000+ Golden Age, Silver Age, Bronze Age Comics Arrive
Howdy!
I am writing Monday's newsletter on Tuesday morning because I spent all of yesterday hauling comics, books, magazines, statues, and toys out of a long-time Denver collector's basement. He has decided to travel the world for the next few years, and is thus putting his house up for sale. Before that listing can be activated, however, he needed us to help him to make enough room in the house for potential buyers to be able to see its beauty. With that as a goal, we spent four hours filling a 15-foot U-Haul. Suffice it to say, in one fell swoop we totally filled in our Jason St. store stock for Christmas in the areas of statues, busts, action figures, and playsets! On a side note, for all of my hard work I was gifted some nice photos of Bettie Page to add into my own collection. Fun!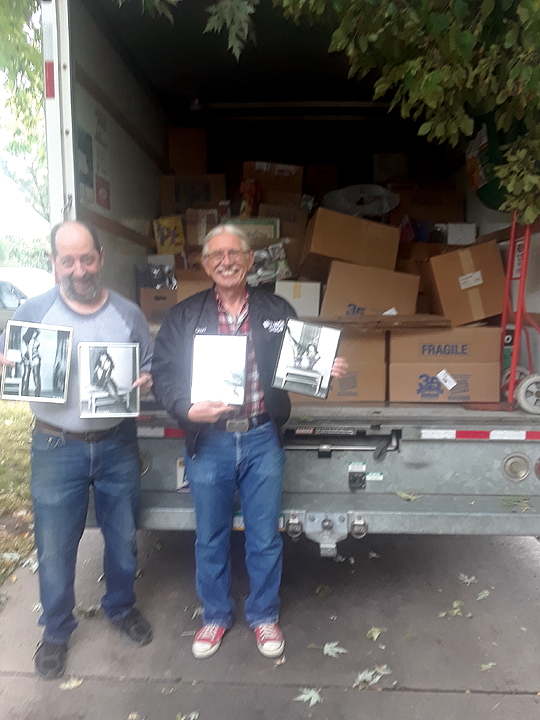 Chuck & Stu outside the 15-foot U-Haul

While we do not offer statues and toys online due to packing and shipping hassles, this avid fan's collection also included over 2,000+ Golden Age, Silver Age, and Bronze Age comics, as well as 10,000+ modern issues, and a nice grouping of the outstanding Warren Publishing magazines from the 1960's. Pam will be working diligently to add many of those scarce issues into Premium New-In-Stock for you by the end of this week. Many are hard-to-find key issues, so if you are looking to add some nice comics into your collection during our current 40% off SEPTOBER! codeword sale, I encourage you to view our daily update to Premium New-In-Stock. Will Moulton usually posts our daily Premium New-In-Stock update at about noon...
In other news, for those of you who missed out on last week's giveaway of Marvel's 1980 EPIC ILLUSTRATED magazines I have new opportunity for you. Yesterday, I once again delved into our huge inventory, and discovered that we still have a few copies left of the original 1968 BARBARELLA Graphic Novel released by Grove Books. Our copies are second prints (from the original year...), and they are quite scarce and hard to obtain. I only have them in stock because I scored a stack of copies when I discovered the immense Mile High II collection on Long Island, NY, way back in 1985. I am perfectly happy to leave these awesome books slumbering quietly on our shelves for another 32 years, but with an announcement last week of a pending BARBARELLA comics series, I thought that you just might want to add a copy to your collection. Our copies are in VG/FI, and you can have one included in with your order entirely for free if you place a minimum $50 order with us this week, and then request your copy in the "Notes" part of our online order form. Thank you for your continuing support!

MARVEL LEGACY (2017) #1 Lenticular Cover

In other news, I am hearing some very good initial reports about Marvel's new LEGACY storyline. I will not reveal any of the awesome details, but I think that it might well be in your best interest to lock in your advance subscriptions ASAP. I encourage you to first support your local comics shop, but if they for some reason run short, we do still have some extra copies available through Mario in our new comics subscription club. He can be contacted via nice@milehighcomics.com, and can still help you to obtain most of the standard issues of LEGACY. 'Nuff said...
Happy collecting!
Chuck Rozanski,
President - Mile High Comics, Inc.
September 26, 2017

P.S. While our 40% off SEPTOBER! sale does not apply to new comics, a few variants, and our professionally graded comics, it does apply to all the rest of our ten million+ back issues, including the following new-In-stock items. Please enjoy!
MARVEL
AKIRA (MARVEL) (1988) #31 NEWSSTAND Very Fine


ALICE COOPER: LAST TEMPTATION OF ALICE (2000) #1

ALICE COOPER: LAST TEMPTATION OF ALICE (2000) #1 Near Mint/Mint
ALICE COOPER: LAST TEMPTATION OF ALICE (2000) #1 VARIANT Very Good
ALICE COOPER: LAST TEMPTATION OF ALICE (2000) #2 Fine
ALICE COOPER: LAST TEMPTATION OF ALICE (2000) #3 Fine

AVENGERS (1963) (#1-402) (MARVEL) #1 1/2 Near Mint/Mint

AVENGERS ARENA (2012) #1 BLANK CVR Near Mint/Mint
AVENGERS ARENA (2012) #14 Very Fine

BLACK WIDOW (1999) (#1-3) (MARVEL) #1 VARIANT Near Mint/Mint
BLACK WIDOW (1999) (#1-3) (MARVEL) #1 VARIANT Very Fine

CAPTAIN AMERICA (1968) (#100-454) (MARVEL) #150 Fine

CHILLERS GIANT-SIZE (1974) #1 Very Good

CLIVE BARKER'S BOOK OF THE DAMNED (1994) #3 NEWSSTAND Fine

DAREDEVIL (1964) (#1-380) (MAN WITHOUT FEAR) (MARVEL) #31 Good
DAREDEVIL (1964) (#1-380) (MAN WITHOUT FEAR) (MARVEL) #50 Fine

DOCTOR STRANGE (1974) (#1-81) (MARVEL) (DR. STRANGE) #1 Fine

FANTASTIC FOUR (1961) (#1-416) (MARVEL) #115 Good
FANTASTIC FOUR (1961) (#1-416) (MARVEL) #129 Very Good


FANTASY MASTERPIECES (1966) #2

FANTASY MASTERPIECES (1966) #2 Very Good
FANTASY MASTERPIECES (1966) #4 Good

GAMBIT (1999) (#1-25) (MARVEL) #1 WIZARD 1/2 Near Mint/Mint

GHOST RIDER (1973) (#1-81) (MARVEL) #2 Fine
GHOST RIDER (1973) (#1-81) (MARVEL) #3 Very Good
GHOST RIDER (1973) (#1-81) (MARVEL) #4 Very Good

HELLRAISER-NIGHTBREED JIHAD (1991) #2 NEWSSTAND Near Mint/Mint

HULK (1962) (#1-6, #102-635) (INCREDIBLE) (MARVEL) #111 Very Good

HULK ANNUAL (1968) #3 Near Mint/Mint

INHUMANS (1998) (#1-12) (MARVEL KNIGHTS) #2 VARIANT Near Mint/Mint

KISSNATION #1 Fine

MRS. DEADPOOL & THE HOWLING COMMANDOS (2015) #1 Near Mint/Mint

PUNISHER/BATMAN: DEADLY KNIGHTS (1994) #1 Near Mint/Mint

SECRET WARS (2015) #1 FIGURE VAR Very Fine
SECRET WARS (2015) #2 FIGURE VAR Fine

SECRET WARS (2015) #2 Very Fine
SECRET WARS (2015) #4 FIGURE VAR Near Mint/Mint
SECRET WARS (2015) #9 Near Mint/Mint

SECRET WARS: BATTLEWORLD (2015) #1 Near Mint/Mint
SECRET WARS: BATTLEWORLD (2015) #3 Near Mint/Mint

SPIDER-MAN/BATMAN #1 Near Mint/Mint

X-MEN (1963) (#1-113, UNCANNY X-MEN #114-544) (MARVEL) #202 Near Mint/Mint

DC
ADVENTURE COMICS (1938) #318 Fair

BATMAN & ROBIN ADVENTURES (1995) #1 Near Mint/Mint
BATMAN & ROBIN ADVENTURES (1995) #2 Near Mint/Mint
BATMAN & ROBIN ADVENTURES (1995) #5 Near Mint/Mint
BATMAN & ROBIN ADVENTURES (1995) #8 Near Mint/Mint
BATMAN & ROBIN ADVENTURES (1995) #10 Near Mint/Mint
BATMAN & ROBIN ADVENTURES (1995) #16 Near Mint/Mint
BATMAN & ROBIN ADVENTURES (1995) #17 Near Mint/Mint
BATMAN & ROBIN ADVENTURES (1995) #18 Near Mint/Mint
BATMAN & ROBIN ADVENTURES (1995) #24 Near Mint/Mint
BATMAN & ROBIN ADVENTURES (1995) #25 Near Mint/Mint

BATMAN & ROBIN ADVENTURES ANNUAL (1996) #1 Near Mint/Mint
BATMAN & ROBIN ADVENTURES ANNUAL (1996) #2 Near Mint/Mint

BATMAN ADVENTURES (1992) #29 Near Mint/Mint
BATMAN ADVENTURES (1992) #33 Near Mint/Mint
BATMAN ADVENTURES (1992) #34 Near Mint/Mint
BATMAN ADVENTURES (1992) #36 Near Mint/Mint

BATMAN ADVENTURES: LOST YEARS (1998) #2 Near Mint/Mint
BATMAN ADVENTURES: LOST YEARS (1998) #3 Near Mint/Mint
BATMAN ADVENTURES: LOST YEARS (1998) #4 Near Mint/Mint

BATMAN ADVENTURES: MAD LOVE #1 Near Mint/Mint

BATMAN CHRONICLES (1995) #4 Near Mint/Mint

BATMAN CHRONICLES GALLERY (1997) #1 Near Mint/Mint

BATMAN VS. PREDATOR III: BLOOD TIES (1997) #2 Near Mint/Mint
BATMAN VS. PREDATOR III: BLOOD TIES (1997) #3 Near Mint/Mint
BATMAN VS. PREDATOR III: BLOOD TIES (1997) #4 Near Mint/Mint

BATMAN/CAPTAIN AMERICA (BATMAN AND CAPTAIN AMERICA) (1996) #1 Near Mint/Mint

BATMAN/GRENDEL ASHCAN (BATMAN AND GRENDEL) (1993) #1 GOLD Near Mint/Mint

BATMAN/PUNISHER: LAKE OF FIRE (DC) (MARVEL) (PRESTIGE) (1994) #1 Near Mint/Mint

BATMAN/SPAWN: WAR DEVIL (DC) (IMAGE) (PRESTIGE) (1994) #1 Near Mint/Mint


BATMAN/SPIDER-MAN (DC) (MARVEL) (BATMAN AND SPIDER-MAN) #1

BATMAN/SPIDER-MAN (DC) (MARVEL) (BATMAN AND SPIDER-MAN) #1 Near Mint/Mint

BATMAN: BANE OF THE DEMON (1998) #1 Near Mint/Mint
BATMAN: BANE OF THE DEMON (1998) #2 Near Mint/Mint

BATMAN: BLACK & WHITE (1996) #1 Near Mint/Mint
BATMAN: BLACK & WHITE (1996) #1 PREVIEW Near Mint/Mint
BATMAN: BLACK & WHITE (1996) #2 Near Mint/Mint
BATMAN: BLACK & WHITE (1996) #2 S&N Near Mint/Mint
BATMAN: BLACK & WHITE (1996) #3 Near Mint/Mint
BATMAN: BLACK & WHITE (1996) #4 Near Mint/Mint

BATMAN: BOOK OF THE DEAD (ELSEWORLDS) (PRESTIGE) (1999) #1 Near Mint/Mint

BATMAN: DARK VICTORY (JEPH LOEB) (TIM SALE) (1999) #12 Fine
BATMAN: DARK VICTORY (JEPH LOEB) (TIM SALE) (1999) #12 Near Mint/Mint
BATMAN: DARK VICTORY (JEPH LOEB) (TIM SALE) (1999) #12 Very Fine
BATMAN: DARK VICTORY (JEPH LOEB) (TIM SALE) (1999) #13 Near Mint/Mint

BATMAN: DOOM THAT CAME TO GOTHAM (MIKE MIGNOLA) (2000) #1 Near Mint/Mint
BATMAN: DOOM THAT CAME TO GOTHAM (MIKE MIGNOLA) (2000) #2 Near Mint/Mint

BATMAN: GOTHAM ADVENTURES (1998) #30 Near Mint/Mint
BATMAN: GOTHAM ADVENTURES (1998) #31 Near Mint/Mint
BATMAN: GOTHAM ADVENTURES (1998) #32 Near Mint/Mint


BATMAN: OUTLAWS (DOUG MOENCH) (PAUL GULACY) (PRESTIGE) (2000) #3

BATMAN: OUTLAWS (DOUG MOENCH) (PAUL GULACY) (PRESTIGE) (2000) #3 Near Mint/Mint

BATMAN: RIDDLER-THE RIDDLE FACTORY (1995) #1 Near Mint/Mint

BATMAN: SWORD OF AZRAEL (DENNY O'NEIL) (JOE QUESADA) (1992) #1 Near Mint/Mint
BATMAN: SWORD OF AZRAEL (DENNY O'NEIL) (JOE QUESADA) (1992) #1 Very Fine
BATMAN: SWORD OF AZRAEL (DENNY O'NEIL) (JOE QUESADA) (1992) #3 Near Mint/Mint
BATMAN: SWORD OF AZRAEL (DENNY O'NEIL) (JOE QUESADA) (1992) #4 Near Mint/Mint

BATMAN: THE KILLING JOKE (ALAN MOORE) (1988) #1 Near Mint/Mint

BATMAN: THE LONG HALLOWEEN (JEPH LOEB) (TIM SALE) (1996) #1 Near Mint/Mint
BATMAN: THE LONG HALLOWEEN (JEPH LOEB) (TIM SALE) (1996) #1 Fine
BATMAN: THE LONG HALLOWEEN (JEPH LOEB) (TIM SALE) (1996) #2 Near Mint/Mint
BATMAN: THE LONG HALLOWEEN (JEPH LOEB) (TIM SALE) (1996) #3 Near Mint/Mint
BATMAN: THE LONG HALLOWEEN (JEPH LOEB) (TIM SALE) (1996) #4 Near Mint/Mint
BATMAN: THE LONG HALLOWEEN (JEPH LOEB) (TIM SALE) (1996) #5 Near Mint/Mint
BATMAN: THE LONG HALLOWEEN (JEPH LOEB) (TIM SALE) (1996) #6 Near Mint/Mint
BATMAN: THE LONG HALLOWEEN (JEPH LOEB) (TIM SALE) (1996) #7 Near Mint/Mint
BATMAN: THE LONG HALLOWEEN (JEPH LOEB) (TIM SALE) (1996) #8 Near Mint/Mint
BATMAN: THE LONG HALLOWEEN (JEPH LOEB) (TIM SALE) (1996) #8 Fine
BATMAN: THE LONG HALLOWEEN (JEPH LOEB) (TIM SALE) (1996) #9 Near Mint/Mint
BATMAN: THE LONG HALLOWEEN (JEPH LOEB) (TIM SALE) (1996) #9 Very Fine
BATMAN: THE LONG HALLOWEEN (JEPH LOEB) (TIM SALE) (1996) #10 Near Mint/Mint
BATMAN: THE LONG HALLOWEEN (JEPH LOEB) (TIM SALE) (1996) #11 Near Mint/Mint
BATMAN: THE LONG HALLOWEEN (JEPH LOEB) (TIM SALE) (1996) #12 Near Mint/Mint
BATMAN: THE LONG HALLOWEEN (JEPH LOEB) (TIM SALE) (1996) #13 Near Mint/Mint


BATMAN: THE ULTIMATE EVIL (ANDREW VACHSS) (PRESTIGE) (1995) #1

BATMAN: THE ULTIMATE EVIL (ANDREW VACHSS) (PRESTIGE) (1995) #1 Fine
BATMAN: THE ULTIMATE EVIL (ANDREW VACHSS) (PRESTIGE) (1995) #2 Near Mint/Mint

BATMAN: TWO FACES (ELSEWORLDS) (PRESTIGE) (1998) #1 Fine

BATMAN: VENGEANCE OF BANE II-REDEMPTION (1995) #1 Near Mint/Mint

BATMAN: VENGEANCE OF BANE SPECIAL (1993) #1 Very Fine

BIRDS OF PREY (1998) (#1-127) (DC) #1 Near Mint/Mint

LUCIFER (DC) (2000) #6 (DC: Vertigo Press) Near Mint/Mint

DARK HORSE COMICS
BATMAN VS. ALIENS (DARK HORSE) (DC) (1997) #1 Near Mint/Mint
BATMAN VS. ALIENS (DARK HORSE) (DC) (1997) #2 Near Mint/Mint

BATMAN VS. PREDATOR (1991) #2 NEWSSTAND Fine

BATMAN/GRENDEL: DEVIL'S BONES/DEVIL'S DANCE (PRESTIGE) (1996) #1 Very Fine
BATMAN/GRENDEL: DEVIL'S BONES/DEVIL'S DANCE (PRESTIGE) (1996) #2 Very Fine

BUFFY THE VAMPIRE SLAYER (1998) #1 WIZARD 1/2 Near Mint/Mint

DARK HORSE PRESENTS (1986) #142 Near Mint/Mint
DARK HORSE PRESENTS (1986) #157 Fine

IMAGE COMICS
SPAWN/BATMAN #1 Near Mint/Mint

INDEPENDENTS
ALAN MOORE'S AWESOME UNIVERSE HANDBOOK (AWESOME ENT.) #1 VARIANT (Awesome Entertainment) Near Mint/Mint

AVENGELYNE: BAD BLOOD (AVATAR) (2000) #1 RIO CVR (Avatar Comics) Near Mint/Mint

DARKCHYLDE BATTLEBOOK #1 B. TUCCI (BATTLEBOOKS INC.) Near Mint/Mint
DARKCHYLDE BATTLEBOOK #1 R. QUEEN (BATTLEBOOKS INC.) Near Mint/Mint

EC CLASSICS REPRINTS (1973) #1 (RON BARLOW) Fine

FIRST KINGDOM (MAG) #4 2ND PRINT (Bud Plant, Inc.) Near Mint/Mint
FIRST KINGDOM (MAG) #4 2ND PRINT (Bud Plant, Inc.) Very Fine
FIRST KINGDOM (MAG) #4 2ND PRINT (Bud Plant, Inc.) Fine

GUNSMOKE (1956) #16 (Dell Publishing) Good