Great Comics Collections Arrive + Santa Fe Photos
Howdy!
A brief newsletter today, as I have to get several important issues resolved before I head back to New Mexico tomorrow. Among them is pricing out the final 4,000 back issue comics for our insurance company that suffered some degree of water damage during our May 8th hail event. As you may recall, that epic storm knocked out all 72 of our skylights in our huge Jason St. Mega-Store, allowing vast amounts of rainwater and hailstones to enter the building. We were able to clean up after the storm very quickly, but tabulating all of the damaged items has made my life decidedly unpleasant for the past two months. I can't wait to get this all done...
As regards traveling to New Mexico, I am returning so soon because I was invited by this year's reigning monarchs at the United Court of the Sandias to participate in a special Under 21 Investiture Ceremony on Saturday evening, in Albuquerque. As an Heir Apparent and a strong supporter of our youth in the Imperial Court System, it is imperative that I travel to Albuquerque to show support for this cool event.
That having been said, since the incredible annual Santa Fe Indian Market is being held that same Saturday morning, I thought that I would make this a dual-purpose trip. I have not been able to attend Indian Market for five years, so this should be a great opportunity for me to renew friendships with several of my favorite Pueblo potters. I have also been invited to several fun gallery parties that are planned for Friday evening, so I am going to try to leave Denver as quickly as I can. I'll have photos for you on Monday. In the meantime, here are some photos of a few pottery purchases that I made last week: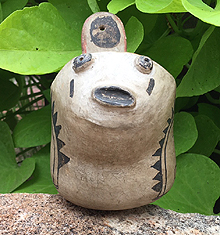 Curiously Odd 1890's Cochiti Animal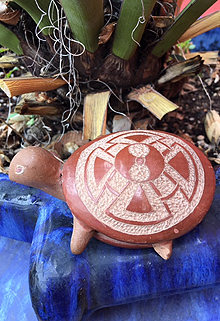 Beautifully Hand-Pecked 1940's Santa Clara Redware Turtle

I will close today's newsletter with a message of thanks and gratitude to everyone who has ordered from us and/or sent kind letters of support. Nanette and I truly appreciate your caring and support.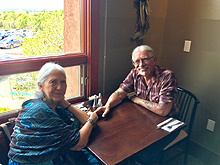 Nanette and Chuck in New Mexico

Happy collecting!
Chuck Rozanski,
President - Mile High Comics, Inc.
August 16, 2017

P.S. Will and Pam have added a wonderful selection of older comics, magazines and books to our website inventory this week. Below are links to a few highlights:
MARVEL
AMAZING ADVENTURES (MARVEL) (1970) #1 Very Good


AMAZING ADVENTURES (MARVEL) (1970) #2

AMAZING ADVENTURES (MARVEL) (1970) #2 Very Good
AMAZING ADVENTURES (MARVEL) (1970) #3 Very Good
AMAZING ADVENTURES (MARVEL) (1970) #4 Fine
AMAZING ADVENTURES (MARVEL) (1970) #5 Very Good
AMAZING ADVENTURES (MARVEL) (1970) #6 Fine
AMAZING ADVENTURES (MARVEL) (1970) #7 Fine
AMAZING ADVENTURES (MARVEL) (1970) #8 Very Good
AMAZING ADVENTURES (MARVEL) (1970) #9 Very Good
AMAZING ADVENTURES (MARVEL) (1970) #11 Very Good
AMAZING ADVENTURES (MARVEL) (1970) #12 Good
AMAZING ADVENTURES (MARVEL) (1970) #13 Good
AMAZING ADVENTURES (MARVEL) (1970) #14 Good
AMAZING ADVENTURES (MARVEL) (1970) #15 Good
AMAZING ADVENTURES (MARVEL) (1970) #16 Fine
AMAZING ADVENTURES (MARVEL) (1970) #17 Very Good

ANNIHILATION (MARVEL) (2006) #3 Fine
ANNIHILATION (MARVEL) (2006) #4 Very Fine
ANNIHILATION (MARVEL) (2006) #5 Very Fine
ANNIHILATION (MARVEL) (2006) #6 Fine

ANNIHILATION CONQUEST (MARVEL) (2007) #3 Very Fine
ANNIHILATION CONQUEST (MARVEL) (2007) #4 Very Fine
ANNIHILATION CONQUEST (MARVEL) (2007) #5 Fine
ANNIHILATION CONQUEST (MARVEL) (2007) #6 Fine

ANNIHILATION: RONAN THE ACCUSER (MARVEL) (2006) #3 Fine
ANNIHILATION: RONAN THE ACCUSER (MARVEL) (2006) #4 Fine

ANNIHILATION: SILVER SURFER (MARVEL) (2006) #1 Fine
ANNIHILATION: SILVER SURFER (MARVEL) (2006) #3 Very Good
ANNIHILATION: SILVER SURFER (MARVEL) (2006) #4 Fine

BIG HERO 6 (2008) #5 Fine

BLACK PANTHER VOL. 1: A NATION UNDER OUR FEET TPB (2016) #1 Near Mint/Mint

CAPTAIN MARVEL VOL. 1: RISE OF ALPHA FLIGHT TPB (2016) #1 Near Mint/Mint

DARTH VADER VOL. 2: SHADOWS & SECRETS (STAR WARS) (2016) #1 Near Mint/Mint

DEADPOOL & THE MERCS FOR MONEY VOL. 00: MERC MADNESS TP (2016) #1 Very Fine

DEADPOOL 2099 TPB (2017) #1 Near Mint/Mint

DRAX THE DESTROYER (2005) #4 Fine

DRAX VOL. 1: GALAXY'S BEST DETECTIVE TPB (2016) #1 Near Mint/Mint

ETERNALS BY JACK KIRBY HC (2006) #1 Near Mint/Mint

GUARDIANS OF THE GALAXY (2008) (#1-25) (MARVEL) #2 Fine
GUARDIANS OF THE GALAXY (2008) (#1-25) (MARVEL) #3 Very Fine
GUARDIANS OF THE GALAXY (2008) (#1-25) (MARVEL) #6 Fine
GUARDIANS OF THE GALAXY (2008) (#1-25) (MARVEL) #7 Fine
GUARDIANS OF THE GALAXY (2008) (#1-25) (MARVEL) #8 Very Fine
GUARDIANS OF THE GALAXY (2008) (#1-25) (MARVEL) #9 Fine
GUARDIANS OF THE GALAXY (2008) (#1-25) (MARVEL) #10 Very Fine
GUARDIANS OF THE GALAXY (2008) (#1-25) (MARVEL) #11 Fine
GUARDIANS OF THE GALAXY (2008) (#1-25) (MARVEL) #12 Very Fine
GUARDIANS OF THE GALAXY (2008) (#1-25) (MARVEL) #13 Fine
GUARDIANS OF THE GALAXY (2008) (#1-25) (MARVEL) #14 Fine
GUARDIANS OF THE GALAXY (2008) (#1-25) (MARVEL) #15 Fine
GUARDIANS OF THE GALAXY (2008) (#1-25) (MARVEL) #16 Fine

GUARDIANS OF THE GALAXY: GUARDIANS OF THE INFINITY TPB (2016) #1 Near Mint/Mint

GUARDIANS OF THE GALAXY: TALES OF THE COSMOS TPB (2016) #1 Near Mint/Mint

INFINITY GAUNTLET (1991) #1 Fine
INFINITY GAUNTLET (1991) #2 Fine
INFINITY GAUNTLET (1991) #3 Fine
INFINITY GAUNTLET (1991) #4 Fine
INFINITY GAUNTLET (1991) #4 NEWSSTAND Fair
INFINITY GAUNTLET (1991) #5 Good
INFINITY GAUNTLET (1991) #5 Fine

INFINITY GAUNTLET (1991) #6 Fine

KANAN: LAST PADAWAN VOL. 2: FIRST BLOOD TPB (2016) #1 Near Mint/Mint

LUKE CAGE: AVENGER TPB (2016) #1 Near Mint/Mint

MARVEL AGE (1983) #12 Very Fine

MARVEL SPOTLIGHT (1979) #6 Fine

MARVEL TEAM-UP (1972) #1 Good
MARVEL TEAM-UP (1972) #4 Fine
MARVEL TEAM-UP (1972) #9 Very Good
MARVEL TEAM-UP (1972) #95 Fine

MARVEL TWO-IN-ONE (1974) #5 Fine

MARVELS LIMITED EDITION HC #1 Near Mint/Mint

MILLIE THE MODEL (1945) #141 Good
MILLIE THE MODEL (1945) #181 Good
MILLIE THE MODEL (1945) #182 Good
MILLIE THE MODEL (1945) #186 Good
MILLIE THE MODEL (1945) #187 Good
MILLIE THE MODEL (1945) #188 Good

MOON GIRL & DEVIL DINOSAUR VOL. 1: BFF TPB (2016) #1 Near Mint/Mint

NOVA THE HUMAN ROCKET VOL. 1: BURN OUT TPB (2016) #1 Near Mint/Mint

PATSY WALKER, AKA HELLCAT VOL. 1: HOOKED ON FELINE TPB (2016) #1 Near Mint/Mint

ROCKET RACCOON & GROOT VOL. 1: TRICKS OF THE TRADE TPB (2016) #1 Near Mint/Mint

STAR WARS (2015) #34 MILE HIGH Near Mint/Mint

STAR WARS: DARTH VADER (2017) #4 ALBUQUERQU Near Mint/Mint

ULTIMATE SPIDER-MAN TPB #2 Very Good
ULTIMATE SPIDER-MAN TPB #3 Near Mint/Mint
ULTIMATE SPIDER-MAN TPB #4 Fine

ULTIMATE SPIDER-MAN TPB #5 Very Fine

DC
ADVENTURE COMICS (1938) #460 Fine
ADVENTURE COMICS (1938) #461 Fine
ADVENTURE COMICS (1938) #462 Fine

ADVENTURES OF JERRY LEWIS (1957) #124 Good

AQUAMAN (1962) (#1-63) (DC) #50 Good
AQUAMAN (1962) (#1-63) (DC) #51 Very Good
AQUAMAN (1962) (#1-63) (DC) #52 Very Good

ATOMIC KNIGHTS HC (DC) (MURPHY ANDERSON) (2010) #1 Near Mint/Mint

BATMAN & DRACULA: RED RAIN HC (1991) #1 Near Mint/Mint

BATMAN: BRUCE WAYNE - FUGITIVE TPB (2002) #3 3RD PRINT Very Good

BATMAN: CHILD OF DREAMS SC (2003) #1 Very Fine

BATMAN: DARK JOKER-THE WILD TPB (KELLY JONES) (1993) #1 Good

BATMAN: GOTHAM ADVENTURES (1998) #1 NEWSSTAND Very Good

BATMAN: KNIGHTFALL - BROKEN BAT TPB (KNIGHTFALL PART 1) (1993) #1 Very Good

BATMAN: NO MAN'S LAND TPB (BATGIRL) (1999) #5 5TH PRINT Near Mint/Mint

BATMAN: TALES OF THE DEMON TPB (NEAL ADAMS) (1991) #1 Very Good

BATMAN: THE KILLING JOKE (ALAN MOORE) (1988) #1 Fine

BATMAN: YEAR ONE DLX TPB (FRANK MILLER) (2005) #1 7TH PRINT Very Good

BRAVE AND THE BOLD (1955) #54 Very Good
BRAVE AND THE BOLD (1955) #60 Fine
BRAVE AND THE BOLD (1955) #79 Very Good
BRAVE AND THE BOLD (1955) #83 Very Good
BRAVE AND THE BOLD (1955) #86 Very Good


BRAVE AND THE BOLD (1955) #100

BRAVE AND THE BOLD (1955) #100 Very Good
BRAVE AND THE BOLD (1955) #101 Fine
BRAVE AND THE BOLD (1955) #113 Fine
BRAVE AND THE BOLD (1955) #114 Very Good

CHALLENGERS OF THE UNKNOWN (1958) #74 Fine

DARING ADVENTURES OF SUPERGIRL TPB (2016) #2 Near Mint/Mint

FOREVER PEOPLE (1971) #9 Fine
FOREVER PEOPLE (1971) #10 Fine

GREATEST BATMAN STORIES EVER TOLD #1 VARIANT Very Fine

GREEN LANTERN (1960) (#1-224) (DC) #83 Fine

GREEN LANTERN ARCHIVES HC #1 Fine
GREEN LANTERN ARCHIVES HC #2 Very Fine
GREEN LANTERN ARCHIVES HC #3 Fine
GREEN LANTERN ARCHIVES HC #4 Near Mint/Mint
GREEN LANTERN ARCHIVES HC #5 Near Mint/Mint
GREEN LANTERN ARCHIVES HC #6 Very Fine

GREEN LANTERN: FEAR ITSELF SC (1999) #1 Near Mint/Mint

HAL JORDAN & THE GREEN LANTERN CORPS TPB (REBIRTH) (2017) #3 Near Mint/Mint

JUSTICE LEAGUE OF AMERICA (1960) (#1-261) (DC) #94 Fine

KAMANDI (1972) #1 Good
KAMANDI (1972) #2 Fine
KAMANDI (1972) #5 Very Good
KAMANDI (1972) #7 Fine
KAMANDI (1972) #24 Very Fine
KAMANDI (1972) #25 Very Fine
KAMANDI (1972) #29 Fine

KAMANDI (1972) #32 Fine

KAMANDI ARCHIVES HC (2005) #1 Near Mint/Mint
KAMANDI ARCHIVES HC (2005) #2 Very Fine

LOIS LANE (1958) #60 Very Good
LOIS LANE (1958) #68 Good
LOIS LANE (1958) #77 Good
LOIS LANE (1958) #79 Good
LOIS LANE (1958) #93 Good
LOIS LANE (1958) #95 Good
LOIS LANE (1958) #97 Very Good
LOIS LANE (1958) #102 Very Good
LOIS LANE (1958) #103 Fine
LOIS LANE (1958) #111 Very Good
LOIS LANE (1958) #113 Fine
LOIS LANE (1958) #114 Fine
LOIS LANE (1958) #115 Fine
LOIS LANE (1958) #116 Very Good
LOIS LANE (1958) #118 Very Good
LOIS LANE (1958) #119 Very Good
LOIS LANE (1958) #120 Very Good
LOIS LANE (1958) #122 Very Good
LOIS LANE (1958) #123 Very Good
LOIS LANE (1958) #128 Very Good
LOIS LANE (1958) #133 Fine
LOIS LANE (1958) #136 Fine

LOIS LANE ANNUAL (1962) #2 Fair

METAL MEN (1963) #40 Good

METAL MEN ARCHIVES HC (2006) #1 Near Mint/Mint
METAL MEN ARCHIVES HC (2006) #2 Very Fine

PREACHER: ALL HELL'S A COMING TPB (VOL. 8) #1 8TH PRINT (DC: Vertigo Press) Very Fine

SANDMAN BY JOE SIMON AND JACK KIRBY HC (2009) #1 Near Mint/Mint

STRANGE ADVENTURES (1950) #205 Very Good
STRANGE ADVENTURES (1950) #206 Very Good
STRANGE ADVENTURES (1950) #207 Fair


STRANGE ADVENTURES (1950) #208

STRANGE ADVENTURES (1950) #208 Fair
STRANGE ADVENTURES (1950) #209 Good
STRANGE ADVENTURES (1950) #210 Fair
STRANGE ADVENTURES (1950) #211 Fair
STRANGE ADVENTURES (1950) #212 Good
STRANGE ADVENTURES (1950) #213 Very Good
STRANGE ADVENTURES (1950) #214 Very Good
STRANGE ADVENTURES (1950) #215 Good
STRANGE ADVENTURES (1950) #216 Good

TEEN TITANS (1966) (#1-53) (DC) #2 Fine
TEEN TITANS (1966) (#1-53) (DC) #4 Very Good
TEEN TITANS (1966) (#1-53) (DC) #6 Fine
TEEN TITANS (1966) (#1-53) (DC) #7 Very Good
TEEN TITANS (1966) (#1-53) (DC) #8 Fine
TEEN TITANS (1966) (#1-53) (DC) #9 Very Good
TEEN TITANS (1966) (#1-53) (DC) #10 Fine
TEEN TITANS (1966) (#1-53) (DC) #11 Very Good
TEEN TITANS (1966) (#1-53) (DC) #12 Fine
TEEN TITANS (1966) (#1-53) (DC) #13 Very Good
TEEN TITANS (1966) (#1-53) (DC) #14 Very Good
TEEN TITANS (1966) (#1-53) (DC) #15 Fine
TEEN TITANS (1966) (#1-53) (DC) #16 Fine
TEEN TITANS (1966) (#1-53) (DC) #17 Very Good
TEEN TITANS (1966) (#1-53) (DC) #18 Good
TEEN TITANS (1966) (#1-53) (DC) #19 Very Good
TEEN TITANS (1966) (#1-53) (DC) #20 Very Good

TEEN TITANS (1980) (#1-91) (DC) #1 NEWSSTAND Very Fine
TEEN TITANS (1980) (#1-91) (DC) #2 NEWSSTAND Fine

TEEN TITANS: EARTH ONE TPB (2015) #2 Near Mint/Mint

Y-THE LAST MAN TPB (2014) #2 (DC: Vertigo Press) Near Mint/Mint

DARK HORSE COMICS
DEAD INSIDE TPB (2017) #1 Near Mint/Mint

GHOST STORIES TPB #1 2ND PRINT Very Fine

GHOST: NOCTURNES TPB #1 Very Fine

NEXUS ARCHIVES HC (2005) #1 Fine

STAR WARS: LEGACY TPB (2006) #5 Fine

STAR WARS: LEGACY VOL.10: EXTREMES TPB (2010) #1 Near Mint/Mint

IMAGE COMICS
ARTIFACTS (IMAGE TOPCOW) (2010) #9 D (Image Top Cow) Very Fine
ARTIFACTS (IMAGE TOPCOW) (2010) #10 C (Image Top Cow) Near Mint/Mint

DARKNESS: FOUR HORSEMEN (2010) #3 B (Image Top Cow) Near Mint/Mint
DARKNESS: FOUR HORSEMEN (2010) #4 B (Image Top Cow) Very Fine

HACK SLASH: MY FIRST MANIAC TPB (2011) #1 Near Mint/Mint

SAGA TPB (2012) #1 3RD PRINT Near Mint/Mint

SHELTERED TPB (2013) #2 Near Mint/Mint
SHELTERED TPB (2013) #3 Near Mint/Mint

UNTOUCHABLES TPB (2006) #1 Fine

INDEPENDENTS
BAKER STREET TPB (CALIBER PRESS) #1 (Caliber Press) Fine

BIONIC MAN (DYNAMITE) (2011) #2 ROSS NEGAT (DYNAMITE Entertainment) Near Mint/Mint

CHILLING ADVENTURES IN SORCERY (1972) #1 (Archie Comics) Very Good

DOONESBURY BOOK: CHECK YOUR EGO AT THE DOOR COLLECTION (1985) #1 2ND PRINT (Owl Book) Very Fine

DUMPED GN (2002) #1 (Oni Press Inc.) Very Fine

GAME OF THRONES: CLASH OF KINGS (2017) #1 DFEMILLVIR (DYNAMITE Entertainment) Near Mint/Mint

GO GO POWER RANGERS (2017) #1 MORA (Boom Studios Publishing) Near Mint/Mint

GREEN HORNET (2010) #4 ROSS VIRGN (DYNAMITE Entertainment) Very Fine

GREEN HORNET: YEAR ONE (2010) #2 CASS NEGAT (DYNAMITE Entertainment) Near Mint/Mint
GREEN HORNET: YEAR ONE (2010) #3 CASS NEGAT (DYNAMITE Entertainment) Very Fine


GRIMM FAIRY TALES: NO TOMORROW TPB (2013) #1

GRIMM FAIRY TALES: NO TOMORROW TPB (2013) #1 (Zenescope Entertainment Inc) Near Mint/Mint

GRIMM FAIRY TALES: REALM WAR TPB (2015) #1 (Zenescope Entertainment Inc) Near Mint/Mint

GRIMM FAIRY TALES: RETURN TO WONDERLAND TPB (2009) #1 (Zenescope Entertainment Inc) Near Mint/Mint

GRIMM FAIRY TALES: UNLEASHED TPB (2013) #2 (Zenescope Entertainment Inc) Near Mint/Mint

GRIMM FAIRY TALES: VAMPIRES & WEREWOLVES TPB (2013) #1 (Zenescope Entertainment Inc) Near Mint/Mint

GRIMM FAIRY TALES: WONDERLAND - DOWN THE RABBIT HOLE SC (2013) #1 (Zenescope Entertainment Inc) Near Mint/Mint

GRIMM FAIRY TALES: WONDERLAND TPB (2013) #2 (Zenescope Entertainment Inc) Near Mint/Mint
GRIMM FAIRY TALES: WONDERLAND TPB (2013) #3 (Zenescope Entertainment Inc) Near Mint/Mint

GRIMM FAIRY TALES: ZOMBIES & DEMONS TPB (2013) #1 (Zenescope Entertainment Inc) Near Mint/Mint

JAR OF FOOLS TPB #2 (Black Eye) Near Mint/Mint

JENNIFER BLOOD (2011) #3 BRADVIRGIN (DYNAMITE Entertainment) Near Mint/Mint

KATO (2010) #7 GARZA B&W (DYNAMITE Entertainment) Near Mint/Mint

KIRBY: GENESIS (2011) #1 RENAUD B&W (DYNAMITE Entertainment) Near Mint/Mint
KIRBY: GENESIS (2011) #1 SOOK B&W (DYNAMITE Entertainment) Very Fine

LOCKE & KEY: HEAVEN & EARTH HC (2017) #1 DELUXE (IDW Publishing) Near Mint/Mint

LOVE IS LOVE TPB (2016) #1 (IDW Publishing) Near Mint/Mint

LOVELESS: A KIN OF HOMECOMING TPB (VOL. 1) (2006) #1 (DC: Vertigo Press) Fine

MAGIC WHISTLE (1997) #14 (Fantagraphics) Near Mint/Mint

REPLICA TPB (2016) #1 (After-Shock Comics) Near Mint/Mint


ROBYN HOOD VOL. 2: WANTED TPB (2013) #1

ROBYN HOOD VOL. 2: WANTED TPB (2013) #1 (Zenescope Entertainment Inc) Near Mint/Mint

SH*T MY PRESIDENT SAYS: ILLUSTRATED TWEETS HC (2017) #1 (IDW Publishing) Near Mint/Mint

SHEENA (2017) #0 B MORITAT (DYNAMITE Entertainment) Near Mint/Mint
SHEENA (2017) #0 C SOOK (DYNAMITE Entertainment) Near Mint/Mint
SHEENA (2017) #0 D CAMPBELL (DYNAMITE Entertainment) Near Mint/Mint

SQUEE TPB (2014) #1 2016 (Slave Labor Graphics) Near Mint/Mint

VIKINGS: UPRISING TPB (2017) #1 (Titan Distributing) Near Mint/Mint

ZOMBIE TRAMP (VOL. 2) TPB (2014) #1 (Action Lab Entertainment) Near Mint/Mint