Scarce Marvel Comics Variants and 500 Archie Digests On Sale
Howdy!
Today's newsletter is coming to you from sunny Santa Fe, where for the first time in three years I am being able to indulge my beloved wife, Nanette, with a short vacation. If you have been following my newsletter for a while you may remember that Nanette became very ill with the intestinal ailment C. diff. two years ago. After dropping to only 113 lbs, and requiring a fecal replacement transplant, Nanette finally managed to (mostly) recover from that potentially fatal antibiotic-resistant bacterium.
If suffering from C. diff. wasn't bad enough, nearly a year being sick from that illness then contributed to the muscle weakness and loss of balance that caused Nanette to fall at our farm early last year, and break her arm in two places. It took her six months to recover from her arm injury, at which time she agreed last winter to have her long-delayed hip-replacement surgery. Recovery from that surgery was much slower than anticipated, in all probability because her immune system was still being affected by the long-term consequences of her C. diff. illness. At long last, however, Nanette felt well enough a month ago to ask me to take her to Feast Day at Santa Clara Pueblo (August 12th), to view the sacred dances. How could I possibly say no?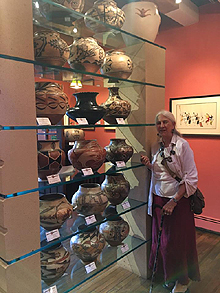 Nanette looking at some very rare Native American Pottery

In any event, we have been tucked away in a small Route 66 motel in Santa Fe this week, visiting with friends who live in this area, and reading good books. I have also been researching extensively online to facilitate writing my upcoming graphic novel about the impact of Harvey Milk's legacy on today's world. The general outline of the graphic novel is now done, and at 3 AM this morning I awoke and began writing my concept for our protagonist, and the first chapter. I will be driving down to Albuquerque this afternoon to meet with a couple of friends who I will be including in the book and taking photos of the location where the opening sequences of the story takes place. Finally being able to bring this book to fruition is great!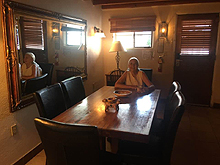 Nanette enjoying morning coffee

While I am occupied with working on my graphic novel and cosseting Nanette, our crack Mile High Comics team led by Will Moulton, Lynne MacAfee, and Pam Brandle, have been shipping orders steadily, and adding even more comics for you into our website selections. So you know, Will added a slew of rare variants into Premium New-In-Stock over the past couple of days, while Pam purchased a small collection of Golden Age. They are both also working on grading and adding 500 various ARCHIE digest titles, many of which are so scarce that we have not had even a single copy in stock for five years, or more.
All of the above having been said, if you are looking to build your collection right now, you truly should be keeping a eye every day on our New-In-Stock and Premium New-In-Stock updates. With back-to-school now in full swing, we are seeing an astounding number of people flooding into Jason St. with all sorts of collections for sale. Business has been fantastic at the Mega-Store this summer, so we are not turning away any of these deals, as long as they are priced so that we can afford to discount them for you.
In a nutshell, that is why I still have our 40% off SANTAFE! codeword in effect for you on all of our back issue comics and magazines. We are getting great deals on many scarce back issues right now, and I am passing those savings directly on to you. As per usual, the sale excludes new issues, a few variants, and our slabbed issues, but that is a tiny number of issues as compared with the ten million+ that are available to you at the 40% off provided by SANTAFE! Please do enjoy these great savings with our sincere thanks for your continuing support of Mile High Comics.
Happy collecting!
Chuck Rozanski,
President - Mile High Comics, Inc.
August 9, 2017