Special Comics Variants Sale
WALKING DEAD #168
Howdy!
I just came back from the Food Bank of the Rockies, where I helped "Feeding Denver's Hungry" founder, Jim Scharper, load over 6,000 lbs of food into a packed 24-foot U-Haul. We will be distributing this huge amount of food tomorrow morning to the elderly, disabled, and poor in lower downtown Denver. I mention this effort specifically because I want those of you who contributed during our Free Comic Book Day promotion to know that it is your funding that paid the Food Bank for this food delivery, and will also probably pay for our next five weekly truckloads. Thank you for your kind contributions!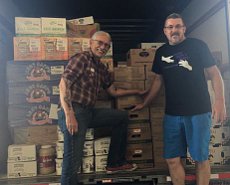 Chuck & Jim in the back of the 24-foot U-Haul

In other news, the first two of the Image Comics Pride variants (WALKING DEAD #168 and DIVIDED STATES OF HYSTERIA #1) released today. As I predicted, the WALKING DEAD #168 Pride variant selling briskly in our stores, and is already commanding double cover price on eBay with prices trending upwards quickly. That immediate prices escalation is because these Pride variants were not advance solicited in DIAMOND PREVIEWS, so quite a few comics shops failed to order any copies. Our online price is at $4.99 per copy today, but I cannot guarantee that it will remain at that point indefinitely. Even if you are ambivalent about the Pride theme to the covers, I highly recommend that you pick up all 11 of these variants, as I believe that they are going to be quite collectible in years to come.

WALKING DEAD #168 Pride variant


DIVIDED STATES OF HYSTERIA #1 Pride variant

In other news, our 40% off SUMMER! codeword sale remains in effect for you on all ten million of our back issue comics and magazines. Only new issues, a few variants, and our professionally graded comics are excluded. The 40% discount does, however, apply to nearly all of the issues that Will and Pam loaded into New-In-Stock and Premium New-In-Stock for you this week.
I am now going to turn today's newsletter over to Will Moulton, as he has a prodigious listing of new comics variants to offer you that he just listed on Monday. While this list is extremely long, please bear in mind that we typically only have one, or two, copies in stock of any given variant.
Happy collecting!
Chuck Rozanski,
President - Mile High Comics, Inc.
June 7, 2017

Scarce Newly Arrived Variant Editions:
MARVEL
ALL-NEW GUARDIANS OF THE GALAXY (2017) #1 KUDER Near Mint/Mint


ALL-NEW GUARDIANS OF THE GALAXY (2017) #1 YU

ALL-NEW GUARDIANS OF THE GALAXY (2017) #1 YU Near Mint/Mint
ALL-NEW WOLVERINE (2015) #20 CHEN Near Mint/Mint
AMERICA (2017) (#1-UP) (MARVEL) (AMERICA CHAVEZ) #2 ADAMS Near Mint/Mint
AMERICA (2017) (#1-UP) (MARVEL) (AMERICA CHAVEZ) #3 VILLALOBOS Near Mint/Mint
AMERICA (2017) (#1-UP) (MARVEL) (AMERICA CHAVEZ) #3 MOORE Very Fine
AMERICA (2017) (#1-UP) (MARVEL) (AMERICA CHAVEZ) #3 VILLALOBOS Very Fine
BEN REILLY: SCARLET SPIDER (2017) #1 LAND Near Mint/Mint
BEN REILLY: SCARLET SPIDER (2017) #1 CAMPBELL Near Mint/Mint
BEN REILLY: SCARLET SPIDER (2017) #1 LAND Very Fine
BEN REILLY: SCARLET SPIDER (2017) #1 LYLE Near Mint/Mint
BLACK BOLT (2017) #1 GUICE Near Mint/Mint
BLACK BOLT (2017) #1 POPE Near Mint/Mint
BLACK PANTHER & THE CREW (2017) #1 BUCKLER Near Mint/Mint


BLACK PANTHER & THE CREW (2017) #1 SCOTT

BLACK PANTHER & THE CREW (2017) #1 SCOTT Near Mint/Mint
BLACK PANTHER & THE CREW (2017) #2 DEL MUNDO Near Mint/Mint
BLACK PANTHER (2016) (#1-UP) (MARVEL) #13 ANKA Near Mint/Mint
BLACK PANTHER: WORLD OF WAKANDA (2016) #6 VELLUTO Near Mint/Mint
DEADPOOL (2016) (#1-UP) (MARVEL) #30 LIM Very Fine
DEADPOOL VS. PUNISHER (2017) #2 CHAYKIN Near Mint/Mint
DEADPOOL VS. PUNISHER (2017) #2 CHAYKIN Very Fine
GENERATION X (2017) (#1-UP) (MARVEL) #1 RAHZZAH Near Mint/Mint
GUARDIANS OF THE GALAXY: MISSION BREAKOUT (2017) #1 RUBIO Near Mint/Mint
GUARDIANS OF THE GALAXY: MOTHER ENTROPY (2017) #1 MORA Near Mint/Mint
IRON FIST (2017) (#1-UP) (MARVEL) #3 JONES Near Mint/Mint
IRON FIST (2017) (#1-UP) (MARVEL) #3 DAVIS Near Mint/Mint
IRON FIST (2017) (#1-UP) (MARVEL) #3 JONES Very Good

JEAN GREY (2017) #1 HANS Near Mint/Mint
JEAN GREY (2017) #1 SAUVAGE Near Mint/Mint
KINGPIN (2017) (#1-UP) (MARVEL) #3 PERKINS Near Mint/Mint
LUKE CAGE (2017) #1 DAVIS Near Mint/Mint
LUKE CAGE (2017) #1 DEODATO Near Mint/Mint
LUKE CAGE (2017) #1 NEAL ADAMS Near Mint/Mint
MONSTERS UNLEASHED (2017) (#1-UP) (MARVEL) #1 BARBERI Near Mint/Mint
MONSTERS UNLEASHED (2017) (#1-UP) (MARVEL) #1 SILVA Near Mint/Mint
MONSTERS UNLEASHED (2017) (#1-UP) (MARVEL) #1 BARBERI Very Fine
MONSTERS UNLEASHED (2017) (#1-UP) (MARVEL) #1 SILVA Very Fine
MONSTERS UNLEASHED (2017) (#1-UP) (MARVEL) #2 NAKAYAMA Near Mint/Mint
NICK FURY (2017) #1 STROMAN Near Mint/Mint
NICK FURY (2017) #2 RUDY Near Mint/Mint
OLD MAN LOGAN (2016) #21 LAND Near Mint/Mint

OLD MAN LOGAN (2016) #22 LAND Near Mint/Mint
OLD MAN LOGAN (2016) #22 LAND Very Fine
OLD MAN LOGAN (2016) #22 STEVENS Near Mint/Mint
POWERS (2015) #8 MACK Near Mint/Mint
ROCKET (ROCKET RACCOON) (2017) #1 ANIMATION Near Mint/Mint
ROCKET (ROCKET RACCOON) (2017) #1 BRADSTREET Near Mint/Mint
ROCKET (ROCKET RACCOON) (2017) #1 JUSKO Near Mint/Mint
ROCKET (ROCKET RACCOON) (2017) #1 MOVIEPHOTO Near Mint/Mint
ROYALS (INHUMANS) (2017) #2 GRANOV Near Mint/Mint
ROYALS (INHUMANS) (2017) #3 MCGUINNESS Near Mint/Mint
SECRET EMPIRE (2017) #0 FRENZ Near Mint/Mint
SECRET EMPIRE (2017) #0 REIS Near Mint/Mint


SECRET EMPIRE (2017) #1 GRANOV

SECRET EMPIRE (2017) #1 GRANOV Near Mint/Mint
SECRET EMPIRE (2017) #1 CAMPBELL Near Mint/Mint
SECRET EMPIRE (2017) #1 GRANOV Very Fine
SECRET EMPIRE (2017) #2 CAMPBELL Near Mint/Mint
SECRET EMPIRE (2017) #2 CAMPBELL Very Fine
SECRET WARRIORS (2017) (#1-UP) (MARVEL) #1 NAKAYAMA Near Mint/Mint
SECRET WARRIORS (2017) (#1-UP) (MARVEL) #1 RODRIGUEZ Near Mint/Mint
STAR WARS: DOCTOR APHRA (2016) #6 LOPEZ Near Mint/Mint
STAR WARS: SCREAMING CITADEL (2017) #1 SAMNEE Near Mint/Mint
STAR WARS: SCREAMING CITADEL (2017) #1 WALSH Near Mint/Mint
WEAPON X (2017) (#1-UP) (MARVEL) #1 KIRK Near Mint/Mint
WEAPON X (2017) (#1-UP) (MARVEL) #2 CANETE Near Mint/Mint
X 23 (2005) #1 VARIANT Near Mint/Mint
X-MEN BLUE (2017) #1 KIRK Near Mint/Mint
X-MEN BLUE (2017) #1 KIRK Very Fine
X-MEN BLUE (2017) #1 KIRBY Near Mint/Mint
X-MEN BLUE (2017) #1 MARTIN Near Mint/Mint
X-MEN BLUE (2017) #1 NEAL ADAMS Near Mint/Mint
X-MEN BLUE (2017) #2 RAMOS Near Mint/Mint
X-MEN BLUE (2017) #3 MORA Near Mint/Mint

X-MEN GOLD (2017) #2 GRANOV Near Mint/Mint
X-MEN GOLD (2017) #3 CAMPBELL Near Mint/Mint
X-MEN GOLD (2017) #4 MARQUEZ Near Mint/Mint
X-MEN GOLD (2017) #4 MARQUEZ Fine

DC
WONDER WOMAN (2011) (#0-52) (DC NEW52) #5 VARIANT Near Mint/Mint
WONDER WOMAN (2011) (#0-52) (DC NEW52) #5 VARIANT Very Fine
WONDER WOMAN (2011) (#0-52) (DC NEW52) #6 VARIANT Near Mint/Mint
WONDER WOMAN (2011) (#0-52) (DC NEW52) #7 VARIANT Near Mint/Mint
WONDER WOMAN (2011) (#0-52) (DC NEW52) #7 VARIANT Very Fine

IMAGE COMICS
ROSE (2017) #1 C GUARGOLD Near Mint/Mint
SPAWN: THANKS RETAILER APPRECIATION VARIANT (2017) #1 Near Mint/Mint


YOUNGBLOOD (2017) (#1-UP) (IMAGE) #1 E TOWEGOLD

YOUNGBLOOD (2017) (#1-UP) (IMAGE) #1 E TOWEGOLD Very Fine

INDEPENDENTS
ALL NEW FATHOM (2017) #4 E BAZALDUA (Aspen) Near Mint/Mint
BRITANNIA: WE WHO (2017) #2 D GORHAM (Valiant Comics) Near Mint/Mint
DUCK AVENGER (2016) #4 INCENTIVE (IDW Publishing) Near Mint/Mint
ETERNAL WARRIOR: AWAKENING (2017) #1 E VEREGGE (Valiant Comics) Near Mint/Mint
GREATEST ADVENTURE (2017) #1 F NORD B&W (DYNAMITE Entertainment) Fine
GREATEST ADVENTURE (2017) #2 F CASTRB&W (DYNAMITE Entertainment) Very Fine
GREATEST ADVENTURE (2017) #2 E ZIRCHB&W (DYNAMITE Entertainment) Fine
GREATEST ADVENTURE (2017) #2 F CASTRB&W (DYNAMITE Entertainment) Fine
GRIMM FAIRY TALES FREE COMIC BOOK DAY (2017) #1 B RUIZ (Zenescope Entertainment Inc) Near Mint/Mint
GRIMM FAIRY TALES FREE COMIC BOOK DAY (2017) #1 C RUIZFOIL (Zenescope Entertainment Inc) Near Mint/Mint
IMMORTAL BROTHERS: TALE OF THE GREEN KNIGHT (2017) #1 D DRAGUNA (Valiant Comics) Near Mint/Mint
JAMES BOND (2017) (#1-UP) (DYNAMITE) #3 F REARDVIR (DYNAMITE Entertainment) Fine


JAMES BOND (2017) (#1-UP) (DYNAMITE) #3 E ZIRCHB&W

JAMES BOND (2017) (#1-UP) (DYNAMITE) #3 E ZIRCHB&W (DYNAMITE Entertainment) Near Mint/Mint
JAMES BOND (2017) (#1-UP) (DYNAMITE) #3 F REARDVIR (DYNAMITE Entertainment) Very Good
JOHN CARTER: THE END (2017) #3 D DOE VIRG (DYNAMITE Entertainment) Very Fine
JOHN CARTER: THE END (2017) #4 D DOE VIRG (DYNAMITE Entertainment) Very Fine
KISS (2016) #7 F PHOTOVIR (DYNAMITE Entertainment) Very Fine
KISS: DEMON (2017) #4 F MANDRB&W (DYNAMITE Entertainment) Near Mint/Mint
MICRONAUTS: WRATH OF KARZA (2017) #1 INC C (IDW Publishing) Near Mint/Mint
NINJAK (2015) #27 D PARENT (Valiant Comics) Very Fine
NO WORLD (2017) #1 E CALDWELL (Aspen) Near Mint/Mint
PLANET OF THE APES/GREEN LANTERN (2017) #3 MASSAFERA (Boom Studios Publishing) Near Mint/Mint


PLANET OF THE APES/GREEN LANTERN (2017) #3 RIVOCHE

PLANET OF THE APES/GREEN LANTERN (2017) #3 RIVOCHE (Boom Studios Publishing) Near Mint/Mint
PLANET OF THE APES/GREEN LANTERN (2017) #4 RIVOCHE (Boom Studios Publishing) Near Mint/Mint
PROJECT SUPERPOWERS: HERO KILLERS (2017) #1 E SUDZUB&W (DYNAMITE Entertainment) Very Fine
RED SONJA (2017) (#0-UP) (DYNAMITE) #4 G MCKONB&W (DYNAMITE Entertainment) Near Mint/Mint
RED SONJA (2017) (#0-UP) (DYNAMITE) #4 H RUBI B&W (DYNAMITE Entertainment) Near Mint/Mint
RED SONJA (2017) (#0-UP) (DYNAMITE) #5 G MCKONB&W (DYNAMITE Entertainment) Near Mint/Mint
RED SONJA (2017) (#0-UP) (DYNAMITE) #5 H RUBI B&W (DYNAMITE Entertainment) Near Mint/Mint
RED SONJA (2017) (#0-UP) (DYNAMITE) #5 G MCKONB&W (DYNAMITE Entertainment) Very Fine
RED SONJA (2017) (#0-UP) (DYNAMITE) #5 H RUBI B&W (DYNAMITE Entertainment) Very Fine
SOVEREIGNS (2017) #1 G TAN B&W (DYNAMITE Entertainment) Very Fine


SOVEREIGNS (2017) #1 H SUDZUB&W

SOVEREIGNS (2017) #1 H SUDZUB&W (DYNAMITE Entertainment) Fine
STAR TREK: BOLDLY GO (2016) #7 INC B (IDW Publishing) Very Fine
STAR TREK: THE NEXT GENERATION - MIRROR BROKEN (2017) #1 INC A (IDW Publishing) Near Mint/Mint
STAR TREK: THE NEXT GENERATION - MIRROR BROKEN (2017) #1 INC A (IDW Publishing) Very Fine
STAR TREK: THE NEXT GENERATION - MIRROR BROKEN (2017) #1 INC B (IDW Publishing) Very Fine
VAMPIRELLA (2017) #2 F TAN B&W (DYNAMITE Entertainment) Near Mint/Mint
VAMPIRELLA (2017) #2 G BROXTB&W (DYNAMITE Entertainment) Near Mint/Mint
WONDER WOMAN '77/BIONIC WOMAN (2016) #4 D SIENKVIR (DYNAMITE Entertainment) Near Mint/Mint
WWE (2017) #4 FOIL PARTY (Boom Studios Publishing) Near Mint/Mint


X-FILES: FUNKO UNIVERSE (2017) #1 INCENTIVE

X-FILES: FUNKO UNIVERSE (2017) #1 INCENTIVE (IDW Publishing) Near Mint/Mint