Deadpool Variant Comics plus more Silver Age
Howdy!
After the huge success of AVENGERS: INFINITY WAR and BLACK PANTHER we are just sitting on top of the world right now here at Mile High Comics. Try as we might, we seemingly cannot stock items related to those two incredibly popular films fast enough. With DEADPOOL 2 officially opening this Friday, it is looking like this spring is going to be all about a Marvel Comics movie trifecta. With sales at our Jason St. Mega-Store up an incredible 79%! over last May, we are busier than ever. Suffice it to say, this is a great time to be in the comics business!
Speaking of DEADPOOL 2, we have a slew of DEADPOOL books and comics in stock right now, with all kinds of ephemera arriving on Thursday. I highly recommend ordering DEADPOOL items in advance of the movie's release, as we always experience a surge in demand immediately after release. This is particularly true as regards our exclusive Mile High Comics DEADPOOL variant editions, as we are starting to run low on them, as we only printed 3,000 of each. 'Nuff said.

DEADPOOL (2013) #30 Mile High Comics Exclusive


DEADPOOL (2013) #30 Signed & Numbered Mile High Comics Exclusive


DEADPOOL (2016) #1 Mile High Comics Exclusive


DEADPOOL (2016) #2 Mile High Comics Exclusive


DEADPOOL ANNUAL (2013) #1 Mile High Comics Exclusive


DEADPOOL KILLS DEADPOOL (2013) #1 Mile High Comics Exclusive

In other news, our head comics buyer, Will Moulton, is continuing to grade issues from the collection of 4,000+ Silver Age and Bronze Age Marvel comics that he purchased last week. This collection contains many high grade issues because it was put together by a single owner who purchased many of his issues off the racks during the 1970's and 1980's, read them once, and then put them away. If you are looking for older Marvel issues in higher grades, I recommend keeping an eye on our Premium New-In-Stock update when it is posted each day. Will generally has it available at about 11 AM Mountain Time Zone.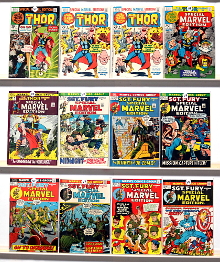 Some of the SPECIAL MARVEL EDITION comics from the Single owner Collection

In closing, I did also want to remind everyone that we have a 40% off PATIENCE! codeword in effect for you right now on all ten million of our back issue comics and magazines. The PATIENCE! discount applies to all of our back issues in Premium New-In-Stock except new issues, a few variants, and our professionally graded comics. Lynne is within days of catching up our shipping, so PATIENCE! will be ending soon. Free shipping is also still available on Domestic back issue comics orders over $50, and International back issue comics and magazines orders over $125.
Happy collecting!
Chuck Rozanski,
President - Mile High Comics, Inc.
May 14, 2018