Local News - Free Comic Book Day Sale Starts Thursday!
Howdy!
So we are now only three days away from Free Comic Book Day. We have decided to start our FCBD store sale on Thursday May 3rd. The sale will run through Saturday May 5th at all our store locations. Below is the FCBD Sale:
*50% OFF BACK ISSUE COMICS & MAGAZINE! (Excludes Blue Sticker, Graded, and $1 books)*
*30% OFF TRADE PAPERBACKS!*
*30% OFF HARDCOVERS!*
*30% OFF T-SHIRTS & APPAREL! (Excludes Mile High Comics shirts and jackets)*
*30% OFF POSTERS!*
*30% OFF ACTION FIGURE & TOYS!*
*30% OFF STATUES!*

One of the main reasons we are starting the Store Sale early is we are getting a lot of feedback that some customers will be out of town this weekend. Another reason is some customers just want to shop without the huge crowds we are expecting. So we decided why not start the sale a little early. Important note, we will ONLY be giving away the Free Comic Book Day Variants on Saturday May 5th.
On Saturday we will have three Mile High Comics exclusives for this year's Free Comic Book Day. All three of these exclusives can be yours at absolutely no charge if you come to any of our three stores on May 5th, 2018. While our exclusives are completely free on Saturday, they will be priced at $14.95 each after FCBD is over, so please pick them up while they cost you nothing!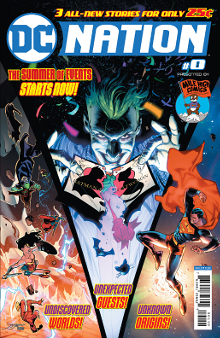 DC NATION #0 Mile High Comics Exclusives


AMAZING SPIDER-MAN Mile High Comics Exclusives


AVENGERS Mile High Comics Exclusives

As regards how you can pick up our variants at no charge, anyone visiting one of our Mile High Comics retail stores on May 5th can pick up any three of this year's FCBD editions entirely for free. This free comics offer includes our three exclusive Mile High Comics variants, plus any of the standard 52 different FCBD editions. We will then be rewarding everyone who shops with us with another FCBD coupon for each $10 spent at any of our stores. Each coupon is good for 1 more FCBD Variant of your choosing on May 5th.
Happy collecting!
Chuck Rozanski,
President - Mile High Comics, Inc.
May 2, 2018

P.S. Here is the complete list of all 54 FCBD variant editions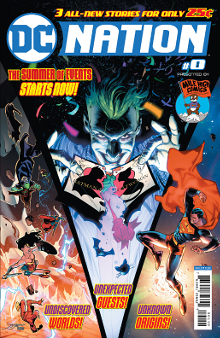 DC NATION #0 Mile High Comics Exclusives


2000 A.D. REGENED FCBD (2018) #1


ADVENTURE TIME: FIONNA & CAKE FREE COMIC BOOK DAY (2018) #1


AMAZING SPIDER-MAN FREE COMIC BOOK DAY (2018) #1


AMAZING SPIDER-MAN FREE COMIC BOOK DAY (2018) #1 MILE HIGH


AVENGERS/CAPTAIN AMERICA FLIPBOOK FREE COMIC BOOK DAY (2018) #1


AVENGERS/CAPTAIN AMERICA FLIPBOOK FREE COMIC BOOK DAY (2018) #1 MILE HIGH


BARRIER FREE COMIC BOOK DAY (2018) #1


BERLIN FREE COMIC BOOK DAY (2018) #1


BOB'S BURGERS FREE COMIC BOOK DAY (2018) #1


BONGO COMICS FREE FOR ALL FCBD (2018) #1


COMICS FRIENDS FOREVER FREE COMIC BOOK DAY (2018) #1


CRUSH FREE COMIC BOOK DAY (2018) #1


DC SUPER HERO GIRLS FREE COMIC BOOK DAY (2018) #1


DIE KITTY DIE: I LOVE YOU TO DEATH FREE COMIC BOOK DAY (2018)) #1


DISNEY PRINCESS FREE COMIC BOOK DAY (2018) #1


DOCTOR WHO FREE COMIC BOOK DAY (2018) #0


GHOST IN THE SHELL: GLOBAL NEURAL NETWORK FCBD (2018)) #1


HELP THE CBLDF DEFEND COMICS FCBD (2018) #1


HOWARD LOVECRAFT BIG BOOK OF SUMMER FUN FCBD (2018) #1


INVADER ZIM FREE COMIC BOOK DAY (2018) #1


INVASION FREE COMIC BOOK DAY (2018) #1


JAMES BOND: VARGR FREE COMIC BOOK DAY (2018) #1


LADY MECHANIKA FREE COMIC BOOK DAY (2018) #1


LEGEND OF KORRA FREE COMIC BOOK DAY (2018) #1


MALIKA: CREED & FURY FREE COMIC BOOK DAY (2018)) #1


MALL FREE COMIC BOOK DAY (2018) #0


MAXWELL'S DEMONS FREE COMIC BOOK DAY (2018) #1


METABARON BOOK 3: META-GUARDIANESS & THE TECHNO FCBD (2018) #1


MIGHTY MORPHIN POWER RANGERS: SHATTERED GRID FCBD (2018) #1


MIRACULOUS: ADVENTURES OF LADYBUG & CAT NOIR FCBD (2018) #1


MY HERO ACADEMIA FREE COMIC BOOK DAY (2018) #1


NIGHTMARE BEFORE CHRISTMAS: ZERO'S JOURNEY FCBD (2018) #0


ONLY LIVING BOY FREE COMIC BOOK DAY (2018) #1


OVERSTREET GUIDE TO COLLECTING FREE COMIC BOOK DAY (2018) #1


OVERWATCH FREE COMIC BOOK DAY (2018) #1


POKEMON: SUN & MOON FREE COMIC BOOK DAY (2018) #1


RELAY FREE COMIC BOOK DAY (2018) #0


RIVERDALE FREE COMIC BOOK DAY (2018) #1


SHADOW ROADS FREE COMIC BOOK DAY (2018) #1


SHADOWMAN FREE COMIC BOOK DAY (2018) #1


SILVER FREE COMIC BOOK DAY (2018) #1


SPARKS FREE COMIC BOOK DAY (2018) #1


SPONGEBOB FREESTYLE FUNNIES FCBD (2018) #1


STAR WARS ADVENTURES FREE COMIC BOOK DAY (2018) #1


STARBURNS PRESENTS FREE COMIC BOOK DAY (2018) #1


STRANGERS IN PARADISE XXV FREE COMIC BOOK DAY (2018) #1


STREET ANGEL'S DOG FREE COMIC BOOK DAY (2018) #1


TANK GIRL: A BRIEF HISTORY OF TANK GIRL FCBD (2018) #0


TRANSFORMERS: UNICRON FREE COMIC BOOK DAY (2018)) #0


ULTRA STREET FIGHTER II FREE COMIC BOOK DAY (2018) #1


WORLD'S GREATEST CARTOONISTS FREE COMIC BOOK DAY (2018) #1


WORMWORLD SAGA FREE COMIC BOOK DAY (2018) #1