Free Comic Book Day Variants Now Available For PreOrder
Howdy!
Today marks the beginning of one of our most popular annual events, Free Comic Book Day! Effective immediately with any $10 order that you place with us today, and through Saturday May 5th, you may request one of this year's Free Comic Book Day variant editions pictured at the end of this newsletter. Just put in the "notes" section of our order which FCBD variant(s) you would like. Your order will then be held until Monday, May 7th, as that is the first day that we are allowed to ship this year's FCBD variants.

AVENGERS Mile High Comics Exclusives

Included in our annual FCBD offer are our two Mile High Comics Marvel exclusives, AVENGERS and AMAZING SPIDER-MAN, and a DC NATION #0 exclusive, as well as all 52 of the standard 2018 FCBD variant editions. While our exclusives will be available to you totally for free from now through May 5th, I want you to know that we will be pricing any remaining copies of our MHC variants at a hefty $14.95 after FCBD ends. Our goal in raising the price is not to generate revenue, but rather to place a specific monetary value on our exclusive variants in the secondary market that always develops in FCBD variants after the event. Suffice it to say, I think that it greatly behooves you to pick up at least a couple of our Mile High Comics variants over the next ten days...

AMAZING SPIDER-MAN Mile High Comics Exclusives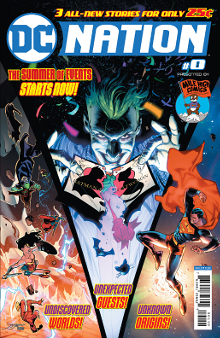 DC NATION #0 Mile High Comics Exclusives

I did also want to quickly mention that we are hosting one of our awesome Texas Hold'em poker tournaments this weekend, and also one of our incredibly generous no-minimum-bid auctions. The poker tournament is a benefit for the Matthew Shepard Foundation, and a portion of the auction proceeds will be donated to "Feeding Denver's Hungry." please stop by our Jason St. Mega-Store on Saturday morning if you will be in Denver!
Speaking of the Matthew Shepard Foundation, we do still have 30 complete sets available (out of 200) of this year's FCBD variants. A complete set can be yours in exchange for only a $40 donation to the Matthew Shepard Foundation, and exact shipping. All sets will begin shipping on Monday, May 7th. Do bear in mind that many of the variants in the set are being printed in tiny quantities, as many retailers did not order any variants but the biggest publishers. Just saying...
Speaking of retailers ordering FCBD variants, I want take a moment in order to dispel a commonly held misconception that comics retailers are given the FCBD variants each year completely for free by the publishers. Nothing could be further from the truth. The truth is that we get dinged for each and every FCBD edition that we order, and the cost of giving them away is totally upon us retailers. We do make up some of the cost through the additional sales we experience in the stores that day, but the reality is that FCBD ends up being a huge advertising expense for us. I still do like the celebration quite a bit, but I have to admit that it burns a little when a few people try to tell me that I got the FCBD comics for nothing. Check out my Diamond invoices for the past couple of weeks, they are huge!

EDEN #1 Diamond code (MAY181307)

Moving on to other news, Eric Henson, my awesome co-star in Morgan Spurlock's wonderful 2011 documentary COMIC-CON EPISODE IV - A FAN'S HOPE has a self-published title EDEN currently being solicited in DIAMOND PREVIEWS (MAY181307). Eric was a struggling creator in the documentary seeking his first big break, and has since evolved into an accomplished comics creator. I highly recommend that you give EDEN a look!
My only other topic for today is a quick reminder that our 40% off PATIENCE! codeword is still in effect on all of our back issue comics and magazines. Only new issues, a few variants, and our professionally-graded comics are excluded from these awesome 40% savings. Please do note, however, that you still qualify for one 2018 FREE COMIC BOOK DAY variant edition for each $10 of your order (after the discount...). I highly recommend picking up copies of our Mile High Comics variants, as they are only available through us. Just let us know in the "notes" as to which FCBD variants that you would like to receive
Happy collecting!
Chuck Rozanski,
President - Mile High Comics, Inc.
April 25, 2018

This year's FCBD variants: (Everyone that has already Pre-ordered a complete FCBD set will also get a copy of the DC NATION #0 included with their set)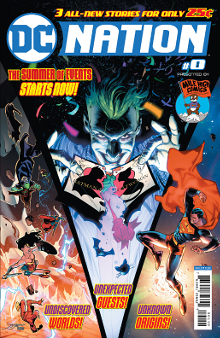 DC NATION #0 Mile High Comics Exclusives


2000 A.D. REGENED FCBD (2018) #1


ADVENTURE TIME: FIONNA & CAKE FREE COMIC BOOK DAY (2018) #1


AMAZING SPIDER-MAN FREE COMIC BOOK DAY (2018) #1


AMAZING SPIDER-MAN FREE COMIC BOOK DAY (2018) #1 MILE HIGH


AVENGERS/CAPTAIN AMERICA FLIPBOOK FREE COMIC BOOK DAY (2018) #1


AVENGERS/CAPTAIN AMERICA FLIPBOOK FREE COMIC BOOK DAY (2018) #1 MILE HIGH


BARRIER FREE COMIC BOOK DAY (2018) #1


BERLIN FREE COMIC BOOK DAY (2018) #1


BOB'S BURGERS FREE COMIC BOOK DAY (2018) #1


BONGO COMICS FREE FOR ALL FCBD (2018) #1


COMICS FRIENDS FOREVER FREE COMIC BOOK DAY (2018) #1


CRUSH FREE COMIC BOOK DAY (2018) #1


DC SUPER HERO GIRLS FREE COMIC BOOK DAY (2018) #1


DIE KITTY DIE: I LOVE YOU TO DEATH FREE COMIC BOOK DAY (2018)) #1


DISNEY PRINCESS FREE COMIC BOOK DAY (2018) #1


DOCTOR WHO FREE COMIC BOOK DAY (2018) #0


GHOST IN THE SHELL: GLOBAL NEURAL NETWORK FCBD (2018)) #1


HELP THE CBLDF DEFEND COMICS FCBD (2018) #1


HOWARD LOVECRAFT BIG BOOK OF SUMMER FUN FCBD (2018) #1


INVADER ZIM FREE COMIC BOOK DAY (2018) #1


INVASION FREE COMIC BOOK DAY (2018) #1


JAMES BOND: VARGR FREE COMIC BOOK DAY (2018) #1


LADY MECHANIKA FREE COMIC BOOK DAY (2018) #1


LEGEND OF KORRA FREE COMIC BOOK DAY (2018) #1


MALIKA: CREED & FURY FREE COMIC BOOK DAY (2018)) #1


MALL FREE COMIC BOOK DAY (2018) #0


MAXWELL'S DEMONS FREE COMIC BOOK DAY (2018) #1


METABARON BOOK 3: META-GUARDIANESS & THE TECHNO FCBD (2018) #1


MIGHTY MORPHIN POWER RANGERS: SHATTERED GRID FCBD (2018) #1


MIRACULOUS: ADVENTURES OF LADYBUG & CAT NOIR FCBD (2018) #1


MY HERO ACADEMIA FREE COMIC BOOK DAY (2018) #1


NIGHTMARE BEFORE CHRISTMAS: ZERO'S JOURNEY FCBD (2018) #0


ONLY LIVING BOY FREE COMIC BOOK DAY (2018) #1


OVERSTREET GUIDE TO COLLECTING FREE COMIC BOOK DAY (2018) #1


OVERWATCH FREE COMIC BOOK DAY (2018) #1


POKEMON: SUN & MOON FREE COMIC BOOK DAY (2018) #1


RELAY FREE COMIC BOOK DAY (2018) #0


RIVERDALE FREE COMIC BOOK DAY (2018) #1


SHADOW ROADS FREE COMIC BOOK DAY (2018) #1


SHADOWMAN FREE COMIC BOOK DAY (2018) #1


SILVER FREE COMIC BOOK DAY (2018) #1


SPARKS FREE COMIC BOOK DAY (2018) #1


SPONGEBOB FREESTYLE FUNNIES FCBD (2018) #1


STAR WARS ADVENTURES FREE COMIC BOOK DAY (2018) #1


STARBURNS PRESENTS FREE COMIC BOOK DAY (2018) #1


STRANGERS IN PARADISE XXV FREE COMIC BOOK DAY (2018) #1


STREET ANGEL'S DOG FREE COMIC BOOK DAY (2018) #1


TANK GIRL: A BRIEF HISTORY OF TANK GIRL FCBD (2018) #0


TRANSFORMERS: UNICRON FREE COMIC BOOK DAY (2018)) #0


ULTRA STREET FIGHTER II FREE COMIC BOOK DAY (2018) #1


WORLD'S GREATEST CARTOONISTS FREE COMIC BOOK DAY (2018) #1


WORMWORLD SAGA FREE COMIC BOOK DAY (2018) #1