Local News - Poker and Auction this Saturday + FCBD News!
Howdy!
Lots of news today, so I will try to move along quickly. First, are you interested in winning a $1,000.00 shopping spree at Mile High Comics? I ask because we are experiencing a dismal initial response to our Texas Hold'em poker tournament that we have scheduled for this Saturday. I am not certain what is going on, as we normally would have 25-35 players signed up by now, but as of this morning we only have 4 preregistrations. This Saturday's tournament will have a payout of $2,000.00 in our gift certificates as prizes to the top ten players, so it almost goes without saying that I truly believe that it is worth your time to register for this month's tournament.
After the poker tournament begins at 11:00 AM on Saturday, our huge monthly no-minimum-bid comics and collectibles auction will commence thirty minutes later. We purchased a particularly nice collection of great older comics yesterday morning, and Will Moulton is committing several key issues from that deal to the auction, including a NM copy of NEW MUTANTS #98, the very first appearance of Deadpool! The entire auction is valued at well over $5,000.00, so be sure and stop by on Saturday to pick up some great bargains, and be sure to bring your kids. We always make certain that all of the young fans in attendance at our auctions are given extra special deals.
My biggest topic for today is our upcoming FREE COMIC BOOK DAY events. We are going all-out to make this Free Comic Book Day our largest event, ever, in the history of Mile High Comics! To help that dream come to fruition we have purchased over 20,000 of this year's FCBD variant editions to give away to visitors to our stores on May 5th. This includes two exclusive Mile High Comics variant edition covers to the special AVENGERS and AMAZING SPIDER-MAN comics that Marvel produced for the 2018 FCBD celebration. We are expecting upwards of 6,000 people for this year's FCBD, so be sure and save the date.

AVENGERS Mile High Comics Exclusives

As an aside, I want to make everyone aware of our position on our two exclusive Marvel variants. I will begin by mentioning that we paid a large sum to Marvel for the right to print a limited number of copies of these two beautiful variants with our Mile High Comics logo on the cover. That having been said, on Saturday, May 5th during the FCBD celebration we will be offering all of the visitors to our stores the opportunity to pick up free copies of these cool Mile High Comics variants. Once FCBD ends, however, we will place any remaining copies of our two Mile High Comics FCBD variants into our website inventory, and will subsequently be charging $14.95 each.

AMAZING SPIDER-MAN Mile High Comics Exclusives

In part, this revision in price is intended to help us recover some of our upfront costs of printing these variants, but mostly it is designed to help to put an actual secondary market value on these variants. This not only helps us, but also is a benefit for everyone who picked up copies from us for free. Be sure and stop by on May 5th for your free copies of our two new Marvel variants!
As regards how you can pick up our variants at no charge, anyone visiting one of our Mile High Comics retail stores on May 5th can pick up any three of this year's FCBD editions entirely for free. This free comics offer includes our two special Mile High Comics variants, plus any of the standard 52 different FCBD editions. We will then be rewarding everyone who shops with us (commencing on Wednesday, April 25th) with another FCBD coupon for each $10 spent at any of our stores. Each coupon is good for 1 more FCBD Variant of your choosing. This additional coupons offer also includes funds spent on auction items this Saturday! Simply put, our first and foremost goal is to get as many coupons for FCBD as possible into the hands of those of you who support us year round, as opposed to those who choose to visit us only on FCBD each year.

Matthew Shepard limited edition print

The other question that I am frequently asked is about FCBD is how to obtain complete sets of all 54 issues. Well, we ordered 250 sets this year, most of which are already committed to our online clients. We do, however, have 50 complete sets set aside specifically for our clients who visit our retail stores. Each of our three stores will have complete sets available for pick up on Saturday morning, May 5th. Sets can be had in exchange for a $40 donation to the Matthew Shepard Foundation, an organization that works for equal rights, and against hate crimes of any kind. Matthew Shepard's parents, Dennis and Judy Shepard, will be at our Jason St. Mega-Store on FCBD, and will be signing copies of a beautiful Matthew Shepard print that we created especially for this event. Please stop by to visit with them, and learn more about Matthew.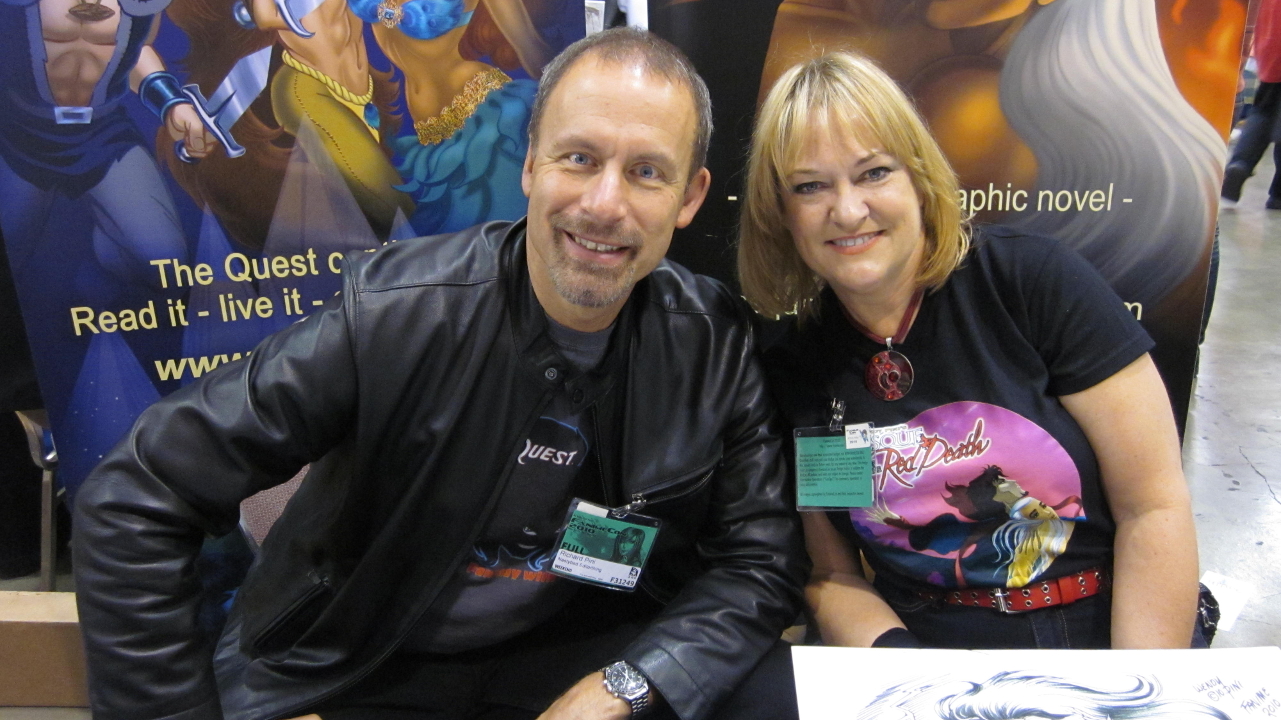 Wendy and Richard Pini Creators of ELFQUEST

Also appearing on Free Comic Book Day at our Jason St. Mega-Store will be Wendy and Richard Pini, of ELFQUEST fame. They are in a tour right now promoting the 50th anniversary of the first release of ELFQUEST, and we're kind enough to agree to sign autographs for fans at our store on FCBD. They will sign three items for free for any fan, and then sign additional items for $2 each, with half the money going to help to cover their travel costs, and the rest going to the Matthew Shepard Foundation.
Also on Free Comic Book Day we will have an artist's alley set up in Jason St. featuring over a dozen talented local creators. The biggest name from the local group is "Good Girl" artist, Monte Moore, who has gained world-wide renown for his beautiful imagery. We will also have food trucks out front, and free dental screenings by Martinez dentistry. Stop by FCBD at Jason St. for a huge party!
I will close today's lengthy newsletter with a quick reminder that this Saturday's poker game and auction both look to be lightly attended. You could come out a big winner if you stop by Jason St. this Saturday!
Happy collecting!
Chuck Rozanski,
President - Mile High Comics, Inc.
April 24, 2018

P.S. Here is an instant link to the covers of all 54 of this year's FCBD editions.