40% Off All Comics Codeword Ends Wednesday
Howdy!
With Free Comic Book Day (May 4th) only twelve days away, our preparations for that extremely challenging day are now moving into high gear. We are expecting upwards of 8,000 - 10,000 visitors at Jason St. on FCBD, which is just about the maximum limit of our Mega-Store's capacity. We did order many thousands of the 53 FCBD special variant editions, but we are now beginning to question as to whether even those prodigious quantities are going to be anywhere near enough to serve so many visitors. Suffice it to say, if you are planning to visit Jason St. on FCBD, please try to arrive as early in the day as possible. We will open on May 4th at 9 AM.
If you shop with us via our website, and are not going to be able to visit Jason St. in person, I strongly encourage you to advance order your FCBD variants from us immediately. We are offering entire sets of all 53 variants (plus our two Mile High Comics exclusives) for a $75 donation to Camp Aranu'tiq, a special summer camp with programs specially designed to help transgender kids. Over 1/3 of our 200 sets are now already reserved, and we expect to sell out completely by FCBD.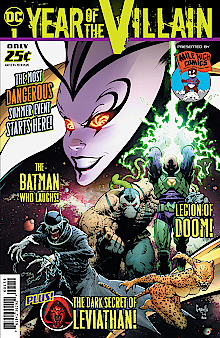 DC YEAR OF THE VILLAIN #0 Mile High Exclusive

We are also offering single issues, with your being able to choose one FCBD variant for every $10 order increment (after all discounts) that you place via our website. Just place your order as per usual, and then let us know in the "Notes" of our online order form as to which FCBD variants that you would like included with at no charge. It's just that easy! Please do be aware, however, that orders containing any 2019 FCBD variants cannot ship until Monday, 5/6/19.

AVENGERS/SAVAGE AVENGERS FREE COMIC BOOK DAY (2019) #1

Speaking of online orders, our current 40% off TAXTIME! sale on all of our back issue comics and magazines will be ending on this Wednesday, and will be replaced on Thursday with a 30% off FCBD! codeword. Both of these codewords apply to all ten million of our back issue comics and magazines, excluding only new issues, a few variants, and our professionally-graded issues. Please enjoy these nice discounts with our sincere thanks and gratitude for your continuing support of our family-owned enterprise.

Mile High Comics THANOS (2019) #1

In other news, our brand new exclusive Mile High Comics THANOS #1 variant edition will arrive on Wednesday, just in time to coincide with the release of the new AVENGERS movie. We are offering copies of our very limited (3,000 copies worldwide...) AVENGERS movie tie-in for advance order for only $9.95 through 4/4/19. After that date, they will jump up to $24.95, so we strongly encourage you to order your copy today. Limit three per client, please.

Mile High Comics THANOS RISING#1

I will close with a quick reminder that we also produced a THANOS RISING #1 variant edition, which is currently priced at $39.95. These have been selling very briskly for us, so supplies are shrinking rapidly. That generally means another bump in price is upcoming. Just saying...
Happy collecting!
Chuck Rozanski,
President - Mile High Comics, Inc.
April 22, 2019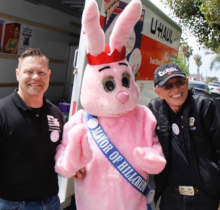 Chuck with Queen Mother Nicole the Great (in bunny suit)

P.S. I spent this weekend in Sacramento (Friday/Saturday) and San Diego (Sunday). Bettie performed in the Out-Of-Town show at Badlands nightclub in Sacramento on Friday night, and then flew south and helped the awesome members of the Imperial Court de San Diego to distribute 300 Easter baskets and 7,000 plastic eggs to disadvantaged kids in San Diego on Sunday. We raised $3,500+ at Mile High Comics via our April poker tournament and our comics and toys auction that helped to purchase many of those free Easter gifts. My sincere thanks go out to each and every one who contributed to this incredibly heartwarming effort. You are awesome!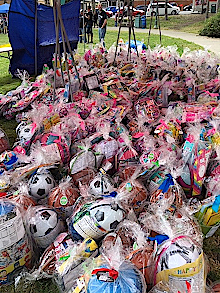 A few of the Easter baskets in San Diego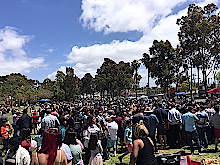 Hundreds of families waiting for Easter baskets in San Diego