5-Day Sale - 60% Off All Comics and Magazines
Howdy!
I am back from New York City today, after a wonderful experience at this Year's incredible Night of a Thousand Gowns charity ball. My Princess, LaShay DiMarco, was also able to attend this year's event, so when it came time for our formal Court walks, we proudly represented our Denver Court. Had life turned out a little differently, this would have been the very first out-of-state Coronation at which we would have been representing Denver as Emperor and Empress XLV, but sadly, not all plans work out. We still had amazing fun...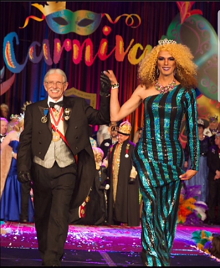 Chuck and LaShay DiMarco formal Court walk at Night of a Thousand Gowns charity ball

In addition to participating in North America's largest formal drag queen event, I also had a chance during my trip to buy 2,000 nice older comics at John Paul's wonderful Clifton comic book show, visit with my good friend Craig Yoe at his home north of New York City, and to have dinner with noted movie producer/director Morgan Spurlock (Super Size Me, 30 Days, Comic-Con Episode IV). Morgan made me very happy when he told me that he loved the first story arc of my upcoming Harvey Milk graphic novel. Woo!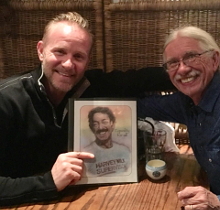 Chuck and Morgan Spurlock holding the first story from the Harvey Milk graphic novel

Moving on to current events, have you ordered your complete set of all 54 of this year's Free Comic Book Day Editions from us? I ask because we already have 100 sets committed, out of the 200 sets that we set aside for online sales. With FCBD still three weeks away, I am now confident that all 200 of our sets will be committed before the day of the actual event. This becomes very relevant to you because I believe that most comics retailers have been very cautious in their ordering of FCBD editions this year. Finding dealers who ordered all 52 is going to be harder than in years past, and I believe that even fewer will take the time and effort to offer complete sets. We only do so because it is a charitable effort for us, with 100% of the funds that we receive ($40/set) being donated this year to the Matthew Shepard Foundation. Otherwise, going to the hassle to build complete sets would make no economic sense...
If you would like a FCBD set, just order it from us now, and then wait until May 7th, the Monday after FCBD. That will be the day that we ship your set, and also the day that we charge your card. Aside from your $40 donation to the Matthew Shepard Foundation, your only other cost will be exact shipping. Please do try to get your order in to us right away...
My final item for today is by far the most important for you. As you are probably already aware, we offered our first 60% off steep discount sale over in five years at the end of February. That 60% off event was a "flash sale" lasting only a mere 72 hours, but it totally blew up our website, with our online sales volume surging by a staggering 3,000% overnight! As a result, we were behind in shipping orders for a month. No one seemed to mind, however, as the bargains at 60% off were just so outrageously good.
What we learned from that first 60% off "flash sale", however, is that those who miss out on such a great deal can be quite upset. We fielded calls for weeks afterward from unhappy clients who were actually quite bitter at having not been able to shop for comics on our website at 60% off. What we promised all of them was that we would provide them with a second chance, just as soon as we finally worked down the backlog from the first 60% off sale.
Well, that huge shipping backlog has now been totally resolved, so our new 60% off TAXTIME! codeword is now in effect for you on all ten million+ of our back issue comics and magazines listed on our website, excluding only new issues, a few variants, and our professionally-graded comics. So you know, this awesome sale does include almost all of the great back issues that Pam just entered into our New-in-Stock and Premium New-in-Stock. Please note, however, that it may take weeks to get your order during this huge sale. I wish it were otherwise, but we just do not have the manpower to handle a nearly instantaneous 3,000% increase in volume. We do promise to work diligently, however, and we will offer our staff overtime. Thank you in advance for your understanding.
I will close by quickly mentioning that the TAXTIME! codeword is also applicable in our three Denver-area comics stores, including Jason St. The same restrictions apply as online, with our small selection of blue sticker comics and graded comics excluded. As I did last time, I am going to let the 60% discount apply to our huge selection of 100,000 comics that we have priced at only $1.00. Business is astoundingly good for us right how, and I want to make certain that everyone finds a fantastic bargain during this awesome 60% off sale!
Happy collecting!
Chuck Rozanski,
President - Mile High Comics, Inc.
April 11, 2018

P.S. The TAXTIME! 60% off discounts are valid on comics and magazines, only. Our 300,000 books are already discounted on the website. The TAXTIME! sale will end in our retail stores at the close of business on Sunday 4/15, and online at noon on Monday 4/16. Have fun!