British HULK #181, DC SIlver Age, early AMAZING SPIDER-MAN Issues
Howdy!
I want to begin today by thanking everyone who passed along kind comments about my wonderful Night of a Thousand Gowns experience. It was truly fun! At the end of the day, however, my efforts with the International Court System are entirely based in charity, so my next adventure begins a week from Friday (April 18th) in Sacramento where Bettie is trying to get into the lineup for the out-of-town show at Badlands Night Club. Doors will open at 7:30, show will begin at 8:30. Sacramento Coronation will be the following night (Saturday 4/19) at the Sacramento Turn Verein. It's $45 to get in, but if you've never experienced the pomp and elegance of a drag queen ball, it really is well worth it.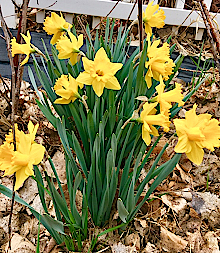 Daffodils blooming at Chuck and Nanette's farm!

On Easter Sunday morning (April 20th), I will be rising before dawn to catch a flight to San Diego. There I will be helping our Queen Mother I of the Americas Nicole the Great, and the awesome members of the Imperial Court de San Diego, pass out 300+ Easter baskets filled with small gifts and chocolate to poor kids from San Diego and Tijuana. All of the proceeds of our Texas Hold'em poker tournament this upcoming Saturday are specifically designated to help cover the cost of those baskets. The charity portion of our no-minimum-bid comics and toys auction that takes place at the same time as the poker game will also be designated for baskets. I am hoping to raise at least $3,000 for the kids, so if you are anywhere near Denver on this upcoming Saturday morning, please stop by Jason St. and support. Thank you!
In other news, our new 40% off TAXTIME! codeword sale on all ten million of our back issue comics and magazines has been very well received. The 40% off TAXTIME! sale applies to all ten million of our back issues, excepting only new issues, a few variants, and our professionally-graded comics. Also on sale for you right now, but not a part of our codeword sale, are all 300,000 of our backlist graphic novels (40% off), comics trade paperbacks (40% off), and comics hardbacks (30% off). No codeword is needed to receive these very generous book discounts, as all of our book prices have already been reduced for you by 30%-40% off on our website. Enjoy!

MIGHTY WORLD OF MARVEL (1972) #198

I will close by quickly mentioning that we have been continuing to buy an outrageous number of great comics here at Jason St. I purchased a wonderful IRON MAN (1968) #2-#72 group yesterday, as well as a scarce British Weekly featuring a reprinting of HULK #181. Pam scored a great batch of SPIDER-MAN (1963) issues, and Will Moulton bought a decent size stack of early 1960's DC Silver Age. A partial list follows, but to see all visit our weekly Premium New-In-Stock link.
Happy collecting!
Chuck Rozanski,
President - Mile High Comics, Inc.
April 10, 2019
Premium New-In-Stock list:
MARVEL
AMAZING SPIDER-MAN (2018) (#1-UP) (MARVEL) #19 HENRICHON Near Mint/Mint


AVENGERS (1963) (#1-402) (MARVEL) #195

AVENGERS (1963) (#1-402) (MARVEL) #195 Fine
AVENGERS (1963) (#1-402) (MARVEL) #257 Fine

CAPTAIN AMERICA (1968) (#100-454) (MARVEL) #360 Fine

CAPTAIN AMERICA (2017) (#695-704) (MARVEL LEGACY) #696 Near Mint/Mint
CAPTAIN AMERICA (2017) (#695-704) (MARVEL LEGACY) #698 Very Fine

DAREDEVIL (1964) (#1-380) (MAN WITHOUT FEAR) (MARVEL) #111 Fine
DAREDEVIL (1964) (#1-380) (MAN WITHOUT FEAR) (MARVEL) #254 Fine

DAREDEVIL (2011) (#1-36) (MARVEL) #30 Near Mint/Mint

DARK TOWER: GUNSLINGER BORN (2006) #2 Near Mint/Mint

DOCTOR STRANGE (1988) (#1-90) (MARVEL) (DR. STRANGE) #60 Near Mint/Mint

FANTASTIC FOUR (1961) (#1-416) (MARVEL) #175 Fine
FANTASTIC FOUR (1961) (#1-416) (MARVEL) #211 NEWSSTAND Good
FANTASTIC FOUR (1961) (#1-416) (MARVEL) #230 Near Mint/Mint
FANTASTIC FOUR (1961) (#1-416) (MARVEL) #243 Very Fine
FANTASTIC FOUR (1961) (#1-416) (MARVEL) #244 NEWSSTAND Fine

GUARDIANS OF THE GALAXY (1990) (#1-62) (MARVEL) #9 NEWSSTAND Fine
GUARDIANS OF THE GALAXY (1990) (#1-62) (MARVEL) #10 NEWSSTAND Very Good


HULK (1962) (#1-6, #102-474, #600-635)(INCREDIBLE)(MV) #340

HULK (1962) (#1-6, #102-474, #600-635)(INCREDIBLE)(MV) #340 Fine
HULK (1962) (#1-6, #102-474, #600-635)(INCREDIBLE)(MV) #368 NEWSSTAND Very Good

IRON MAN (1968) (#1-332) (INVINCIBLE IRON MAN)(MARVEL) #2 Fine
IRON MAN (1968) (#1-332) (INVINCIBLE IRON MAN)(MARVEL) #3 Fine
IRON MAN (1968) (#1-332) (INVINCIBLE IRON MAN)(MARVEL) #4 Very Good
IRON MAN (1968) (#1-332) (INVINCIBLE IRON MAN)(MARVEL) #5 Fine
IRON MAN (1968) (#1-332) (INVINCIBLE IRON MAN)(MARVEL) #6 Very Good
IRON MAN (1968) (#1-332) (INVINCIBLE IRON MAN)(MARVEL) #7 Very Good
IRON MAN (1968) (#1-332) (INVINCIBLE IRON MAN)(MARVEL) #8 Very Good
IRON MAN (1968) (#1-332) (INVINCIBLE IRON MAN)(MARVEL) #10 Very Good
IRON MAN (1968) (#1-332) (INVINCIBLE IRON MAN)(MARVEL) #11 Very Good
IRON MAN (1968) (#1-332) (INVINCIBLE IRON MAN)(MARVEL) #12 Fine
IRON MAN (1968) (#1-332) (INVINCIBLE IRON MAN)(MARVEL) #13 Very Good
IRON MAN (1968) (#1-332) (INVINCIBLE IRON MAN)(MARVEL) #14 Fine
IRON MAN (1968) (#1-332) (INVINCIBLE IRON MAN)(MARVEL) #15 Fine
IRON MAN (1968) (#1-332) (INVINCIBLE IRON MAN)(MARVEL) #16 Fine
IRON MAN (1968) (#1-332) (INVINCIBLE IRON MAN)(MARVEL) #17 Fine
IRON MAN (1968) (#1-332) (INVINCIBLE IRON MAN)(MARVEL) #18 Fine
IRON MAN (1968) (#1-332) (INVINCIBLE IRON MAN)(MARVEL) #19 Fine
IRON MAN (1968) (#1-332) (INVINCIBLE IRON MAN)(MARVEL) #21 Fine
IRON MAN (1968) (#1-332) (INVINCIBLE IRON MAN)(MARVEL) #23 Very Good
IRON MAN (1968) (#1-332) (INVINCIBLE IRON MAN)(MARVEL) #24 Fine
IRON MAN (1968) (#1-332) (INVINCIBLE IRON MAN)(MARVEL) #27 Very Good
IRON MAN (1968) (#1-332) (INVINCIBLE IRON MAN)(MARVEL) #28 Fine


IRON MAN (1968) (#1-332) (INVINCIBLE IRON MAN)(MARVEL) #29

IRON MAN (1968) (#1-332) (INVINCIBLE IRON MAN)(MARVEL) #29 Very Good
IRON MAN (1968) (#1-332) (INVINCIBLE IRON MAN)(MARVEL) #31 Very Good
IRON MAN (1968) (#1-332) (INVINCIBLE IRON MAN)(MARVEL) #32 Fine
IRON MAN (1968) (#1-332) (INVINCIBLE IRON MAN)(MARVEL) #39 Fine
IRON MAN (1968) (#1-332) (INVINCIBLE IRON MAN)(MARVEL) #40 Fine
IRON MAN (1968) (#1-332) (INVINCIBLE IRON MAN)(MARVEL) #42 Fine
IRON MAN (1968) (#1-332) (INVINCIBLE IRON MAN)(MARVEL) #56 Fine
IRON MAN (1968) (#1-332) (INVINCIBLE IRON MAN)(MARVEL) #58 Very Fine
IRON MAN (1968) (#1-332) (INVINCIBLE IRON MAN)(MARVEL) #67 Fine
IRON MAN (1968) (#1-332) (INVINCIBLE IRON MAN)(MARVEL) #68 Very Good
IRON MAN (1968) (#1-332) (INVINCIBLE IRON MAN)(MARVEL) #69 Fine
IRON MAN (1968) (#1-332) (INVINCIBLE IRON MAN)(MARVEL) #70 Fine
IRON MAN (1968) (#1-332) (INVINCIBLE IRON MAN)(MARVEL) #71 Fine
IRON MAN (1968) (#1-332) (INVINCIBLE IRON MAN)(MARVEL) #72 Fine
IRON MAN (1968) (#1-332) (INVINCIBLE IRON MAN)(MARVEL) #73 Fine
IRON MAN (1968) (#1-332) (INVINCIBLE IRON MAN)(MARVEL) #76 Fine
IRON MAN (1968) (#1-332) (INVINCIBLE IRON MAN)(MARVEL) #91 Fine

JESSICA JONES (#1-UP) (MARVEL) (2016) #2 Near Mint/Mint

MARVEL TALES (#1-291) (1964) #230 NEWSSTAND Very Good

MIGHTY WORLD OF MARVEL (1972) #198 (Marvel United Kingdom Publishings) Fine

MOON KNIGHT (2017) (#188-UP) (MARVEL LEGACY) #189 Near Mint/Mint
MOON KNIGHT (2017) (#188-UP) (MARVEL LEGACY) #192 Near Mint/Mint

MY LOVE (1969) #13 Very Good
MY LOVE (1969) #28 Very Good

OCCUPY AVENGERS (2016) #1 Near Mint/Mint

OUR LOVE STORY (1969) #32 Very Good

PETER PARKER (1976) (#1-263) (SPECTACULAR SPIDER-MAN) #85 Fine
PETER PARKER (1976) (#1-263) (SPECTACULAR SPIDER-MAN) #87 Fine

POWER MAN & IRON FIST (2016) (#1-UP)(MARVEL)(LUKE CAGE) #1 Near Mint/Mint

SECRET WARS (1984) #8 Very Fine

SILVER SURFER (2016) (#1-UP) (MARVEL) #1 Near Mint/Mint

SPIDER-MAN (1963) (AMAZING SPIDER-MAN) (#1-441) #75 Very Good
SPIDER-MAN (1963) (AMAZING SPIDER-MAN) (#1-441) #84 Very Good
SPIDER-MAN (1963) (AMAZING SPIDER-MAN) (#1-441) #95 Very Good
SPIDER-MAN (1963) (AMAZING SPIDER-MAN) (#1-441) #299 Fine
SPIDER-MAN (1963) (AMAZING SPIDER-MAN) (#1-441) #300 Fine
SPIDER-MAN (1963) (AMAZING SPIDER-MAN) (#1-441) #301 Fine
SPIDER-MAN (1963) (AMAZING SPIDER-MAN) (#1-441) #362 NEWSSTAND Fine

SPIDER-MAN (MILES MORALES) (#1-21) (MARVEL) (2016) #1 Near Mint/Mint
SPIDER-MAN (MILES MORALES) (#1-21) (MARVEL) (2016) #2 Near Mint/Mint

STAR WARS VOL.10: ESCAPE TPB (2019) #1 Near Mint/Mint

SYMBIOTE SPIDER-MAN (2019) #1 BRADSHAW Near Mint/Mint


THOR (1962) (#83-125 JOURNEY INTO MYSTERY, 126-502) #337

THOR (1962) (#83-125 JOURNEY INTO MYSTERY, 126-502) #337 Fine
THOR (1962) (#83-125 JOURNEY INTO MYSTERY, 126-502) #411 Very Fine
THOR (1962) (#83-125 JOURNEY INTO MYSTERY, 126-502) #412 Fine

THOR: GOD OF THUNDER (2012) #2 Very Fine
THOR: GOD OF THUNDER (2012) #4 Near Mint/Mint
THOR: GOD OF THUNDER (2012) #6 Very Fine
THOR: GOD OF THUNDER (2012) #11 Near Mint/Mint
THOR: GOD OF THUNDER (2012) #12 Very Fine

UNCANNY X-MEN (2013) (#1-35, 600) (MARVEL) #9 Near Mint/Mint
UNCANNY X-MEN (2013) (#1-35, 600) (MARVEL) #26 Near Mint/Mint

VENOM: SPACE KNIGHT (2015) #1 Near Mint/Mint
VENOM: SPACE KNIGHT (2015) #2 Very Fine
VENOM: SPACE KNIGHT (2015) #3 Very Fine
VENOM: SPACE KNIGHT (2015) #4 Near Mint/Mint
VENOM: SPACE KNIGHT (2015) #5 Very Fine
VENOM: SPACE KNIGHT (2015) #6 Near Mint/Mint
VENOM: SPACE KNIGHT (2015) #8 Very Fine
VENOM: SPACE KNIGHT (2015) #10 Very Fine
VENOM: SPACE KNIGHT (2015) #11 Very Fine
VENOM: SPACE KNIGHT (2015) #13 Near Mint/Mint

WAR OF REALMS: JOURNEY INTO MYSTERY (2019) #1 PAREL Very Fine
WAR OF REALMS: JOURNEY INTO MYSTERY (2019) #1 QUINONES Near Mint/Mint


WOLVERINE (1988) (#1/2-189) (MARVEL) #1

WOLVERINE (1988) (#1/2-189) (MARVEL) #1 Near Mint/Mint

WOLVERINE (2003) (#1-90 & 900) (MARVEL) #63 Near Mint/Mint
WOLVERINE (2003) (#1-90 & 900) (MARVEL) #65 Near Mint/Mint

WOLVERINE: ORIGINS (2006) #22 Near Mint/Mint
WOLVERINE: ORIGINS (2006) #23 Near Mint/Mint
WOLVERINE: ORIGINS (2006) #24 Near Mint/Mint
WOLVERINE: ORIGINS (2006) #24 Very Fine

X 23 (2005) (#1-6) (MARVEL NEXT) #1 VARIANT Near Mint/Mint

X-FACTOR (1986) (#1-149) (ORIGINAL X-MEN) #6 Very Fine
X-FACTOR (1986) (#1-149) (ORIGINAL X-MEN) #24 Very Fine

X-FORCE (1991) (#1-129) (MARVEL) #2 Near Mint/Mint
X-FORCE (1991) (#1-129) (MARVEL) #11 Near Mint/Mint

X-MEN (1963) (#1-113, UNCANNY X-MEN #114-544) (MARVEL) #141 NEWSSTAND Good
X-MEN (1963) (#1-113, UNCANNY X-MEN #114-544) (MARVEL) #201 Fine
X-MEN (1963) (#1-113, UNCANNY X-MEN #114-544) (MARVEL) #221 Near Mint/Mint
X-MEN (1963) (#1-113, UNCANNY X-MEN #114-544) (MARVEL) #266 Fine
X-MEN (1963) (#1-113, UNCANNY X-MEN #114-544) (MARVEL) #282 Near Mint/Mint
X-MEN (1963) (#1-113, UNCANNY X-MEN #114-544) (MARVEL) #495 Near Mint/Mint
X-MEN (1963) (#1-113, UNCANNY X-MEN #114-544) (MARVEL) #496 Near Mint/Mint
X-MEN (1963) (#1-113, UNCANNY X-MEN #114-544) (MARVEL) #498 Near Mint/Mint
X-MEN (1963) (#1-113, UNCANNY X-MEN #114-544) (MARVEL) #499 Near Mint/Mint


X-MEN (1963) (#1-113, UNCANNY X-MEN #114-544) (MARVEL) #501

X-MEN (1963) (#1-113, UNCANNY X-MEN #114-544) (MARVEL) #501 Near Mint/Mint
X-MEN (1963) (#1-113, UNCANNY X-MEN #114-544) (MARVEL) #502 Near Mint/Mint
X-MEN (1963) (#1-113, UNCANNY X-MEN #114-544) (MARVEL) #503 Fine

DC
DETECTIVE COMICS (2011) (#0-52) (DC NEW52) #23 .1 DELUXE Very Fine
DETECTIVE COMICS (2011) (#0-52) (DC NEW52) #23 .2 DELUXE Near Mint/Mint
DETECTIVE COMICS (2011) (#0-52) (DC NEW52) #23 .3 DELUXE Near Mint/Mint

FLASH (1987) (#0-247) (DC) #80 FOIL Near Mint/Mint

HELLBLAZER (1988) (#1-300) (DC VERTIGO) #229 (DC: Vertigo Press) Near Mint/Mint
HELLBLAZER (1988) (#1-300) (DC VERTIGO) #230 (DC: Vertigo Press) Near Mint/Mint

SPECTRE (1987) (#1-31) (DC) #1 Near Mint/Mint
SPECTRE (1987) (#1-31) (DC) #2 Fine

STAR SPANGLED WAR STORIES (1952) #153 Good

SUPERGIRL (2005) (#0-67) (DC) #26 Near Mint/Mint
SUPERGIRL (2005) (#0-67) (DC) #28 Very Fine
SUPERGIRL (2005) (#0-67) (DC) #29 Very Fine
SUPERGIRL (2005) (#0-67) (DC) #30 Near Mint/Mint
SUPERGIRL (2005) (#0-67) (DC) #31 Near Mint/Mint
SUPERGIRL (2005) (#0-67) (DC) #32 Near Mint/Mint
SUPERGIRL (2005) (#0-67) (DC) #33 Near Mint/Mint
SUPERGIRL (2005) (#0-67) (DC) #34 Near Mint/Mint

SUPERMAN/BATMAN (2003) #50 Near Mint/Mint

TEEN TITANS: GO (2003) #53 Very Fine
TEEN TITANS: GO (2003) #54 Near Mint/Mint
TEEN TITANS: GO (2003) #55 Near Mint/Mint

THRILLKILLERS '62 (BATGIRL)(BATMAN) (ELSEWORLDS) (1998) #1 Near Mint/Mint

V FOR VENDETTA (1988) #4 Near Mint/Mint
V FOR VENDETTA (1988) #5 Near Mint/Mint
V FOR VENDETTA (1988) #6 Near Mint/Mint
V FOR VENDETTA (1988) #7 Near Mint/Mint
V FOR VENDETTA (1988) #8 Near Mint/Mint
V FOR VENDETTA (1988) #10 Near Mint/Mint

ZATANNA (1993) #1 Fine

DARK HORSE COMICS
GHOST IN THE SHELL 1.5: HUMAN ERROR PROCESSOR (2006) #5 Near Mint/Mint
GHOST IN THE SHELL 1.5: HUMAN ERROR PROCESSOR (2006) #6 Very Fine

IMAGE COMICS
BATTLE OF THE PLANETS (2002) (IMAGE) (TOP COW) #1 DFE ALT CV (Image Top Cow) Near Mint/Mint

SPAWN (1992) #175 Near Mint/Mint
SPAWN (1992) #176 Near Mint/Mint
SPAWN (1992) #177 Very Fine
SPAWN (1992) #178 Very Fine
SPAWN (1992) #179 Near Mint/Mint
SPAWN (1992) #180 Very Fine
SPAWN (1992) #181 Near Mint/Mint
SPAWN (1992) #182 Fine
SPAWN (1992) #183 Very Fine
SPAWN (1992) #184 Near Mint/Mint

UNNATURAL VOL. 2: THE HUNT TPB (2019) #1 Near Mint/Mint

WITCHBLADE (1995) (#1-185, #500) (IMAGE) #117 A (Image Top Cow) Very Fine
WITCHBLADE (1995) (#1-185, #500) (IMAGE) #118 (Image Top Cow) Near Mint/Mint
WITCHBLADE (1995) (#1-185, #500) (IMAGE) #119 A (Image Top Cow) Near Mint/Mint
WITCHBLADE (1995) (#1-185, #500) (IMAGE) #119 A (Image Top Cow) Very Fine
WITCHBLADE (1995) (#1-185, #500) (IMAGE) #120 A (Image Top Cow) Near Mint/Mint

INDEPENDENTS
BONE (1991) (#1-55) (CARTOON BOOKS) #1 (Cartoon Books) Fine

ENTITY #1/2 (1996) #1 NIRA SIGND (Avatar Comics) Near Mint/Mint
ENTITY #1/2 (1996) #1 SNOWMANCVR (Avatar Comics) Near Mint/Mint
ENTITY #1/2 (1996) #1 SNOWPLTSGN (Avatar Comics) Near Mint/Mint

FANGS OF THE WIDOW (LONDON NIGHT) (1995) #2 (London Night Studios) Near Mint/Mint


FANGS OF THE WIDOW (LONDON NIGHT) (1995) #3

FANGS OF THE WIDOW (LONDON NIGHT) (1995) #3 (London Night Studios) Near Mint/Mint
FANGS OF THE WIDOW (LONDON NIGHT) (1995) #4 (London Night Studios) Near Mint/Mint

FUTURAMA COMICS (2000) #30 (Bongo Comics) Very Fine
FUTURAMA COMICS (2000) #68 (Bongo Comics) Very Fine
FUTURAMA COMICS (2000) #69 (Bongo Comics) Near Mint/Mint

SIMPSONS COMICS (BONGO) (1993) #139 (Bongo Comics) Near Mint/Mint
SIMPSONS COMICS (BONGO) (1993) #141 (Bongo Comics) Near Mint/Mint
SIMPSONS COMICS (BONGO) (1993) #143 (Bongo Comics) Near Mint/Mint
SIMPSONS COMICS (BONGO) (1993) #144 (Bongo Comics) Near Mint/Mint
SIMPSONS COMICS (BONGO) (1993) #145 (Bongo Comics) Near Mint/Mint
SIMPSONS COMICS (BONGO) (1993) #146 (Bongo Comics) Near Mint/Mint
SIMPSONS COMICS (BONGO) (1993) #147 (Bongo Comics) Near Mint/Mint

STRANGERS IN PARADISE (1994) (#1-14) (ABSTRACT) #14 (Abstract Studio) Near Mint/Mint

SWEET CHILDE: LOST CONFESSIONS (#1) (ANARCHY) (ADULT) (1997) #1 (Anarchy Bridgeworks) Near Mint/Mint
SWEET CHILDE: LOST CONFESSIONS (#1) (ANARCHY) (ADULT) (1997) #1 (Anarchy Bridgeworks) Very Fine

TAROT: WITCH OF THE BLACK ROSE (2000) #50 (Broadsword Comics) Near Mint/Mint
TAROT: WITCH OF THE BLACK ROSE (2000) #51 VARIANT (Broadsword Comics) Near Mint/Mint
TAROT: WITCH OF THE BLACK ROSE (2000) #52 (Broadsword Comics) Near Mint/Mint

TROUBLEMAKERS (1997) #19 (Acclaim/Valiant) Near Mint/Mint

UNDERFOOT VOL. 1: MIGHTY DEEP TPB (2019) #1 (Lion Forge) Near Mint/Mint