Ten Million Comic Books On Sale 40% Off
Howdy!
Life is very good here at Mile High Comics. Collections of great comics keep walking into the door here at Jason St. at a steady pace, while Pam and Will both have even more collections arriving in the mail that they have purchased from fans all around the country. The sum of these various collections means that our daily Premium New-In-Stock and New-In-Stock links on our website are featuring a remarkable degree of diversity of different cool comics titles, and issue numbers. I truly do enjoy buying even more comics of all kinds, so as far as I'm concerned, life is great!
If you would like to add a few great comics into your own collection this week, please do not forget to enter our SPRING! codeword into the line provided at checkout. Once that very generous codeword is entered, our computer will then automatically deduct a full 40% from all qualifying items, which included the vast majority of our ten million in-stock back issue comics and magazines. Only new issues, a few variants, and our professionally-graded comics are excluded.
In other news, below are a couple of photos from yesterday's celebration by Nanette and myself of our 40-year wedding anniversary. We began by returning for a brief photo shoot at the exact spot on the side of Flagstaff Mountain in Boulder where we're married in 1978, and followed that visit up with a wonderful family feast at the word-famous Flagstaff House Restaurant. It was a wonderful day!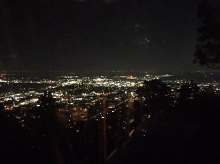 View from Flagstaff House Restaurant

Just in case you were wondering, we chose April 1st to get married because Nanette and I are so different from each other that we thought that our marriage would never last. Our April Fool's Day joke turned out to be on us, however, as here we are 40 years later, still in love, and still making each other laugh. Sometimes, you just get incredibly lucky...
My final news note for today a quick mention that I will once again be attending the incredible Night of a Thousand Gowns gala at the Marriott Marquis Hotel in New York City, on this upcoming Saturday evening. If you would like to see some of the most incredibly talented female illusionists/drag queens in the world, NOTG is (by far) the largest event of its kind in North America. The entire gala is a benefit for "God's Love We Deliver," an awesome NY charitable group that helps to bring meals to homebound seniors and people suffering from serious illnesses. I also plan on helping Leandro Gonzales, our newest Emperor from our San Francisco Imperial Court, to make sandwiches on Thursday, which we will then distribute to the homeless in NYC on Friday. Wherever I go, I try my best to help those in need...
Happy collecting!
Chuck Rozanski,
President - Mile High Comics, Inc.
April 2, 2018

P.S. My incredibly awesome friend, John Paul of Pug Productions, will be hosting his monthly Clifton, NJ Comics show on Sunday. I am obligated to help to honor the newly-invested Monarchs of the Imperial Court of New York at their "Victory Brunch" on Sunday, but that should be over by about 1 PM. If all works out as planned, I should be able to make it over to the Clifton Community Center in my rental car by a little after 2 PM. Clifton is my favorite comics show in America, and is filled with over a dozen dealers whom I consider my friends. Suffice it to say, I am totally excited at the prospect of being able to revisit John Paul's wonderful little convention!