Elfquest Creators Coming to Mile High Comics - New Codeword Sale
Howdy!
I have been working hard all weekend helping Will and Pam with purchasing, and sorting, collections of great older comics. On Saturday, for example, I paid $3,500 for a particularly nice collection of Silver Age and Bronze Age comics, including the very first British Pence Variant Edition that I have ever seen of BLACK PANTHER (1977) #1. Cool!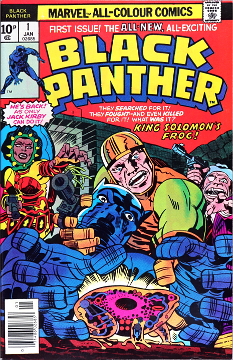 BLACK PANTHER (1977) #1 British edition

If you keep an eye on our Premium New-In-Stock links this week, you will see a number of great older comics appearing. Pam is somewhat limited in what she can grade and get posted on our website for you this week, however, as she continues to help Lynne and her fulfillment crew work down the enormous order backlog from our last big sale. If you are waiting for news about the ship date of an order that you placed during the sale, please continue to be patient. We're pulling orders and shipping as fast as we can!
As regards a new codeword sale, I have been very hesitant to initiate a new promotion with such a large existing backlog. With the wonderful vernal equinox just around the corner, however, I made the decision just this morning that I am going to offer our annual 40% off SPRING! codeword starting today on all of our back issue comics and magazines. Only new issues, a few variants, and our professionally-graded comics are exempt. This new SPRING! codeword does also apply in our three retail stores, but not on $1 issues, or the few blue price sticker comics in Jason St. Please do note, however, that we do still have a backlog of unshipped orders. I am estimating that online orders received today will take about two weeks to ship. Thank you for your understanding.

ARCHIE #1 Mile High Comics variant edition

As an aside, I have an incredible variant deal to offer you, if you do not mind water-wrinkled comics. To explain, just last week I cut a deal with our insurance company to purchase back the immense pile of comics, books, posters, prints, etc. that suffered water damage when last May's epic hailstorm busted out 70 4' long skylights in our Jason St. Mega-Store. Some of the items that got wet were a total loss and were thrown in the dumpster, but we did manage to salvage about 100 copies of our beautiful ARCHIE #1 Mile High Comics variant edition. These copies were originally stored in NM/M condition, but the 10-pack packages were drenched when the skylight directly over them was shattered. While these copies are quite wrinkled, they actually did dry out rather well, so I am loath to throw them away. As an alternative, I am going to offer them to you for the giveaway price of only $1 each (as compared with $29.95 for our NM copies...), with a limit of three copies per person. Suffice it to say, our ARCHIE #1 variant is now one of our scarcest variants.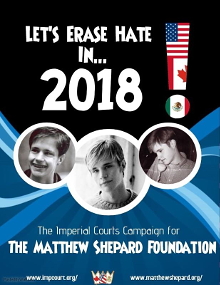 Matthew Shepard Foundation Erase Hate Flyer

In other news, I will quickly mention that we are still accepting advance reservations for complete sets of all 54 of the upcoming 2018 Free Comic Book Day variant editions in exchange for a commitment to make a $40 donation to the Matthew Shepard Foundation on the Monday following FCBD. While FCBD is still eight weeks away, we already received reservations for triple! the number of complete FCBD sets over this past weekend than we had anticipated. We do still have plenty of 2018 FCBD complete sets available, but I urge everyone to reserve their set today, as it is looking increasingly likely that we will commit nearly all of our sets prior to FCBD. If you live near Denver, you can ask to have your set waiting for you at your favorite Mile High Comics location...
I will close by mentioning that, in addition to Matthew Shepard's parents, we are delighted to reveal that legendary ELFQUEST creators Wendy and Richard Pini will be signing autographs for us at our Jason St. Mega-Store on Free Comic Book Day, May 5th, as will a slew of local comics artists and writers. If you know of anyone in the comics world who will be in Denver on May 5th, and who would like free exhibit space in Jason St., have them contact Will Moulton via moulton@milehighcomics.com. We had approximately 3,000 fans visit Jason St. on FCBD 2017, and are anticipating that we may double that number this year. Our 2018 FCBD event is going to be one heck of a huge comic book party!
Happy collecting!
Chuck Rozanski,
President - Mile High Comics, Inc.
March 12, 2018