Free Comic Book Day News
Howdy!
As I predicted last week, our weekend sale produced a bounty of orders that is going to take quite a while for us to fill. If you have an order in with us already, please be patient. If you are placing an order today, please be aware that we need to get an unusually large number of existing orders filled before we can get to yours. We are offering overtime to all of our staff to help with mitigating this backlog as quickly as possible, and also shifting staff from inventory to help with order fulfillment. There are only 20 of us working here at Jason St., however, so regardless of our shifting the emphasis of our staff, it is still going to take us a couple of weeks to completely catch up. Thank you in advance for your patience and understanding.
In other news, Free Comic Book Day 2018 is now only nine Saturdays away. This is a very big event for us each year, with over 3,000 fans visiting just our Jason St. Mega-Store during our 2017 FCBD benefit for "Feeding Denver's Hungry." We raised upwards of $8,000 that day for FDH, which was our most successful single charity event in our history! Even better was the fact that our publicizing the good works of FDH helped to also attract some long term donors with deep pockets. Thanks to our seed money, and generous donations from others in the Denver Community, FDH is now able to fund a much higher level of services. I extend a sincere thank you to everyone who contributed to our 2017 FCBD effort.
As regards FCBD 2018, our designated beneficiary for this year will be the Matthew Shepard Foundation, in large measure because I have been named a National Co-Chair for the International Court System's effort to raise funds for the Matthew Shepard Foundation. Matthew Shepard was a young gay man who was offered a ride home by two men from the Fireside Lounge in Laramie, Wyoming on the night of October 6th, 1998. Instead of taking Matthew home, the killers drove him to an isolated field where they savagely beat and tortured him with a pistol, and then left him to die of his injuries (including a skull fracture) while draped on a barbed wire fence in below-freezing temperatures. Matthew was discovered barely alive 18 hours later, and died of his injuries after six days in intensive care.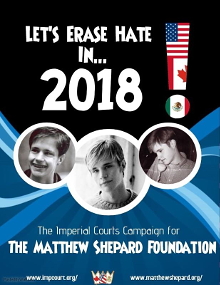 Matthew Shepard Foundation Erase Hate Flyer

While robbery was a primary motive for this brutal attack, the men's girlfriends testified that Matthew was chosen as their victim in part because the two killers were also homophobic. This prompted Matthew's parents, Dennis and Judy Shepard, to begin a national campaign to add hate crimes to the list of Federal statues under which criminals could be convicted. After many failed attempts, The Matthew Shepard Act was finally passed overwhelmingly in the US House and Senate, and signed into law by President Barack Obama on October 28, 2009.
While the Matthew Shepard Act was created in large measure in response to his murder, the act itself seeks to introduce the potential for hate crimes prosecution for any kind a Federal offense that includes bias as a clear motivation. This includes hate crimes based upon race, religion, sexual orientation, ethnicity, disability, and/or a person's gender. Thanks to the passage of the act, the FBI now releases statistics about hate crimes, which until recently were in decline. Since last year, however, we have seen a sharp spike in reported hate incidents, including a dreadful increase in the number of transgender women of color who have been assaulted and/or murdered in America this year.
If you are wondering what all this has to do with comics, and comic book collecting, please bear in mind that I am in the middle of writing a graphic novel series right now based upon the life and legacy of Harvey Milk, the first elected gay politician in America. Because he was gay, Harvey was assassinated in San Francisco City Hall in November, 1978. Before his death, however, Harvey Milk set into motion an LGBT movement that has changed America a great deal, and inspired similar movements all around the world. Many of those attempts that seek to reduce hatred have been met with extreme opposition, however, and have even prompted a savage backlash in some countries, such as Russia, Uganda, and Turkey. Working to eliminate that kind of hatred and bias (both through education and legislation) is the primary mission of the Matthew Shepard Foundation.
While I am gratified by the progress that I have witnessed toward the elimination of hate crimes, I have to share with you that not all of my research into the history of LGBT movements has been pleasant. The hatred and bias that some people continue to express toward others is both painful and shocking to me. In large measure, that is why Thomas Buchanan and I decided to begin our graphic novel series with the story of what happened to the gays of Europe during the Holocaust. I have spent the past month reading horrific first-person accounts from the Holocaust that are so emotionally wrenching that I have oftentimes found myself in tears. The hardest part of my writing the first story arc of our book was constructing prose that could convey the horror of what was inflicted upon well over 100,000 people during the period of 1933-1945, while not being so horrific as to compel people to just drop our book, and walk away.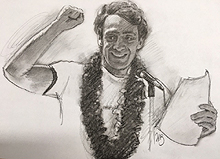 Harvey Milk by Thomas Buchanan

The good news is that my copy editors have told me that I succeeded in writing a fast-moving and engaging story that gets the important historical points across, without being my prose being either maudlin, or gratuitous. That kind feedback gives me hope that my story will both educate and engage our readers. My second story arc (which I am working on right now) will be about the evolution of the military's "Don't Ask, Don't Tell" policy. After some very difficult initial elements, this second story arc has an extremely happy ending, as the laying of the keel for the USN HARVEY MILK is scheduled for early next year. It makes me particularly happy that this awesome ship being named for Harvey Milk is among the new John Lewis-class support ships being built for the Military Sealift Command, all of which have been named after prominent civil rights leaders. Progress when seeking to enhance people's civil rights is oftentimes slow, but this shows that steady resolve when seeking justice truly can pay off.
Returning to the topic of Free Comic Book Day 2018, we are going to be offering complete sets of all 54 this year's FCBD special editions in exchange for a $40 donation to the Matthew Shepard Foundation. (Plus a flat shipping fee of $15.00 Domestic $30.00 International per set) You can reserve your complete 2018 FCBD set from us starting today, but please bear in mind that we cannot ship your set to you until Monday, May 7th. The number of complete FCBD sets that we will have available this year is limited, and we will need to allocate on the basis of the first donation commitments that we receive. That being the case, please reserve your set as soon as possible. We will not charge anyone's credit cards for their MSF donation until May 7th. Dennis and Judy Shepard have tentatively committed to attend this year's FCBD celebration at Jason St., and I am working on creating a special signed print of Matthew Shepard that we will include with each set that is ordered from us. More on this topic in upcoming newsletters...

STAR WARS (2015) #44 Mile High Exclusive cover

I will close by quickly mentioning that we just received our copies of our exclusive Mile High Comics variant edition of STAR WARS (2015) #44. This cool variant is limited to only 3,000 copies worldwide, and is only available through us. Your cost right now is only $19.95 each, but that price will rise to $24.95 next Monday. We do not wholesale our variant editions, so please limit your requests to three copies. We also have received the cover image to our variant of STAR WARS (2015) #45 Advance orders are now being accepted.

STAR WARS (2015) #45 Mile High Exclusive cover

Happy collecting!
Chuck Rozanski,
President - Mile High Comics, Inc.
March 8, 2018

P.S. Below is a partial listing of just a few of the great comics that our buyers Will Moulton and Pam Brandle have purchased for us this week. Enjoy!
MARVEL

AMAZING SPIDER-MAN (1999) (#1-700.5) (MARVEL) #699 .1

AMAZING SPIDER-MAN (1999) (#1-700.5) (MARVEL) #699 .1 Near Mint/Mint
AMAZING SPIDER-MAN (1999) (#1-700.5) (MARVEL) #700 Near Mint/Mint
AMAZING SPIDER-MAN (1999) (#1-700.5) (MARVEL) #700 3RD PRINT Near Mint/Mint
AMAZING SPIDER-MAN (1999) (#1-700.5) (MARVEL) #700 50TH ANN Near Mint/Mint
AMAZING SPIDER-MAN (1999) (#1-700.5) (MARVEL) #700 COIPEL Very Fine

AMAZING SPIDER-MAN (2014) (#1-20.1) (MARVEL) #1 2ND PRINT Near Mint/Mint
AMAZING SPIDER-MAN (2014) (#1-20.1) (MARVEL) #1 CAMPBELL Near Mint/Mint
AMAZING SPIDER-MAN (2014) (#1-20.1) (MARVEL) #1 YOUNG BABY Near Mint/Mint
AMAZING SPIDER-MAN (2014) (#1-20.1) (MARVEL) #4 Near Mint/Mint
AMAZING SPIDER-MAN (2014) (#1-20.1) (MARVEL) #7 DEADPOOL Near Mint/Mint
AMAZING SPIDER-MAN (2014) (#1-20.1) (MARVEL) #9 YOUNG BABY Near Mint/Mint

AMAZING SPIDER-MAN (2017) (#789-UP) (MARVEL LEGACY) (2017) #797 KUDER Near Mint/Mint

AMAZING SPIDER-MAN 2001 ANNUAL #1 NEWSSTAND Very Good

ANT-MAN (MARVEL) (2015) #2 Near Mint/Mint

AVENGERS & THE INFINITY GAUNTLET TPB (2018) #1 Near Mint/Mint

CABLE AND DEADPOOL (2003) #13 Very Fine

CAPTAIN MARVEL (2012) (#1-17) (MARVEL) #1 Near Mint/Mint

CARNAGE (2015) (#1-UP) (MARVEL) #1 PHANTOMGLD Near Mint/Mint

CROSSOVER CLASSICS: THE MARVEL/DC COLLECTION #1 3RD PRINT Very Fine

DAREDEVIL & PUNISHER: CHILD'S PLAY TPB (1988) #1 Near Mint/Mint

DARTH VADER (STAR WARS) (2015) #1 Near Mint/Mint
DARTH VADER (STAR WARS) (2015) #1 FIGURE VAR Near Mint/Mint
DARTH VADER (STAR WARS) (2015) #2 Near Mint/Mint

DEADPOOL (1993) (#1-4) (CIRCLE CHASE) (MARVEL) #1 Near Mint/Mint
DEADPOOL (1993) (#1-4) (CIRCLE CHASE) (MARVEL) #1 CBCS 9.2 Near Mint/Mint
DEADPOOL (1993) (#1-4) (CIRCLE CHASE) (MARVEL) #1 Very Fine

DEADPOOL (1994) (#1-4) (MARVEL) #1 CGC 9.2 Near Mint/Mint

DEADPOOL (2008) (#1-63, 900) (MARVEL) #12 VARIANT Very Fine
DEADPOOL (2008) (#1-63, 900) (MARVEL) #30 Near Mint/Mint
DEADPOOL (2013) (#1-45, 250) (MARVEL) #1 Fine


DEADPOOL (2013) (#1-45, 250) (MARVEL) #32

DEADPOOL (2013) (#1-45, 250) (MARVEL) #32 Near Mint/Mint
DEADPOOL (2013) (#1-45, 250) (MARVEL) #34 3D MOTION Near Mint/Mint
DEADPOOL (2013) (#1-45, 250) (MARVEL) #36 VARIANT Very Fine
DEADPOOL (2013) (#1-45, 250) (MARVEL) #41 Near Mint/Mint
DEADPOOL (2013) (#1-45, 250) (MARVEL) #42 Near Mint/Mint

DEADPOOL (2016) (#1-36) (MARVEL) #5 KOBLISH Near Mint/Mint
DEADPOOL (2016) (#1-36) (MARVEL) #7 Near Mint/Mint
DEADPOOL (2016) (#1-36) (MARVEL) #7 KOBLISH Near Mint/Mint
DEADPOOL (2016) (#1-36) (MARVEL) #13 LIM Near Mint/Mint
DEADPOOL (2016) (#1-36) (MARVEL) #13 STEVENS Near Mint/Mint
DEADPOOL (2016) (#1-36) (MARVEL) #28 VENOMIZED Near Mint/Mint
DEADPOOL (2016) (#1-36) (MARVEL) #30 NAKAYAMA Near Mint/Mint

DEADPOOL KILLS DEADPOOL (2013) #1 VARIANT Near Mint/Mint
DEADPOOL KILLS DEADPOOL (2013) #4 Near Mint/Mint

DEADPOOL MINIBUS HC (2014) #0 Near Mint/Mint

DEADPOOL MINUS (1997) #1 CBCS 9.6 Near Mint/Mint

DEADPOOL VS. X-FORCE (2014) #1 Near Mint/Mint

DEATH OF WOLVERINE (2014) #1 Near Mint/Mint
DEATH OF WOLVERINE (2014) #1 DEADPOOL Near Mint/Mint
DEATH OF WOLVERINE (2014) #2 Near Mint/Mint
DEATH OF WOLVERINE (2014) #2 CANADA VAR Near Mint/Mint
DEATH OF WOLVERINE (2014) #3 HASTINGS Near Mint/Mint
DEATH OF WOLVERINE (2014) #4 CANADA VAR Near Mint/Mint
DEATH OF WOLVERINE (2014) #4 LAND Near Mint/Mint

EDGE OF SPIDER-VERSE (2014) #2 4TH PRINT Near Mint/Mint
EDGE OF SPIDER-VERSE (2014) #3 Near Mint/Mint
EDGE OF SPIDER-VERSE (2014) #4 Near Mint/Mint
EDGE OF SPIDER-VERSE (2014) #5 Near Mint/Mint

FANTASTIC FOUR (2014) (#1-14, #642-645) (MARVEL) #1 COOK Near Mint/Mint

FEAR ITSELF: JOURNEY INTO MYSTERY HC (2012) #1 Near Mint/Mint

HOWARD THE DUCK (MAY) (2015) #1 Near Mint/Mint
HOWARD THE DUCK (MAY) (2015) #1 YOUNG BABY Near Mint/Mint

INFINITY COUNTDOWN (2018) #1 DERINGTON Near Mint/Mint
INFINITY COUNTDOWN (2018) #1 DUARTE Near Mint/Mint

INFINITY GAUNTLET BOX HC SLIPCASE SET (2018) #1 Near Mint/Mint

IRON FIST: LIVING WEAPON (2014) #1 YOUNG BABY Near Mint/Mint

JOURNEY INTO MYSTERY: FEAR ITSELF FALLOUT PREMIERE HC (2012) #1 Near Mint/Mint


JOURNEY INTO MYSTERY: TERRORISM MYTH PREMIERE HC (2012) #1

JOURNEY INTO MYSTERY: TERRORISM MYTH PREMIERE HC (2012) #1 Fine

MAGNETO (2014) (#1-21) (MARVEL) #1 2ND PRINT Near Mint/Mint

MARVEL COMICS PRESENTS (1988) #4 NEWSSTAND Very Fine

MARVEL KNIGHTS: SPIDER-MAN (2013) #1 VARIANT Fine

MARVEL MASTERWORKS: X-MEN HC (3RD EDITION) (2015) #1 Fine

MARVEL SUPER SPECIAL (1977) #17 Very Good

MIGHTY AVENGERS (2013) #1 LEGO Near Mint/Mint

MOON KNIGHT BY BRIAN MICHAEL BENDIS & ALEX MALEEV HC (2017) #1 Near Mint/Mint

NEW MUTANTS (1983) (#1-100) (MARVEL) #98 Very Fine

ORIGINAL SIN (2014) #3 ADAMS Near Mint/Mint
ORIGINAL SIN (2014) #5 ADAMS Near Mint/Mint
ORIGINAL SIN (2014) #6 ADAMS Fine

RETURN OF THE LIVING DEADPOOL (2015) #1 Near Mint/Mint

SHE-HULK (1980) (#1-25) (SAVAGE SHE-HULK) (MARVEL) #1 NEWSSTAND Good

SIEGE HC (2011) #1 Fine

SPIDER-GWEN (2015) (#0-5) (MARVEL) #1 Near Mint/Mint

SPIDER-ISLAND (2015) #1 HASTINGS Very Fine

SPIDER-MAN (1963) (AMAZING SPIDER-MAN) (#1-441) #300 NEWSSTAND Good

SPIDER-MAN 2099 (2014) #1 CAMPBELL Near Mint/Mint
SPIDER-MAN 2099 (2014) #1 LEONARDI Near Mint/Mint

SPIDER-MAN/BATMAN #1 Near Mint/Mint

SPIDER-MAN/DEADPOOL (2015) #1 Near Mint/Mint

SPIDER-MAN/DEADPOOL BY KELLY & MCGUINNNESS HC (2017) #1 Near Mint/Mint

SPIDER-MAN: COMPLETE BEN REILLY EPIC TPB (2011) #6 Fine

SPIDER-MAN: MAXIMUM CARNAGE TPB (1994) #1 Fine

SPIDER-MAN: RETURN OF THE BURGLAR HC (MV CLASSIC #97) (2012) #1 BLACK FOIL Near Mint/Mint


SPIDER-VERSE (2014) #1 BRADSHAW

SPIDER-VERSE (2014) #1 BRADSHAW Near Mint/Mint

SPIDER-WOMEN TPB (2016) #1 Near Mint/Mint

STAR WARS (2015) (#1-UP) (MARVEL) #1 CHRISTOPHE Near Mint/Mint
STAR WARS (2015) (#1-UP) (MARVEL) #1 FIGURE VAR Very Fine
STAR WARS (2015) (#1-UP) (MARVEL) #1 HASTINGB&W Near Mint/Mint
STAR WARS (2015) (#1-UP) (MARVEL) #1 LOOTCRATE Near Mint/Mint
STAR WARS (2015) (#1-UP) (MARVEL) #5 FIGURE VAR Near Mint/Mint

STAR WARS: EPISODE V - THE EMPIRE STRIKES BACK HC (2015) #1 Near Mint/Mint

STAR WARS: EPISODE VI - RETURN OF THE JEDI HC (2015) #1 Near Mint/Mint

SUPERIOR SPIDER-MAN (2013) #1 Very Fine

SUPERIOR SPIDER-MAN (2013) #31 CAMPBELL Near Mint/Mint

THOR (1962) (#83-125 JOURNEY INTO MYSTERY, 126-502) #354 Near Mint/Mint

THUNDERBOLTS (2012) (#1-32) (MARVEL) #1 HASTINGS Near Mint/Mint

ULTIMATE COMICS: SPIDER-MAN (2011) #1 Near Mint/Mint

UNBEATABLE SQUIRREL GIRL HC (2016) #3 Near Mint/Mint

UNCANNY AVENGERS (MARCH) (#1-5) (2015) #1 HASTINGS Near Mint/Mint

VENOM (2017) (#1-6, #150-UP) (MARVEL) #6 LEGENDS Near Mint/Mint

WOLVERINE (2014) (#1-12) (ALL-NEW MARVEL NOW) #8 2ND PRINT Near Mint/Mint
WOLVERINE (2014) (#1-12) (ALL-NEW MARVEL NOW) #10 Near Mint/Mint

X-FORCE (1991) (#1-129) (MARVEL) #2 Fine

DC
ACTION COMICS (2011) (#0-52) (DC NEW52) #1 Near Mint/Mint
ACTION COMICS (2011) (#0-52) (DC NEW52) #32 BOMBSHELL Near Mint/Mint

ANIMAL MAN (DC) (NEW 52) (2011) #1 4TH PRINT Very Fine

AQUAMAN (2011) (#0-52) (DC NEW52) #1 Near Mint/Mint

AUTHORITY: RELENTLESS TPB (DC WILDSTORM) (2000) #1 5TH PRINT Good

BATGIRL (2011) (#0-52) (DC NEW52) #32 BOMBSHELL Near Mint/Mint
BATGIRL (2011) (#0-52) (DC NEW52) #50 SIGNATURE Near Mint/Mint

BATMAN (1940) (#0-713) (DC) #169 Good
BATMAN (1940) (#0-713) (DC) #340 Very Fine
BATMAN (1940) (#0-713) (DC) #380 Very Fine
BATMAN (1940) (#0-713) (DC) #619 HEROES Very Fine
BATMAN (1940) (#0-713) (DC) #619 VILLIANS Near Mint/Mint


BATMAN (2011) (#0-52) (DC NEW52) #1

BATMAN (2011) (#0-52) (DC NEW52) #1 Near Mint/Mint
BATMAN (2011) (#0-52) (DC NEW52) #1 VARIANT Near Mint/Mint
BATMAN (2011) (#0-52) (DC NEW52) #10 VARIANT Very Fine
BATMAN (2011) (#0-52) (DC NEW52) #13 Near Mint/Mint
BATMAN (2011) (#0-52) (DC NEW52) #13 2ND PRINT Near Mint/Mint
BATMAN (2011) (#0-52) (DC NEW52) #13 COMBO Near Mint/Mint
BATMAN (2011) (#0-52) (DC NEW52) #13 VARIANT Near Mint/Mint
BATMAN (2011) (#0-52) (DC NEW52) #14 VARIANT Near Mint/Mint
BATMAN (2011) (#0-52) (DC NEW52) #15 VARIANT Very Fine
BATMAN (2011) (#0-52) (DC NEW52) #16 VARIANT Very Fine
BATMAN (2011) (#0-52) (DC NEW52) #17 VARIANT Near Mint/Mint
BATMAN (2011) (#0-52) (DC NEW52) #21 Near Mint/Mint
BATMAN (2011) (#0-52) (DC NEW52) #21 SDCC Near Mint/Mint
BATMAN (2011) (#0-52) (DC NEW52) #22 Near Mint/Mint
BATMAN (2011) (#0-52) (DC NEW52) #23 .1 DELUXE Near Mint/Mint
BATMAN (2011) (#0-52) (DC NEW52) #23 .2 DELUXE Near Mint/Mint
BATMAN (2011) (#0-52) (DC NEW52) #23 .4 DELUXE Near Mint/Mint
BATMAN (2011) (#0-52) (DC NEW52) #24 Near Mint/Mint
BATMAN (2011) (#0-52) (DC NEW52) #25 Near Mint/Mint
BATMAN (2011) (#0-52) (DC NEW52) #32 VARIANT Near Mint/Mint
BATMAN (2011) (#0-52) (DC NEW52) #36 LEGO Near Mint/Mint
BATMAN (2011) (#0-52) (DC NEW52) #36 LOOTCRATE Near Mint/Mint
BATMAN (2011) (#0-52) (DC NEW52) #37 Near Mint/Mint
BATMAN (2011) (#0-52) (DC NEW52) #39 Near Mint/Mint
BATMAN (2011) (#0-52) (DC NEW52) #40 MOVIESTYLE Near Mint/Mint

BATMAN & HARLEY QUINN HC (2018) #1 Near Mint/Mint

BATMAN ANNUAL (2012) (#1-4) (DC NEW52) #1 Near Mint/Mint
BATMAN INCORPORATED (2012) #8 2ND PRINT Near Mint/Mint
BATMAN INCORPORATED (2012) #8 Very Fine

BATMAN/SUPERMAN (2013) #1 BATMAN Very Fine
BATMAN/SUPERMAN (2013) #1 SUPERMAN Near Mint/Mint
BATMAN/SUPERMAN (2013) #2 VARIANT Fine
BATMAN/SUPERMAN (2013) #4 SKETCH CV Near Mint/Mint
BATMAN/SUPERMAN (2013) #4 VARIANT Near Mint/Mint
BATMAN/SUPERMAN (2013) #5 LOC Near Mint/Mint
BATMAN/SUPERMAN (2013) #10 VARIANT Very Fine
BATMAN/SUPERMAN (2013) #12 VARIANT Near Mint/Mint

BATMAN/SUPERMAN ANNUAL (2014) #1 Near Mint/Mint

BATMAN: A LONELY PLACE OF DYING TPB (1990) #1 Fine

BATMAN: HUSH COLLECTION (JIM LEE) (JEPH LOEB) (2003) #1 SC 5TH PRT Fine

BATMAN: THE DARK KNIGHT (2011) (#0-29) (DC NEW52) #1 Near Mint/Mint
BATMAN: THE DARK KNIGHT (2011) (#0-29) (DC NEW52) #6 Near Mint/Mint
BATMAN: THE DARK KNIGHT (2011) (#0-29) (DC NEW52) #7 Near Mint/Mint
BATMAN: THE DARK KNIGHT (2011) (#0-29) (DC NEW52) #23 .4 DELUXE Near Mint/Mint

BATWOMAN (2011) (#0-40) (DC NEW52) #32 BOMBSHELL Near Mint/Mint

BLUE BEETLE (2011) (DC NEW52) (#0-16) #1 Near Mint/Mint


CATWOMAN (2011) (#1-52) (DC NEW52) #1

CATWOMAN (2011) (#1-52) (DC NEW52) #1 Near Mint/Mint
CATWOMAN (2011) (#1-52) (DC NEW52) #32 BOMBSHELL Near Mint/Mint

DARK KNIGHT STRIKES AGAIN COLLECTED (2002) #1 TPB 5THPRT Very Good

DC UNIVERSE ONLINE LEGENDS TPB (2011) #1 Fine
DC UNIVERSE ONLINE LEGENDS TPB (2011) #2 Very Fine

DC VS. MARVEL (1996) #1 Near Mint/Mint

DEATHSTROKE (2014) (#1-20) (DC NEW52) #4 Near Mint/Mint

DETECTIVE COMICS (1937) (#0-881) (DC) #584 Very Fine
DETECTIVE COMICS (1937) (#0-881) (DC) #585 Near Mint/Mint

DETECTIVE COMICS (2011) (#0-52) (DC NEW52) #1 Near Mint/Mint
DETECTIVE COMICS (2011) (#0-52) (DC NEW52) #1 2ND PRINT Very Fine
DETECTIVE COMICS (2011) (#0-52) (DC NEW52) #1 4TH PRINT Near Mint/Mint
DETECTIVE COMICS (2011) (#0-52) (DC NEW52) #5 VARIANT Near Mint/Mint
DETECTIVE COMICS (2011) (#0-52) (DC NEW52) #9 VARIANT Near Mint/Mint
DETECTIVE COMICS (2011) (#0-52) (DC NEW52) #15 NEWSSTAND Fine
DETECTIVE COMICS (2011) (#0-52) (DC NEW52) #32 BOMBSHELL Near Mint/Mint

EARTH 2 (2012) #1 VARIANT Very Good

FLASH (2011) (#0-52) (DC NEW52) #1 Near Mint/Mint
FLASH (2011) (#0-52) (DC NEW52) #1 VARIANT Near Mint/Mint
FLASH (2011) (#0-52) (DC NEW52) #32 BOMBSHELL Near Mint/Mint

FLASHPOINT (2011) #5 Near Mint/Mint
FLASHPOINT (2011) #5 SKETCH CV Near Mint/Mint
FLASHPOINT (2011) #5 VARIANT Near Mint/Mint

FRANKENSTEIN, AGENT OF SHADE (2011) #1 Near Mint/Mint

GREEN LANTERN (2011) (#0-52) (DC NEW52) #1 VARIANT Near Mint/Mint
GREEN LANTERN (2011) (#0-52) (DC NEW52) #14 VARIANT Very Fine
GREEN LANTERN (2011) (#0-52) (DC NEW52) #19 MAD COVER Near Mint/Mint
GREEN LANTERN (2011) (#0-52) (DC NEW52) #24 VARIANT Very Fine

GREEN LANTERN/GREEN ARROW COLLECTION HC #1 W/SLIPCASE Fine

GRIFTER (2011) #1 Near Mint/Mint

HARLEY QUINN (2013) (#0-30) (DC NEW52) #0 Near Mint/Mint
HARLEY QUINN (2013) (#0-30) (DC NEW52) #1 Very Fine
HARLEY QUINN (2013) (#0-30) (DC NEW52) #7 BOMBSHELL Near Mint/Mint

HARLEY QUINN (2016) (#1-UP) (DC REBIRTH) #1 LEGACY Very Fine


HARLEY QUINN INVADES COMIC-CON INTERNATIONAL SAN DIEGO (2014) #1

HARLEY QUINN INVADES COMIC-CON INTERNATIONAL SAN DIEGO (2014) #1 Near Mint/Mint

HAWKMAN (1964) (#1-27) (DC) #2 Good

JUSTICE LEAGUE (2011) (#0-52) (DC NEW52) #0 SKETCH CV Near Mint/Mint
JUSTICE LEAGUE (2011) (#0-52) (DC NEW52) #0 VARIANT Very Fine
JUSTICE LEAGUE (2011) (#0-52) (DC NEW52) #1 Near Mint/Mint
JUSTICE LEAGUE (2011) (#0-52) (DC NEW52) #1 COMBO Near Mint/Mint
JUSTICE LEAGUE (2011) (#0-52) (DC NEW52) #1 VARIANT Near Mint/Mint
JUSTICE LEAGUE (2011) (#0-52) (DC NEW52) #11 SKETCH CV Near Mint/Mint
JUSTICE LEAGUE (2011) (#0-52) (DC NEW52) #12 VARIANT Near Mint/Mint
JUSTICE LEAGUE (2011) (#0-52) (DC NEW52) #12 Very Fine
JUSTICE LEAGUE (2011) (#0-52) (DC NEW52) #13 SKETCH CV Near Mint/Mint
JUSTICE LEAGUE (2011) (#0-52) (DC NEW52) #14 SKETCH CV Very Fine
JUSTICE LEAGUE (2011) (#0-52) (DC NEW52) #15 SKETCH CV Near Mint/Mint
JUSTICE LEAGUE (2011) (#0-52) (DC NEW52) #15 TUCCI Very Fine
JUSTICE LEAGUE (2011) (#0-52) (DC NEW52) #22 SKETCH CV Near Mint/Mint
JUSTICE LEAGUE (2011) (#0-52) (DC NEW52) #23 VARIANT Near Mint/Mint
JUSTICE LEAGUE (2011) (#0-52) (DC NEW52) #24 VARIANT Near Mint/Mint
JUSTICE LEAGUE (2011) (#0-52) (DC NEW52) #28 VARIANT Near Mint/Mint
JUSTICE LEAGUE (2011) (#0-52) (DC NEW52) #32 VARIANT Near Mint/Mint
JUSTICE LEAGUE (2011) (#0-52) (DC NEW52) #33 VARIANT Near Mint/Mint
JUSTICE LEAGUE (2011) (#0-52) (DC NEW52) #34 VARIANT Near Mint/Mint

JUSTICE LEAGUE DARK (2011) #1 Near Mint/Mint
JUSTICE LEAGUE DARK (2011) #23 .2 DELUXE Near Mint/Mint

JUSTICE LEAGUE OF AMERICA (2013) (#1-14) (DC NEW52) #1 AR Near Mint/Mint
JUSTICE LEAGUE OF AMERICA (2013) (#1-14) (DC NEW52) #1 CA Very Fine
JUSTICE LEAGUE OF AMERICA (2013) (#1-14) (DC NEW52) #1 PR Near Mint/Mint
JUSTICE LEAGUE OF AMERICA (2013) (#1-14) (DC NEW52) #1 TX Near Mint/Mint

JUSTICE LEAGUE OF AMERICA VOL. 3: PANIC MICROVERSE TPB (2018) #1 Near Mint/Mint

JUSTICE LEAGUE UNITED (2014) #2 BOMBSHELL Near Mint/Mint

MAN OF STEEL TPB (1987) #1 WARNER ED Fine

MEN OF WAR (2011) #1 Near Mint/Mint

NIGHTWING (2011) (#0-30) (DC NEW52) #1 Near Mint/Mint

PREACHER: ALAMO TPB (VOL. 9) (2001) #1 5TH PRINT (DC: Vertigo Press) Fine

PREACHER: PROUD AMERICANS TPB (VOL. 3) (1997) #1 7TH PRINT (DC: Vertigo Press) Very Fine

PREACHER: UNTIL THE END OF THE WORLD TPB (VOL. 2) (1996) #1 9TH PRINT (DC: Vertigo Press) Fine

RANN/THANAGAR: HOLY WAR TPB (2009) #1 Fine
RANN/THANAGAR: HOLY WAR TPB (2009) #2 Fine


RED HOOD & THE OUTLAWS (2011) (#0-40) (DC NEW52) #1

RED HOOD & THE OUTLAWS (2011) (#0-40) (DC NEW52) #1 Near Mint/Mint

SANDMAN: A GAME OF YOU (VOL. 5) #1 HC 3RD PRT (DC: Vertigo Press) Near Mint/Mint

SANDMAN: KINDLY ONES (VOL. 9) (1996) #1 HC 3RD PRT (DC: Vertigo Press) Near Mint/Mint

SUICIDE SQUAD (2011) (#0-30) (DC NEW52) #1 Near Mint/Mint
SUICIDE SQUAD (2011) (#0-30) (DC NEW52) #1 Very Fine
SUICIDE SQUAD (2011) (#0-30) (DC NEW52) #2 Very Fine
SUICIDE SQUAD (2011) (#0-30) (DC NEW52) #3 Near Mint/Mint
SUICIDE SQUAD (2011) (#0-30) (DC NEW52) #5 Very Fine
SUICIDE SQUAD (2011) (#0-30) (DC NEW52) #6 Near Mint/Mint
SUICIDE SQUAD (2011) (#0-30) (DC NEW52) #7 Very Fine
SUICIDE SQUAD (2011) (#0-30) (DC NEW52) #8 Very Fine

SUICIDE SQUAD (2016) (#1-UP) (DC REBIRTH) #1 TERRIFICON Very Fine

SUPER SONS VOL. 2: PLANET OF THE CAPES TPB (DC REBIRTH) (2018) #1 Near Mint/Mint

SUPERBOY (2011) (#1-34) (DC NEW52) #1 Near Mint/Mint

SUPERGIRL (2011) (#0-40) (DC NEW52) #1 Very Fine

SUPERMAN (1939) (#1-423) (DC) #329 WHITMAN Very Good

SUPERMAN (1986) (#0-226, #650-714) (DC) #75 BAGGED Near Mint/Mint
SUPERMAN (1986) (#0-226, #650-714) (DC) #123 DELUXE SGN Very Fine

SUPERMAN (2011) (#0-52) (DC NEW52) #23 .1 DELUXE Near Mint/Mint
SUPERMAN (2011) (#0-52) (DC NEW52) #23 .3 DELUXE Near Mint/Mint

SUPERMAN (2016) (#1-UP) (DC REBIRTH) #10 Fine

SUPERMAN REBIRTH (2016) #1 3RD PRINT Near Mint/Mint

SUPERMAN UNCHAINED (2013) #1 BRONZE AGE Near Mint/Mint
SUPERMAN UNCHAINED (2013) #1 LEX LUTHOR Near Mint/Mint
SUPERMAN UNCHAINED (2013) #1 MODERN AGE Near Mint/Mint
SUPERMAN UNCHAINED (2013) #1 NEW 52 Near Mint/Mint
SUPERMAN UNCHAINED (2013) #1 REBORN Near Mint/Mint
SUPERMAN UNCHAINED (2013) #1 SILVER AGE Near Mint/Mint
SUPERMAN UNCHAINED (2013) #2 BRONZE AGE Near Mint/Mint
SUPERMAN UNCHAINED (2013) #2 REBORN Near Mint/Mint
SUPERMAN UNCHAINED (2013) #3 MODERN AGE Very Fine
SUPERMAN UNCHAINED (2013) #4 MODERN AGE Very Fine
SUPERMAN UNCHAINED (2013) #5 MODERN AGE Near Mint/Mint
SUPERMAN UNCHAINED (2013) #5 REBORN Very Fine
SUPERMAN UNCHAINED (2013) #6 MODERN AGE Near Mint/Mint

SUPERMAN/WONDER WOMAN (2013) #9 BOMBSHELL Near Mint/Mint

SUPERMAN: MAN OF STEEL (1991) #19 Very Fine


TEEN TITANS (2011) (#0-30) (DC NEW52) #1

TEEN TITANS (2011) (#0-30) (DC NEW52) #1 Near Mint/Mint
TEEN TITANS (2011) (#0-30) (DC NEW52) #23 .2 DELUXE Near Mint/Mint

TRANSMETROPOLITAN VOL. 8: DIRGE TPB (2010) #1 (DC: Vertigo Press) Near Mint/Mint

WATCHMEN TPB (1987) #1 10TH PRINT Near Mint/Mint

WONDER WOMAN (1942) (#1-329) (DC) #240 Fine

WONDER WOMAN (2006) (#1-44, 600-614) (DC) #28 Fine

WONDER WOMAN (2011) (#0-52) (DC NEW52) #1 Near Mint/Mint
WONDER WOMAN (2011) (#0-52) (DC NEW52) #32 BOMBSHELL Near Mint/Mint

DARK HORSE COMICS
BATMAN VS. PREDATOR (1991) #3 NEWSSTAND Very Good

HARVEY COMICS CLASSICS: BABY HUEY TPB (VOL. 4) (2008) #1 Fine
HARVEY COMICS CLASSICS: BABY HUEY TPB (VOL. 4) (2008) #1 Very Good

STAR WARS (2013) (#1-20) (DARK HORSE) #1 Near Mint/Mint

XERXES PROMO ASHCAN (2018) #1 Near Mint/Mint

IMAGE COMICS
OBLIVION SONG (2018) #1 COLLECTORS Near Mint/Mint

PAKLIS (2017) #1 25TH Near Mint/Mint
PAKLIS (2017) #1 25THVIRGIN Near Mint/Mint

SACRED CREATURES (2017) #5 C COIPEL Fine

SPAWN (1992) #1 Very Good
SPAWN (1992) #4 Near Mint/Mint
SPAWN (1992) #237 TRADESMART Near Mint/Mint
SPAWN (1992) #239 Near Mint/Mint
SPAWN (1992) #242 Near Mint/Mint
SPAWN (1992) #244 Near Mint/Mint
SPAWN (1992) #283 B ALEXAB&W Near Mint/Mint
SPAWN (1992) #283 A ALEXANDE Near Mint/Mint

SPAWN: THANKS RETAILER APPRECIATION VARIANT (2017) #1 Near Mint/Mint

WALKING DEAD VOL.29: LINES WE CROSS TPB (2018) #1 Near Mint/Mint

WALKING DEAD: DAYS GONE BYE TPB (VOL. 1) (2004) #1 9TH PRINT Near Mint/Mint

WALKING DEAD: HEART'S DESIRE TPB (VOL. 4) (2005) #1 4TH PRINT Fine

WALKING DEAD: MILES BEHIND US TPB (VOL. 2) (2004) #1 5TH PRINT Near Mint/Mint

WALKING DEAD: SAFETY BEHIND BARS TPB (VOL. 3) (2005) #1 5TH PRINT Very Fine

INDEPENDENTS

ARCHIE'S TV LAUGH-OUT (1969) #28

ARCHIE'S TV LAUGH-OUT (1969) #28 (Archie Comics) Fine

BARBARELLA (2017) #2 H MARTIB&W (DYNAMITE Entertainment) Fine

BART SIMPSON: BUST-UP TPB (2018) #1 (Bongo Comics) Near Mint/Mint

BIG ASS COMICS #1 1991 (Last Gasp) Fine

BIONIC MAN (DYNAMITE) (2011) #1 SEGOVI B&W (DYNAMITE Entertainment) Near Mint/Mint

BIRDLAND (Eros Comix (Fantagraphics)) (ADULT) (GILBERT HERNANDEZ) (1990) #1 (Eros Comix (Fantagraphics)) Fine
BIRDLAND (Eros Comix (Fantagraphics)) (ADULT) (GILBERT HERNANDEZ) (1990) #1 (Eros Comix (Fantagraphics)) Very Fine

BIRTH CAUL #1 (Eddie Campbell Comics) Very Fine

BIZZARIAN (2000) #1 (Ironcat) Very Fine
BIZZARIAN (2000) #7 (Ironcat) Very Fine
BIZZARIAN (2000) #8 (Ironcat) Fine
BIZZARIAN (2000) #8 (Ironcat) Very Fine

BLACK BEAUTY (1952) #1 FC #440 (Dell Publishing) Very Fine

BLACK DOMINION (1993) #1 LIMITED ED (Anubis Press) Fine

BLACK TERROR (DYNAMITE ENTERTAINMENT) (2008) #4 ROSS NEGAT (DYNAMITE Entertainment) Very Fine
BLACK TERROR (DYNAMITE ENTERTAINMENT) (2008) #5 ROSS VIRGN (DYNAMITE Entertainment) Near Mint/Mint
BLACK TERROR (DYNAMITE ENTERTAINMENT) (2008) #6 ROSS VIRGN (DYNAMITE Entertainment) Near Mint/Mint

BLAIR WITCH PROJECT (1999) #1 DFEGLOWS&N (Oni Press Inc.) Near Mint/Mint

BLONDE: DOUBLE CROSS (ADULT) #1 (Eros Comix (Fantagraphics)) Very Fine
BLONDE: DOUBLE CROSS (ADULT) #3 (Eros Comix (Fantagraphics)) Very Fine

BLONDIE (#R'S) (1977) #11 (King Features) Very Fine

BLOODRAYNE: LYCAN REX (2005) #1 LTD ULTIMA (DIGITAL WEBBING) Near Mint/Mint

BLOODSHED #0 LTDSN&REMK (Damage Press) Near Mint/Mint

BLUE BEETLE (1965) (VOL. 3) (#50-54) (CHARLTON) #53 (Charlton) Fine
BLUE BEETLE (1965) (VOL. 3) (#50-54) (CHARLTON) #53 (Charlton) Very Good

BOBBY SHERMAN (1972) #4 (Charlton) Fine

BODY PAINT (1995) #1 (Eros Comix (Fantagraphics)) Very Fine

BON VOYAGE (1962) #1 (Dell Publishing) Fine

BONANZA (1962) #15 (Gold Key) Fine
BONANZA (1962) #16 (Gold Key) Fine
BONANZA (1962) #17 (Gold Key) Fine
BONANZA (1962) #19 (Gold Key) Very Good
BONANZA (1962) #21 (Gold Key) Very Good
BONANZA (1962) #24 (Gold Key) Fine

BONANZA (1962) #26 (Gold Key) Fine
BONANZA (1962) #26 (Gold Key) Very Good
BONANZA (1962) #27 (Gold Key) Fine
BONANZA (1962) #28 (Gold Key) Fine
BONANZA (1962) #31 (Gold Key) Fine
BONANZA (1962) #31 (Gold Key) Very Good
BONANZA (1962) #32 (Gold Key) Very Good
BONANZA (1962) #33 (Gold Key) Fine
BONANZA (1962) #34 (Gold Key) Fine
BONANZA (1962) #34 (Gold Key) Very Good
BONANZA (1962) #35 (Gold Key) Fine

BONDAGE FAIRIES #2 (Antarctic Press) Very Fine
BONDAGE FAIRIES (NEW) (1996) #10 (Eros Comix (Fantagraphics)) Near Mint/Mint
BONDAGE FAIRIES (NEW) (1996) #11 (Eros Comix (Fantagraphics)) Near Mint/Mint

BONDAGE FAIRIES EXTREME #3 (Eros Comix (Fantagraphics)) Near Mint/Mint
BONDAGE FAIRIES EXTREME #3 (Eros Comix (Fantagraphics)) Very Fine
BONDAGE FAIRIES EXTREME #4 (Eros Comix (Fantagraphics)) Near Mint/Mint

BONE (CARTOON BOOKS) (#1-55) (1991) #2 4TH PRINT (Cartoon Books) Near Mint/Mint
BONE (CARTOON BOOKS) (#1-55) (1991) #2 4TH PRINT (Cartoon Books) Very Fine
BONE (CARTOON BOOKS) (#1-55) (1991) #2 3RD PRINT (Cartoon Books) Fine
BONE (CARTOON BOOKS) (#1-55) (1991) #4 3RD PRINT (Cartoon Books) Near Mint/Mint
BONE (CARTOON BOOKS) (#1-55) (1991) #4 2ND PRINT (Cartoon Books) Very Fine
BONE (CARTOON BOOKS) (#1-55) (1991) #4 3RD PRINT (Cartoon Books) Very Fine
BONE (CARTOON BOOKS) (#1-55) (1991) #4 2ND PRINT (Cartoon Books) Fine
BONE (CARTOON BOOKS) (#1-55) (1991) #4 3RD PRINT (Cartoon Books) Fine
BONE (CARTOON BOOKS) (#1-55) (1991) #5 3RD PRINT (Cartoon Books) Very Fine
BONE (CARTOON BOOKS) (#1-55) (1991) #5 2ND PRINT (Cartoon Books) Fine
BONE (CARTOON BOOKS) (#1-55) (1991) #5 2ND SIGNED (Cartoon Books) Near Mint/Mint
BONE (CARTOON BOOKS) (#1-55) (1991) #6 3RD PRINT (Cartoon Books) Fine
BONE (CARTOON BOOKS) (#1-55) (1991) #7 3RD PRINT (Cartoon Books) Fine
BONE (CARTOON BOOKS) (#1-55) (1991) #8 2ND PRINT (Cartoon Books) Fine
BONE (CARTOON BOOKS) (#1-55) (1991) #8 3RD PRINT (Cartoon Books) Very Fine
BONE (CARTOON BOOKS) (#1-55) (1991) #14 J.SMITH SN (Cartoon Books) Very Fine
BONE (CARTOON BOOKS) (#1-55) (1991) #14 J.SMITH SN (Cartoon Books) Very Good

BONGO & LUMPJAW (1956) #1 FC #886 (Dell Publishing) Very Good
BONGO & LUMPJAW (1956) #1 FC #706 (Dell Publishing) Good

BOOTLEG #17 (White Lightning) Near Mint/Mint
BOOTLEG #17 (White Lightning) Very Fine
BOOTLEG #18 (White Lightning) Near Mint/Mint

BOOTS AND SADDLES (1958) #1 FC #1029 (Dell Publishing) Good

BORIS KARLOFF TALES OF MYSTERY (GOLD KEY) (1963) #21 (Gold Key) Very Good
BORIS KARLOFF TALES OF MYSTERY (GOLD KEY) (1963) #22 (Gold Key) Fine

BORN AGAIN (1978) #1 39 CENT CV (Archie: Spire Christian Comics) Fine

BOY AND THE PIRATES #1 FC #1117 (Dell Publishing) Very Good
BOY AND THE PIRATES #1 FC #1117 (Dell Publishing) Good


BOYS (#7-UP) (2007) #30 LEE VIRGIN

BOYS (#7-UP) (2007) #30 LEE VIRGIN (DYNAMITE Entertainment) Near Mint/Mint
BOYS (#7-UP) (2007) #30 LEE VIRGIN (DYNAMITE Entertainment) Very Fine

BRAVE ONE (1957) #1 FC #773 (Dell Publishing) Fine
BRAVE ONE (1957) #1 FC #773 (Dell Publishing) Very Good

BREED #1 DFE S&N (Bravura) Fine

BRIDES IN LOVE (1956) #19 (Charlton) Fine
BRIDES IN LOVE (1956) #19 (Charlton) Near Mint/Mint

BROTHERS OF THE SPEAR (1972) (#1-17) (GOLD KEY) #1 (Gold Key) Fine
BROTHERS OF THE SPEAR (1972) (#1-17) (GOLD KEY) #2 (Gold Key) Very Fine
BROTHERS OF THE SPEAR (1972) (#1-17) (GOLD KEY) #2 (Gold Key) Very Good
BROTHERS OF THE SPEAR (1972) (#1-17) (GOLD KEY) #11 WHITMAN (Gold Key) Fine
BROTHERS OF THE SPEAR (1972) (#1-17) (GOLD KEY) #16 WHITMAN (Gold Key) Fine
BROTHERS OF THE SPEAR (1972) (#1-17) (GOLD KEY) #17 WHITMAN (Gold Key) Fine

BUCK ROGERS (1980) (#7-16) (WHITMAN) #12 (Whitman Publishing) Near Mint/Mint
BUCK ROGERS (1980) (#7-16) (WHITMAN) #12 (Whitman Publishing) Very Fine
BUCK ROGERS (1980) (#7-16) (WHITMAN) #15 (Whitman Publishing) Very Fine

BUCK ROGERS (2009) #1 CASS NEGAT (DYNAMITE Entertainment) Near Mint/Mint
BUCK ROGERS (2009) #1 ROSS NEGAT (DYNAMITE Entertainment) Near Mint/Mint

BUFFALO BILL JR. (1956) #8 (Dell Publishing) Very Good
BUFFALO BILL JR. (1956) #2 FC #742 (Dell Publishing) Very Good
BUFFALO BILL JR. (1956) #5 FC #828 (Dell Publishing) Very Good
BUFFALO BILL JR. (1956) #5 FC #828 (Dell Publishing) Good

BUGS BUNNY (1942) (#1-85) (Dell Publishing) #28 (Dell Publishing) Good
BUGS BUNNY (1942) (#1-85) (Dell Publishing) #28 (Dell Publishing) Very Good
BUGS BUNNY (1942) (#1-85) (Dell Publishing) #29 (Dell Publishing) Very Good
BUGS BUNNY (1942) (#1-85) (Dell Publishing) #30 (Dell Publishing) Fine
BUGS BUNNY (1942) (#1-85) (Dell Publishing) #30 (Dell Publishing) Very Good
BUGS BUNNY (1942) (#1-85) (Dell Publishing) #31 (Dell Publishing) Very Good
BUGS BUNNY (1942) (#1-85) (Dell Publishing) #32 (Dell Publishing) Fine
BUGS BUNNY (1942) (#1-85) (Dell Publishing) #32 (Dell Publishing) Very Good
BUGS BUNNY (1942) (#1-85) (Dell Publishing) #33 (Dell Publishing) Fine
BUGS BUNNY (1942) (#1-85) (Dell Publishing) #34 (Dell Publishing) Fine
BUGS BUNNY (1942) (#1-85) (Dell Publishing) #34 (Dell Publishing) Very Good
BUGS BUNNY (1942) (#1-85) (Dell Publishing) #35 (Dell Publishing) Very Good
BUGS BUNNY (1942) (#1-85) (Dell Publishing) #36 (Dell Publishing) Fine
BUGS BUNNY (1942) (#1-85) (Dell Publishing) #36 (Dell Publishing) Very Good
BUGS BUNNY (1942) (#1-85) (Dell Publishing) #37 (Dell Publishing) Very Good
BUGS BUNNY (1942) (#1-85) (Dell Publishing) #38 (Dell Publishing) Very Good
BUGS BUNNY (1942) (#1-85) (Dell Publishing) #39 (Dell Publishing) Fine
BUGS BUNNY (1942) (#1-85) (Dell Publishing) #39 (Dell Publishing) Very Good
BUGS BUNNY (1942) (#1-85) (Dell Publishing) #40 (Dell Publishing) Fine
BUGS BUNNY (1942) (#1-85) (Dell Publishing) #40 (Dell Publishing) Very Good
BUGS BUNNY (1942) (#1-85) (Dell Publishing) #41 (Dell Publishing) Fine
BUGS BUNNY (1942) (#1-85) (Dell Publishing) #41 (Dell Publishing) Very Good
BUGS BUNNY (1942) (#1-85) (Dell Publishing) #42 (Dell Publishing) Very Good
BUGS BUNNY (1942) (#1-85) (Dell Publishing) #43 (Dell Publishing) Very Good
BUGS BUNNY (1942) (#1-85) (Dell Publishing) #44 (Dell Publishing) Fine
BUGS BUNNY (1942) (#1-85) (Dell Publishing) #44 (Dell Publishing) Very Good
BUGS BUNNY (1942) (#1-85) (Dell Publishing) #45 (Dell Publishing) Fine


BUGS BUNNY (1942) (#1-85) (Dell Publishing) #45

BUGS BUNNY (1942) (#1-85) (Dell Publishing) #45 (Dell Publishing) Very Good
BUGS BUNNY (1942) (#1-85) (Dell Publishing) #46 (Dell Publishing) Fine
BUGS BUNNY (1942) (#1-85) (Dell Publishing) #46 (Dell Publishing) Very Good
BUGS BUNNY (1942) (#1-85) (Dell Publishing) #47 (Dell Publishing) Fine
BUGS BUNNY (1942) (#1-85) (Dell Publishing) #47 (Dell Publishing) Very Good
BUGS BUNNY (1942) (#1-85) (Dell Publishing) #48 (Dell Publishing) Fine
BUGS BUNNY (1942) (#1-85) (Dell Publishing) #48 (Dell Publishing) Very Good
BUGS BUNNY (1942) (#1-85) (Dell Publishing) #49 (Dell Publishing) Very Good
BUGS BUNNY (1942) (#1-85) (Dell Publishing) #50 (Dell Publishing) Fine
BUGS BUNNY (1942) (#1-85) (Dell Publishing) #50 (Dell Publishing) Very Good
BUGS BUNNY (1942) (#1-85) (Dell Publishing) #51 (Dell Publishing) Fine
BUGS BUNNY (1942) (#1-85) (Dell Publishing) #51 (Dell Publishing) Very Good
BUGS BUNNY (1942) (#1-85) (Dell Publishing) #52 (Dell Publishing) Very Good
BUGS BUNNY (1942) (#1-85) (Dell Publishing) #53 (Dell Publishing) Very Good
BUGS BUNNY (1942) (#1-85) (Dell Publishing) #54 (Dell Publishing) Very Good
BUGS BUNNY (1942) (#1-85) (Dell Publishing) #55 (Dell Publishing) Fine
BUGS BUNNY (1942) (#1-85) (Dell Publishing) #55 (Dell Publishing) Very Fine
BUGS BUNNY (1942) (#1-85) (Dell Publishing) #56 (Dell Publishing) Very Good
BUGS BUNNY (1942) (#1-85) (Dell Publishing) #57 (Dell Publishing) Very Fine
BUGS BUNNY (1942) (#1-85) (Dell Publishing) #57 (Dell Publishing) Very Good
BUGS BUNNY (1942) (#1-85) (Dell Publishing) #58 (Dell Publishing) Fine
BUGS BUNNY (1942) (#1-85) (Dell Publishing) #58 (Dell Publishing) Very Good
BUGS BUNNY (1942) (#1-85) (Dell Publishing) #60 (Dell Publishing) Fine
BUGS BUNNY (1942) (#1-85) (Dell Publishing) #60 (Dell Publishing) Very Good
BUGS BUNNY (1942) (#1-85) (Dell Publishing) #61 (Dell Publishing) Fine
BUGS BUNNY (1942) (#1-85) (Dell Publishing) #61 (Dell Publishing) Very Good
BUGS BUNNY (1942) (#1-85) (Dell Publishing) #62 (Dell Publishing) Very Good
BUGS BUNNY (1942) (#1-85) (Dell Publishing) #64 (Dell Publishing) Very Good
BUGS BUNNY (1942) (#1-85) (Dell Publishing) #65 (Dell Publishing) Fine
BUGS BUNNY (1942) (#1-85) (Dell Publishing) #65 (Dell Publishing) Very Good
BUGS BUNNY (1942) (#1-85) (Dell Publishing) #66 (Dell Publishing) Very Good
BUGS BUNNY (1942) (#1-85) (Dell Publishing) #67 (Dell Publishing) Very Good
BUGS BUNNY (1942) (#1-85) (Dell Publishing) #69 (Dell Publishing) Very Fine
BUGS BUNNY (1942) (#1-85) (Dell Publishing) #69 (Dell Publishing) Very Good
BUGS BUNNY (1942) (#1-85) (Dell Publishing) #70 (Dell Publishing) Very Good
BUGS BUNNY (1942) (#1-85) (Dell Publishing) #71 (Dell Publishing) Fine
BUGS BUNNY (1942) (#1-85) (Dell Publishing) #71 (Dell Publishing) Very Good
BUGS BUNNY (1942) (#1-85) (Dell Publishing) #73 (Dell Publishing) Very Good
BUGS BUNNY (1942) (#1-85) (Dell Publishing) #74 (Dell Publishing) Fine
BUGS BUNNY (1942) (#1-85) (Dell Publishing) #74 (Dell Publishing) Very Good
BUGS BUNNY (1942) (#1-85) (Dell Publishing) #75 (Dell Publishing) Very Good
BUGS BUNNY (1942) (#1-85) (Dell Publishing) #76 (Dell Publishing) Fine
BUGS BUNNY (1942) (#1-85) (Dell Publishing) #76 (Dell Publishing) Very Good
BUGS BUNNY (1942) (#1-85) (Dell Publishing) #80 (Dell Publishing) Very Good
BUGS BUNNY (1942) (#1-85) (Dell Publishing) #82 (Dell Publishing) Very Good
BUGS BUNNY (1942) (#1-85) (Dell Publishing) #84 (Dell Publishing) Very Good
BUGS BUNNY (1942) (#1-85) (Dell Publishing) #1 FC #724 (Dell Publishing) Fine
BUGS BUNNY (1942) (#1-85) (Dell Publishing) #1 FC #420 (Dell Publishing) Very Good
BUGS BUNNY (1942) (#1-85) (Dell Publishing) #1 FC #432 (Dell Publishing) Very Fine
BUGS BUNNY (1942) (#1-85) (Dell Publishing) #1 FC #724 (Dell Publishing) Very Good
BUGS BUNNY (1942) (#1-85) (Dell Publishing) #1 FC #407 (Dell Publishing) Very Good
BUGS BUNNY (1942) (#1-85) (Dell Publishing) #1 FC #432 (Dell Publishing) Very Good
BUGS BUNNY (1942) (#1-85) (Dell Publishing) #1 FC #498 (Dell Publishing) Very Good
BUGS BUNNY (1942) (#1-85) (Dell Publishing) #1 FC #498 (Dell Publishing) Good
BUGS BUNNY (1942) (#1-85) (Dell Publishing) #1 FC #838 (Dell Publishing) Very Good


BUGS BUNNY (1962) (#86-218) (GOLD KEY) #86

BUGS BUNNY (1962) (#86-218) (GOLD KEY) #86 (Gold Key) Good
BUGS BUNNY (1962) (#86-218) (GOLD KEY) #87 (Gold Key) Good
BUGS BUNNY (1962) (#86-218) (GOLD KEY) #87 (Gold Key) Very Good
BUGS BUNNY (1962) (#86-218) (GOLD KEY) #88 (Gold Key) Fine
BUGS BUNNY (1962) (#86-218) (GOLD KEY) #88 (Gold Key) Very Good
BUGS BUNNY (1962) (#86-218) (GOLD KEY) #91 (Gold Key) Very Good
BUGS BUNNY (1962) (#86-218) (GOLD KEY) #95 (Gold Key) Very Good
BUGS BUNNY (1962) (#86-218) (GOLD KEY) #96 (Gold Key) Fine
BUGS BUNNY (1962) (#86-218) (GOLD KEY) #97 (Gold Key) Fine
BUGS BUNNY (1962) (#86-218) (GOLD KEY) #97 (Gold Key) Very Good
BUGS BUNNY (1962) (#86-218) (GOLD KEY) #99 (Gold Key) Very Fine
BUGS BUNNY (1962) (#86-218) (GOLD KEY) #99 (Gold Key) Very Good
BUGS BUNNY (1962) (#86-218) (GOLD KEY) #100 (Gold Key) Fine
BUGS BUNNY (1962) (#86-218) (GOLD KEY) #111 (Gold Key) Fine
BUGS BUNNY (1962) (#86-218) (GOLD KEY) #118 (Gold Key) Fine
BUGS BUNNY (1962) (#86-218) (GOLD KEY) #148 WHITMAN (Gold Key) Fine
BUGS BUNNY (1962) (#86-218) (GOLD KEY) #150 WHITMAN (Gold Key) Fine
BUGS BUNNY (1962) (#86-218) (GOLD KEY) #151 WHITMAN (Gold Key) Fine
BUGS BUNNY (1962) (#86-218) (GOLD KEY) #155 WHITMAN (Gold Key) Fine
BUGS BUNNY (1962) (#86-218) (GOLD KEY) #158 WHITMAN (Gold Key) Fine

BULLWHIP GRIFFIN (MOVIE COMICS) (1967) #1 (Gold Key) Fine
BULLWHIP GRIFFIN (MOVIE COMICS) (1967) #1 (Gold Key) Very Good

BULLWINKLE (1962) (GOLD KEY) (#1-25) #3 (Gold Key) Very Good
BULLWINKLE (1962) (GOLD KEY) (#1-25) #5 WHITMAN (Gold Key) Very Good
BULLWINKLE (1962) (GOLD KEY) (#1-25) #5 (Gold Key) Very Good
BULLWINKLE (1962) (GOLD KEY) (#1-25) #5 WHITMAN (Gold Key) Good
BULLWINKLE (1962) (GOLD KEY) (#1-25) #7 (Gold Key) Fine
BULLWINKLE (1962) (GOLD KEY) (#1-25) #7 (Gold Key) Very Fine
BULLWINKLE (1962) (GOLD KEY) (#1-25) #11 (Gold Key) Fine
BULLWINKLE (1962) (GOLD KEY) (#1-25) #11 (Gold Key) Very Fine
BULLWINKLE (1962) (GOLD KEY) (#1-25) #14 (Gold Key) Fine
BULLWINKLE (1962) (GOLD KEY) (#1-25) #14 (Gold Key) Very Fine
BULLWINKLE (1962) (GOLD KEY) (#1-25) #14 WHITMAN (Gold Key) Very Good

BUMP (2007) #1 SKETCH INC (Fangoria) Near Mint/Mint

BUNNY (1966) #21 (Harvey Comics) Very Fine

BURRERIAS (1972) #215 (Semanal) Very Good
BURRERIAS (1972) #216 (Semanal) Very Good

BUSTER BROWN COMIC BOOK (1945) #40 (BROWN SHOE COMPANY) Very Good
BUSTER BROWN COMIC BOOK (1945) #41 (BROWN SHOE COMPANY) Very Good

BUSTER BUNNY (1949) #11 (Standard Comics) Very Good

BUTTERSCOTCH (1991) #3 (Eros Comix (Fantagraphics)) Very Fine

CALIBER CHRISTMAS #1998 (Caliber Press) Near Mint/Mint

CALVIN AND THE COLONEL (1962) #2 (Dell Publishing) Very Good

CAPTAIN ATOM (1965) #78 (Charlton) Very Good
CAPTAIN ATOM (1965) #87 (Charlton) Fine
CAPTAIN ATOM (1965) #88 (Charlton) Fine

CAPTAIN GALLANT (1955) #1 (U.S. Pictorial, Inc.) Fine
CAPTAIN GALLANT (1955) #1 (U.S. Pictorial, Inc.) Very Fine
CAPTAIN GALLANT (1955) #1 (U.S. Pictorial, Inc.) Very Good

CAPTAIN MARVEL (1966) (#1-4) (GIANT ACTION ISSUE) #4 (M.F. Enterprises) Fine

CAPTAIN MARVEL JR. IN SKI JUMP ENVELOPE #1 (FAWCETT PUBLICATION) Fine
CAPTAIN MARVEL JR. IN SKI JUMP ENVELOPE #1 (FAWCETT PUBLICATION) Very Good
CAPTAIN MARVEL JR. IN SKI JUMP ENVELOPE #1 (FAWCETT PUBLICATION) Very Fine

CAPTAIN MARVEL PICTURE PUZZLE ENVELOPE #1 (FAWCETT PUBLICATION) Fine
CAPTAIN MARVEL PICTURE PUZZLE ENVELOPE #1 (FAWCETT PUBLICATION) Very Good

CAPTAIN N #2 (Acclaim/Valiant) Fine
CAPTAIN N #2 (Acclaim/Valiant) Very Fine

CAPTAIN SINDBAD (MOVIE COMIC) (1963) #1 (Gold Key) Good
CAPTAIN SINDBAD (MOVIE COMIC) (1963) #1 (Gold Key) Very Good

CAPTAIN STERNN: RUNNING OUT OF TIME #1 PROMO (Kitchen Sink Publishing) Near Mint/Mint

CAPTAIN STEVE SAVAGE (1954) #5 (Avon Publication) Good
CAPTAIN STEVE SAVAGE (1954) #5 (Avon Publication) Very Good

CAPTAIN VENTURE (1968) #1 (Gold Key) Good
CAPTAIN VENTURE (1968) #1 (Gold Key) Fine
CAPTAIN VENTURE (1968) #1 (Gold Key) Very Fine
CAPTAIN VENTURE (1968) #1 (Gold Key) Very Good
CAPTAIN VENTURE (1968) #2 (Gold Key) Fine
CAPTAIN VENTURE (1968) #2 (Gold Key) Very Good
CAPTAIN VENTURE (1968) #2 (Gold Key) Very Fine

CAREER GIRL ROMANCES (1964) #72 (Charlton) Fine
CAREER GIRL ROMANCES (1964) #77 (Charlton) Fine
CAREER GIRL ROMANCES (1964) #77 (Charlton) Very Good
CAREER GIRL ROMANCES (1964) #77 (Charlton) Very Fine

CARMILLA (1991) #1 (Aircel Publications) Near Mint/Mint

CARNAL COMICS INSIDE STORY OF ART, SEX, & PORN STARS (2004) #1 (Carnal Comics) Near Mint/Mint

CARNAL COMICS: BLONDAGE, JANINI & JULIA ANN #1 (Carnal Comics) Near Mint/Mint

CARNAL COMICS: BRITTANY ANDREWS #1 PHOTO SGN (Carnal Comics) Near Mint/Mint

CARNAL COMICS: BRITTANY O'CONNELL (1996) #1 SIGNED (Carnal Comics) Very Fine


CARNAL COMICS: BRITTANY O'CONNELL (1996) #1

CARNAL COMICS: BRITTANY O'CONNELL (1996) #1 (Carnal Comics) Very Fine

CARNAL COMICS: CHRISTI LAKE #1 PHOTO SGN (Revisionary Press) Very Fine
CARNAL COMICS: CHRISTI LAKE #1 SIGNED (Revisionary Press) Very Fine

CARNAL COMICS: CHRISTINA ANGEL (1996) #1 PHOTO SGN (Carnal Comics) Near Mint/Mint
CARNAL COMICS: CHRISTINA ANGEL (1996) #1 SIGNED (Carnal Comics) Near Mint/Mint

CARNAL COMICS: JEANNA FINE #1 SIGNED (Carnal Comics) Very Fine

CARNAL COMICS: JENNA JAMESON #1 (Revisionary Press) Very Fine

CARNAL COMICS: JULIA ANN (1995) #1 SIGNED (Revisionary Press) Near Mint/Mint

CARNAL COMICS: KELLY O'DELL #1 SIGNED (Carnal Comics) Very Fine

CARNAL COMICS: KENDRA JADE #1 (Carnal Comics) Very Fine

CARNAL COMICS: LILLI XENE #1 SIGNED (Carnal Comics) Very Fine

CARNAL COMICS: MELISSA MONET #1 SIGNED (Revisionary Press) Very Fine
CARNAL COMICS: MELISSA MONET #1 (Revisionary Press) Very Fine

CARNAL COMICS: REBECCA BARDOUX #1 SIGNED (Carnal Comics) Near Mint/Mint

CARNAL COMICS: SARAH-JANE HAMILTON #2 (Carnal Comics) Very Fine

CARNAL COMICS: SERENITY #1 (Carnal Comics) Near Mint/Mint

CARNAL COMICS: TAYLOR WAYNE #1 (Revisionary Press) Very Fine

CARNAL COMICS: TYFFANY MILLION (1994) #1 SIGNED (Revisionary Press) Near Mint/Mint

CARNAL COMICS: WICKED WEAPON MOVIE ADAPTATION #1 PHOTO NUDE (Carnal Comics) Near Mint/Mint
CARNAL COMICS: WICKED WEAPON MOVIE ADAPTATION #1 SIGNED (Carnal Comics) Near Mint/Mint

CARTOON CARNIVAL (1965) #24 (Charlton) Very Good

CARTOON HISTORY OF THE UNIVERSE #7 (Rip Off Press) Very Fine
CARTOON HISTORY OF THE UNIVERSE #8 (Rip Off Press) Near Mint/Mint
CARTOON HISTORY OF THE UNIVERSE #8 (Rip Off Press) Very Fine
CARTOON HISTORY OF THE UNIVERSE #9 (Rip Off Press) Very Fine

CASANOVA! (1991) #10 (Aircel Publications) Near Mint/Mint

COMPLETE ZOMBIES VS. ROBOTS TPB (2008) #1 (IDW Publishing) Very Good

DEAD BOY DETECTIVES DIGEST (2005) #1 (DC: Vertigo Press) Near Mint/Mint

FRANKENSTEIN ALIVE, ALIVE (2012) #1 REANIMATED (IDW Publishing) Near Mint/Mint

GRIMM FAIRY TALES: ESCAPE FROM MONSTER ISLAND (2016) #6 E CGC 9.8 (Zenescope Entertainment Inc) Near Mint/Mint

HEAVY METAL (MAG) #7805 (Heavy Metal) Very Good
HEAVY METAL (MAG) #7806 (Heavy Metal) Fine

IT CREPT FROM THE TOMB TPB (2018) #1 (Twomorrows Publishing) Near Mint/Mint

MOUSE GUARD: LEGENDS OF THE GUARD (2010) #3 (Archaia Studios Press) Near Mint/Mint

RICHIE RICH (1960) #64 (Harvey Comics) Good
RICHIE RICH (1960) #66 (Harvey Comics) Good
RICHIE RICH (1960) #67 (Harvey Comics) Good

SAD SACK'S ARMY LIFE (1963) #50 (Harvey Comics) Fine
SAD SACK'S ARMY LIFE (1963) #51 (Harvey Comics) Fine

SCOUT: WAR SHAMAN (ECLIPSE) (1988) #16 (Eclipse Enterprises) Near Mint/Mint

SHADOW CABINET (1994) #17 (DC: Milestone Press) Near Mint/Mint

SPEED RACER CLASSICS TPB #1 (Now Comics) Near Mint/Mint

STAR WARS ADVENTURES: DESTROYER DOWN (LOOTCRATE) (2018) #1 (IDW Publishing) Near Mint/Mint

STAR WARS: THE LAST JEDI HC (2018) #1 (Del Rey Book) Near Mint/Mint

TAROT: WITCH OF THE BLACK ROSE #15 (Broadsword Comics) Near Mint/Mint
TAROT: WITCH OF THE BLACK ROSE #16 (Broadsword Comics) Near Mint/Mint
TAROT: WITCH OF THE BLACK ROSE #49 (Broadsword Comics) Near Mint/Mint
TAROT: WITCH OF THE BLACK ROSE #50 VARIANT (Broadsword Comics) Near Mint/Mint
TAROT: WITCH OF THE BLACK ROSE #52 VARIANT (Broadsword Comics) Near Mint/Mint

TEENAGE MUTANT NINJA TURTLES 30TH ANNIVERSARY SPECIAL (2014) #1 (IDW Publishing) Near Mint/Mint

TICK OMNIBUS #1 4TH PRINT (New England Comics) Fine

TRANSFORMERS VS. G.I. JOE (2014) #1 INCENTIVE (IDW Publishing) Fine

UNHOLY GRAIL (2017) #1 PEARSOGOLD (After-Shock Comics) Near Mint/Mint
UNHOLY GRAIL (2017) #1 PEARSONB&W (After-Shock Comics) Near Mint/Mint
UNHOLY GRAIL (2017) #1 PEARSONRED (After-Shock Comics) Near Mint/Mint
UNHOLY GRAIL (2017) #1 SUPERCON (After-Shock Comics) Near Mint/Mint

VAMPIRELLA (2017) (#0-UP) (DYNAMITE) #8 F TAN B&W (DYNAMITE Entertainment) Fine

VAMPIRELLA/DRACULA: CENTENNIAL #1 DFE S&N (Harris Comics) Near Mint/Mint

WHITEOUT TPB #1 2X SIGNED (Oni Press Inc.) Near Mint/Mint

WIZARD: GUIDE TO COMICS (MAG) #215 MARVEL (Wizard Press) Very Fine
WIZARD: GUIDE TO COMICS (MAG) #220 CAPAMERICA (Wizard Press) Fine
WIZARD: GUIDE TO COMICS (MAG) #221 IRON MAN (Wizard Press) Near Mint/Mint
WIZARD: GUIDE TO COMICS (MAG) #221 IRON MAN (Wizard Press) Very Fine
WIZARD: GUIDE TO COMICS (MAG) #221 IRON MAN (Wizard Press) Fine
WIZARD: GUIDE TO COMICS (MAG) #225 A TEAM (Wizard Press) Very Fine
WIZARD: GUIDE TO COMICS (MAG) #225 A TEAM (Wizard Press) Fine
WIZARD: GUIDE TO COMICS (MAG) #226 JONAH HEX (Wizard Press) Near Mint/Mint
WIZARD: GUIDE TO COMICS (MAG) #226 JONAH HEX (Wizard Press) Very Fine

X-FILES (1995) #39 (Topps Publishing) Near Mint/Mint