Local News - YU-GI-OH and Wrestling Events!
Hi!
This is William with Mile High Comics. Just a quick newsletter today, letting everyone know about what is happening at our Jason Street Mega Store these next two weeks.
First this Saturday March 9th we will be hosting the YU-GI-OH 2019 Regional Qualifier. We will be opening the doors at 9 AM to start registering players for this tournament. We can only allow 200 players for this event so come early to guarantee a seat!
Second next Saturday March 16th we will be hosting the amazing New Era Wrestling Cabin Fever. Doors open at 6:30 pm and the show starts at 7:00. This is a great event to bring the whole family too. These are awesomely talented and very fun to watch individuals. Come on down it is really fun! We just expanded the event area so we should be able to fit 400+ people now.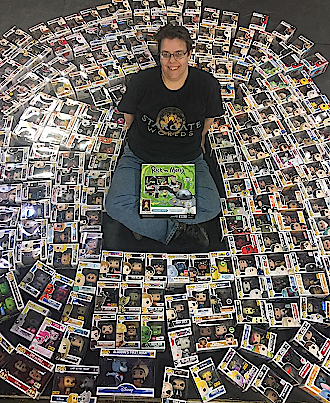 Lisa with the collection of Funko Pop Figures

Lastly Lisa just bought a huge collection of Funko Pop Figure. In just this one collection there where over 300 different figures. This is on top of our already expanding stock at the Jason Street Mega Store. We usually only have 1 of each figure instock at a time, so if you see one you like or are looking to fill in some missing ones for your collection just come in and take a look. You will not be disappointed.
Hope to see you here!
William Moulton,
Operations Manager - Mile High Comics, Inc.
March 7, 2019