40% Off Comics Sale Ending
Howdy!
I am in Seattle today, attending this year's Coronation Ball of the Imperial Sovereign Court of Seattle and the Olympic and Rainier Empire. As you may recall from a couple of newsletters ago, I was named the Imperial Crown Prince of the Americas in San Diego by our reigning Imperial Court System Queen Mother of the Americas, Nicole the Great. This is my first out-of-state Coronation in my new role, and I have to admit that the burden of responsibility hangs heavy on me. Not only am I partially responsible here in Seattle for the care and well-being of our Queen Mother, but it is also beholden upon me to exhibit nothing but the highest standards of gracious behavior. That isn't too much of a change for me, as I have always tried to treat everyone with kindness and respect. But, I do have an acerbic wit coupled with a sometimes caustic sense of humor that on occasion gets me into trouble with those who do not understand that I mean no harm. Teaching myself to tread more lightly, and to not make sassy jokes, is going to take me a while...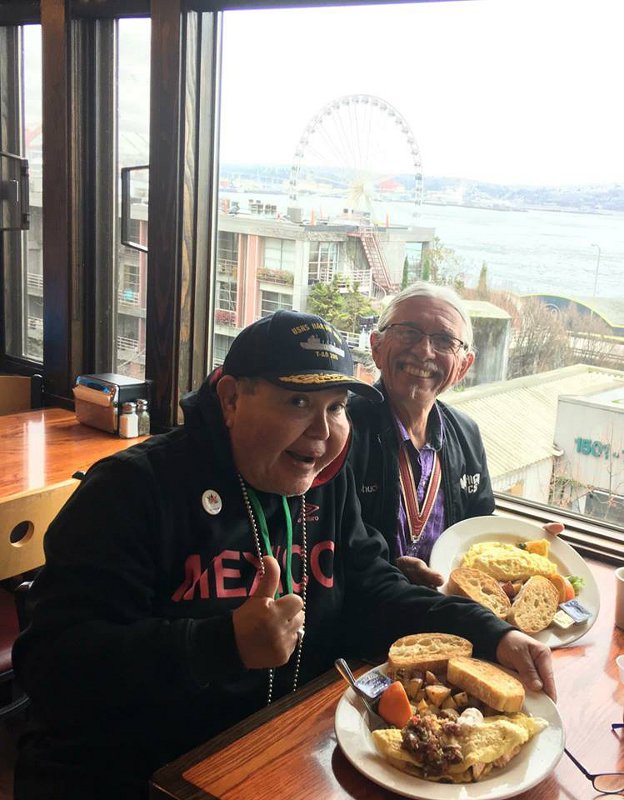 Queen Mother of the Americas, Nicole the Great and Heir Apparent Charles Rozanski at the Pike Place Market in Seattle...

One question that I do get asked fairly frequently is why a 63 year-old straight comic book dealer would want to devote so much time and energy into helping advance the causes of a primarily LGBTQ organization. I answer those questions by explaining that my involvement with the Imperial Court System has provided me with a mechanism for advancing all manner of positive social action. Whether someone wants to help the poor, those with severe illness, veterans, the elderly, disadvantaged children, or even just the overall cause of social justice, the Imperial Court System provides a remarkably positive and constructive structure through which everyone can contribute. Helping to personally lead this International organization of 30,000+ like-minded people in 70 Courts in the United States, Canada, and Mexico is an incredible honor, and one to which I am totally devoted.
All of the above having been said, I am again going to offer you the opportunity to help the poor in Denver and Albuquerque with desperately needed toiletries. Below is the list of donation items that we are seeking under my newly-created "Nicole's Angels" umbrella organization. So you know, I am working on having special commemorative pins made to send all our "Nicole's Angels" donors. I hope have a final pin design for you to see next week. In the meantime, please donate, if you can. We will be passing out toiletries to over 1,000 desperately poor people next week, and could really use your help.



Toothbrushes     144/case     $13.68     9 cents each




Bottled Water     200 bottles     $24.95     6 cents each




Personal Razors     144/case     $25.97     17 cents each




Soap bars (small)     1,000/case     $32.00     3 cents each




Lotion packets     1,000/case     $39.33     4 cents each




Shampoo/Cond.     1,000/case     $39.33     4 cents each




Maxi Pads     500/case     $44.67     9 cents each




Tampax Tampons     500/case     $73.33     15 cents each




Toothpaste tubes     240/case     $77.33     32 cents each




BATMAN: THE KILLING JOKE (ALAN MOORE) (1988) #1 3RD PRINT

I will close out today's newsletter by turning things over to my assistant, Will Moulton. Will is holding down the fort for me back in Denver, and has been buying awesome comics collections in our Jason St. Mega-Store almost by the hour. Below is a sample listing of just a few of his recent acquisitions. All are available to you right now at 40% off via our annual SWEETHEART! codeword sale. Check out our full listing in New-In-Stock and Premium New-In-Stock. Only new issues, a few variants, and our professionally-graded comics are excluded from this 40% off amazing sale.
Happy collecting!
Chuck Rozanski,
President - Mile High Comics, Inc.
February 16, 2018


MARVEL

ALL-NEW GUARDIANS OF THE GALAXY (2017) #1 KUDER

ALL-NEW GUARDIANS OF THE GALAXY (2017) #1 KUDER Near Mint/Mint
ALL-NEW GUARDIANS OF THE GALAXY (2017) #2 HENRICHON Near Mint/Mint
ALL-NEW GUARDIANS OF THE GALAXY (2017) #3 IRVING Near Mint/Mint

ALL-NEW WOLVERINE (2015) #20 CHEN Near Mint/Mint
ALL-NEW WOLVERINE (2015) #21 MORA Near Mint/Mint
ALL-NEW WOLVERINE (2015) #25 LENTICULAR Near Mint/Mint

AMAZING SPIDER-MAN (2015) (#1-32) (MARVEL) #20 Near Mint/Mint

ASTONISHING X-MEN (2017) (#1-UP) (MARVEL) #1 KEOWN Near Mint/Mint

AVENGERS (2017) (#672-UP) (MARVEL LEGACY) #681 BRADSHAW Near Mint/Mint

BLACK BOLT (2017) #2 SHALVEY Near Mint/Mint
BLACK BOLT (2017) #2 SHALVEY Very Fine
BLACK BOLT (2017) #3 QUINONES Near Mint/Mint

BLACK PANTHER & THE CREW (2017) #3 GREENE Near Mint/Mint

BLACK PANTHER (1998) (#1-62) (MARVEL) #1 Very Fine

BLACK PANTHER (2016) (#1-18) (MARVEL) #14 ROBINSON Very Fine


CABLE (2017) (#1-5) (MARVEL) #1 PORTACIO

CABLE (2017) (#1-5) (MARVEL) #1 PORTACIO Near Mint/Mint
CABLE (2017) (#1-5) (MARVEL) #3 STEVENS Very Fine

CHAMPIONS (2016) (#1-UP) (MARVEL NOW) #1 MILE HIGH Very Fine
CHAMPIONS (2016) (#1-UP) (MARVEL NOW) #1 MILE HIGH Fine

DAREDEVIL (2017) (#595-UP) (MARVEL LEAGCY) #595 MCKONE Near Mint/Mint

DEADPOOL (2016) (#1-36) (MARVEL) #30 LIM Near Mint/Mint

DEFENDERS (2017) (#1-UP) (MARVEL) #1 KIRBY Near Mint/Mint
DEFENDERS (2017) (#1-UP) (MARVEL) #2 BIANCHI Near Mint/Mint
DEFENDERS (2017) (#1-UP) (MARVEL) #2 BIANCHI Very Fine
DEFENDERS (2017) (#1-UP) (MARVEL) #3 FORBES Near Mint/Mint

DESPICABLE DEADPOOL (2017) (#287-UP) (MARVEL LEGACY) (2017) #287 CRAIN Near Mint/Mint
DESPICABLE DEADPOOL (2017) (#287-UP) (MARVEL LEGACY) (2017) #287 MCKONE Near Mint/Mint

DOCTOR STRANGE: DAMNATION (2018) #1 GARRON Near Mint/Mint

ELEKTRA (2017) (#1-UP) (MARVEL) #1 FERRY Near Mint/Mint

EMPRESS (2016) #1 BLANK CVR Near Mint/Mint
EMPRESS (2016) #1 MURPHY Very Fine
EMPRESS (2016) #2 YU Fine

EXTRAORDINARY X-MEN (2015) #1 COSPLAY Near Mint/Mint
EXTRAORDINARY X-MEN (2015) #1 PHANTOMB&W Fine
EXTRAORDINARY X-MEN (2015) #2 NOTO Very Fine
EXTRAORDINARY X-MEN (2015) #2 WADA Near Mint/Mint
EXTRAORDINARY X-MEN (2015) #2 WADA Very Fine
EXTRAORDINARY X-MEN (2015) #3 MANN Near Mint/Mint
EXTRAORDINARY X-MEN (2015) #3 MANN Very Fine
EXTRAORDINARY X-MEN (2015) #8 STROMAN Near Mint/Mint
EXTRAORDINARY X-MEN (2015) #17 MOLINA Very Fine
EXTRAORDINARY X-MEN (2015) #17 MOLINA Fine
EXTRAORDINARY X-MEN (2015) #18 VEREGGE Near Mint/Mint

FALCON (2017) (#1-UP) (MARVEL LEGACY) #1 CASSARA Very Fine
FALCON (2017) (#1-UP) (MARVEL LEGACY) #1 MCKONE Near Mint/Mint

FANTASTIC FOUR (1961) (#1-416) (MARVEL) #67 CGC 6.0 Fine

FOOLKILLER (2016) (#1-UP) (MARVEL NOW) #2 DEODATO Near Mint/Mint

GAMORA (MARVEL NOW) (2016) #3 CHO Near Mint/Mint


GENERATION X (2017) (#1-9) (MARVEL) #2 LOPEZ

GENERATION X (2017) (#1-9) (MARVEL) #2 LOPEZ Near Mint/Mint

GENERATIONS: BANNER HULK & TOTALLY AWESOME HULK (2017) #1 BUFFAGNI Near Mint/Mint
GENERATIONS: BANNER HULK & TOTALLY AWESOME HULK (2017) #1 BUFFAGNI Very Fine
GENERATIONS: BANNER HULK & TOTALLY AWESOME HULK (2017) #1 BUFFAGNI Fine

GENERATIONS: PHOENIX & JEAN GREY (2017) #1 ROUX Near Mint/Mint

GHOST RACERS (2015) #3 SMITH Fine
GHOST RACERS (2015) #4 LEE Near Mint/Mint

GHOST RIDER (2016) (#1-UP) (MARVEL NOW) #1 MOORE Near Mint/Mint
GHOST RIDER (2016) (#1-UP) (MARVEL NOW) #2 WADA Near Mint/Mint
GHOST RIDER (2016) (#1-UP) (MARVEL NOW) #3 RAHZZAH Near Mint/Mint

GREAT LAKES AVENGERS (2016) #1 ALLRED Near Mint/Mint
GREAT LAKES AVENGERS (2016) #2 ZDARSKY Near Mint/Mint
GREAT LAKES AVENGERS (2016) #3 HENDERSON Near Mint/Mint

GUARDIANS OF INFINITY (2015) #1 BARBERI Near Mint/Mint
GUARDIANS OF INFINITY (2015) #1 BARBERI Fine
GUARDIANS OF INFINITY (2015) #2 CHOO Fine
GUARDIANS OF INFINITY (2015) #3 DOE Near Mint/Mint

GUARDIANS OF THE GALAXY (2015) (#1-19) (MARVEL) #2 ANKA Very Fine
GUARDIANS OF THE GALAXY (2015) (#1-19) (MARVEL) #2 ANKA Fine
GUARDIANS OF THE GALAXY (2015) (#1-19) (MARVEL) #3 HEMBECK Near Mint/Mint
GUARDIANS OF THE GALAXY (2015) (#1-19) (MARVEL) #3 ASRAR Near Mint/Mint
GUARDIANS OF THE GALAXY (2015) (#1-19) (MARVEL) #3 STROMAN Near Mint/Mint


GUARDIANS OF THE GALAXY (2015) (#1-19) (MARVEL) #6 HILDEBRANT

GUARDIANS OF THE GALAXY (2015) (#1-19) (MARVEL) #6 HILDEBRANT Near Mint/Mint
GUARDIANS OF THE GALAXY (2015) (#1-19) (MARVEL) #6 HILDEBRANT Very Fine
GUARDIANS OF THE GALAXY (2015) (#1-19) (MARVEL) #12 COSPLAY Near Mint/Mint
GUARDIANS OF THE GALAXY (2015) (#1-19) (MARVEL) #15 ASRAR Near Mint/Mint
GUARDIANS OF THE GALAXY (2015) (#1-19) (MARVEL) #16 LOTAY Near Mint/Mint
GUARDIANS OF THE GALAXY (2015) (#1-19) (MARVEL) #17 HANS Near Mint/Mint
GUARDIANS OF THE GALAXY (2015) (#1-19) (MARVEL) #18 LOPEZ Near Mint/Mint

GUARDIANS OF THE GALAXY: MISSION BREAKOUT (2017) #1 RUBIO Near Mint/Mint
GUARDIANS OF THE GALAXY: MISSION BREAKOUT (2017) #1 RUBIO Very Fine
GUARDIANS OF THE GALAXY: MOTHER ENTROPY (2017) #1 MORA Near Mint/Mint

GWENPOOL (2016) #6 COSPLAY Near Mint/Mint
GWENPOOL (2016) #6 COSPLAY Very Fine
GWENPOOL (2016) #7 DEODATO Near Mint/Mint
GWENPOOL (2016) #7 MONARDO Near Mint/Mint
GWENPOOL (2016) #13 PUTRI Near Mint/Mint

HAWKEYE (2017) (#1-UP) (MARVEL NOW) #1 AJA Near Mint/Mint
HAWKEYE (2017) (#1-UP) (MARVEL NOW) #2 ROMERO Near Mint/Mint
HAWKEYE (2017) (#1-UP) (MARVEL NOW) #3 TORQUE Near Mint/Mint


HERCULES (#1-6) (MARVEL) (2015) #1 ANACLETO

HERCULES (#1-6) (MARVEL) (2015) #1 ANACLETO Fine
HERCULES (#1-6) (MARVEL) (2015) #2 DAUTERMAN Fine
HERCULES (#1-6) (MARVEL) (2015) #2 TEXEIRA Very Fine
HERCULES (#1-6) (MARVEL) (2015) #3 ADAMS Near Mint/Mint

HOUSE OF M (2015) #1 MOLINA Near Mint/Mint
HOUSE OF M (2015) #3 DUARTE Near Mint/Mint

HOWARD THE DUCK (NOVEMBER) (2015) #1 AJA Very Fine
HOWARD THE DUCK (NOVEMBER) (2015) #1 MCLEOD Near Mint/Mint
HOWARD THE DUCK (NOVEMBER) (2015) #1 MOVIE CVR Near Mint/Mint
HOWARD THE DUCK (NOVEMBER) (2015) #1 QUINONES Near Mint/Mint
HOWARD THE DUCK (NOVEMBER) (2015) #2 HEMBECK Near Mint/Mint
HOWARD THE DUCK (NOVEMBER) (2015) #3 RIVERA Near Mint/Mint
HOWARD THE DUCK (NOVEMBER) (2015) #4 SHIRAHAMA Near Mint/Mint
HOWARD THE DUCK (NOVEMBER) (2015) #6 RIVERA Very Fine

HOWLING COMMANDOS OF SHIELD (2015) #2 FRANCAVILL Near Mint/Mint
HOWLING COMMANDOS OF SHIELD (2015) #3 MARQUEZ Near Mint/Mint

HULK (1962) (#1-6, #102-635) (INCREDIBLE) (MARVEL) #449 Very Fine


HULK FAMILY: GREEN GENES (2008) #1

HULK FAMILY: GREEN GENES (2008) #1 Near Mint/Mint

HYPERION (2016) #1 GRANT Near Mint/Mint
HYPERION (2016) #1 LUPACCHINO Near Mint/Mint
HYPERION (2016) #1 GRANT Very Fine
HYPERION (2016) #1 LUPACCHINO Very Fine
HYPERION (2016) #2 DEODATO Near Mint/Mint
HYPERION (2016) #2 DEODATO Fine
HYPERION (2016) #3 PANOSIAN Fine

I AM GROOT (2017) #2 HENRICHON Near Mint/Mint

ILLUMINATI (2015) #1 POPE Near Mint/Mint
ILLUMINATI (2015) #1 POPE Fine
ILLUMINATI (2015) #2 TEDESCO Near Mint/Mint
ILLUMINATI (2015) #3 DUARTE Near Mint/Mint

INFAMOUS IRON MAN (MARVEL NOW) (2016) #3 EPTING VAR Near Mint/Mint

INFINITY ENTITY (2016) #1 RUDY Very Fine

INHUMANS PRIME (2017) #1 KIRBY Near Mint/Mint
INHUMANS PRIME (2017) #1 SOOK Near Mint/Mint

INTERNATIONAL IRON MAN (2016) #3 SKAN Fine


INVINCIBLE IRON MAN (2015) (#1-14) (MARVEL) #4 PUTRI

INVINCIBLE IRON MAN (2015) (#1-14) (MARVEL) #4 PUTRI Fine
INVINCIBLE IRON MAN (2015) (#1-14) (MARVEL) #6 ADAMS Very Fine
INVINCIBLE IRON MAN (2015) (#1-14) (MARVEL) #6 TEDESCO Near Mint/Mint
INVINCIBLE IRON MAN (2015) (#1-14) (MARVEL) #10 RANEY Near Mint/Mint
INVINCIBLE IRON MAN (2017) (#1-11) (RIRI WILLIAMS) #3 ANKA Near Mint/Mint

IRON FIST (2017) (#1-7) (MARVEL) #3 DAVIS Very Fine

IRON MAN (1968) (#1-332) (INVINCIBLE IRON MAN)(MARVEL) #282 Fine

IVX (INHUMANS VS. X-MEN) (2016) #4 JUSKO Near Mint/Mint

JEAN GREY (2017) #1 HANS Very Good
JEAN GREY (2017) #1 SAUVAGE Near Mint/Mint
JEAN GREY (2017) #2 YARDIN Near Mint/Mint
JEAN GREY (2017) #3 DAUTERMAN Near Mint/Mint

JESSICA JONES (#1-UP) (MARVEL) (2016) #1 DEODATO Near Mint/Mint
JESSICA JONES (#1-UP) (MARVEL) (2016) #1 VEREGGE Near Mint/Mint
JESSICA JONES (#1-UP) (MARVEL) (2016) #2 OUM Near Mint/Mint
JESSICA JONES (#1-UP) (MARVEL) (2016) #3 HANS Near Mint/Mint

JUNGLE ACTION (1972) #17 Very Good
JUNGLE ACTION (1972) #19 Good
JUNGLE ACTION (1972) #24 Fine


KING SIZE HULK (2008) #1 VARIANT

KING SIZE HULK (2008) #1 VARIANT Near Mint/Mint

KORVAC SAGA (2015) #3 PUTRI Near Mint/Mint

LUKE CAGE (2017) (#1-5) (MARVEL) #3 TEDESCO Near Mint/Mint

MAN-THING (2017) (#1-5) (MARVEL) (R. L. STINE) #4 FERRY Near Mint/Mint
MAN-THING (2017) (#1-5) (MARVEL) (R. L. STINE) #4 FERRY Very Fine

MARVEL TSUM TSUM (2016) #1 GURIHIRU Near Mint/Mint

MARVEL ZOMBIES (VOL.2) (2007) #1 Near Mint/Mint

MIGHTY CAPTAIN MARVEL (MARVEL NOW) (CAROL DANVERS) (2016) #1 ROSS Near Mint/Mint
MIGHTY CAPTAIN MARVEL (MARVEL NOW) (CAROL DANVERS) (2016) #1 SIQUIERA Near Mint/Mint
MIGHTY CAPTAIN MARVEL (MARVEL NOW) (CAROL DANVERS) (2016) #2 MCKONE Near Mint/Mint
MIGHTY CAPTAIN MARVEL (MARVEL NOW) (CAROL DANVERS) (2016) #2 NAKAYAMA Near Mint/Mint

MIGHTY THOR (2015) (#1-23) (FEMALE THOR) (JANE FOSTER) #1 COSPLAY Near Mint/Mint
MIGHTY THOR (2015) (#1-23) (FEMALE THOR) (JANE FOSTER) #1 DAUTERMAN Very Fine
MIGHTY THOR (2015) (#1-23) (FEMALE THOR) (JANE FOSTER) #1 DESIGN Very Fine
MIGHTY THOR (2015) (#1-23) (FEMALE THOR) (JANE FOSTER) #2 DESIGN Near Mint/Mint
MIGHTY THOR (2015) (#1-23) (FEMALE THOR) (JANE FOSTER) #2 FRENZ Near Mint/Mint
MIGHTY THOR (2015) (#1-23) (FEMALE THOR) (JANE FOSTER) #2 COSPLAY Near Mint/Mint
MIGHTY THOR (2015) (#1-23) (FEMALE THOR) (JANE FOSTER) #2 DESIGN Very Fine
MIGHTY THOR (2015) (#1-23) (FEMALE THOR) (JANE FOSTER) #2 FRENZ Very Fine
MIGHTY THOR (2015) (#1-23) (FEMALE THOR) (JANE FOSTER) #2 TRAKHANOV Very Fine


MIGHTY THOR (2015) (#1-23) (FEMALE THOR) (JANE FOSTER) #3 BIANCHI

MIGHTY THOR (2015) (#1-23) (FEMALE THOR) (JANE FOSTER) #3 BIANCHI Near Mint/Mint
MIGHTY THOR (2015) (#1-23) (FEMALE THOR) (JANE FOSTER) #3 DAUTERMAN Near Mint/Mint
MIGHTY THOR (2015) (#1-23) (FEMALE THOR) (JANE FOSTER) #8 HILDEBRANT Near Mint/Mint
MIGHTY THOR (2015) (#1-23) (FEMALE THOR) (JANE FOSTER) #15 SORRENTINO Near Mint/Mint

MONSTERS UNLEASHED (2017) (#1-UP) (MARVEL) #3 BALDEON Near Mint/Mint

MS. MARVEL (2016) (#1-UP) (MARVEL) (KAMALA KHAN) #1 COSPLAY Near Mint/Mint
MS. MARVEL (2016) (#1-UP) (MARVEL) (KAMALA KHAN) #2 MIYAZAWA Near Mint/Mint
MS. MARVEL (2016) (#1-UP) (MARVEL) (KAMALA KHAN) #3 TARR Fine
MS. MARVEL (2016) (#1-UP) (MARVEL) (KAMALA KHAN) #12 JONES Near Mint/Mint

NEW AVENGERS/TRANSFORMERS (2007) #4 Near Mint/Mint

OLD MAN LOGAN (2016) (#1-UP) (MARVEL) #25 KIRK Near Mint/Mint

PETER PARKER: SPECTACULAR SPIDER-MAN (2017) (#1-6) #1 CASSADAY Very Fine

SECRET DEFENDERS (1993) #12 Fine

SECRET EMPIRE: BRAVE NEW WORLD (2017) #1 SAMNEE Near Mint/Mint

SECRET WARRIORS (2017) (#1-UP) (MARVEL) #3 SAMNEE Very Fine

SPIDER-MAN: TRIAL OF VENOM (1992) #1 Very Good

SPIDER-MEN II (PETER PARKER & MILES MORALES) (2017) #1 TEDESCO Near Mint/Mint


STAR WARS: DARTH MAUL (2017) #4 FRANCAVILL

STAR WARS: DARTH MAUL (2017) #4 FRANCAVILL Near Mint/Mint
STAR WARS: DARTH MAUL (2017) #4 FRANCAVILL Very Fine
STAR WARS: DARTH MAUL (2017) #4 NAKAYAMA Near Mint/Mint
STAR WARS: DARTH MAUL (2017) #4 CHARRETIER Near Mint/Mint
STAR WARS: DARTH MAUL (2017) #4 FRANCAVILL Fine
STAR WARS: DARTH MAUL (2017) #4 NAKAYAMA Very Fine

STAR WARS: ROGUE ONE ADAPTATION (2017) #2 ANKA Near Mint/Mint

STAR WARS: SCREAMING CITADEL (2017) #1 SAMNEE Near Mint/Mint

SUPER-VILLAIN TEAM-UP (1975) #1 CGC 8.0 Very Fine

VENOM (2017) (#1-6, #150-UP) (MARVEL) #1 Near Mint/Mint

X-MEN BLUE (2017) #1 KIRK Near Mint/Mint
X-MEN BLUE (2017) #2 RAMOS Near Mint/Mint
X-MEN BLUE (2017) #3 MORA Near Mint/Mint
X-MEN BLUE (2017) #5 CHEN Near Mint/Mint
X-MEN BLUE (2017) #7 LOPEZ Near Mint/Mint

X-MEN GOLD (2017) #5 PIPER Near Mint/Mint
X-MEN GOLD (2017) #13 LENTICULAR Near Mint/Mint

ZOMBIES ASSEMBLE (2017) #3 LAND Near Mint/Mint

DC
BATMAN (1940) (#0-713) (DC) #186 CGC 7.5 Very Fine


BATMAN (1940) (#0-713) (DC) #406

BATMAN (1940) (#0-713) (DC) #406 Fine
BATMAN (1940) (#0-713) (DC) #409 3RD PRINT Fine
BATMAN (1940) (#0-713) (DC) #676 VARIANT Very Fine

BATMAN ANNUAL (1961) (#1-28) (DC) #10 Very Fine
BATMAN ANNUAL (2016) (#1-UP) (DC REBIRTH) #2 Very Fine

BATMAN EN COULEUR (EDITIONS HERITAGE) (CANADIAN) (1982) #3 Good
BATMAN EN COULEUR (EDITIONS HERITAGE) (CANADIAN) (1982) #5 Good

BATMAN INCORPORATED (2010) #6 VARIANT Near Mint/Mint
BATMAN INCORPORATED (2010) #6 VARIANT Very Fine

BATMAN: CACOPHONY (KEVIN SMITH) (2008) #3 SKETCH CV Very Fine

BATMAN: RETURN OF BRUCE WAYNE (GRANT MORRISON) (2010) #6 VARIANT Near Mint/Mint

BATMAN: THE DARK KNIGHT (2011) (#0-29) (DC NEW52) #5 VARIANT Near Mint/Mint
BATMAN: THE DARK KNIGHT (2011) (#0-29) (DC NEW52) #6 VARIANT Near Mint/Mint
BATMAN: THE DARK KNIGHT (2011) (#0-29) (DC NEW52) #7 VARIANT Near Mint/Mint
BATMAN: THE DARK KNIGHT (2010) #5 VARIANT Near Mint/Mint

BATMAN: THE KILLING JOKE (ALAN MOORE) (1988) #1 3RD PRINT Near Mint/Mint

BATMAN: THE RETURN (GRANT MORRISON) (2010) #1 VARIANT Near Mint/Mint
BATMAN: THE RETURN (GRANT MORRISON) (2010) #1 VARIANT Very Fine

BATMAN: WIDENING GYRE (KEVIN SMITH) (2009) #2 VARIANT Very Fine


BATWOMAN (2011) (#0-40) (DC NEW52) #7 VARIANT

BATWOMAN (2011) (#0-40) (DC NEW52) #7 VARIANT Near Mint/Mint
BATWOMAN (2011) (#0-40) (DC NEW52) #8 VARIANT Very Fine

BEST OF DC COMICS DIGEST (1977) #71 Near Mint/Mint

BEWARE THE CREEPER (1968) #2 Good
BEWARE THE CREEPER (1968) #2 Fine
BEWARE THE CREEPER (1968) #2 Very Good
BEWARE THE CREEPER (1968) #3 Fine
BEWARE THE CREEPER (1968) #3 Very Good
BEWARE THE CREEPER (1968) #4 Fine
BEWARE THE CREEPER (1968) #5 Fine
BEWARE THE CREEPER (1968) #5 Very Good
BEWARE THE CREEPER (1968) #6 Fine

BINKY'S BUDDIES #12 Very Good

BIONICLE (DC) (LEGO CLUB MEMBERS ONLY) (2001) #20 Near Mint/Mint
BIONICLE (DC) (LEGO CLUB MEMBERS ONLY) (2001) #20 Very Fine
BIONICLE (DC) (LEGO CLUB MEMBERS ONLY) (2001) #21 Near Mint/Mint
BIONICLE (DC) (LEGO CLUB MEMBERS ONLY) (2001) #23 Near Mint/Mint
BIONICLE (DC) (LEGO CLUB MEMBERS ONLY) (2001) #24 Near Mint/Mint
BIONICLE (DC) (LEGO CLUB MEMBERS ONLY) (2001) #24 VARIANT Very Fine
BIONICLE (DC) (LEGO CLUB MEMBERS ONLY) (2001) #24 Very Fine
BIONICLE (DC) (LEGO CLUB MEMBERS ONLY) (2001) #25 VARIANT Fine
BIONICLE (DC) (LEGO CLUB MEMBERS ONLY) (2001) #25 Very Fine
BIONICLE (DC) (LEGO CLUB MEMBERS ONLY) (2001) #26 Very Fine
BIONICLE (DC) (LEGO CLUB MEMBERS ONLY) (2001) #27 Very Fine


BLACKEST NIGHT (2009) #3 VARIANT

BLACKEST NIGHT (2009) #3 VARIANT Near Mint/Mint
BLACKEST NIGHT (2009) #5 VARIANT Near Mint/Mint

BLACKEST NIGHT: BATMAN (2009) #2 VARIANT Very Fine
BLACKEST NIGHT: BATMAN (2009) #3 VARIANT Near Mint/Mint

BLACKEST NIGHT: SUPERMAN (2009) #2 VARIANT Near Mint/Mint

BLACKEST NIGHT: TALES OF THE CORPS (2009) #1 VARIANT Very Fine
BLACKEST NIGHT: TALES OF THE CORPS (2009) #2 VARIANT Near Mint/Mint

BLACKEST NIGHT: TITANS (2009) #1 VARIANT Near Mint/Mint
BLACKEST NIGHT: TITANS (2009) #2 VARIANT Near Mint/Mint
BLACKEST NIGHT: TITANS (2009) #2 VARIANT Very Fine
BLACKEST NIGHT: TITANS (2009) #3 VARIANT Near Mint/Mint

BLACKHAWK (1957) (#108-273) (DC) #137 Very Good
BLACKHAWK (1957) (#108-273) (DC) #148 Good
BLACKHAWK (1957) (#108-273) (DC) #163 Fair
BLACKHAWK (1957) (#108-273) (DC) #163 Very Good
BLACKHAWK (1957) (#108-273) (DC) #164 Good
BLACKHAWK (1957) (#108-273) (DC) #164 Very Good
BLACKHAWK (1957) (#108-273) (DC) #165 Good
BLACKHAWK (1957) (#108-273) (DC) #165 Very Good
BLACKHAWK (1957) (#108-273) (DC) #179 Very Good
BLACKHAWK (1957) (#108-273) (DC) #187 Good
BLACKHAWK (1957) (#108-273) (DC) #187 Very Good
BLACKHAWK (1957) (#108-273) (DC) #188 Good
BLACKHAWK (1957) (#108-273) (DC) #188 Very Good


BLACKHAWK (1957) (#108-273) (DC) #189

BLACKHAWK (1957) (#108-273) (DC) #189 Very Good
BLACKHAWK (1957) (#108-273) (DC) #197 Very Good
BLACKHAWK (1957) (#108-273) (DC) #200 Very Good
BLACKHAWK (1957) (#108-273) (DC) #201 Very Good
BLACKHAWK (1957) (#108-273) (DC) #207 Very Good
BLACKHAWK (1957) (#108-273) (DC) #212 Very Good
BLACKHAWK (1957) (#108-273) (DC) #213 Very Good
BLACKHAWK (1957) (#108-273) (DC) #223 Fine
BLACKHAWK (1957) (#108-273) (DC) #225 Very Good
BLACKHAWK (1957) (#108-273) (DC) #228 Very Good
BLACKHAWK (1957) (#108-273) (DC) #231 Very Good
BLACKHAWK (1957) (#108-273) (DC) #232 Fine
BLACKHAWK (1957) (#108-273) (DC) #233 Fine
BLACKHAWK (1957) (#108-273) (DC) #235 Very Good
BLACKHAWK (1957) (#108-273) (DC) #236 Fine
BLACKHAWK (1957) (#108-273) (DC) #236 Very Good
BLACKHAWK (1957) (#108-273) (DC) #237 Fine
BLACKHAWK (1957) (#108-273) (DC) #237 Very Good
BLACKHAWK (1957) (#108-273) (DC) #239 Fine
BLACKHAWK (1957) (#108-273) (DC) #239 Very Fine
BLACKHAWK (1957) (#108-273) (DC) #239 Very Good
BLACKHAWK (1957) (#108-273) (DC) #241 Fine
BLACKHAWK (1957) (#108-273) (DC) #241 Very Good

BLITZKRIEG (1976) #1 Fine

BRAVE AND THE BOLD (1955) #68 Very Good
BRAVE AND THE BOLD (1955) #150 WHITMAN Fine

CAPTAIN ACTION (1968) #2 Good
CAPTAIN ACTION (1968) #2 Very Good
CAPTAIN ACTION (1968) #3 Very Good

CAPTAIN STORM (1964) #8 Very Good
CAPTAIN STORM (1964) #17 Very Good

CHALLENGERS OF THE UNKNOWN (1958) #27 Very Good
CHALLENGERS OF THE UNKNOWN (1958) #29 Good
CHALLENGERS OF THE UNKNOWN (1958) #33 Very Good
CHALLENGERS OF THE UNKNOWN (1958) #34 Good
CHALLENGERS OF THE UNKNOWN (1958) #36 Very Good
CHALLENGERS OF THE UNKNOWN (1958) #37 Fine
CHALLENGERS OF THE UNKNOWN (1958) #37 Very Good
CHALLENGERS OF THE UNKNOWN (1958) #38 Fine
CHALLENGERS OF THE UNKNOWN (1958) #38 Good
CHALLENGERS OF THE UNKNOWN (1958) #38 Very Good
CHALLENGERS OF THE UNKNOWN (1958) #39 Good
CHALLENGERS OF THE UNKNOWN (1958) #39 Very Good
CHALLENGERS OF THE UNKNOWN (1958) #40 Fine
CHALLENGERS OF THE UNKNOWN (1958) #40 Very Good
CHALLENGERS OF THE UNKNOWN (1958) #46 Very Good
CHALLENGERS OF THE UNKNOWN (1958) #47 Fine
CHALLENGERS OF THE UNKNOWN (1958) #52 Fine
CHALLENGERS OF THE UNKNOWN (1958) #53 Fine
CHALLENGERS OF THE UNKNOWN (1958) #53 Very Good
CHALLENGERS OF THE UNKNOWN (1958) #54 Fine


CHALLENGERS OF THE UNKNOWN (1958) #54

CHALLENGERS OF THE UNKNOWN (1958) #54 Very Good
CHALLENGERS OF THE UNKNOWN (1958) #55 Fine
CHALLENGERS OF THE UNKNOWN (1958) #55 Very Good
CHALLENGERS OF THE UNKNOWN (1958) #55 Very Fine
CHALLENGERS OF THE UNKNOWN (1958) #56 Fine
CHALLENGERS OF THE UNKNOWN (1958) #57 Fine
CHALLENGERS OF THE UNKNOWN (1958) #57 Very Good
CHALLENGERS OF THE UNKNOWN (1958) #58 Fine
CHALLENGERS OF THE UNKNOWN (1958) #58 Very Good
CHALLENGERS OF THE UNKNOWN (1958) #59 Fine
CHALLENGERS OF THE UNKNOWN (1958) #59 Very Good
CHALLENGERS OF THE UNKNOWN (1958) #60 Fine
CHALLENGERS OF THE UNKNOWN (1958) #63 Fine
CHALLENGERS OF THE UNKNOWN (1958) #63 Very Fine

DARK KNIGHT (1986) #1 3RD PRT Very Fine
DARK KNIGHT (1986) #2 1ST PRT Near Mint/Mint
DARK KNIGHT (1986) #3 1ST PRT Very Fine
DARK KNIGHT (1986) #4 1ST PRT Very Fine

DC 100 PAGE SUPER SPECTACULAR (1971) #14 Good
DC 100 PAGE SUPER SPECTACULAR (1971) #14 Fine
DC 100 PAGE SUPER SPECTACULAR (1971) #14 Very Good
DC 100 PAGE SUPER SPECTACULAR (1971) #14 Very Fine
DC 100 PAGE SUPER SPECTACULAR (1971) #15 Fine
DC 100 PAGE SUPER SPECTACULAR (1971) #15 Very Fine
DC 100 PAGE SUPER SPECTACULAR (1971) #15 Very Good
DC 100 PAGE SUPER SPECTACULAR (1971) #16 Fine


DC 100 PAGE SUPER SPECTACULAR (1971) #16

DC 100 PAGE SUPER SPECTACULAR (1971) #16 Very Fine
DC 100 PAGE SUPER SPECTACULAR (1971) #17 Fine
DC 100 PAGE SUPER SPECTACULAR (1971) #18 Fine
DC 100 PAGE SUPER SPECTACULAR (1971) #18 Very Fine
DC 100 PAGE SUPER SPECTACULAR (1971) #19 Fine
DC 100 PAGE SUPER SPECTACULAR (1971) #19 Very Good
DC 100 PAGE SUPER SPECTACULAR (1971) #19 Very Fine
DC 100 PAGE SUPER SPECTACULAR (1971) #20 Fine
DC 100 PAGE SUPER SPECTACULAR (1971) #20 Good
DC 100 PAGE SUPER SPECTACULAR (1971) #20 Very Good
DC 100 PAGE SUPER SPECTACULAR (1971) #21 Fine
DC 100 PAGE SUPER SPECTACULAR (1971) #21 Very Good

DC COMICS SUPER HEROES GOOD HEALTH AND ACTICITY BOOK (1989) #1 Near Mint/Mint
DC COMICS SUPER HEROES GOOD HEALTH AND ACTICITY BOOK (1989) #1 Very Fine

DC SPECIAL (1968) #1 Good
DC SPECIAL (1968) #1 Fine
DC SPECIAL (1968) #1 Very Good
DC SPECIAL (1968) #7 Fine
DC SPECIAL (1968) #7 Very Good
DC SPECIAL (1968) #9 Fine
DC SPECIAL (1968) #10 Fine
DC SPECIAL (1968) #10 Very Good
DC SPECIAL (1968) #12 Fine
DC SPECIAL (1968) #12 Very Good
DC SPECIAL (1968) #13 Fine
DC SPECIAL (1968) #13 Very Fine
DC SPECIAL (1968) #13 Very Good

DC SPECIAL (1968) #14 Fine
DC SPECIAL (1968) #14 Very Good
DC SPECIAL (1968) #16 Fine
DC SPECIAL (1968) #16 Very Good
DC SPECIAL (1968) #17 Fine
DC SPECIAL (1968) #17 Very Good
DC SPECIAL (1968) #18 Fine
DC SPECIAL (1968) #18 Very Good
DC SPECIAL (1968) #19 Fine
DC SPECIAL (1968) #19 Very Good
DC SPECIAL (1968) #19 Very Fine
DC SPECIAL (1968) #20 Fine
DC SPECIAL (1968) #20 Very Good
DC SPECIAL (1968) #21 Fine
DC SPECIAL (1968) #21 Very Good
DC SPECIAL (1968) #24 Fine
DC SPECIAL (1968) #24 Near Mint/Mint
DC SPECIAL (1968) #24 Very Fine
DC SPECIAL (1968) #24 Very Good
DC SPECIAL (1968) #25 Fine
DC SPECIAL (1968) #25 Very Fine
DC SPECIAL (1968) #25 Very Good
DC SPECIAL (1968) #26 Fine
DC SPECIAL (1968) #26 Very Good
DC SPECIAL (1968) #26 Very Fine
DC SPECIAL (1968) #27 Fine
DC SPECIAL (1968) #27 Very Fine
DC SPECIAL (1968) #27 Very Good

DEMON (1972) #3 Fine
DEMON (1972) #3 Very Fine

DETECTIVE COMICS (1937) (#0-881) (DC) #354 Good
DETECTIVE COMICS (1937) (#0-881) (DC) #354 Very Good
DETECTIVE COMICS (1937) (#0-881) (DC) #357 Fine
DETECTIVE COMICS (1937) (#0-881) (DC) #357 Very Good
DETECTIVE COMICS (1937) (#0-881) (DC) #367 Good
DETECTIVE COMICS (1937) (#0-881) (DC) #367 Very Good
DETECTIVE COMICS (1937) (#0-881) (DC) #370 Good
DETECTIVE COMICS (1937) (#0-881) (DC) #370 Very Good
DETECTIVE COMICS (1937) (#0-881) (DC) #376 Fine
DETECTIVE COMICS (1937) (#0-881) (DC) #379 Very Good
DETECTIVE COMICS (1937) (#0-881) (DC) #409 Good
DETECTIVE COMICS (1937) (#0-881) (DC) #468 Fine
DETECTIVE COMICS (1937) (#0-881) (DC) #468 Very Fine
DETECTIVE COMICS (1937) (#0-881) (DC) #468 Very Good
DETECTIVE COMICS (1937) (#0-881) (DC) #474 Fine
DETECTIVE COMICS (1937) (#0-881) (DC) #479 Fine
DETECTIVE COMICS (1937) (#0-881) (DC) #549 NEWSSTAND Very Good

DETECTIVE COMICS (2011) (#0-52) (DC NEW52) #5 VARIANT Near Mint/Mint
DETECTIVE COMICS (2011) (#0-52) (DC NEW52) #6 VARIANT Near Mint/Mint
DETECTIVE COMICS (2011) (#0-52) (DC NEW52) #6 VARIANT Very Fine
DETECTIVE COMICS (2011) (#0-52) (DC NEW52) #7 VARIANT Near Mint/Mint
DETECTIVE COMICS (2011) (#0-52) (DC NEW52) #7 VARIANT Very Fine
DETECTIVE COMICS (2011) (#0-52) (DC NEW52) #8 VARIANT Near Mint/Mint
DETECTIVE COMICS (2011) (#0-52) (DC NEW52) #8 VARIANT Very Fine
DETECTIVE COMICS (2011) (#0-52) (DC NEW52) #8 VARIANT Fine


DOOM PATROL (1964) (#86-124) (DC) #108

DOOM PATROL (1964) (#86-124) (DC) #108 Fine
DOOM PATROL (1964) (#86-124) (DC) #108 Very Good
DOOM PATROL (1964) (#86-124) (DC) #110 Very Good
DOOM PATROL (1964) (#86-124) (DC) #115 Very Good

DYNAMIC COMICS BAGGED DC COMICS (B-12) #1 Near Mint/Mint
DYNAMIC COMICS BAGGED DC COMICS (D-11) #1 Near Mint/Mint

EARTH 2 (2012) #10 VARIANT Near Mint/Mint

ELSON'S PRESENTS SERIES (DC SUPER HEROES COMICS) (1980) #2 Fine

FABLES (2002) #4 (DC: Vertigo Press) Very Fine
FABLES (2002) #5 (DC: Vertigo Press) Near Mint/Mint
FABLES (2002) #5 (DC: Vertigo Press) Very Fine

GREEN LANTERN CORPS: EDGE OF OBLIVION (2015) #1 VARIANT Near Mint/Mint

GREEN LANTERN: REBIRTH (2004) #1 Near Mint/Mint

HARLEY QUINN & HER GANG OF HARLEYS (2016) #4 VARIANT Near Mint/Mint

KINGDOM COME (1996) #1 Fine
KINGDOM COME (1996) #2 Fine
KINGDOM COME (1996) #3 Very Fine
KINGDOM COME (1996) #4 Fine


LOBO: BOUNTY HUNTING FOR FUN & PROFIT (1995) #1

LOBO: BOUNTY HUNTING FOR FUN & PROFIT (1995) #1 Near Mint/Mint

MARTIAN MANHUNTER (2015) #3 VARIANT Near Mint/Mint

DARK HORSE COMICS
SERENITY: BETTER DAYS (2008) #2 Near Mint/Mint
SERENITY: BETTER DAYS (2008) #3 Very Fine

IMAGE COMICS
GRAVEDIGGERS UNION (2017) #1 B GOLDLOGO Very Fine

JUPITER'S LEGACY (VOL. 2) (2016) #1 F MAYHEW Near Mint/Mint
JUPITER'S LEGACY (VOL. 2) (2016) #4 B QUITEB&W Very Fine
JUPITER'S LEGACY (VOL. 2) (2016) #5 B QUITEB&W Near Mint/Mint

REBORN (2016) #6 C CAPULB&W Near Mint/Mint

YOUNGBLOOD (2017) (#1-UP) (IMAGE) #1 E TOWEGOLD Near Mint/Mint

INDEPENDENTS
BLACK MAGIC (VOL. 2) (1951) #5 CGC 5.0 (CRESTWOOD PUBLISHING) Fine


EVIL ERNIE: GODEATER (2016) #2 C STRAHB&W

EVIL ERNIE: GODEATER (2016) #2 C STRAHB&W (DYNAMITE Entertainment) Near Mint/Mint

GO GO POWER RANGERS (2017) #1 BUSTOS (Boom Studios Publishing) Near Mint/Mint
GO GO POWER RANGERS (2017) #1 WONG (Boom Studios Publishing) Near Mint/Mint
GO GO POWER RANGERS (2017) #3 BUSTOS (Boom Studios Publishing) Very Fine
GO GO POWER RANGERS (2017) #3 WONG (Boom Studios Publishing) Near Mint/Mint

GRASS KINGS (2017) #1 KINDT (Boom Studios Publishing) Near Mint/Mint

HEROBEAR & THE KID FALL SPECIAL (2016) #1 LANGRIDGE (Boom Studios Publishing) Near Mint/Mint

JAMES BOND: HAMMERHEAD (2016) #1 CBLDF (DYNAMITE Entertainment) Near Mint/Mint

JEM & THE HOLOGRAMS (2015) #20 INCENTIVE (IDW Publishing) Near Mint/Mint
JEM & THE HOLOGRAMS (2015) #23 INCENTIVE (IDW Publishing) Near Mint/Mint

JEM: MISFITS (2016) #1 INCENTIVE (IDW Publishing) Near Mint/Mint
JEM: MISFITS (2016) #2 INCENTIVE (IDW Publishing) Near Mint/Mint

KISS (2016) #3 E SHOURVIR (DYNAMITE Entertainment) Near Mint/Mint

KISS: DEMON (2017) #1 E STRAHB&W (DYNAMITE Entertainment) Near Mint/Mint
KISS: DEMON (2017) #1 F MANDRB&W (DYNAMITE Entertainment) Near Mint/Mint
KISS: DEMON (2017) #1 G STRAHVIR (DYNAMITE Entertainment) Near Mint/Mint

LUMBERJANES/GOTHAM ACADEMY (2016) #6 NOWAK (Boom Studios Publishing) Near Mint/Mint


MICRONAUTS (2016) #4 INCENTIVE

MICRONAUTS (2016) #4 INCENTIVE (IDW Publishing) Near Mint/Mint

MIGHTY MORPHIN POWER RANGERS (2016) #4 MONTES (Boom Studios Publishing) Very Fine
MIGHTY MORPHIN POWER RANGERS (2016) #5 MONTES (Boom Studios Publishing) Near Mint/Mint
MIGHTY MORPHIN POWER RANGERS (2016) #6 MONTES (Boom Studios Publishing) Near Mint/Mint
MIGHTY MORPHIN POWER RANGERS (2016) #8 GALLOWAY (Boom Studios Publishing) Near Mint/Mint
MIGHTY MORPHIN POWER RANGERS (2016) #8 MONTES (Boom Studios Publishing) Near Mint/Mint
MIGHTY MORPHIN POWER RANGERS (2016) #9 CESAR (Boom Studios Publishing) Very Fine
MIGHTY MORPHIN POWER RANGERS (2016) #9 MONTES (Boom Studios Publishing) Near Mint/Mint

MIRACULOUS (2016) #1 SDCC2016 A (Action Lab Entertainment) Very Fine
MIRACULOUS (2016) #1 SDCC2016 B (Action Lab Entertainment) Very Fine

MIRACULOUS (2016) #2 SDCC2016 (Action Lab Entertainment) Very Fine

MY LITTLE PONY: FRIENDS FOREVER (2013) #33 INCENTIVE (IDW Publishing) Near Mint/Mint
MY LITTLE PONY: FRIENDS FOREVER (2013) #34 INCENTIVE (IDW Publishing) Near Mint/Mint
MY LITTLE PONY: FRIENDS FOREVER (2013) #37 INCENTIVE (IDW Publishing) Near Mint/Mint

MY LITTLE PONY: FRIENDSHIP IS MAGIC (2012) #39 INCENTIVE (IDW Publishing) Near Mint/Mint
MY LITTLE PONY: FRIENDSHIP IS MAGIC (2012) #40 INCENTIVE (IDW Publishing) Near Mint/Mint
MY LITTLE PONY: FRIENDSHIP IS MAGIC (2012) #41 INCENTIVE (IDW Publishing) Near Mint/Mint
MY LITTLE PONY: FRIENDSHIP IS MAGIC (2012) #42 INCENTIVE (IDW Publishing) Near Mint/Mint


MY LITTLE PONY: FRIENDSHIP IS MAGIC (2012) #44 INCENTIVE

MY LITTLE PONY: FRIENDSHIP IS MAGIC (2012) #44 INCENTIVE (IDW Publishing) Near Mint/Mint
MY LITTLE PONY: FRIENDSHIP IS MAGIC (2012) #45 INCENTIVE (IDW Publishing) Near Mint/Mint
MY LITTLE PONY: FRIENDSHIP IS MAGIC (2012) #46 INCENTIVE (IDW Publishing) Near Mint/Mint
MY LITTLE PONY: FRIENDSHIP IS MAGIC (2012) #47 INCENTIVE (IDW Publishing) Near Mint/Mint
MY LITTLE PONY: FRIENDSHIP IS MAGIC (2012) #48 INCENTIVE (IDW Publishing) Near Mint/Mint
MY LITTLE PONY: FRIENDSHIP IS MAGIC (2012) #49 INCENTIVE (IDW Publishing) Near Mint/Mint
MY LITTLE PONY: FRIENDSHIP IS MAGIC (2012) #50 INCENTIVE (IDW Publishing) Near Mint/Mint
MY LITTLE PONY: FRIENDSHIP IS MAGIC (2012) #51 INCENTIVE (IDW Publishing) Near Mint/Mint

PLANET OF THE APES/GREEN LANTERN (2017) #5 MASSAFERA (Boom Studios Publishing) Near Mint/Mint
PLANET OF THE APES/GREEN LANTERN (2017) #5 RIVOCHE (Boom Studios Publishing) Near Mint/Mint

POWER OF THE DARK CRYSTAL (JIM HENSON) (2017) #4 LEE GLOSS (Boom Studios Publishing) Near Mint/Mint

POWER RANGERS: PINK (2016) #4 SUMIDA (Boom Studios Publishing) Near Mint/Mint
POWER RANGERS: PINK (2016) #5 REINWAND (Boom Studios Publishing) Near Mint/Mint
POWER RANGERS: PINK (2016) #6 PARENT (Boom Studios Publishing) Near Mint/Mint

ROCKY & HIS FRIENDS (1960) #1 FC #1275 (Dell Publishing) Fair

SILLY SYMPHONIES (1952) #3 (Dell Publishing) Good
SILLY SYMPHONIES (1952) #4 (Dell Publishing) Good
SILLY SYMPHONIES (1952) #4 (Dell Publishing) Very Good
SILLY SYMPHONIES (1952) #6 (Dell Publishing) Fair
SILLY SYMPHONIES (1952) #6 (Dell Publishing) Fine
SILLY SYMPHONIES (1952) #6 (Dell Publishing) Good

SILLY SYMPHONIES (1952) #6 (Dell Publishing) Very Fine
SILLY SYMPHONIES (1952) #6 (Dell Publishing) Very Good
SILLY SYMPHONIES (1952) #7 (Dell Publishing) Fair
SILLY SYMPHONIES (1952) #7 (Dell Publishing) Good
SILLY SYMPHONIES (1952) #8 (Dell Publishing) Good
SILLY SYMPHONIES (1952) #8 (Dell Publishing) Very Good
SILLY SYMPHONIES (1952) #9 (Dell Publishing) Good

SILLY TUNES (1945) #6 (Marvel Timely Comics) Fine

SIR LANCELOT (1954) #1 FC #606 (Dell Publishing) Good

SIR LANCELOT AND BRIAN #1 FC #775 (Dell Publishing) Very Good

SIXTH GUN (2010) #1 (Oni Press Inc.) Fine
SIXTH GUN (2010) #18 (Oni Press Inc.) Near Mint/Mint
SIXTH GUN (2010) #19 (Oni Press Inc.) Near Mint/Mint

SLEEPING BEAUTY (1959) #1 FC #984 (Dell Publishing) Good

SLEEPING BEAUTY (DELL GIANT) (1959) #1 (Dell Publishing) Good
SLEEPING BEAUTY (DELL GIANT) (1959) #1 (Dell Publishing) Fine
SLEEPING BEAUTY (DELL GIANT) (1959) #1 (Dell Publishing) Very Good

SLICK CHICK COMICS (1947) #3 (LEADER ENTERPRISES) Good


SNOW WHITE & THE SEVEN DWARFS (1944) #1 FC #382

SNOW WHITE & THE SEVEN DWARFS (1944) #1 FC #382 (Dell Publishing) Very Good
SNOW WHITE & THE SEVEN DWARFS (1944) #1 FC #382 (Dell Publishing) Good
SNOW WHITE & THE SEVEN DWARFS (1944) #1 FC #382 (Dell Publishing) Fair

SOLDIERS OF FORTUNE (1951) #2 (ACG) Good

SOLOMON AND SHEBA #1 FC #1070 (Dell Publishing) Good
SOLOMON AND SHEBA #1 FC #1070 (Dell Publishing) Fair

SPACE ADVENTURES (1952) #31 (Charlton) Fine

SPACE FAMILY ROBINSON (1962) (#1-54) (GOLD KEY) #4 (Gold Key) Fair
SPACE FAMILY ROBINSON (1962) (#1-54) (GOLD KEY) #5 (Gold Key) Very Fine
SPACE FAMILY ROBINSON (1962) (#1-54) (GOLD KEY) #28 15 CENT CV (Gold Key) Very Good

SPECTACULAR FEATURES (1950) #3 (FOX FEATURE SYND.) Good
SPECTACULAR FEATURES (1950) #12 (FOX FEATURE SYND.) Fair

SPIN & MARTY (1956) #7 (Dell Publishing) Good
SPIN & MARTY (1956) #1 FC #714 (Dell Publishing) Near Mint/Mint
SPIN & MARTY (1956) #1 FC #714 (Dell Publishing) Good
SPIN & MARTY (1956) #1 FC #826 (Dell Publishing) Good
SPIN & MARTY (1956) #1 FC #714 (Dell Publishing) Fair
SPIN & MARTY (1956) #1 FC #808 (Dell Publishing) Good
SPIN & MARTY (1956) #1 FC #826 (Dell Publishing) Fair
SPIN & MARTY (1956) #1 FC #1026 (Dell Publishing) Very Good

SPOOKY (1955) #10 (Harvey Comics) Fair

SPORT STARS (1946) #4 (PARENTS' MAGAZINE INSTITUE) Good

STAR TREK (GOLD KEY) (1967) #15 (Gold Key) Near Mint/Mint
STAR TREK (GOLD KEY) (1967) #15 (Gold Key) Fine
STAR TREK (GOLD KEY) (1967) #15 (Gold Key) Very Fine
STAR TREK (GOLD KEY) (1967) #15 (Gold Key) Very Good
STAR TREK (GOLD KEY) (1967) #17 20 CENT CV (Gold Key) Good
STAR TREK (GOLD KEY) (1967) #20 (Gold Key) Fine
STAR TREK (GOLD KEY) (1967) #25 WHITMAN (Gold Key) Very Fine
STAR TREK (GOLD KEY) (1967) #26 (Gold Key) Very Fine
STAR TREK (GOLD KEY) (1967) #26 WHITMAN (Gold Key) Good
STAR TREK (GOLD KEY) (1967) #27 WHITMAN (Gold Key) Very Fine
STAR TREK (GOLD KEY) (1967) #27 WHITMAN (Gold Key) Fine
STAR TREK (GOLD KEY) (1967) #27 WHITMAN (Gold Key) Very Good
STAR TREK (GOLD KEY) (1967) #27 (Gold Key) Very Good
STAR TREK (GOLD KEY) (1967) #27 WHITMAN (Gold Key) Good
STAR TREK (GOLD KEY) (1967) #29 WHITMAN (Gold Key) Fine
STAR TREK (GOLD KEY) (1967) #36 (Gold Key) Fine

STAR TREK: BOLDLY GO (2016) #8 INC B (IDW Publishing) Near Mint/Mint

STARCON DENVER PROGRAM #1978 (Independents, All) Fine

STORIES BY FAMOUS AUTHORS ILLUSTRATED (1950) #1 (Seaboard Periodicals) Fair
STORIES BY FAMOUS AUTHORS ILLUSTRATED (1950) #2 (Seaboard Periodicals) Fair
STORIES BY FAMOUS AUTHORS ILLUSTRATED (1950) #2 (Seaboard Periodicals) Very Good
STORIES BY FAMOUS AUTHORS ILLUSTRATED (1950) #4 (Seaboard Periodicals) Very Good
STORIES BY FAMOUS AUTHORS ILLUSTRATED (1950) #7 (Seaboard Periodicals) Good


STORIES BY FAMOUS AUTHORS ILLUSTRATED (1950) #8

STORIES BY FAMOUS AUTHORS ILLUSTRATED (1950) #8 (Seaboard Periodicals) Good
STORIES BY FAMOUS AUTHORS ILLUSTRATED (1950) #9 (Seaboard Periodicals) Fair
STORIES BY FAMOUS AUTHORS ILLUSTRATED (1950) #10 (Seaboard Periodicals) Very Good
STORIES BY FAMOUS AUTHORS ILLUSTRATED (1950) #11 (Seaboard Periodicals) Fair
STORIES BY FAMOUS AUTHORS ILLUSTRATED (1950) #11 (Seaboard Periodicals) Good
STORIES BY FAMOUS AUTHORS ILLUSTRATED (1950) #12 (Seaboard Periodicals) Very Good
STORIES BY FAMOUS AUTHORS ILLUSTRATED (1950) #13 (Seaboard Periodicals) Very Good

STORY OF MANKIND (1958) #1 FC #851 (Dell Publishing) Good

STRAIGHT ARROW (1950) #6 (MAGAZINE ENTERPRISES) Very Good
STRAIGHT ARROW (1950) #24 (MAGAZINE ENTERPRISES) Fine

STRANGE SUSPENSE STORIES (1952) #75 (Charlton) Fine
STRANGE SUSPENSE STORIES (1952) #75 (Charlton) Good
STRANGE SUSPENSE STORIES (1952) #75 (Charlton) Very Good

STREET FIGHTER VS. DARKSTALKERS (2017) #3 D LEGACE (UDON ENTERTAINMENT) Near Mint/Mint

STRONG MAN (1955) #3 (MAGAZINE ENTERPRISES) Fair

SUGARFOOT (1958) #1 FC #907 (Dell Publishing) Very Good
SUGARFOOT (1958) #1 FC #907 (Dell Publishing) Good

SUMMER FUN (1959) #2 (Dell Publishing) Good

SUPER CAT (1953) #57 (STAR PUBLICATIONS) Good


SUPER MOUSE SUMMER HOLIDAY (1957) #1

SUPER MOUSE SUMMER HOLIDAY (1957) #1 (Standard Comics) Fine

SUPERCAR (1962) #1 (Gold Key) Good

SUPERSNIPE COMICS (VOL. 3) (1947) #1 (Street & Smith Publications) Fair

SUSPENSE (U.K.) #141 (Alan Class & Company Limited) Very Good
SUSPENSE (U.K.) #150 (Alan Class & Company Limited) Very Good

SWEETHEARTS (VOL. 2) (1954) #66 BRITISH (Charlton) Very Fine

SWORD AND THE DRAGON (1960) #1 FC #1118 (Dell Publishing) Very Good
SWORD AND THE DRAGON (1960) #1 FC #1118 (Dell Publishing) Good

SWORDQUEST (2017) #0 B RUBIN (DYNAMITE Entertainment) Near Mint/Mint
SWORDQUEST (2017) #0 C MONTES (DYNAMITE Entertainment) Very Fine

TARZAN (1948) (#1-131) (Dell Publishing) #17 (Dell Publishing) Good
TARZAN (1948) (#1-131) (Dell Publishing) #20 (Dell Publishing) Fair
TARZAN (1948) (#1-131) (Dell Publishing) #26 (Dell Publishing) Very Good
TARZAN (1948) (#1-131) (Dell Publishing) #27 (Dell Publishing) Fair
TARZAN (1948) (#1-131) (Dell Publishing) #29 (Dell Publishing) Fair
TARZAN (1948) (#1-131) (Dell Publishing) #33 (Dell Publishing) Good
TARZAN (1948) (#1-131) (Dell Publishing) #36 (Dell Publishing) Fair
TARZAN (1948) (#1-131) (Dell Publishing) #38 (Dell Publishing) Good
TARZAN (1948) (#1-131) (Dell Publishing) #40 (Dell Publishing) Good
TARZAN (1948) (#1-131) (Dell Publishing) #40 (Dell Publishing) Fair


TARZAN (1948) (#1-131) (Dell Publishing) #42

TARZAN (1948) (#1-131) (Dell Publishing) #42 (Dell Publishing) Fine
TARZAN (1948) (#1-131) (Dell Publishing) #43 (Dell Publishing) Good
TARZAN (1948) (#1-131) (Dell Publishing) #43 (Dell Publishing) Very Good
TARZAN (1948) (#1-131) (Dell Publishing) #44 (Dell Publishing) Very Good
TARZAN (1948) (#1-131) (Dell Publishing) #45 (Dell Publishing) Very Good
TARZAN (1948) (#1-131) (Dell Publishing) #48 (Dell Publishing) Fine
TARZAN (1948) (#1-131) (Dell Publishing) #48 (Dell Publishing) Very Good
TARZAN (1948) (#1-131) (Dell Publishing) #49 (Dell Publishing) Fine
TARZAN (1948) (#1-131) (Dell Publishing) #50 (Dell Publishing) Very Good
TARZAN (1948) (#1-131) (Dell Publishing) #51 (Dell Publishing) Good
TARZAN (1948) (#1-131) (Dell Publishing) #52 (Dell Publishing) Good
TARZAN (1948) (#1-131) (Dell Publishing) #52 (Dell Publishing) Fair
TARZAN (1948) (#1-131) (Dell Publishing) #52 (Dell Publishing) Very Good
TARZAN (1948) (#1-131) (Dell Publishing) #57 (Dell Publishing) Fine
TARZAN (1948) (#1-131) (Dell Publishing) #58 (Dell Publishing) Fine
TARZAN (1948) (#1-131) (Dell Publishing) #59 (Dell Publishing) Fine
TARZAN (1948) (#1-131) (Dell Publishing) #60 (Dell Publishing) Fine

TRANSFORMERS COVER GALLERY (2007) #2 (IDW Publishing) Near Mint/Mint

TRANSFORMERS MOVIE PREQUEL (2007) #1 B B&W (IDW Publishing) Near Mint/Mint
TRANSFORMERS MOVIE PREQUEL (2007) #3 INCENTIVE (IDW Publishing) Near Mint/Mint

TRANSFORMERS MOVIE SEQUEL: REIGN OF STARSCREAM (2008) #2 INC A (IDW Publishing) Near Mint/Mint

TRANSFORMERS SPOTLIGHT: GALVATRON (2007) #1 INC A (IDW Publishing) Near Mint/Mint

TRANSFORMERS SPOTLIGHT: HARDHEAD (2008) #1 INCENTIVE (IDW Publishing) Near Mint/Mint


TRANSFORMERS SPOTLIGHT: KUP (2007) #1 INC A

TRANSFORMERS SPOTLIGHT: KUP (2007) #1 INC A (IDW Publishing) Near Mint/Mint

TRANSFORMERS SPOTLIGHT: MEGATRON ONE-SHOT (2013) #1 A (IDW Publishing) Near Mint/Mint

TRANSFORMERS SPOTLIGHT: OPTIMUS PRIME (2007) #1 INCENTIVE (IDW Publishing) Near Mint/Mint

TRANSFORMERS SPOTLIGHT: TARGET 2006 (2007) #1 INC A (IDW Publishing) Near Mint/Mint

TRANSFORMERS: ALL HAIL MEGATRON (2008) #1 B (IDW Publishing) Near Mint/Mint
TRANSFORMERS: ALL HAIL MEGATRON (2008) #1 INC A (IDW Publishing) Near Mint/Mint
TRANSFORMERS: ALL HAIL MEGATRON (2008) #2 B (IDW Publishing) Near Mint/Mint

TRANSFORMERS: DARK CYBERTRON FINALE (2014) #1 (IDW Publishing) Near Mint/Mint

TRANSFORMERS: FALL OF CYBERTRON (2013) #1 (IDW Publishing) Near Mint/Mint

TRANSFORMERS: MEGATRON ORIGIN (2007) #2 B (IDW Publishing) Near Mint/Mint
TRANSFORMERS: MEGATRON ORIGIN (2007) #2 INC A (IDW Publishing) Fine
TRANSFORMERS: MEGATRON ORIGIN (2007) #3 A (IDW Publishing) Near Mint/Mint
TRANSFORMERS: MEGATRON ORIGIN (2007) #3 SKETCH INC (IDW Publishing) Near Mint/Mint

TRANSFORMERS: MORE THAN MEETS THE EYE (2011) #29 INCENTIVE (IDW Publishing) Near Mint/Mint

VAMPIRELLA (2017) (#0-UP) (DYNAMITE) #10 F TAN B&W (DYNAMITE Entertainment) Near Mint/Mint
VAMPIRELLA (2017) (#0-UP) (DYNAMITE) #10 G BROXTB&W (DYNAMITE Entertainment) Near Mint/Mint
VAMPIRELLA (2017) (#0-UP) (DYNAMITE) #10 H TAN VIRG (DYNAMITE Entertainment) Near Mint/Mint


X-O MANOWAR (2017) (#1-UP) (VALIANT) #3 C SUAYAN

X-O MANOWAR (2017) (#1-UP) (VALIANT) #3 C SUAYAN (Valiant Comics) Near Mint/Mint
X-O MANOWAR (2017) (#1-UP) (VALIANT) #5 C BODENHEI (Valiant Comics) Near Mint/Mint