Valentine's Day Comics Sale plus Charitable Giving Opportunity
Howdy!
I want to begin today by thanking everyone who wrote to us in support of my efforts to help the elderly, disabled and poor in Denver through my participation in the Imperial Court System. I do wish to emphasize, however, that of vital importance to my efforts has been the ongoing financial participation of the customers of Mile High Comics. Not only have we received enormous support from our customers who shop with us in Denver, but also an extraordinary number of remarkably generous comics fans from around the world have helped us to make a difference in thousands of lives. Working together, we have made the world just a little bit better for those who are in desperate need.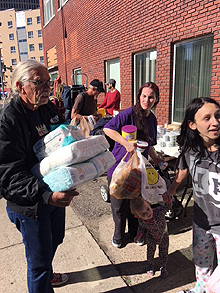 Some of the homeless in Denver

While I deeply appreciate what we have accomplished to this point, I now want to move our charitable giving efforts to a new level. I was finally able to find the time this week to finalize wholesale bids from a Denver-based supplier of toiletries to our local hotels and motels. They offer single-serving toiletries of all kinds, which are always in very short supply at all of our local charities and homeless shelters. I cannot begin to count the number of times that I have been asked (begged...) by local non-profits to find them some soap, shampoo, etc. for their clients. Simply put, one of the greatest impediments to people pulling themselves out of abject poverty is personal hygiene. Not only does a poor appearance oftentimes lead to rejection for employment, but a failure to be able to stay clean also destroys people's self-esteem, which can lead them to giving up any hope. It is a sad cycle which the injection of mere pennies in toiletries could help to solve.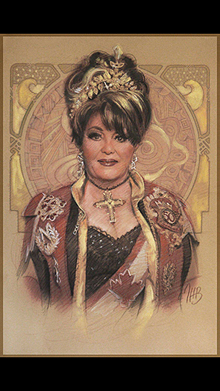 Nicole Murray-Ramirez Queen Mother I of the Americas portrait

All of the above having been said, my newly-created role as the Imperial Crown Prince of the Americas in the Imperial Court System, I have decided that my primary focus will be to help provide mechanisms for everyone who wishes to do so to easily participate in helping those in need. With that thought in mind, I contacted Nicole Murray-Ramirez this morning, our Queen Mother I of the Americas, and also the Chairperson of the City of San Diego Human Relations Commission. I asked her if I might create a new group called "Nicole's Angels", which would consist of people willing to sponsor a case of toiletries for the poor in Denver and Albuquerque. Queen Mother was thrilled at the prospect of so many people being helped in her name, so here are some options for sponsorship for those of you who might wish to become one of "Nicole's Angels":



Toothbrushes     144/case     $13.68     9 cents each




Bottled Water     200 bottles     $24.95     6 cents each




Personal Razors     144/case     $25.97     17 cents each




Soap bars (small)     1,000/case     $32.00     3 cents each




Lotion packets     1,000/case     $39.33     4 cents each




Shampoo/Cond.     1,000/case     $39.33     4 cents each




Maxi Pads     500/case     $44.67     9 cents each




Tampax Tampons     500/case     $73.33     15 cents each




Toothpaste tubes     240/case     $77.33     32 cents each



All of these cases are now available for order via our Mile High Comics website. If you add up the sum of all the items, we can provide a homeless woman out on the streets with one of each toiletry item, plus a bottle of water, for 99 cents. Can you see why working together to buying bulk makes sense? Since approximately 85% of our clients are male, the feminine toiletries will obviously go much further, but I think that my point is valid: for under $1 each we can help a remarkably large number of people.

I will close today's newsletter by quickly mentioning that, in addition to all of the charitable work that we do, we also operate a great comic book company. Our 40% off SWEETHEART! codeword sale is in effect for you this week, and it helps you tremendously to save when ordering back issues from our website. If you cannot afford at this time to become one of "Nicole's Angels", please consider simply placing a small comics or book order with us as a sign of support. My long-suffering and beloved wife, Nanette, fully supports me in my efforts to help the poor, but she does occasionally whisper in my ear that we do still have to sell a few comic books each day, or we might well be right out there on the streets, too. Any help that you could provide to us would be most appreciated.

Happy Valentine's Day!

Chuck Rozanski,
President - Mile High Comics, Inc.
February 14, 2018