Great Vintage Comics 40% Off SWEETHEART Codeword
Howdy!
I returned from a wonderful trip to San Diego at 2 AM last evening, so I am dragging a little today. That having been said, I am still elated this afternoon, as I was given an incredible honor by Nicole Murray-Ramirez, our International Court System Queen Mother I of the Americas. Effective immediately, I have been elevated to the position of Imperial Crown Prince of the Americas. That puts me in the #2 position on the male line of our entire International organization, behind only Emperor I of the Americas Terry Sidie. In all honesty, I am still in a daze after receiving this amazing honor.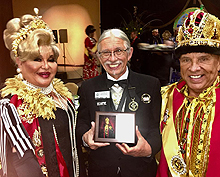 Nicole Murray-Ramirez Queen Mother I of the Americas, Chuck Rozanski Imperial Crown Prince of the Americas, and Terry Sidie Emperor I of the Americas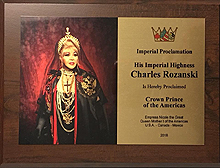 Crown Prince of the Americas plaque

What makes this all quite interesting is that I now pretty much have to entirely define the parameters of my new role all by myself. Terry was only appointed as Emperor I of the Americas last year, and (to the best of my knowledge...) there has never before been an Imperial Crown Prince, so I have no template from which to work. With that thought in mind, what I plan to try to do is to bring validation and significance to my new title by working hard to set a good example through personal charitable efforts and volunteering to our 30,000 members who participate in our 70 Imperial Courts in the United States, Canada, and Mexico.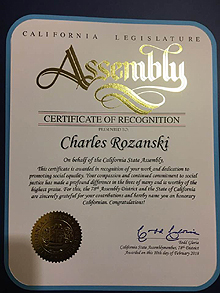 Thanks to the dedicated efforts of our beloved Queen Mother I of the Americas Nicole Murray-Ramirez, all of us attending the International Court Council meeting in San Diego were honored by the California State Legislature Assembly. Wow.

As those of you who have read about my efforts to help those in need are already quite aware, I firmly believe that we all have a moral obligation to help the elderly, poor, and disadvantaged in our communities, even if only a little bit. That is why I have worked so hard out on the streets these past two years with "Feeding Denver's Hungry" and Albuquerque's "A Light in the Night." After a lifetime of activism, social justice is also very important to me, which is why I also just agreed to become the Imperial Court's liaison to Executive Director Jason Marsden of the Matthew Shepard Foundation. Our goal will be to coordinate our fundraising efforts so as to encourage all 70 of our Imperial Courts to hold at least one benefit for the MSF during 2018. As I said earlier, I had a very busy weekend...

LOONEY TUNES (1941) (#1-246) (DELL) (MERRIE MELODIES) #14

I will now completely change gears and mention that Will and Pam bought comics and books with mad abandon while I was away in San Diego. All manner of comics are represented in today's New-In-Stock and Premium New-In-Stockk links, including a ton of scarce Marvel, DC, and Image comics, and a very large run of 1950's LOONEY TUNES editions. All ten million of our back issue comics and magazines are available to you this week at 40% off when you utilize our new SWEETHEART! codeword sale. Only new issues, a few variants, and our professionally graded issues are excluded.
Happy collecting!
Chuck Rozanski,
President - Mile High Comics, Inc.
February 12, 2018