Ten Million Comics on Sale - STAN LEE Codeword
Howdy!
As odd as it may seem, today is already the final order cutoff date for this year's Free Comic Book Day special editions. While this year's FCBD is not actually until May 4th, Diamond Distributing is forcing all comics retailers to commit hard order numbers 11 weeks in advance for most of the 50+ FCBD variants that they want to give away. I could wax poetic about my objections to this ill-advised policy, but I shall take the high road, and not. Suffice it to say, however, that asking for hard numbers this far in advance is just begging for many comics retailers to be extremely conservative in their ordering of the FCBD variants. No small wonder then that so many stores quickly run out of the most desirable issues on FCBD...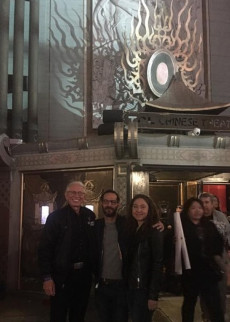 Chuck Rozanski, Justin Bitton, and Aleta Rozanski at the Stan Lee Memorial

In other news, my trip last Wednesday to the Stan Lee Memorial Service in Hollywood turned out to be completely wonderful. Not only did I get to participate in a truly heart-warming tribute event led by my buddy Kevin Smith, but I was also escorted by my vivacious daughter, Aleta, and her awesome fiancé, Justin Bitton. Old pals that I ran into at the event included renown NYC collectibles retailer and convention promoter Michael Carbonaro, artist Bill Sienkiewicz, writer Marv Wolfman, and artist George Perez. The highlight of the evening for me was a special reading of Stan's favorite poem "The Raven" by Edgar Allan Poe beautifully interpreted by "Matrix" star, Laurence Fishburne. It capped a truly magical evening filled with love for a great man who inspired us all.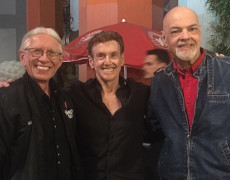 Chuck, Bill Sienkiewicz, and George Pérez at the Stan Lee Memorial

I now have to cut my newsletter short, as I am really pressed for time. I am packing three full suitcases for a momentous trip to San Diego on Thursday, where I am supposedly going to be elevated to a new rank on the Empresses side of the International Court System. That means that I have to pack not only my Prince Royale tuxedo, but also all of Bettie's accoutrements. The good news is that Will, Lynne, Pam, and Lisa are not only perfectly capable of keeping things going in my absence, but actually quite encouraging of my new adventure. Bettie is grateful to them for their kindness and support more than you can possibly imagine...
Happy collecting!
Chuck Rozanski,
President - Mile High Comics, Inc.
February 4, 2019
P.S. Our new 50% off STANLEE! codeword begins for you today. I chose this new codeword specifically to honor the memory of a great man whom I was blessed to be able to call my friend. The new codeword applies to all ten million of our back issue comics and magazines, excluding only new issues, a few variants, and our professionally-graded comics. I also want you to know that Will Moulton (on his own initiative...) ran a program over the weekend that slashed your net cost on all of our backlist graphic novels and trade paperbacks by 40% off, and all of our backlist comics hardbacks by 30% off. No codeword is needed to receive these discounts, as they are already posted on our website. So you know, Pam has been adding in scores of out-of-print book titles from the 6,000+ books that we had stashed in our Colorado Blvd. retail store that we closed on Dec. 31st. Please note, however, that if you see a book that you want in New-In-Stock, please try to order it right away. In most instances, we only have one copy available...