Annual Half Price Comics Sale Ending Soon
Howdy!
In a continuation of what occurred over this past weekend, another amazingly diverse wave of comics, toys, books, and statue collections has arrived here at Mile High Comics this week. Will, Pam, Lisa, and myself have all been purchasers, oftentimes buying half a dozen (or more) collections in just a single day! Suffice it to say, we are having a great deal of fun.
Just in case you are wondering, I want you to know that there is no end game to this exercise. Ever since I officially began Mile High Comics on February 6th, 1970, my overriding business philosophy has revolved around continually buying more collections, and adding incrementally to the diversity of cool items that we can offer to our patrons. Our Jason St. Mega-Store represents the pinnacle of my 48 years of passion, with well over 500,000 different items now being offered for sale.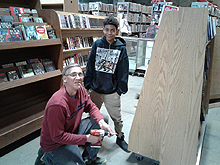 Dale retrofitted our bookcases

Even as I am writing this newsletter, however, more scarce comics are being graded, more toy and collectibles showcases are being built, and our dozens of trade paperback and hardback book display racks are being retrofitted with wheels so that we can more easily facilitate further growth. Not surprisingly, this massive addition of great comics and collectibles is leading to remarkably high sales growth in our Jason St. Mega-Store (we finished up 117% in January!), and also adding new vitality to our website sales. The online reviews that we have received of late have particularly praised our vast selections, which pleases me very much. If you are ever blessed to visit Colorado, please do try and stop by Jason St. I think it will be the highlight of your trip!
All of the above having been said, we are also still adding more great comics into our website selections each day for our thousands of loyal supporters living far away from Colorado. We are also still providing free shipping on Domestic comics orders over $50, and most International comics orders over $125. With the US dollar having lost 10% of its value in the International currency markets over the last six months, ordering great comics from the USA has once again become an excellent bargain. This is especially true when you also take advantage of our 50% off WOODCHUCK! codeword sale discounts. Only new issues, a few variants, and our professionally-graded comics are exempt from this wonderful annual half price comics and magazine sale.
As an aside, I wanted to share a photo with you from seven years ago, when I last visited Punxsutawney, Pennsylvania on February 2nd for their annual Groundhog's Day festival. That was the second time in three years that I got up in the icy darkness at 4 AM in order to ride a freezing school bus up to the remote amphitheater tucked into the woods on Gobbler's Knob. It is there that the world-famous Punxsutawney Phil emerges from his log home at dawn to prognosticate about the remaining duration of winter. This is, of course, utter silliness, but being in the woods at the crack of dawn with 10,000+ other crazy people is truly a hoot! I highly recommend it, though I do encourage bundling up, and taking some of those hand and foot-warming packs. It gets damn cold up there...
Happy collecting!
Chuck Rozanski,
President - Mile High Comics, Inc.
February 1, 2018

P.S. Below are some of the newly graded back issues that we just entered into Premium New-In-Stock and our overall New-In-Stock links. More will be added every day:
MARVEL

NEW MUTANTS (1983) (#1-100) (MARVEL) #87

NEW MUTANTS (1983) (#1-100) (MARVEL) #87 Near Mint/Mint
NEW MUTANTS (1983) (#1-100) (MARVEL) #98 Near Mint/Mint

SPIDER-MAN (1963) (AMAZING SPIDER-MAN) (#1-441) #298 NEWSSTAND Very Fine
SPIDER-MAN (1963) (AMAZING SPIDER-MAN) (#1-441) #299 NEWSSTAND Very Good
SPIDER-MAN (1963) (AMAZING SPIDER-MAN) (#1-441) #300 NEWSSTAND Very Good

INDEPENDENTS
ARCHIE'S JOKE BOOK (1953) #16 (Archie Comics) Fair
ARCHIE'S JOKE BOOK (1953) #18 (Archie Comics) Good
ARCHIE'S JOKE BOOK (1953) #18 (Archie Comics) Fair
ARCHIE'S JOKE BOOK (1953) #20 (Archie Comics) Fair
ARCHIE'S JOKE BOOK (1953) #21 (Archie Comics) Good
ARCHIE'S JOKE BOOK (1953) #25 (Archie Comics) Good
ARCHIE'S JOKE BOOK (1953) #28 (Archie Comics) Good
ARCHIE'S JOKE BOOK (1953) #29 (Archie Comics) Good
ARCHIE'S JOKE BOOK (1953) #37 (Archie Comics) Good
ARCHIE'S JOKE BOOK (1953) #39 (Archie Comics) Good

ARCHIE'S MADHOUSE (1959) #28 (Archie Comics) Good
ARCHIE'S MADHOUSE (1959) #28 (Archie Comics) Fair

ARCHIE'S MADHOUSE (1959) #37 (Archie Comics) Fine
ARCHIE'S MADHOUSE (1959) #37 (Archie Comics) Very Good

ARCHIE'S MADHOUSE ANNUAL (1962) #3 (Archie Comics) Very Good

ARCHIE'S PALS 'N' GALS (1952) #10 (Archie Comics) Good
ARCHIE'S PALS 'N' GALS (1952) #15 (Archie Comics) Good
ARCHIE'S PALS 'N' GALS (1952) #19 (Archie Comics) Very Good
ARCHIE'S PALS 'N' GALS (1952) #40 (Archie Comics) Fine
ARCHIE'S PALS 'N' GALS (1952) #40 (Archie Comics) Good

AROUND THE WORLD IN 80 DAYS (1957) #1 FC #784 (Dell Publishing) Very Good
AROUND THE WORLD IN 80 DAYS (1957) #1 FC #784 (Dell Publishing) Good

ASTOUNDING SCIENCE FICTION (VOL.54) (PULP/DIGEST) (1954) #3 (Street & Smith Publications) Good
ASTOUNDING SCIENCE FICTION (VOL.60) (PULP/DIGEST) (1957) #5 (Street & Smith Publications) Very Good
ASTOUNDING SCIENCE FICTION (VOL.62) (PULP/DIGEST) (1958) #3 (Street & Smith Publications) Good


ATLANTIS, THE LOST CONTINENT (1961) #1 FC #1188

ATLANTIS, THE LOST CONTINENT (1961) #1 FC #1188 (Dell Publishing) Fine
ATLANTIS, THE LOST CONTINENT (1961) #1 FC #1188 (Dell Publishing) Very Good
ATLANTIS, THE LOST CONTINENT (1961) #1 FC #1188 (Dell Publishing) Good

ATOM ANT (GOLD KEY) (1966) #1 (Gold Key) Good

ATTACK! (YOUTHFUL) (TROJAN) (1952) #2 (Youthfull Magazines) Good

BABES IN TOYLAND (1962) #1 FC #1282 (Dell Publishing) Very Good

BABY HUEY (HARVEY) (1956) #5 (Harvey Comics) Good

BAMBI (1943) (Dell Publishing) (DISNEY) #1 FC #30 (Dell Publishing) Fair
BAMBI (1943) (Dell Publishing) (DISNEY) #1 FC #186 (Dell Publishing) Fair

BAMM-BAMM & PEBBLES FLINTSTONE(GOLD KEY)(HANNA-BARBERA) (1964) #1 (Gold Key) Good
BAMM-BAMM & PEBBLES FLINTSTONE(GOLD KEY)(HANNA-BARBERA) (1964) #1 (Gold Key) Fair

BASEBALL COMICS (WILL EISNER PRODUCTIONS) (1949) #1 (Will Eisner Productions) Fair

BEAGLE BOYS (1964) #13 WHITMAN20C (Gold Key) Fine

BEANY AND CECIL (1952) #1 (Dell Publishing) Good

BEHOLD THE HANDMAID (1954) #1 (Geo A Pflaum) Fine

BEST OF DONALD DUCK (1965) #1 (Gold Key) Very Good

BEST OF DONALD DUCK AND UNCLE SCROOGE (1964) #1 #30022-411 (Gold Key) Good
BEST OF DONALD DUCK AND UNCLE SCROOGE (1964) #2 #30022-709 (Gold Key) Very Good
BEST OF DONALD DUCK AND UNCLE SCROOGE (1964) #2 #30022-709 (Gold Key) Fine

BEST OF UNCLE SCROOGE AND DONALD DUCK (1966) #1 (Gold Key) Good
BEST OF UNCLE SCROOGE AND DONALD DUCK (1966) #1 (Gold Key) Very Good

BETTY AND VERONICA (1950) #45 (Archie Comics) Good
BETTY AND VERONICA (1950) #54 (Archie Comics) Good

BEVERLY HILLBILLIES (1963) #1 (Dell Publishing) Good
BEVERLY HILLBILLIES (1963) #13 (Dell Publishing) Good

BIG COUNTRY, THE (1958) #1 FC #946 (Dell Publishing) Very Good

BIG LAND (1957) #1 FC #812 (Dell Publishing) Very Good
BIG LAND (1957) #1 FC #812 (Dell Publishing) Good

BILL BOYD WESTERN (1950) #1 (FAWCETT PUBLICATION) Good

BILLY THE KID ADVENTURE MAGAZINE (1950) #9 (Toby Press) Very Good

BLACK CAT MYSTERY (1951) #63 (Harvey Comics) Very Good
BLACK CAT MYSTERY (1951) #65 (Harvey Comics) Good

BLACK DIAMOND WESTERN (1949) #15 (LEV GLEASON PUBLISHING) Very Good

BLACK MAGIC (VOL. 2) (1951) #5 (CRESTWOOD PUBLISHING) Good

BLACK MAGIC (VOL. 8) (1961) #5 (Prize Group/Headline) Good
BLACK MAGIC (VOL. 8) (1961) #5 (Prize Group/Headline) Very Good

BLACKHAWK (1944) (#9-107) (QUALITY) #106 (Quality Comics) Good

BLONDIE (1942) (FEATURE BOOKS) #34 (David Mckay Publications) Good

BLUE BEETLE (1964) (VOL. 2) (#1-5) (CHARLTON) #3 (Charlton) Very Good

BONANZA (1960) #1 FC #1110 (Dell Publishing) Good
BONANZA (1960) #1 FC #1110 (Dell Publishing) Fair

BONANZA (1962) #5 (Gold Key) Very Good
BONANZA (1962) #9 (Gold Key) Good

BOOTS AND SADDLES (1958) #1 FC #919 (Dell Publishing) Good

BOY COMICS (1942) #32 (LEV GLEASON PUBLISHING) Good
BOY COMICS (1942) #32 (LEV GLEASON PUBLISHING) Very Good
BOY COMICS (1942) #37 (LEV GLEASON PUBLISHING) Fair
BOY COMICS (1942) #52 (LEV GLEASON PUBLISHING) Very Good
BOY COMICS (1942) #70 (LEV GLEASON PUBLISHING) Good
BOY COMICS (1942) #71 (LEV GLEASON PUBLISHING) Fair
BOY COMICS (1942) #72 (LEV GLEASON PUBLISHING) Good
BOY COMICS (1942) #72 (LEV GLEASON PUBLISHING) Fair
BOY COMICS (1942) #76 (LEV GLEASON PUBLISHING) Very Good
BOY COMICS (1942) #79 (LEV GLEASON PUBLISHING) Good
BOY COMICS (1942) #84 (LEV GLEASON PUBLISHING) Good
BOY COMICS (1942) #86 (LEV GLEASON PUBLISHING) Very Good
BOY COMICS (1942) #119 (LEV GLEASON PUBLISHING) Good

BOZO THE CLOWN (1950) #2 (Dell Publishing) Good
BOZO THE CLOWN (1950) #3 (Dell Publishing) Fair
BOZO THE CLOWN (1950) #5 (Dell Publishing) Fair
BOZO THE CLOWN (1950) #5 (Dell Publishing) Good
BOZO THE CLOWN (1950) #6 (Dell Publishing) Good

BRAIN (1956) #1 (SUSSEX PUBLISHING COMPANY) Good

BRAIN BOY (1962) #4 (Dell Publishing) Very Good
BRAIN BOY (1962) #5 (Dell Publishing) Very Good
BRAIN BOY (1962) #6 (Dell Publishing) Fine

BUCCANEERS (1957) #1 FC #800 (Dell Publishing) Good

BUCKSKIN #1 FC #1011 (Dell Publishing) Very Good
BUCKSKIN #1 FC #1011 (Dell Publishing) Good

BUFFALO BEE (1958) #1 FC #1002 (Dell Publishing) Good

BUFFALO BILL JR. (1956) #1 FC #673 (Dell Publishing) Good

BUGS BUNNY (1942) (#1-85) (Dell Publishing) #61 15 CENT CV (Dell Publishing) Good
BUGS BUNNY (1942) (#1-85) (Dell Publishing) #1 FC #647 (Dell Publishing) Fine
BUGS BUNNY (1942) (#1-85) (Dell Publishing) #1 FC #200 (Dell Publishing) Very Good
BUGS BUNNY (1942) (#1-85) (Dell Publishing) #1 FC #233 (Dell Publishing) Very Good
BUGS BUNNY (1942) (#1-85) (Dell Publishing) #1 FC #250 (Dell Publishing) Very Good
BUGS BUNNY (1942) (#1-85) (Dell Publishing) #1 FC #266 (Dell Publishing) Very Good
BUGS BUNNY (1942) (#1-85) (Dell Publishing) #1 FC #281 (Dell Publishing) Very Good
BUGS BUNNY (1942) (#1-85) (Dell Publishing) #1 FC #317 (Dell Publishing) Very Good
BUGS BUNNY (1942) (#1-85) (Dell Publishing) #1 FC #327 (Dell Publishing) Very Good
BUGS BUNNY (1942) (#1-85) (Dell Publishing) #1 FC #347 (Dell Publishing) Very Good


BUGS BUNNY (1942) (#1-85) (Dell Publishing) #1 FC #366

BUGS BUNNY (1942) (#1-85) (Dell Publishing) #1 FC #366 (Dell Publishing) Very Good
BUGS BUNNY (1942) (#1-85) (Dell Publishing) #1 FC #585 (Dell Publishing) Very Good
BUGS BUNNY (1942) (#1-85) (Dell Publishing) #1 FC #647 (Dell Publishing) Very Good
BUGS BUNNY (1942) (#1-85) (Dell Publishing) #1 FC #200 (Dell Publishing) Good
BUGS BUNNY (1942) (#1-85) (Dell Publishing) #1 FC #217 (Dell Publishing) Good
BUGS BUNNY (1942) (#1-85) (Dell Publishing) #1 FC #233 (Dell Publishing) Good
BUGS BUNNY (1942) (#1-85) (Dell Publishing) #1 FC #250 (Dell Publishing) Good
BUGS BUNNY (1942) (#1-85) (Dell Publishing) #1 FC #266 (Dell Publishing) Good
BUGS BUNNY (1942) (#1-85) (Dell Publishing) #1 FC #281 (Dell Publishing) Good
BUGS BUNNY (1942) (#1-85) (Dell Publishing) #1 FC #298 (Dell Publishing) Good
BUGS BUNNY (1942) (#1-85) (Dell Publishing) #1 FC #307 (Dell Publishing) Good
BUGS BUNNY (1942) (#1-85) (Dell Publishing) #1 FC #317 (Dell Publishing) Good
BUGS BUNNY (1942) (#1-85) (Dell Publishing) #1 FC #327 (Dell Publishing) Good
BUGS BUNNY (1942) (#1-85) (Dell Publishing) #1 FC #338 (Dell Publishing) Good
BUGS BUNNY (1942) (#1-85) (Dell Publishing) #1 FC #347 (Dell Publishing) Good
BUGS BUNNY (1942) (#1-85) (Dell Publishing) #1 FC #355 (Dell Publishing) Good
BUGS BUNNY (1942) (#1-85) (Dell Publishing) #1 FC #366 (Dell Publishing) Good
BUGS BUNNY (1942) (#1-85) (Dell Publishing) #1 FC #376 (Dell Publishing) Good
BUGS BUNNY (1942) (#1-85) (Dell Publishing) #1 FC #393 (Dell Publishing) Good
BUGS BUNNY (1942) (#1-85) (Dell Publishing) #1 FC #585 (Dell Publishing) Good
BUGS BUNNY (1942) (#1-85) (Dell Publishing) #1 FC #647 (Dell Publishing) Good


BUGS BUNNY (1942) (#1-85) (Dell Publishing) #1 FC #88

BUGS BUNNY (1942) (#1-85) (Dell Publishing) #1 FC #88 (Dell Publishing) Good
BUGS BUNNY (1942) (#1-85) (Dell Publishing) #1 FC #200 (Dell Publishing) Fair
BUGS BUNNY (1942) (#1-85) (Dell Publishing) #1 FC #217 (Dell Publishing) Fair
BUGS BUNNY (1942) (#1-85) (Dell Publishing) #1 FC #233 (Dell Publishing) Fair
BUGS BUNNY (1942) (#1-85) (Dell Publishing) #1 FC #250 (Dell Publishing) Fair
BUGS BUNNY (1942) (#1-85) (Dell Publishing) #1 FC #266 (Dell Publishing) Fair
BUGS BUNNY (1942) (#1-85) (Dell Publishing) #1 FC #274 (Dell Publishing) Good
BUGS BUNNY (1942) (#1-85) (Dell Publishing) #1 FC #281 (Dell Publishing) Fair
BUGS BUNNY (1942) (#1-85) (Dell Publishing) #1 FC #289 (Dell Publishing) Very Good
BUGS BUNNY (1942) (#1-85) (Dell Publishing) #1 FC #298 (Dell Publishing) Fair
BUGS BUNNY (1942) (#1-85) (Dell Publishing) #1 FC #307 (Dell Publishing) Fair
BUGS BUNNY (1942) (#1-85) (Dell Publishing) #1 FC #317 (Dell Publishing) Fair
BUGS BUNNY (1942) (#1-85) (Dell Publishing) #1 FC #327 (Dell Publishing) Fair
BUGS BUNNY (1942) (#1-85) (Dell Publishing) #1 FC #338 (Dell Publishing) Fair
BUGS BUNNY (1942) (#1-85) (Dell Publishing) #1 FC #347 (Dell Publishing) Fair
BUGS BUNNY (1942) (#1-85) (Dell Publishing) #1 FC #355 (Dell Publishing) Fair
BUGS BUNNY (1942) (#1-85) (Dell Publishing) #1 FC #366 (Dell Publishing) Fair
BUGS BUNNY (1942) (#1-85) (Dell Publishing) #1 FC #376 (Dell Publishing) Fair
BUGS BUNNY (1942) (#1-85) (Dell Publishing) #1 FC #393 (Dell Publishing) Fair

BUGS BUNNY (1980) (#219-245) (WHITMAN) #222 40 CENT CV (Whitman Publishing) Very Good

BUGS BUNNY AND PORKY PIG (1965) #1 (Gold Key) Good
BUGS BUNNY AND PORKY PIG (1965) #1 (Gold Key) Very Good


BUGS BUNNY PUFFED RICE GIVEAWAY (A) (1949) #1 COUNTERFEI

BUGS BUNNY PUFFED RICE GIVEAWAY (A) (1949) #1 COUNTERFEI (Quaker Cereals) Very Good
BUGS BUNNY PUFFED RICE GIVEAWAY (B) (1949) #4 DWARFGHOST (Quaker Cereals) Very Good
BUGS BUNNY PUFFED RICE GIVEAWAY (C) (1949) #5 HAUNTED CA (Quaker Cereals) Very Good

BUGS BUNNY WINTER FUN (1967) #1 (Gold Key) Very Fine
BUGS BUNNY WINTER FUN (1967) #1 (Gold Key) Very Good

BUGS BUNNY'S CHRISTMAS FUNNIES (DELL GIANT) (1950) #2 (Dell Publishing) Good
BUGS BUNNY'S CHRISTMAS FUNNIES (DELL GIANT) (1950) #3 (Dell Publishing) Very Good
BUGS BUNNY'S CHRISTMAS FUNNIES (DELL GIANT) (1950) #4 (Dell Publishing) Good
BUGS BUNNY'S CHRISTMAS FUNNIES (DELL GIANT) (1950) #5 (Dell Publishing) Good
BUGS BUNNY'S CHRISTMAS FUNNIES (DELL GIANT) (1950) #5 (Dell Publishing) Very Good
BUGS BUNNY'S CHRISTMAS FUNNIES (DELL GIANT) (1950) #7 (Dell Publishing) Fine
BUGS BUNNY'S CHRISTMAS FUNNIES (DELL GIANT) (1950) #7 (Dell Publishing) Very Good
BUGS BUNNY'S CHRISTMAS FUNNIES (DELL GIANT) (1950) #8 (Dell Publishing) Fair
BUGS BUNNY'S CHRISTMAS FUNNIES (DELL GIANT) (1950) #8 (Dell Publishing) Good

BUGS BUNNY'S CHRISTMAS PARTY (DELL GIANT) (1955) #6 (Dell Publishing) Very Fine

BUGS BUNNY'S COUNTY FAIR (DELL GIANT) (1957) #1 (Dell Publishing) Good
BUGS BUNNY'S COUNTY FAIR (DELL GIANT) (1957) #1 (Dell Publishing) Fair
BUGS BUNNY'S COUNTY FAIR (DELL GIANT) (1957) #1 (Dell Publishing) Very Good


BUGS BUNNY'S HALLOWEEN PARADE (DELL GIANT) (1953) #2

BUGS BUNNY'S HALLOWEEN PARADE (DELL GIANT) (1953) #2 (Dell Publishing) Fine

BUGS BUNNY'S TRICK 'N' TREAT HALLOWEEN FUN (DELL GIANT) (1955) #4 (Dell Publishing) Good
BUGS BUNNY'S TRICK 'N' TREAT HALLOWEEN FUN (DELL GIANT) (1955) #4 (Dell Publishing) Fine

BUGS BUNNY'S VACATION FUNNIES (DELL GIANT) (1951) #1 (Dell Publishing) Good
BUGS BUNNY'S VACATION FUNNIES (DELL GIANT) (1951) #1 (Dell Publishing) Fine
BUGS BUNNY'S VACATION FUNNIES (DELL GIANT) (1951) #1 (Dell Publishing) Very Good
BUGS BUNNY'S VACATION FUNNIES (DELL GIANT) (1951) #2 (Dell Publishing) Very Good
BUGS BUNNY'S VACATION FUNNIES (DELL GIANT) (1951) #3 (Dell Publishing) Good
BUGS BUNNY'S VACATION FUNNIES (DELL GIANT) (1951) #3 (Dell Publishing) Very Good
BUGS BUNNY'S VACATION FUNNIES (DELL GIANT) (1951) #4 (Dell Publishing) Fine
BUGS BUNNY'S VACATION FUNNIES (DELL GIANT) (1951) #4 (Dell Publishing) Good
BUGS BUNNY'S VACATION FUNNIES (DELL GIANT) (1951) #5 (Dell Publishing) Good
BUGS BUNNY'S VACATION FUNNIES (DELL GIANT) (1951) #5 (Dell Publishing) Fine
BUGS BUNNY'S VACATION FUNNIES (DELL GIANT) (1951) #5 (Dell Publishing) Fair
BUGS BUNNY'S VACATION FUNNIES (DELL GIANT) (1951) #5 (Dell Publishing) Very Good
BUGS BUNNY'S VACATION FUNNIES (DELL GIANT) (1951) #6 (Dell Publishing) Fair
BUGS BUNNY'S VACATION FUNNIES (DELL GIANT) (1951) #6 (Dell Publishing) Good
BUGS BUNNY'S VACATION FUNNIES (DELL GIANT) (1951) #6 (Dell Publishing) Very Good
BUGS BUNNY'S VACATION FUNNIES (DELL GIANT) (1951) #7 (Dell Publishing) Good
BUGS BUNNY'S VACATION FUNNIES (DELL GIANT) (1951) #7 (Dell Publishing) Very Good
BUGS BUNNY'S VACATION FUNNIES (DELL GIANT) (1951) #8 (Dell Publishing) Good
BUGS BUNNY'S VACATION FUNNIES (DELL GIANT) (1951) #8 (Dell Publishing) Fair
BUGS BUNNY'S VACATION FUNNIES (DELL GIANT) (1951) #8 (Dell Publishing) Fine
BUGS BUNNY'S VACATION FUNNIES (DELL GIANT) (1951) #8 (Dell Publishing) Very Good
BUGS BUNNY'S VACATION FUNNIES (DELL GIANT) (1951) #9 (Dell Publishing) Good
BUGS BUNNY'S VACATION FUNNIES (DELL GIANT) (1951) #9 (Dell Publishing) Fine
BUGS BUNNY'S VACATION FUNNIES (DELL GIANT) (1951) #9 (Dell Publishing) Fair


BUGS BUNNY'S VACATION FUNNIES (DELL GIANT) (1951) #9

BUGS BUNNY'S VACATION FUNNIES (DELL GIANT) (1951) #9 (Dell Publishing) Very Good

JUNGLE FANTASY: IVORY (2016) #3 ADULT EXTR (Boundless Comics) Near Mint/Mint