50% Off All Comics WOODCHUCK Sale Begins Today
Howdy!
We are going a little bit crazy here at Mile High Comics, as we have been inundated this week with folks bringing in collections of comics, books, statues, and toys for us to buy. We asked for that to happen via our buying ads on Facebook, but the response has been even more vigorous than we anticipated. Be sure to keep an eye on our New-In-Stock and Premium New-In-Stock links, as we are going to be progressively adding exceptionally nice batches of older comics and books.

BATMAN: THE KILLING JOKE (ALAN MOORE) (1988) #1

While our purchasing great collections is wonderful, the benefit for you is that I am going to use our amazing success at buying great comics this week as an excuse to initiate a 50% off WOODCHUCK! codeword sale on all of our back issue comics and magazines. Given that Groundhog's Day is actually next Friday (February 2nd) this half price sale on all ten million of our back issues will only run through next weekend, ending on Monday, February 5th. Only new comics, a few variants, and our professionally-graded comics are excluded from the WOODCHUCK! codeword sale.
That's it for today. I need to cut things short, as I have to drive to a benefit that is being held tonight down in Colorado Springs, which is about 70 miles from Denver. I will leave you with a couple of nice photos of me working this Wednesday and Thursday to help the poor here in Denver with obtaining food. The first photo is of me picking up bread for sandwiches (and a few pastries) out at the wonderful Food Bank of the Rockies, and the second is of me and my friend, Jeffrey Counts, giving away a few of the 1,000 sandwiches that we delivered to people outside of the St. Francis Center on Thursday. It was rather cold out on the streets that day, but our hearts were warm.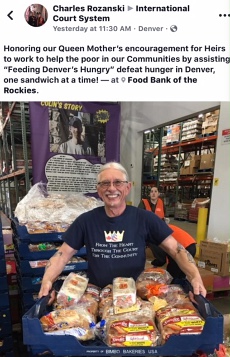 Picking up bread for sandwiches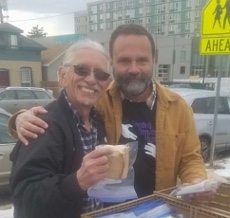 Jeffrey Counts and Chuck giving away 1,000 sandwiches!

Happy collecting!
Chuck Rozanski,
President - Mile High Comics, Inc.
January 26, 2018


P.S. Below are a few of the comics that Will purchased just yesterday. We have thousands more already waiting to be graded.
MARVEL

MARVEL SUPER-HEROES (1967) #16

MARVEL SUPER-HEROES (1967) #16 Fine
MARVEL SUPER-HEROES (1967) #16 Very Good

MARVEL TALES (1964) #3 Very Good
MARVEL TALES (1964) #5 Very Good

NEW MUTANTS (1983) (#1-100) (MARVEL) #1 Very Fine

NOT BRAND ECHH! (1967) (#1-13) (MARVEL) #7 Fine

PETER, THE LITTLE PEST (1969) #2 Very Good
PETER, THE LITTLE PEST (1969) #3 Fine
PETER, THE LITTLE PEST (1969) #4 Fine
PETER, THE LITTLE PEST (1969) #4 Very Good

RAWHIDE KID (1955) #56 Very Good

SGT. FURY AND HIS HOWLING COMMANDOS (1963) #15 Good
SGT. FURY AND HIS HOWLING COMMANDOS (1963) #18 Very Good


SGT. FURY AND HIS HOWLING COMMANDOS (1963) #20

SGT. FURY AND HIS HOWLING COMMANDOS (1963) #20 Very Good
SGT. FURY AND HIS HOWLING COMMANDOS (1963) #21 Very Good
SGT. FURY AND HIS HOWLING COMMANDOS (1963) #22 Good
SGT. FURY AND HIS HOWLING COMMANDOS (1963) #22 Very Good
SGT. FURY AND HIS HOWLING COMMANDOS (1963) #23 Good
SGT. FURY AND HIS HOWLING COMMANDOS (1963) #24 Good
SGT. FURY AND HIS HOWLING COMMANDOS (1963) #24 Very Good
SGT. FURY AND HIS HOWLING COMMANDOS (1963) #26 Good
SGT. FURY AND HIS HOWLING COMMANDOS (1963) #26 Very Good
SGT. FURY AND HIS HOWLING COMMANDOS (1963) #29 Very Good
SGT. FURY AND HIS HOWLING COMMANDOS (1963) #30 Good
SGT. FURY AND HIS HOWLING COMMANDOS (1963) #30 Very Good
SGT. FURY AND HIS HOWLING COMMANDOS (1963) #35 Very Good
SGT. FURY AND HIS HOWLING COMMANDOS (1963) #37 Very Good
SGT. FURY AND HIS HOWLING COMMANDOS (1963) #39 Very Good
SGT. FURY AND HIS HOWLING COMMANDOS (1963) #40 Very Good
SGT. FURY AND HIS HOWLING COMMANDOS (1963) #40 Very Fine


SGT. FURY AND HIS HOWLING COMMANDOS (1963) #42

SGT. FURY AND HIS HOWLING COMMANDOS (1963) #42 Fine
SGT. FURY AND HIS HOWLING COMMANDOS (1963) #47 Fine
SGT. FURY AND HIS HOWLING COMMANDOS (1963) #47 Very Good
SGT. FURY AND HIS HOWLING COMMANDOS (1963) #49 Fine
SGT. FURY AND HIS HOWLING COMMANDOS (1963) #53 Fine
SGT. FURY AND HIS HOWLING COMMANDOS (1963) #54 Very Good
SGT. FURY AND HIS HOWLING COMMANDOS (1963) #58 Very Good
SGT. FURY AND HIS HOWLING COMMANDOS (1963) #59 Fine

SHIELD (1968) (#1-18) (MARVEL) #12 Fine
SHIELD (1968) (#1-18) (MARVEL) #12 Very Good

STRANGE TALES (1951) (#1-85 ATLAS, #86-188 MARVEL) #149 Fine
STRANGE TALES (1951) (#1-85 ATLAS, #86-188 MARVEL) #162 Fine
STRANGE TALES (1951) (#1-85 ATLAS, #86-188 MARVEL) #166 Very Good

TALES TO ASTONISH (1959) #78 Very Good
TALES TO ASTONISH (1959) #84 Very Good
TALES TO ASTONISH (1959) #86 Very Good
TALES TO ASTONISH (1959) #88 Very Good

TALES TO ASTONISH (1959) #92 Fine
TALES TO ASTONISH (1959) #92 Very Good
TALES TO ASTONISH (1959) #94 Very Good
TALES TO ASTONISH (1959) #96 Fine
TALES TO ASTONISH (1959) #96 Very Good
TALES TO ASTONISH (1959) #97 Fine

TOMB OF DRACULA (1972) (#1-70) (MARVEL) #20 Very Good
TOMB OF DRACULA (1972) (#1-70) (MARVEL) #27 Fine
TOMB OF DRACULA (1972) (#1-70) (MARVEL) #29 Fine
TOMB OF DRACULA (1972) (#1-70) (MARVEL) #58 Fine

WARLOCK (1972) #10 Fine
WARLOCK (1972) #12 Fine
WARLOCK (1972) #15 Fine

WEB OF SPIDER-MAN (1985) (#1-129) (MARVEL) #36 Near Mint/Mint

WEIRD WONDER TALES (1973) #1 Fine
WEIRD WONDER TALES (1973) #1 Very Good

WINTER SOLDIER (2012) #4 VARIANT Near Mint/Mint


WOLVERINE (1988) (#1/2-189) (MARVEL) #2

WOLVERINE (1988) (#1/2-189) (MARVEL) #2 Fine
WOLVERINE (1988) (#1/2-189) (MARVEL) #100 Fine

WOLVERINE (2010) (#1-20, 300-317, & 1000) (MARVEL) #300 DARROW Near Mint/Mint
WOLVERINE (2010) (#1-20, 300-317, & 1000) (MARVEL) #304 VARIANT Near Mint/Mint

WOLVERINE ANNUAL (2012) #1 VARIANT Near Mint/Mint

WOLVERINE: OLD MAN LOGAN GIANT-SIZE (2009) #1 MCGUINNESS Near Mint/Mint
WOLVERINE: OLD MAN LOGAN GIANT-SIZE (2009) #1 RIVERA Near Mint/Mint

WONDERFUL WIZARD OF OZ (2008) #1 SHANOWER Near Mint/Mint
WONDERFUL WIZARD OF OZ (2008) #1 SHANOWER Very Fine

X-FORCE (1991) (#1-129) (MARVEL) #75 DFE S&N Near Mint/Mint

DC
AQUAMAN (1994) (#0-75) (DC) #4 Near Mint/Mint
AQUAMAN (1994) (#0-75) (DC) #4 Very Fine

AZRAEL (DC) (1995) #49 Near Mint/Mint


BATMAN (1940) (#0-713) (DC) #560

BATMAN (1940) (#0-713) (DC) #560 Near Mint/Mint
BATMAN (1940) (#0-713) (DC) #596 Near Mint/Mint

BATMAN ANNUAL (1961) (#1-28) (DC) #19 Near Mint/Mint
BATMAN ANNUAL (1961) (#1-28) (DC) #20 Near Mint/Mint
BATMAN ANNUAL (1961) (#1-28) (DC) #21 Near Mint/Mint

BATMAN: GOTHAM KNIGHTS (2000) #74 Near Mint/Mint

BLACK LIGHTNING (1977) #6 Near Mint/Mint
BLACK LIGHTNING (1977) #8 Near Mint/Mint
BLACK LIGHTNING (1977) #9 Near Mint/Mint
BLACK LIGHTNING (1977) #10 Near Mint/Mint

DEMON KNIGHTS (2011) #1 Near Mint/Mint

LEGENDS OF THE DARK KNIGHT 100-PAGE SUPER SPECTACULAR (2013) #5 Near Mint/Mint

POWER OF SHAZAM (1995) #45 Very Fine

INDEPENDENTS

KNUCKLES: CHAOTIX ANNUAL #1 NEWSSTAND

KNUCKLES: CHAOTIX ANNUAL #1 NEWSSTAND (Archie Comics) Good

KNUCKLES: DARK LEGION(#1-3, ECHIDNA #4-32) (1997) #1 NEWSSTAND (Archie Comics) Good
KNUCKLES: DARK LEGION(#1-3, ECHIDNA #4-32) (1997) #13 NEWSSTAND (Archie Comics) Fine

NIGHTS INTO DREAMS (1998) #1 NEWSSTAND (Archie Comics) Fine
NIGHTS INTO DREAMS (1998) #2 NEWSSTAND (Archie Comics) Good

PRINCESS SALLY (SONIC THE HEDGEHOG) (1995) #1 NEWSSTAND (Archie Comics) Good
PRINCESS SALLY (SONIC THE HEDGEHOG) (1995) #2 NEWSSTAND (Archie Comics) Very Good
PRINCESS SALLY (SONIC THE HEDGEHOG) (1995) #3 NEWSSTAND (Archie Comics) Fine

SONIC & KNUCKLES SPECIAL (1995) #1 NEWSSTAND (Archie Comics) Fine

SONIC BLAST SPECIAL #1 NEWSSTAND (Archie Comics) Good

SONIC LIVE! (1997) #1 NEWSSTAND (Archie Comics) Fine

SONIC SUPER SPECIAL (1997) #5 NEWSSTAND (Archie Comics) Fine

SONIC THE HEDGEHOG-THE SERIES (1993) #2 NEWSSTAND (Archie Comics) Good


SONIC THE HEDGEHOG-THE SERIES (1993) #3 NEWSSTAND

SONIC THE HEDGEHOG-THE SERIES (1993) #3 NEWSSTAND (Archie Comics) Good
SONIC THE HEDGEHOG-THE SERIES (1993) #4 NEWSSTAND (Archie Comics) Good
SONIC THE HEDGEHOG-THE SERIES (1993) #5 (Archie Comics) Very Good
SONIC THE HEDGEHOG-THE SERIES (1993) #6 NEWSSTAND (Archie Comics) Fair
SONIC THE HEDGEHOG-THE SERIES (1993) #8 NEWSSTAND (Archie Comics) Fair
SONIC THE HEDGEHOG-THE SERIES (1993) #9 NEWSSTAND (Archie Comics) Good
SONIC THE HEDGEHOG-THE SERIES (1993) #10 NEWSSTAND (Archie Comics) Good
SONIC THE HEDGEHOG-THE SERIES (1993) #11 NEWSSTAND (Archie Comics) Good
SONIC THE HEDGEHOG-THE SERIES (1993) #12 NEWSSTAND (Archie Comics) Good
SONIC THE HEDGEHOG-THE SERIES (1993) #13 NEWSSTAND (Archie Comics) Fair
SONIC THE HEDGEHOG-THE SERIES (1993) #14 NEWSSTAND (Archie Comics) Good
SONIC THE HEDGEHOG-THE SERIES (1993) #16 NEWSSTAND (Archie Comics) Good
SONIC THE HEDGEHOG-THE SERIES (1993) #18 NEWSSTAND (Archie Comics) Very Good
SONIC THE HEDGEHOG-THE SERIES (1993) #19 NEWSSTAND (Archie Comics) Good
SONIC THE HEDGEHOG-THE SERIES (1993) #20 NEWSSTAND (Archie Comics) Good
SONIC THE HEDGEHOG-THE SERIES (1993) #22 NEWSSTAND (Archie Comics) Good
SONIC THE HEDGEHOG-THE SERIES (1993) #23 NEWSSTAND (Archie Comics) Very Good
SONIC THE HEDGEHOG-THE SERIES (1993) #26 NEWSSTAND (Archie Comics) Very Good
SONIC THE HEDGEHOG-THE SERIES (1993) #27 NEWSSTAND (Archie Comics) Good
SONIC THE HEDGEHOG-THE SERIES (1993) #28 NEWSSTAND (Archie Comics) Very Good


SONIC THE HEDGEHOG-THE SERIES (1993) #29 NEWSSTAND

SONIC THE HEDGEHOG-THE SERIES (1993) #29 NEWSSTAND (Archie Comics) Fine
SONIC THE HEDGEHOG-THE SERIES (1993) #30 NEWSSTAND (Archie Comics) Fine
SONIC THE HEDGEHOG-THE SERIES (1993) #31 NEWSSTAND (Archie Comics) Fine
SONIC THE HEDGEHOG-THE SERIES (1993) #33 NEWSSTAND (Archie Comics) Very Fine
SONIC THE HEDGEHOG-THE SERIES (1993) #34 NEWSSTAND (Archie Comics) Fine
SONIC THE HEDGEHOG-THE SERIES (1993) #35 NEWSSTAND (Archie Comics) Fine
SONIC THE HEDGEHOG-THE SERIES (1993) #36 NEWSSTAND (Archie Comics) Fine
SONIC THE HEDGEHOG-THE SERIES (1993) #37 NEWSSTAND (Archie Comics) Fine
SONIC THE HEDGEHOG-THE SERIES (1993) #38 NEWSSTAND (Archie Comics) Good
SONIC THE HEDGEHOG-THE SERIES (1993) #40 NEWSSTAND (Archie Comics) Fine
SONIC THE HEDGEHOG-THE SERIES (1993) #41 NEWSSTAND (Archie Comics) Fine
SONIC THE HEDGEHOG-THE SERIES (1993) #42 NEWSSTAND (Archie Comics) Very Fine
SONIC THE HEDGEHOG-THE SERIES (1993) #44 NEWSSTAND (Archie Comics) Fine
SONIC THE HEDGEHOG-THE SERIES (1993) #45 NEWSSTAND (Archie Comics) Very Good
SONIC THE HEDGEHOG-THE SERIES (1993) #47 NEWSSTAND (Archie Comics) Good
SONIC THE HEDGEHOG-THE SERIES (1993) #48 NEWSSTAND (Archie Comics) Good
SONIC THE HEDGEHOG-THE SERIES (1993) #55 NEWSSTAND (Archie Comics) Very Good
SONIC THE HEDGEHOG-THE SERIES (1993) #59 NEWSSTAND (Archie Comics) Fine
SONIC THE HEDGEHOG-THE SERIES (1993) #60 NEWSSTAND (Archie Comics) Fine

SONIC THE HEDGEHOG: IN YOUR FACE! (1995) #1 NEWSSTAND (Archie Comics) Good


SONIC TRIPLE TROUBLE SPECIAL (1995) #1 NEWSSTAND

SONIC TRIPLE TROUBLE SPECIAL (1995) #1 NEWSSTAND (Archie Comics) Fine

SONIC'S FRIENDLY NEMESIS: KNUCKLES (1996) #1 NEWSSTAND (Archie Comics) Fine
SONIC'S FRIENDLY NEMESIS: KNUCKLES (1996) #2 NEWSSTAND (Archie Comics) Very Fine
SONIC'S FRIENDLY NEMESIS: KNUCKLES (1996) #2 NEWSSTAND (Archie Comics) Fine

SONICQUEST: DEATH EGG SAGA (1996) #1 NEWSSTAND (Archie Comics) Good
SONICQUEST: DEATH EGG SAGA (1996) #2 NEWSSTAND (Archie Comics) Fine
SONICQUEST: DEATH EGG SAGA (1996) #3 NEWSSTAND (Archie Comics) Fine

TAILS (BASED ON THE SONIC THE HEDGEHOG GAME) (1995) #1 NEWSSTAND (Archie Comics) Fine
TAILS (BASED ON THE SONIC THE HEDGEHOG GAME) (1995) #2 NEWSSTAND (Archie Comics) Very Good
TAILS (BASED ON THE SONIC THE HEDGEHOG GAME) (1995) #3 NEWSSTAND (Archie Comics) Very Good