Local News - Volunteers needed this Saturday
Hello!
William here with Mile High Comics. Chuck wanted me to send out a quick newsletter.
First we could use some help! Feeding Denver's Hungry will be handing out Winter Weather Clothes (Gloves, Coats, Socks, etc.) Saturday January 13th at Colorado Coalition for the Homeless and the St. Francis Center. It looks like we are going to be short on volunteers so we could really use some help if you have any free time.
If you are interested we will be meeting at the Jason St. Mega Store at 9 a.m. to get ready. We will then go to the Colorado Coalition for the Homeless starting about 10 a.m. Then off to the St. Francis Center around 11 a.m. It should all be over around Noon.
If you could stop by and help out at any or all of these locations that would be great appreciated!
Second that same night Saturday January 13th we will be hosting an awesome New Era Wresting tournament at Jason St. on Saturday evening beginning at 6:30. We had over 150 wildly enthusiastic fans at our December wrestling event, and everyone had a great time!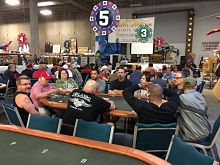 Poker crowd at a previous event

Finally on January 27 we will be hosting our exciting benefit Texas Hold'em Poker Tournament at Jason St. beginning at 11 AM. Cost to enter is $25, but if you register in advance at any of our three stores, this entry fee is immediately rebated to you in the form of a $25 Mile High Comics gift certificate. In effect, you get to play for $1,000 in prizes at no cost! All proceeds from this month's tournament will be donated to Bobb's Church Summer Youth Program. Bobb runs our Charity Poker tournaments and this is a charity he really supports!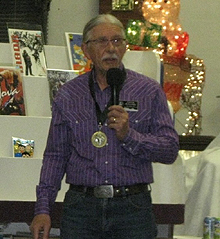 Chuck auction off items at a previous event

We will also be hosting our next auction on the same day, there will be 100's of comics, toys, and action figures with no reserves or minimums. The auction will begin at Jason St. at 11:30, and should be over by 2 PM. If your kids would like to attend a fun auction and be able to buy a slew of items at bargains prices come on down, the auction is for everyone.
Have a Great Weekend!
William Moulton,
Head Flunky - Mile High Comics, Inc.
January 11, 2017