New Mega-Store Photos
Howdy!
I had a Facebook client ask me a provocative question this morning, which was: "At what point do you have too much inventory?" Wow! That was a perfectly timed question, as I had just spent the previous hour laying in bed drinking my bitter-black coffee in that pitch darkness that envelopes our world just before dawn, scheming and dreaming about how to make our Jason St. Mega-Store even more outrageously cool.
The reason why I liked his question so much is that it directly speaks to my (present) core philosophy on life. You see, as my 67th birthday looms in just a few weeks, I am totally cognizant that I am rapidly running out of time. That fact was really brought home to me while perusing yesterday's CNN year-end listing of "those we have lost in 2021…," as I was struck by the fact that over half of the people who died on that list were younger when they passed than I am today. I have been blessed with (mostly) good health and continued vigor, but when I am being truly honest with myself, there is no denying that I am nearing my endgame.
For most people, this is the time in their lives when they begin winding things down, and divesting themselves of material accumulations. I witness this bitter trend in our Jason St. Mega-Store almost daily, as legions of retirement-age people bring in their childhood accumulations of comics, books, and toys to sell to us. With their oftentimes indifferent heirs truly preferring to inherit cash over treasures, divestment is really the only option for these people.
Were I financially-driven, I would be doing exactly the same thing at Mile High Comics. If I were to start liquidating aggressively right now, I could probably sell a goodly portion of the 15 million+ material objects that I presently own before death ended my efforts. But, what then would I do with the resulting money? I already have a wonderful family, the best doggies in the world (really, I do!), food, shelter, and I am essentially debt-free. I live on my stunningly beautiful farm/wildlife refuge, and watch red-tailed hawks soaring above me almost every morning. Life just doesn't get any better, even with the application of vast sums of money. In point of fact, worrying about losing that (hypothetical) money would probably make my life considerably worse.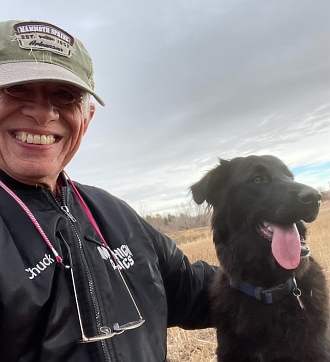 Chuck and Freyja, Nicky's near-identical sister

On the flip side, I have discovered in my dotage that I have an incredibly cool (and totally unique) capacity to create joy in the hearts of tens of thousands of people by merging the divestments of others into a truly vast and stunning array of comics and pop culture objects. Our Jason St. Mega-Store most certainly did not start out on this enlightened path, as our pop culture areas of Jason St. were initially designed just as a means to help us to liquidate all of the toys, statues, etc. that we inevitably purchased alongside the hundreds of comic book collections that we bought each year.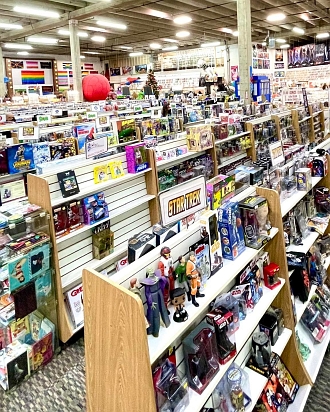 Action figures and Toy Shelves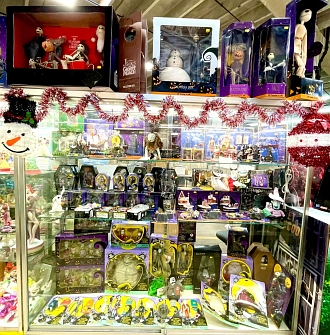 Some of the Nightmare Before Christmas items

Somewhere along the line, however, magic occurred. We reached a very unexpected point of critical mass where our pop culture arrays began vastly exceeding people's expectations. We began hearing (about five years ago) from our well-traveled clients that they had not seen anything close to our pop culture inventory at any other store in America. Those observations gained velocity (and fervency) as our inventory of cool stuff doubled, and then doubled again. Suddenly, our pop culture areas in Jason St. took on a life of their own, and actually began attracting more notoriety (and visitors) than our ten million+ comic books. Truthfully, I never saw that coming…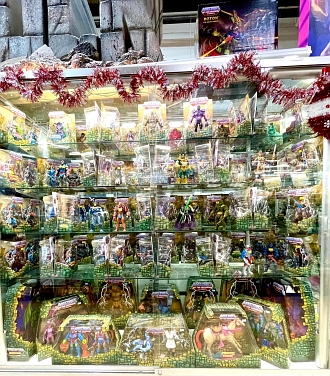 Some of the Masters of the Universe items

Five years later, we have totally morphed into a pop culture Mecca. We are now one of the top-rated tourist destinations in all of Colorado, attracting tens of thousands of out-of-state visitors each year. Of greatest importance to me, however, is that we have become a place of joy and belonging for the children and youth of Denver. Seeing their happy faces as they wander through Jason St. with parents, grandparents, and/or siblings, brings me a sense of profound inner contentment that I do not believe that even enormous sums of money could ever provide. Above all else, realizing that I am doing something that creates such positivity and good in the world is spiritually rewarding beyond the capacity of all words to convey.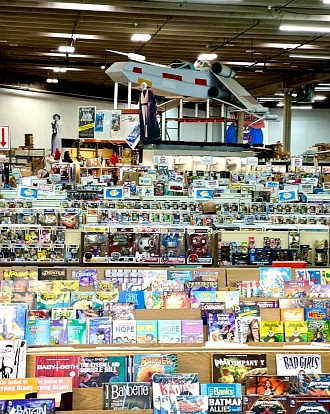 Young Readers and Kids section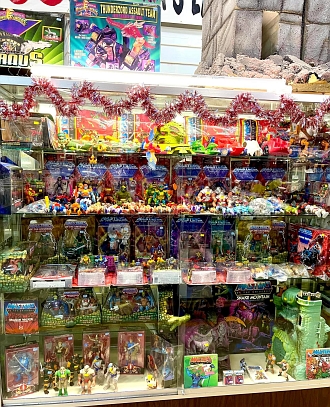 Some more of the Masters of the Universe items

So, my biggest dream for 2022 is that we add more, more, more (!) cool stuff into Jason St. With that thought in mind, my #1 goal for January is to meet with the showcase manufacturer in the Chicago area who has given us a bid to sell us (yet another) 100 of our massive 6' tall mega-showcases. Closing that showcase deal would guarantee that we could display most (but not all…) of the thousands of pop culture and collectible items that are currently languishing in our back storage areas for want of display space. Then, we'll need yet another 100 of those giant showcases for what we're anticipating buying during 2022. Whew…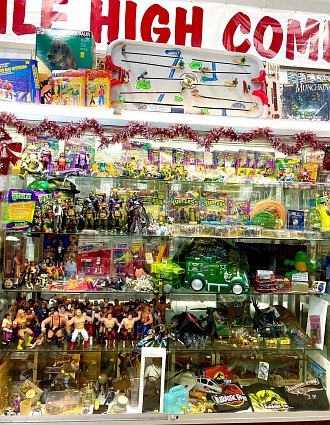 Some of the Teenage Mutant Ninja Turtles and Wrestling items

So you know, while we are now intensely dedicated to improving our collectibles and pop culture arrays in Jason St., we are vastly expanding our inventory of rare comic books, too. Not a day passes where we do not purchase (at least) several hundred old comics, and oftentimes far more. On Wednesday afternoon, for example, Pam paid several thousand dollars for boxes that contained a delightful spectrum of late-1950's and early 1960's comics, including about a dozen of the highly-sought after pre-hero Marvels. Will has been buying, too, so we currently have hundreds of long boxes filled with newly-acquired comic book treasures that we have not yet even touched. Clearly, we will not be bored when business in the store slows down in January.

JOURNEY INTO MYSTERY (1952) (#1-82) #66


TALES OF SUSPENSE (1959) (#1-99) (ATLAS/MARVEL) #35

I will close today's newsletter with a sincere thank you to you for being a part of our lives. Mile High Comics only exists because of the help and support of thousands of dedicated comics and pop culture fans, just like you. My seemingly endless pursuit of even more cool stuff may seem like madness to many people, but I think that you share with me an understanding of how seemingly insignificant bits and bobs of cultural detritus can be merged together to create a magical place of joy. Keeping that spirit alive, and amplifying it's benefit to reach as many people as possible, is what keeps me excited and alive. Again, I thank you, and I wish you the very best of holidays. I hope that you can come to visit us soon, and view for yourself the awesome magic which you have helped us to create.
Happy collecting!
Chuck Rozanski/Bettie Pages,
President - Mile High Comics, Inc.
December 24, 2021

P.S. Below is a partial listing of great comics that Will and Pam just purchased. All are available to you at 60% off when you utilize the current THANKYOU! codeword at checkout. Only new issues, a few variants, and our professionally-graded items are exempt. Enjoy!
MARVEL

ADVENTURES ON THE PLANET OF THE APES (1975) #1

ADVENTURES ON THE PLANET OF THE APES (1975) #1 Fine
ADVENTURES ON THE PLANET OF THE APES (1975) #2 Very Good
ADVENTURES ON THE PLANET OF THE APES (1975) #3 Fine

ALL-NEW WOLVERINE (2015) #11 Near Mint/Mint

ALL-NEW X-MEN (2015) (#1-19) #2 Fine
ALL-NEW X-MEN (2015) (#1-19) #3 Near Mint/Mint
ALL-NEW X-MEN (2015) (#1-19) #4 Very Fine
ALL-NEW X-MEN (2015) (#1-19) #7 Near Mint/Mint
ALL-NEW X-MEN (2015) (#1-19) #8 Near Mint/Mint
ALL-NEW X-MEN (2015) (#1-19) #11 Near Mint/Mint
ALL-NEW X-MEN (2015) (#1-19) #13 Near Mint/Mint
ALL-NEW X-MEN (2015) (#1-19) #14 Near Mint/Mint
ALL-NEW X-MEN (2015) (#1-19) #15 Near Mint/Mint

AMAZING SPIDER-MAN (1999) (#1-58, #500-700.5) (MARVEL) #13 Near Mint/Mint
AMAZING SPIDER-MAN (1999) (#1-58, #500-700.5) (MARVEL) #17 Near Mint/Mint
AMAZING SPIDER-MAN (1999) (#1-58, #500-700.5) (MARVEL) #18 Near Mint/Mint

AMAZING SPIDER-MAN 2000 ANNUAL #1 Near Mint/Mint

AMAZING SPIDER-MAN: RENEW YOUR VOWS (2017) (MARVEL NOW) #7 Near Mint/Mint

ANNIE (1982) #1 Fine
ANNIE (1982) #2 Fine

AVENGERS (2016) (#1-11) (MARVEL NOW) #2 Fine

BATTLESTAR GALACTICA (1979) #1 WHITMAN Good
BATTLESTAR GALACTICA (1979) #2 WHITMAN Very Good


BATTLESTAR GALACTICA (1979) #4

BATTLESTAR GALACTICA (1979) #4 Very Fine
BATTLESTAR GALACTICA (1979) #5 NEWSSTAND Fine
BATTLESTAR GALACTICA (1979) #6 Fine
BATTLESTAR GALACTICA (1979) #7 Fine
BATTLESTAR GALACTICA (1979) #8 Fine
BATTLESTAR GALACTICA (1979) #9 Fine
BATTLESTAR GALACTICA (1979) #10 Very Fine

BEN REILLY: SCARLET SPIDER (2017) #2 Near Mint/Mint

CAPTAIN AMERICA (1968) (#100-454) (MARVEL) #102 Fair
CAPTAIN AMERICA (1968) (#100-454) (MARVEL) #125 Very Good
CAPTAIN AMERICA (1968) (#100-454) (MARVEL) #148 Very Good
CAPTAIN AMERICA (1968) (#100-454) (MARVEL) #149 Good
CAPTAIN AMERICA (1968) (#100-454) (MARVEL) #162 Good
CAPTAIN AMERICA (1968) (#100-454) (MARVEL) #177 Good
CAPTAIN AMERICA (1968) (#100-454) (MARVEL) #197 Good

DAREDEVIL (2016) (#1-28) (MARVEL) #16 Near Mint/Mint
DAREDEVIL (2016) (#1-28) (MARVEL) #19 Near Mint/Mint
DAREDEVIL (2016) (#1-28) (MARVEL) #20 Near Mint/Mint
DAREDEVIL (2016) (#1-28) (MARVEL) #21 Near Mint/Mint
DAREDEVIL (2016) (#1-28) (MARVEL) #22 Near Mint/Mint

DEADPOOL (1997) (#0-69) (MARVEL) #31 Very Fine
DEADPOOL (1997) (#0-69) (MARVEL) #37 Near Mint/Mint
DEADPOOL (1997) (#0-69) (MARVEL) #38 Near Mint/Mint
DEADPOOL (1997) (#0-69) (MARVEL) #39 Near Mint/Mint
DEADPOOL (1997) (#0-69) (MARVEL) #40 Near Mint/Mint
DEADPOOL (1997) (#0-69) (MARVEL) #41 Near Mint/Mint


DEADPOOL: BACK IN BLACK (2016) #3

DEADPOOL: BACK IN BLACK (2016) #3 Near Mint/Mint
DEADPOOL: BACK IN BLACK (2016) #4 Near Mint/Mint
DEADPOOL: BACK IN BLACK (2016) #5 Near Mint/Mint

DEADPOOL: TOO SOON (2016) #3 Very Fine
DEADPOOL: TOO SOON (2016) #4 Very Fine

DEFENDERS (2017) (#1-10) (MARVEL) #2 Fine

ELEKTRA (2017) (#1-5) (MARVEL) (RUNNING W/ THE DEVIL) #1 HIP HOP Fine

GI JOE (1982) (#1-155) (MARVEL) #1 Very Fine
GI JOE (1982) (#1-155) (MARVEL) #2 Very Fine
GI JOE (1982) (#1-155) (MARVEL) #3 Very Fine
GI JOE (1982) (#1-155) (MARVEL) #4 Near Mint/Mint
GI JOE (1982) (#1-155) (MARVEL) #5 Very Fine
GI JOE (1982) (#1-155) (MARVEL) #6 Very Fine

GUARDIANS OF THE GALAXY: MOTHER ENTROPY (2017) #4 Near Mint/Mint

GWENPOOL (UNBELIEVABLE GWENPOOL) (2016) #9 Near Mint/Mint
GWENPOOL (UNBELIEVABLE GWENPOOL) (2016) #10 Near Mint/Mint

INDIANA JONES (1983) (#1-34) (MARVEL) (FURTHER ADV..) #3 Near Mint/Mint
INDIANA JONES (1983) (#1-34) (MARVEL) (FURTHER ADV..) #4 Near Mint/Mint

INVINCIBLE IRON MAN (2017) (#1-11) (RIRI WILLIAMS) #2 Fine
INVINCIBLE IRON MAN (2017) (#1-11) (RIRI WILLIAMS) #3 Very Fine

IRON MAN (1968) (#1-332) (INVINCIBLE IRON MAN)(MARVEL) #31 Good
IRON MAN (1968) (#1-332) (INVINCIBLE IRON MAN)(MARVEL) #40 Fair


IRON MAN (1968) (#1-332) (INVINCIBLE IRON MAN)(MARVEL) #72

IRON MAN (1968) (#1-332) (INVINCIBLE IRON MAN)(MARVEL) #72 Good
IRON MAN (1968) (#1-332) (INVINCIBLE IRON MAN)(MARVEL) #99 Good

JESSICA JONES (#1-UP) (MARVEL) (2016) #3 Near Mint/Mint

JOURNEY INTO MYSTERY (1952) (#1-82) #64 Good
JOURNEY INTO MYSTERY (1952) (#1-82) #66 Good
JOURNEY INTO MYSTERY (1952) (#1-82) #77 Very Good
JOURNEY INTO MYSTERY (1952) (#1-82) #79 Good

KANAN: LAST PADAWAN (STAR WARS) (2015) #9 Fine
KANAN: LAST PADAWAN (STAR WARS) (2015) #9 Very Fine

MOSAIC (2016) (#1-UP) (MARVEL NOW) #4 Near Mint/Mint

MS. MARVEL (2014) (#1-19) (MARVEL) (KAMALA KHAN) #1 2ND PRINT Very Good
MS. MARVEL (2014) (#1-19) (MARVEL) (KAMALA KHAN) #2 2ND PRINT Very Good

NAMOR THE SUB-MARINER (1990) #30 Near Mint/Mint

PUNISHER (1985) (#1-5) (MARVEL) #1 NEWSSTAND Very Fine

PUNISHER 2099 (1993) (#1-34) (MARVEL) #25 DELUXE Fine
PUNISHER 2099 (1993) (#1-34) (MARVEL) #26 Near Mint/Mint
PUNISHER 2099 (1993) (#1-34) (MARVEL) #27 Near Mint/Mint
PUNISHER 2099 (1993) (#1-34) (MARVEL) #28 Very Fine
PUNISHER 2099 (1993) (#1-34) (MARVEL) #29 Near Mint/Mint
PUNISHER 2099 (1993) (#1-34) (MARVEL) #30 Near Mint/Mint
PUNISHER 2099 (1993) (#1-34) (MARVEL) #31 Near Mint/Mint

PUNISHER WAR JOURNAL (1988)(#1-80) #1 Very Good


PUNISHER WAR JOURNAL (1988)(#1-80) #67

PUNISHER WAR JOURNAL (1988)(#1-80) #67 Near Mint/Mint
PUNISHER WAR JOURNAL (1988)(#1-80) #68 Fine
PUNISHER WAR JOURNAL (1988)(#1-80) #68 Very Fine
PUNISHER WAR JOURNAL (1988)(#1-80) #69 Fine
PUNISHER WAR JOURNAL (1988)(#1-80) #71 Fine

RAIDERS OF THE LOST ARK (1981) #1 Near Mint/Mint
RAIDERS OF THE LOST ARK (1981) #2 Very Fine
RAIDERS OF THE LOST ARK (1981) #3 Very Fine

SECRET WARS (2015) (#1-9) (MARVEL) #3 GWEN Near Mint/Mint
SECRET WARS (2015) (#1-9) (MARVEL) #4 SAMNEE Near Mint/Mint

SGT. FURY AND HIS HOWLING COMMANDOS (1963) #58 Fair

SGT. FURY AND HIS HOWLING COMMANDOS ANNUAL (1965) #3 Good
SGT. FURY AND HIS HOWLING COMMANDOS ANNUAL (1965) #4 Good

SMURFS (1982) #3 Very Good

SPIDER-GWEN (2015) (#1-UP) (MARVEL)(RADIOACTIVE) #7 CAMPBELL Near Mint/Mint

STAR TREK (1980) (#1-18) (MARVEL) #1 NEWSSTAND Very Good
STAR TREK (1980) (#1-18) (MARVEL) #2 Fine
STAR TREK (1980) (#1-18) (MARVEL) #3 Very Fine

STAR WARS (2015) (#1-75) (MARVEL) #53 Near Mint/Mint
STAR WARS (2015) (#1-75) (MARVEL) #56 Near Mint/Mint
STAR WARS (2015) (#1-75) (MARVEL) #57 Near Mint/Mint
STAR WARS (2015) (#1-75) (MARVEL) #58 Near Mint/Mint
STAR WARS (2015) (#1-75) (MARVEL) #59 Very Fine


STAR WARS (2015) (#1-75) (MARVEL) #60

STAR WARS (2015) (#1-75) (MARVEL) #60 Very Fine
STAR WARS (2015) (#1-75) (MARVEL) #61 Near Mint/Mint

STAR WARS (2020) (#1-UP) (MARVEL) #1 SPROUSE Near Mint/Mint
STAR WARS (2020) (#1-UP) (MARVEL) #2 SPROUSE Near Mint/Mint
STAR WARS (2020) (#1-UP) (MARVEL) #3 Near Mint/Mint
STAR WARS (2020) (#1-UP) (MARVEL) #4 Near Mint/Mint
STAR WARS (2020) (#1-UP) (MARVEL) #5 Near Mint/Mint
STAR WARS (2020) (#1-UP) (MARVEL) #6 Near Mint/Mint

STAR WARS: BOUNTY HUNTERS (2020) #1 Near Mint/Mint
STAR WARS: BOUNTY HUNTERS (2020) #2 Near Mint/Mint

STAR WARS: DARTH VADER (2017) #13 Near Mint/Mint
STAR WARS: DARTH VADER (2020) #1 Very Fine
STAR WARS: DARTH VADER (2020) #2 Near Mint/Mint
STAR WARS: DARTH VADER (2020) #3 Near Mint/Mint
STAR WARS: DARTH VADER (2020) #4 SPROUSE Near Mint/Mint
STAR WARS: DARTH VADER (2020) #5 Very Fine

STAR WARS: DOCTOR APHRA (2016) (#1-40) (MARVEL) #3 Near Mint/Mint
STAR WARS: DOCTOR APHRA (2016) (#1-40) (MARVEL) #4 Near Mint/Mint
STAR WARS: DOCTOR APHRA (2016) (#1-40) (MARVEL) #5 LAMING Near Mint/Mint
STAR WARS: DOCTOR APHRA (2016) (#1-40) (MARVEL) #7 LAND Very Fine
STAR WARS: DOCTOR APHRA (2016) (#1-40) (MARVEL) #8 Near Mint/Mint
STAR WARS: DOCTOR APHRA (2016) (#1-40) (MARVEL) #8 BARTEL Near Mint/Mint
STAR WARS: DOCTOR APHRA (2016) (#1-40) (MARVEL) #10 Fine
STAR WARS: DOCTOR APHRA (2016) (#1-40) (MARVEL) #10 Near Mint/Mint
STAR WARS: DOCTOR APHRA (2016) (#1-40) (MARVEL) #11 RIVERA Near Mint/Mint
STAR WARS: DOCTOR APHRA (2016) (#1-40) (MARVEL) #12 Near Mint/Mint
STAR WARS: DOCTOR APHRA (2016) (#1-40) (MARVEL) #13 RAHZZAH Very Fine


STAR WARS: DOCTOR APHRA (2016) (#1-40) (MARVEL) #14 BROOKS

STAR WARS: DOCTOR APHRA (2016) (#1-40) (MARVEL) #14 BROOKS Near Mint/Mint
STAR WARS: DOCTOR APHRA (2016) (#1-40) (MARVEL) #15 Near Mint/Mint
STAR WARS: DOCTOR APHRA (2016) (#1-40) (MARVEL) #16 Near Mint/Mint
STAR WARS: DOCTOR APHRA (2016) (#1-40) (MARVEL) #17 Very Fine
STAR WARS: DOCTOR APHRA (2016) (#1-40) (MARVEL) #18 REIS Near Mint/Mint
STAR WARS: DOCTOR APHRA (2016) (#1-40) (MARVEL) #19 REIS Near Mint/Mint
STAR WARS: DOCTOR APHRA (2016) (#1-40) (MARVEL) #20 Near Mint/Mint
STAR WARS: DOCTOR APHRA (2016) (#1-40) (MARVEL) #21 Very Fine
STAR WARS: DOCTOR APHRA (2016) (#1-40) (MARVEL) #22 REIS Very Fine
STAR WARS: DOCTOR APHRA (2016) (#1-40) (MARVEL) #23 REIS Near Mint/Mint
STAR WARS: DOCTOR APHRA (2016) (#1-40) (MARVEL) #24 Near Mint/Mint
STAR WARS: DOCTOR APHRA (2016) (#1-40) (MARVEL) #25 Near Mint/Mint
STAR WARS: DOCTOR APHRA (2016) (#1-40) (MARVEL) #26 Near Mint/Mint
STAR WARS: DOCTOR APHRA (2016) (#1-40) (MARVEL) #27 Near Mint/Mint
STAR WARS: DOCTOR APHRA (2016) (#1-40) (MARVEL) #28 Near Mint/Mint
STAR WARS: DOCTOR APHRA (2016) (#1-40) (MARVEL) #29 Near Mint/Mint
STAR WARS: DOCTOR APHRA (2016) (#1-40) (MARVEL) #30 HUGHES Near Mint/Mint
STAR WARS: DOCTOR APHRA (2016) (#1-40) (MARVEL) #30 HUGHES Very Fine
STAR WARS: DOCTOR APHRA (2016) (#1-40) (MARVEL) #31 CAMUNCOLI Near Mint/Mint
STAR WARS: DOCTOR APHRA (2016) (#1-40) (MARVEL) #33 Very Fine
STAR WARS: DOCTOR APHRA (2016) (#1-40) (MARVEL) #34 Near Mint/Mint
STAR WARS: DOCTOR APHRA (2016) (#1-40) (MARVEL) #35 Near Mint/Mint
STAR WARS: DOCTOR APHRA (2016) (#1-40) (MARVEL) #36 Near Mint/Mint
STAR WARS: DOCTOR APHRA (2016) (#1-40) (MARVEL) #37 Near Mint/Mint
STAR WARS: DOCTOR APHRA (2016) (#1-40) (MARVEL) #38 Near Mint/Mint
STAR WARS: DOCTOR APHRA (2016) (#1-40) (MARVEL) #39 Near Mint/Mint
STAR WARS: DOCTOR APHRA (2016) (#1-40) (MARVEL) #40 Near Mint/Mint

STAR WARS: DOCTOR APHRA (2020) (#1-UP) (MARVEL) #1 Near Mint/Mint
STAR WARS: DOCTOR APHRA (2020) (#1-UP) (MARVEL) #2 Near Mint/Mint
STAR WARS: DOCTOR APHRA (2020) (#1-UP) (MARVEL) #3 Near Mint/Mint
STAR WARS: DOCTOR APHRA (2020) (#1-UP) (MARVEL) #4 Near Mint/Mint


STAR WARS: DOCTOR APHRA ANNUAL (2017) #1 NOTO

STAR WARS: DOCTOR APHRA ANNUAL (2017) #1 NOTO Very Fine
STAR WARS: DOCTOR APHRA ANNUAL (2017) #2 Near Mint/Mint
STAR WARS: DOCTOR APHRA ANNUAL (2017) #3 Near Mint/Mint

STAR WARS: HIGH REPUBLIC (2021) #1 Near Mint/Mint
STAR WARS: HIGH REPUBLIC (2021) #1 2ND PRINT Near Mint/Mint
STAR WARS: HIGH REPUBLIC (2021) #1 3RD PRINT Near Mint/Mint
STAR WARS: HIGH REPUBLIC (2021) #2 Near Mint/Mint
STAR WARS: HIGH REPUBLIC (2021) #2 2ND PRINT Near Mint/Mint
STAR WARS: HIGH REPUBLIC (2021) #3 Near Mint/Mint

STRANGE TALES (1951) (#1-85 ATLAS, #86-188 MARVEL) #79 Good
STRANGE TALES (1951) (#1-85 ATLAS, #86-188 MARVEL) #96 Good
STRANGE TALES (1951) (#1-85 ATLAS, #86-188 MARVEL) #98 Good

TALES OF SUSPENSE (1959) (#1-99) (ATLAS/MARVEL) #16 Good
TALES OF SUSPENSE (1959) (#1-99) (ATLAS/MARVEL) #24 Good
TALES OF SUSPENSE (1959) (#1-99) (ATLAS/MARVEL) #26 Very Good
TALES OF SUSPENSE (1959) (#1-99) (ATLAS/MARVEL) #27 Very Good
TALES OF SUSPENSE (1959) (#1-99) (ATLAS/MARVEL) #35 Very Good
TALES OF SUSPENSE (1959) (#1-99) (ATLAS/MARVEL) #46 Very Good
TALES OF SUSPENSE (1959) (#1-99) (ATLAS/MARVEL) #60 Good
TALES OF SUSPENSE (1959) (#1-99) (ATLAS/MARVEL) #70 Good
TALES OF SUSPENSE (1959) (#1-99) (ATLAS/MARVEL) #89 Very Good
TALES OF SUSPENSE (1959) (#1-99) (ATLAS/MARVEL) #99 Fair

TALES TO ASTONISH (1959) (#1-21 ATLAS, #22-101 MARVEL) #29 Very Good

THUNDERBOLTS (2016) (#1-UP) (MARVEL) #10 BAGLEY Fine


WOLVERINE (1988) (#1/2-189) (MARVEL) #150 VARIANT

WOLVERINE (1988) (#1/2-189) (MARVEL) #150 VARIANT Very Fine
WOLVERINE (1988) (#1/2-189) (MARVEL) #165 Near Mint/Mint

X-MEN (1963) (#1-113, UNCANNY X-MEN #114-544) (MARVEL) #14 Very Good
X-MEN (1963) (#1-113, UNCANNY X-MEN #114-544) (MARVEL) #15 Very Good
X-MEN (1963) (#1-113, UNCANNY X-MEN #114-544) (MARVEL) #16 Good
X-MEN (1963) (#1-113, UNCANNY X-MEN #114-544) (MARVEL) #17 Very Good
X-MEN (1963) (#1-113, UNCANNY X-MEN #114-544) (MARVEL) #19 Good
X-MEN (1963) (#1-113, UNCANNY X-MEN #114-544) (MARVEL) #21 Fine
X-MEN (1963) (#1-113, UNCANNY X-MEN #114-544) (MARVEL) #22 Fine
X-MEN (1963) (#1-113, UNCANNY X-MEN #114-544) (MARVEL) #23 Good
X-MEN (1963) (#1-113, UNCANNY X-MEN #114-544) (MARVEL) #23 Very Good
X-MEN (1963) (#1-113, UNCANNY X-MEN #114-544) (MARVEL) #26 Very Good
X-MEN (1963) (#1-113, UNCANNY X-MEN #114-544) (MARVEL) #28 Fair
X-MEN (1963) (#1-113, UNCANNY X-MEN #114-544) (MARVEL) #29 Fine
X-MEN (1963) (#1-113, UNCANNY X-MEN #114-544) (MARVEL) #29 Good
X-MEN (1963) (#1-113, UNCANNY X-MEN #114-544) (MARVEL) #30 Fine
X-MEN (1963) (#1-113, UNCANNY X-MEN #114-544) (MARVEL) #33 Good
X-MEN (1963) (#1-113, UNCANNY X-MEN #114-544) (MARVEL) #33 Very Good
X-MEN (1963) (#1-113, UNCANNY X-MEN #114-544) (MARVEL) #34 Fine
X-MEN (1963) (#1-113, UNCANNY X-MEN #114-544) (MARVEL) #36 Fine
X-MEN (1963) (#1-113, UNCANNY X-MEN #114-544) (MARVEL) #37 Fine
X-MEN (1963) (#1-113, UNCANNY X-MEN #114-544) (MARVEL) #40 Good
X-MEN (1963) (#1-113, UNCANNY X-MEN #114-544) (MARVEL) #44 Good
X-MEN (1963) (#1-113, UNCANNY X-MEN #114-544) (MARVEL) #46 Good
X-MEN (1963) (#1-113, UNCANNY X-MEN #114-544) (MARVEL) #47 Very Good
X-MEN (1963) (#1-113, UNCANNY X-MEN #114-544) (MARVEL) #48 Good
X-MEN (1963) (#1-113, UNCANNY X-MEN #114-544) (MARVEL) #53 Good
X-MEN (1963) (#1-113, UNCANNY X-MEN #114-544) (MARVEL) #53 Very Good
X-MEN (1963) (#1-113, UNCANNY X-MEN #114-544) (MARVEL) #69 Very Good
X-MEN (1963) (#1-113, UNCANNY X-MEN #114-544) (MARVEL) #71 Very Good


X-MEN (1963) (#1-113, UNCANNY X-MEN #114-544) (MARVEL) #72

X-MEN (1963) (#1-113, UNCANNY X-MEN #114-544) (MARVEL) #72 Very Fine
X-MEN (1963) (#1-113, UNCANNY X-MEN #114-544) (MARVEL) #73 Very Good
X-MEN (1963) (#1-113, UNCANNY X-MEN #114-544) (MARVEL) #74 Very Good
X-MEN (1963) (#1-113, UNCANNY X-MEN #114-544) (MARVEL) #75 Fine
X-MEN (1963) (#1-113, UNCANNY X-MEN #114-544) (MARVEL) #76 Fair
X-MEN (1963) (#1-113, UNCANNY X-MEN #114-544) (MARVEL) #77 Fine
X-MEN (1963) (#1-113, UNCANNY X-MEN #114-544) (MARVEL) #78 Fine
X-MEN (1963) (#1-113, UNCANNY X-MEN #114-544) (MARVEL) #79 Fine
X-MEN (1963) (#1-113, UNCANNY X-MEN #114-544) (MARVEL) #80 Very Good
X-MEN (1963) (#1-113, UNCANNY X-MEN #114-544) (MARVEL) #85 Very Good
X-MEN (1963) (#1-113, UNCANNY X-MEN #114-544) (MARVEL) #87 Fair
X-MEN (1963) (#1-113, UNCANNY X-MEN #114-544) (MARVEL) #89 Very Good
X-MEN (1963) (#1-113, UNCANNY X-MEN #114-544) (MARVEL) #93 Good
X-MEN (1963) (#1-113, UNCANNY X-MEN #114-544) (MARVEL) #102 Good
X-MEN (1963) (#1-113, UNCANNY X-MEN #114-544) (MARVEL) #105 Good
X-MEN (1963) (#1-113, UNCANNY X-MEN #114-544) (MARVEL) #105 Near Mint/Mint
X-MEN (1963) (#1-113, UNCANNY X-MEN #114-544) (MARVEL) #107 Good
X-MEN (1963) (#1-113, UNCANNY X-MEN #114-544) (MARVEL) #109 Very Good
X-MEN (1963) (#1-113, UNCANNY X-MEN #114-544) (MARVEL) #110 Fine
X-MEN (1963) (#1-113, UNCANNY X-MEN #114-544) (MARVEL) #114 Fair
X-MEN (1963) (#1-113, UNCANNY X-MEN #114-544) (MARVEL) #119 Very Good
X-MEN (1963) (#1-113, UNCANNY X-MEN #114-544) (MARVEL) #121 Fair
X-MEN (1963) (#1-113, UNCANNY X-MEN #114-544) (MARVEL) #121 Very Good
X-MEN (1963) (#1-113, UNCANNY X-MEN #114-544) (MARVEL) #122 NEWSSTAND Good
X-MEN (1963) (#1-113, UNCANNY X-MEN #114-544) (MARVEL) #123 NEWS JEWEL Good
X-MEN (1963) (#1-113, UNCANNY X-MEN #114-544) (MARVEL) #123 NEWSSTAND Fine
X-MEN (1963) (#1-113, UNCANNY X-MEN #114-544) (MARVEL) #124 NEWSSTAND Good
X-MEN (1963) (#1-113, UNCANNY X-MEN #114-544) (MARVEL) #126 NEWSSTAND Fine
X-MEN (1963) (#1-113, UNCANNY X-MEN #114-544) (MARVEL) #127 NEWSSTAND Good
X-MEN (1963) (#1-113, UNCANNY X-MEN #114-544) (MARVEL) #128 NEWSSTAND Very Good
X-MEN (1963) (#1-113, UNCANNY X-MEN #114-544) (MARVEL) #129 NEWSSTAND Very Good


X-MEN (1963) (#1-113, UNCANNY X-MEN #114-544) (MARVEL) #130 NEWSSTAND

X-MEN (1963) (#1-113, UNCANNY X-MEN #114-544) (MARVEL) #130 NEWSSTAND Fair
X-MEN (1963) (#1-113, UNCANNY X-MEN #114-544) (MARVEL) #132 NEWSSTAND Very Good
X-MEN (1963) (#1-113, UNCANNY X-MEN #114-544) (MARVEL) #133 Good
X-MEN (1963) (#1-113, UNCANNY X-MEN #114-544) (MARVEL) #133 Fine
X-MEN (1963) (#1-113, UNCANNY X-MEN #114-544) (MARVEL) #133 NEWSSTAND Fair
X-MEN (1963) (#1-113, UNCANNY X-MEN #114-544) (MARVEL) #134 NEWSSTAND Good
X-MEN (1963) (#1-113, UNCANNY X-MEN #114-544) (MARVEL) #135 NEWSSTAND Fine
X-MEN (1963) (#1-113, UNCANNY X-MEN #114-544) (MARVEL) #135 NEWSSTAND Good
X-MEN (1963) (#1-113, UNCANNY X-MEN #114-544) (MARVEL) #136 NEWSSTAND Good
X-MEN (1963) (#1-113, UNCANNY X-MEN #114-544) (MARVEL) #137 NEWSSTAND Very Good
X-MEN (1963) (#1-113, UNCANNY X-MEN #114-544) (MARVEL) #138 NEWSSTAND Fine
X-MEN (1963) (#1-113, UNCANNY X-MEN #114-544) (MARVEL) #139 NEWSSTAND Fine
X-MEN (1963) (#1-113, UNCANNY X-MEN #114-544) (MARVEL) #139 Very Good
X-MEN (1963) (#1-113, UNCANNY X-MEN #114-544) (MARVEL) #140 NEWSSTAND Fine
X-MEN (1963) (#1-113, UNCANNY X-MEN #114-544) (MARVEL) #140 NEWSSTAND Good
X-MEN (1963) (#1-113, UNCANNY X-MEN #114-544) (MARVEL) #140 Very Good
X-MEN (1963) (#1-113, UNCANNY X-MEN #114-544) (MARVEL) #141 NEWSSTAND Fine
X-MEN (1963) (#1-113, UNCANNY X-MEN #114-544) (MARVEL) #141 NEWSSTAND Good
X-MEN (1963) (#1-113, UNCANNY X-MEN #114-544) (MARVEL) #142 NEWSSTAND Good
X-MEN (1963) (#1-113, UNCANNY X-MEN #114-544) (MARVEL) #143 Very Good
X-MEN (1963) (#1-113, UNCANNY X-MEN #114-544) (MARVEL) #144 Very Good
X-MEN (1963) (#1-113, UNCANNY X-MEN #114-544) (MARVEL) #145 Fine
X-MEN (1963) (#1-113, UNCANNY X-MEN #114-544) (MARVEL) #145 NEWSSTAND Very Fine
X-MEN (1963) (#1-113, UNCANNY X-MEN #114-544) (MARVEL) #145 NEWSSTAND Fine
X-MEN (1963) (#1-113, UNCANNY X-MEN #114-544) (MARVEL) #145 NEWSSTAND Good
X-MEN (1963) (#1-113, UNCANNY X-MEN #114-544) (MARVEL) #146 Fine
X-MEN (1963) (#1-113, UNCANNY X-MEN #114-544) (MARVEL) #146 NEWSSTAND Good
X-MEN (1963) (#1-113, UNCANNY X-MEN #114-544) (MARVEL) #146 Very Good
X-MEN (1963) (#1-113, UNCANNY X-MEN #114-544) (MARVEL) #147 Fine
X-MEN (1963) (#1-113, UNCANNY X-MEN #114-544) (MARVEL) #148 Fine
X-MEN (1963) (#1-113, UNCANNY X-MEN #114-544) (MARVEL) #149 Very Good


X-MEN (1963) (#1-113, UNCANNY X-MEN #114-544) (MARVEL) #150

X-MEN (1963) (#1-113, UNCANNY X-MEN #114-544) (MARVEL) #150 Very Good
X-MEN (1963) (#1-113, UNCANNY X-MEN #114-544) (MARVEL) #153 Very Good
X-MEN (1963) (#1-113, UNCANNY X-MEN #114-544) (MARVEL) #155 NEWSSTAND Fine
X-MEN (1963) (#1-113, UNCANNY X-MEN #114-544) (MARVEL) #156 NEWSSTAND Fair
X-MEN (1963) (#1-113, UNCANNY X-MEN #114-544) (MARVEL) #156 Very Good
X-MEN (1963) (#1-113, UNCANNY X-MEN #114-544) (MARVEL) #157 Good
X-MEN (1963) (#1-113, UNCANNY X-MEN #114-544) (MARVEL) #157 NEWSSTAND Good
X-MEN (1963) (#1-113, UNCANNY X-MEN #114-544) (MARVEL) #157 Very Good
X-MEN (1963) (#1-113, UNCANNY X-MEN #114-544) (MARVEL) #158 NEWSSTAND Very Good
X-MEN (1963) (#1-113, UNCANNY X-MEN #114-544) (MARVEL) #158 NEWSSTAND Good
X-MEN (1963) (#1-113, UNCANNY X-MEN #114-544) (MARVEL) #159 Fine
X-MEN (1963) (#1-113, UNCANNY X-MEN #114-544) (MARVEL) #160 Fine
X-MEN (1963) (#1-113, UNCANNY X-MEN #114-544) (MARVEL) #160 NEWSSTAND Good
X-MEN (1963) (#1-113, UNCANNY X-MEN #114-544) (MARVEL) #160 Very Good
X-MEN (1963) (#1-113, UNCANNY X-MEN #114-544) (MARVEL) #161 Fine
X-MEN (1963) (#1-113, UNCANNY X-MEN #114-544) (MARVEL) #162 Fine
X-MEN (1963) (#1-113, UNCANNY X-MEN #114-544) (MARVEL) #162 NEWSSTAND Good
X-MEN (1963) (#1-113, UNCANNY X-MEN #114-544) (MARVEL) #162 Very Good
X-MEN (1963) (#1-113, UNCANNY X-MEN #114-544) (MARVEL) #163 NEWSSTAND Good
X-MEN (1963) (#1-113, UNCANNY X-MEN #114-544) (MARVEL) #164 Good
X-MEN (1963) (#1-113, UNCANNY X-MEN #114-544) (MARVEL) #165 Fine
X-MEN (1963) (#1-113, UNCANNY X-MEN #114-544) (MARVEL) #166 NEWSSTAND Very Good
X-MEN (1963) (#1-113, UNCANNY X-MEN #114-544) (MARVEL) #167 NEWSSTAND Very Good
X-MEN (1963) (#1-113, UNCANNY X-MEN #114-544) (MARVEL) #167 Very Fine
X-MEN (1963) (#1-113, UNCANNY X-MEN #114-544) (MARVEL) #168 Fine
X-MEN (1963) (#1-113, UNCANNY X-MEN #114-544) (MARVEL) #168 Good
X-MEN (1963) (#1-113, UNCANNY X-MEN #114-544) (MARVEL) #168 NEWSSTAND Fair
X-MEN (1963) (#1-113, UNCANNY X-MEN #114-544) (MARVEL) #168 Very Good
X-MEN (1963) (#1-113, UNCANNY X-MEN #114-544) (MARVEL) #169 Good
X-MEN (1963) (#1-113, UNCANNY X-MEN #114-544) (MARVEL) #169 NEWSSTAND Fair
X-MEN (1963) (#1-113, UNCANNY X-MEN #114-544) (MARVEL) #171 Fine


X-MEN (1963) (#1-113, UNCANNY X-MEN #114-544) (MARVEL) #171 NEWSSTAND

X-MEN (1963) (#1-113, UNCANNY X-MEN #114-544) (MARVEL) #171 NEWSSTAND Fair
X-MEN (1963) (#1-113, UNCANNY X-MEN #114-544) (MARVEL) #172 NEWSSTAND Very Good
X-MEN (1963) (#1-113, UNCANNY X-MEN #114-544) (MARVEL) #172 Very Good

X-MEN BLUE (2017) #5 Near Mint/Mint

DC
BATGIRL & THE BIRDS OF PREY (DC REBIRTH) (2016) #11 VARIANT Fine

BATMAN 80-PAGE GIANT (1998) #3 Very Fine

BATMAN D.O.A. PRESTIGE (BOB HALL) (1999) #1 Near Mint/Mint

BATMAN/DEMON: A TRAGEDY (BATMAN AND DEMON) (PRESTIGE) (2000) #1 Near Mint/Mint

BATMAN/THE SHADOW (2017) #3 SALE Near Mint/Mint

BATMAN: BEYOND (2016)(#1-50)(BATMAN BEYOND)(DC REBIRTH) #4 Near Mint/Mint

BATMAN: DARK VICTORY (JEPH LOEB) (TIM SALE) (1999) #1 Near Mint/Mint
BATMAN: DARK VICTORY (JEPH LOEB) (TIM SALE) (1999) #5 Very Fine
BATMAN: DARK VICTORY (JEPH LOEB) (TIM SALE) (1999) #6 Near Mint/Mint
BATMAN: DARK VICTORY (JEPH LOEB) (TIM SALE) (1999) #7 Fine

BATMAN: DREAMLAND (NORM BREYFOGLE) (PRESTIGE) (2000) #1 Near Mint/Mint

BATMAN: GOTHAM CITY SECRET FILES (2000) #1 Fine

BATMAN: HAUNTED GOTHAM (KELLY JONES) (PRESTIGE) (2000) #3 Fine
BATMAN: HAUNTED GOTHAM (KELLY JONES) (PRESTIGE) (2000) #4 Near Mint/Mint


BATTLE CHASERS (1999) (#5-8) (DC WILDSTORM) #6

BATTLE CHASERS (1999) (#5-8) (DC WILDSTORM) #6 (DC/Wildstorm) Near Mint/Mint

CAPTAIN CARROT & HIS AMAZING ZOO CREW (1982) #1 Very Good
CAPTAIN CARROT & HIS AMAZING ZOO CREW (1982) #2 Fine
CAPTAIN CARROT & HIS AMAZING ZOO CREW (1982) #3 Very Fine
CAPTAIN CARROT & HIS AMAZING ZOO CREW (1982) #4 Fine
CAPTAIN CARROT & HIS AMAZING ZOO CREW (1982) #5 Fine
CAPTAIN CARROT & HIS AMAZING ZOO CREW (1982) #6 Very Fine
CAPTAIN CARROT & HIS AMAZING ZOO CREW (1982) #7 Fine
CAPTAIN CARROT & HIS AMAZING ZOO CREW (1982) #8 Fine
CAPTAIN CARROT & HIS AMAZING ZOO CREW (1982) #9 Very Fine

CYBERELLA (1996) #7 (DC: Helix Press) Near Mint/Mint
CYBERELLA (1996) #7 (DC: Helix Press) Very Fine
CYBERELLA (1996) #8 (DC: Helix Press) Near Mint/Mint
CYBERELLA (1996) #8 (DC: Helix Press) Fine
CYBERELLA (1996) #8 (DC: Helix Press) Very Fine
CYBERELLA (1996) #9 (DC: Helix Press) Near Mint/Mint
CYBERELLA (1996) #9 (DC: Helix Press) Fine
CYBERELLA (1996) #9 (DC: Helix Press) Very Fine
CYBERELLA (1996) #10 (DC: Helix Press) Fine
CYBERELLA (1996) #10 (DC: Helix Press) Near Mint/Mint
CYBERELLA (1996) #10 (DC: Helix Press) Very Fine
CYBERELLA (1996) #11 (DC: Helix Press) Near Mint/Mint
CYBERELLA (1996) #11 (DC: Helix Press) Very Fine

CYBORG (2016) (#1-UP) (DC REBIRTH) #12 VARIANT Near Mint/Mint
CYBORG (2016) (#1-UP) (DC REBIRTH) #12 VARIANT Very Fine

DEADMAN: DARK MANSION OF FORBIDDEN LOVE (2016) #3 Near Mint/Mint

DEATH OF HAWKMAN (2016) #6 VARIANT Very Fine


HOUSE OF MYSTERY (1951) #297 NEWSSTAND

HOUSE OF MYSTERY (1951) #297 NEWSSTAND Very Fine
HOUSE OF MYSTERY (1951) #298 Very Fine
HOUSE OF MYSTERY (1951) #299 Fine
HOUSE OF MYSTERY (1951) #300 NEWSSTAND Fine
HOUSE OF MYSTERY (1951) #301 Very Fine
HOUSE OF MYSTERY (1951) #302 NEWSSTAND Very Good
HOUSE OF MYSTERY (1951) #320 Very Fine
HOUSE OF MYSTERY (1951) #321 Very Fine

HOUSE OF SECRETS (1956) #116 Very Good
HOUSE OF SECRETS (1956) #136 Very Good
HOUSE OF SECRETS (1956) #138 Very Good
HOUSE OF SECRETS (1956) #143 Fine

LEAGUE OF EXTRAORDINARY GENTLEMEN (1999) #3 (DC/America's Best) Very Fine
LEAGUE OF EXTRAORDINARY GENTLEMEN (1999) #4 (DC/America's Best) Fine
LEAGUE OF EXTRAORDINARY GENTLEMEN (1999) #5 (DC/America's Best) Near Mint/Mint

OUR FIGHTING FORCES (1954) #99 Good
OUR FIGHTING FORCES (1954) #100 Very Good
OUR FIGHTING FORCES (1954) #103 Very Good
OUR FIGHTING FORCES (1954) #104 Very Good
OUR FIGHTING FORCES (1954) #105 Very Good

PLANETARY (1999) #3 (DC/Wildstorm) Near Mint/Mint
PLANETARY (1999) #6 (DC/Wildstorm) Near Mint/Mint
PLANETARY (1999) #7 (DC/Wildstorm) Near Mint/Mint
PLANETARY (1999) #8 (DC/Wildstorm) Near Mint/Mint
PLANETARY (1999) #9 (DC/Wildstorm) Near Mint/Mint

PLANETARY (1999) #10 (DC/Wildstorm) Near Mint/Mint

PROMETHEA (1999) #1 (DC/America's Best) Fine
PROMETHEA (1999) #6 (DC/America's Best) Near Mint/Mint
PROMETHEA (1999) #7 (DC/America's Best) Near Mint/Mint

REALWORLDS: BATMAN (2000) #1 Fine

TOMORROW STORIES (1999) #6 (DC/America's Best) Near Mint/Mint

UNEXPECTED (1956) (TALES OF THE UNEXPECTED #1-104) #118 Good
UNEXPECTED (1956) (TALES OF THE UNEXPECTED #1-104) #121 Very Good
UNEXPECTED (1956) (TALES OF THE UNEXPECTED #1-104) #122 Good
UNEXPECTED (1956) (TALES OF THE UNEXPECTED #1-104) #124 Good
UNEXPECTED (1956) (TALES OF THE UNEXPECTED #1-104) #128 Good
UNEXPECTED (1956) (TALES OF THE UNEXPECTED #1-104) #139 Good
UNEXPECTED (1956) (TALES OF THE UNEXPECTED #1-104) #140 Very Good
UNEXPECTED (1956) (TALES OF THE UNEXPECTED #1-104) #166 Good
UNEXPECTED (1956) (TALES OF THE UNEXPECTED #1-104) #167 Good
UNEXPECTED (1956) (TALES OF THE UNEXPECTED #1-104) #169 Good
UNEXPECTED (1956) (TALES OF THE UNEXPECTED #1-104) #170 Very Good
UNEXPECTED (1956) (TALES OF THE UNEXPECTED #1-104) #171 Good
UNEXPECTED (1956) (TALES OF THE UNEXPECTED #1-104) #172 Very Good
UNEXPECTED (1956) (TALES OF THE UNEXPECTED #1-104) #173 Very Good
UNEXPECTED (1956) (TALES OF THE UNEXPECTED #1-104) #179 Good
UNEXPECTED (1956) (TALES OF THE UNEXPECTED #1-104) #180 Very Fine
UNEXPECTED (1956) (TALES OF THE UNEXPECTED #1-104) #181 Good
UNEXPECTED (1956) (TALES OF THE UNEXPECTED #1-104) #182 Very Good
UNEXPECTED (1956) (TALES OF THE UNEXPECTED #1-104) #183 Very Good
UNEXPECTED (1956) (TALES OF THE UNEXPECTED #1-104) #184 Good
UNEXPECTED (1956) (TALES OF THE UNEXPECTED #1-104) #185 Good


UNEXPECTED (1956) (TALES OF THE UNEXPECTED #1-104) #187

UNEXPECTED (1956) (TALES OF THE UNEXPECTED #1-104) #187 Very Good
UNEXPECTED (1956) (TALES OF THE UNEXPECTED #1-104) #189 Good
UNEXPECTED (1956) (TALES OF THE UNEXPECTED #1-104) #191 Good
UNEXPECTED (1956) (TALES OF THE UNEXPECTED #1-104) #193 NEWSSTAND Good
UNEXPECTED (1956) (TALES OF THE UNEXPECTED #1-104) #195 Fine
UNEXPECTED (1956) (TALES OF THE UNEXPECTED #1-104) #197 Fine
UNEXPECTED (1956) (TALES OF THE UNEXPECTED #1-104) #198 Fine
UNEXPECTED (1956) (TALES OF THE UNEXPECTED #1-104) #198 Very Fine
UNEXPECTED (1956) (TALES OF THE UNEXPECTED #1-104) #199 Very Good
UNEXPECTED (1956) (TALES OF THE UNEXPECTED #1-104) #200 Very Fine
UNEXPECTED (1956) (TALES OF THE UNEXPECTED #1-104) #201 Very Fine
UNEXPECTED (1956) (TALES OF THE UNEXPECTED #1-104) #204 NEWSSTAND Fine
UNEXPECTED (1956) (TALES OF THE UNEXPECTED #1-104) #205 NEWSSTAND Fine
UNEXPECTED (1956) (TALES OF THE UNEXPECTED #1-104) #206 NEWSSTAND Fine
UNEXPECTED (1956) (TALES OF THE UNEXPECTED #1-104) #207 NEWSSTAND Fine
UNEXPECTED (1956) (TALES OF THE UNEXPECTED #1-104) #208 Fine
UNEXPECTED (1956) (TALES OF THE UNEXPECTED #1-104) #208 NEWSSTAND Very Good
UNEXPECTED (1956) (TALES OF THE UNEXPECTED #1-104) #209 Fine
UNEXPECTED (1956) (TALES OF THE UNEXPECTED #1-104) #210 NEWSSTAND Fine
UNEXPECTED (1956) (TALES OF THE UNEXPECTED #1-104) #211 NEWSSTAND Very Good
UNEXPECTED (1956) (TALES OF THE UNEXPECTED #1-104) #212 NEWSSTAND Very Fine
UNEXPECTED (1956) (TALES OF THE UNEXPECTED #1-104) #213 NEWSSTAND Fine

WONDER WOMAN (2016) (#1-83, #750-UP) (DC REBIRTH) #13 Near Mint/Mint
WONDER WOMAN (2016) (#1-83, #750-UP) (DC REBIRTH) #14 Near Mint/Mint

DARK HORSE COMICS
MADMAN COMICS (1994) #16 Near Mint/Mint

IMAGE COMICS

CYBERFORCE (1992) (#0-4) (IMAGE) #0 NEWSSTAND

CYBERFORCE (1992) (#0-4) (IMAGE) #0 NEWSSTAND (Image Top Cow) Fine
CYBERFORCE (1992) (#0-4) (IMAGE) #1 (Image Top Cow) Near Mint/Mint
CYBERFORCE (1992) (#0-4) (IMAGE) #1 NEWSSTAND (Image Top Cow) Fine
CYBERFORCE (1992) (#0-4) (IMAGE) #2 NEWSSTAND (Image Top Cow) Fine

CYBERFORCE (1993) (#1-35) (IMAGE) #1 NEWSSTAND (Image Top Cow) Very Fine
CYBERFORCE (1993) (#1-35) (IMAGE) #1 NEWSSTAND (Image Top Cow) Fine
CYBERFORCE (1993) (#1-35) (IMAGE) #1 2ND PRINT (Image Top Cow) Very Fine
CYBERFORCE (1993) (#1-35) (IMAGE) #1 NEWSSTAND (Image Top Cow) Very Good
CYBERFORCE (1993) (#1-35) (IMAGE) #2 (Image Top Cow) Near Mint/Mint
CYBERFORCE (1993) (#1-35) (IMAGE) #2 NEWSSTAND (Image Top Cow) Fine
CYBERFORCE (1993) (#1-35) (IMAGE) #2 SILVER (Image Top Cow) Fine
CYBERFORCE (1993) (#1-35) (IMAGE) #2 (Image Top Cow) Very Fine

PLANETOID PRAXIS (2017) #1 Near Mint/Mint

REBORN (2016) #6 B CAPULLO Fine

SAVAGE DRAGON-THE SERIES (1993) (#0-UP) #67 Near Mint/Mint
SAVAGE DRAGON-THE SERIES (1993) (#0-UP) #68 Near Mint/Mint
SAVAGE DRAGON-THE SERIES (1993) (#0-UP) #69 Near Mint/Mint
SAVAGE DRAGON-THE SERIES (1993) (#0-UP) #71 Near Mint/Mint
SAVAGE DRAGON-THE SERIES (1993) (#0-UP) #72 Near Mint/Mint
SAVAGE DRAGON-THE SERIES (1993) (#0-UP) #73 Near Mint/Mint

SPAWN (1992) #93 Near Mint/Mint

TOMB RAIDER (1999) (#0-50) (IMAGE TOP COW) #1 AN UNIVERE (Image Top Cow) Near Mint/Mint

INDEPENDENTS

ARCHIE (2015) (#1-32, #699-UP) #19 A WOODS

ARCHIE (2015) (#1-32, #699-UP) #19 A WOODS (Archie Comics) Near Mint/Mint

ARTFUL (2016) #4 A NEUBERT (Action Lab Entertainment) Near Mint/Mint

BROKEN HEROES (1998) #11 (Sirius) Near Mint/Mint

COMIC CHRONICLES: THE TWILIGHT ZONE EPISODE GUIDE (1992) #1 (Personality) Near Mint/Mint

CYBER REALITY COMIX (1995) #1 (Wonder Comix) Very Fine

CYBERCOM (1987) #1 (Matrix Graphic Series) Near Mint/Mint
CYBERCOM (1987) #1 (Matrix Graphic Series) Very Fine

CYBERCRUSH: ROBOTS IN REVOLT (1991) #3 (Fleetway-Quality Comics) Very Fine
CYBERCRUSH: ROBOTS IN REVOLT (1991) #4 (Fleetway-Quality Comics) Very Fine
CYBERCRUSH: ROBOTS IN REVOLT (1991) #6 (Fleetway-Quality Comics) Near Mint/Mint
CYBERCRUSH: ROBOTS IN REVOLT (1991) #6 (Fleetway-Quality Comics) Very Fine
CYBERCRUSH: ROBOTS IN REVOLT (1991) #7 (Fleetway-Quality Comics) Near Mint/Mint
CYBERCRUSH: ROBOTS IN REVOLT (1991) #7 (Fleetway-Quality Comics) Very Fine
CYBERCRUSH: ROBOTS IN REVOLT (1991) #10 (Fleetway-Quality Comics) Very Fine
CYBERCRUSH: ROBOTS IN REVOLT (1991) #12 (Fleetway-Quality Comics) Near Mint/Mint
CYBERCRUSH: ROBOTS IN REVOLT (1991) #14 (Fleetway-Quality Comics) Fine
CYBERCRUSH: ROBOTS IN REVOLT (1991) #14 (Fleetway-Quality Comics) Very Fine

CYBERFARCE (1993) #1 (Parody Press) Very Fine

CYBERFEMMES (CYBER FORCE) (1992) #1 (Spoof Cards & Comics (Div./Friendly) Near Mint/Mint
CYBERFEMMES (CYBER FORCE) (1992) #1 (Spoof Cards & Comics (Div./Friendly) Very Fine

GI JOE (2016) (#1-9 & 248) (IDW Publishing) #3 INCENTIVE (IDW Publishing) Very Fine


KISS (2016) (#1-10) (DYNAMITE) #1 B STARCHIL

KISS (2016) (#1-10) (DYNAMITE) #1 B STARCHIL (DYNAMITE Entertainment) Near Mint/Mint
KISS (2016) (#1-10) (DYNAMITE) #1 D CATMAN (DYNAMITE Entertainment) Near Mint/Mint

LADY DEATH: REVELATIONS ILLUSTRATED (2017) #1 (Coffin Comics) Near Mint/Mint
LADY DEATH: REVELATIONS ILLUSTRATED (2017) #1 CRUEL (Coffin Comics) Near Mint/Mint

LUFTWAFFE 1946 (1997) #15 (Antarctic Press) Near Mint/Mint
LUFTWAFFE 1946 (1997) #16 (Antarctic Press) Near Mint/Mint

MY BROTHERS' KEEPER (1974) #1 (Archie: Spire Christian Comics) Good

POWER OF THE DARK CRYSTAL (JIM HENSON) (2017) #5 SUBSCRIPT (Boom Studios Publishing) Near Mint/Mint

STARSTRUCK: OLD PROLDIERS NEVER DIE (2017) #1 (IDW Publishing) Near Mint/Mint

STEVEN UNIVERSE (2017) #1 PENA (Boom Studios Publishing) Near Mint/Mint

STUPID, STUPID RAT TAILS (1999) #1 (Cartoon Books) Very Fine
STUPID, STUPID RAT TAILS (1999) #3 (Cartoon Books) Near Mint/Mint

TEENAGE MUTANT NINJA TURTLES (2011) (#1-UP) (IDW Publishing) #72 A WACHTER (IDW Publishing) Near Mint/Mint

TEENAGE MUTANT NINJA TURTLES UNIVERSE (2016) #12 A WILLIAMS (IDW Publishing) Fine

TIME TO RUN (1975) #1 39 CENT CV (Archie: Spire Christian Comics) Good

TWILIGHT ZONE #1959 (2016) #1 (DYNAMITE Entertainment) Near Mint/Mint

TWILIGHT ZONE (1962) (#1-91) (GOLD KEY) #1 (Gold Key) Good
TWILIGHT ZONE (1962) (#1-91) (GOLD KEY) #2 (Gold Key) Fair
TWILIGHT ZONE (1962) (#1-91) (GOLD KEY) #3 (Gold Key) Good


TWILIGHT ZONE (1962) (#1-91) (GOLD KEY) #4

TWILIGHT ZONE (1962) (#1-91) (GOLD KEY) #4 (Gold Key) Good
TWILIGHT ZONE (1962) (#1-91) (GOLD KEY) #5 (Gold Key) Good
TWILIGHT ZONE (1962) (#1-91) (GOLD KEY) #6 (Gold Key) Good
TWILIGHT ZONE (1962) (#1-91) (GOLD KEY) #7 (Gold Key) Very Good
TWILIGHT ZONE (1962) (#1-91) (GOLD KEY) #8 (Gold Key) Very Good
TWILIGHT ZONE (1962) (#1-91) (GOLD KEY) #9 (Gold Key) Good
TWILIGHT ZONE (1962) (#1-91) (GOLD KEY) #10 (Gold Key) Good
TWILIGHT ZONE (1962) (#1-91) (GOLD KEY) #11 (Gold Key) Good
TWILIGHT ZONE (1962) (#1-91) (GOLD KEY) #12 (Gold Key) Good
TWILIGHT ZONE (1962) (#1-91) (GOLD KEY) #13 (Gold Key) Fair
TWILIGHT ZONE (1962) (#1-91) (GOLD KEY) #14 (Gold Key) Fair
TWILIGHT ZONE (1962) (#1-91) (GOLD KEY) #15 (Gold Key) Good
TWILIGHT ZONE (1962) (#1-91) (GOLD KEY) #16 (Gold Key) Fine
TWILIGHT ZONE (1962) (#1-91) (GOLD KEY) #17 (Gold Key) Good
TWILIGHT ZONE (1962) (#1-91) (GOLD KEY) #18 (Gold Key) Very Good
TWILIGHT ZONE (1962) (#1-91) (GOLD KEY) #19 (Gold Key) Very Good
TWILIGHT ZONE (1962) (#1-91) (GOLD KEY) #20 (Gold Key) Good
TWILIGHT ZONE (1962) (#1-91) (GOLD KEY) #21 (Gold Key) Good
TWILIGHT ZONE (1962) (#1-91) (GOLD KEY) #22 (Gold Key) Good
TWILIGHT ZONE (1962) (#1-91) (GOLD KEY) #23 (Gold Key) Good
TWILIGHT ZONE (1962) (#1-91) (GOLD KEY) #24 (Gold Key) Very Good
TWILIGHT ZONE (1962) (#1-91) (GOLD KEY) #25 (Gold Key) Good
TWILIGHT ZONE (1962) (#1-91) (GOLD KEY) #26 (Gold Key) Good
TWILIGHT ZONE (1962) (#1-91) (GOLD KEY) #27 (Gold Key) Fine
TWILIGHT ZONE (1962) (#1-91) (GOLD KEY) #28 (Gold Key) Good
TWILIGHT ZONE (1962) (#1-91) (GOLD KEY) #29 (Gold Key) Very Good
TWILIGHT ZONE (1962) (#1-91) (GOLD KEY) #30 (Gold Key) Good
TWILIGHT ZONE (1962) (#1-91) (GOLD KEY) #32 (Gold Key) Good
TWILIGHT ZONE (1962) (#1-91) (GOLD KEY) #33 (Gold Key) Very Good
TWILIGHT ZONE (1962) (#1-91) (GOLD KEY) #34 (Gold Key) Very Good
TWILIGHT ZONE (1962) (#1-91) (GOLD KEY) #35 (Gold Key) Good


TWILIGHT ZONE (1962) (#1-91) (GOLD KEY) #36

TWILIGHT ZONE (1962) (#1-91) (GOLD KEY) #36 (Gold Key) Good
TWILIGHT ZONE (1962) (#1-91) (GOLD KEY) #37 (Gold Key) Good
TWILIGHT ZONE (1962) (#1-91) (GOLD KEY) #38 (Gold Key) Good
TWILIGHT ZONE (1962) (#1-91) (GOLD KEY) #39 (Gold Key) Very Good
TWILIGHT ZONE (1962) (#1-91) (GOLD KEY) #40 (Gold Key) Very Good
TWILIGHT ZONE (1962) (#1-91) (GOLD KEY) #41 (Gold Key) Good
TWILIGHT ZONE (1962) (#1-91) (GOLD KEY) #42 (Gold Key) Good
TWILIGHT ZONE (1962) (#1-91) (GOLD KEY) #43 (Gold Key) Very Good
TWILIGHT ZONE (1962) (#1-91) (GOLD KEY) #44 (Gold Key) Good
TWILIGHT ZONE (1962) (#1-91) (GOLD KEY) #45 (Gold Key) Good
TWILIGHT ZONE (1962) (#1-91) (GOLD KEY) #46 (Gold Key) Very Good
TWILIGHT ZONE (1962) (#1-91) (GOLD KEY) #47 (Gold Key) Very Good
TWILIGHT ZONE (1962) (#1-91) (GOLD KEY) #48 (Gold Key) Very Good
TWILIGHT ZONE (1962) (#1-91) (GOLD KEY) #49 (Gold Key) Very Fine
TWILIGHT ZONE (1962) (#1-91) (GOLD KEY) #51 (Gold Key) Good
TWILIGHT ZONE (1962) (#1-91) (GOLD KEY) #52 (Gold Key) Very Good
TWILIGHT ZONE (1962) (#1-91) (GOLD KEY) #53 (Gold Key) Very Fine
TWILIGHT ZONE (1962) (#1-91) (GOLD KEY) #54 (Gold Key) Good
TWILIGHT ZONE (1962) (#1-91) (GOLD KEY) #55 (Gold Key) Near Mint/Mint
TWILIGHT ZONE (1962) (#1-91) (GOLD KEY) #56 (Gold Key) Good
TWILIGHT ZONE (1962) (#1-91) (GOLD KEY) #57 (Gold Key) Very Good
TWILIGHT ZONE (1962) (#1-91) (GOLD KEY) #58 (Gold Key) Good
TWILIGHT ZONE (1962) (#1-91) (GOLD KEY) #59 (Gold Key) Very Good
TWILIGHT ZONE (1962) (#1-91) (GOLD KEY) #60 (Gold Key) Good
TWILIGHT ZONE (1962) (#1-91) (GOLD KEY) #61 (Gold Key) Very Good
TWILIGHT ZONE (1962) (#1-91) (GOLD KEY) #62 WHITMAN (Gold Key) Good
TWILIGHT ZONE (1962) (#1-91) (GOLD KEY) #63 (Gold Key) Very Good
TWILIGHT ZONE (1962) (#1-91) (GOLD KEY) #64 (Gold Key) Good
TWILIGHT ZONE (1962) (#1-91) (GOLD KEY) #65 (Gold Key) Good
TWILIGHT ZONE (1962) (#1-91) (GOLD KEY) #66 (Gold Key) Good
TWILIGHT ZONE (1962) (#1-91) (GOLD KEY) #67 (Gold Key) Good


TWILIGHT ZONE (1962) (#1-91) (GOLD KEY) #68

TWILIGHT ZONE (1962) (#1-91) (GOLD KEY) #68 (Gold Key) Good
TWILIGHT ZONE (1962) (#1-91) (GOLD KEY) #69 (Gold Key) Good
TWILIGHT ZONE (1962) (#1-91) (GOLD KEY) #70 (Gold Key) Good
TWILIGHT ZONE (1962) (#1-91) (GOLD KEY) #71 (Gold Key) Very Good
TWILIGHT ZONE (1962) (#1-91) (GOLD KEY) #72 (Gold Key) Good
TWILIGHT ZONE (1962) (#1-91) (GOLD KEY) #73 (Gold Key) Very Good
TWILIGHT ZONE (1962) (#1-91) (GOLD KEY) #74 (Gold Key) Good
TWILIGHT ZONE (1962) (#1-91) (GOLD KEY) #75 (Gold Key) Very Good
TWILIGHT ZONE (1962) (#1-91) (GOLD KEY) #76 (Gold Key) Very Good
TWILIGHT ZONE (1962) (#1-91) (GOLD KEY) #77 (Gold Key) Very Good
TWILIGHT ZONE (1962) (#1-91) (GOLD KEY) #78 (Gold Key) Very Good
TWILIGHT ZONE (1962) (#1-91) (GOLD KEY) #79 (Gold Key) Fine
TWILIGHT ZONE (1962) (#1-91) (GOLD KEY) #80 (Gold Key) Good
TWILIGHT ZONE (1962) (#1-91) (GOLD KEY) #81 (Gold Key) Good
TWILIGHT ZONE (1962) (#1-91) (GOLD KEY) #82 (Gold Key) Good
TWILIGHT ZONE (1962) (#1-91) (GOLD KEY) #83 (Gold Key) Very Good
TWILIGHT ZONE (1962) (#1-91) (GOLD KEY) #84 (Gold Key) Good
TWILIGHT ZONE (1962) (#1-91) (GOLD KEY) #85 (Gold Key) Good
TWILIGHT ZONE (1962) (#1-91) (GOLD KEY) #86 (Gold Key) Very Good
TWILIGHT ZONE (1962) (#1-91) (GOLD KEY) #87 WHITMAN (Gold Key) Very Fine
TWILIGHT ZONE (1962) (#1-91) (GOLD KEY) #88 (Gold Key) Very Good
TWILIGHT ZONE (1962) (#1-91) (GOLD KEY) #89 (Gold Key) Very Fine
TWILIGHT ZONE (1962) (#1-91) (GOLD KEY) #90 (Gold Key) Fine
TWILIGHT ZONE (1962) (#1-91) (GOLD KEY) #91 (Gold Key) Good

TWILIGHT ZONE (1982) (#92) (WHITMAN) #92 (Whitman Publishing) Good

TWILIGHT ZONE (2013) #1 (DYNAMITE Entertainment) Near Mint/Mint
TWILIGHT ZONE (2013) #2 FRANCAVILL (DYNAMITE Entertainment) Near Mint/Mint
TWILIGHT ZONE (2013) #3 (DYNAMITE Entertainment) Near Mint/Mint
TWILIGHT ZONE (2013) #4 (DYNAMITE Entertainment) Near Mint/Mint

TWILIGHT ZONE (2013) #5 (DYNAMITE Entertainment) Near Mint/Mint
TWILIGHT ZONE (2013) #6 (DYNAMITE Entertainment) Near Mint/Mint
TWILIGHT ZONE (2013) #7 (DYNAMITE Entertainment) Near Mint/Mint
TWILIGHT ZONE (2013) #8 (DYNAMITE Entertainment) Near Mint/Mint
TWILIGHT ZONE (2013) #9 (DYNAMITE Entertainment) Near Mint/Mint
TWILIGHT ZONE (2013) #10 (DYNAMITE Entertainment) Near Mint/Mint
TWILIGHT ZONE (2013) #11 (DYNAMITE Entertainment) Near Mint/Mint
TWILIGHT ZONE (2013) #12 (DYNAMITE Entertainment) Near Mint/Mint

TWILIGHT ZONE (Now Comics) #1 2.95 COVER (Now Comics) Very Fine
TWILIGHT ZONE (Now Comics) #1 4.95 COVER (Now Comics) Near Mint/Mint
TWILIGHT ZONE (Now Comics) #1 NEWSSTAND (Now Comics) Very Fine

TWILIGHT ZONE (VOL. 2) #1 DIRECT (Now Comics) Near Mint/Mint
TWILIGHT ZONE (VOL. 2) #1 NEWS (Now Comics) Near Mint/Mint
TWILIGHT ZONE (VOL. 2) #2 NEWSSTAND (Now Comics) Near Mint/Mint
TWILIGHT ZONE (VOL. 2) #3 (Now Comics) Very Fine
TWILIGHT ZONE (VOL. 2) #4 (Now Comics) Near Mint/Mint
TWILIGHT ZONE (VOL. 2) #5 (Now Comics) Near Mint/Mint
TWILIGHT ZONE (VOL. 2) #6 (Now Comics) Very Fine
TWILIGHT ZONE (VOL. 2) #7 (Now Comics) Near Mint/Mint
TWILIGHT ZONE (VOL. 2) #9 UNBAGGED (Now Comics) Near Mint/Mint
TWILIGHT ZONE (VOL. 2) #9 UNBAGGED (Now Comics) Very Fine
TWILIGHT ZONE (VOL. 2) #10 NEWSSTAND (Now Comics) Near Mint/Mint
TWILIGHT ZONE (VOL. 2) #11 (Now Comics) Near Mint/Mint

TWILIGHT ZONE (VOL. 3) #1 (Now Comics) Near Mint/Mint
TWILIGHT ZONE (VOL. 3) #2 (Now Comics) Near Mint/Mint
TWILIGHT ZONE (VOL. 3) #3 (Now Comics) Near Mint/Mint
TWILIGHT ZONE (VOL. 3) #4 (Now Comics) Near Mint/Mint

TWILIGHT ZONE 3-D (1993) #1 UNBAGGED (Now Comics) Near Mint/Mint


TWILIGHT ZONE ANNUAL (1993) #1

TWILIGHT ZONE ANNUAL (1993) #1 (Now Comics) Very Fine

TWILIGHT ZONE ANNUAL (2014) #1 (DYNAMITE Entertainment) Near Mint/Mint

TWILIGHT ZONE SCIENCE FICTION SPECIAL (1993) #1 W/HOLOGRAM (Now Comics) Very Fine

TWILIGHT ZONE: LOST TALES ONE-SHOT (2014) #1 (DYNAMITE Entertainment) Near Mint/Mint

TWILIGHT ZONE: SHADOW & SUBSTANCE (2015) #1 VILANOVA (DYNAMITE Entertainment) Near Mint/Mint
TWILIGHT ZONE: SHADOW & SUBSTANCE (2015) #2 VILANOVA (DYNAMITE Entertainment) Near Mint/Mint
TWILIGHT ZONE: SHADOW & SUBSTANCE (2015) #3 VILANOVA (DYNAMITE Entertainment) Near Mint/Mint
TWILIGHT ZONE: SHADOW & SUBSTANCE (2015) #4 VILANOVA (DYNAMITE Entertainment) Near Mint/Mint

TWILIGHT ZONE: SHADOW (2016) #1 FRANCAVILL (DYNAMITE Entertainment) Near Mint/Mint
TWILIGHT ZONE: SHADOW (2016) #2 FRANCAVILL (DYNAMITE Entertainment) Near Mint/Mint
TWILIGHT ZONE: SHADOW (2016) #3 FRANCAVILL (DYNAMITE Entertainment) Near Mint/Mint
TWILIGHT ZONE: SHADOW (2016) #4 FRANCAVILL (DYNAMITE Entertainment) Near Mint/Mint

UNITY 2000 (1999) #1 PREVIEW (Acclaim/Valiant) Fine

WORLD WAR II 1946 (1999) (#1-12) (ANTARCTIC) #6 (Antarctic Press) Near Mint/Mint
WORLD WAR II 1946 (1999) (#1-12) (ANTARCTIC) #8 (Antarctic Press) Near Mint/Mint