Chuck Donates $30,000 In Comics
Howdy!
I am up at 6 AM this morning, in order to quickly sort through a collection of 6,000 comic books that I purchased last evening out on Long Island. My goal is to select out only those few "key" issues that we actually need for enhancing our online selections for you, and to set them aside for shipment to Denver. The rest of that vast 30-year personal accumulation (which the seller used a computerized program to value at $37,000.00+) is then going to be donated to my friend, John Paul, of Montclair, New Jersey. They will become his beginning inventory today at this weekend's Garden State Comics show, which is being held in the old Sears building at the Rockaway Mall, in New Jersey.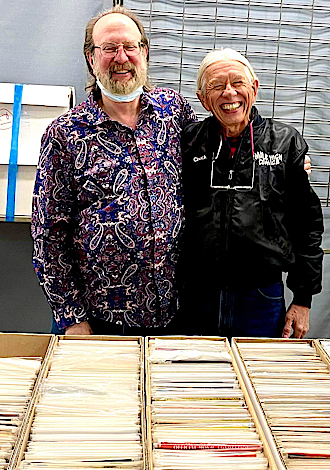 John Paul and Chuck at the Garden State Comics show

In case you did not already know, John Paul is a decades-long friend of mine, and of Mile High Comics. He has been hosting one-day comic book shows in the New Jersey area for over 30 years, and they have been a delight for me to attend. Through his wonderful Pug Productions company, he has also contributed vast sums to help the less fortunate, including oftentimes contributing Golden Age and Silver Age comics (and many clothes and toiletries) to our benefit auctions for the homeless that we have held in our Jason St. Mega-Store.
On September 1st of this year, however, John Paul lost all of his own comics, and his entire convention inventory, when flooding caused by Hurricane Ida utterly devastated his beautiful home in Montclair. His comic book dealer friends from the local area chipped in to help him (and his beautiful wife, Bozena) to pay for clean-up costs and to replace their ruined furnace and washer/dryer, but he was still left with very little in the way of merchandise to sell at his shows. I am hoping that my donation of our newly-acquired 6,000 comics will help him to finally recover from his devastating loss, and to provide him with a great beginning for his second 30 years of hosting his wonderful comic book shows. John Paul is truly a wonderful human, and deserves nothing but the best.
That's it for today. Dawn is now breaking, and I need get down to my van in the parking lot of my hotel and to sort out those comics that we need before heading over to the show to meet up with John Paul. I do also need to quickly mention, however, that our 60% off THANKSGIVING! codeword will finally be ending at noon, on Monday. This weekend is thus your last opportunity to purchase from us at 60% off. As per usual, this awesome 60% off sale discount applies to all ten million+ of our back issue comics and magazines, including almost all of the new arrivals listed below. Only new issues, a few variants, and our professionally-graded items are exempt.
Happy collecting!
Chuck Rozanski/Bettie Pages,
President - Mile High Comics, Inc.
December 3, 2021

P.S. Here are a few of the items just listed:
MARVEL
AKIRA (MARVEL) (1988) #34 Fine
AKIRA (MARVEL) (1988) #35 Very Good

AMAZING SPIDER-MAN SUPER SPECIAL: PLANET OF THE SYMBIOT (1995) #1 Fine

AMAZING SPIDER-MAN/VENOM: VENOM INC. ALPHA (2017) #1 GRANOV Near Mint/Mint

AVENGERS (1963) (#1-402) (MARVEL) #101 Good

DAREDEVIL (1964) (#1-380) (MAN WITHOUT FEAR) (MARVEL) #108 Good
DAREDEVIL (1964) (#1-380) (MAN WITHOUT FEAR) (MARVEL) #113 Good
DAREDEVIL (1964) (#1-380) (MAN WITHOUT FEAR) (MARVEL) #238 NEWSSTAND Very Good

DEADPOOL (1993) (#1-4) (CIRCLE CHASE) (MARVEL) #1 Near Mint/Mint
DEADPOOL (1993) (#1-4) (CIRCLE CHASE) (MARVEL) #2 Near Mint/Mint

EDGE OF VENOMVERSE (2017) #1 Very Fine
EDGE OF VENOMVERSE (2017) #2 Very Fine
EDGE OF VENOMVERSE (2017) #3 Near Mint/Mint
EDGE OF VENOMVERSE (2017) #4 Near Mint/Mint
EDGE OF VENOMVERSE (2017) #5 Near Mint/Mint

GI JOE (1982) (#1-155) (MARVEL) #25 NEWSSTAND Good
GI JOE (1982) (#1-155) (MARVEL) #55 NEWSSTAND Good
GI JOE (1982) (#1-155) (MARVEL) #56 NEWSSTAND Very Good
GI JOE (1982) (#1-155) (MARVEL) #57 NEWSSTAND Very Fine

GI JOE ORDER OF BATTLE (1986) #3 NEWSSTAND Very Good

MAGNIFICENT MS. MARVEL (2019) #1 Near Mint/Mint
MAGNIFICENT MS. MARVEL (2019) #1 TARR Near Mint/Mint


MAGNIFICENT MS. MARVEL (2019) #2

MAGNIFICENT MS. MARVEL (2019) #2 Near Mint/Mint
MAGNIFICENT MS. MARVEL (2019) #2 CHAN Near Mint/Mint
MAGNIFICENT MS. MARVEL (2019) #3 JO Near Mint/Mint
MAGNIFICENT MS. MARVEL (2019) #4 Near Mint/Mint
MAGNIFICENT MS. MARVEL (2019) #5 Near Mint/Mint
MAGNIFICENT MS. MARVEL (2019) #6 Very Fine
MAGNIFICENT MS. MARVEL (2019) #7 Near Mint/Mint
MAGNIFICENT MS. MARVEL (2019) #10 Near Mint/Mint
MAGNIFICENT MS. MARVEL (2019) #11 Near Mint/Mint
MAGNIFICENT MS. MARVEL (2019) #12 Near Mint/Mint
MAGNIFICENT MS. MARVEL (2019) #13 Near Mint/Mint
MAGNIFICENT MS. MARVEL (2019) #14 Near Mint/Mint

MARVEL TALES (1964) (#1-291) #81 WHITMAN Fair
MARVEL TALES (1964) (#1-291) #135 Good
MARVEL TALES (1964) (#1-291) #182 Very Good

MARVEL TEAM-UP (1972) (#1-150) (MARVEL) #1 Good
MARVEL TEAM-UP (1972) (#1-150) (MARVEL) #2 Good
MARVEL TEAM-UP (1972) (#1-150) (MARVEL) #3 Very Good
MARVEL TEAM-UP (1972) (#1-150) (MARVEL) #4 Fine

MARVELS (1994) #1 Near Mint/Mint

MS. MARVEL (2014) (#1-19) (MARVEL) (KAMALA KHAN) #2 Near Mint/Mint
MS. MARVEL (2014) (#1-19) (MARVEL) (KAMALA KHAN) #3 Very Fine
MS. MARVEL (2014) (#1-19) (MARVEL) (KAMALA KHAN) #4 Near Mint/Mint
MS. MARVEL (2014) (#1-19) (MARVEL) (KAMALA KHAN) #5 Very Fine
MS. MARVEL (2014) (#1-19) (MARVEL) (KAMALA KHAN) #6 Near Mint/Mint
MS. MARVEL (2014) (#1-19) (MARVEL) (KAMALA KHAN) #7 Near Mint/Mint
MS. MARVEL (2014) (#1-19) (MARVEL) (KAMALA KHAN) #8 Very Good


MS. MARVEL (2014) (#1-19) (MARVEL) (KAMALA KHAN) #9

MS. MARVEL (2014) (#1-19) (MARVEL) (KAMALA KHAN) #9 Near Mint/Mint
MS. MARVEL (2014) (#1-19) (MARVEL) (KAMALA KHAN) #10 Fine

MS. MARVEL ANNUAL (2019) (KAMALA KHAN) (MAGNIFICENT) #1 Near Mint/Mint
MS. MARVEL ANNUAL (2019) (KAMALA KHAN) (MAGNIFICENT) #1 BALDEON Fine

PUNISHER (2018) (#1-UP) (MARVEL) #1 Near Mint/Mint
PUNISHER (2018) (#1-UP) (MARVEL) #2 Near Mint/Mint
PUNISHER (2018) (#1-UP) (MARVEL) #2 DEODATO Near Mint/Mint
PUNISHER (2018) (#1-UP) (MARVEL) #3 Near Mint/Mint
PUNISHER (2018) (#1-UP) (MARVEL) #4 Near Mint/Mint
PUNISHER (2018) (#1-UP) (MARVEL) #5 Near Mint/Mint
PUNISHER (2018) (#1-UP) (MARVEL) #6 Near Mint/Mint
PUNISHER (2018) (#1-UP) (MARVEL) #7 Near Mint/Mint
PUNISHER (2018) (#1-UP) (MARVEL) #8 Near Mint/Mint
PUNISHER (2018) (#1-UP) (MARVEL) #9 Near Mint/Mint
PUNISHER (2018) (#1-UP) (MARVEL) #10 Near Mint/Mint
PUNISHER (2018) (#1-UP) (MARVEL) #11 LIM Near Mint/Mint
PUNISHER (2018) (#1-UP) (MARVEL) #12 Near Mint/Mint
PUNISHER (2018) (#1-UP) (MARVEL) #13 Near Mint/Mint
PUNISHER (2018) (#1-UP) (MARVEL) #14 Near Mint/Mint
PUNISHER (2018) (#1-UP) (MARVEL) #15 Near Mint/Mint
PUNISHER (2018) (#1-UP) (MARVEL) #16 Near Mint/Mint

PUNISHER ANNUAL (2019) #1 Very Fine

PUNISHER: KILL KREW (2019) #1 Near Mint/Mint
PUNISHER: KILL KREW (2019) #2 Fine
PUNISHER: KILL KREW (2019) #3 Very Fine
PUNISHER: KILL KREW (2019) #4 Near Mint/Mint
PUNISHER: KILL KREW (2019) #5 Near Mint/Mint

PUNISHER: SOVIET (2019) #1 Near Mint/Mint
PUNISHER: SOVIET (2019) #2 Near Mint/Mint
PUNISHER: SOVIET (2019) #3 Near Mint/Mint
PUNISHER: SOVIET (2019) #4 Near Mint/Mint
PUNISHER: SOVIET (2019) #5 Near Mint/Mint
PUNISHER: SOVIET (2019) #6 Near Mint/Mint

SAVAGE AVENGERS (2019) #1 Near Mint/Mint
SAVAGE AVENGERS (2019) #1 2ND PRINT Near Mint/Mint
SAVAGE AVENGERS (2019) #1 BIANCHI Near Mint/Mint
SAVAGE AVENGERS (2019) #1 DEODATO Very Fine
SAVAGE AVENGERS (2019) #1 JACINTO Near Mint/Mint
SAVAGE AVENGERS (2019) #1 Very Fine
SAVAGE AVENGERS (2019) #1 YOUNG BABY Near Mint/Mint
SAVAGE AVENGERS (2019) #1 YU Very Fine
SAVAGE AVENGERS (2019) #2 Near Mint/Mint
SAVAGE AVENGERS (2019) #2 BRADSHAW Near Mint/Mint
SAVAGE AVENGERS (2019) #2 COKER Near Mint/Mint
SAVAGE AVENGERS (2019) #2 DEODATO Near Mint/Mint
SAVAGE AVENGERS (2019) #3 Near Mint/Mint
SAVAGE AVENGERS (2019) #4 Fine
SAVAGE AVENGERS (2019) #5 Very Fine
SAVAGE AVENGERS (2019) #6 Fine
SAVAGE AVENGERS (2019) #7 Near Mint/Mint
SAVAGE AVENGERS (2019) #8 Near Mint/Mint
SAVAGE AVENGERS (2019) #9 Near Mint/Mint
SAVAGE AVENGERS (2019) #10 Near Mint/Mint
SAVAGE AVENGERS (2019) #11 Near Mint/Mint
SAVAGE AVENGERS (2019) #12 YU Near Mint/Mint

SAVAGE AVENGERS ANNUAL (2019) #1 Near Mint/Mint


SPECTACULAR SPIDER-MAN: SUPER SIZE SPECIAL #1

SPECTACULAR SPIDER-MAN: SUPER SIZE SPECIAL #1 Near Mint/Mint

SPIDER-MAN (1963) (AMAZING SPIDER-MAN) (#1-441) #59 Good
SPIDER-MAN (1963) (AMAZING SPIDER-MAN) (#1-441) #66 Fair
SPIDER-MAN (1963) (AMAZING SPIDER-MAN) (#1-441) #93 Good
SPIDER-MAN (1963) (AMAZING SPIDER-MAN) (#1-441) #101 Good
SPIDER-MAN (1963) (AMAZING SPIDER-MAN) (#1-441) #103 Fair
SPIDER-MAN (1963) (AMAZING SPIDER-MAN) (#1-441) #104 Fair
SPIDER-MAN (1963) (AMAZING SPIDER-MAN) (#1-441) #113 Good
SPIDER-MAN (1963) (AMAZING SPIDER-MAN) (#1-441) #122 CGC 4.0 Very Good
SPIDER-MAN (1963) (AMAZING SPIDER-MAN) (#1-441) #126 Very Good
SPIDER-MAN (1963) (AMAZING SPIDER-MAN) (#1-441) #127 Fair
SPIDER-MAN (1963) (AMAZING SPIDER-MAN) (#1-441) #128 Very Good
SPIDER-MAN (1963) (AMAZING SPIDER-MAN) (#1-441) #131 Fine
SPIDER-MAN (1963) (AMAZING SPIDER-MAN) (#1-441) #150 Fair
SPIDER-MAN (1963) (AMAZING SPIDER-MAN) (#1-441) #170 WHITMAN Very Good
SPIDER-MAN (1963) (AMAZING SPIDER-MAN) (#1-441) #200 NEWSSTAND Good
SPIDER-MAN (1963) (AMAZING SPIDER-MAN) (#1-441) #200 NEWSSTAND Fair
SPIDER-MAN (1963) (AMAZING SPIDER-MAN) (#1-441) #238 NEWSSTAND Good
SPIDER-MAN (1963) (AMAZING SPIDER-MAN) (#1-441) #239 NEWSSTAND Very Good
SPIDER-MAN (1963) (AMAZING SPIDER-MAN) (#1-441) #239 NEWSSTAND Good
SPIDER-MAN (1963) (AMAZING SPIDER-MAN) (#1-441) #252 NEWSSTAND Very Fine
SPIDER-MAN (1963) (AMAZING SPIDER-MAN) (#1-441) #252 NEWSSTAND Fine
SPIDER-MAN (1963) (AMAZING SPIDER-MAN) (#1-441) #252 NEWSSTAND Very Good
SPIDER-MAN (1963) (AMAZING SPIDER-MAN) (#1-441) #298 Near Mint/Mint
SPIDER-MAN (1963) (AMAZING SPIDER-MAN) (#1-441) #299 Near Mint/Mint
SPIDER-MAN (1963) (AMAZING SPIDER-MAN) (#1-441) #300 Very Fine
SPIDER-MAN (1963) (AMAZING SPIDER-MAN) (#1-441) #301 Near Mint/Mint
SPIDER-MAN (1963) (AMAZING SPIDER-MAN) (#1-441) #301 Good
SPIDER-MAN (1963) (AMAZING SPIDER-MAN) (#1-441) #302 Near Mint/Mint
SPIDER-MAN (1963) (AMAZING SPIDER-MAN) (#1-441) #302 NEWSSTAND Fine


SPIDER-MAN (1963) (AMAZING SPIDER-MAN) (#1-441) #303

SPIDER-MAN (1963) (AMAZING SPIDER-MAN) (#1-441) #303 Near Mint/Mint
SPIDER-MAN (1963) (AMAZING SPIDER-MAN) (#1-441) #311 NEWSSTAND Good
SPIDER-MAN (1963) (AMAZING SPIDER-MAN) (#1-441) #312 Good
SPIDER-MAN (1963) (AMAZING SPIDER-MAN) (#1-441) #312 Very Fine
SPIDER-MAN (1963) (AMAZING SPIDER-MAN) (#1-441) #316 NEWSSTAND Good
SPIDER-MAN (1963) (AMAZING SPIDER-MAN) (#1-441) #344 Very Fine
SPIDER-MAN (1963) (AMAZING SPIDER-MAN) (#1-441) #403 Very Good

SPIDER-MAN ANNUAL (1964) (#1-28) (MARVEL) #4 Good
SPIDER-MAN ANNUAL (1964) (#1-28) (MARVEL) #15 NEWSSTAND Good
SPIDER-MAN ANNUAL (1964) (#1-28) (MARVEL) #21 Fine
SPIDER-MAN ANNUAL (1964) (#1-28) (MARVEL) #21 NEWS Fine

SPIDER-MAN GIANT-SIZE (1974) #6 Fair

SPIDER-MAN SUPER SPECIAL: PLANET OF THE SYMBIOTES (1995) #1 Near Mint/Mint

SPIDER-WOMAN (1978) (#1-50) (JESSICA DREW) (MARVEL) #39 NEWSSTAND Very Good

STAR WARS (1977) (#1-107) (MARVEL) #99 NEWSSTAND Fair

SUB-MARINER (1968) (#1-72) (PRINCE NAMOR SUB-MARINER) #10 Very Fine

TALES TO ASTONISH (1959) (#1-21 ATLAS, #22-101 MARVEL) #60 Fair
TALES TO ASTONISH (1959) (#1-21 ATLAS, #22-101 MARVEL) #84 Very Good

VENOM (2017) (#1-6, #150-165) (MARVEL) #1 Near Mint/Mint
VENOM (2017) (#1-6, #150-165) (MARVEL) #1 BLANK CVR Near Mint/Mint
VENOM (2017) (#1-6, #150-165) (MARVEL) #2 Near Mint/Mint
VENOM (2017) (#1-6, #150-165) (MARVEL) #6 Near Mint/Mint
VENOM (2017) (#1-6, #150-165) (MARVEL) #150 Very Fine


VENOM (2017) (#1-6, #150-165) (MARVEL) #151 MATTINA

VENOM (2017) (#1-6, #150-165) (MARVEL) #151 MATTINA Near Mint/Mint
VENOM (2017) (#1-6, #150-165) (MARVEL) #152 JIM LEE Near Mint/Mint
VENOM (2017) (#1-6, #150-165) (MARVEL) #153 Near Mint/Mint
VENOM (2017) (#1-6, #150-165) (MARVEL) #154 Very Fine
VENOM (2017) (#1-6, #150-165) (MARVEL) #155 Fine
VENOM (2017) (#1-6, #150-165) (MARVEL) #156 Near Mint/Mint

VENOM ANNUAL (2018) #1 SIENKIEWIC Near Mint/Mint

VENOM SUPER SIZE SPECIAL (PLANET OF SYMBIOTES) (1995) #1 Near Mint/Mint

VENOM: FIRST HOST (2018) #1 RIVERA Near Mint/Mint
VENOM: FIRST HOST (2018) #2 Near Mint/Mint
VENOM: FIRST HOST (2018) #3 Near Mint/Mint

VENOM: FUNERAL PYRE (1993) #1 Near Mint/Mint
VENOM: FUNERAL PYRE (1993) #2 Near Mint/Mint
VENOM: FUNERAL PYRE (1993) #3 Near Mint/Mint

VENOMIZED (2018) #1 CRAIN Near Mint/Mint
VENOMIZED (2018) #2 Near Mint/Mint
VENOMIZED (2018) #2 BAGLEY Very Fine
VENOMIZED (2018) #2 BAGLEYCONN Very Fine
VENOMIZED (2018) #3 Fine
VENOMIZED (2018) #4 Near Mint/Mint
VENOMIZED (2018) #5 Near Mint/Mint

VENOMVERSE (2017) #1 TORQUE Near Mint/Mint
VENOMVERSE (2017) #2 TORQUE Near Mint/Mint
VENOMVERSE (2017) #3 TORQUE Near Mint/Mint
VENOMVERSE (2017) #4 TORQUE Near Mint/Mint

VENOMVERSE (2017) #5 Near Mint/Mint

WEB OF SPIDER-MAN SUPER SPECIAL: PLANET OF SYMBIOTES (1995) #1 Very Good

WEB OF VENOM - VENOM UNLEASHED (2018) #1 Near Mint/Mint

WEB OF VENOM: CULT OF CARNAGE (2019) #1 Near Mint/Mint
WEB OF VENOM: CULT OF CARNAGE (2019) #1 CASSARA Near Mint/Mint
WEB OF VENOM: CULT OF CARNAGE (2019) #1 CASSARA Fine

WEB OF VENOM: GOOD SON (2020) #1 Near Mint/Mint

WEB OF VENOM: VE'NAM (2018) #1 PARLOV Near Mint/Mint

WEB OF VENOM: WRAITH (2020) #1 Near Mint/Mint

WHAT IF... (1977) (#1-47) (MARVEL) #28 Fine
WHAT IF... (1977) (#1-47) (MARVEL) #30 NEWSSTAND Fine
WHAT IF... (1977) (#1-47) (MARVEL) #35 Good

WHAT IF... (1989) (#1-114, & 200) (MARVEL) #22 Fine

WHAT IF? SPECIAL (WHAT IF IRON MAN HAD BEEN A TRAITOR) (1988) #1 Near Mint/Mint

WOLVERINE (1988) (#1/2-189) (MARVEL) #11 Fine
WOLVERINE (1988) (#1/2-189) (MARVEL) #12 Fine
WOLVERINE (1988) (#1/2-189) (MARVEL) #17 Near Mint/Mint
WOLVERINE (1988) (#1/2-189) (MARVEL) #41 Fine
WOLVERINE (1988) (#1/2-189) (MARVEL) #100 Near Mint/Mint
WOLVERINE (1988) (#1/2-189) (MARVEL) #100 Very Fine
WOLVERINE (1988) (#1/2-189) (MARVEL) #145 DELUXE Fine

WOLVERINE: THE END (2003) #1 Fine
WOLVERINE: THE END (2003) #3 Fine
WOLVERINE: THE END (2003) #4 Fine
WOLVERINE: THE END (2003) #5 Fine

WOLVERINE: THE ORIGIN (2001) #1 Fine
WOLVERINE: THE ORIGIN (2001) #2 Very Fine
WOLVERINE: THE ORIGIN (2001) #3 Fine
WOLVERINE: THE ORIGIN (2001) #4 Fine

X-MEN (1963) (#1-113, UNCANNY X-MEN #114-544) (MARVEL) #213 Very Good

X-MEN (1991) (#1-275) (MARVEL) #25 Near Mint/Mint
X-MEN (1991) (#1-275) (MARVEL) #25 Fine
X-MEN (1991) (#1-275) (MARVEL) #50 DELUXE Fine
X-MEN (1991) (#1-275) (MARVEL) #54 SILVER Near Mint/Mint
X-MEN (1991) (#1-275) (MARVEL) #100 BYRNE Fine

X-MEN AND THE TEEN TITANS (1982) #1 NEWSSTAND Fine

X-MEN ANNUAL (1970) #3 NEWSSTAND Fine
X-MEN ANNUAL (1970) #14 Very Fine

X-MEN OMEGA (1995) #1 Fine
X-MEN OMEGA (1995) #1 GOLD Near Mint/Mint
X-MEN OMEGA (1995) #1 Very Good

X-MEN SPECIAL EDITION (1983) #1 Very Fine

DC

BATGIRL (2011) (#0-52) (DC NEW52) #40 MOVIESTYLE

BATGIRL (2011) (#0-52) (DC NEW52) #40 MOVIESTYLE Fine

BATMAN (2011) (#0-52) (DC NEW52) #1 2ND PRINT Very Fine

DARK KNIGHT III: THE MASTER RACE (2015) #1 Near Mint/Mint
DARK KNIGHT III: THE MASTER RACE (2015) #2 Fine
DARK KNIGHT III: THE MASTER RACE (2015) #2 2ND PRINT Near Mint/Mint
DARK KNIGHT III: THE MASTER RACE (2015) #3 Near Mint/Mint
DARK KNIGHT III: THE MASTER RACE (2015) #4 Near Mint/Mint
DARK KNIGHT III: THE MASTER RACE (2015) #4 ALBURQUERQ Near Mint/Mint
DARK KNIGHT III: THE MASTER RACE (2015) #5 Near Mint/Mint
DARK KNIGHT III: THE MASTER RACE (2015) #5 JANSON Near Mint/Mint
DARK KNIGHT III: THE MASTER RACE (2015) #5 KERSCHI Near Mint/Mint
DARK KNIGHT III: THE MASTER RACE (2015) #6 Near Mint/Mint
DARK KNIGHT III: THE MASTER RACE (2015) #7 Near Mint/Mint
DARK KNIGHT III: THE MASTER RACE (2015) #8 Near Mint/Mint

DARK NIGHTS: DEATH METAL (2020) #1 Near Mint/Mint
DARK NIGHTS: DEATH METAL (2020) #2 Near Mint/Mint
DARK NIGHTS: DEATH METAL (2020) #2 OPENA Near Mint/Mint
DARK NIGHTS: DEATH METAL (2020) #3 Near Mint/Mint
DARK NIGHTS: DEATH METAL (2020) #3 FEDERICI Near Mint/Mint

FEMALE FURIES (2019) #1 Near Mint/Mint
FEMALE FURIES (2019) #2 Near Mint/Mint
FEMALE FURIES (2019) #3 Near Mint/Mint
FEMALE FURIES (2019) #4 Near Mint/Mint

FINAL CRISIS (2008) #1 Near Mint/Mint
FINAL CRISIS (2008) #1 DIRECT CUT Near Mint/Mint
FINAL CRISIS (2008) #2 Near Mint/Mint

FINAL CRISIS (2008) #3 Very Fine
FINAL CRISIS (2008) #4 Near Mint/Mint
FINAL CRISIS (2008) #5 Near Mint/Mint
FINAL CRISIS (2008) #6 Near Mint/Mint
FINAL CRISIS (2008) #6 2ND PRINT Near Mint/Mint
FINAL CRISIS (2008) #7 Near Mint/Mint

FINAL CRISIS SECRET FILES (2008) #1 Near Mint/Mint

FINAL CRISIS: LEGION OF THREE WORLDS (2008) #1 Near Mint/Mint
FINAL CRISIS: LEGION OF THREE WORLDS (2008) #2 Near Mint/Mint
FINAL CRISIS: LEGION OF THREE WORLDS (2008) #3 Near Mint/Mint
FINAL CRISIS: LEGION OF THREE WORLDS (2008) #4 Near Mint/Mint
FINAL CRISIS: LEGION OF THREE WORLDS (2008) #5 Near Mint/Mint

FINAL CRISIS: RAGE OF THE RED LANTERNS (2008) #1 Near Mint/Mint

FINAL CRISIS: REQUIEM (2008) #1 Near Mint/Mint

FINAL CRISIS: RESIST (2008) #1 Near Mint/Mint

FINAL CRISIS: REVELATIONS (2008) #1 Near Mint/Mint
FINAL CRISIS: REVELATIONS (2008) #2 Near Mint/Mint
FINAL CRISIS: REVELATIONS (2008) #3 Very Fine
FINAL CRISIS: REVELATIONS (2008) #4 Near Mint/Mint
FINAL CRISIS: REVELATIONS (2008) #5 Near Mint/Mint

FINAL CRISIS: ROGUES' REVENGE (2008) #1 Near Mint/Mint
FINAL CRISIS: ROGUES' REVENGE (2008) #2 Very Fine
FINAL CRISIS: ROGUES' REVENGE (2008) #3 Near Mint/Mint


FINAL CRISIS: SUBMIT (2008) #1

FINAL CRISIS: SUBMIT (2008) #1 Near Mint/Mint

FINAL CRISIS: SUPERMAN BEYOND 3-D (2008) #1 Near Mint/Mint
FINAL CRISIS: SUPERMAN BEYOND 3-D (2008) #1 VARIANT Fine
FINAL CRISIS: SUPERMAN BEYOND 3-D (2008) #2 Fine

FLASHPOINT (2011) (#1-5) (DC) #1 Near Mint/Mint
FLASHPOINT (2011) (#1-5) (DC) #2 Very Fine
FLASHPOINT (2011) (#1-5) (DC) #3 Near Mint/Mint

NAOMI (2019) #1 Near Mint/Mint
NAOMI (2019) #1 3RD PRINT Near Mint/Mint
NAOMI (2019) #1 2ND PRINT Near Mint/Mint
NAOMI (2019) #1 3RD PRINT Very Fine
NAOMI (2019) #1 Very Fine
NAOMI (2019) #2 Near Mint/Mint
NAOMI (2019) #2 2ND PRINT Near Mint/Mint
NAOMI (2019) #2 2ND PRINT Very Fine
NAOMI (2019) #3 Near Mint/Mint
NAOMI (2019) #3 2ND PRINT Near Mint/Mint
NAOMI (2019) #3 2ND PRINT Very Fine
NAOMI (2019) #3 Very Fine
NAOMI (2019) #4 Near Mint/Mint
NAOMI (2019) #4 2ND PRINT Near Mint/Mint
NAOMI (2019) #4 2ND PRINT Very Fine
NAOMI (2019) #4 Very Fine
NAOMI (2019) #5 Near Mint/Mint
NAOMI (2019) #6 Near Mint/Mint
NAOMI (2019) #6 Fine

TEEN TITANS (1980) (#1-91) (DC) #1 Fine


WONDER WOMAN (1942) (#1-329) (DC) #327

WONDER WOMAN (1942) (#1-329) (DC) #327 Very Fine
WONDER WOMAN (1942) (#1-329) (DC) #328 Fine
WONDER WOMAN (1942) (#1-329) (DC) #329 NEWSSTAND Very Good

WONDER WOMAN (1987) (#0-226) (DC) #1 Very Fine

DARK HORSE COMICS
BLACK HAMMER (2016) #1 LEMIRE Near Mint/Mint
BLACK HAMMER (2016) #2 LEMIRE Near Mint/Mint
BLACK HAMMER (2016) #2 ORMSTON Near Mint/Mint
BLACK HAMMER (2016) #3 ORMSTON Near Mint/Mint
BLACK HAMMER (2016) #4 ORMSTON Very Fine
BLACK HAMMER (2016) #5 ORMSTON Near Mint/Mint
BLACK HAMMER (2016) #6 ORMSTON Near Mint/Mint
BLACK HAMMER (2016) #7 LEMIRE Near Mint/Mint
BLACK HAMMER (2016) #8 ORMSTON Near Mint/Mint
BLACK HAMMER (2016) #9 LEMIRE Near Mint/Mint
BLACK HAMMER (2016) #10 LEMIRE Near Mint/Mint
BLACK HAMMER (2016) #11 LEMIRE Near Mint/Mint
BLACK HAMMER (2016) #12 RUBIN Near Mint/Mint
BLACK HAMMER (2016) #13 LEMIRE Near Mint/Mint

BLACK HAMMER GIANT-SIZED ANNUAL (2017) #1 Near Mint/Mint

BLACK HAMMER: AGE OF DOOM (2018) #1 ORMSTON Very Fine
BLACK HAMMER: AGE OF DOOM (2018) #2 ORMSTON Near Mint/Mint


BLACK HAMMER: AGE OF DOOM (2018) #3 ORMSTON

BLACK HAMMER: AGE OF DOOM (2018) #3 ORMSTON Near Mint/Mint
BLACK HAMMER: AGE OF DOOM (2018) #4 HARREN Very Fine
BLACK HAMMER: AGE OF DOOM (2018) #5 A ORMSTON Near Mint/Mint
BLACK HAMMER: AGE OF DOOM (2018) #6 B DALRYMPL Near Mint/Mint
BLACK HAMMER: AGE OF DOOM (2018) #7 A TOMMASO Near Mint/Mint
BLACK HAMMER: AGE OF DOOM (2018) #8 B SIENKIEW Very Fine
BLACK HAMMER: AGE OF DOOM (2018) #9 A ORMSTON Near Mint/Mint
BLACK HAMMER: AGE OF DOOM (2018) #10 B FIFFE Near Mint/Mint
BLACK HAMMER: AGE OF DOOM (2018) #11 A ORMSTON Near Mint/Mint
BLACK HAMMER: AGE OF DOOM (2018) #12 B POPE Near Mint/Mint

GHOST IN THE SHELL (1995) #2 Very Good
GHOST IN THE SHELL (1995) #3 Very Fine
GHOST IN THE SHELL (1995) #4 Very Fine
GHOST IN THE SHELL (1995) #5 Near Mint/Mint

IMAGE COMICS
GEIGER (2021) #1 C FABOK Near Mint/Mint

MAXX (1993) #10 Near Mint/Mint
MAXX (1993) #11 Near Mint/Mint
MAXX (1993) #12 Very Fine
MAXX (1993) #13 Very Fine
MAXX (1993) #14 Fine
MAXX (1993) #15 Very Fine
MAXX (1993) #16 Very Good
MAXX (1993) #17 Very Fine
MAXX (1993) #18 Fine
MAXX (1993) #19 Very Fine
MAXX (1993) #20 Fine

MAXX (1993) #21 Very Good

SPAWN (1992) #1 Very Good

WITCHBLADE (1995) (#1-185, #500) (IMAGE) #2 (Image Top Cow) Fine
WITCHBLADE (1995) (#1-185, #500) (IMAGE) #3 (Image Top Cow) Fine
WITCHBLADE (1995) (#1-185, #500) (IMAGE) #4 (Image Top Cow) Fine
WITCHBLADE (1995) (#1-185, #500) (IMAGE) #5 (Image Top Cow) Fine
WITCHBLADE (1995) (#1-185, #500) (IMAGE) #6 (Image Top Cow) Very Fine
WITCHBLADE (1995) (#1-185, #500) (IMAGE) #7 (Image Top Cow) Fine
WITCHBLADE (1995) (#1-185, #500) (IMAGE) #500 DELUXE (Image Top Cow) Fine

INDEPENDENTS
4001 A.D. (2016) #4 C BODENHEI (Valiant Comics) Near Mint/Mint

4001 A.D.: BLOODSHOT (2016) #1 2ND PRINT (Valiant Comics) Fine
4001 A.D.: BLOODSHOT (2016) #1 A LEE (Valiant Comics) Very Fine

777: THE WRATH (AVATAR) (1997) #1 (Avatar Comics) Fine
777: THE WRATH (AVATAR) (1997) #1 NUDE (Avatar Comics) Near Mint/Mint
777: THE WRATH (AVATAR) (1997) #2 (Avatar Comics) Fine
777: THE WRATH (AVATAR) (1997) #2 NUDE (Avatar Comics) Near Mint/Mint
777: THE WRATH (AVATAR) (1997) #3 NUDE (Avatar Comics) Fine
777: THE WRATH (AVATAR) (1997) #3 (Avatar Comics) Very Fine

CHROMA-TICK SPECIAL EDITION #1 (New England Comics) Fine
CHROMA-TICK SPECIAL EDITION #2 (New England Comics) Very Fine
CHROMA-TICK SPECIAL EDITION #3 (New England Comics) Very Fine
CHROMA-TICK SPECIAL EDITION #4 CLINTON (New England Comics) Very Fine
CHROMA-TICK SPECIAL EDITION #5 (New England Comics) Near Mint/Mint


CHROMA-TICK SPECIAL EDITION #6

CHROMA-TICK SPECIAL EDITION #6 (New England Comics) Very Fine
CHROMA-TICK SPECIAL EDITION #7 (New England Comics) Very Fine
CHROMA-TICK SPECIAL EDITION #8 (New England Comics) Near Mint/Mint

DIVINITY II (2016) #1 B MULLER (Valiant Comics) Near Mint/Mint
DIVINITY II (2016) #1 D HAIRSINE (Valiant Comics) Near Mint/Mint
DIVINITY II (2016) #2 A DJURDJEV (Valiant Comics) Near Mint/Mint
DIVINITY II (2016) #2 D LOTAY (Valiant Comics) Near Mint/Mint
DIVINITY II (2016) #3 A DJURDJEV (Valiant Comics) Near Mint/Mint
DIVINITY II (2016) #3 D CARNERO (Valiant Comics) Near Mint/Mint
DIVINITY II (2016) #4 A DJURDJEV (Valiant Comics) Near Mint/Mint
DIVINITY II (2016) #4 D LOTAY (Valiant Comics) Near Mint/Mint

RAI (1992) (#0-33) (RAI & THE FUTURE FORCE #8-23) #0 (Acclaim/Valiant) Very Fine

RAI (2014) (#1-16) (VALIANT) #15 A MACK (Valiant Comics) Near Mint/Mint
RAI (2014) (#1-16) (VALIANT) #16 A MACK (Valiant Comics) Near Mint/Mint

RAI COMPANION #1 (Acclaim/Valiant) Near Mint/Mint

RICHIE RICH PROFITS (1974) #7 (Harvey Comics) Fine
RICHIE RICH PROFITS (1974) #7 (Harvey Comics) Very Good

STAR WARS: HIGH REPUBLIC ADVENTURES (2021) #7 A TOLIBAO (IDW Publishing) Very Fine

TEENAGE MUTANT NINJA TURTLES ADVENTURES SPECIAL (1992) #4 NEWSSTAND (Archie Comics) Very Good

TICK (1988) (#1-13) (NEW ENGLAND COMICS) #11 (New England Comics) Very Fine

TICK'S GIANT CIRCUS OF THE MIGHTY (1992) #1 (New England Comics) Very Fine
TICK'S GIANT CIRCUS OF THE MIGHTY (1992) #2 (New England Comics) Fine

TICK: KARMA TORNADO (1993) #1 (New England Big Foot Studio) Very Fine

X-O MANOWAR (1992) (#0-68) (VALIANT) #1 (Acclaim/Valiant) Near Mint/Mint

XENOZOIC TALES (1987) #1 (Kitchen Sink Publishing) Fine
XENOZOIC TALES (1987) #1 (Kitchen Sink Publishing) Very Fine
ZEN INTERGALACTIC NINJA (ZEN COMICS)(#1-6) (1987) #1 (Zen Publishing) Fine

ZEN INTERGALACTIC NINJA (ZEN COMICS)(#1-6) (1987) #2 (Zen Publishing) Fine
ZEN INTERGALACTIC NINJA (ZEN COMICS)(#1-6) (1987) #3 (Zen Publishing) Very Fine
ZEN INTERGALACTIC NINJA (ZEN COMICS)(#1-6) (1987) #4 (Zen Publishing) Fine
ZEN INTERGALACTIC NINJA (ZEN COMICS)(#1-6) (1987) #5 (Zen Publishing) Fine
ZEN INTERGALACTIC NINJA (ZEN COMICS)(#1-6) (1987) #6 (Zen Publishing) Very Good

ZEN INTERGALACTIC NINJA (ENTITY)(#0-3)(B&W COMIC) (1993) #0 SIGNED (Entity Comics (Express Comics)) Near Mint/Mint

ZOMBIE TRAMP (2014) #26 B MEDORISU (Danger Zone) Near Mint/Mint
ZOMBIE TRAMP (2014) #26 D MCKAYRIS (Danger Zone) Near Mint/Mint
ZOMBIE TRAMP (2014) #26 F PEKARISQ (Danger Zone) Near Mint/Mint
ZOMBIE TRAMP (2014) #27 D TROMRISU (Danger Zone) Very Fine
ZOMBIE TRAMP (2014) #28 B MENDORIS (Danger Zone) Near Mint/Mint
ZOMBIE TRAMP (2014) #29 B MACCARIS (Danger Zone) Near Mint/Mint
ZOMBIE TRAMP (2014) #30 F FISCHRIS (Danger Zone) Fine
ZOMBIE TRAMP (2014) #32 A CELOR (Danger Zone) Near Mint/Mint
ZOMBIE TRAMP (2014) #32 E YOUNG (Danger Zone) Near Mint/Mint
ZOMBIE TRAMP (2014) #33 D MACCARIS (Danger Zone) Near Mint/Mint
ZOMBIE TRAMP (2014) #34 A MENDOZA (Danger Zone) Very Fine
ZOMBIE TRAMP (2014) #38 B MENDORIS (Danger Zone) Fine
ZOMBIE TRAMP (2014) #38 D WEAVERIS (Danger Zone) Near Mint/Mint
ZOMBIE TRAMP (2014) #39 A MENDOZA (Danger Zone) Near Mint/Mint
ZOMBIE TRAMP (2014) #39 D CAMPORIS (Danger Zone) Near Mint/Mint


ZOMBIE TRAMP (2014) #39 F SEVILRIS

ZOMBIE TRAMP (2014) #39 F SEVILRIS (Danger Zone) Very Fine
ZOMBIE TRAMP (2014) #40 D XIURISQ (Danger Zone) Near Mint/Mint
ZOMBIE TRAMP (2014) #41 D KING RIS (Danger Zone) Near Mint/Mint
ZOMBIE TRAMP (2014) #42 B CELORRIS (Danger Zone) Very Fine
ZOMBIE TRAMP (2014) #42 C MEDOZA (Danger Zone) Fine
ZOMBIE TRAMP (2014) #42 D MENDORIS (Danger Zone) Fine
ZOMBIE TRAMP (2014) #44 A CELOR (Danger Zone) Near Mint/Mint
ZOMBIE TRAMP (2014) #44 F MENDORIS (Danger Zone) Very Fine
ZOMBIE TRAMP (2014) #59 D MCKAYRIS (Danger Zone) Near Mint/Mint
ZOMBIE TRAMP (2014) #61 B MACCARIS (Danger Zone) Near Mint/Mint
ZOMBIE TRAMP (2014) #62 B MACCARIS (Danger Zone) Very Fine
ZOMBIE TRAMP (2014) #64 D MASTARIS (Danger Zone) Fine