Chuck Buys FF #1-#400, Superman #7
Howdy!
After four days of looking at private collections on my current East Coast journey, I am now 6-for-6 (!) in completed transactions. That includes the amazing collection of 12,000+ comics and books that I purchased on a scenic hilltop in the Appalachia Mountains of West Virginia, late last night. Included in that one wonderful collection were over 1,000 Silver and Bronze Age comics, including several key issues that have been in remarkably high demand during the past six months. Simply put, purchasing just that one lifetime accumulation would have easily justified my entire 3,000+ mile drive to the East Coast.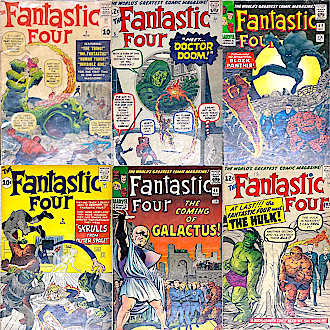 Some of the FANTASTIC FOUR issues from the West Virginia collecion

That having been said, it would make a lot of sense for me to just turn around, and go home. I truly have no common sense, however, and love buying old comic books with all my heart, so I am going to (once again…) unload my overstuffed cargo van at FedEx Freight, and then move on to look at even more private comics and toy collections later this evening. Honestly, this is as much out of obligation as it is out of desire, as Pam set up 14 home visits for me on this trip, and thus far I have only managed five from that original itinerary.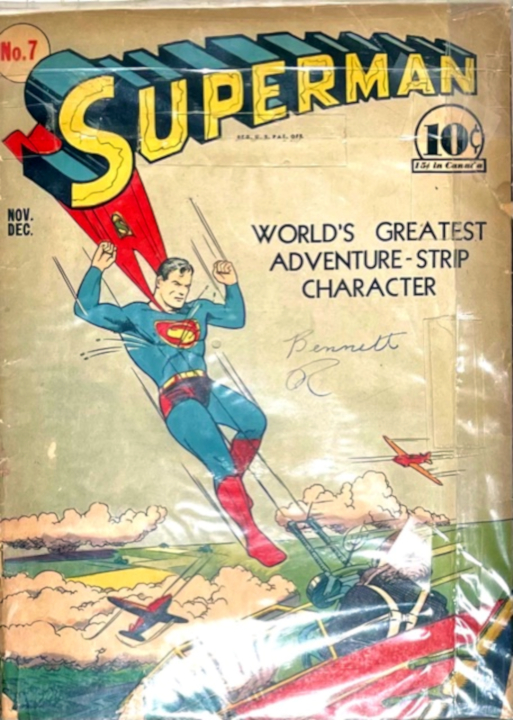 SUPERMAN #7 from the West Virginia collecion

I will try to pick up the pace later this week, but I honestly do not know if my body will hold up. Carrying 3,000 lbs out of that basement last night, and then loading it up to the ceiling of my cargo van, is a young man's game. I am now pushing 67 years old, and have survived West Nile encephalitis (twice), Melanoma, a major groin hernia, and now have had to go through double cataract surgery. As much as the thought pains me, my body is starting to give out on me, and as a direct result, this may well turn out to be one of my last cross country trips. Sigh…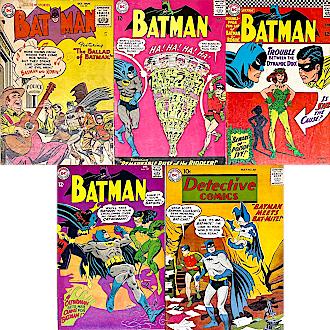 Some of the BATMAN issues from the West Virginia collecion

I will close by thanking everyone who has contributed to my ability to buy all of these wonderful collections. Without your 60% off THANKSGIVING! codeword orders coming in via our website, I would have had no choice but to already return home, as I have been quite generous with those who have been allowing me to purchase their collections. To me, however, that is only the fair thing to do, especially for those people who have been lifelong Mile High Comics clients. As much as my beloved wife, Nanette, encourages me to be extremely frugal so that she can continue to pay our company operating costs, I feel a moral and ethical obligation to pay the absolutely the most that I possibly can to those who have so enthusiastically supported us over the past 50 years. I'll never get rich by overpaying for collections, but I do sleep really well at night after just doing the right thing, and striving to always be completely fair. To me, that's good enough.
Happy collecting!
Chuck Rozanski/Bettie Pages,
President - Mile High Comics, Inc.
December 1, 2021

P.S. Below is a listing of great comics that Will and Pam have been purchasing from fans in Denver, simultaneous to my buying of collections on the East Coast. Nanette is getting (more than a bit) tense, so I am going to keep our 60% off THANKSGIVING! codeword sale going for you through next Monday, at noon. That codeword extension is actually more painful for us than you might think, as that very generous 60% off discount applies to all ten million+ of our back issues listed in our website, including ALL of our raw Silver Age and Bronze Age titles. Not surprisingly, those older titles are being purchased in great numbers at 60% off. Only new issues, a few variants, and our professionally-graded comics are exempt from the codeword. Please do enjoy this last opportunity to save so much before the holiday season, and thank you ever so much for helping us to help so many other comics fans.
MARVEL
A-TEAM (1984) #1 Good
A-TEAM (1984) #3 Good

ADVENTURES OF KOOL-AID MAN (1984) (MARVEL) #2 DENVER Good

AVENGERS: FAIRY TALES (2008) #1 Near Mint/Mint

DAREDEVIL (1964) (#1-380) (MAN WITHOUT FEAR) (MARVEL) #186 Fine
DAREDEVIL (1964) (#1-380) (MAN WITHOUT FEAR) (MARVEL) #188 Very Good
DAREDEVIL (1964) (#1-380) (MAN WITHOUT FEAR) (MARVEL) #190 Fine
DAREDEVIL (1964) (#1-380) (MAN WITHOUT FEAR) (MARVEL) #241 Near Mint/Mint

FANTASTIC FOUR (1961) (#1-416) (MARVEL) #83 Very Good
FANTASTIC FOUR (1961) (#1-416) (MARVEL) #124 Good
FANTASTIC FOUR (1961) (#1-416) (MARVEL) #146 Good
FANTASTIC FOUR (1961) (#1-416) (MARVEL) #155 Fine

FANTASTIC FOUR ANNUAL (1963) #13 Very Good

FANTASY MASTERPIECES (1979) #3 NEWSSTAND Very Good

GHOST RIDER (1973) (#1-81) (MARVEL) #2 Fine
GHOST RIDER (1973) (#1-81) (MARVEL) #3 Fine
GHOST RIDER (1973) (#1-81) (MARVEL) #5 Fine
GHOST RIDER (1973) (#1-81) (MARVEL) #6 Fine
GHOST RIDER (1973) (#1-81) (MARVEL) #7 Fine
GHOST RIDER (1973) (#1-81) (MARVEL) #8 Fine
GHOST RIDER (1973) (#1-81) (MARVEL) #10 Very Good
GHOST RIDER (1973) (#1-81) (MARVEL) #11 Very Good
GHOST RIDER (1973) (#1-81) (MARVEL) #14 Good
GHOST RIDER (1973) (#1-81) (MARVEL) #19 Very Good


GHOST RIDER (1973) (#1-81) (MARVEL) #20

GHOST RIDER (1973) (#1-81) (MARVEL) #20 Fine
GHOST RIDER (1973) (#1-81) (MARVEL) #21 Fine
GHOST RIDER (1973) (#1-81) (MARVEL) #22 Fine
GHOST RIDER (1973) (#1-81) (MARVEL) #23 Fine
GHOST RIDER (1973) (#1-81) (MARVEL) #24 Fine
GHOST RIDER (1973) (#1-81) (MARVEL) #26 Very Good
GHOST RIDER (1973) (#1-81) (MARVEL) #27 Fine
GHOST RIDER (1973) (#1-81) (MARVEL) #29 Fine
GHOST RIDER (1973) (#1-81) (MARVEL) #30 Very Good
GHOST RIDER (1973) (#1-81) (MARVEL) #31 Fine
GHOST RIDER (1973) (#1-81) (MARVEL) #32 Very Fine
GHOST RIDER (1973) (#1-81) (MARVEL) #33 Very Fine
GHOST RIDER (1973) (#1-81) (MARVEL) #35 Fine
GHOST RIDER (1973) (#1-81) (MARVEL) #37 Fine
GHOST RIDER (1973) (#1-81) (MARVEL) #38 Very Fine
GHOST RIDER (1973) (#1-81) (MARVEL) #39 Fine
GHOST RIDER (1973) (#1-81) (MARVEL) #40 Fine

HULK (1962) (#1-6, #102-474, #600-635)(INCREDIBLE)(MV) #1 WAL-MART Good
HULK (1962) (#1-6, #102-474, #600-635)(INCREDIBLE)(MV) #271 NEWSSTAND Good
HULK (1962) (#1-6, #102-474, #600-635)(INCREDIBLE)(MV) #339 Fine

INDIANA JONES (1983) (#1-34) (MARVEL) (FURTHER ADV..) #1 Very Fine

IRON MAN (1968) (#1-332) (INVINCIBLE IRON MAN)(MARVEL) #92 Good
IRON MAN (1998) (#1-89) (MARVEL) #22 Very Fine

MARVEL PREMIERE (1972) #49 NEWSSTAND Very Fine

MASTERS OF THE UNIVERSE (1986) (#1-13) (MARVEL) #4 NEWSSTAND (Marvel Star) Fair


MASTERS OF THE UNIVERSE (1986) (#1-13) (MARVEL) #8 NEWSSTAND

MASTERS OF THE UNIVERSE (1986) (#1-13) (MARVEL) #8 NEWSSTAND (Marvel Star) Good
MASTERS OF THE UNIVERSE (1986) (#1-13) (MARVEL) #11 NEWSSTAND (Marvel Star) Very Good

MASTERS OF THE UNIVERSE MOTION PICTURE (1987) #1 NEWSSTAND (Marvel Star) Very Good

PUNISHER (1987) (#1-104) (MARVEL) #1 NEWSSTAND Very Fine
PUNISHER (1987) (#1-104) (MARVEL) #6 Near Mint/Mint

PUNISHER WAR JOURNAL (1988)(#1-80) #6 Fine

SPIDER-MAN (1963) (AMAZING SPIDER-MAN) (#1-441) #119 Very Good
SPIDER-MAN (1963) (AMAZING SPIDER-MAN) (#1-441) #249 Fine
SPIDER-MAN (1963) (AMAZING SPIDER-MAN) (#1-441) #323 NEWSSTAND Fine
SPIDER-MAN (1963) (AMAZING SPIDER-MAN) (#1-441) #328 Fine
SPIDER-MAN (1963) (AMAZING SPIDER-MAN) (#1-441) #328 NEWSSTAND Very Fine

STAR WARS (2015) (#1-75) (MARVEL) #40 Fine
STAR WARS (2015) (#1-75) (MARVEL) #46 Near Mint/Mint

STAR WARS: POE DAMERON ANNUAL (2017) #2 SHALVEY Near Mint/Mint

STAR WARS: THE LAST JEDI - DJ: MOST WANTED (2017) #1 Very Fine

STAR WARS: THE LAST JEDI - STORMS OF CRAIT (2017) #1 Near Mint/Mint

STAR WARS: THE LAST JEDI - STORMS OF CRAIT (2017) #1 MOVIE CVR Near Mint/Mint

STAR WARS: THRAWN (2018) #1 ANIMATION Fine

SUPER-HEROES GIANT-SIZE (1974) #1 Very Good

VENOM: FIRST HOST (2018) #1 RIVERA Very Fine

WEAPON H (2018) #10 Near Mint/Mint

WEAPON X (2017) (#1-UP) (MARVEL) #12 Near Mint/Mint

X 23 (2018) (#1-UP) (MARVEL) #3 Near Mint/Mint

X-MEN (1963) (#1-113, UNCANNY X-MEN #114-544) (MARVEL) #225 Near Mint/Mint
X-MEN (1963) (#1-113, UNCANNY X-MEN #114-544) (MARVEL) #234 Fine
X-MEN (1963) (#1-113, UNCANNY X-MEN #114-544) (MARVEL) #239 Fine
X-MEN (1963) (#1-113, UNCANNY X-MEN #114-544) (MARVEL) #241 Near Mint/Mint
X-MEN (1963) (#1-113, UNCANNY X-MEN #114-544) (MARVEL) #242 Near Mint/Mint
X-MEN (1963) (#1-113, UNCANNY X-MEN #114-544) (MARVEL) #244 Fine
X-MEN (1963) (#1-113, UNCANNY X-MEN #114-544) (MARVEL) #245 Fine
X-MEN (1963) (#1-113, UNCANNY X-MEN #114-544) (MARVEL) #248 Very Good
X-MEN (1963) (#1-113, UNCANNY X-MEN #114-544) (MARVEL) #251 NEWSSTAND Fine
X-MEN (1963) (#1-113, UNCANNY X-MEN #114-544) (MARVEL) #254 Fine
X-MEN (1963) (#1-113, UNCANNY X-MEN #114-544) (MARVEL) #255 Near Mint/Mint
X-MEN (1963) (#1-113, UNCANNY X-MEN #114-544) (MARVEL) #256 Fine
X-MEN (1963) (#1-113, UNCANNY X-MEN #114-544) (MARVEL) #257 Fine
X-MEN (1963) (#1-113, UNCANNY X-MEN #114-544) (MARVEL) #258 Fine
X-MEN (1963) (#1-113, UNCANNY X-MEN #114-544) (MARVEL) #267 Very Fine
X-MEN (1963) (#1-113, UNCANNY X-MEN #114-544) (MARVEL) #268 Fine
X-MEN (1963) (#1-113, UNCANNY X-MEN #114-544) (MARVEL) #269 Near Mint/Mint

X-MEN BLUE (2017) #18 Near Mint/Mint
X-MEN BLUE (2017) #34 Near Mint/Mint

X-MEN GOLD (2017) #25 Near Mint/Mint

X-MEN GOLD ANNUAL (2018) #1 Near Mint/Mint

DC

ACTION COMICS (1938) (#0-600, 643-904) (DC) #466

ACTION COMICS (1938) (#0-600, 643-904) (DC) #466 Very Fine

ADVENTURE COMICS (1938) (#32-503) (DC) #453 Fine
ADVENTURE COMICS (1938) (#32-503) (DC) #459 Very Fine
ADVENTURE COMICS (1938) (#32-503) (DC) #461 Very Fine
ADVENTURE COMICS (1938) (#32-503) (DC) #463 Very Fine

ADVENTURES OF SUPERMAN (#0,#424-649) (1987) #497 Near Mint/Mint

ALL-STAR SQUADRON (1981) #47 Fine

BATMAN (1940) (#0-713) (DC) #404 Fine
BATMAN (1940) (#0-713) (DC) #405 Fine
BATMAN (1940) (#0-713) (DC) #406 Fine
BATMAN (1940) (#0-713) (DC) #407 Fine
BATMAN (1940) (#0-713) (DC) #414 NEWSSTAND Fine
BATMAN (1940) (#0-713) (DC) #421 NEWSSTAND Fine
BATMAN (1940) (#0-713) (DC) #422 NEWSSTAND Good
BATMAN (1940) (#0-713) (DC) #423 NEWSSTAND Good
BATMAN (1940) (#0-713) (DC) #424 NEWSSTAND Very Good
BATMAN (1940) (#0-713) (DC) #425 NEWSSTAND Very Good
BATMAN (1940) (#0-713) (DC) #426 Fine
BATMAN (1940) (#0-713) (DC) #427 Fine
BATMAN (1940) (#0-713) (DC) #428 Fine
BATMAN (1940) (#0-713) (DC) #429 Fine
BATMAN (1940) (#0-713) (DC) #430 Fine
BATMAN (1940) (#0-713) (DC) #431 NEWSSTAND Very Fine
BATMAN (1940) (#0-713) (DC) #454 Very Fine
BATMAN (1940) (#0-713) (DC) #456 Very Fine
BATMAN (1940) (#0-713) (DC) #457 Near Mint/Mint

BATMAN ADVENTURES (1992) #7 Near Mint/Mint

BATMAN: THE KILLING JOKE (ALAN MOORE) (1988) #1 Very Fine

CATWOMAN/VAMPIRELLA: FURIES (1997) #1 Near Mint/Mint

DETECTIVE COMICS (1937) (#0-881) (DC) #577 Fine
DETECTIVE COMICS (1937) (#0-881) (DC) #578 Fine
DETECTIVE COMICS (1937) (#0-881) (DC) #602 NEWSSTAND Fine
DETECTIVE COMICS (1937) (#0-881) (DC) #603 NEWSSTAND Fine

FOREVER PEOPLE (1971) #9 Fine
FOREVER PEOPLE (1971) #10 Fine
FOREVER PEOPLE (1971) #10 Good

GREEN LANTERN (1960) (#1-224) (DC) #46 Very Fine
GREEN LANTERN (1960) (#1-224) (DC) #50 Near Mint/Mint

SUPERMAN (2016) (#1-45) (DC REBIRTH) #39 VARIANT Very Fine

SUPERMAN SPECIAL (2018) #1 Near Mint/Mint

SUPERMAN/TOP CAT SPECIAL (2018) #1 Fine

SUPERWOMAN (DC REBIRTH) (2016) #17 VARIANT Fine

SWAMP THING, SAGA OF (1982) #52 (DC: Vertigo Press) Very Good
SWAMP THING, SAGA OF (1982) #53 NEWSSTAND (DC: Vertigo Press) Fine
SWAMP THING, SAGA OF (1982) #67 (DC: Vertigo Press) Near Mint/Mint


TEEN TITANS (1980) (#1-91) (DC) #42 NEWSSTAND

TEEN TITANS (1980) (#1-91) (DC) #42 NEWSSTAND Fine

TEEN TITANS (2016) (#1-UP) (DC REBIRTH) #15 Fine
TEEN TITANS (2016) (#1-UP) (DC REBIRTH) #15 Very Fine

TEEN TITANS ANNUAL (1982) #1 NEWSSTAND Very Good

TEEN TITANS GO! (2014) #30 Near Mint/Mint

TITANS (2016) (#1-UP) (DC REBIRTH) #20 VARIANT Near Mint/Mint

TRINITY (2016) (#1-UP) (DC REBIRTH) #17 VARIANT Near Mint/Mint

UNEXPECTED (1956) (TALES OF THE UNEXPECTED #1-104) #157 Fine

WONDER WOMAN (2016) (#1-83, #750-UP) (DC REBIRTH) #36 VARIANT Near Mint/Mint
WONDER WOMAN (2016) (#1-83, #750-UP) (DC REBIRTH) #39 Near Mint/Mint
WONDER WOMAN (2016) (#1-83, #750-UP) (DC REBIRTH) #39 Very Fine

WORLDS FINEST (1941) (#2-323) (DC) (WORLD'S FINEST) #164 Fine
WORLDS FINEST (1941) (#2-323) (DC) (WORLD'S FINEST) #171 Very Good
WORLDS FINEST (1941) (#2-323) (DC) (WORLD'S FINEST) #173 Very Good
WORLDS FINEST (1941) (#2-323) (DC) (WORLD'S FINEST) #174 Fine
WORLDS FINEST (1941) (#2-323) (DC) (WORLD'S FINEST) #180 Fine

DARK HORSE COMICS
STAR WARS (1998) (#0-83) (DARK HORSE) #28 Fine


STAR WARS: JEDI QUEST (2001) #1

STAR WARS: JEDI QUEST (2001) #1 Fine

STAR WARS: KNIGHTS OF THE OLD REPUBLIC (2005) #3 NEWSSTAND Fine

STAR WARS: PURGE ONE-SHOT - LAST STAND OF THE JEDI (2005) #1 NEWSSTAND Very Good

IMAGE COMICS
DARKCHYLDE PREVIEW #1 (Image Homage) Near Mint/Mint

WALKING DEAD (2003) (#1-193) (IMAGE) #111 Very Fine
WALKING DEAD (2003) (#1-193) (IMAGE) #112 Very Fine
WALKING DEAD (2003) (#1-193) (IMAGE) #113 Very Fine
WALKING DEAD (2003) (#1-193) (IMAGE) #114 Near Mint/Mint
WALKING DEAD (2003) (#1-193) (IMAGE) #115 A Near Mint/Mint
WALKING DEAD (2003) (#1-193) (IMAGE) #116 Near Mint/Mint
WALKING DEAD (2003) (#1-193) (IMAGE) #117 Near Mint/Mint
WALKING DEAD (2003) (#1-193) (IMAGE) #118 Near Mint/Mint
WALKING DEAD (2003) (#1-193) (IMAGE) #119 Near Mint/Mint
WALKING DEAD (2003) (#1-193) (IMAGE) #120 Near Mint/Mint
WALKING DEAD (2003) (#1-193) (IMAGE) #121 Near Mint/Mint
WALKING DEAD (2003) (#1-193) (IMAGE) #122 Near Mint/Mint
WALKING DEAD (2003) (#1-193) (IMAGE) #123 Near Mint/Mint
WALKING DEAD (2003) (#1-193) (IMAGE) #124 Near Mint/Mint
WALKING DEAD (2003) (#1-193) (IMAGE) #125 Very Fine
WALKING DEAD (2003) (#1-193) (IMAGE) #126 Near Mint/Mint
WALKING DEAD (2003) (#1-193) (IMAGE) #127 Near Mint/Mint
WALKING DEAD (2003) (#1-193) (IMAGE) #128 Near Mint/Mint
WALKING DEAD (2003) (#1-193) (IMAGE) #129 Near Mint/Mint
WALKING DEAD (2003) (#1-193) (IMAGE) #130 Near Mint/Mint
WALKING DEAD (2003) (#1-193) (IMAGE) #131 Near Mint/Mint
WALKING DEAD (2003) (#1-193) (IMAGE) #132 Near Mint/Mint
WALKING DEAD (2003) (#1-193) (IMAGE) #133 Near Mint/Mint


WALKING DEAD (2003) (#1-193) (IMAGE) #134

WALKING DEAD (2003) (#1-193) (IMAGE) #134 Near Mint/Mint
WALKING DEAD (2003) (#1-193) (IMAGE) #135 Near Mint/Mint
WALKING DEAD (2003) (#1-193) (IMAGE) #136 Near Mint/Mint
WALKING DEAD (2003) (#1-193) (IMAGE) #137 Near Mint/Mint
WALKING DEAD (2003) (#1-193) (IMAGE) #138 Near Mint/Mint
WALKING DEAD (2003) (#1-193) (IMAGE) #139 Very Fine
WALKING DEAD (2003) (#1-193) (IMAGE) #140 Near Mint/Mint
WALKING DEAD (2003) (#1-193) (IMAGE) #141 Near Mint/Mint
WALKING DEAD (2003) (#1-193) (IMAGE) #142 Near Mint/Mint
WALKING DEAD (2003) (#1-193) (IMAGE) #143 Near Mint/Mint
WALKING DEAD (2003) (#1-193) (IMAGE) #144 Near Mint/Mint
WALKING DEAD (2003) (#1-193) (IMAGE) #145 Fine
WALKING DEAD (2003) (#1-193) (IMAGE) #146 Near Mint/Mint
WALKING DEAD (2003) (#1-193) (IMAGE) #147 Near Mint/Mint
WALKING DEAD (2003) (#1-193) (IMAGE) #148 Near Mint/Mint
WALKING DEAD (2003) (#1-193) (IMAGE) #149 Near Mint/Mint
WALKING DEAD (2003) (#1-193) (IMAGE) #150 A ADLARD Near Mint/Mint
WALKING DEAD (2003) (#1-193) (IMAGE) #151 Near Mint/Mint
WALKING DEAD (2003) (#1-193) (IMAGE) #152 Near Mint/Mint
WALKING DEAD (2003) (#1-193) (IMAGE) #153 Near Mint/Mint
WALKING DEAD (2003) (#1-193) (IMAGE) #154 Near Mint/Mint
WALKING DEAD (2003) (#1-193) (IMAGE) #155 Near Mint/Mint
WALKING DEAD (2003) (#1-193) (IMAGE) #156 Near Mint/Mint
WALKING DEAD (2003) (#1-193) (IMAGE) #157 A ADLARD Near Mint/Mint
WALKING DEAD (2003) (#1-193) (IMAGE) #158 A ADLARD Near Mint/Mint
WALKING DEAD (2003) (#1-193) (IMAGE) #159 A ADLARD Near Mint/Mint
WALKING DEAD (2003) (#1-193) (IMAGE) #160 A ADLARD Near Mint/Mint
WALKING DEAD (2003) (#1-193) (IMAGE) #161 A ADLARD Near Mint/Mint
WALKING DEAD (2003) (#1-193) (IMAGE) #162 A ADLARD Near Mint/Mint
WALKING DEAD (2003) (#1-193) (IMAGE) #163 A ADLARD Near Mint/Mint
WALKING DEAD (2003) (#1-193) (IMAGE) #164 A ADLARD Near Mint/Mint


WALKING DEAD (2003) (#1-193) (IMAGE) #165

WALKING DEAD (2003) (#1-193) (IMAGE) #165 Near Mint/Mint
WALKING DEAD (2003) (#1-193) (IMAGE) #166 Near Mint/Mint
WALKING DEAD (2003) (#1-193) (IMAGE) #167 Near Mint/Mint
WALKING DEAD (2003) (#1-193) (IMAGE) #167 DFE S&N Near Mint/Mint
WALKING DEAD (2003) (#1-193) (IMAGE) #168 A ADLARD Near Mint/Mint
WALKING DEAD (2003) (#1-193) (IMAGE) #169 Near Mint/Mint
WALKING DEAD (2003) (#1-193) (IMAGE) #170 Near Mint/Mint
WALKING DEAD (2003) (#1-193) (IMAGE) #171 B DEFELICI Near Mint/Mint
WALKING DEAD (2003) (#1-193) (IMAGE) #172 Near Mint/Mint
WALKING DEAD (2003) (#1-193) (IMAGE) #173 Near Mint/Mint
WALKING DEAD (2003) (#1-193) (IMAGE) #174 Near Mint/Mint
WALKING DEAD (2003) (#1-193) (IMAGE) #175 A ADLARD Near Mint/Mint
WALKING DEAD (2003) (#1-193) (IMAGE) #176 A ADLARD Near Mint/Mint
WALKING DEAD (2003) (#1-193) (IMAGE) #177 A ADLARD Near Mint/Mint
WALKING DEAD (2003) (#1-193) (IMAGE) #178 A ADLARD Near Mint/Mint
WALKING DEAD (2003) (#1-193) (IMAGE) #179 A ADLARD Near Mint/Mint
WALKING DEAD (2003) (#1-193) (IMAGE) #180 A ADLARD Near Mint/Mint
WALKING DEAD (2003) (#1-193) (IMAGE) #181 A ADLARD Near Mint/Mint
WALKING DEAD (2003) (#1-193) (IMAGE) #182 A ADLARD Near Mint/Mint
WALKING DEAD (2003) (#1-193) (IMAGE) #183 A ADLARD Near Mint/Mint
WALKING DEAD (2003) (#1-193) (IMAGE) #184 A ADLARD Near Mint/Mint
WALKING DEAD (2003) (#1-193) (IMAGE) #185 A ADLARD Very Fine
WALKING DEAD (2003) (#1-193) (IMAGE) #186 A ADLARD Near Mint/Mint
WALKING DEAD (2003) (#1-193) (IMAGE) #187 Near Mint/Mint
WALKING DEAD (2003) (#1-193) (IMAGE) #188 Very Fine
WALKING DEAD (2003) (#1-193) (IMAGE) #189 Near Mint/Mint
WALKING DEAD (2003) (#1-193) (IMAGE) #190 Near Mint/Mint
WALKING DEAD (2003) (#1-193) (IMAGE) #191 Near Mint/Mint
WALKING DEAD (2003) (#1-193) (IMAGE) #192 A ADLARD Near Mint/Mint
WALKING DEAD (2003) (#1-193) (IMAGE) #193 Near Mint/Mint

YOUNGBLOOD (2017) (#1-UP) (IMAGE) #9 A TOWE Near Mint/Mint

INDEPENDENTS

ARCHIE'S VACATION SPECIAL (1994) #1

ARCHIE'S VACATION SPECIAL (1994) #1 (Archie Comics) Very Good

ARCHIE'S VACATION SPECIAL (1994) #2 NEWSSTAND (Archie Comics) Very Good

ARCHIE: LOVE SHOWDOWN SPECIAL (1994) #1 NEWSSTAND (Archie Comics) Good

BETTY AND VERONICA (1987) #70 NEWSSTAND (Archie Comics) Very Good
BETTY AND VERONICA (1987) #77 NEWSSTAND (Archie Comics) Very Good
BETTY AND VERONICA (1987) #78 NEWSSTAND (Archie Comics) Very Good

BORN AGAIN (1978) #1 39 CENT CV (Archie: Spire Christian Comics) Fair

CARNEYS (1994) #1 NEWSSTAND (Archie Comics) Very Good

EDDY CURRENT (1987) #2 (Mad Dog Graphics) Fine
EDDY CURRENT (1987) #3 (Mad Dog Graphics) Fine
EDDY CURRENT (1987) #4 (Mad Dog Graphics) Very Fine
EDDY CURRENT (1987) #5 (Mad Dog Graphics) Near Mint/Mint
EDDY CURRENT (1987) #6 (Mad Dog Graphics) Very Fine
EDDY CURRENT (1987) #7 (Mad Dog Graphics) Fine
EDDY CURRENT (1987) #8 (Mad Dog Graphics) Fine
EDDY CURRENT (1987) #9 (Mad Dog Graphics) Very Fine
EDDY CURRENT (1987) #10 (Mad Dog Graphics) Fine
EDDY CURRENT (1987) #11 (Mad Dog Graphics) Fine
EDDY CURRENT (1987) #12 (Mad Dog Graphics) Fine

FROM HELL (1991) #1 2ND PRINT (Tundra Publishing) Fine

HATE (PETER BAGGE) (1990) #1 (Fantagraphics) Fine
HATE (PETER BAGGE) (1990) #2 (Fantagraphics) Very Fine
HATE (PETER BAGGE) (1990) #3 (Fantagraphics) Fine

HATE (PETER BAGGE) (1990) #6 (Fantagraphics) Near Mint/Mint
HATE (PETER BAGGE) (1990) #10 (Fantagraphics) Very Fine
HATE (PETER BAGGE) (1990) #12 (Fantagraphics) Fine
HATE (PETER BAGGE) (1990) #28 (Fantagraphics) Fine

JOSIE AND THE PUSSYCATS (1993) #1 NEWSSTAND (Archie Comics) Good
JOSIE AND THE PUSSYCATS (1993) #2 NEWSSTAND (Archie Comics) Very Good

MIRACLEMAN (1985) (#1-24) (ECLIPSE) #17 (Eclipse Enterprises) Fine

NEW ARCHIES (1987) #7 NEWSSTAND (Archie Comics) Very Good

NEW KIDS ON THE BLOCK (HARVEY) (1990) #1 NEWSSTAND (Harvey Comics) Good

REAL GHOSTBUSTERS (1988) #2 (Now Comics) Fine
REAL GHOSTBUSTERS (1988) #2 (Now Comics) Very Good

REGGIE'S REVENGE (1994) #1 NEWSSTAND (Archie Comics) Very Good

SABRINA'S HOLIDAY SPECTACULAR (1993) #2 NEWSSTAND (Archie Comics) Good

SAD SACK AND THE SARGE (1957) #139 (Harvey Comics) Fine

SHADOWMAN (1992) (#0-43) (VALIANT) #1 (Acclaim/Valiant) Very Fine

STAR WARS ADVENTURES (2017) (#1-32) (IDW Publishing) #15 A MAURICET (IDW Publishing) Very Fine

STEVEN UNIVERSE (2017) #21 PENA (Boom Studios Publishing) Near Mint/Mint

TAROT: WITCH OF THE BLACK ROSE (2000) #47 (Broadsword Comics) Near Mint/Mint


THREE STOOGES (1962) (#10-55) (GOLD KEY) #17

THREE STOOGES (1962) (#10-55) (GOLD KEY) #17 (Gold Key) Fair
THREE STOOGES (1962) (#10-55) (GOLD KEY) #43 (Gold Key) Fair

THRILL-O-RAMA (1965) #1 (Harvey Comics) Very Good

TOP COMICS (1967) #1 BEAGLEBOYS (Top Comics) Good
TOP COMICS (1967) #1 D. DUCK (Top Comics) Very Good
TOP COMICS (1967) #1 DAFFY DUCK (Top Comics) Very Good
TOP COMICS (1967) #1 GNOMEMOBIL (Top Comics) Very Good
TOP COMICS (1967) #1 JETSONS (Top Comics) Very Good
TOP COMICS (1967) #1 MICKEY (Top Comics) Fine
TOP COMICS (1967) #1 PORKY PIG (Top Comics) Very Good
TOP COMICS (1967) #1 SCAMP (Top Comics) Fair
TOP COMICS (1967) #1 SUPER GOOF (Top Comics) Good
TOP COMICS (1967) #1 ZORRO (Top Comics) Very Good
TOP COMICS (1967) #2 3 STOOGES (Top Comics) Good
TOP COMICS (1967) #2 MICKEY (Top Comics) Very Good
TOP COMICS (1967) #2 PORKY PIG (Top Comics) Good
TOP COMICS (1967) #2 TOM&JERRY (Top Comics) Good
TOP COMICS (1967) #2 TWEETY (Top Comics) Very Good
TOP COMICS (1967) #2 YOGI BEAR (Top Comics) Very Good
TOP COMICS (1967) #2 ZORRO (Top Comics) Very Good
TOP COMICS (1967) #3 SCROOGE (Top Comics) Good
TOP COMICS (1967) #3 TOM&JERRY (Top Comics) Good

TOYETICA (2017) #8 (Action Lab Entertainment) Very Fine

TRANSFORMERS: BUMBLEBEE MOVIE PREQUEL (2018) #3 B OSSIO (IDW Publishing) Fine

TRANSFORMERS: LOST LIGHT (2016) #12 B ROCHE (IDW Publishing) Fine

TRANSFORMERS: UNICRON (2018) #1 B RAIZ (IDW Publishing) Near Mint/Mint
TRANSFORMERS: UNICRON (2018) #2 B RAIZ (IDW Publishing) Near Mint/Mint


TRANSIT (TED MCKEEVER'S) (1987) #1

TRANSIT (TED MCKEEVER'S) (1987) #1 (Vortex Comics, Inc.) Fine
TRANSIT (TED MCKEEVER'S) (1987) #2 (Vortex Comics, Inc.) Fine
TRANSIT (TED MCKEEVER'S) (1987) #3 (Vortex Comics, Inc.) Fine
TRANSIT (TED MCKEEVER'S) (1987) #4 (Vortex Comics, Inc.) Very Good
TRANSIT (TED MCKEEVER'S) (1987) #5 (Vortex Comics, Inc.) Fine

TUROK (2017) (#1-5) (DYNAMITE) #5 A LOPRESTI (DYNAMITE Entertainment) Very Fine

TWEETY AND SYLVESTER (1952) (#1-37) (Dell Publishing) #13 (Dell Publishing) Fair

UNCENSORED MOUSE #1 UNBAGGED (Eternity Comics (World/Imperial)) Fine

UNCLE SCROOGE (1962) (GOLD KEY) (#40-173) #97 (Gold Key) Fair
UNCLE SCROOGE (1962) (GOLD KEY) (#40-173) #115 (Gold Key) Good

UNDERDOG (1970) (#1-10) (CHARLTON) #8 (Charlton) Fair

VAMPBLADE: SEASON 2 (2017) #10 D WHITARIS (Action Lab Entertainment) Near Mint/Mint
VAMPBLADE: SEASON 2 (2017) #10 E GRANSAUL (Action Lab Entertainment) Near Mint/Mint
VAMPBLADE: SEASON 2 (2017) #10 F GRANSRIS (Action Lab Entertainment) Near Mint/Mint

VAMPIRELLA (2017) (#0-11) (DYNAMITE) #9 A TAN (DYNAMITE Entertainment) Near Mint/Mint

VERONICA (1989) #35 NEWSSTAND (Archie Comics) Good
VERONICA (1989) #36 NEWSSTAND (Archie Comics) Good
VERONICA (1989) #38 (Archie Comics) Very Good
VERONICA (1989) #39 (Archie Comics) Very Good
VERONICA (1989) #40 (Archie Comics) Very Good

VERONICA (1989) #42 (Archie Comics) Very Good

WALLY (1962) #2 (Gold Key) Very Good

WALT DISNEY'S COMICS AND STORIES (1940) (#1-263) (Dell Publishing) #262 (Dell Publishing) Fair
WALT DISNEY'S COMICS AND STORIES (1940) (#1-263) (Dell Publishing) #263 (Dell Publishing) Good

WALT DISNEY'S COMICS AND STORIES (2015) (#721-UP) (IDW Publishing) #742 A CASTELLA (IDW Publishing) Very Fine

WWE (2017) (#1-UP) (BOOM) #22 FIGURE VAR (Boom Studios Publishing) Near Mint/Mint

XENA (2018) (#1-UP) (DYNAMITE) (WARRIOR PRINCESS) #2 B CIFUENTE (DYNAMITE Entertainment) Very Fine