BLACKNOVEMBER! Codeword Begins
Howdy!
It is 73 degrees here in Boulder this afternoon, which is about 20 degrees above our norm for November. I would normally be delighted, but we are experiencing a drought here in Colorado, which is leading to our ponds on our farm rapidly dwindling, and far too high of a potential for prairie fires. Last week's snow stormed helped a bit, but our pastures are still quite dry, and extremely flammable. Our fingers are crossed that more moisture heads our way, soon.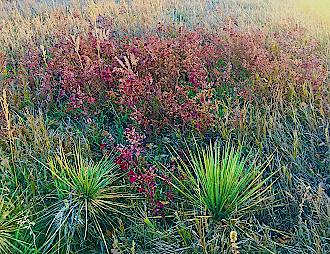 Wild roses and yucca plants - Jay Hill Farm

While the warm weather is severely tempting me to engage in some-end-of-the-season clean-up at our farm, I am continuing to avoid all significant physical exertion while the titanium screws that they inserted in my abdominal muscle continue to set. It has now been 34 days since my operation, and I still have two weeks left before I can return to a light work schedule. This truly is frustrating...
I am also frustrated because (for the first time in my adult life) I am not allowed to lift boxes filled with comics. That makes working at Jason St. almost impossible, so I have spent the past month gingerly sorting through piles of comics and collectibles in my personal comics vault at home. That effort has worked out really well, as I have located innumerable extras to take in to Mile High Comics of scarce items that we seldom, if ever, see any more. Keep an eye on our Premium New-In-Stock link as it is updated each morning this week, as we are adding a slew of really nice out-of-print comics for you.
Today also marks the beginning of our new 40% off BLACKNOVEMBER! codeword sale on all ten million+ of our back issue comics and magazines. This awesome new sale applies to all of our back issue comics and magazinesback issues listed on our website, excepting only new issues, a few variants, and our professionally-graded items.
On a side note, I want to reiterate for you that we are experiencing an unprecedented degree of demand for back issues right now, at least in part due to the restrictions that have been forced upon us by the pandemic. Truth be told, however, I do not see this demand abating once a cure/vaccine is developed for Covid-19, as there seems to be a seismic shift underway right now in the demand for old comic books. Quite literally, issues that we had in our $1 overstock boxes just a couple of years ago, are now selling briskly at $10-$20 each. In my entire 50-year history, I have never seen such a profound increase in the popularity of older comic books.
As I mentioned last week, I think that this increase in demand is being fueled by a realization among fans and dealers that the glut of unsold issues from the early 1990's has now been fully mitigated, and that even issues from those days of very high print runs are now becoming harder to find, especially in NM. Issues from the 2000's, when some print runs were (perhaps) 25% of prior levels, are now darn near impossible to find. While this makes building collections of older comics quite a bit harder, I do think that it reflects very positively in our hobby, as our supply/demand ratio is now in much better balance. 'Nuff said.
I will go away now, and get back to sorting even more of my own beloved comic books. Please do have a great week, and remember to be kind to your friends and neighbors, even if they might hold differing political views. We are all Americans, and Throughout our nation's history it has always been the sum of our thoughts and ideals that have made our democracy a shining light for the rest of the world. Differences aside, we are still brothers and sisters of a wonderful American family.
Happy collecting!
Chuck Rozanski/Bettie Pages,
President - Mile High Comics, Inc.
November 2, 2020
P.S. Below are just a few of our new arrivals from last week. Pandemic not withstanding, we are still purchasing 10,000+ comic and book a week! Most of the comics listed below are available to you at 40% off when you utilize the BLACKNOVEMBER! codeword at checkout.
MARVEL

AGE OF APOCALYPSE (2012) (#1-14) (FROM THE PAGES...) #5

AGE OF APOCALYPSE (2012) (#1-14) (FROM THE PAGES...) #5 Very Fine
AGE OF APOCALYPSE (2012) (#1-14) (FROM THE PAGES...) #6 Fine

ASGARDIANS OF THE GALAXY (2018) #1 Very Fine
ASGARDIANS OF THE GALAXY (2018) #2 Very Fine
ASGARDIANS OF THE GALAXY (2018) #3 Near Mint/Mint

AVENGERS (1963) (#1-402) (MARVEL) #11 Very Good
AVENGERS (1963) (#1-402) (MARVEL) #100 Very Good
AVENGERS (1963) (#1-402) (MARVEL) #101 Very Good
AVENGERS (1963) (#1-402) (MARVEL) #102 Good
AVENGERS (1963) (#1-402) (MARVEL) #103 Good
AVENGERS (1963) (#1-402) (MARVEL) #104 Very Good
AVENGERS (1963) (#1-402) (MARVEL) #105 Fair
AVENGERS (1963) (#1-402) (MARVEL) #106 Very Good
AVENGERS (1963) (#1-402) (MARVEL) #107 Good
AVENGERS (1963) (#1-402) (MARVEL) #108 Good
AVENGERS (1963) (#1-402) (MARVEL) #109 Good
AVENGERS (1963) (#1-402) (MARVEL) #110 Very Good
AVENGERS (1963) (#1-402) (MARVEL) #111 Very Good
AVENGERS (1963) (#1-402) (MARVEL) #112 Good
AVENGERS (1963) (#1-402) (MARVEL) #113 Fair
AVENGERS (1963) (#1-402) (MARVEL) #114 Fair
AVENGERS (1963) (#1-402) (MARVEL) #115 Fair
AVENGERS (1963) (#1-402) (MARVEL) #116 Very Good
AVENGERS (1963) (#1-402) (MARVEL) #117 Very Good
AVENGERS (1963) (#1-402) (MARVEL) #118 Very Good
AVENGERS (1963) (#1-402) (MARVEL) #119 Very Good


AVENGERS (1963) (#1-402) (MARVEL) #120

AVENGERS (1963) (#1-402) (MARVEL) #120 Very Good
AVENGERS (1963) (#1-402) (MARVEL) #122 Fair
AVENGERS (1963) (#1-402) (MARVEL) #123 Very Good
AVENGERS (1963) (#1-402) (MARVEL) #124 Good
AVENGERS (1963) (#1-402) (MARVEL) #125 Good
AVENGERS (1963) (#1-402) (MARVEL) #126 Good
AVENGERS (1963) (#1-402) (MARVEL) #127 Good
AVENGERS (1963) (#1-402) (MARVEL) #128 Very Good
AVENGERS (1963) (#1-402) (MARVEL) #129 Good
AVENGERS (1963) (#1-402) (MARVEL) #129 Very Good
AVENGERS (1963) (#1-402) (MARVEL) #130 Good
AVENGERS (1963) (#1-402) (MARVEL) #131 Good
AVENGERS (1963) (#1-402) (MARVEL) #132 Very Good
AVENGERS (1963) (#1-402) (MARVEL) #133 Good
AVENGERS (1963) (#1-402) (MARVEL) #134 Good
AVENGERS (1963) (#1-402) (MARVEL) #135 Very Fine
AVENGERS (1963) (#1-402) (MARVEL) #136 Fine
AVENGERS (1963) (#1-402) (MARVEL) #137 Fine
AVENGERS (1963) (#1-402) (MARVEL) #137 Very Good
AVENGERS (1963) (#1-402) (MARVEL) #138 Very Good
AVENGERS (1963) (#1-402) (MARVEL) #139 Good
AVENGERS (1963) (#1-402) (MARVEL) #139 Very Good
AVENGERS (1963) (#1-402) (MARVEL) #140 Good
AVENGERS (1963) (#1-402) (MARVEL) #144 Very Good
AVENGERS (1963) (#1-402) (MARVEL) #145 Very Good
AVENGERS (1963) (#1-402) (MARVEL) #146 Good


AVENGERS (1963) (#1-402) (MARVEL) #146

AVENGERS (1963) (#1-402) (MARVEL) #146 Very Good
AVENGERS (1963) (#1-402) (MARVEL) #147 Fine
AVENGERS (1963) (#1-402) (MARVEL) #148 Fine
AVENGERS (1963) (#1-402) (MARVEL) #149 Fine
AVENGERS (1963) (#1-402) (MARVEL) #150 Good
AVENGERS (1963) (#1-402) (MARVEL) #151 Very Good
AVENGERS (1963) (#1-402) (MARVEL) #152 Very Good
AVENGERS (1963) (#1-402) (MARVEL) #153 Very Good
AVENGERS (1963) (#1-402) (MARVEL) #154 Good
AVENGERS (1963) (#1-402) (MARVEL) #155 Very Good
AVENGERS (1963) (#1-402) (MARVEL) #156 WHITMAN Very Good
AVENGERS (1963) (#1-402) (MARVEL) #157 WHITMAN Fine
AVENGERS (1963) (#1-402) (MARVEL) #159 Good
AVENGERS (1963) (#1-402) (MARVEL) #160 Good
AVENGERS (1963) (#1-402) (MARVEL) #161 Very Good
AVENGERS (1963) (#1-402) (MARVEL) #162 Very Good
AVENGERS (1963) (#1-402) (MARVEL) #163 Good
AVENGERS (1963) (#1-402) (MARVEL) #164 WHITMAN Fair
AVENGERS (1963) (#1-402) (MARVEL) #165 Good
AVENGERS (1963) (#1-402) (MARVEL) #166 Fair
AVENGERS (1963) (#1-402) (MARVEL) #166 Fine
AVENGERS (1963) (#1-402) (MARVEL) #167 Good
AVENGERS (1963) (#1-402) (MARVEL) #168 Good
AVENGERS (1963) (#1-402) (MARVEL) #169 Fine
AVENGERS (1963) (#1-402) (MARVEL) #170 Fine


AVENGERS (1963) (#1-402) (MARVEL) #171

AVENGERS (1963) (#1-402) (MARVEL) #171 Very Good
AVENGERS (1963) (#1-402) (MARVEL) #172 Fine
AVENGERS (1963) (#1-402) (MARVEL) #173 Fair
AVENGERS (1963) (#1-402) (MARVEL) #175 Good
AVENGERS (1963) (#1-402) (MARVEL) #176 Good
AVENGERS (1963) (#1-402) (MARVEL) #177 Good
AVENGERS (1963) (#1-402) (MARVEL) #178 Good
AVENGERS (1963) (#1-402) (MARVEL) #179 Good
AVENGERS (1963) (#1-402) (MARVEL) #180 WHITMAN Very Good
AVENGERS (1963) (#1-402) (MARVEL) #181 Good
AVENGERS (1963) (#1-402) (MARVEL) #182 Good
AVENGERS (1963) (#1-402) (MARVEL) #183 Good
AVENGERS (1963) (#1-402) (MARVEL) #184 NEWSSTAND Very Good
AVENGERS (1963) (#1-402) (MARVEL) #185 Good
AVENGERS (1963) (#1-402) (MARVEL) #186 NEWSSTAND Good
AVENGERS (1963) (#1-402) (MARVEL) #187 NEWSSTAND Good
AVENGERS (1963) (#1-402) (MARVEL) #188 NEWSSTAND Very Good
AVENGERS (1963) (#1-402) (MARVEL) #189 NEWSSTAND Good
AVENGERS (1963) (#1-402) (MARVEL) #190 NEWSSTAND Fair
AVENGERS (1963) (#1-402) (MARVEL) #191 NEWSSTAND Very Good
AVENGERS (1963) (#1-402) (MARVEL) #192 NEWSSTAND Fine
AVENGERS (1963) (#1-402) (MARVEL) #195 Very Fine
AVENGERS (1963) (#1-402) (MARVEL) #196 NEWSSTAND Very Good
AVENGERS (1963) (#1-402) (MARVEL) #198 Very Good
AVENGERS (1963) (#1-402) (MARVEL) #200 Very Good
AVENGERS (1963) (#1-402) (MARVEL) #206 Very Good
AVENGERS (1963) (#1-402) (MARVEL) #207 Very Good


AVENGERS (1963) (#1-402) (MARVEL) #208 NEWSSTAND

AVENGERS (1963) (#1-402) (MARVEL) #208 NEWSSTAND Good
AVENGERS (1963) (#1-402) (MARVEL) #209 Very Good
AVENGERS (1963) (#1-402) (MARVEL) #211 NEWSSTAND Good
AVENGERS (1963) (#1-402) (MARVEL) #212 NEWSSTAND Good
AVENGERS (1963) (#1-402) (MARVEL) #214 Fine
AVENGERS (1963) (#1-402) (MARVEL) #216 NEWSSTAND Good
AVENGERS (1963) (#1-402) (MARVEL) #217 NEWSSTAND Fine
AVENGERS (1963) (#1-402) (MARVEL) #218 Very Good
AVENGERS (1963) (#1-402) (MARVEL) #219 Good
AVENGERS (1963) (#1-402) (MARVEL) #220 Good
AVENGERS (1963) (#1-402) (MARVEL) #221 NEWSSTAND Very Good
AVENGERS (1963) (#1-402) (MARVEL) #222 NEWSSTAND Good
AVENGERS (1963) (#1-402) (MARVEL) #223 Good

AVENGERS (2010) (#1-34) (MARVEL) #28 Near Mint/Mint

AVENGERS ACADEMY (2010) #32 Near Mint/Mint
AVENGERS ACADEMY (2010) #33 Near Mint/Mint
AVENGERS ACADEMY (2010) #34 Near Mint/Mint
AVENGERS ACADEMY (2010) #35 Near Mint/Mint

AVENGERS ASSEMBLE (#1-25) (2012) #5 Near Mint/Mint
AVENGERS ASSEMBLE (#1-25) (2012) #6 Near Mint/Mint

AVENGERS UNTITLED PRELUDE (ENDGAME) (2018) #3 Near Mint/Mint

AVENGERS VS. X-MEN (AVX) (2012) #6 Near Mint/Mint


AVENGERS VS. X-MEN (AVX) (2012) #8

AVENGERS VS. X-MEN (AVX) (2012) #8 Near Mint/Mint
AVENGERS VS. X-MEN (AVX) (2012) #9 Near Mint/Mint
AVENGERS VS. X-MEN (AVX) (2012) #10 Near Mint/Mint

CAPTAIN MARVEL (2019) (#1-UP) (MARVEL) #4 Very Fine

CHAMPIONS (2016) (#1-27) (MARVEL NOW) #4 Very Fine
CHAMPIONS (2016) (#1-27) (MARVEL NOW) #9 Near Mint/Mint
CHAMPIONS (2016) (#1-27) (MARVEL NOW) #15 Near Mint/Mint
CHAMPIONS (2016) (#1-27) (MARVEL NOW) #22 Fine

COSMIC GHOST RIDER (2018) #3 Very Fine

DROIDS (STAR WARS) (1986) #1 (Marvel Star) Fine
DROIDS (STAR WARS) (1986) #2 (Marvel Star) Fine
DROIDS (STAR WARS) (1986) #3 (Marvel Star) Fine
DROIDS (STAR WARS) (1986) #4 (Marvel Star) Fine
DROIDS (STAR WARS) (1986) #5 (Marvel Star) Very Good
DROIDS (STAR WARS) (1986) #6 (Marvel Star) Fine

FANTASTIC FOUR (1961) (#1-416) (MARVEL) #112 Good

GUARDIANS OF THE GALAXY (2019) (#1-12) (MARVEL) #1 Fine
GUARDIANS OF THE GALAXY (2019) (#1-12) (MARVEL) #2 Very Fine


HEROES OF POWER: WOMEN OF MARVEL TREASURY EDITION TPB (2016) #1

HEROES OF POWER: WOMEN OF MARVEL TREASURY EDITION TPB (2016) #1 Near Mint/Mint

IMMORTAL HULK (2018) #4 Near Mint/Mint
IMMORTAL HULK (2018) #5 Very Fine
IMMORTAL HULK (2018) #6 Very Fine
IMMORTAL HULK (2018) #13 Very Fine

INFINITY WARS (2018) #1 Very Fine
INFINITY WARS (2018) #2 Near Mint/Mint
INFINITY WARS (2018) #3 Near Mint/Mint

INFINITY WARS PRIME (2018) #1 Near Mint/Mint

INFINITY WARS: INFINITY (2018) #1 Near Mint/Mint

INFINITY WARS: SLEEPWALKER (2018) #1 Near Mint/Mint

MARVEL SUPER SPECIAL (1977) #8 TREASURY Fine

MARVEL TALES (1949) (#93-159) #134 (Marvel Atlas Titles) Very Good

MARVEL TREASURY EDITION #1 Good
MARVEL TREASURY EDITION #1 Very Good
MARVEL TREASURY EDITION #2 Good
MARVEL TREASURY EDITION #2 Very Good
MARVEL TREASURY EDITION #3 Good
MARVEL TREASURY EDITION #3 Fine

MARVEL TREASURY EDITION #4 Fair
MARVEL TREASURY EDITION #4 Good
MARVEL TREASURY EDITION #4 Very Good
MARVEL TREASURY EDITION #5 Good
MARVEL TREASURY EDITION #5 Very Good
MARVEL TREASURY EDITION #6 Good
MARVEL TREASURY EDITION #6 Fair
MARVEL TREASURY EDITION #6 Very Good
MARVEL TREASURY EDITION #7 Good
MARVEL TREASURY EDITION #7 Fine
MARVEL TREASURY EDITION #7 Very Good
MARVEL TREASURY EDITION #10 Fine
MARVEL TREASURY EDITION #11 Good
MARVEL TREASURY EDITION #11 Very Good
MARVEL TREASURY EDITION #12 Very Good
MARVEL TREASURY EDITION #13 Fine
MARVEL TREASURY EDITION #15 Fine
MARVEL TREASURY EDITION #17 Fine
MARVEL TREASURY EDITION #18 Fine
MARVEL TREASURY EDITION #18 Good
MARVEL TREASURY EDITION #21 Very Good
MARVEL TREASURY EDITION #22 Very Fine
MARVEL TREASURY EDITION #23 Fine
MARVEL TREASURY EDITION #23 Very Good
MARVEL TREASURY EDITION #24 Good
MARVEL TREASURY EDITION #24 Very Fine
MARVEL TREASURY EDITION #28 Very Good


MARVEL TREASURY SPECIAL: BUCK ROGERS #1

MARVEL TREASURY SPECIAL: BUCK ROGERS #1 Very Good
MARVEL TREASURY SPECIAL: BUCK ROGERS #1 WHITMAN Very Good

MARVEL TREASURY SPECIAL: CAPT. AMERICA'S BICEN BATTLES #1 Very Good

MARVEL TREASURY SPECIAL: G.I. JOE #1 Fine

MARVEL TREASURY SPECIAL: GIANT SUPERHERO HOLIDAY GRAB (1974) #1 Good
MARVEL TREASURY SPECIAL: GIANT SUPERHERO HOLIDAY GRAB (1974) #1 Fair

MARVEL TREASURY SPECIAL: SAVAGE FISTS OF KUNG FU (1975) #1 Fine

MARVEL TREASURY SPECIALS: LAND OF OZ #1 Good
MARVEL TREASURY SPECIALS: LAND OF OZ #1 Very Good

MARVEL TREASURY SPECIALS: SPECTACULAR SPIDER-MAN #1 Good
MARVEL TREASURY SPECIALS: SPECTACULAR SPIDER-MAN #1 Very Good

MARVEL TREASURY SPECIALS: STAR WARS #1 Very Good
MARVEL TREASURY SPECIALS: STAR WARS #1 WHITMAN Very Fine
MARVEL TREASURY SPECIALS: STAR WARS #2 Fine

MARVEL TREASURY SPECIALS: WIZARD OF OZ #1 Fine

OLD MAN HAWKEYE (2018) #1 CHECCHETTO Fine
OLD MAN HAWKEYE (2018) #2 Near Mint/Mint

OLD MAN HAWKEYE (2018) #3 Very Fine
OLD MAN HAWKEYE (2018) #4 Very Fine
OLD MAN HAWKEYE (2018) #5 Very Fine
OLD MAN HAWKEYE (2018) #10 Near Mint/Mint

POWER PACK: GROW UP (2019) #1 Near Mint/Mint

PUNISHER ANNUAL (2016) #1 Near Mint/Mint

SHURI (2018) #2 Fine

SILVER SURFER (1968) (#1-18) (MARVEL) #14 Good

SPIDER-MAN (1963) (AMAZING SPIDER-MAN) (#1-441) #45 Very Good
SPIDER-MAN (1963) (AMAZING SPIDER-MAN) (#1-441) #46 Good
SPIDER-MAN (1963) (AMAZING SPIDER-MAN) (#1-441) #56 Very Good
SPIDER-MAN (1963) (AMAZING SPIDER-MAN) (#1-441) #57 Very Good

SPIDER-MAN: FAR FROM HOME PRELUDE (2019) #1 Near Mint/Mint
SPIDER-MAN: FAR FROM HOME PRELUDE (2019) #2 Near Mint/Mint

SPIDER-MEN (PETER PARKER & MILES MORALES) (SPIDER-MAN) (2012) #1 Near Mint/Mint
SPIDER-MEN (PETER PARKER & MILES MORALES) (SPIDER-MAN) (2012) #2 Near Mint/Mint
SPIDER-MEN (PETER PARKER & MILES MORALES) (SPIDER-MAN) (2012) #3 Near Mint/Mint
SPIDER-MEN (PETER PARKER & MILES MORALES) (SPIDER-MAN) (2012) #4 Near Mint/Mint

SPIDEY: ALL-NEW MARVEL TREASURY EDITION (2016) #1 Near Mint/Mint


X-MEN (1963) (#1-113, UNCANNY X-MEN #114-544) (MARVEL) #19

X-MEN (1963) (#1-113, UNCANNY X-MEN #114-544) (MARVEL) #19 Very Good

X-MEN COLOSSUS: BLOODLINE TPB (2006) #1 Near Mint/Mint

DC
ACTION COMICS (2016) (#957-UP) (DC REBIRTH) #957 VARIANT Near Mint/Mint

ALL-NEW COLLECTOR'S EDITION #58 Fine

ALL-STAR BATMAN AND ROBIN THE BOY WONDER (2005) #1 SPECIAL ED Near Mint/Mint
ALL-STAR BATMAN AND ROBIN THE BOY WONDER (2005) #1 Very Fine
ALL-STAR BATMAN AND ROBIN THE BOY WONDER (2005) #2 VARIANT Near Mint/Mint
ALL-STAR BATMAN AND ROBIN THE BOY WONDER (2005) #2 VARIANT Very Fine
ALL-STAR BATMAN AND ROBIN THE BOY WONDER (2005) #2 Very Fine
ALL-STAR BATMAN AND ROBIN THE BOY WONDER (2005) #3 VARIANT Fine
ALL-STAR BATMAN AND ROBIN THE BOY WONDER (2005) #10 VARIANT Fine

ANIMAL MAN (2011) (#0-29) (DC) (NEW 52) #2 Very Fine

AQUAMAN (2016) (#1-UP) (DC REBRITH) #1 VARIANT Very Fine

BATGIRL (2016) (#1-UP) (DC REBIRTH) #1 VARIANT Near Mint/Mint

BATMAN (1940) (#0-713) (DC) #123 Fair


BATMAN (1940) (#0-713) (DC) #415

BATMAN (1940) (#0-713) (DC) #415 Fine
BATMAN (1940) (#0-713) (DC) #500 2ND PRT Very Fine
BATMAN (1940) (#0-713) (DC) #671 Near Mint/Mint

BATMAN (2011) (#0-52) (DC NEW52) #12 VARIANT Fine
BATMAN (2011) (#0-52) (DC NEW52) #19 MAD COVER Very Fine
BATMAN (2011) (#0-52) (DC NEW52) #22 VARIANT Fine
BATMAN (2011) (#0-52) (DC NEW52) #23 VARIANT Very Fine
BATMAN (2011) (#0-52) (DC NEW52) #26 VARIANT Very Fine
BATMAN (2011) (#0-52) (DC NEW52) #29 VARIANT Fine
BATMAN (2011) (#0-52) (DC NEW52) #33 VARIANT Very Fine
BATMAN (2011) (#0-52) (DC NEW52) #43 BOMBSHELL Very Fine
BATMAN (2011) (#0-52) (DC NEW52) #48 COLORING Near Mint/Mint
BATMAN (2011) (#0-52) (DC NEW52) #49 NEAL ADAMS Fine

BATMAN (2016) (#1-UP) (DC REBIRTH) #1 BLANK CVR Near Mint/Mint
BATMAN (2016) (#1-UP) (DC REBIRTH) #50 BLANK CVR Near Mint/Mint

BATMAN & ROBIN (2011) (#0-40) (NEW 52) #25 VARIANT Very Fine
BATMAN & ROBIN (2011) (#0-40) (NEW 52) #27 VARIANT Fine
BATMAN & ROBIN (2011) (#0-40) (NEW 52) #28 VARIANT Very Fine
BATMAN & ROBIN (2011) (#0-40) (NEW 52) #29 VARIANT Fine
BATMAN & ROBIN (2011) (#0-40) (NEW 52) #30 VARIANT Very Fine
BATMAN & ROBIN (2011) (#0-40) (NEW 52) #31 VARIANT Near Mint/Mint


BATMAN & ROBIN (2011) (#0-40) (NEW 52) #32 BOMBSHELL

BATMAN & ROBIN (2011) (#0-40) (NEW 52) #32 BOMBSHELL Fine
BATMAN & ROBIN (2011) (#0-40) (NEW 52) #36 LEGO Fine
BATMAN & ROBIN (2011) (#0-40) (NEW 52) #40 MOVIESTYLE Near Mint/Mint

BATMAN & ROBIN ETERNAL (2015) #1 VARIANT Fine

BATMAN 1,000,000 (1998) #1 NEWSSTAND Fine
BATMAN 1,000,000 (1998) #1 Very Fine

BATMAN ETERNAL (2014) #52 VARIANT Fine

BATMAN INCORPORATED SPECIAL (2013) #1 VARIANT Fine

BATMAN/SUPERMAN (2019) (#1-UP) (DC) #1 BATMAN Near Mint/Mint
BATMAN/SUPERMAN (2019) (#1-UP) (DC) #2 Near Mint/Mint
BATMAN/SUPERMAN (2019) (#1-UP) (DC) #4 Near Mint/Mint

BATMAN/THE SHADOW (2017) #1 BLANK CVR Near Mint/Mint
BATMAN/THE SHADOW (2017) #1 CHIANG Near Mint/Mint
BATMAN/THE SHADOW (2017) #1 COLORING Near Mint/Mint
BATMAN/THE SHADOW (2017) #2 BURNHAM Near Mint/Mint
BATMAN/THE SHADOW (2017) #2 SALE Near Mint/Mint
BATMAN/THE SHADOW (2017) #3 RISSO Near Mint/Mint

BATMAN: LAST KNIGHT ON EARTH (2019) #1 Near Mint/Mint
BATMAN: LAST KNIGHT ON EARTH (2019) #2 Near Mint/Mint
BATMAN: LAST KNIGHT ON EARTH (2019) #3 Near Mint/Mint


BATMAN: SHADOW OF THE BAT (1992) #48

BATMAN: SHADOW OF THE BAT (1992) #48 Near Mint/Mint
BATMAN: SHADOW OF THE BAT (1992) #48 2ND DCUNIV Very Good
BATMAN: SHADOW OF THE BAT (1992) #49 2ND DCUNIV Very Good
BATMAN: SHADOW OF THE BAT (1992) #51 NEWSSTAND Fine
BATMAN: SHADOW OF THE BAT (1992) #53 NEWSSTAND Fine
BATMAN: SHADOW OF THE BAT (1992) #54 Very Fine
BATMAN: SHADOW OF THE BAT (1992) #57 NEWSSTAND Fine
BATMAN: SHADOW OF THE BAT (1992) #58 NEWSSTAND Fine
BATMAN: SHADOW OF THE BAT (1992) #60 NEWSSTAND Fine
BATMAN: SHADOW OF THE BAT (1992) #61 Near Mint/Mint
BATMAN: SHADOW OF THE BAT (1992) #61 NEWSSTAND Fine
BATMAN: SHADOW OF THE BAT (1992) #61 Very Fine
BATMAN: SHADOW OF THE BAT (1992) #63 Near Mint/Mint
BATMAN: SHADOW OF THE BAT (1992) #64 Near Mint/Mint
BATMAN: SHADOW OF THE BAT (1992) #65 Near Mint/Mint
BATMAN: SHADOW OF THE BAT (1992) #66 Very Fine
BATMAN: SHADOW OF THE BAT (1992) #67 NEWSSTAND Very Good
BATMAN: SHADOW OF THE BAT (1992) #69 NEWSSTAND Fine
BATMAN: SHADOW OF THE BAT (1992) #70 NEWSSTAND Very Fine
BATMAN: SHADOW OF THE BAT (1992) #72 Near Mint/Mint
BATMAN: SHADOW OF THE BAT (1992) #73 Near Mint/Mint
BATMAN: SHADOW OF THE BAT (1992) #74 NEWSSTAND Very Good
BATMAN: SHADOW OF THE BAT (1992) #75 Near Mint/Mint
BATMAN: SHADOW OF THE BAT (1992) #75 Very Fine
BATMAN: SHADOW OF THE BAT (1992) #76 Near Mint/Mint
BATMAN: SHADOW OF THE BAT (1992) #77 Very Fine
BATMAN: SHADOW OF THE BAT (1992) #78 NEWSSTAND Very Fine
BATMAN: SHADOW OF THE BAT (1992) #78 NEWSSTAND Fine


BATMAN: SHADOW OF THE BAT (1992) #79 NEWSSTAND

BATMAN: SHADOW OF THE BAT (1992) #79 NEWSSTAND Very Good
BATMAN: SHADOW OF THE BAT (1992) #80 Very Fine
BATMAN: SHADOW OF THE BAT (1992) #81 Very Fine
BATMAN: SHADOW OF THE BAT (1992) #82 Near Mint/Mint
BATMAN: SHADOW OF THE BAT (1992) #83 Fine
BATMAN: SHADOW OF THE BAT (1992) #84 Near Mint/Mint
BATMAN: SHADOW OF THE BAT (1992) #84 NEWSSTAND Very Fine
BATMAN: SHADOW OF THE BAT (1992) #86 NEWSSTAND Near Mint/Mint
BATMAN: SHADOW OF THE BAT (1992) #87 NEWSSTAND Very Fine
BATMAN: SHADOW OF THE BAT (1992) #89 NEWSSTAND Very Fine
BATMAN: SHADOW OF THE BAT (1992) #90 Near Mint/Mint
BATMAN: SHADOW OF THE BAT (1992) #90 NEWSSTAND Fine
BATMAN: SHADOW OF THE BAT (1992) #91 NEWSSTAND Very Fine
BATMAN: SHADOW OF THE BAT (1992) #93 NEWSSTAND Very Fine
BATMAN: SHADOW OF THE BAT (1992) #94 NEWSSTAND Fine

BATMAN: SHADOW OF THE BAT 1,000,000 (1998) #1 NEWSSTAND Fine
BATMAN: SHADOW OF THE BAT 1,000,000 (1998) #1 Very Fine

BATMAN: SHADOW OF THE BAT ANNUAL (1993) #2 Near Mint/Mint
BATMAN: SHADOW OF THE BAT ANNUAL (1993) #2 NEWSSTAND Fine
BATMAN: SHADOW OF THE BAT ANNUAL (1993) #5 Near Mint/Mint
BATMAN: SHADOW OF THE BAT ANNUAL (1993) #5 Very Fine

BATMAN: SPOILER/HUNTRESS - BLUNT TRAUMA (CATACLYSM) (1998) #1 NEWSSTAND Very Fine


BATMAN: STREETS OF GOTHAM (PAUL DINI) (2009) #9

BATMAN: STREETS OF GOTHAM (PAUL DINI) (2009) #9 Near Mint/Mint
BATMAN: STREETS OF GOTHAM (PAUL DINI) (2009) #13 Near Mint/Mint
BATMAN: STREETS OF GOTHAM (PAUL DINI) (2009) #15 Very Fine
BATMAN: STREETS OF GOTHAM (PAUL DINI) (2009) #17 Near Mint/Mint
BATMAN: STREETS OF GOTHAM (PAUL DINI) (2009) #21 Fine

BATMAN: SWORD OF AZRAEL (DENNY O'NEIL) (JOE QUESADA) (1992) #1 Near Mint/Mint
BATMAN: SWORD OF AZRAEL (DENNY O'NEIL) (JOE QUESADA) (1992) #1 Very Fine
BATMAN: SWORD OF AZRAEL (DENNY O'NEIL) (JOE QUESADA) (1992) #2 Near Mint/Mint
BATMAN: SWORD OF AZRAEL (DENNY O'NEIL) (JOE QUESADA) (1992) #2 Very Fine
BATMAN: SWORD OF AZRAEL (DENNY O'NEIL) (JOE QUESADA) (1992) #3 Near Mint/Mint
BATMAN: SWORD OF AZRAEL (DENNY O'NEIL) (JOE QUESADA) (1992) #3 Very Fine
BATMAN: SWORD OF AZRAEL (DENNY O'NEIL) (JOE QUESADA) (1992) #4 Near Mint/Mint
BATMAN: SWORD OF AZRAEL (DENNY O'NEIL) (JOE QUESADA) (1992) #4 Very Fine

BATMAN: THE ANIMATED MOVIE - MASK OF THE PHANTASM (1993) #1 DELUXE Very Fine
BATMAN: THE ANIMATED MOVIE - MASK OF THE PHANTASM (1993) #1 DELUXENEWS Very Good
BATMAN: THE ANIMATED MOVIE - MASK OF THE PHANTASM (1993) #1 DIGEST Near Mint/Mint

BATMAN: THE DARK KNIGHT (#1-5) (2011) #1 Near Mint/Mint
BATMAN: THE DARK KNIGHT (#1-5) (2011) #1 2ND PRINT Very Fine
BATMAN: THE DARK KNIGHT (#1-5) (2011) #1 2ND PRINT Fine

BATMAN: THE DARK KNIGHT (2011) (#0-29) (DC NEW52) #0 Very Fine
BATMAN: THE DARK KNIGHT (2011) (#0-29) (DC NEW52) #2 Near Mint/Mint
BATMAN: THE DARK KNIGHT (2011) (#0-29) (DC NEW52) #7 Very Fine
BATMAN: THE DARK KNIGHT (2011) (#0-29) (DC NEW52) #8 Very Fine
BATMAN: THE DARK KNIGHT (2011) (#0-29) (DC NEW52) #10 Very Fine


BATMAN: THE DARK KNIGHT (2011) (#0-29) (DC NEW52) #11

BATMAN: THE DARK KNIGHT (2011) (#0-29) (DC NEW52) #11 Near Mint/Mint
BATMAN: THE DARK KNIGHT (2011) (#0-29) (DC NEW52) #11 Very Fine
BATMAN: THE DARK KNIGHT (2011) (#0-29) (DC NEW52) #21 Near Mint/Mint

BATMAN: THE LONG HALLOWEEN (JEPH LOEB) (TIM SALE) (1996) #1 Very Good
BATMAN: THE LONG HALLOWEEN (JEPH LOEB) (TIM SALE) (1996) #4 Very Fine
BATMAN: THE LONG HALLOWEEN (JEPH LOEB) (TIM SALE) (1996) #5 Very Fine
BATMAN: THE LONG HALLOWEEN (JEPH LOEB) (TIM SALE) (1996) #6 Fine
BATMAN: THE LONG HALLOWEEN (JEPH LOEB) (TIM SALE) (1996) #11 Fine
BATMAN: THE LONG HALLOWEEN (JEPH LOEB) (TIM SALE) (1996) #13 Fine

BATMAN: VENGEANCE OF BANE II-REDEMPTION (1995) #1 NEWSSTAND Very Good

BATMAN: WAR ON CRIME GN (1999) #1 Near Mint/Mint

BATMAN: WIDENING GYRE (KEVIN SMITH) (2009) #3 Near Mint/Mint
BATMAN: WIDENING GYRE (KEVIN SMITH) (2009) #4 Near Mint/Mint
BATMAN: WIDENING GYRE (KEVIN SMITH) (2009) #4 Very Fine
BATMAN: WIDENING GYRE (KEVIN SMITH) (2009) #5 Near Mint/Mint

BATMAN: YEAR ONE HUNDRED (PAUL POPE) (PRESTIGE) (2006) #1 2ND PRINT Very Fine
BATMAN: YEAR ONE HUNDRED (PAUL POPE) (PRESTIGE) (2006) #4 Near Mint/Mint

BLACKEST NIGHT (2009) #1 2ND PRINT Very Fine

CONVERGENCE: BATMAN - SHADOW OF THE BAT (2015) #2 KIDD Near Mint/Mint


DARK KNIGHT RETURNS: LAST CRUSADE (2016) #1 BERMEJO

DARK KNIGHT RETURNS: LAST CRUSADE (2016) #1 BERMEJO Near Mint/Mint
DARK KNIGHT RETURNS: LAST CRUSADE (2016) #1 SIENKIEWIC Very Fine

DC SPECIAL SERIES (1977) #27 Fair
DC SPECIAL SERIES (1977) #27 Very Good

DC UNIVERSE REBIRTH (DC REBIRTH) (2016) #1 3RD PRINT Fine
DC UNIVERSE REBIRTH (DC REBIRTH) (2016) #1 5TH PRINT Very Fine
DC UNIVERSE REBIRTH (DC REBIRTH) (2016) #1 WRAPAROUND Fine

DETECTIVE COMICS (2011) (#0-52) (DC NEW52) #19 MAD COVER Very Fine
DETECTIVE COMICS (2011) (#0-52) (DC NEW52) #27 B Very Fine
DETECTIVE COMICS (2011) (#0-52) (DC NEW52) #27 DANIEL Near Mint/Mint
DETECTIVE COMICS (2011) (#0-52) (DC NEW52) #29 VARIANT Fine
DETECTIVE COMICS (2011) (#0-52) (DC NEW52) #30 VARIANT Very Fine
DETECTIVE COMICS (2011) (#0-52) (DC NEW52) #31 VARIANT Very Fine
DETECTIVE COMICS (2011) (#0-52) (DC NEW52) #33 BATMAN Near Mint/Mint
DETECTIVE COMICS (2011) (#0-52) (DC NEW52) #34 VARIANT Very Fine
DETECTIVE COMICS (2011) (#0-52) (DC NEW52) #35 VARIANT Fine
DETECTIVE COMICS (2011) (#0-52) (DC NEW52) #36 LEGO Fine
DETECTIVE COMICS (2011) (#0-52) (DC NEW52) #36 VARIANT Very Fine
DETECTIVE COMICS (2011) (#0-52) (DC NEW52) #37 VARIANT Fine
DETECTIVE COMICS (2011) (#0-52) (DC NEW52) #38 FLASH Near Mint/Mint
DETECTIVE COMICS (2011) (#0-52) (DC NEW52) #38 VARIANT Fine
DETECTIVE COMICS (2011) (#0-52) (DC NEW52) #39 VARIANT Very Fine


DETECTIVE COMICS (2011) (#0-52) (DC NEW52) #40 MOVIESTYLE

DETECTIVE COMICS (2011) (#0-52) (DC NEW52) #40 MOVIESTYLE Near Mint/Mint
DETECTIVE COMICS (2011) (#0-52) (DC NEW52) #42 TEENTITANS Near Mint/Mint
DETECTIVE COMICS (2011) (#0-52) (DC NEW52) #44 GREENLANTE Very Fine
DETECTIVE COMICS (2011) (#0-52) (DC NEW52) #48 COLORING Near Mint/Mint
DETECTIVE COMICS (2011) (#0-52) (DC NEW52) #49 NEAL ADAMS Near Mint/Mint
DETECTIVE COMICS (2011) (#0-52) (DC NEW52) #50 BAGGED Near Mint/Mint

FAMOUS FIRST EDITION (1974) #6 Good
FAMOUS FIRST EDITION (1974) #7 Very Good
FAMOUS FIRST EDITION (1974) #8 Good
FAMOUS FIRST EDITION (1974) #26 Very Good
FAMOUS FIRST EDITION (1974) #30 Very Good

FOREVER EVIL AFTERMATH: BATMAN VS. BANE (2014) #1 VARIANT Very Fine

GREEN ARROW (2016) (#1-UP) (DC REBIRTH) #1 VARIANT Very Fine

GREEN LANTERNS (DC REBIRTH) (2016) #1 VARIANT Very Fine

JLA SECRET ORIGINS OVERSIZED SC (2002) #1 Fine

JLA: HEAVEN'S LADDER (2000) #1 Very Fine

JLA: LIBERTY AND JUSTICE OVERSIZED SC (2003) #1 Very Fine

JUSTICE LEAGUE (2018) (#1-UP) (DC UNIVERSE) #1 VARIANT Very Fine

JUSTICE LEAGUE OF AMERICA: KILLER FROST REBIRTH (2017) #1 VARIANT Near Mint/Mint


LIMITED COLLECTOR'S EDITION #22

LIMITED COLLECTOR'S EDITION #22 Very Good
LIMITED COLLECTOR'S EDITION #23 Good
LIMITED COLLECTOR'S EDITION #25 Very Good
LIMITED COLLECTOR'S EDITION #27 Good
LIMITED COLLECTOR'S EDITION #27 Very Good
LIMITED COLLECTOR'S EDITION #29 Good
LIMITED COLLECTOR'S EDITION #31 Good
LIMITED COLLECTOR'S EDITION #32 Good
LIMITED COLLECTOR'S EDITION #36 Very Good
LIMITED COLLECTOR'S EDITION #38 Fine
LIMITED COLLECTOR'S EDITION #38 Fair
LIMITED COLLECTOR'S EDITION #39 Very Good
LIMITED COLLECTOR'S EDITION #40 Good
LIMITED COLLECTOR'S EDITION #45 Very Good
LIMITED COLLECTOR'S EDITION #46 Good
LIMITED COLLECTOR'S EDITION #46 Very Good
LIMITED COLLECTOR'S EDITION #47 Very Good
LIMITED COLLECTOR'S EDITION #48 Fine
LIMITED COLLECTOR'S EDITION #48 Very Fine

NIGHTWING (2016) (#1-UP) (DC REBIRTH) #1 VARIANT Near Mint/Mint

SHAZAM: POWER OF HOPE OVERSIZED SC (2000) #1 Near Mint/Mint

SUICIDE SQUAD (2016) (#1-50) (DC REBIRTH) #1 VARIANT Near Mint/Mint

SUPER SONS (DC REBIRTH) (2017) #1 VARIANT Near Mint/Mint

SUPERMAN (1939) (#1-423) (DC) #197 Good


SUPERMAN (2016) (#1-45) (DC REBIRTH) #1 VARIANT

SUPERMAN (2016) (#1-45) (DC REBIRTH) #1 VARIANT Very Fine

SUPERMAN VS. THE AMAZING SPIDER-MAN (TREASURY) (1976) #1 Fine
SUPERMAN VS. THE AMAZING SPIDER-MAN (TREASURY) (1976) #1 Very Good

SUPERMAN/FANTASTIC FOUR (1999) #1 Very Good

SUPERMAN: PEACE ON EARTH (1999) #1 Fine

TEEN TITANS (2016) (#1-UP) (DC REBIRTH) #1 VARIANT Fine

TEEN TITANS: GO (2003) #23 NEWSSTAND Very Fine

TITANS REBIRTH (2016) #1 VARIANT Fine

WONDER WOMAN (2016) (#1-83, #750-UP) (DC REBIRTH) #1 VARIANT Very Fine

WONDER WOMAN REBIRTH (2016) #1 VARIANT Fine

WONDER WOMAN: SPIRIT OF TRUTH OVERSIZED SC (2001) #1 Fine

DARK HORSE COMICS
BATMAN VS. PREDATOR (1991) #1 Very Fine
BATMAN VS. PREDATOR (1991) #2 Very Fine
BATMAN VS. PREDATOR (1991) #3 Fine

VAMPIRE HUNTER D SC NOVEL (2005) #4 Near Mint/Mint

IMAGE COMICS

APHRODITE IX (IMAGE TOP COW) (2013) #7 A

APHRODITE IX (IMAGE TOP COW) (2013) #7 A Near Mint/Mint
APHRODITE IX (IMAGE TOP COW) (2013) #8 A Near Mint/Mint
APHRODITE IX (IMAGE TOP COW) (2013) #9 B Near Mint/Mint
APHRODITE IX (IMAGE TOP COW) (2013) #10 A Near Mint/Mint
APHRODITE IX (IMAGE TOP COW) (2013) #11 A Near Mint/Mint

APHRODITE IX/CYBER FORCE (2014) #1 C Near Mint/Mint

ARTIFACTS (IMAGE TOPCOW) (2010) #34 A (Image Top Cow) Near Mint/Mint
ARTIFACTS (IMAGE TOPCOW) (2010) #35 A (Image Top Cow) Near Mint/Mint
ARTIFACTS (IMAGE TOPCOW) (2010) #36 A (Image Top Cow) Near Mint/Mint
ARTIFACTS (IMAGE TOPCOW) (2010) #37 A (Image Top Cow) Near Mint/Mint
ARTIFACTS (IMAGE TOPCOW) (2010) #39 A (Image Top Cow) Near Mint/Mint
ARTIFACTS (IMAGE TOPCOW) (2010) #40 A (Image Top Cow) Near Mint/Mint

ATHENA IX ONE-SHOT (2015) #1 A SEVY Near Mint/Mint

CYBERFORCE (2012) (#1-11) (IMAGE TOPCOW) #8 A Near Mint/Mint
CYBERFORCE (2012) (#1-11) (IMAGE TOPCOW) #9 A Near Mint/Mint
CYBERFORCE (2012) (#1-11) (IMAGE TOPCOW) #11 A Near Mint/Mint

CYBERFORCE: ARTIFACTS (2016) #0 Near Mint/Mint

DARKNESS: CLOSE YOUR EYES ONE-SHOT (2014) #1 Near Mint/Mint

DARKNESS: VICIOUS TRADITIONS ONE-SHOT (2014) #1 Near Mint/Mint

DEATH VIGIL (2014) #2 Near Mint/Mint
DEATH VIGIL (2014) #3 Near Mint/Mint
DEATH VIGIL (2014) #4 Near Mint/Mint
DEATH VIGIL (2014) #5 Near Mint/Mint
DEATH VIGIL (2014) #7 Near Mint/Mint

GENIUS (2014) #1 Near Mint/Mint
GENIUS (2014) #2 Near Mint/Mint
GENIUS (2014) #3 Near Mint/Mint
GENIUS (2014) #4 Near Mint/Mint
GENIUS (2014) #5 Near Mint/Mint

IXTH GENERATION (2014) #4 A Near Mint/Mint
IXTH GENERATION (2014) #8 A Near Mint/Mint

MAGDALENA (2017) (#1-UP) (IMAGE) #1 B INGRATA Near Mint/Mint
MAGDALENA (2017) (#1-UP) (IMAGE) #2 B DIBARI Near Mint/Mint
MAGDALENA (2017) (#1-UP) (IMAGE) #3 A DIBARI Near Mint/Mint
MAGDALENA (2017) (#1-UP) (IMAGE) #4 B ROJO Near Mint/Mint

RISE OF THE MAGI (2014) #1 A Near Mint/Mint
RISE OF THE MAGI (2014) #2 B Near Mint/Mint
RISE OF THE MAGI (2014) #3 B Near Mint/Mint
RISE OF THE MAGI (2014) #4 B Near Mint/Mint

TITHE (2015) #3 B Near Mint/Mint

WITCHBLADE (1995) (#1-185, #500) (IMAGE) #172 A (Image Top Cow) Very Fine


WITCHBLADE (1995) (#1-185, #500) (IMAGE) #173 A

WITCHBLADE (1995) (#1-185, #500) (IMAGE) #173 A (Image Top Cow) Near Mint/Mint
WITCHBLADE (1995) (#1-185, #500) (IMAGE) #174 B (Image Top Cow) Near Mint/Mint
WITCHBLADE (1995) (#1-185, #500) (IMAGE) #175 C (Image Top Cow) Near Mint/Mint
WITCHBLADE (1995) (#1-185, #500) (IMAGE) #176 A (Image Top Cow) Near Mint/Mint
WITCHBLADE (1995) (#1-185, #500) (IMAGE) #177 B (Image Top Cow) Very Fine
WITCHBLADE (1995) (#1-185, #500) (IMAGE) #178 A (Image Top Cow) Near Mint/Mint
WITCHBLADE (1995) (#1-185, #500) (IMAGE) #179 B (Image Top Cow) Near Mint/Mint
WITCHBLADE (1995) (#1-185, #500) (IMAGE) #180 B (Image Top Cow) Very Fine
WITCHBLADE (1995) (#1-185, #500) (IMAGE) #181 B (Image Top Cow) Very Fine
WITCHBLADE (1995) (#1-185, #500) (IMAGE) #182 B (Image Top Cow) Very Fine
WITCHBLADE (1995) (#1-185, #500) (IMAGE) #183 A (Image Top Cow) Near Mint/Mint
WITCHBLADE (1995) (#1-185, #500) (IMAGE) #184 B (Image Top Cow) Near Mint/Mint
WITCHBLADE (1995) (#1-185, #500) (IMAGE) #185 A (Image Top Cow) Near Mint/Mint

WITCHBLADE (2017) (#1-18) (IMAGE) #1 A INGRANAT Near Mint/Mint
WITCHBLADE (2017) (#1-18) (IMAGE) #2 Near Mint/Mint
WITCHBLADE (2017) (#1-18) (IMAGE) #3 Near Mint/Mint

INDEPENDENTS
ALL GIRL THRILLS (1971) (PRINT MINT) #1 (Print Mint) Good

ALL NEW UNDERGROUND COMIX VOL. 2: HOT CRACKERS (1972) #1 (Last Gasp) Very Good

BALLOON VENDER (1971) (RIP OFF PRESS)(SHERIDAN/SCHRIER) #1 (Rip Off Press) Very Good

BENT (1971) (PRINT MINT) (S. CLAY WILSON) (ADULT) #1 (Print Mint) Very Good


BIG ASS COMICS (1969) (#1-2) (RIP OFF PRESS) (R. CRUMB) #1 6TH PRINT

BIG ASS COMICS (1969) (#1-2) (RIP OFF PRESS) (R. CRUMB) #1 6TH PRINT (Rip Off Press) Good
BIG ASS COMICS (1969) (#1-2) (RIP OFF PRESS) (R. CRUMB) #2 (Rip Off Press) Good

BIJOU FUNNIES (1968) (UNDERGROUND) #1 2ND PRINT (Bijou Publishing) Very Good
BIJOU FUNNIES (1968) (UNDERGROUND) #2 2ND PRINT (Bijou Publishing) Good
BIJOU FUNNIES (1968) (UNDERGROUND) #3 (Bijou Publishing) Very Good
BIJOU FUNNIES (1968) (UNDERGROUND) #4 (Bijou Publishing) Fair
BIJOU FUNNIES (1968) (UNDERGROUND) #6 (Bijou Publishing) Fair
BIJOU FUNNIES (1968) (UNDERGROUND) #7 2ND PRINT (Bijou Publishing) Fair

BIZARRE SEX (1972) (#1-10) (KITCHEN SINK) #1 1972 .50 (Kitchen Sink Publishing) Very Good

CAPTAIN GUTS (1969) (#1-3) (PRINT MINT) (LARRY WELZ) #1 (Print Mint) Good
CAPTAIN GUTS (1969) (#1-3) (PRINT MINT) (LARRY WELZ) #2 (Print Mint) Very Good
CAPTAIN GUTS (1969) (#1-3) (PRINT MINT) (LARRY WELZ) #3 (Print Mint) Very Good

DEN (1988) (#1-10) (FANTAGO) (RICHARD CORBEN) #1 (Fantagor Press) Fine
DEN (1988) (#1-10) (FANTAGO) (RICHARD CORBEN) #1 (Fantagor Press) Very Fine
DEN (1988) (#1-10) (FANTAGO) (RICHARD CORBEN) #3 (Fantagor Press) Near Mint/Mint
DEN (1988) (#1-10) (FANTAGO) (RICHARD CORBEN) #3 (Fantagor Press) Very Fine
DEN (1988) (#1-10) (FANTAGO) (RICHARD CORBEN) #4 (Fantagor Press) Near Mint/Mint
DEN (1988) (#1-10) (FANTAGO) (RICHARD CORBEN) #4 (Fantagor Press) Very Fine
DEN (1988) (#1-10) (FANTAGO) (RICHARD CORBEN) #5 (Fantagor Press) Near Mint/Mint
DEN (1988) (#1-10) (FANTAGO) (RICHARD CORBEN) #6 (Fantagor Press) Good
DEN (1988) (#1-10) (FANTAGO) (RICHARD CORBEN) #8 (Fantagor Press) Fine
DEN (1988) (#1-10) (FANTAGO) (RICHARD CORBEN) #8 (Fantagor Press) Very Fine
DEN (1988) (#1-10) (FANTAGO) (RICHARD CORBEN) #9 (Fantagor Press) Near Mint/Mint


DEN (1988) (#1-10) (FANTAGO) (RICHARD CORBEN) #9

DEN (1988) (#1-10) (FANTAGO) (RICHARD CORBEN) #9 (Fantagor Press) Very Good

DISNEYLAND MAGAZINE (1971) #45 (Disney Press) Very Good
DISNEYLAND MAGAZINE (1971) #65 (Disney Press) Very Good
DISNEYLAND MAGAZINE (1971) #66 (Disney Press) Very Good

DOCTOR WHO CONVENTION SPECIAL (2016) #1 FRASER (Titan Distributing) Near Mint/Mint

DOCTOR WHO: 10TH DOCTOR - YEAR THREE (2017) #9 B PHOTO (Titan Distributing) Near Mint/Mint

DOCTOR WHO: 11TH DOCTOR - YEAR THREE (2017) #10 B PHOTO (Titan Distributing) Near Mint/Mint

DOCTOR WHO: 12TH DOCTOR - YEAR THREE (2017) #1 B PHOTO (Titan Distributing) Near Mint/Mint
DOCTOR WHO: 12TH DOCTOR - YEAR THREE (2017) #2 B PHOTO (Titan Distributing) Near Mint/Mint
DOCTOR WHO: 12TH DOCTOR - YEAR THREE (2017) #3 B PHOTO (Titan Distributing) Near Mint/Mint
DOCTOR WHO: 12TH DOCTOR - YEAR THREE (2017) #5 A IANNICEL (Titan Distributing) Near Mint/Mint
DOCTOR WHO: 12TH DOCTOR - YEAR THREE (2017) #6 B PHOTO (Titan Distributing) Near Mint/Mint
DOCTOR WHO: 12TH DOCTOR - YEAR THREE (2017) #7 C WALKER (Titan Distributing) Near Mint/Mint
DOCTOR WHO: 12TH DOCTOR - YEAR THREE (2017) #8 B PHOTO (Titan Distributing) Near Mint/Mint
DOCTOR WHO: 12TH DOCTOR - YEAR THREE (2017) #9 B PHOTO (Titan Distributing) Near Mint/Mint
DOCTOR WHO: 12TH DOCTOR - YEAR THREE (2017) #11 B PHOTO (Titan Distributing) Near Mint/Mint
DOCTOR WHO: 12TH DOCTOR - YEAR THREE (2017) #13 B PHOTO (Titan Distributing) Near Mint/Mint

DOCTOR WHO: GHOST STORIES (2017) #1 B PHOTO (Titan Distributing) Near Mint/Mint
DOCTOR WHO: GHOST STORIES (2017) #2 B PHOTO (Titan Distributing) Near Mint/Mint
DOCTOR WHO: GHOST STORIES (2017) #3 B PHOTO (Titan Distributing) Near Mint/Mint
DOCTOR WHO: GHOST STORIES (2017) #4 B PHOTO (Titan Distributing) Near Mint/Mint

DOCTOR WHO: LOST DIMENSION - ALPHA (2017) #1 B PHOTO (Titan Distributing) Near Mint/Mint


DOCTOR WHO: LOST DIMENSION - OMEGA (2017) #1 B PHOTO

DOCTOR WHO: LOST DIMENSION - OMEGA (2017) #1 B PHOTO (Titan Distributing) Near Mint/Mint

DOCTOR WHO: LOST DIMENSION SPECIAL (2017) #1 B PHOTO (Titan Distributing) Near Mint/Mint
DOCTOR WHO: LOST DIMENSION SPECIAL (2017) #2 B PHOTO (Titan Distributing) Near Mint/Mint

DOCTOR WHO: THREE DOCTORS FREE COMIC BOOK DAY (2015) #1 (Titan Distributing) Near Mint/Mint

ELK'S RUN PREVIEW COPY (2005) #1 (Hoarse And Buggy Productions) Fine

JOHN WICK (2017) #1 A VALLETTA (DYNAMITE Entertainment) Very Fine

NIGHTMARE ON ELM STREET: THE BEGINNING (1992) #1 (Innovation Publishing) Very Fine
NIGHTMARE ON ELM STREET: THE BEGINNING (1992) #2 (Innovation Publishing) Fine

SLOW DEATH COMIX (1970) (#1-11) (LAST GASP) #7 (Last Gasp) Fine
SLOW DEATH COMIX (1970) (#1-11) (LAST GASP) #8 (Last Gasp) Fine
SLOW DEATH COMIX (1970) (#1-11) (LAST GASP) #9 (Last Gasp) Fine
SLOW DEATH COMIX (1970) (#1-11) (LAST GASP) #9 (Last Gasp) Very Fine
SLOW DEATH COMIX (1970) (#1-11) (LAST GASP) #10 (Last Gasp) Near Mint/Mint
SLOW DEATH COMIX (1970) (#1-11) (LAST GASP) #10 (Last Gasp) Fine
SLOW DEATH COMIX (1970) (#1-11) (LAST GASP) #10 (Last Gasp) Very Fine
SLOW DEATH COMIX (1970) (#1-11) (LAST GASP) #11 (Last Gasp) Near Mint/Mint
SLOW DEATH COMIX (1970) (#1-11) (LAST GASP) #11 (Last Gasp) Very Fine

SON OF MUTANT WORLD (1990) (#1-5) (RICHARD CORBEN) #2 (Fantagor Press) Fine

TEENAGE MUTANT NINJA TURTLES/GHOSTBUSTERS (2014) #1 (IDW Publishing) Fine


TEENAGE MUTANT NINJA TURTLES/GHOSTBUSTERS (2014) #3

TEENAGE MUTANT NINJA TURTLES/GHOSTBUSTERS (2014) #3 (IDW Publishing) Very Fine
TEENAGE MUTANT NINJA TURTLES/GHOSTBUSTERS (2014) #4 (IDW Publishing) Near Mint/Mint

TORCHWOOD (VOL. 2) (2017) #4 B PHOTO (Titan Distributing) Near Mint/Mint

TORCHWOOD: CULLING (VOL. 3) (2017) #4 B PHOTO (Titan Distributing) Near Mint/Mint

ULTRAMAN CLASSIC: BATTLE OF THE ULTRA BROTHERS #3 (Viz Comics) Near Mint/Mint
ULTRAMAN CLASSIC: BATTLE OF THE ULTRA BROTHERS #3 (Viz Comics) Very Fine

WALK THROUGH HELL (2018) #1 A CLARKE (After-Shock Comics) Near Mint/Mint